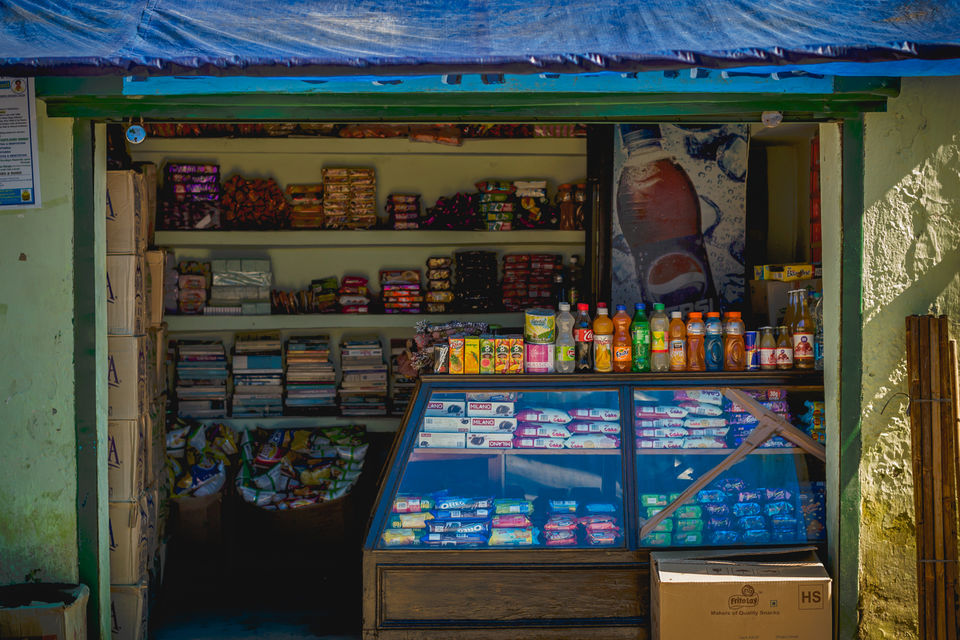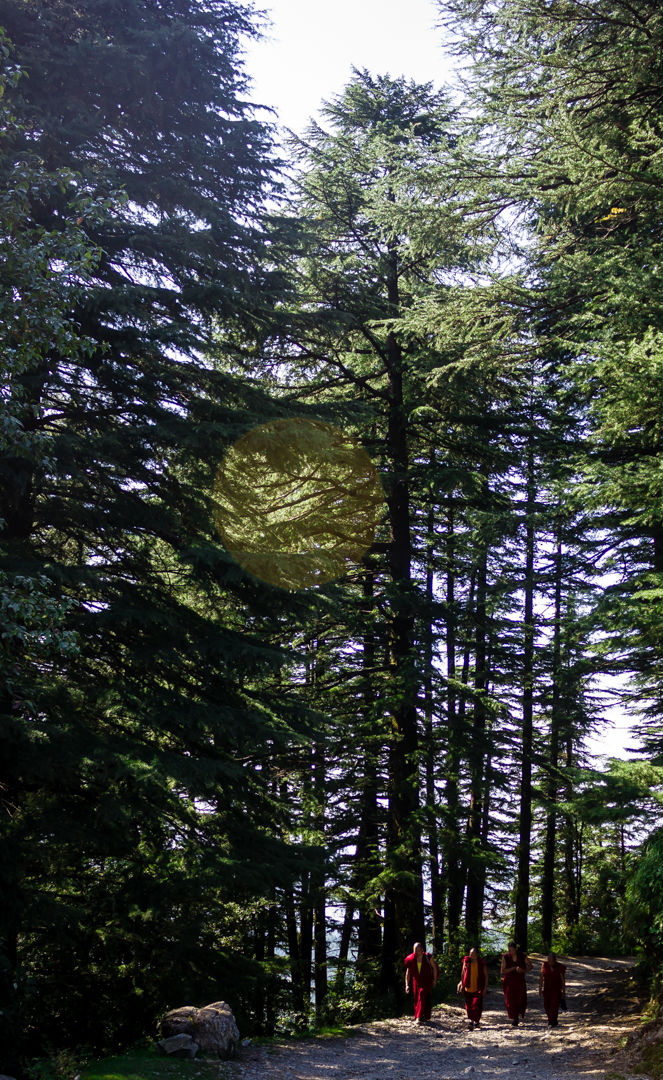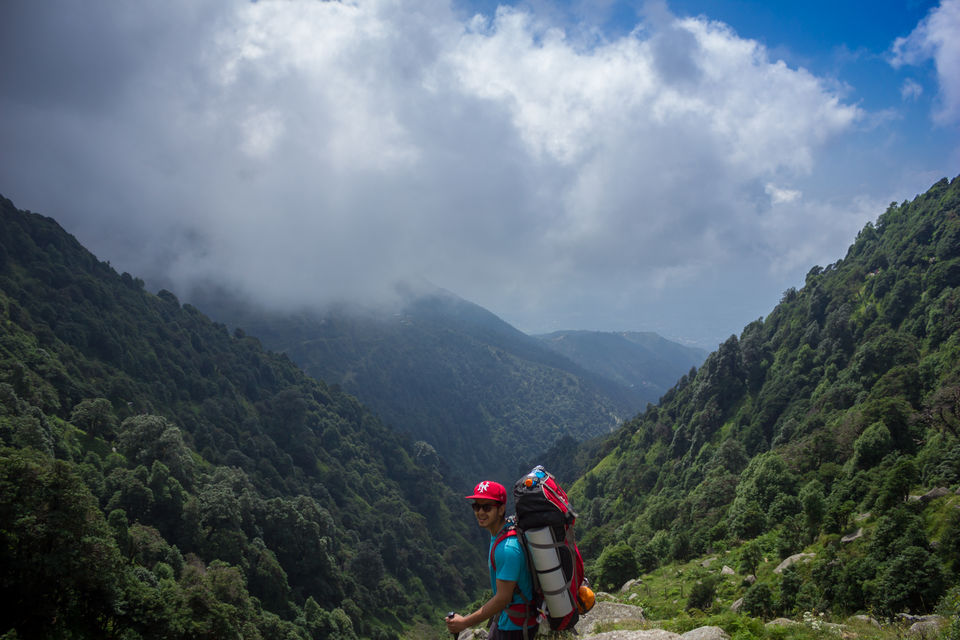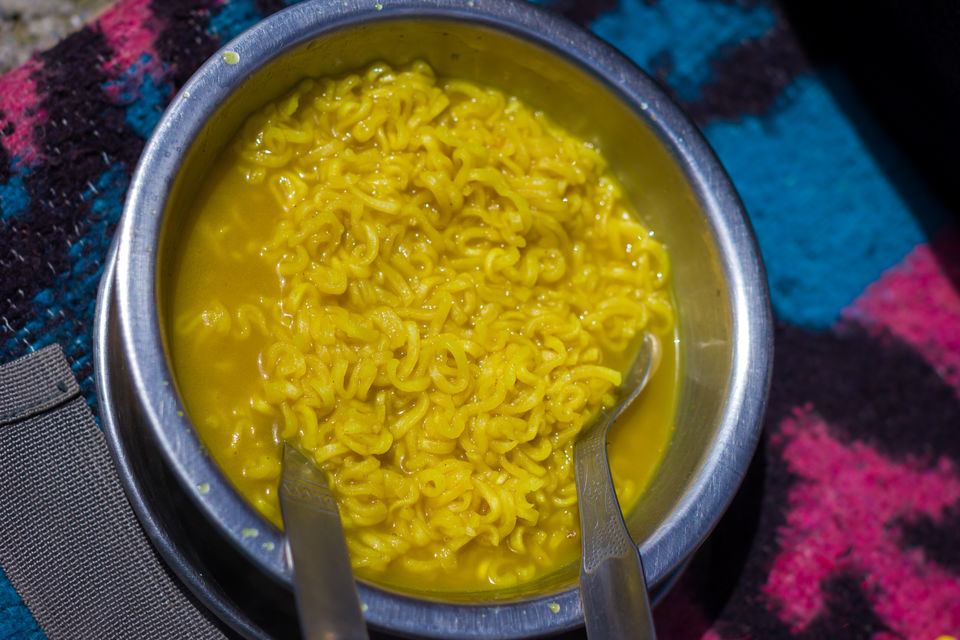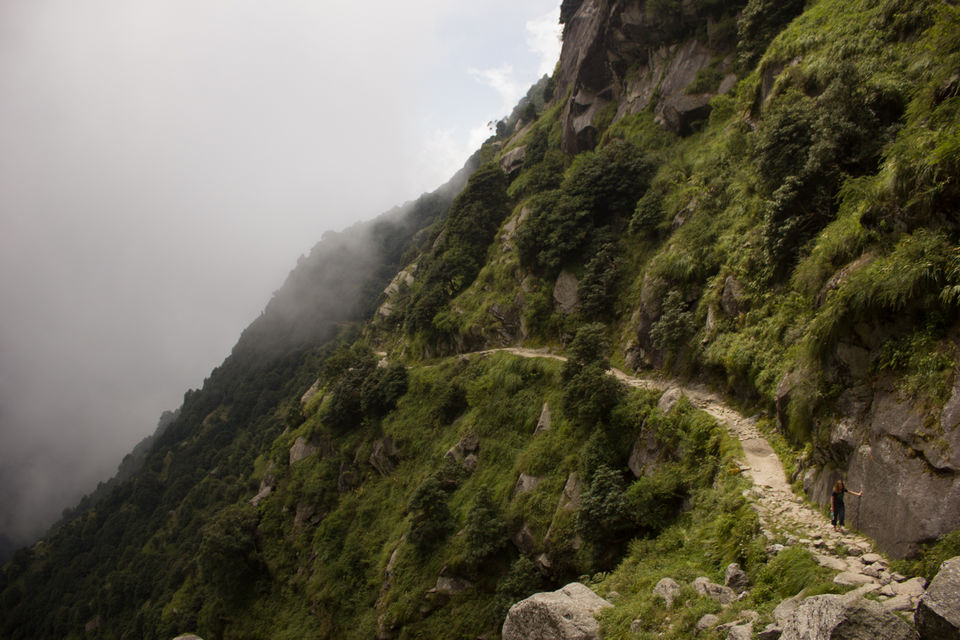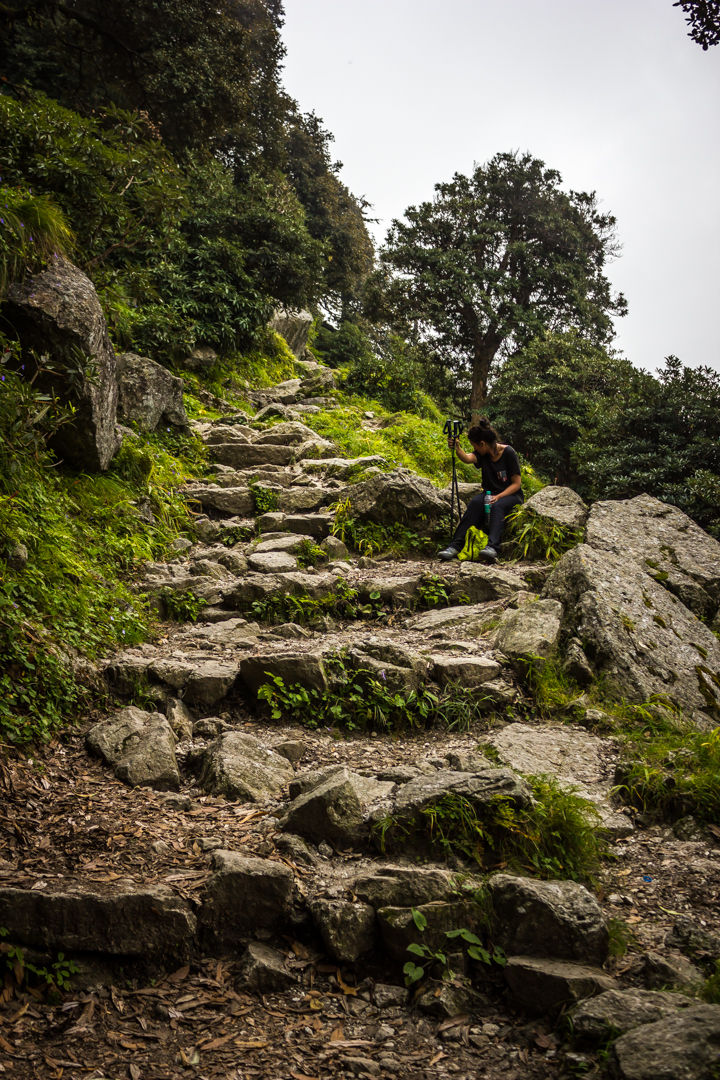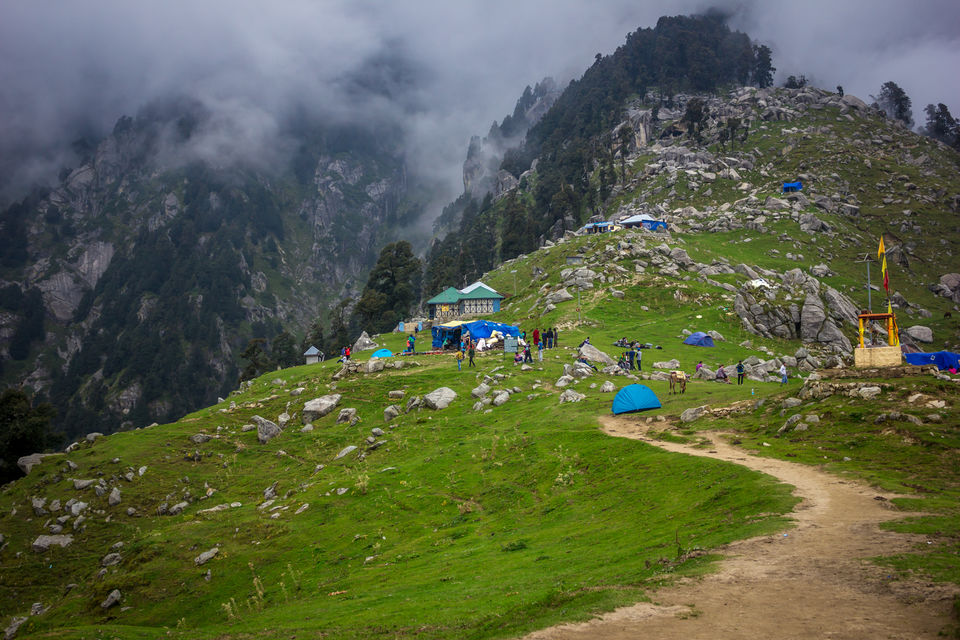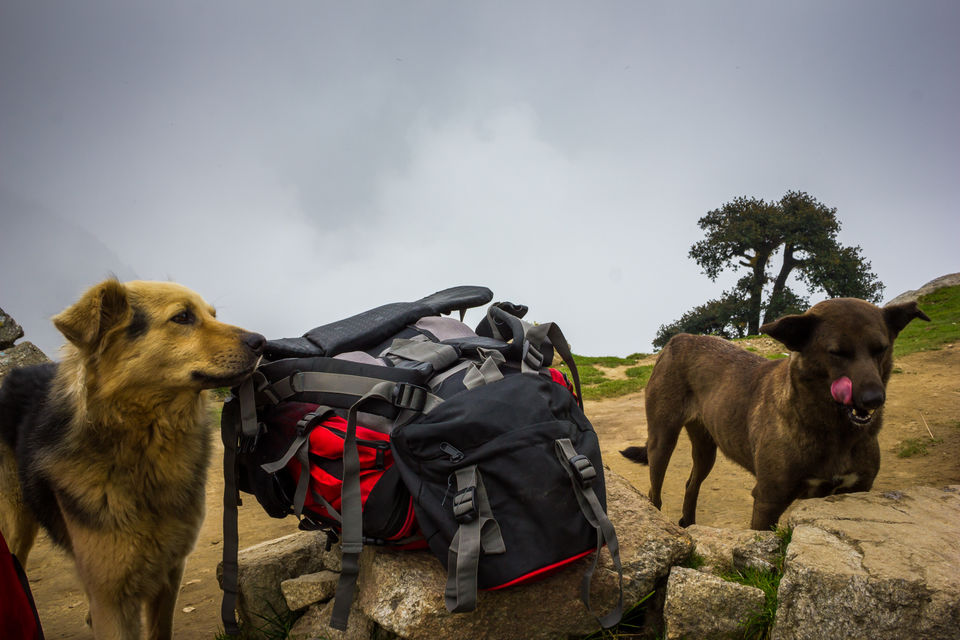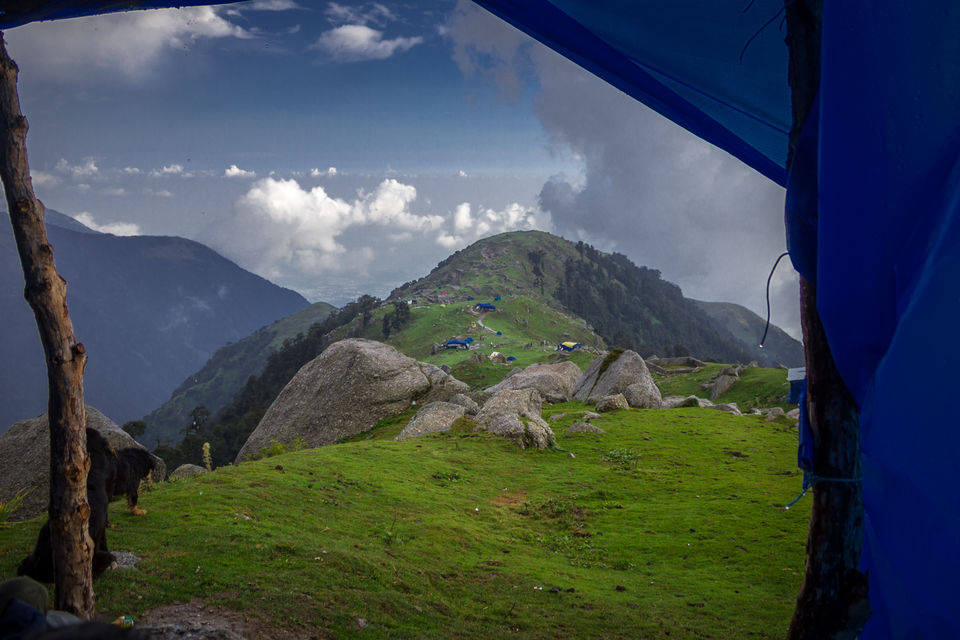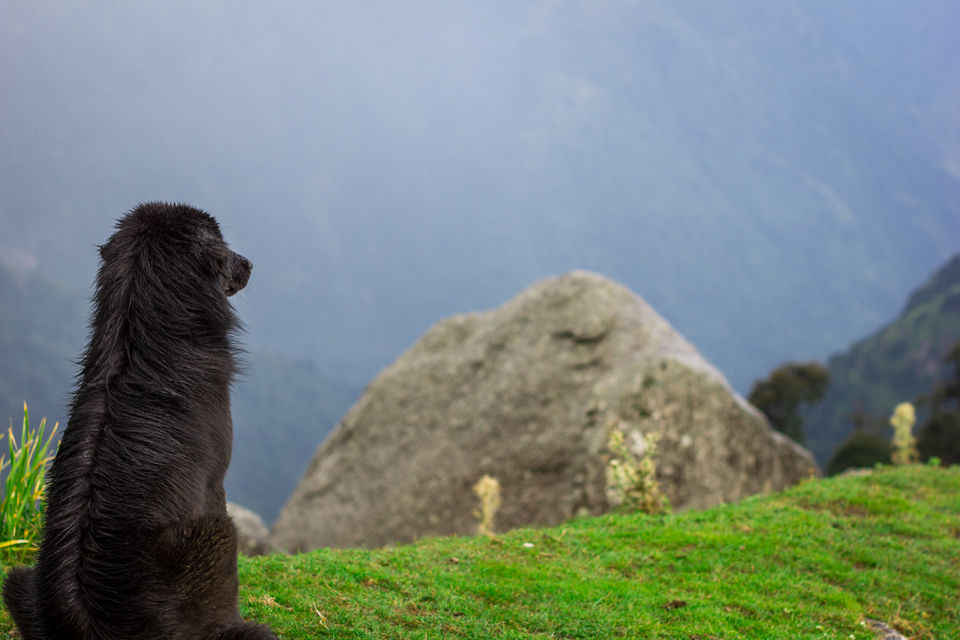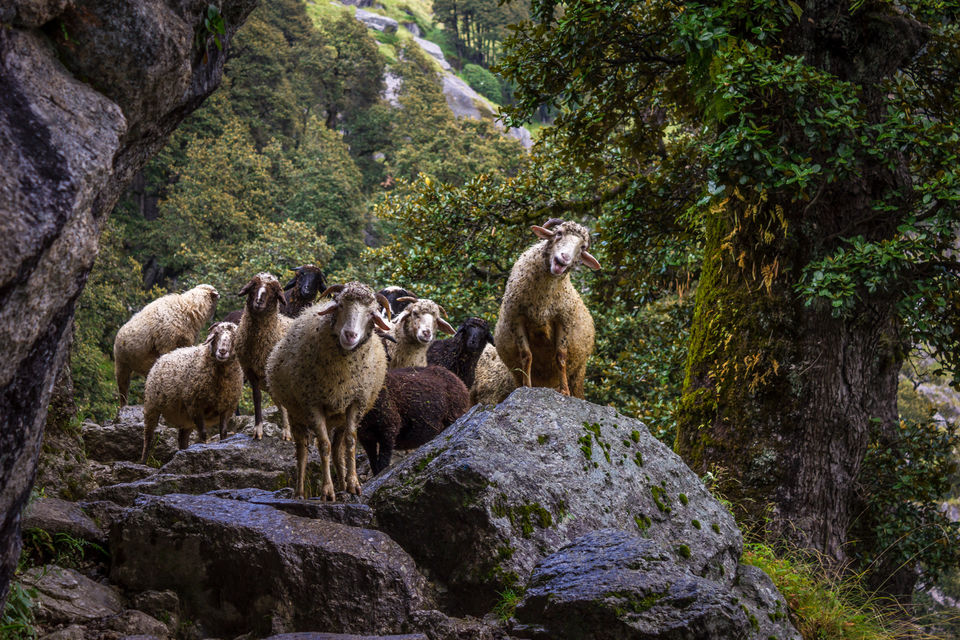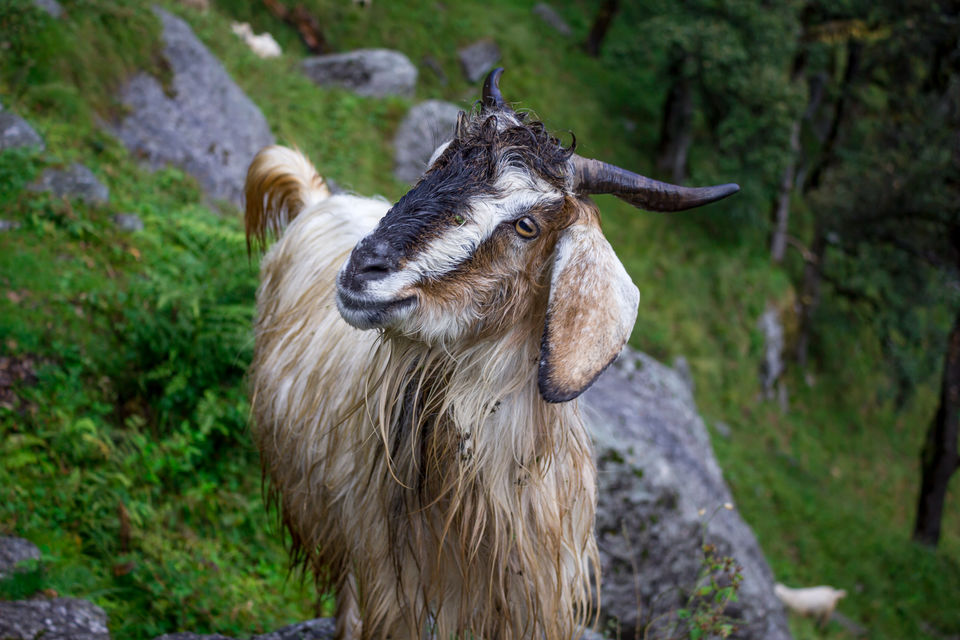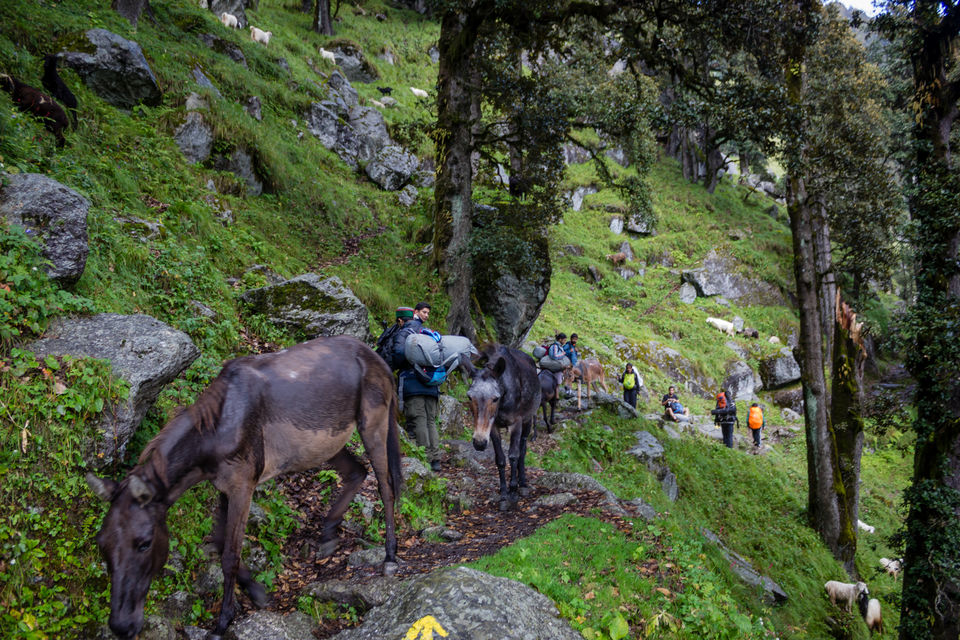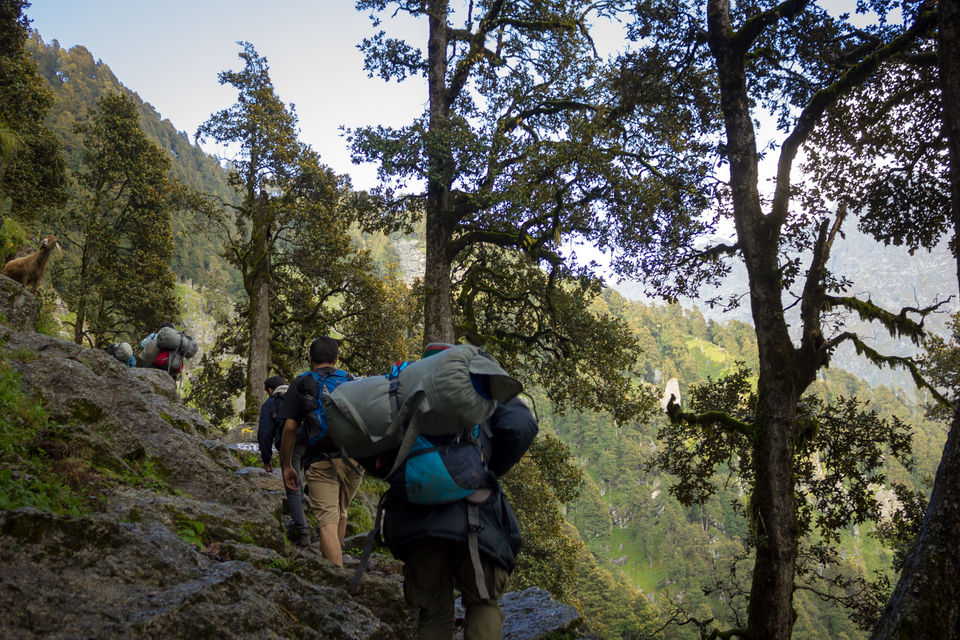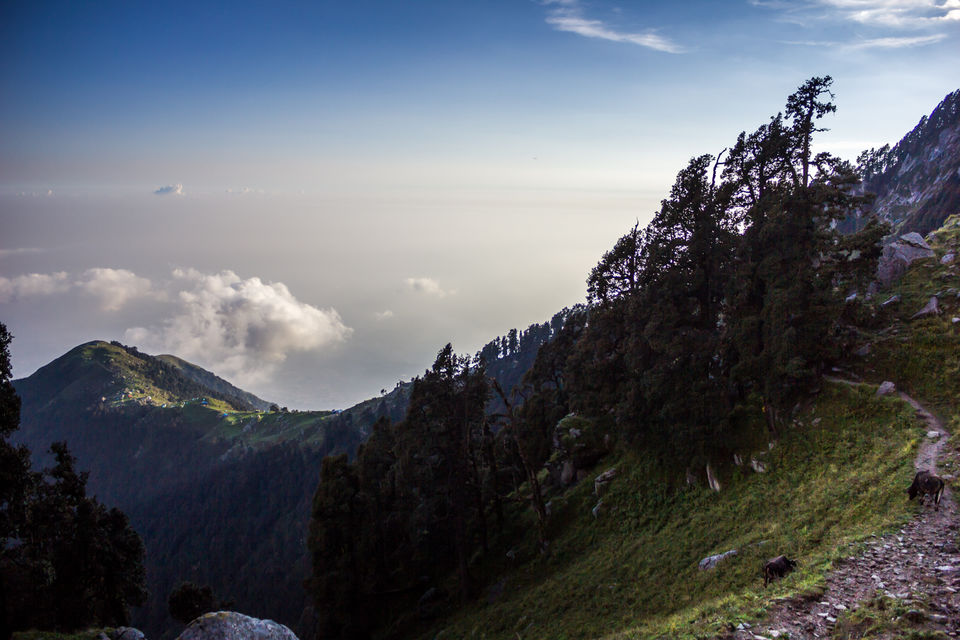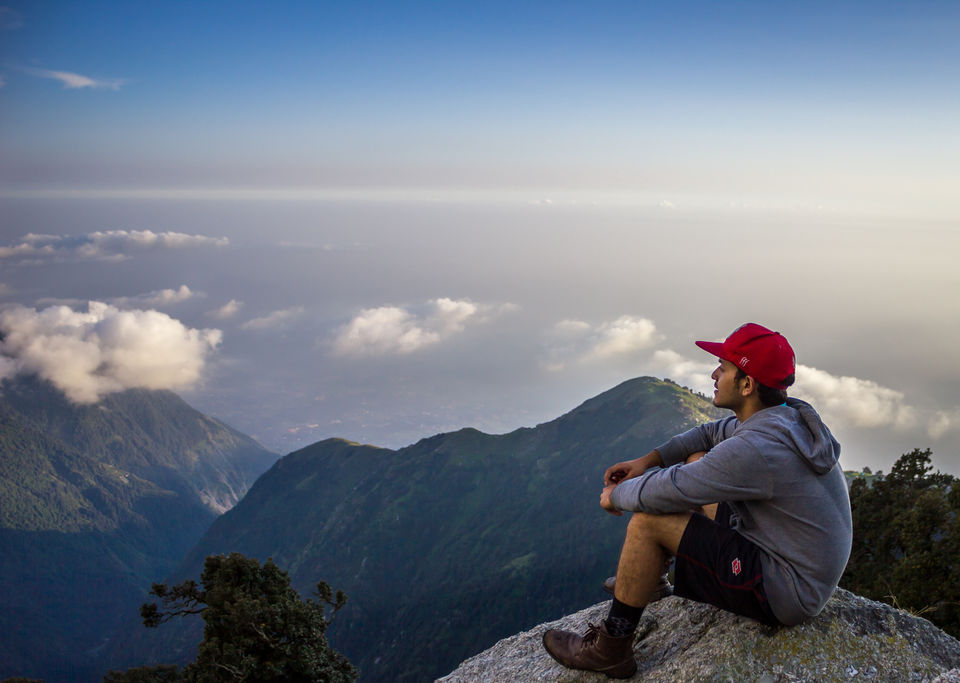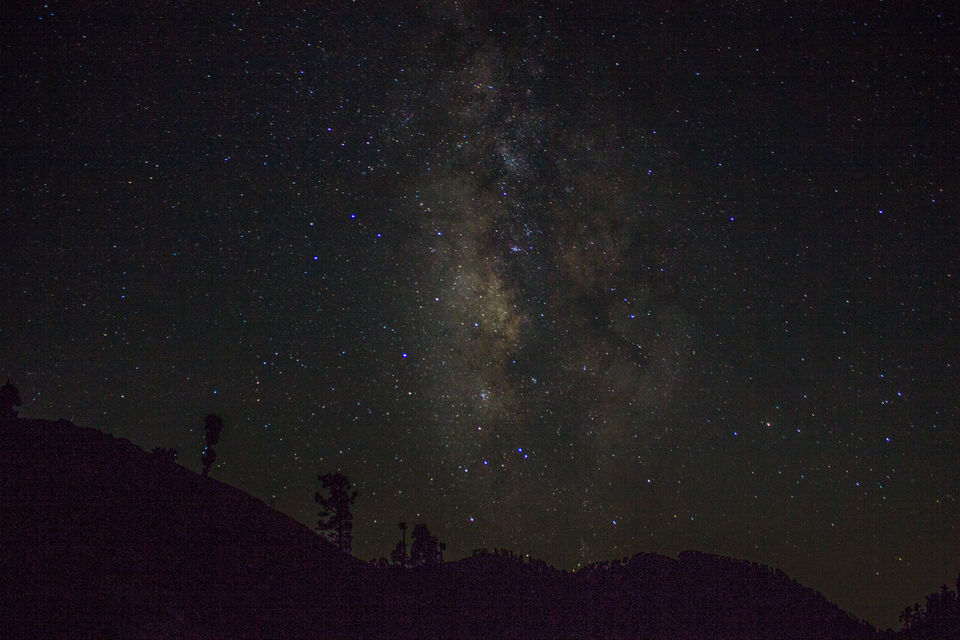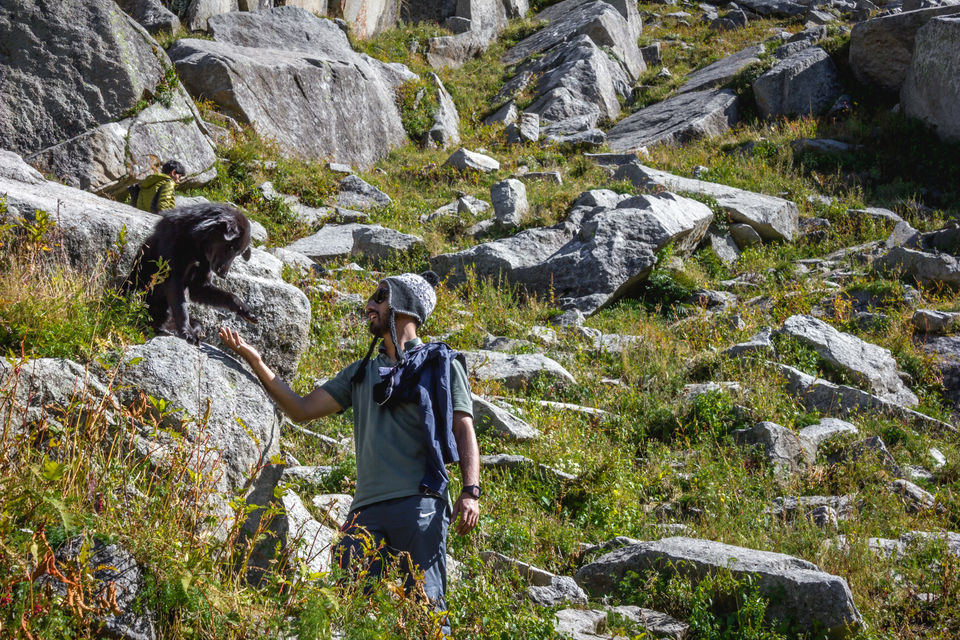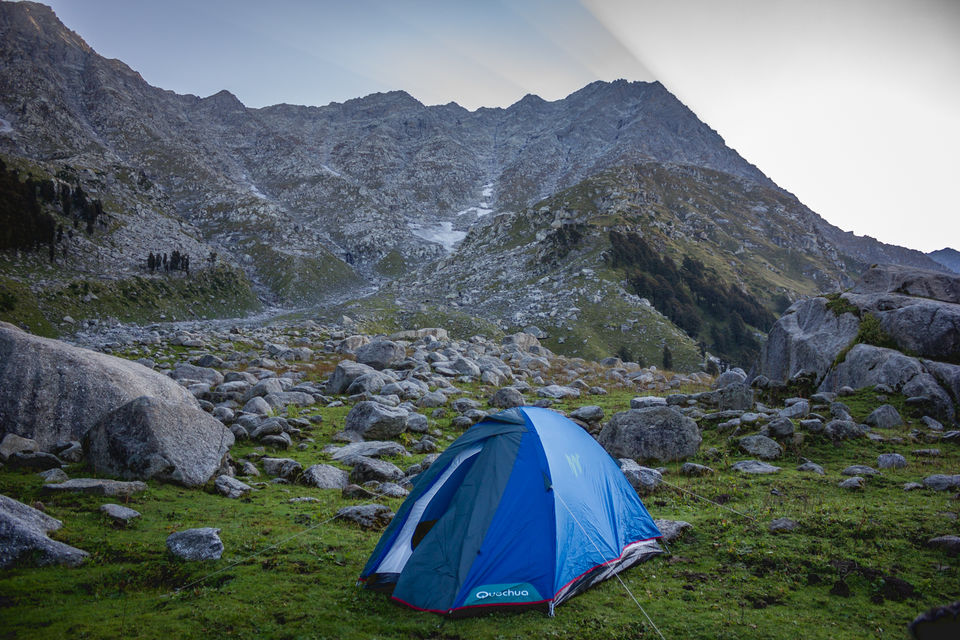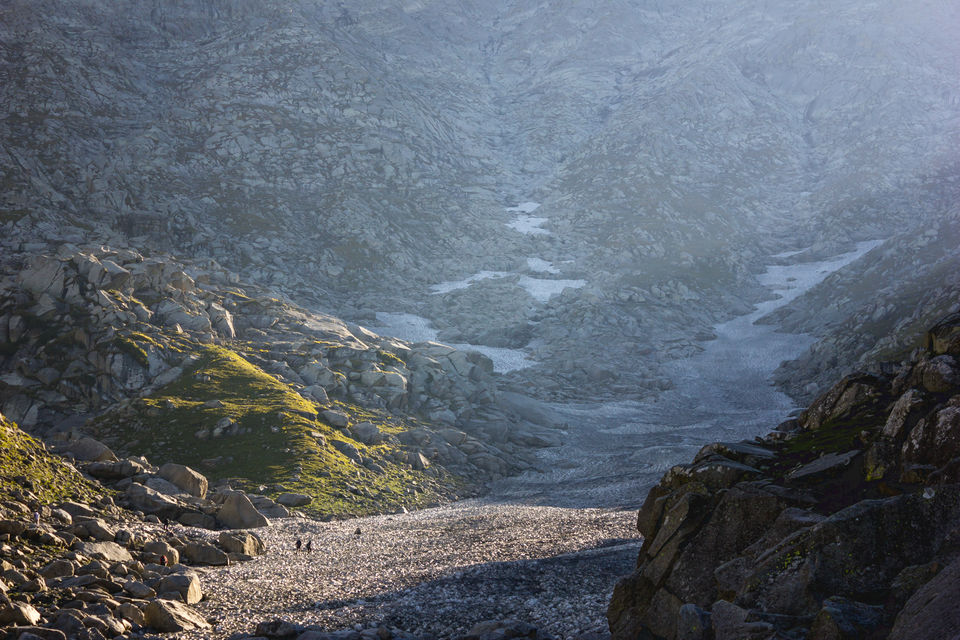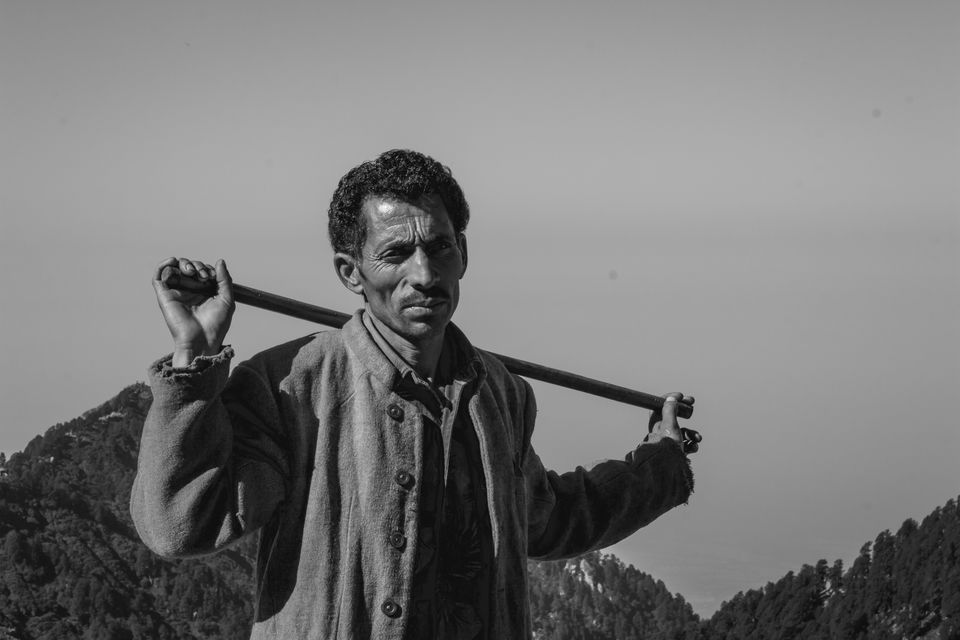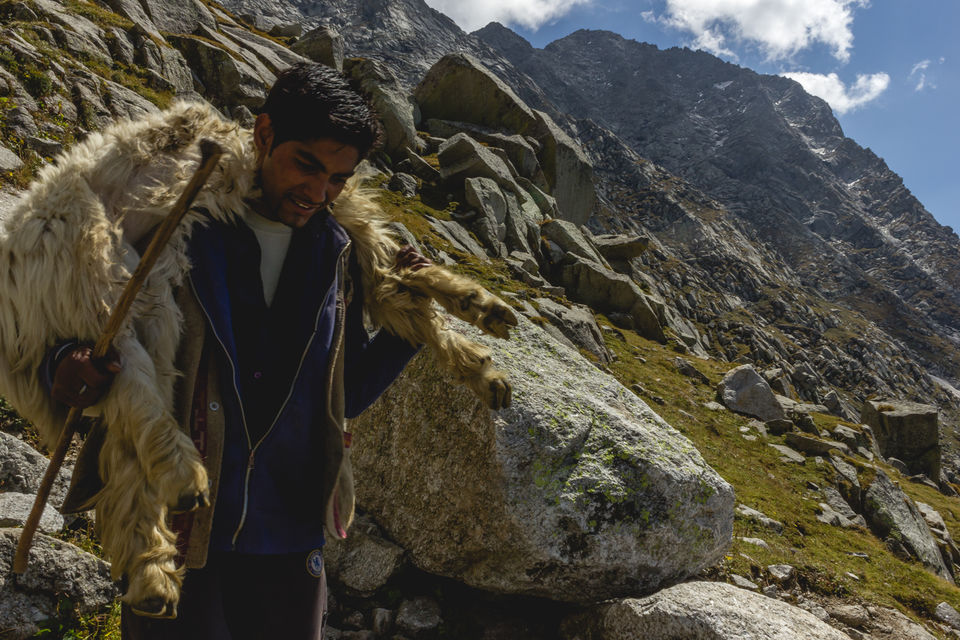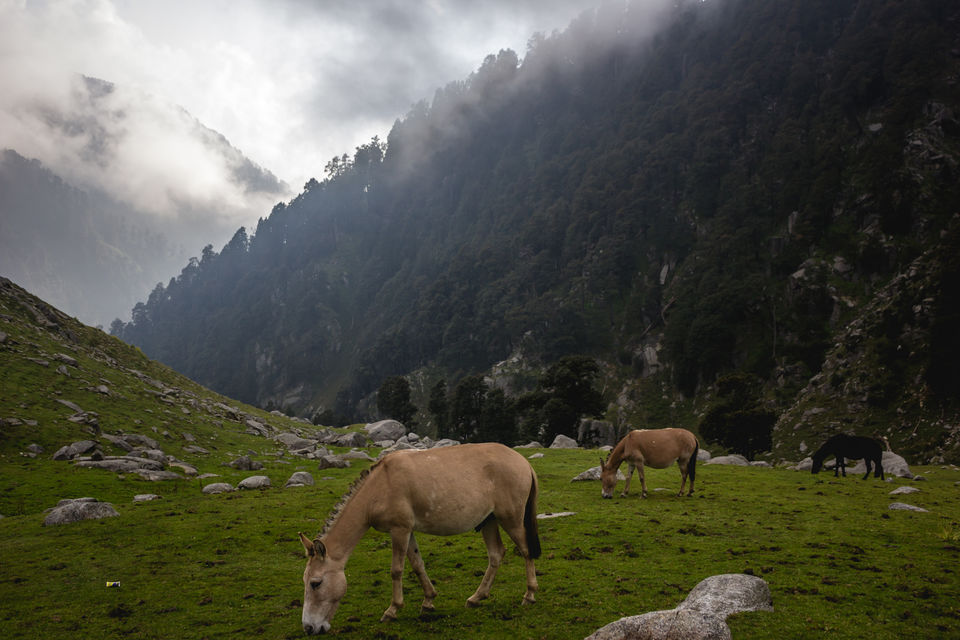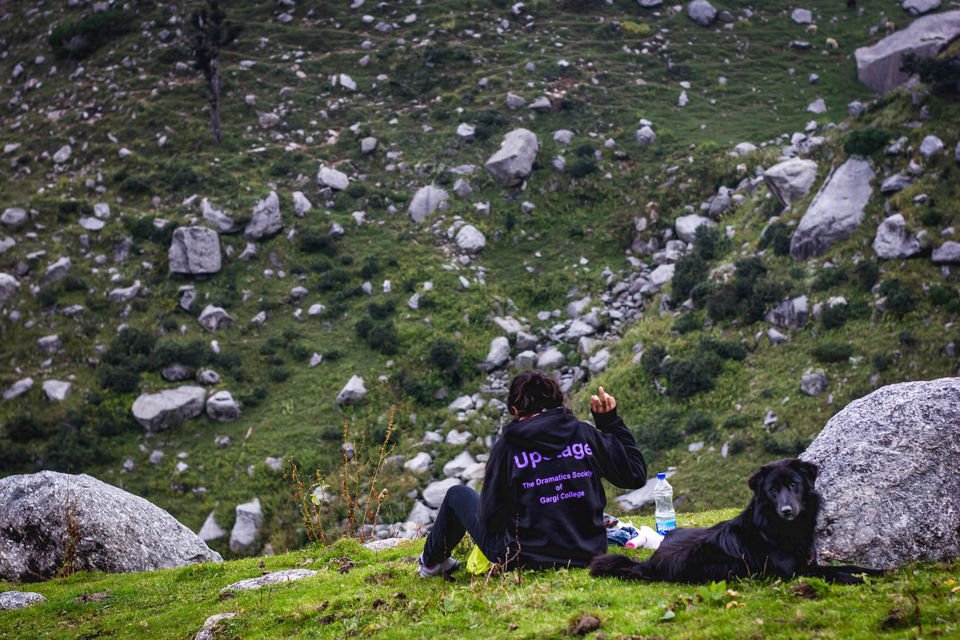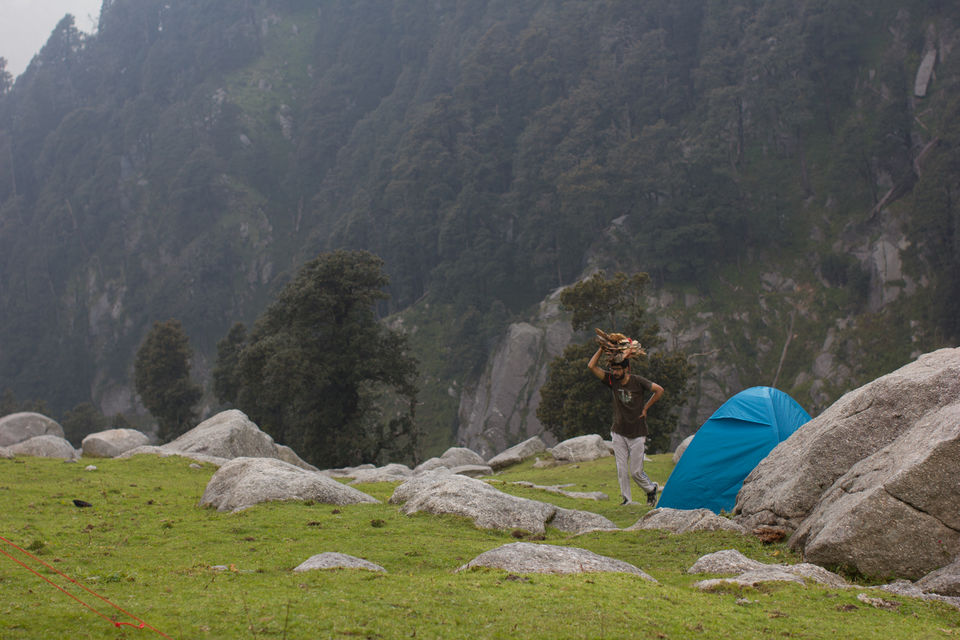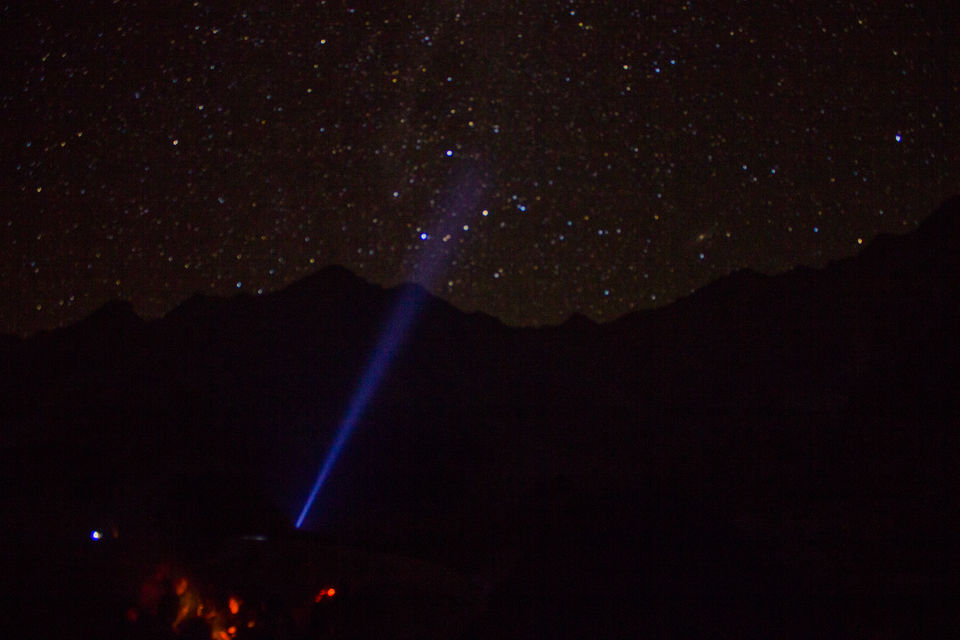 'I am losing precious days. I am degenerating into a machine for making money. I am learning nothing in this trivial world of men. I must break away and get out into the mountains to learn the news.' - John Muir
And so we broke away to learn the news! The first weekend of my first day job, we packed our bags and headed out for a 3 day trip to the mountains. This trip started with a bus journey, which was peculiar to start with. By a car, I always remember experiencing the roads, every turn and corner had something new to it, a little something to ponder upon. The bus journey, whereas was like a short teleportation, from the honking cars to the beautiful sunrise over a hill top.
I woke up to a sunrise so beautiful, it had to be a dream and I quickly slept again to let it remain in my consciousness. We reached Mcleod Ganj at 8 30 am having left at 9 pm at night. Sleepy, tired eyes led me to a cab that Anunay had taken for us to reach the point whereon we would start our trek. I was in no mood to walk for 2-3 days and get back on time for office. What I've realized is, there's no half of a life. You cannot be a half traveller, a half office goer or a half writer or a half artist or a half anything. If you take up something that makes you feel alive, you need to immerse yourself in it and become like an oil lit cotton bulb. There's no light without immersing your entire self into the oil.
I walked along, slowly, thinking why I am doing this. What would this tired trek give me? One step after the other, we reached Triund in about 5 hours. Triund was another great disappointment, as we reached the ground was filled with tents, a picnic spot for the whole world. And I sat down, thinking what I had come here for. People with much excitement in their lives, who would just sit there smoking and drinking, listening to music, so oblivious of the great great mountains around them, they would sing, dance like they would do in the city, forgetting why they have come here.
We ate a quick lunch in the area and decided to move on further to a more secluded place. As we sat there eating, it started to rain very heavily with a hail storm and we had to sit there waiting. I secretly was happy that we wouldn't have to walk more up until a group of people entered the tent who were very loud for my liking. Even though my mind forbade me to walk any further, I knew I had to get away from Triund and I walked on. 5 minutes uphill, was a café where we had to sit, because of the heavy rain that suddenly started. We sat there gazing at the rain drops thinking what we would do stuck in the middle of somewhere we wouldn't want to be and somewhere we hadn't yet seen. A group of about 9-10 boys walked towards us and took shelter in the café. There is where we met our cutest friend, Ruby. We all sat there waiting for the rain to stop when a black ball of cuteness showed up, dripping wet in the rain, hesitant to come inside the shelter. We all called him in, made him sit in the dry area. The rain slowly stopped and we all headed toward something greater thereon.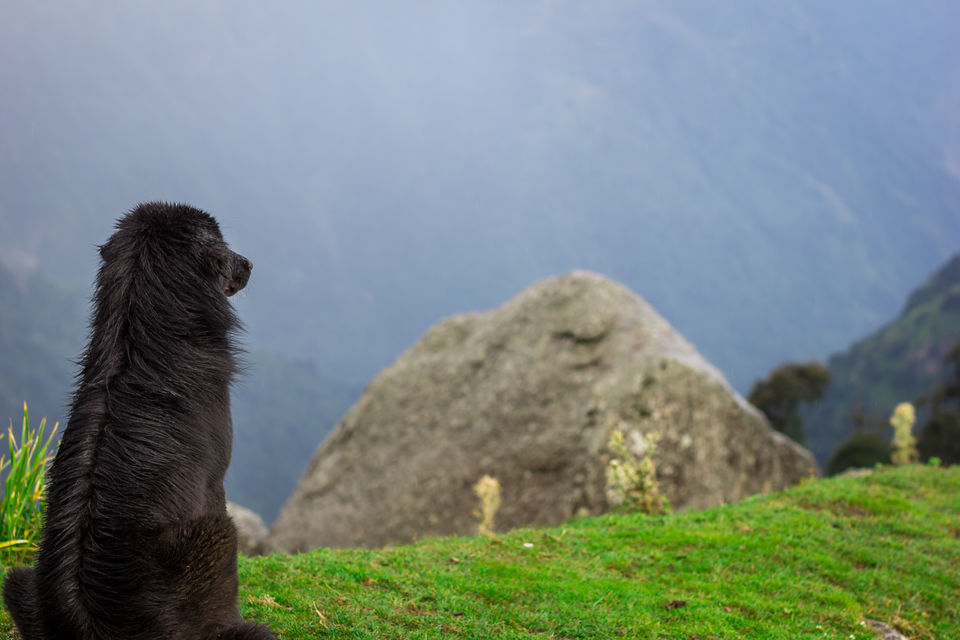 Somehow, walking with so many people who did not care much to talk, who actually were here for the mountains and also, Ruby's company led me to walk with a little more enthusiasm than before. I walked slowly, with a bunch of slow people around me, and I could have walked on forever. We stood there, a group of human beings, right across a herd of Goat and Sheep, just staring at us like we were staring at them. We laughed and spoke about them and they replied with a tilted head 'Mehh' and sprinted past us.
Anunay and I walked on following the group after Snow Line Cafe, our last stop, taking a detour to watch something we had never seen. The sun shone a bright orange, over a line of a multi-coloured horizon, slowly hiding behind it. We were at the edge of the world looking at the Sun standing a still orange as we passed it by. 5 minutes of that was worth walking for 6 hours. That's how a trek always works for me. The anticipation is mind numbing, but the final moment takes any and every confusion away!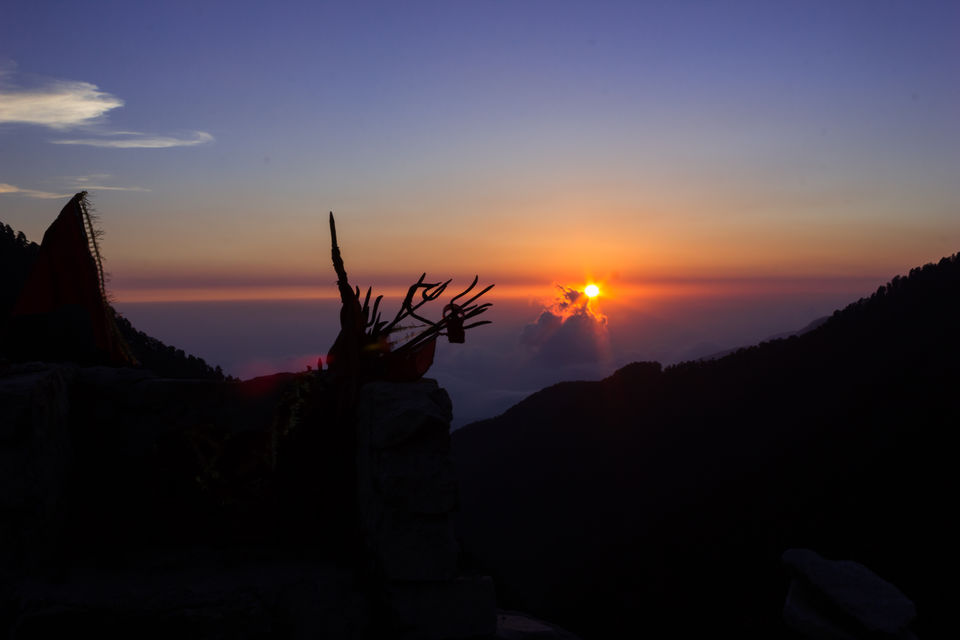 We finally reached the decided base camp and spent time putting up the tent, which ultimately was on a slant, making us sleep like a baby cradled, but only to one side. My face was continuously leaning toward one side of the tent. But I still slept like a baby, waking up to another landscape altogether. Greenery shining by the sun's light. We embarked upon the Indrahar pass trek next. This morning again, I really didn't have it in me to walk so much. I caught a cold and my head was spinning, but one of the disadvantages of being the only girl amongst 11 boys was their instinct to look after the helpless little girl. I wanted to stay back in the tent, but no one let me and I walked on with slow small steps, cursing everyone and myself in my head. Not that I have stopped liking trekking or anything of that sort. But to me, a trek is clearly not a competition or a judgement of my will power or strength. It's a getaway from everything surrounded by the beautiful big mountains and beautiful skies. And for them, it was the former. For me, the journey mattered. For them, the destination! I still walked on, making a few of the bunch having to walk slowly because of me. In that state of mind, I really didn't care about what they had to do because of me, because I could have easily stayed behind and had a wonderful day to myself.
We were met by grazing sheep again on the way. And a shepherd agreed to guide us to the pass since it was impossible to reach on our own. The way was confusing and dangerous. The shepherd took to the leadership and kept shouting out to walk faster, with boys behind me encouraging me to walk, 'You're doing great. Don't stop, don't look around, come on!' It became a fucking task all of a sudden. I had to do great, I had to walk faster, I had to keep walking without stopping. And I did not want to. The way got steeper and the commands kept increasing, not their fault obviously, since these mountains had a way of their own, with their moods and their weathers, and of course, a trek to a summit must be this way, but it was certainly not my cup of tea on a day off from life. Maybe some time when I am out forever with no time restraints or life restraints, I would do it. But this wasn't something I could do at that point of time and I stopped at the first opportunity I got. 3 boys said they didn't wish to walk any further, the same reasons as I and I thanked everything around me and took rest with them on a slanted grassland right before the steep rocky uphill that the others and Anunay kept climbing on toward. There's a certain something they were all fulfilling by climbing up to the highest somewhere in the world and I wish I could be one of them, but my satisfaction comes pretty easily and I have no greed to win. Maybe a wrong spirit on big mountains or in this big world but I have a very high need to keep my mind at peace and sitting there, looking at everything from halfway up and halfway down gave me it. It made feel somehow small but I was okay with it. I was big enough to accept how small I was.
"I like the mountains because they make me feel small,' Jeff says. 'They help me sort out what's important in life." ― Mark Obmascik.
One more boy joined us from the top, as he had turned back and with him came Ruby. We all chilled in the sun and decided to walk back downwards to start collecting wood for the night fire. We walked on through changing weathers, enveloped by clouds and Ruby behind us, and ahead of us, leading the way and protecting us.
After 2-3 hours, we reached the first water stop that we had come across in the beginning. We sat there for an hour, drinking water, wondering if the others would have made it by now and started their way back. We had just decided to get up and leave for the camp site when we saw the guide walking downward with Anunay right behind him, with the others following, all of them like on a sprint. We waited, thinking they hadn't reached the top since it was improbable of them to come back so soon, but they had. I was a little disheartened as they came back with a smile bigger than they had left with and I had just missed out on an opportunity to get one. But I knew I would get this yet again as my itch keeps getting larger to get to a point so high, it would be difficult to breathe with my heart pounding ever so greatly with a happiness I still haven't known.
We were invited to dinner by a shepherd's camp around the corner from the base camp and we celebrated their fulfilled journey with half of ours, next to a bonfire, eating, drinking and smoking, knowing it was our last and slept the starry night away, with our satisfied selves. The next morning, we bid them good bye and walked back on our own, meeting them briefly at all trek stops on the way. On the last stop café, we slyly used the café washroom to take a bath, a brown huge spider watching over us, played with the owner's dog, ate cooked food after 2 days and set forth by cab to Mcleod Ganj. On the way, we also met Ruby, tied by the owner, wanting to meet us but scared to life by the owner, standing far and wagging his tail. We bid him good bye and reached Mcleod Ganj, talking about the trek, at last long, together, just the two of us after a long 2 days. We ate at Jimmy's Italian café, our favourite from the last time we visited, packed some food for the bus and left for Delhi at night for our next tired body aching day in office.
No doubt it was one of the most chaotic trips of our travel life till now, but also one of the best. Some things that I accepted along the way, that failure to be up there wasn't as much as a failure as it was a learning, an experience of something new, making new friends along the way and trekking alongside a dog, which has been the best experience up until now.
McLeod Ganj is a suburb of Dharamsala in the Kangra district of Himachal Pradesh. It is known as "Little Lhasa" or "Dhasa" (a short form of Dharamshala used mainly by Tibetans) because of its large population of Tibetans. The Tibetan government-in-exile is headquartered in McLeod Ganj. We reached Mcleod Ganj by bus from Delhi in 11 hours. The hill station, though generally overcrowded, was deserted in the heavy rainfall of September. Beautiful as it is, it is a very famous spot for a weekend getaway.
Triund is a ridge overlooking the Dhauladhars, the ridge elevation being 2,875 metres. It is a 10 kilometre trek (one way) from McLeod Ganj bus stand. The trail is rocky and cut in steps at some places. From Galu temple the trail starts as a gentle ascend till Magic View café. After the café, the ascent is a tad steeper, finally cumulating in a steep final one kilometre stretch through a forest of Deodars and Rhododendron. This final stretch through the woods is known as 22-curves, because of the 22 switchbacks that one has to walk through to get to Triund. It is advised to carry your own potable water as bottled water costs 50 Rs / bottle at tea shops in Triund. The place has got facility for night camping where you can rent a tent for around Rs.1000 for two people. Only one shop to buy your food and stuff is available serving only one dish per day. So it is advisable to carry your own food.
The last cafe after Triund, this will be one of the last stops to buy your necessities from before the trek. A beautiful view, but everything with a higher cost than it should be.
Laka, the fields where we put up our tents, is worth a visit for its mysterious surroundings with enormous boulders and the most beautiful sunset you will ever see! The place is immensely beautiful with greenery and beautiful horses all around. But be aware of all the cattle dung you would have to deal with. There's no choice but to accept it as your ground, walking sitting and chilling on it!
Lahesh caves is a famous spot on the trail to Indrahar.