Booked our tickets in March 2016 and waited till June 2016 for this trip. IT WAS A LONG WAIT.
I have this habit of researching too much about anything and everything. And planning like a mad person..each and every detail should be covered. I make hundreds of phone calls and visit a million sites to plan where to go, what to do, where to stay...its all done and planned long before I plunge into an unknown land. I had booked train tickets from Ahmedabad to Pathankot (Punjab) which is the nearest station connecting the nearby hill stations if you want to visit North-west Himachal.
I had booked hotels at all places and taxis connecting each place. I'll be giving a detailed overview below. For the planning, you just have to remember that these places now-a-days are bustling with tourists. The explosion of information available on the Internet has not left any stones unturned when it comes to hill stations. Even the smallest of hill stations are not unknown and before you head to any of these places, make sure you have it all booked online.
I heard from one of the drivers in the trip that some people had to sleep in the taxis for the lack of hotels. I mean that's very adventurous but I was not at all up for something like that..!!
1st June,2016 to 2nd June,2016:
This day was mostly spent in the train. I started my journey with three other friends at 11.30 am on 1st June and we reached Pathankot at 4.30 p.m. on 2nd June-2016. I had booked a taxi from Pathankot to McLeodganj at Rs. 2000.It was really hot in Pathankot.The temperature was around 40-42 degrees when we got down the train. It is a 3-4 hours journey from Pathankot toMcLeodganj.
The temperature dropped gradually as night caved in and we gained height. McLeodganj is a small hill station 10 km away from Dharamshala at a higher altitude. I had booked Hotel Ekant Lodge at McLeodganj which is just half a kilometer from Mcleod Chauraha. We reached the hotel at around 8 p.m., freshened up a bit and went out for dinner. By the time we left the hotel it was 10 p.m. and most of the restaurants were closed.
We had to settle for a small place near the hotel names Vicky and Vicky German bakery. Dinner was not good at all. We got something very different from what we had ordered. We went back to the hotel after that and slept. The temperature had dropped down drastically to around 15 degrees at night at McLeodganj.
We woke up at around 8 a.m. and went for tea at the same place we had had dinner. It was nearest and we were feeling too lazy to explore more without having tea. That was the thing with all of us. We cannot head-start our day without a cup of tea. After tea, we asked the person at the hotel to contact some taxi for sight-visits. The taxi came within 5 mins. The taxi-driver said that they charge Rs. 800 for 3.5 hours during which all the sights are generally covered in the town.
Our first spot was Bhagsu-Nag temple. He dropped us near the taxi stand and gave us directions to reach the temple and waterfall near it. We had some breakfast and headed for the temple. It is preceded by a small lane of shops where local items are sold. The Bhagsu-Nag temple is famous after a King named Bhagsu who wanted to take the lake near the place to Rajasthan for his people. When the Nag came to know about this he came and a fight started at the end of which King Bhagsu realized that the Nag is none other than Lord Shiva and so, defeated he went back to his place.
There is a small swimming pool near the temple which was filled with tourists. Cutting from the temple is a small lane which makes way for a trail towards the Bhagsu falls. The trail is just like the one we find in Vaishno Devi. The upwards walk takes almost 30 to 40 mins. The view is beautiful. It was sunny and a bit hot during the day which made us tired quickly. When we reached the falls, we found a thin flow of water to a shallow poll where only our legs till the knee could dip but ...it was chilly. We took off our shoes and dipped our feet in the water and were shocked by the chilly effect. It was so cold. I couldn't stay in there long. It was numbing my feet.
After a few clicks and fun, we headed towards Shiva's Café which I had read so much about on the internet. It is 10 mins walk upwards the fall. The place has an artistic look with pics of Hindu Gods and small quotes like 'You will not find internet here, but u will find better connection'. There were a no. of seating arrangements with chairs and tables, mats and lower tables, inside and outside. The place was so calm and peaceful.
We had already spent 1 hour to reach the falls and then reach the café. We had only 2.5 hours to explore the other places but we refused to budge from there. We had tea, coffee and sandwiches at the café and got busy clicking pictures. It was almost 10.30 when we thought of heading back. By the time we went back, the taxi-driver had got worried that something had happened to us. He had presumed we would come back in 45 mins. Ha!!
Well, after that we kept in our mind to call the driver if we want to take more time. After that he took us to spot not worth anything. I do not know what it was. Some place just to see the mountains but that could be seen from anywhere. I told the driver to take us to better places after that. He took us to a beautiful church after that. In the midst of tall deodar trees and slope of the mountain, it looked old and beautiful. The place was very quiet and people were visiting peacefully. It is wonderful how every holy place brings calm inside you and soothes every thought.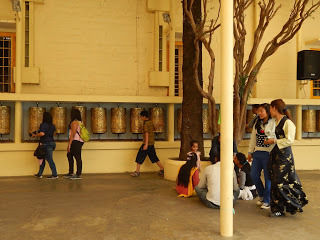 Triund trek is an 8 km trek with a steep ascent of 1100 meters. It can be started from Dharamkot village which is around 2 km from Galu Devta which is the last place accessible to vehicles. With no specific plans for staying on the top and being double minded about it, we headed for triund top at 6 in the morning. We took a cab till Dharamkot village and started walking from there to Galu Devta. One can also take a cab from the market till Galu Devta which would cost Rs. 400. Well, we preferred walking and enjoying the surroundings. The walk till Galu Devta is not steep. Its an easy walk with Deodar on the sides. There is a very tasty tea serving shop just before the turn at Galu Devta. One must not miss having tea there because we were not lucky when it comes to tea in Himachal.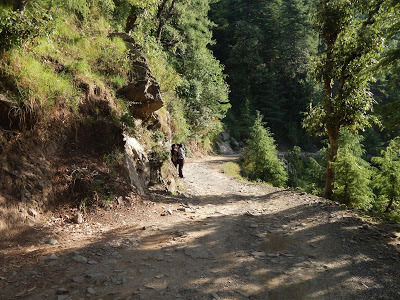 After reaching Galu devta, it is steep, rocky one-person-at-a-time path with small shops serving cold drinks, water, maggi, energy drinks (all at double rates!!). It's a long walk with several people walking with you. Different groups, families, college people. It is not a lonely path or maybe it was the season which must have attracted so many people to this place. It was moderately cold so we did not need any jackets. Taking many breaks and going at a slow pace we reached the top in 6 hours. Phew!! It was such a relief.
The view was beautiful with snow covered mountains, colorful tents and men paragliding from a far-off cliff. Tents for night stay were being offered at 1500 per tent for two pax. We decided not to stay but we had some hot dal-chawal at the top which was quite a feeling.
We started descending at 3.30 p.m. and mind it, our legs had had it all by then but we had no choice but to descend and make to the hotel. The walk looked longer this time but it was fun telling the people who were ascending the time they would take to reach. Hehehe..it was fun. We reached the Galu Devta Temple at 6.00 p.m. and by then my bladder was bursting so we booked a cab from there and hurried towards the hotel. Tired thoroughly, we had simple dinner and went to bed exhausted thinking we would not wake up at all the next day.
Opposed to the feeling that I had the previous day, we woke up early i.e. around 8 a.m. we had plans of going to Dharamshala for sightseeing that day. Booked a cab at Rs. 1,000 and headed downwards for the city. Our first stop was at the Tea Gardens. It was beautiful. I had never seen a tea garden before this and was very happy to see the nurturing grounds of my favourite beverage. After the tea gardens, we headed for the War Memorial, a big garden with memoirs of war. Only 10 mins into the trip, it started raining so we ran back to the cab and went to our next spot the HPCA stadium, the highest cricket stadium in India. It was still raining so the stadium filled with more lovely colors. Only one stand of the stadium is open for tourists.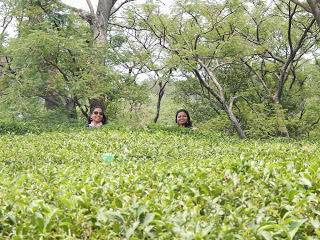 A taxi took us till the landing point of paragliding. From there a jeep took all the people gathered to Billing which was the take-off point. It's a half an hour ride till Billing. We had booked for video and photography CDs too. On reaching the point, they just take you one by one and start prepping you. It is such a chaos, all my companions had scattered to different places. All were getting prepped by different people. They keep throwing instructions at you.
"Maddy, paanv upar rakhiyega...aapko daudna hai pehle...dariyega nai" I don't know what the hell maddy was. A man was just behind me. Apparently he would take the leap with me. Leap of faith I call it. But I saw a woman getting dragged on the rocky surface before taking off and I was freaked. And without giving me any time for composure, I was hauled by three men who were literally picking me up while I was barely trying to run and without even taking two steps of the run, I WAS FLYING. I was literally in the air. I tried to seat myself properly holding the camera stick in one hand which was provided by the men to shoot the whole glide.
I was so up ! Up Up in the air. He tried to do some tricks by hurling me towards right and left, but it seemed like I would throw up so I stopped him. I was happy being in the air, there was no need for any enhancements to this. For 20 mins I was there, watching the world from above. And I talked to the man who was my faith. Then he gave me a few instructions about landing and then I was back down to earth... J It was thrilling.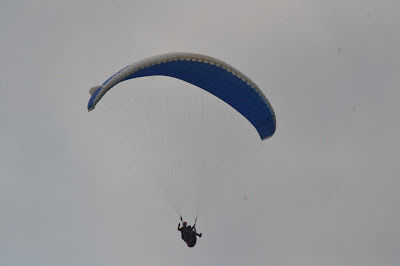 We headed for a Tibetan Monastery after that. I was very hungry by the time we reached there and was delighted to see food being served to all. I gulped two plates of dal as this was the only thing left. The monastery was beautiful and peaceful. People were sitting on the ground and having the Prasad. I don't know what the Buddhists call it. The temple had a big statue of Buddha inside and preachers who had followed and spread Buddhism.
Our time with the driver was almost over so we asked him to drop us at a good restaurant for lunch. He dropped us at Carpe Diem restaurant and went away. This restaurant was totally a different kind.
We took our seats and noticed photographs and notes from customers below the glass kept on the table. We ordered the food and kept ourselves busy reading the notes and looking at different photographs. Food there was amazing. Non-veg as well as Veg both.
We walked back to our hotel after having the sumptuous meal. We played some UNO and thought of sleeping but the weather turned so nice and beautiful that we could not sleep. It started raining after a while. We ordered tea and soaked ourselves in the cold scenery. Dinner was at a nearby restaurant and then we went to bed as we had a big and tiring day coming up the next day.
I had pre-planned this day. It was two days before the paragliding which we were going to do on 7 th so we would have enough time for rest after theTRIUND TREK on this day. J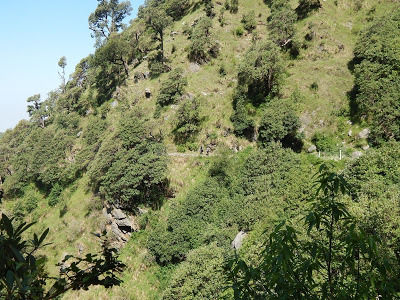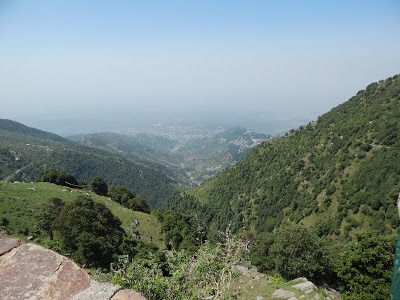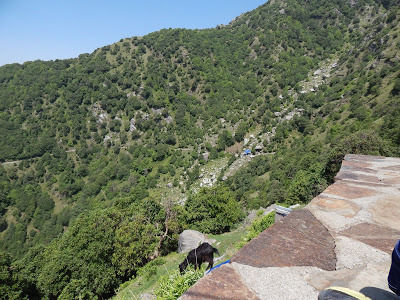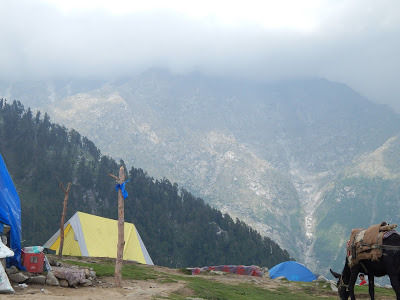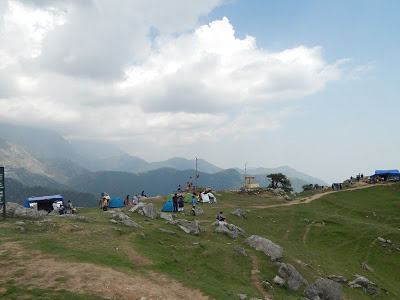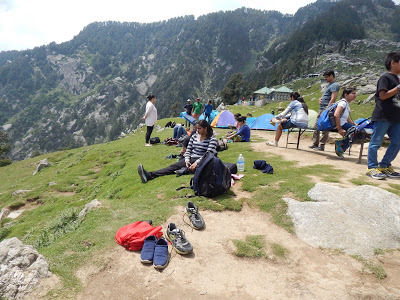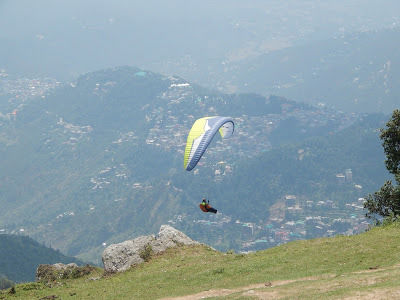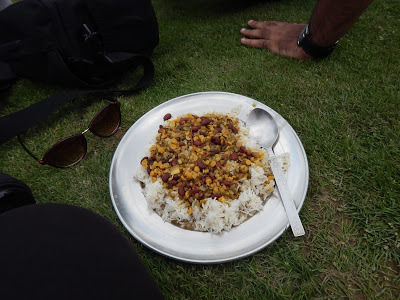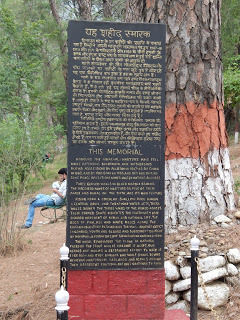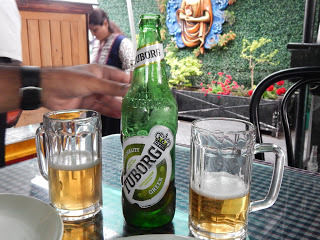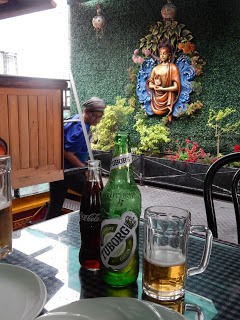 We also visited a small museum there which can easily be skipped. The cab took us to a Shiva temple after that. It was almost 3.00 p.m. by this time and hence we went back to McLeodganj after that. We asked the cab to drop us at Mcleod chauraha because we had to check out this restaurant we heard about from the Delhi Punjabi tourist while the trek. McLLO restaurant and bar, ohhh what a feeling that was! Amazing place with two storeys restaurant with a roof top seating arrangement too. We chose the rooftop. There were pictures of many celebrities who had visited the place. It had a feeling of that Leopold café or Mondegar but with an icy effect. While we were having lunch which included momos, Lasagna and some more momos with wine, it started raining. It got chilly instantly. The rains and roof-top restaurant is a perfect combo by the way. You cannot.. should not..would not want to miss this perfect place.
In the evening we went to two cafes, the name of both I cannot recall but it was nice. Every café we went to had a different ambiance and a beautiful feeling. Rest of the day was spent playing UNO, having momos, etc.
This was our day to leave Mcleodganj and leave for Bir for paragliding. The cab arrived at 11 and we reached our pre-booked destination at Bir at around 3. Camping and paragliding for one night in Rs. 3700/- through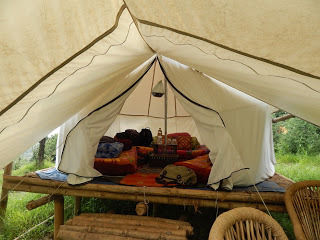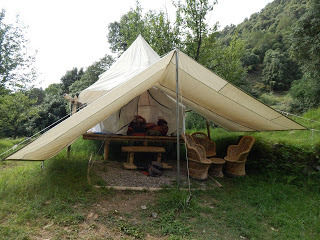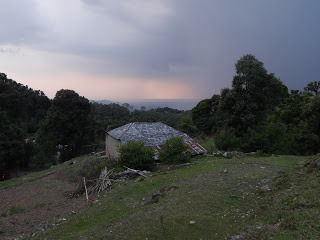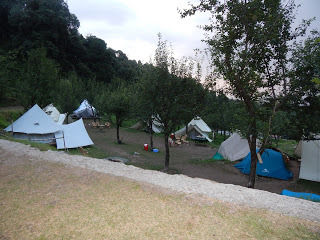 The camp was set in a totally green mountain location. Without the greenness, the camps felt like the Middle-Eastern ones with 03 comfy mattresses n cane chairs. It was really striking. What a place to relax! we got cold drinks on arrival as the temperature was around 30 when we reached and it was sunny. After some freshening up, we went around the camp where a small stream was flowing. The whole set-up was picturesque. At night, we got amazing pahadi chicken and homemade rotis and rice. We stayed up till late night, singing and enjoying the darkness.
We woke up early to enjoy the morning in the jungle. It was drizzling. A sumptuous breakfast and tea was ready to greet us. We waited for a while for the rain to stop so that we could go to billing for the paragliding.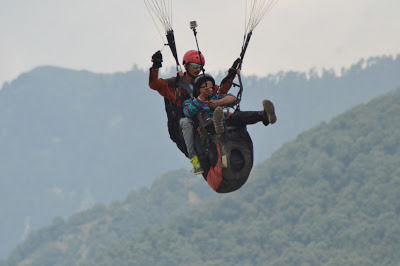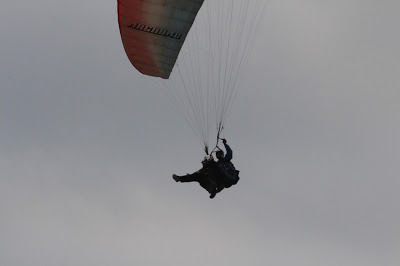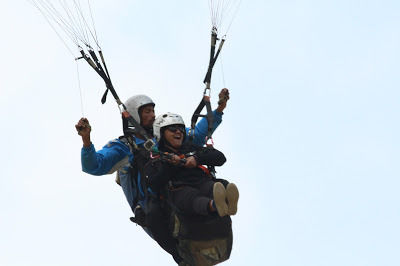 We had a direct taxi to Dalhousie from Bir which was booked at Rs. 4200/-. It took us 7 hours to reach Dalhousie where it was raining and was quite cold. We freshened up ad had dinner at a near-by restaurant and retired for the day.
We woke up to a beautiful snow clad mountain view at the hotel Himdhara. The hotel is located at the edge of the road with beautiful view of the valley and mountains from there. We had booked a taxi again for sight-seeing. There were few places in mind like the Kalatop sanctuary. Our first stop was the Dainkund Peak. The mountain's highest point towers at a monolithic height of 2,745 meters above sea level. The Dainkund Peak is often termed as the singing hill. The top of the hill is occupied by the Indian Air force and is inaccessible without proper permits. The mountain is one of the most amazing trekking spots and provides a brilliant panoramic view of the entire valley. It took us almost 45 mins to 1 hour to reach the top which had a Shiva temple and Kali devi statue. Small white flowers decorated the whole hill.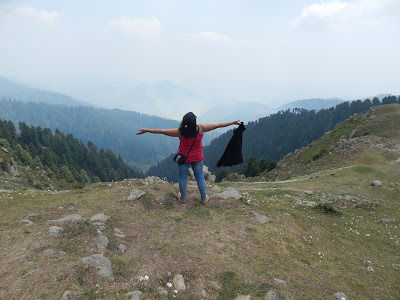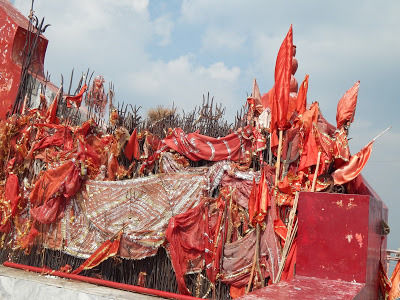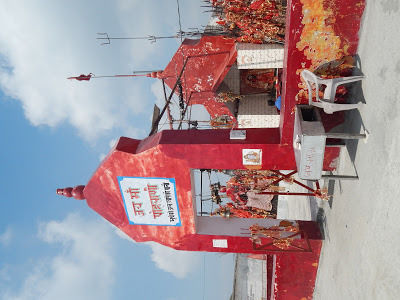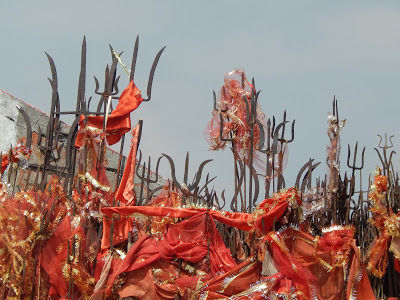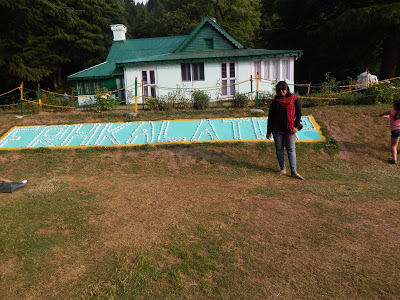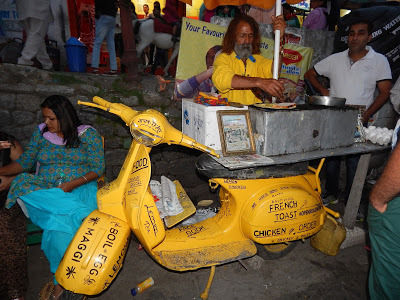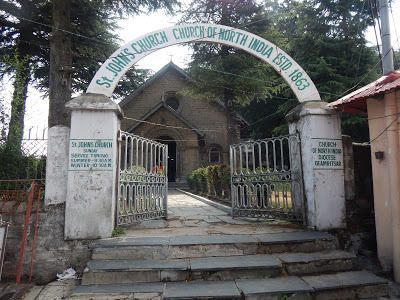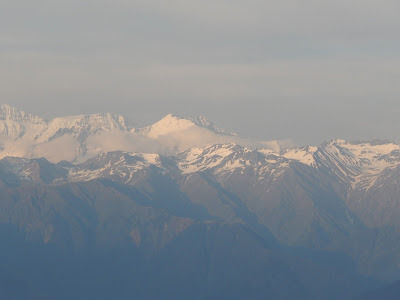 Next, we reached the Kalatop Guest house which is the place located in the sanctuary. I had heard that staying amidst the wild is an experience in itself so I had tried to ook a place here but in vain. The forest authorities never attended my calls so I was unable to do so. But we visited the place anyways. We couldn't see any wild animals there so it turned out to be just a formality to visit the place but the trees around it were tall and beautiful. Some dated back to 200 years so it wasn't that bad an idea to visit the place anyhow.
We returned to Subhash Chowk where our hotel was located at around 5p.m. and decided to roam about the Mall road and shop a little. It was fun gathering something for everyone back home so that it would make all of them jealous ;). The evening was spent roaming the streets of this old town and eating delicacies.
We had an early breakfast in Dalhousie and left for Khajjiar where we had booked a homestay Anjali which was booked through stayzilla near the Khajjiar lake. Khajjiar is beautiful meadow with a lake an hour away from Dalhousie which can be covered staying at Dalhousie too. But I preferred staying in the jungle. So we reached there in an hour.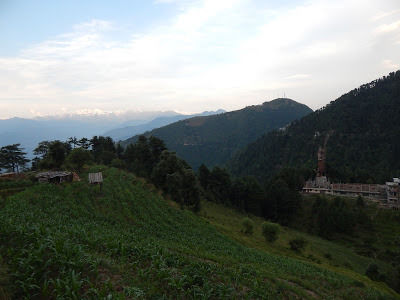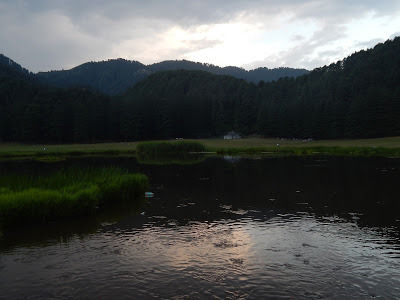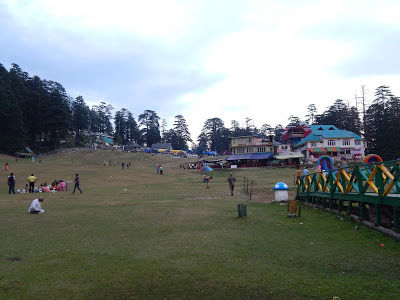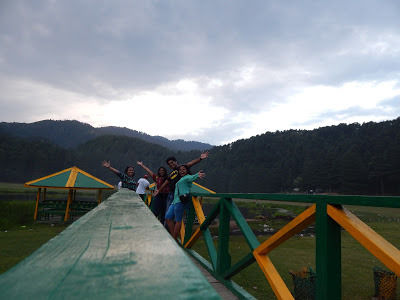 The place was crowded as hell. It was some once a year mela at the lake where the Khajji Nag temple is also located so we decided to stay at the homestay which was anyways picturesque enough to avoid the hulla gulla. Right in front of the rooms were tall deodar trees and we were sitting facing them. We were satisfied even staying there and not visiting the lake which we visited after a while and it was OK and not more than that as I have seen better meadows in my trek to Roopkund. I don't think this might be India's answer to Switzerland. It was dirtied and trashed by our fellow Indians and it gave me not a good feeling staying there. Anyways, our stay at Anjali was worthwhile with good chicken and aloo ka paratha in breakfast.
Spent the day resting and chatting at the quiet place. We only went outside once around the village near the homestay to see a tall Shiva statue just half a km from Khajjiar. We were all packed for the next day to leave. Booked a taxi from Khajjiar to Pathankot from where our train was at 11 a.m. the next day.
On 11 th June, we headed back to Ahmedabad with a promise in our hearts to visit the mountains again (of course after a trip to beaches, that comes first!!)
This post was originally published on Himalaya Ki God Mein.
Frequent Searches Leading To This Page:-
himachal tour package from lucknow, himachal package from mumbai, himachal tourism manali package, himachal pradesh offbeat places, himachal pradesh places to visit, himachal packages from pune, himachal tourism package, himachal pradesh visiting places