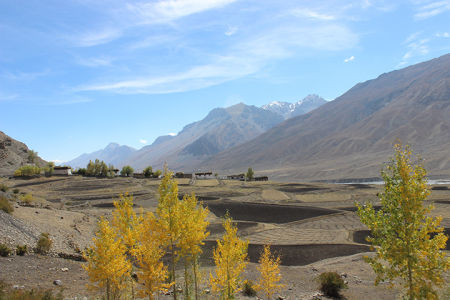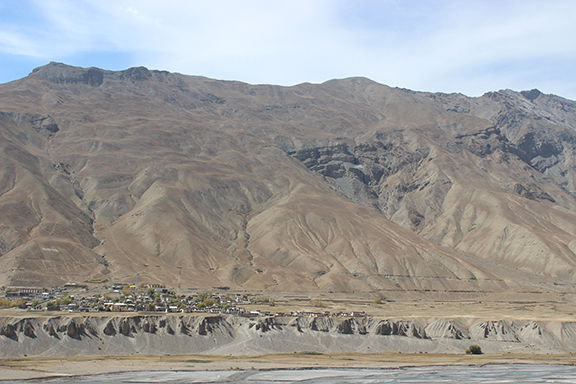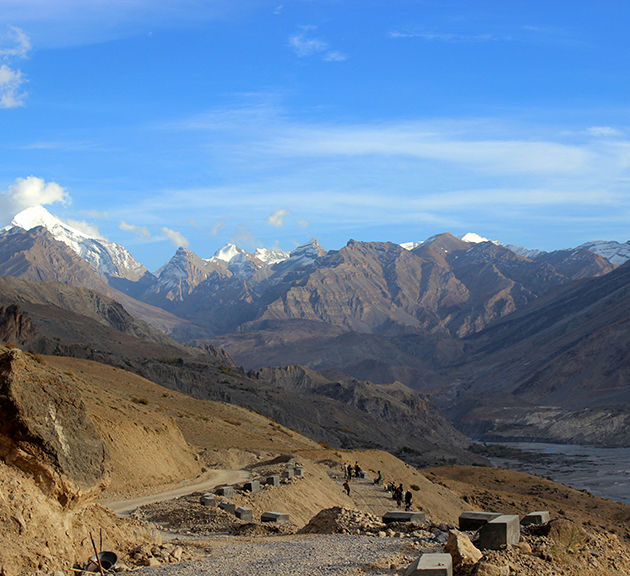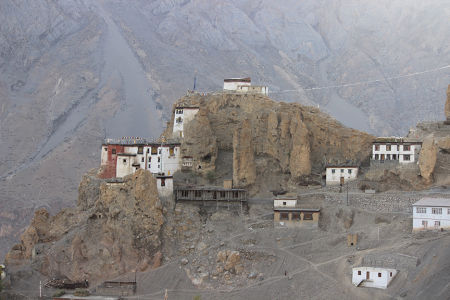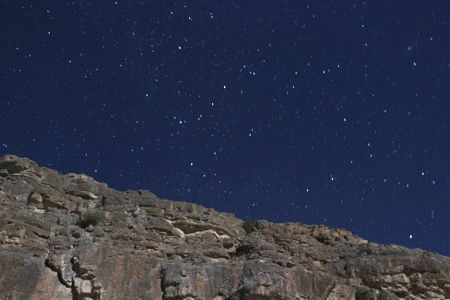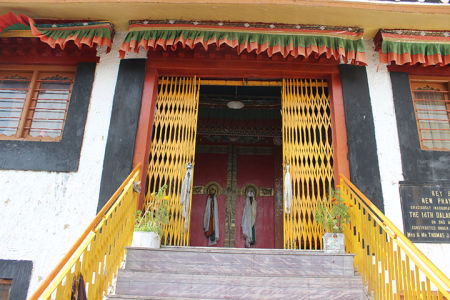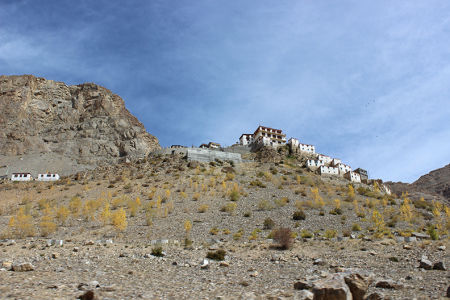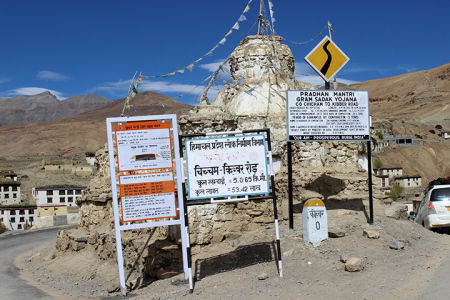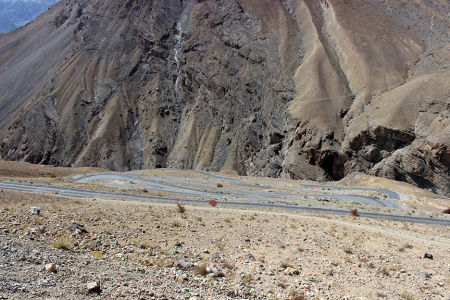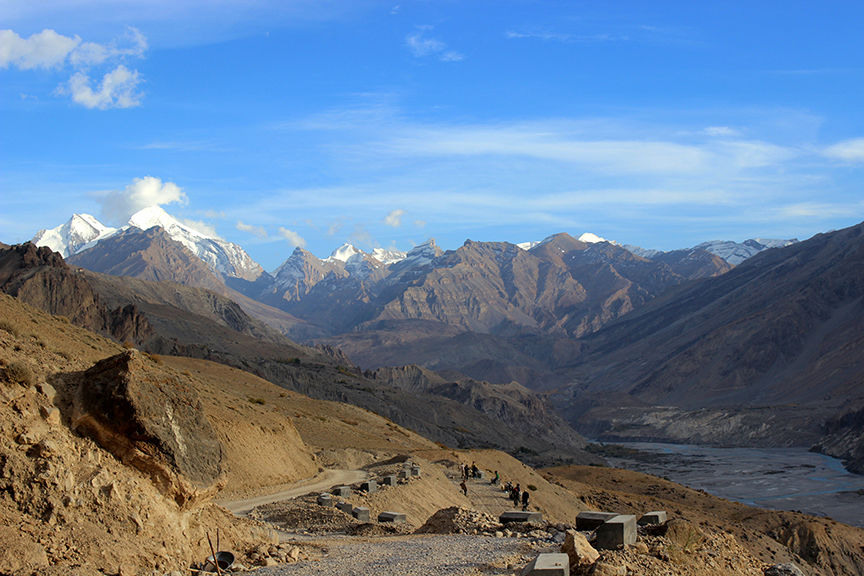 So after taking connecting bus from Delhi to Manali & Manali to Kaza, we reached the heart of Spiti valley at 6:30 PM in the evening. It was about to get dark and we were too tired to do anything but look for a place to crash. As soon as we walked out of the marooned bus station we saw a hotel right there and we checked in and dozed off for two hours in our room (The altitude and the exhausting journey was taking a toll on us).
After getting up around 10 in the night we got out, it was't full moon but the moonlight was illuminating the whole place and it looked stunning during the night time. After admiring the night sky of Spiti we decided to head to get some food and crashed into the bed.Kaza is the biggest town of Lahaul and Spiti. You will see colorful houses around you, you can opt for homestay as well while in Kaza (It's cheap and you get to experience the culture up close as well).
In the morning after exploring the small town of Kaza and interacting with a few people we decided to go to Kibber. We thought of renting a Bike but the shop owner had all of his royal enfields rented out and the only available bike was pulsar. We decided to rent a taxi from the taxi stand right next to the market. After driving another 40 minutes on the zig zag road, we were at Kibber, located at the height of more than 4200 meters, it is the highest village connected by road. We were still feeling the altitude, a little dizzy in our head. There was a shrine at the beginning of the village.
We explored the houses, visited a small restaurant looking shop which served us fresh apple juice in Tuborg beer bottles. The white houses seemed like tree growing from the brown soil, there were terrace farms at the other end. We walked through the village to the other side of the village and the landscape was beautiful, it was all brown and blue nothing else. We reached an under construction bridge which was going to connect Kibber to a town we can see far away.
The next destination for today was Kye Monastery, which was on the way to Kaza. You can have the view of whole valley from Kye monestry, the road, the farms and Spiti river from here. The monks of the monastery took us in, there was a couple already there. The monks made us seat inside the room and brought us some tea, made of different herbs (I could taste rose and cinnamon) but no other taste was identifiable neither they told us. They took us on a tour of the monastery and told us we can stay in the monastery if we want to. If we would have known about monastery stay we would have brought our stuff along and stayed there. We tried offering some money to the monks for their hospitality but they refused.
We got back to our hotel in Kaza it was dark already; the place was illuminated by the moon light. We did some night photography, captured the night sky.
Next day we took the same taxi to Dhankar Monastery, which is on the opposite side than Kye Monastery. It's on the road which goes to Reckong peo. It is situated at a height of almost 4000 meters, though most part of the Monastry has been destroyed in earthquakes but it still looked stunning. The view you get from Dhankar village is again beautiful.
While on our way to Dhankar the driver showed us a peak and the myth about it. If you complete three circles of the mountain you will achieve nirvana.There is no network coverage in Spiti valley except for BSNL and the hardlines have been down for years there, only way to make calls out of Kaza is using Satelite phones. Also there is one SBI ATM in Kaza, which is only in a 200km radius.
The next morning we decided to go back to Manali by shared jeeps which we felt would be better than a bus ride(Cost rs.800 per person)ItineraryDay 1: Board the bus to Manali from ISBT Kashmiri Gate at 7:00 am(Cost rs.540). Reach Manali by 10:00 pm. Check into the hotel as the bus to Kaza leaves early morning.Day 2: Catch bus leaving to Kaza at 5:00 am (Cost rs.480) reach Kaza by 6:30 pm. Find a place to eat and look for accommodation (you will find many homestays under rs.500 or you can look for hotels as well).Day 3: Get up early and explore the place a little bit of Kaza. Rent bike or taxi to visit Kibber and Kye. (You can choose to spend a day in Kye Monastery)Day 4: Visit Dhankar Monastery and other nearby village.Day 5: Leave for Manali early in the morning and you must book the shared jeep an evening before if you plan to go by them.
This post was originally published on 'Travel Beings'.
Frequent Searches Leading To This Page:-
dhankar monastery spiti valley, key monastery spiti valley himachal pradesh, key monastery spiti valley, monastery in spiti valley, monasteries in spiti