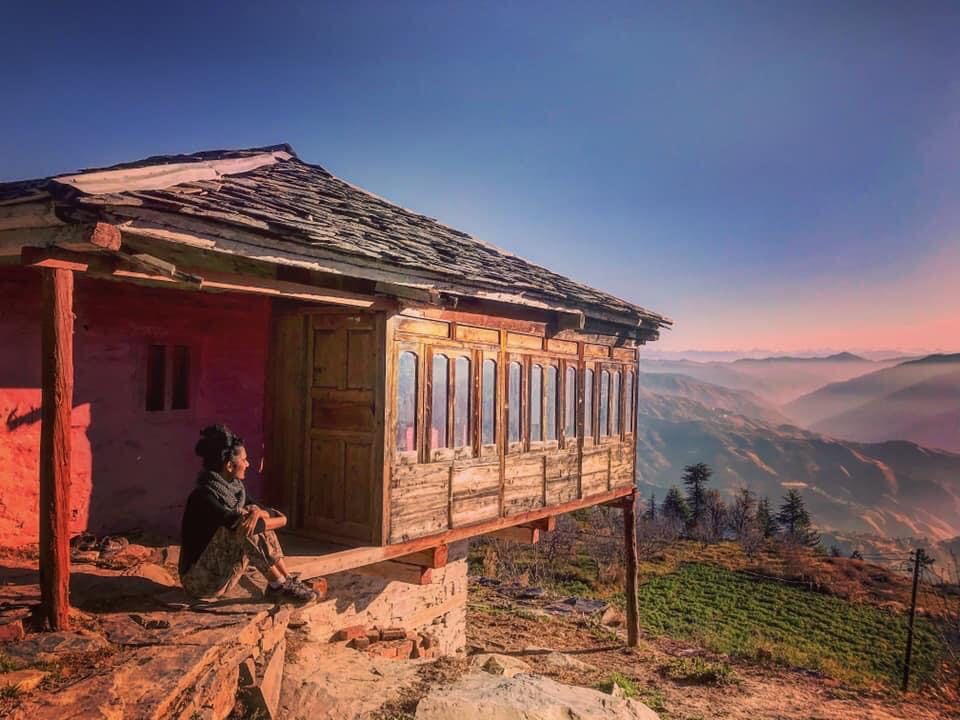 You chance upon some places due to sheer serendipity. And that's how Fagu happened to me! ( wowiee that even rhymes eh! ;))
I was meeting Ravjot after 16 long years. The last we were together was in 11th grade, back in 2002 in Army School Ratnuchak (Jammu). Her moving out to UK never made it easy to catch up, nonetheless we were off and on in touch on video calls and whatsapp. This time around she was visiting Chandigarh and both of us looked forward to the reunion. She asked me to plan a two day itinerary for us and obviously I had to involve those enormous giants, around whom, off late all my vacations revolved around…THE MYSTICAL MOUNTAINS!
I love Chandigarh for its proximity to the hills. Though the nearest hill station apart from Dharampur was Simla but having lived there for a couple of months before, I knew how insanely touristy and commercialized this town had become. The urge was to break away from the crowd madness and so the search for places began. Places that had least number of tags on Instagram..Purely offbeat, in today's socially connected world!
I love instagram for I found so many amazing people with similar interests in hikes and mountains. One such girl in my friend list messaged me, out of the blue suggesting me to do a particular hike in Himachal (close to Chandi). A message from her just when I was looking for a getaway was a good travel sign. But sigh, with all my Himachal trips in the last five months what remained constant was an erratic bad weather and this time too, a snowstorm was predicted. Many on Instagram suggested against the hike that week and so my search started for a simple village homestay where we could live with a local family away from the town, nestled in the mountains and doing easy day hikes, exploring the hamlets around.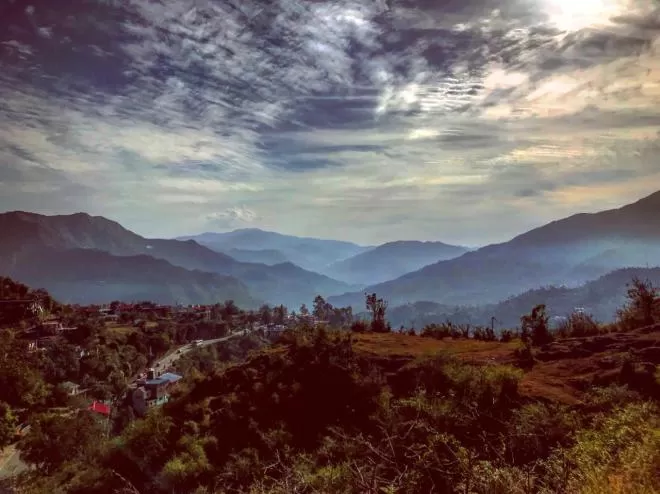 Like most of the trips earlier, Fagu too happened when i stumbled upon this girl's blog. Her simple words and pictures flashing the stunning views didn't take me too long to zero down on TALAI village! Last moment toy train tickets were booked & after a bit of research we found out the contact details of a homestay and booked it, so randomly while reading her blog at a cafe with Ravjot. Mr Sharma made it sound so inviting and so the two of us, set out on a journey to the mountains that I can never get enough of! Never ever!
Day 1 : Fagu bound!
5;30AM Kalka Railway Station
Its funny how on a vacation to your much loved destinations, you never sulk about being sleepy or any misadventures coming your way. A deserted station with countless Mynas chirping around made us forget the fact that the train was late by an hour. This was my fourth journey after 2012 on this train but it felt as incredible as the first ride.
The advantage of embarking on an early morning ride is the dramatic views of the hills under the splendid dawn lit sky and the glimpse of the ever so hypnotic sunrise outside your train window, rising over those looming Shivaliks.
The toy train crosses a total of 107 tunnels and 864 bridges built all along the route and has been added to the Mountain Railways of India world heritage site by the UNESCO.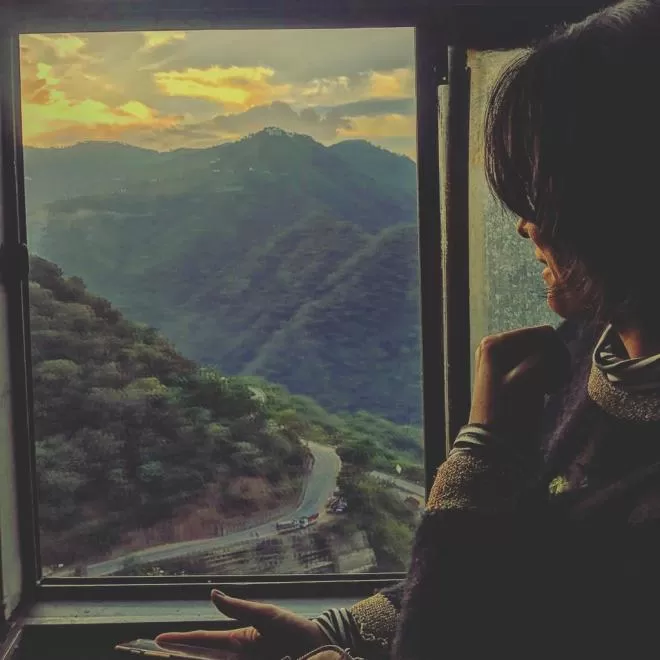 The five and a half hours of journey whizzed past over coffee and conversations with my school time friend and pouring into a good read for a while, accompanied by the camera shutter going off innumerable times too. We giggled like two lil teenagers remembering our teachers and classmates from school while the train chugged through the dense deodar forests, trailing along the lil hamlets perched on the hillocks. An era had been left far behind but I'm glad we picked up exactly from where we left ????
At around 12 we reached Simla. A bunch of cab drivers and hotel guides hoarded around us. We had to catch a bus for Fagu which is around 30 kms away from Shimla and falls en route Narkanda. The Lakkar Bazar bus stop was only 2 kms away so we decided to walk up to the stop instead of giving in to the exorbitant rates that the cab drivers charged. Most of them quoted Rs 250 while a local woman told us that we shouldn't pay more than Rs 100. While the fare wasn't that big an amount but we were on a strict budget trip, and therefore planned to walk the distance and later traveled by an HRTC bus instead of catching a comfortable ride in a cab.( You see the more you save, the more trips you could make…HAPPY REALIZATION :p)
After grabbing a quick bite at the mall road ( check out Wake and Bake cafe and Gaiety Club) we walked down towards lakkar bazaar, crossing the Tibetan market that had countless momo stalls! Sigh! Greeted by a disinterested lousy old man at the ticket counter, we decided to get it directly from the bus conductor. Luckily the bus had quite a few seats unoccupied and we got in, occupying the front seats to avoid motion sickness. The ticket to Fagu costed us 70 bucks for two people.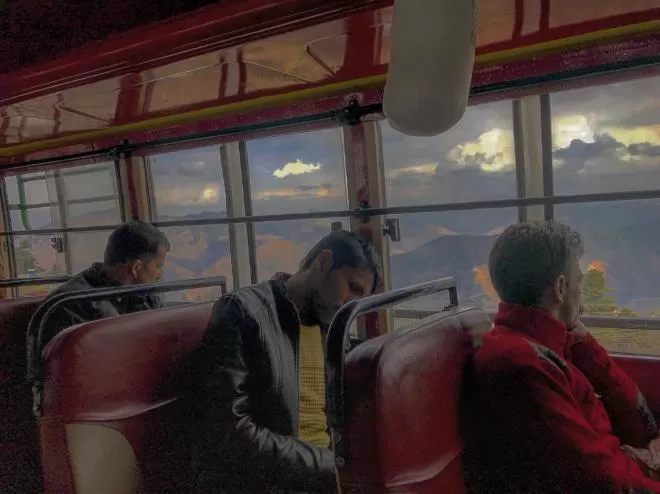 The motion sickness decided to spare me this time and apart from fretting over the daring bus driver's rough driving skills and digging my nails a countless times into my friend's arm, I think I did pretty okay! And while sitting on my seat, excitedly looking outside WOWing away to glory, I realized though i was the only tourist along with Ravjot, but the co passengers who were locals, too didn't seem to get enough of those mountains looming outside their window and all the magic they created. I tell you…things the mountains do to you!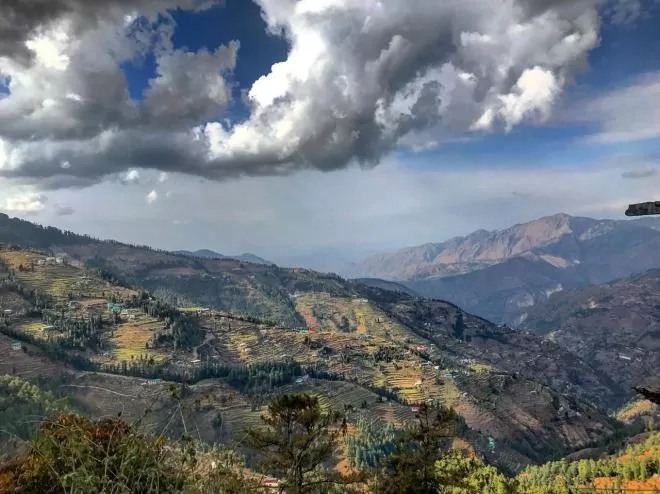 After a nerve wrecking ride of 45 mins we reached the Fagu bus stop on the old Hindustan Tibet Road. Mr Sharma was there to receive us in his tiny vintage Maruti. His village and our destination, Talai was just 4 kms from here. A drive downhill into the hidden unpaved paths lead us to our Home for the following two nights….The NORTHMOON HOMESTAY .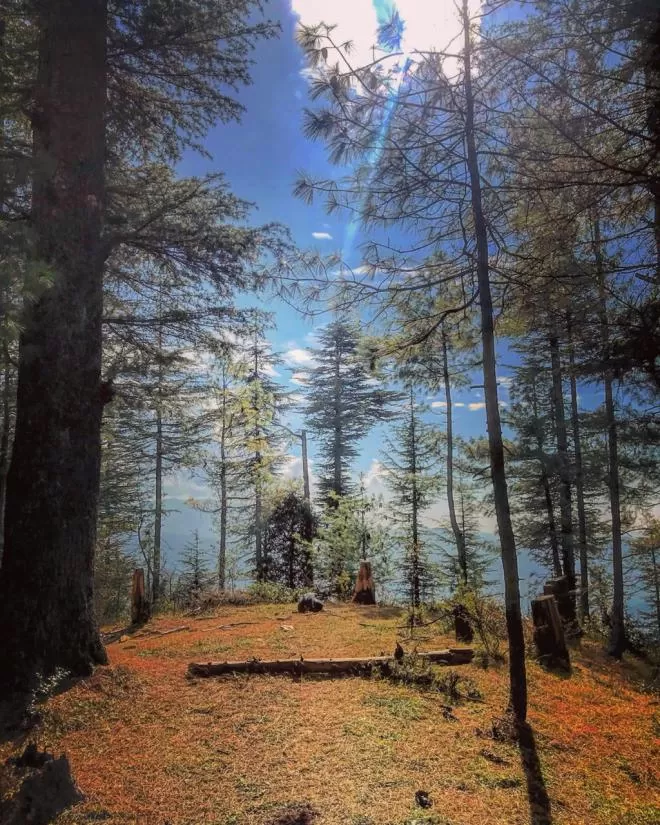 Talai situated at a height of 7550 amsl, on a mountain saddle is a quaint lil village with just about 20 houses and numerous apple orchards and resplendent terrace farms, perfect getaway to soak in the views and savour the serenity.. It falls under the Theog sub district and is not only famous for a massive produce of apples and vegetables along with most of them being sold at Reliance Fresh but also for the second densest forest of Asia called Chaili.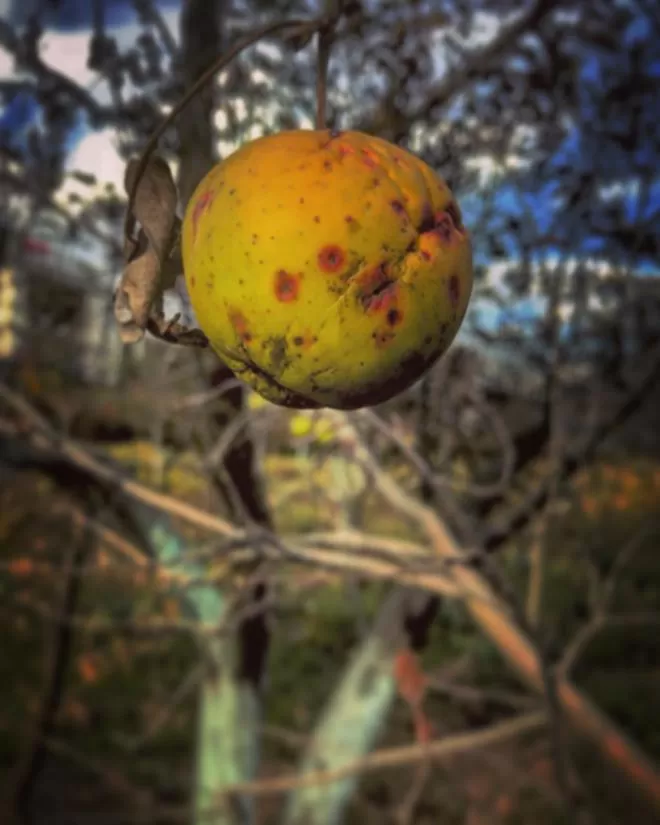 That balcony! Sigh! Sat here for hours never getting bored of that view!
Mrs Indra welcomed us with the warmest smile and a much needed cup of tea. The rooms were a work of art with beautiful woodwork and glass windows overlooking the valley and contours of the mountains criss-crossing appearing like a hard to solve maze of enchanting blue hills. Far behind them the snow clad himalayas shone bright. A balcony with views like these and just the sound of birds and the winds whistling around made a perfect sit out for our conversations over the cuppa and those rendezvous with Them Mountains.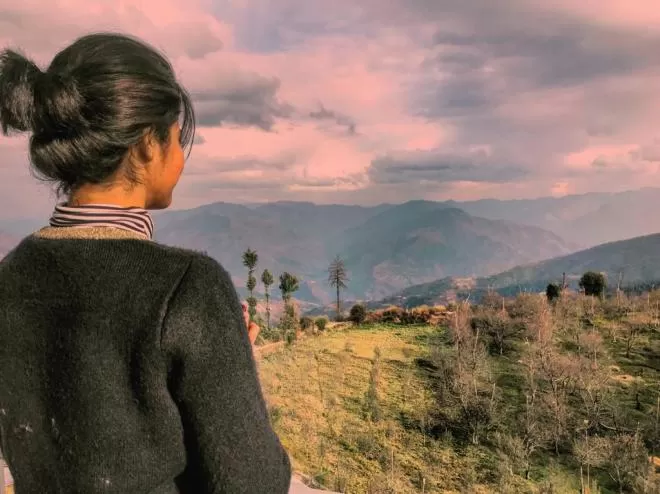 Even though we'd been up since 4am, the zeal had reached an all new high. It was pretty cold and after sitting in the balcony for a bit, we decided to take a stroll in the village. We had just another day here in the and we wanted to spend every single minute walking down the alleys, befriending the locals and hiking around. And that's exactly what these two days were all about!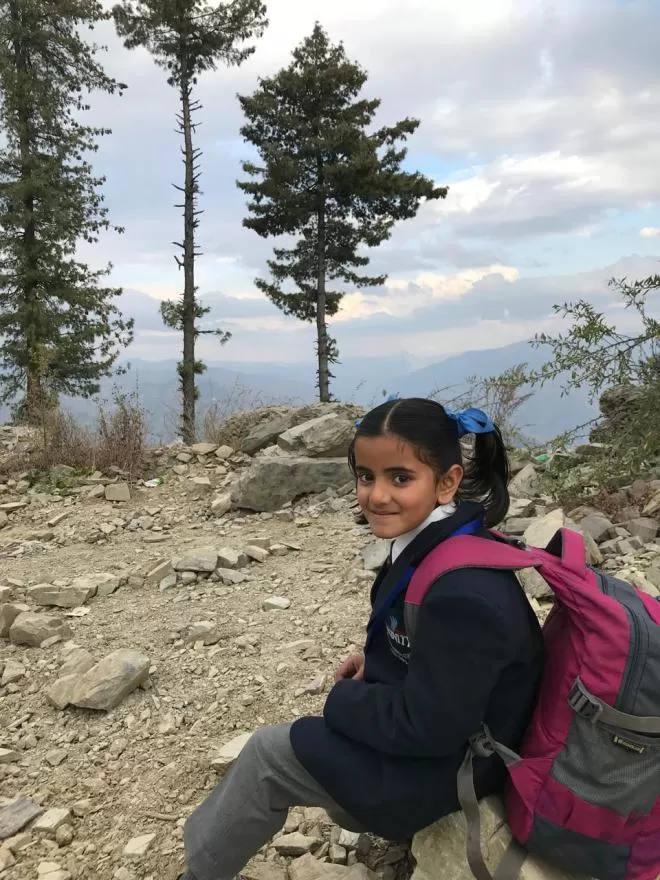 While out on an evening stroll, we met a lil girl in her school uniform waiting for her brother to arrive and pick her up. She sat in the middle of nowhere and didn't seem to have an iota of fear or apprehension. What world was this! A lil furry fellow named Sweetie later came by and demanded a belly rub while his family people(some Biharis settled there for labour work) insisted we took apples from them. They said they were sick of eating them all the time!
We were literally house hopping and not a single host found it abnormal for having strangers knock on their doors! Most of the houses still had the old traditional charm with mud walls and cobbled roofs resting on wooden logs. While walking around, we decided to descend towards one such house, that was perched in the middle of the farms.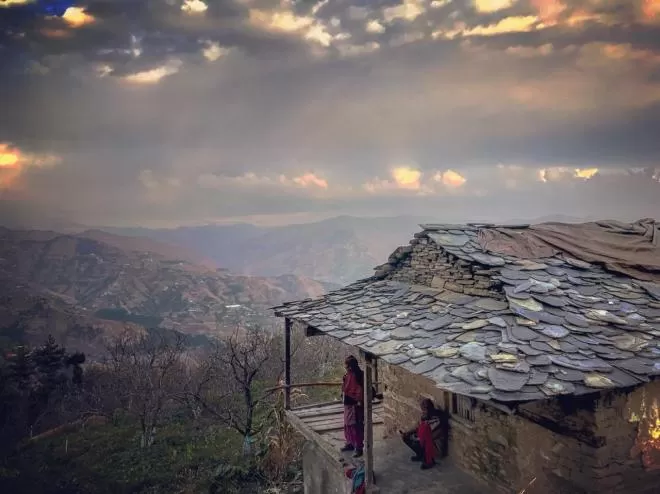 A narrow trail along the stone walls lead to this beautiful small rustic house, with a toy scooter and a basket of fruits adorning its muddy wooden porch overlooking the valley. It was unusually quiet there. The house was locked but had another two visitors, someone from their family waiting for them. We sat down along with the old man and lady and who happened to be Nepalese.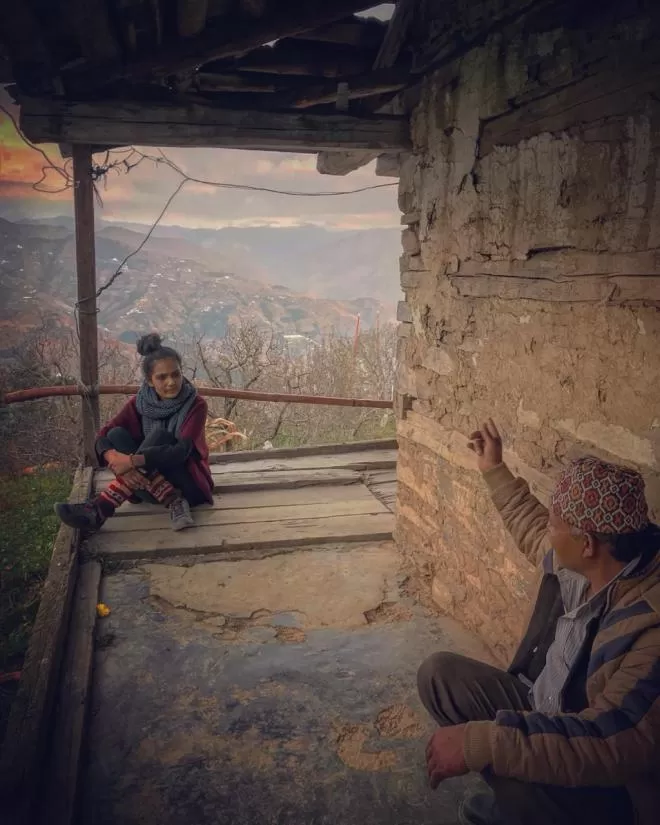 Bhim Bahadur talked about his young days when he travelled around the world and how he knew every mountain pass around. After every statement of his he reiterated " Mai Bahut Ghuma Hai" "Pura Duniya Ghooma Hai"! He told us about the hiking trail to Narkanda and how Srinagar in Uttarakhand is right behind the mountain that stood in front of us.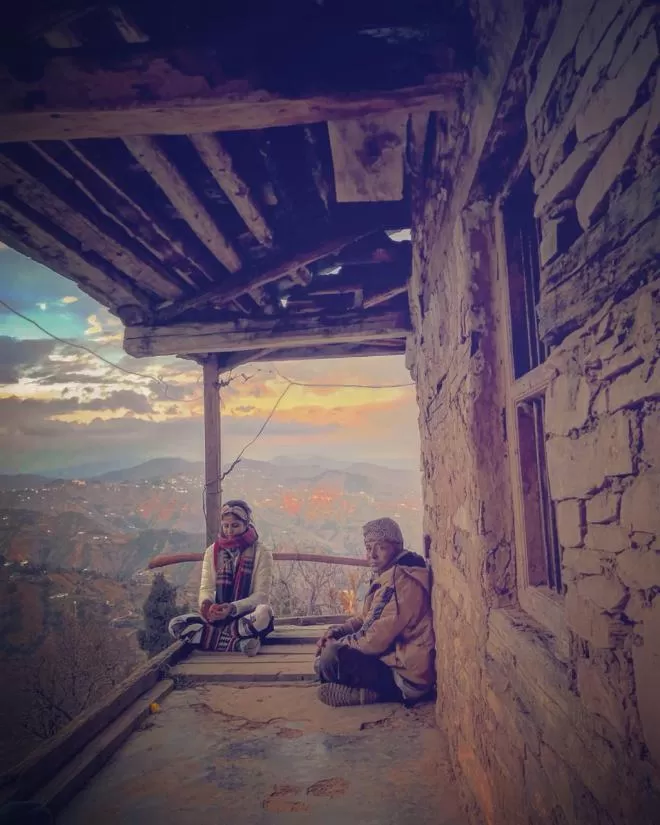 That tipsy old wrinkled face adorning a Nepalese hat, had actually traversed through the length and breadth of Himachal and clicked our pictures with his hand in front of the lens, muttering ' Bahut accha photo hai" ????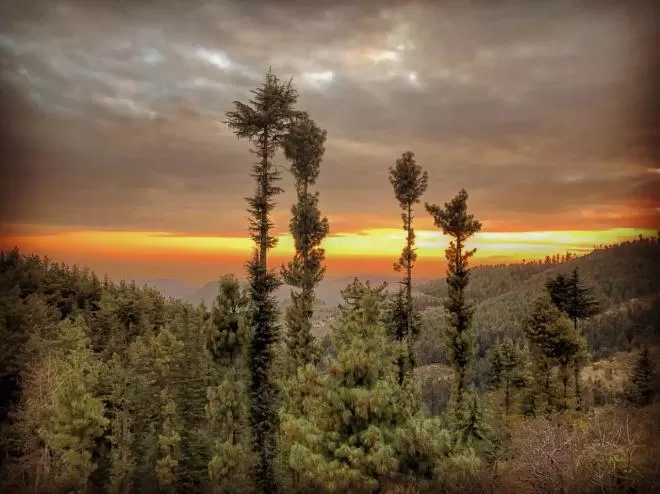 We rushed back home chasing the sunset. Our balcony gifted us both with incredible sunrise and sunset views. The sky turned into a crazy orange, the air became cooler and it only got quieter and more beautiful. Five blankets weren't enough to warm us up but Mrs Indra was kind enough to give us an electric blanket without even asking, She later got us a wide spread of delectable dishes for dinner with SIDDU being one of them. Siddu is a Himachali dish, a kind of bread made from wheat flour mixed with yeast. It is supposed to be had with Ghee and it tastes so bleddy amayyyzingg! ????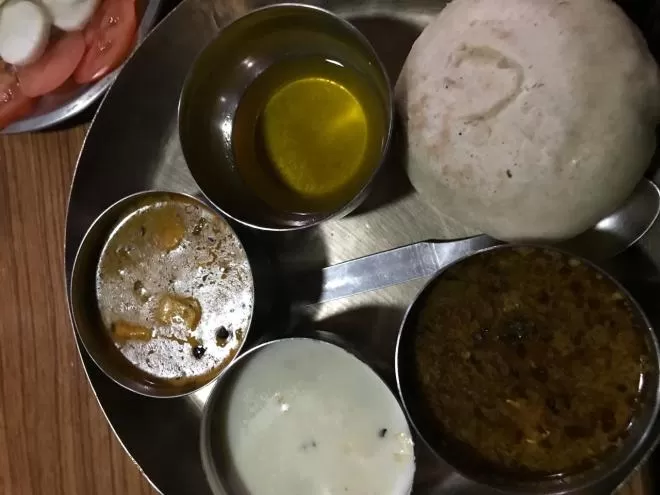 That night we slept like logs with tired bones.. satiated tummies and happiest hearts!
DAY 2 : In Talai Village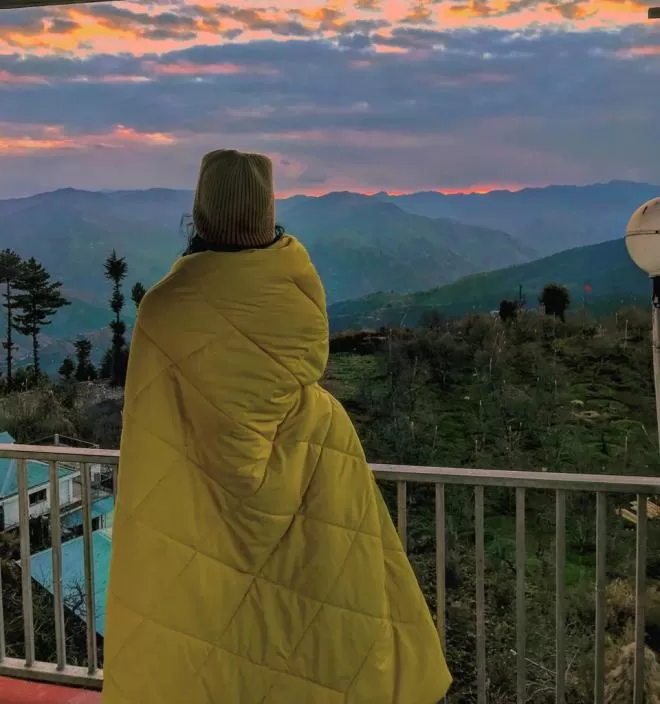 Its funny how you never need alarm clocks in the mountains. The kumbhkaran in me was up by 5:45am and quite happily so. It wasn't a clear sky but a faint stream of light flashed across the mountains. The Sun was ready to light up our side of the earth. We sat there patiently, huddled in our blankets, chattering our teeth impatiently waiting for the magic to unfold. The sky turned crimson and it looked as if the mountains had a pinkish orange outline. The sun never really rose up for the angry grey clouds kept winning over it, yet it was all bright around with birds announcing the outset of a new day. The houses threw smoke out of their chimneys and the lady of the house got Ravjot her morning tea and me, a hot glass of water.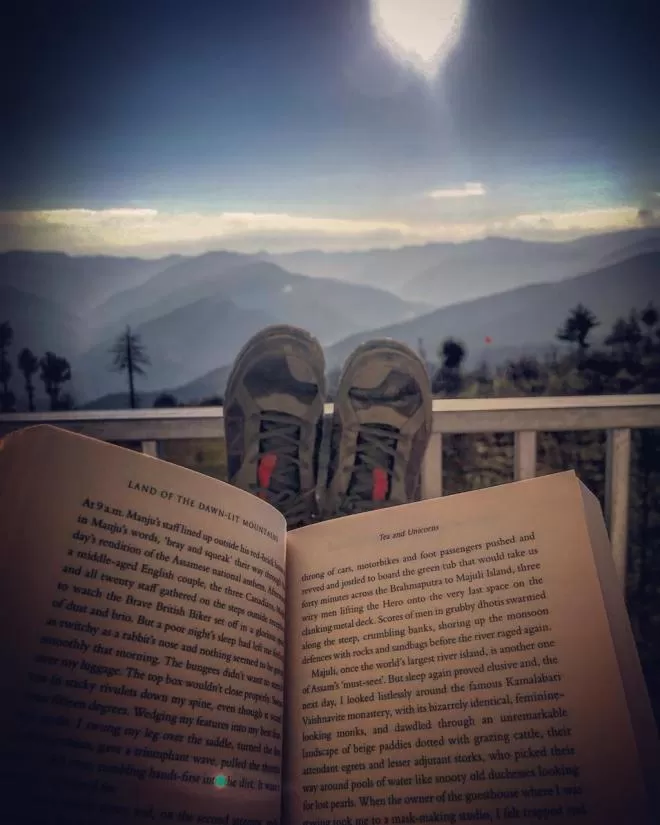 While I sat down reading my book, Ravjot decided to meditate in the sun on the balcony. Her phone played a soft melody and the sun kissed her face gently. I couldn't help but capture this moment for it spoke of why we were there…what we'd been wanting from this break.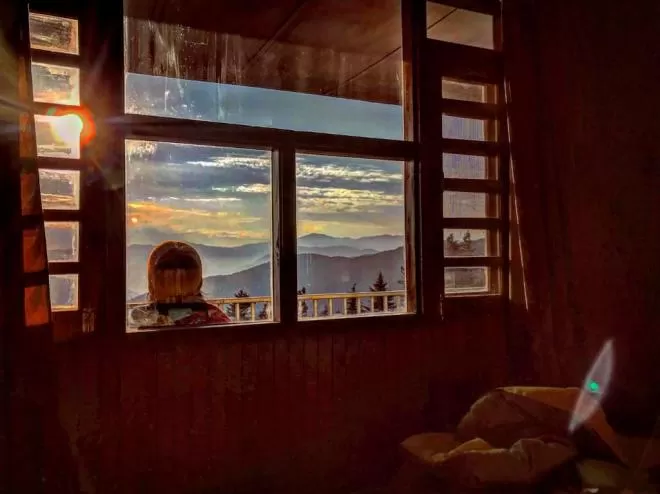 After gobbling down the best aaloo parathas in breakfast, we decided to leave for a hike up to this Sanskrit College on a mountain top in Tungesh.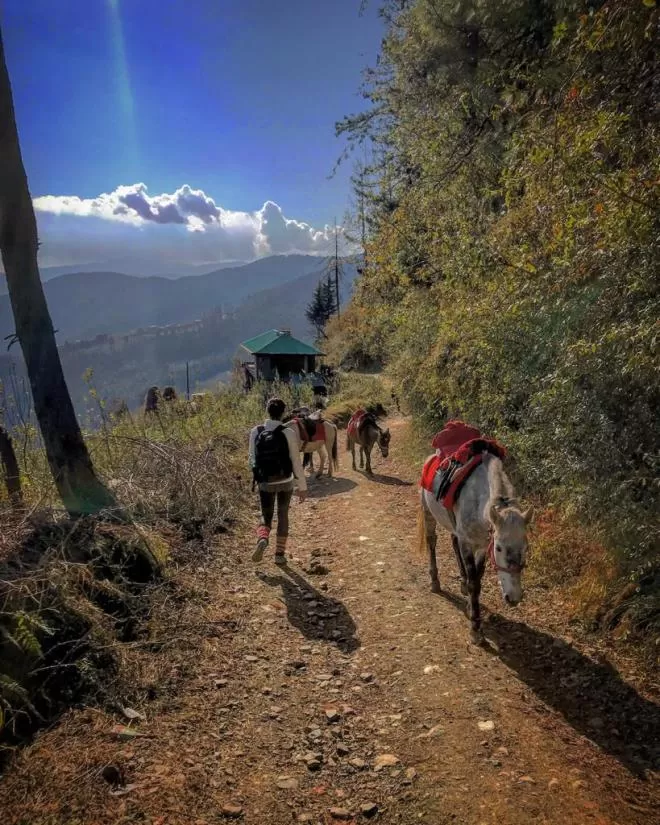 We walked through hamlets, the biggest one being Cheog. This village has a prominent market with basic amenities and a senior secondary school. One could hear the morning banter from school and the teacher giving a speech on Children's Day.
There are some destinations that GPS cannot guide you well with and a little piece of paper comes in handy. Mr Sharma had drawn a tiny little map with immaculate directions.
We finally reached this Deodar forest that appeared dark and dense for the light struggled to creep in through the cover of trees. All that one could hear was the whistling wind and cawing of an alien bird. The initial climb was steep and the trails disappeared in between but the freshness of the cool crisp air and Griffin House singing 'Native' on the phone, subdued our apprehensions and mild fears (for we were told Tigers and other wild animals frequent this area)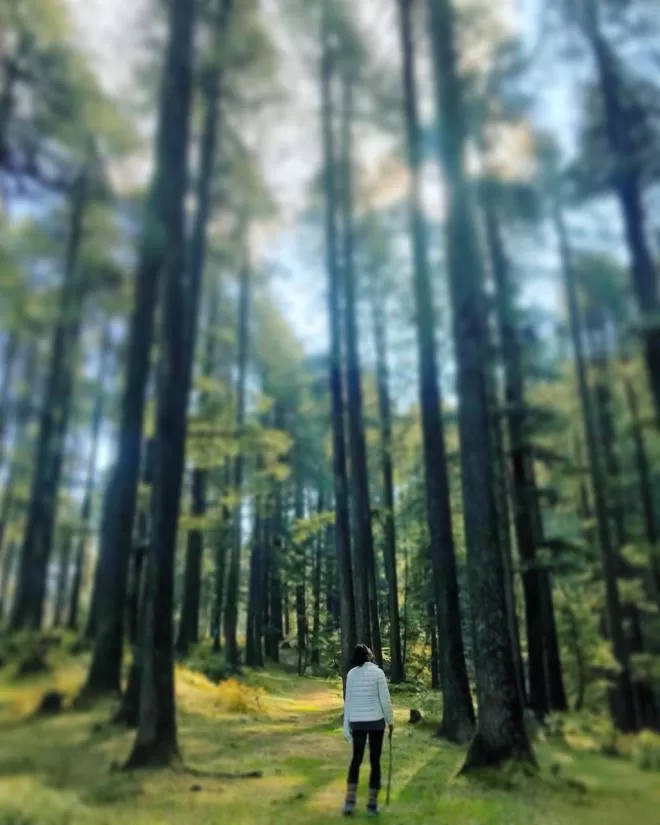 An old furry mountain dog sat there outside soaking up the warm sun. All these places turn out to be complete with these lil wet noses i get to meet on most..in fact all my journeys. The college was a few steps away and we decided to go see how students studied this subject I always almost flunked in! A guy walked out of the college and I stopped him, flaunting my half broken Sanskrit…' Aham twam college gacchami!!" He smirked and asked where we came from. On getting to know we came hiking up from Talai through the forest, he seemed quite taken aback. I wondered why though for it was just a 5kms hike. An old stern looking face taught a group of students outside in the sun while another snooty teacher sat with two girls. In spite of getting not so warm vibes from the lady, we talked a bit with them. The college offered an undergraduate course in sanskrit and most of the girls aspired to become Sanskrit teachers for there was no other scope. Just then this really kind man got us two chairs to sit and asked us for tea. We politely declined and told him we had to go hiking further down to the village. He was Mr Satish, the peon and caretaker of the college and I learnt that he lived with his family in a lone house there on this hill top. Curious to know how quaint his abode might be, I asked him if it were okay to go visit his place to which he enthusiastically replied ' Haanji Bilkul…mai aapko raasta dikha deta hoon!' 'Yes of course..I shall show you the way to my house'!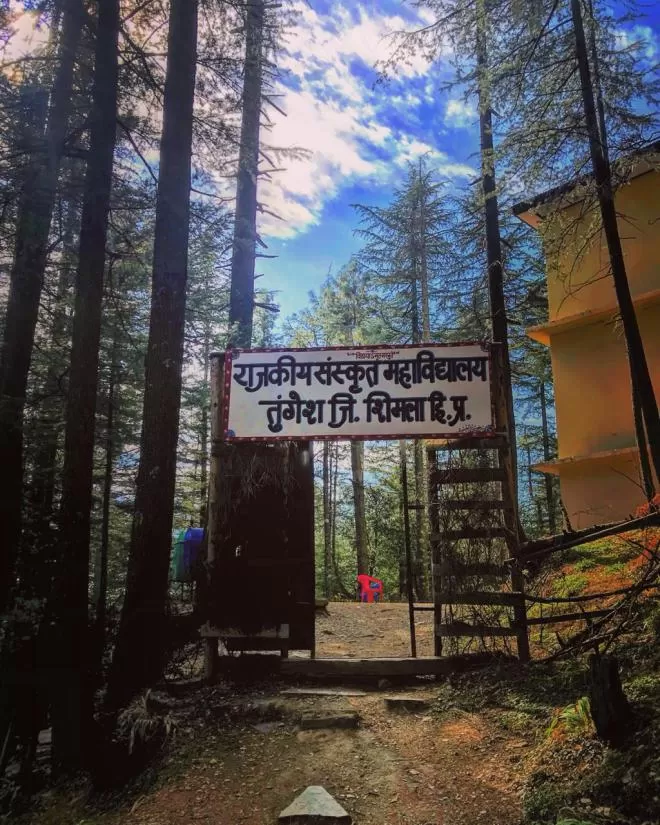 And a couple of minutes later, there we were, zapped to see this huge gorgeous bungalow with a 360 degree panoramic view! Satish's brother stood smiling at the gate. I thought he would take us to the outhouse, assuming that was where they lived. Instead he offered us a cup of tea and invited us to his bungalow. I must shamelessly confess that I doubted him for the first couple of minutes , probably because I didn't expect a peon's family to be so well off. And so there was yet again, the warmest village family who once again opened up my eyes and taught me to look beyond what we've always lived with..stereotypes or prejudice..whatever you may call them!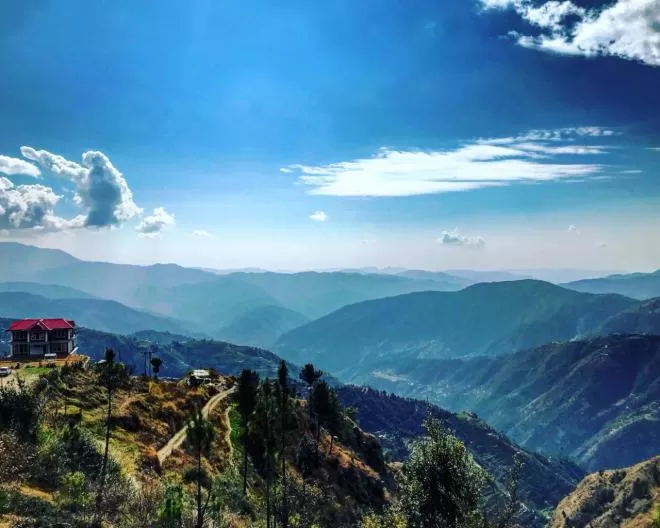 And these beautiful people!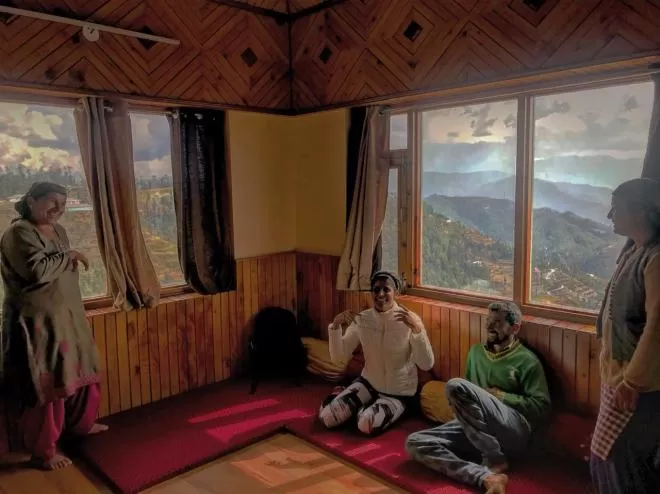 We sat down for an hour and talked like we were never strangers. We were so comfortable that we exchanged numbers and told them that I'd be back soon again and self invited myself. Later Sanjeev walked back with us, guiding us through the forest in spite of telling him that we'd figure out the way ourselves!
One more look!
While leaving their place, I thought to myself, this is exactly what got me here. These people with the largest hearts and tiniest of an idea of how wonderful they are!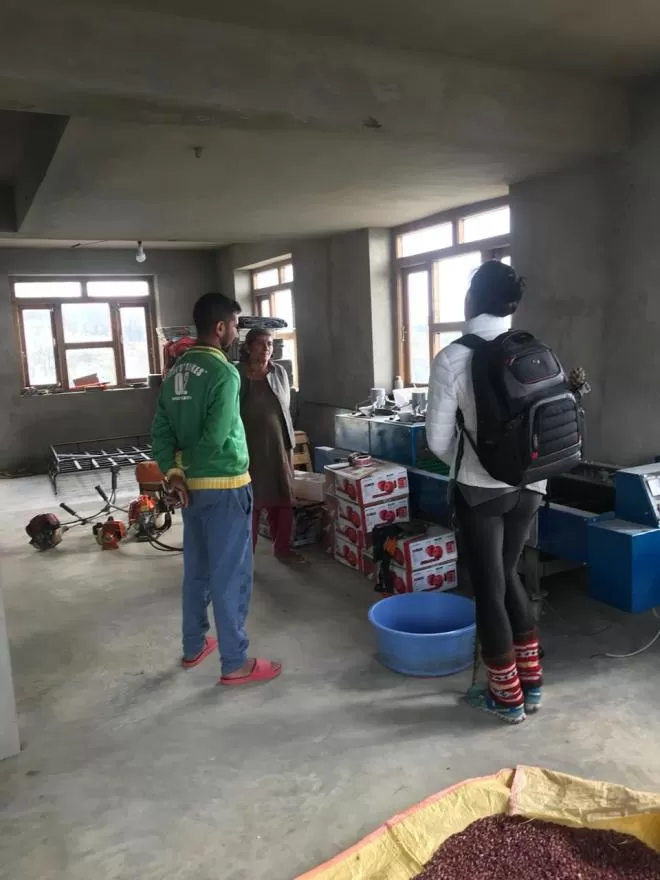 On our way back we discovered that the forest we walked through was Asia's second densest forest apparently. After checking on google maps, we got to know its called Chaili forest. On reaching the unpaved track, Sanjeev showed us this tree( that had three more trees branching out of it) that the villagers worshiped and the folklore has it that the Kaali Ma appeared here a few years back.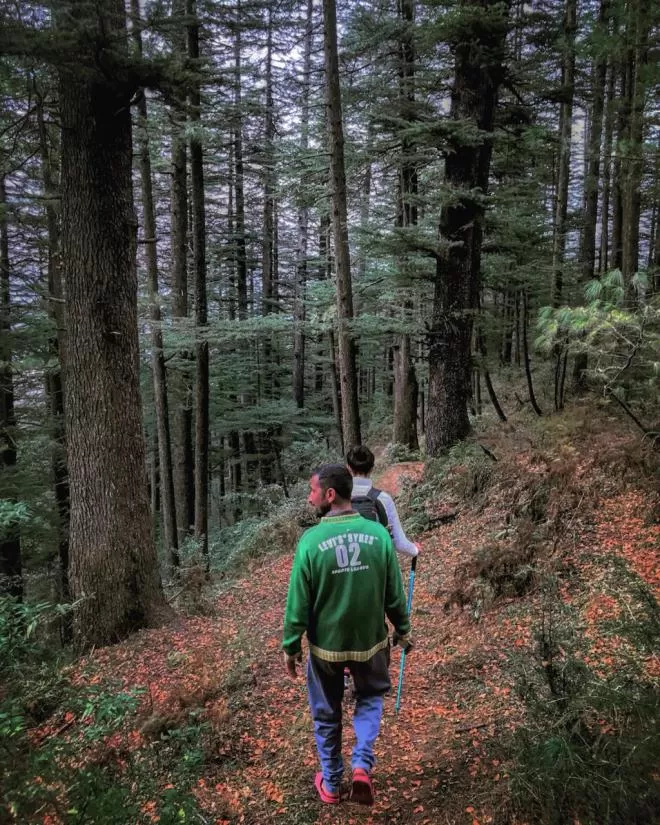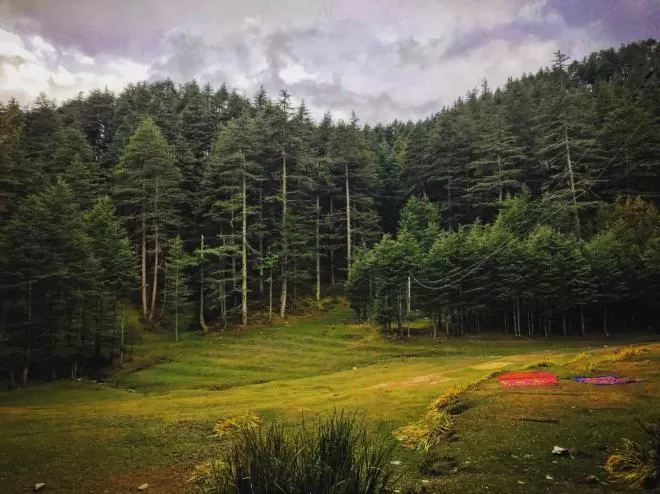 A little ahead was Banga Pani, a famous meadow in the region where a lot of hikers camp but the touristy spot displayed signs of decaying for filth dotted the green spaces. It started to drizzle and in an hours time it metamorphosed into hail. We were back just in time for what followed next was a mad furious downpour.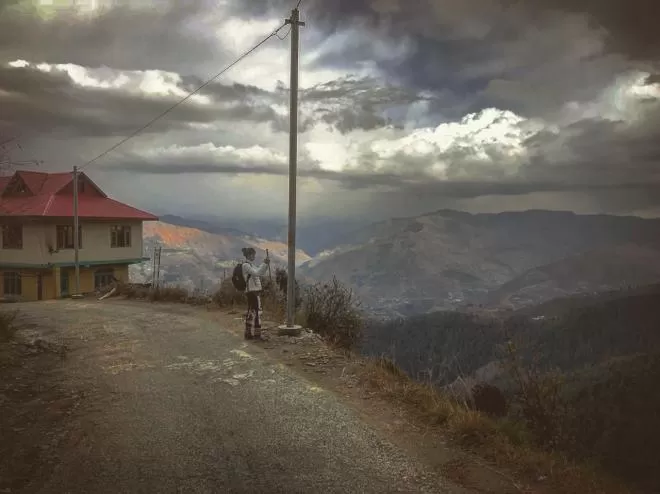 After all my Himachal trips are incomplete without rains. But there was another thing that accompanied most of the times. A bright colorful rainbow. It was there yet again, making me believe that the mountains loved me as much as I loved them! As lame and corny as it may sound, but this really was a wonder for out of four trips in the last five months, this was the third time a beautiful splash of colors made up for few gloomy minutes or hours of rain!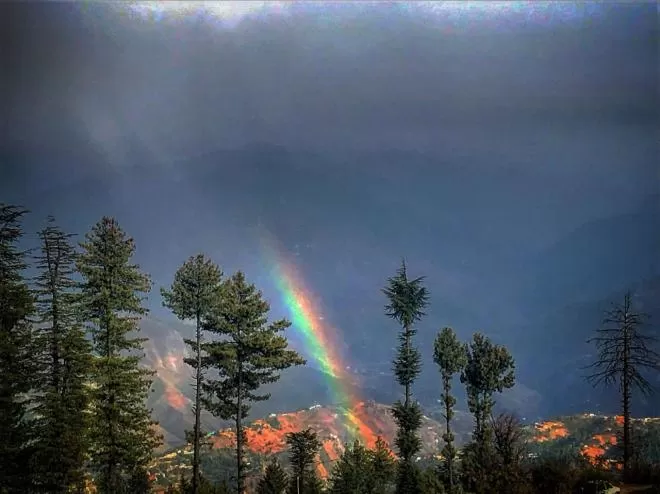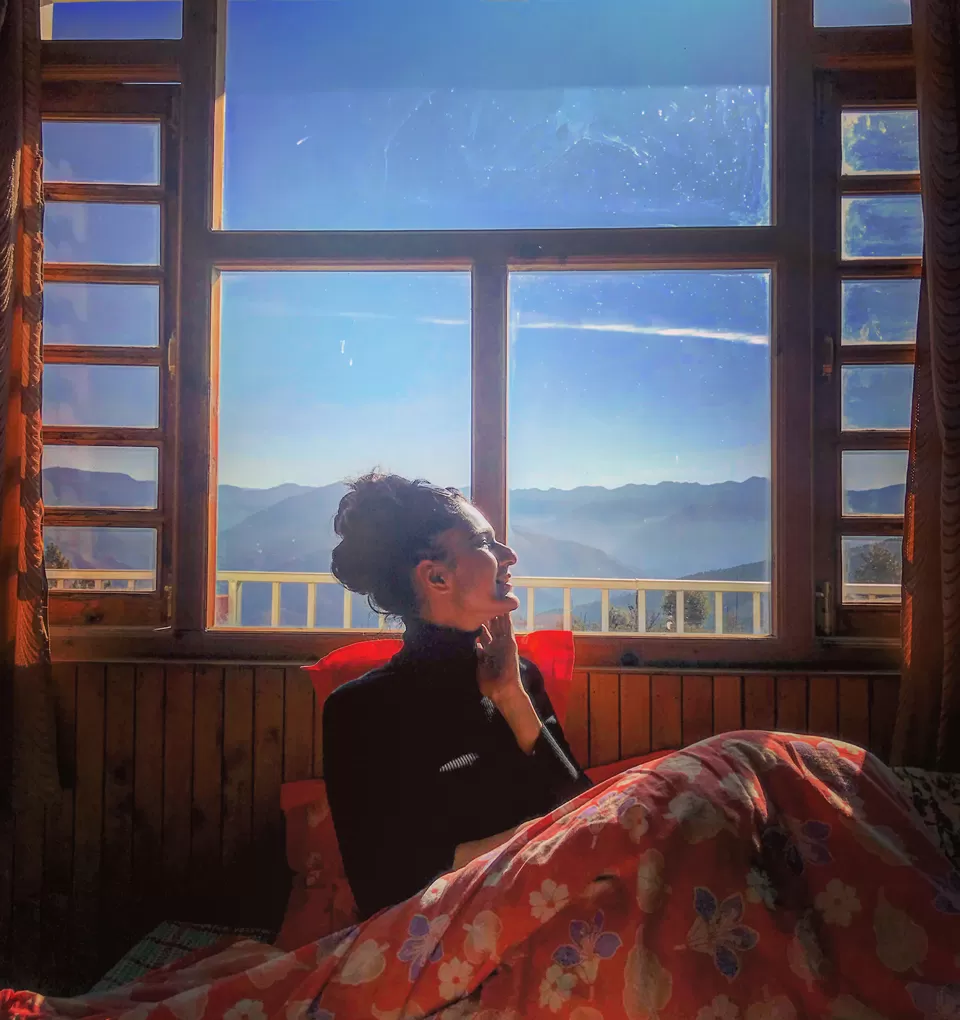 A heavy downpour yet again kept us indoors for rest of the evening. We snuggled up in our blankets, reading, talking and making each other listen to our favorite songs!
Later that night while Ravjot slept unaware of the thunderstorms outside, i wrapped myself in a blanket and sat shivering outside, trying to catch the glimpse of the mountains every time the lightning illuminated them and that's when Li Po's words rang in my ears…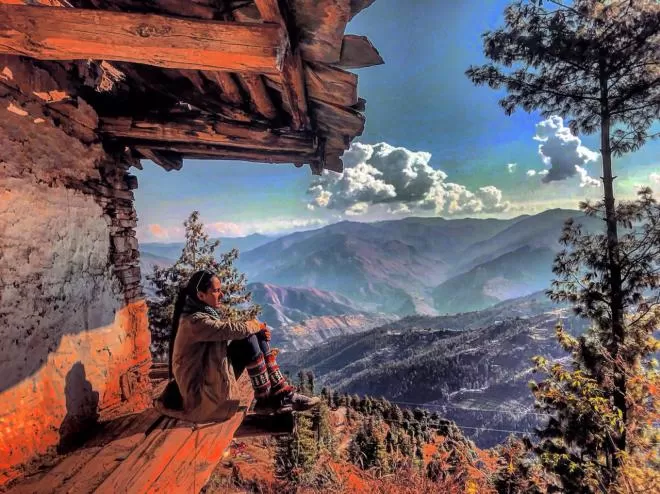 'All the birds have flown up and gone
A lonely cloud floats leisurely by
We never tire of looking at each other
Only the mountain and I "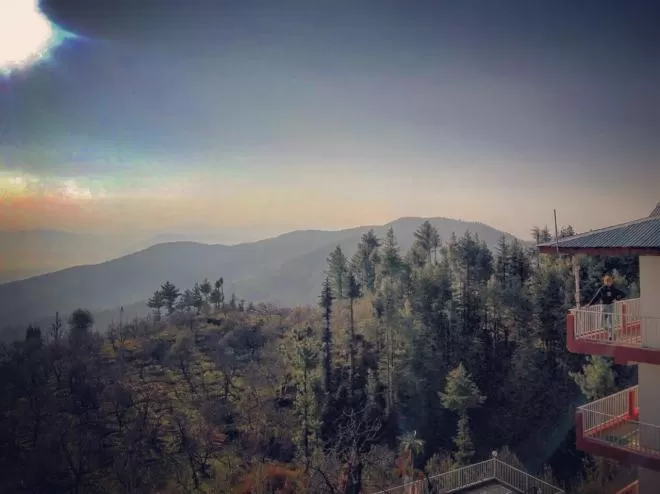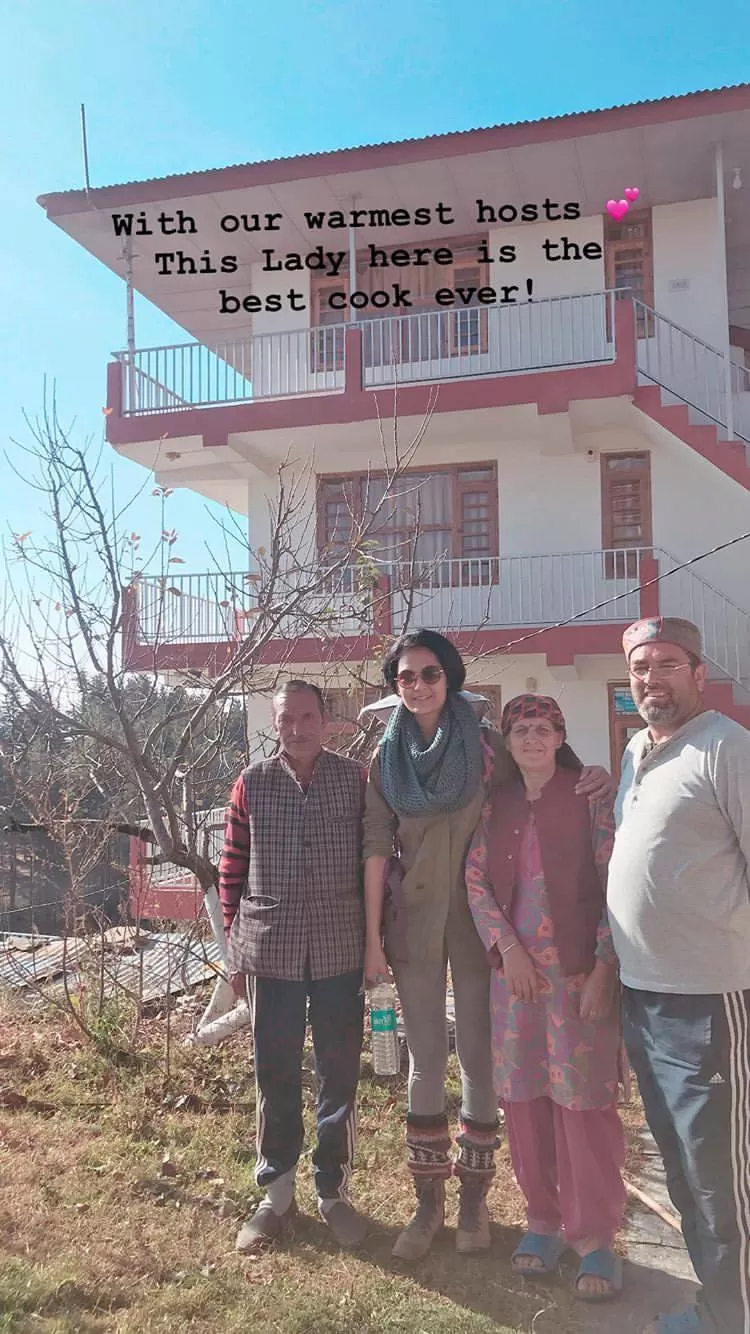 Travel and Home stay Info
1) Chandigarh to Simla: The Kalka Simla toy train is an experience in itself. There are five trains running from Kalka. Try catching the early ride for you get to witness some amazing sunrise views. We traveled by Shivalik Deluxe that starts at 5:45 AM and reaches Simla by 11:30 AM. Its a very comfortable ride, especially for people who suffer from motion sickness and the train serves you with tea as well as breakfast en route.
2) One can even catch a bus from Sec 17 Chandigarh ISBT. There are buses leaving every hour and one can check with the tour operators.
If you're traveling from Delhi, it would take you 7 to 8 hours by road or one could just catch a direct flight to Simla airport located at Jubbarhatti, 22kms away from the main town.
3) Simla to Fagu: Fagu is just a stones throw away from Simla. With just 20kms to cover, one could either catch a direct cab from the railway station itself or catch a local bus from the Lakkar Bazar Bus Station. Buses for Fagu leave every ten mins. It costed me just 35 bucks while a cab would easily charge you 800 to 1000 Rs!
Home Stay Details:
Mr Sharma: Contact 9816423286
1) We stayed at a place called North Moon Home Stay run by the Sharma family. Tucked away in the midst of lush green forests, in a small village called Talai, this place is a perfect getaway for people looking for respite from the city madness and nature craving nuts. The home stay is built over four floors, each floor boasting of one big room with glass windows overlooking the mountains and an attached washroom( with 24/7 running hot and cold water) and an exclusive balcony. The family provides you with good warm blankets, electric kettle etc.Mrs Indra is a fabulous cook and the meals are made of fresh and organic veggies straight from their farms. A cautionary word here, lets not expect the comforts of a 4 Star here. The idea of a home stay is to interact with the local family, eat what they eat and get a closer look at their culture and traditions.
2) One can check out other home stays as well. The village has quite a few of them and the closest village Cheog has plenty of farm stays too. If you're a bigger group and looking for a pet friendly stay, do check out The Living Woods Farm stay in Cheog.
PLACES AROUND
Kufri and Theog are nearby tourist spots.
If you have enough time, then one could plan a hike up to Narkanda…yet another quaint little getaway from the very touristy Simla.
Fagu makes a good weekend trip since its just a four hour drive from Chandigarh. Inspite of its proximity to Shimla, it remains relatively quiet and pristine and should not be missed if you're a sucker for quaint and peaceful places.
For short stories on mountains and off beat locations in India, check out my Instagram https://www.instagram.com/akankshasiwach/