If you're planning to visit Triund, the most famous short hike in north India, think twice. As a strong measure to restore Triund's ecology, the Himachal government has completely banned over-night camping.
A measure that was desperately required:
The first time I went to Triund was back in summer 2014, when it was still not as popular among travellers as it is now. I remember there was only one shop on the way and there were only about four Israelis on the entire hill who were camping. I had no idea that something so pristine could exist just a two hour walk away from a major town like Mcleodganj.
Fast forward to summer 2018 when I hiked up in mild disgust. Although the route and the view were still as beautiful; the added protecting fence throughout the route was a refreshing welcome, something was not quite right. At every 500m, there were tea stalls offering chips, biscuits, cold drinks and Maggi. Even though there were travellers stopping at these stalls, I remember in 2014, we didn't really need those stalls at all. There were just two stalls and we had a comfortable hike nonetheless!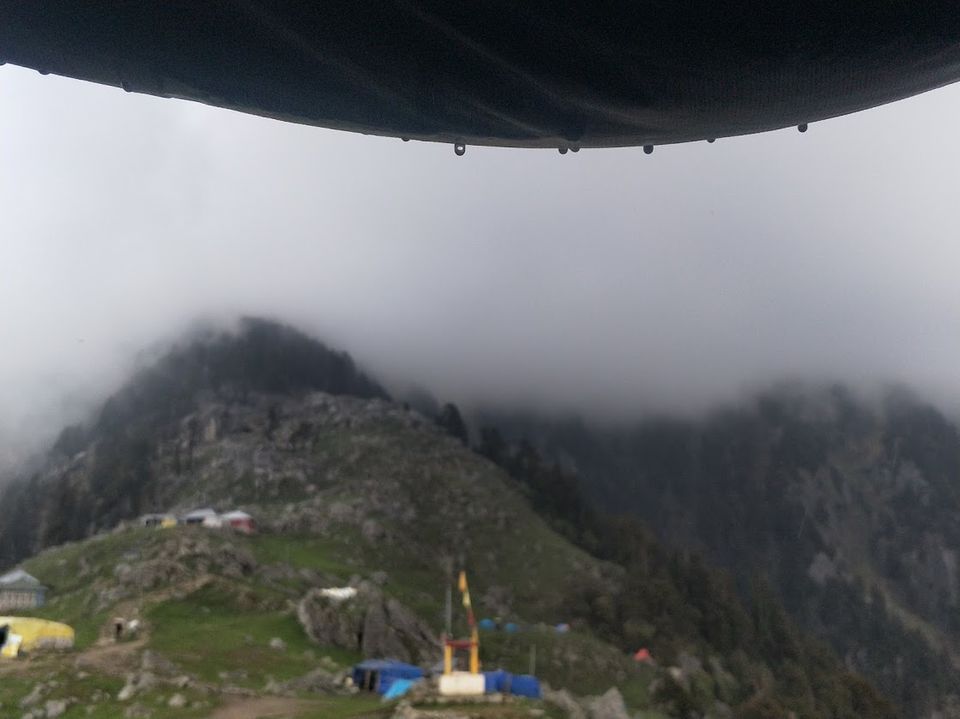 In addition to the Forest Department guest house that has been there for a long time, I spotted six full-fledged new buildings. A shop's owners told us that this land was given away to a family by the government in exchange of the land that they procured from them down in Dharamshala!
This summer, the view from Triund was still as fantastic, the Dhauladhar ranges still looked as awe-inspiring as they did before. However, I was left speechless. Speechless, not because of the beauty, but because of the excessive crowd on the hill. Triund was blanketed with tents, with barely any space to walk. About twenty-five new shops had sprouted up on the hill. It was even more heartbreaking to see that a cave where we has taken shelter back in 2014, had also been converted into a shop. It was utter chaos, and we were told that on New Years Eve, the number of people on the hill had crossed 2000!
In addition, due to excessive camping, the grazing ground that Triund Top offers to goats has also been destroyed. The meadow has been trashed, leading to a serious garbage problem that is harmful for both, animals and the ecology.
This time when I visited Triund, it was dirty, over-crowded, and even though I had planned to stay the night, I returned to Mcleodganj just before the sun set.
What's the status now?
In order to improve these conditions, it has been reported that there will be no over-night camping at Triund. This step was taken in 2018 as well, however, tourists could still pitch their own tents. For 2019, camping has met with a full-blown ban. However, you can still take a day trek to Triund; you'll have to return the same day.
Moreover, all shops on the route have been shut, except Magic Point. So if you're going on the trek, carry your own water, food and other supplies. However please bring back your trash with you, don't leave it up on the hill.
What Do We Learn From This?
In our desperation to experience untouched beauty, we travellers are ready to travel to the most remote places. After all, who doesn't love clear skies, breathtaking views and complete solitude? However, in our relentless "wanderlust", we don't pay heed to the way we're travelling. Before we visit any place, let's remember to carry our own trash bags, try to minimise the use of plastic as much as possible, say no to food items that are packed in plastic wrappers and refuse bottled water. It's high time that we travel responsibly and protect destinations that we dearly love. If we keep up our irresponsible ways of travelling, we'll only see more beautiful locations like Triund being closed for tourists.
The only cool way to travel now is to travel sustainably, so let's spread the need to change our habits.
Read this article for helpful tips on how to make your travels for eco-friendly.
Get travel inspiration from us daily on Whatsapp. Click here to start