Want to explore more road trips that you can take in 2022? Head to this page to find your next favourite holiday!
Driving through the enchanting landscape of Spiti Valley was a dream come true for me. I was enjoying each drive, each turn, each moment on the road which unravelled captivating sights and mesmerising views. Naturally, I yearned to stay just a wee bit longer. I wanted to envelop the majestic mountains in my arms and completely immerse myself into the valley's unique charm. I wish I could stay here for some more time, I thought to myself as our Traveller went lurching from Chandratal to Manali, the last leg of our road trip in Spiti. We stopped in Batal, at the famous Chacha Chachi dhaba which was overflowing with travellers who had been stranded there since the night before.
Unrelenting monsoon season and torrential rains in the region had cut Spiti off from other parts of the country. There were seven landslides on the route from Batal to Manali, that were so massive that there was no chance of them being cleared any time within the next 24 hours. It was as if my prayers had been answered! After enjoying a plate of the signature rajma chawal at the eatery, we decided to leave for the nearest village, where we could stay the night and return the next day to resume our journey to Manali.
We traced our way back, braving the same difficult roads that we had taken before. After a journey of about three hours, we reached our destination for the night. We stopped in front of Ibex Homestay in a small village called Losar.
A paradise called Losar
Losar, a small village located between Kaza and Batal, is home to only 65 families. Situated by the Spiti river and dotted with match-box like Spitian mud houses, Losar is everything that a secluded village should be. It rings with a peaceful silence, is heartbreakingly stunning and the warmth of its inhabitants will soothe your tired soul. The village has only one school, a monastery and a health centre.
My experience in the magical land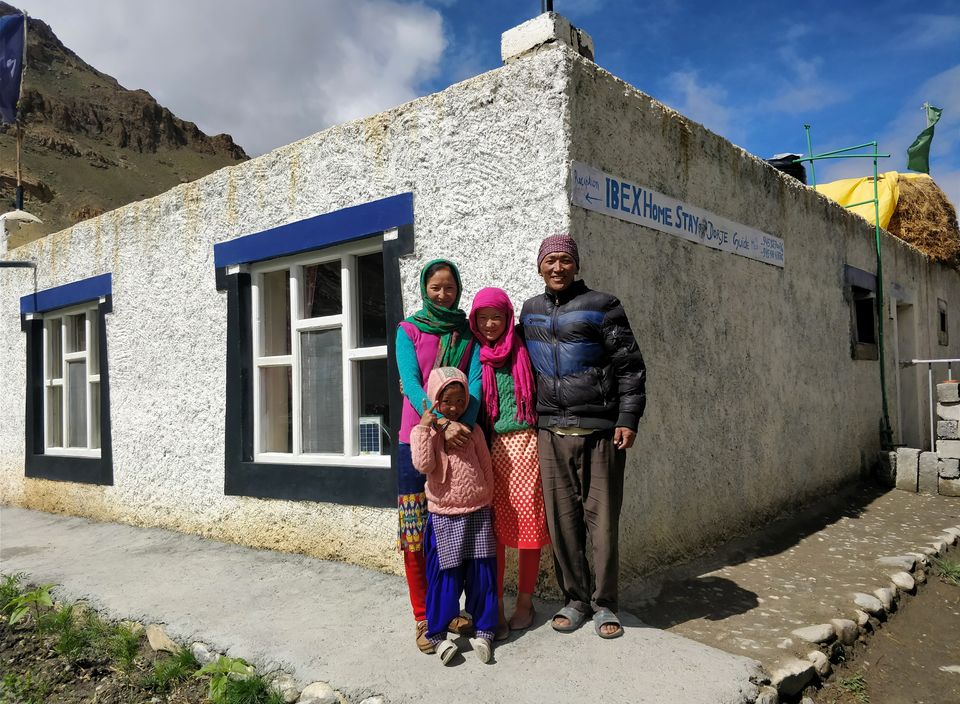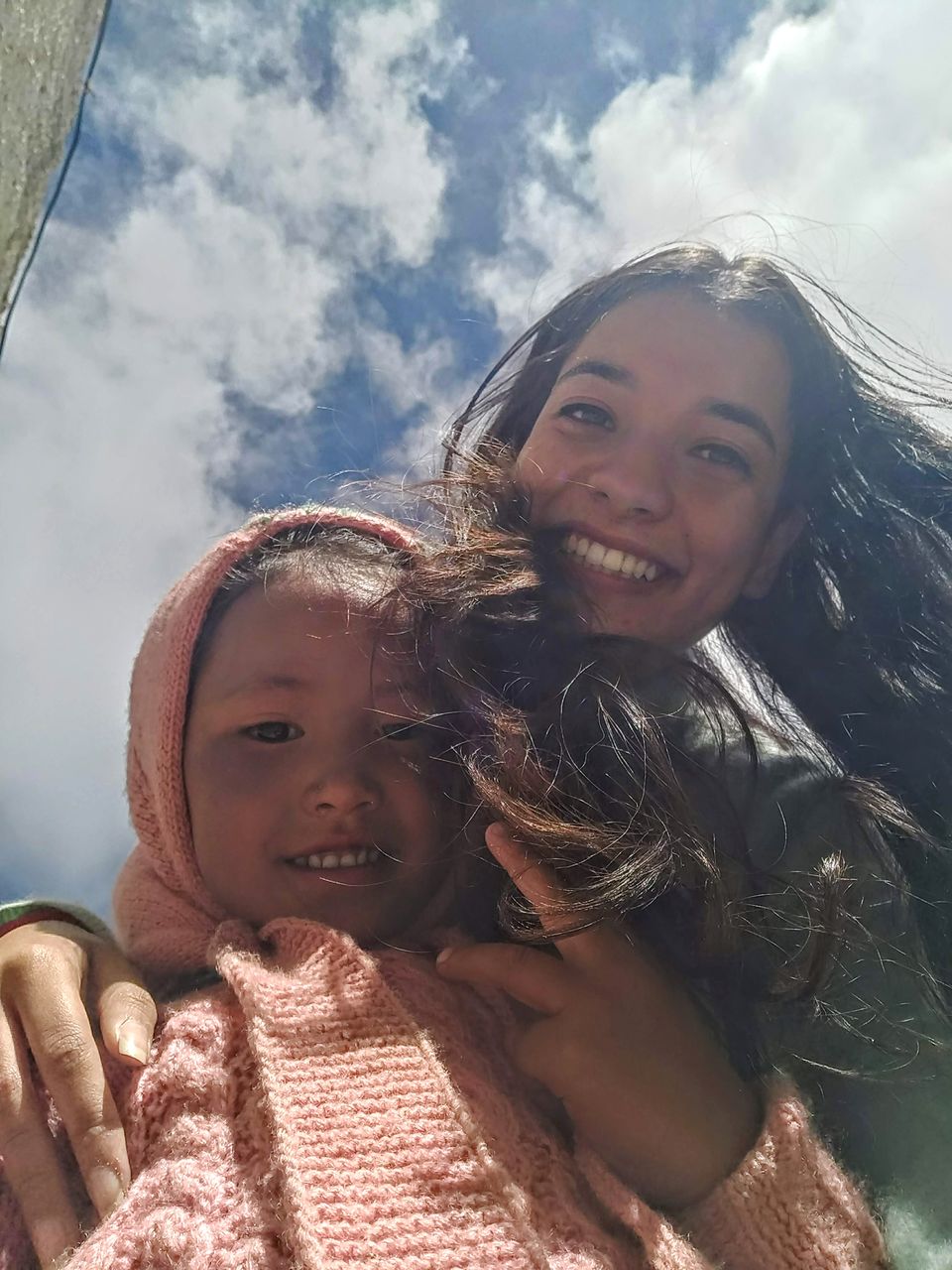 Surrounded by snow-capped mountains, Losar shivered with a slight chill that progressively intensified as the sun went down. Our homestay was a cosy little abode where we were welcomed by an enthusiastic 7 year old, Yeshi. Adorned in a bright pink, hand woven sweater, with apple-red cheeks that are typical of children in the mountains, Yeshi bubbled with more energy than all of us combined. She ran around the house like a misguided missile, oscillating between her excited self and shying away from us strangers.
The simplicity of Ibex Homestay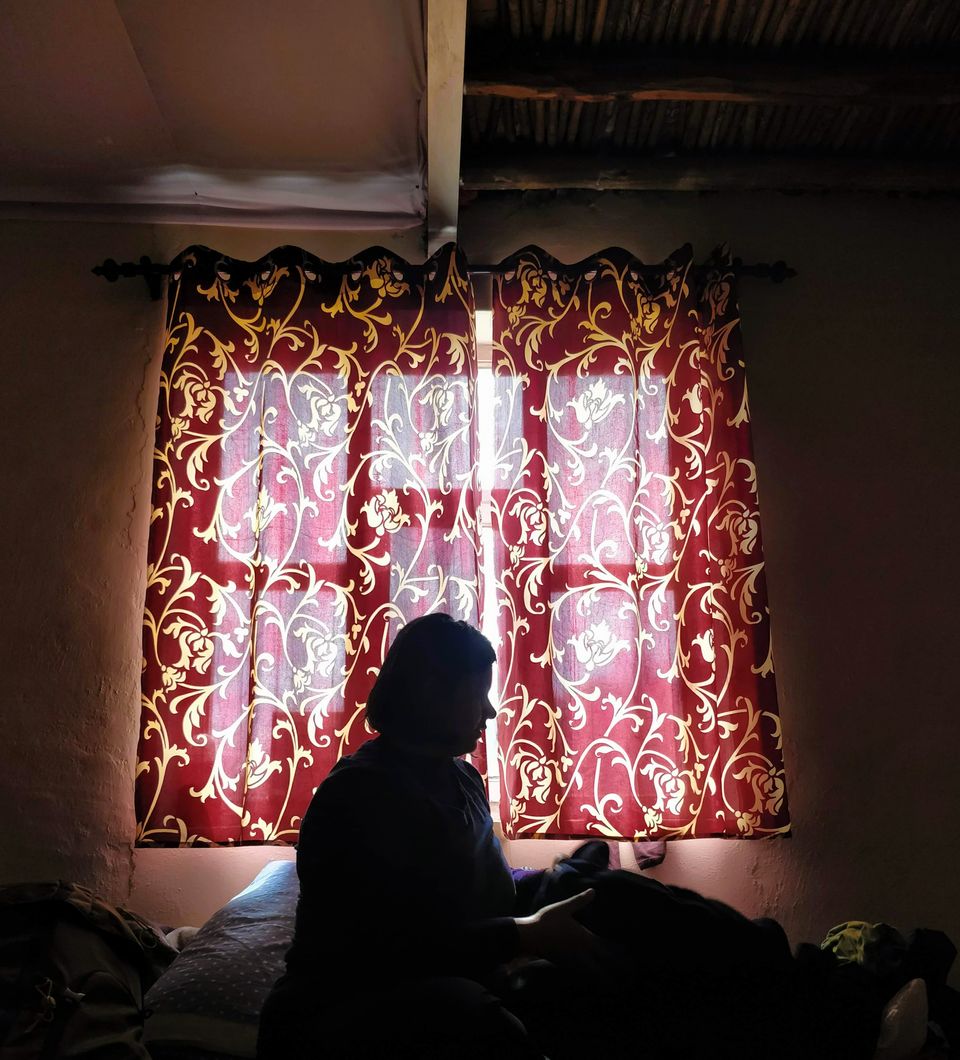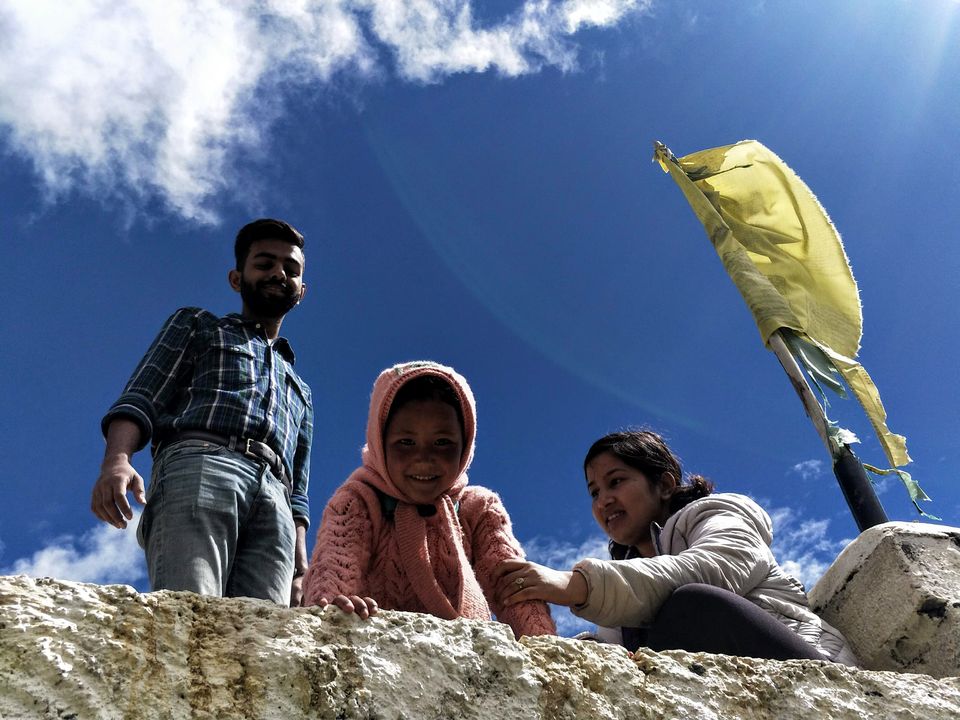 We were shown to our rooms by Dorjee, the homestay owner who was as amiable as his little daughter. The house was small, with only two rooms on offer and one big, warm rustic kitchen cum dining area where we spent most of the day and night. There was only one washroom that had to be shared among the six of us. Usually, this set up would bother me, however, the house was so well-kept and clean that I didn't mind this minor inconvenience at all.
As we were settling in, the electricity in the village went away. We expected it to return instantly as it does in cities, however, it didn't return till the next afternoon! Even the phone network (only BSNL works there) was linked to the electricity! No electricity meant that there was no network either. Here we were... stranded in Losar, with no connectivity with the outside world. While I was earlier excited for this experience, I was slowly getting worried. We were completely disconnected from the world. All we had was each other for company and the beautiful family that had welcomed us into their homes with open arms.
Stories from the cold desert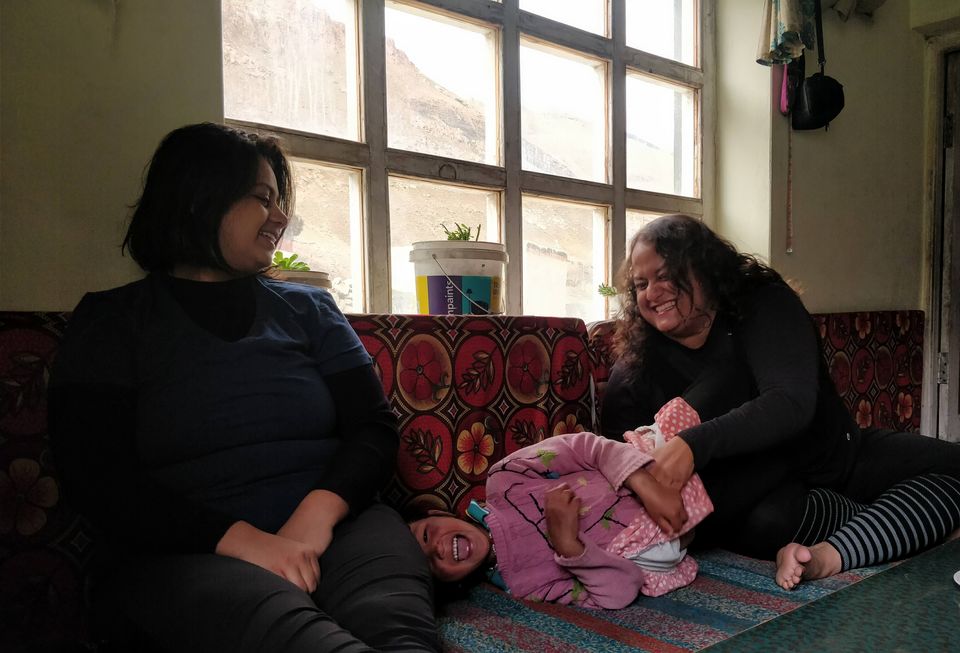 We all congregated in the kitchen where we sat huddled around the sigdi, clinging on to our warm, velvet blankets. We were served an unassuming but delicious hot dinner comprising of peas and potatoes, the two staple dishes of Spiti. The climate, altitude and landscape of Spiti support the growth of mainly these two vegetables, so you will often find most dishes centred around them. Dorjee told us about his life in Spiti and showed us photographs of his expeditions during winter to spot the elusive snow leopard – Spiti's most magnificent being.
He regaled us with tales of the difficult winter and how the natives sustain themselves on stored food, despite frozen water, dry toilets, high-altitude, low oxygen and more than 7 feet of snow! His survival stories were unbelievable and alarming. My group and I were on the verge of a panic attack just because we were stranded in a place with no electricity or network. But Spitians braved these dire conditions for almost half the year.
Dorjee then made us try chhang, a Tibetan alcoholic drink that is known as the beer of Himalayas. It was brewed and distilled in the backyard of his own house. By this time, his two daughters had gone off to sleep, while his wife stayed inside, hesitant to interact with us. Sipping on chhang and sea-buckthorn juice, we spent some more time playing Uno. We even sang awkwardly when Dorjee requested all of us to sing one by one, just so that he could flaunt his singing skills! The night culminated with us heading to the homestay's rooftop, peacefully star-gazing and watching the Milky Way.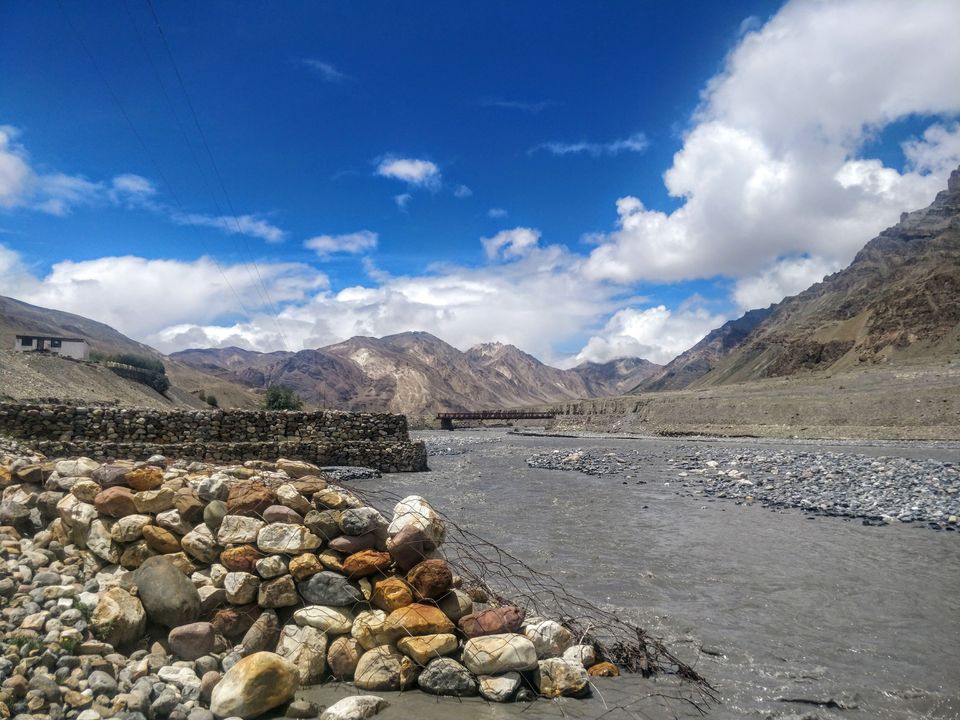 The next day, the family went to the local temple as there was a festival happening in the village. Unfortunately, we had to stay back since the car that was to pick us up could come anytime and we didn't want to miss it. We had no way of knowing his whereabouts since our driver, Angroop Bhaiya couldn't contact us. Yes, there was still no sign of a phone network.
Meanwhile, we sat around chatting in their house, all of us expressing hopes of living in a quiet village like Losar. Yes, life was very difficult here, but the otherworldly beauty and silence made us feel like we were floating in a Utopian world. After a long long time, I truly felt like I was present. I wasn't distracted by what other people in the world were doing since there was no social media. I was able to appreciate the magic of the place that I was in. In fact, I became more observant and had the bandwidth to converse, know and explore more. I felt very relaxed and at ease. Since nobody could reach me, I cared two hoots about what was happening at work or at home. Being in Losar was equal to being in a meditative state. Honestly, I couldn't have asked for a more rejuvenating experience.
The extra day that we got in Spiti was the perfect ending to the trip, until we had to finally travel from Kaza to Shimla in one day, which was a continuous, back-breaking drive that took us 19 hours to complete!
So if the unexpected hits you while you're on a trip, don't worry, it is bound to transport you to fantasy land and a memorable adventure as it did to me.
When was the last time that an unplanned trio surprised you? Write all about it on Tripoto by creating a blog here.
All photos in the article have been taken by the author and cannot be reproduced without permission. You can check out my Instagram handle for more stories and photos from Spiti Valley.