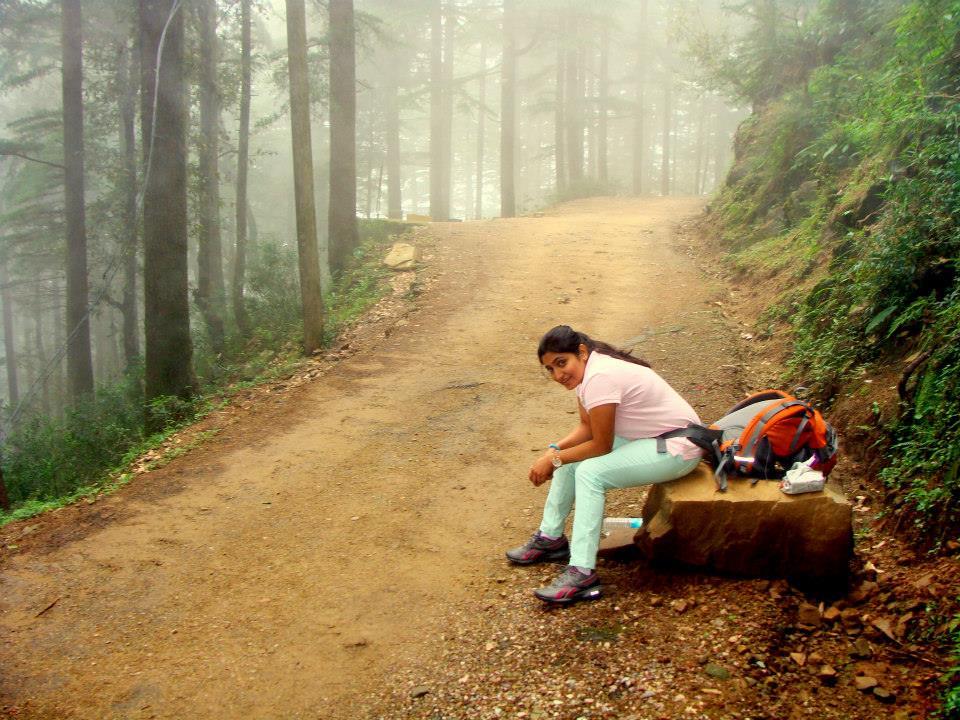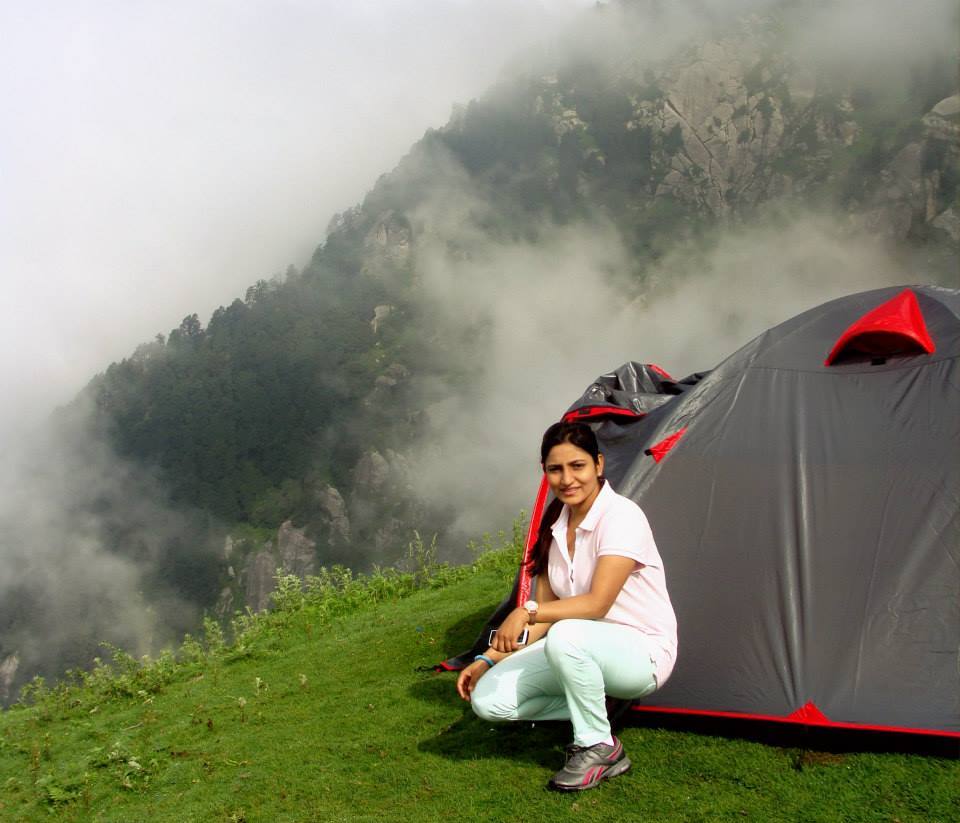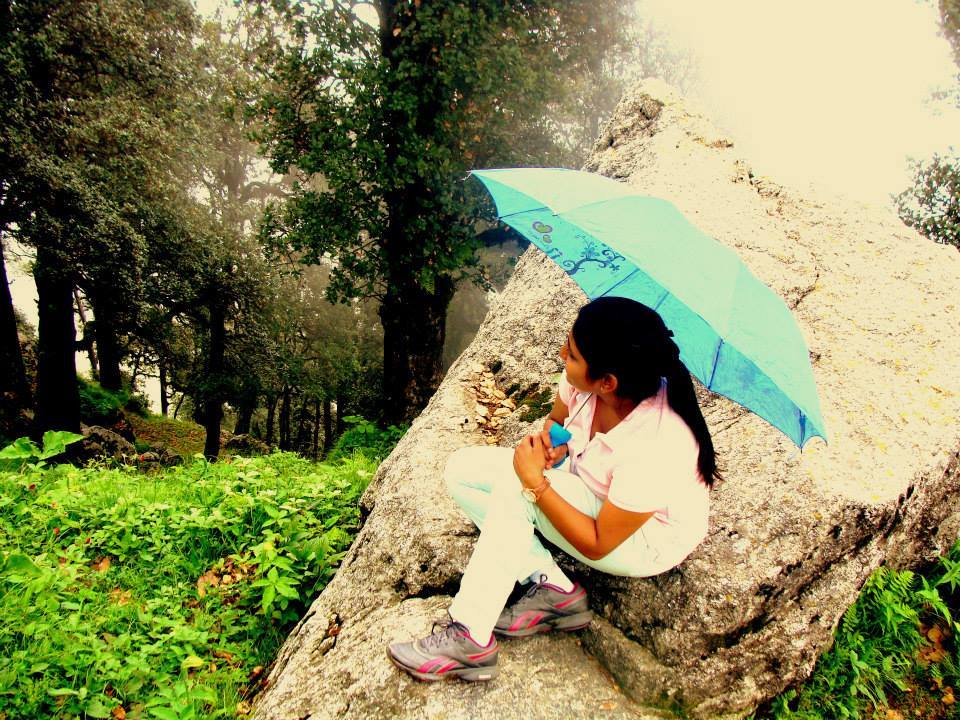 It was my birthday and this year me and my friend thought why not go to someplace and enjoy the beauty of nature. I really appreciate the friends in my life, especially the ones who can decide at the drop of a dime that they need a vacation. And thats exactly what happened that day. As we all do we googled and found this place... "Triund". We booked 2 seats in a train to Pathankot from Delhi at 8 AM on the very next day ..I am not an early morning person but somehow we managed to catch it... I decided to finish the novel "Fangirl" till we reach our destination, But after reading around 40 pages I fell asleep and woke up at around 5 pm when we reached Pathankot. We had our dinner at a Dhaba near bus stand and then we took a bus to Dharamshala and by 10 pm we were there. I already started feeling very good about this place. We then took a taxi and in 15 min. we were at McLeodganj.... The other day we woke up at 6 am.. After getting ready we decided to walk through the street.. and I suggest this to you all.. Please Try waking up early in morning to see various Buddhist monks passing by while chanting on their beads , it's a sight not to be missed. Many of them were even cleaning the whole street.. And I pledged that day that I will keep my surrounding clear and will tell the same to others too. Suddenly It started raining, so we headed to Nick's cafe to try the famous Tibetan tea.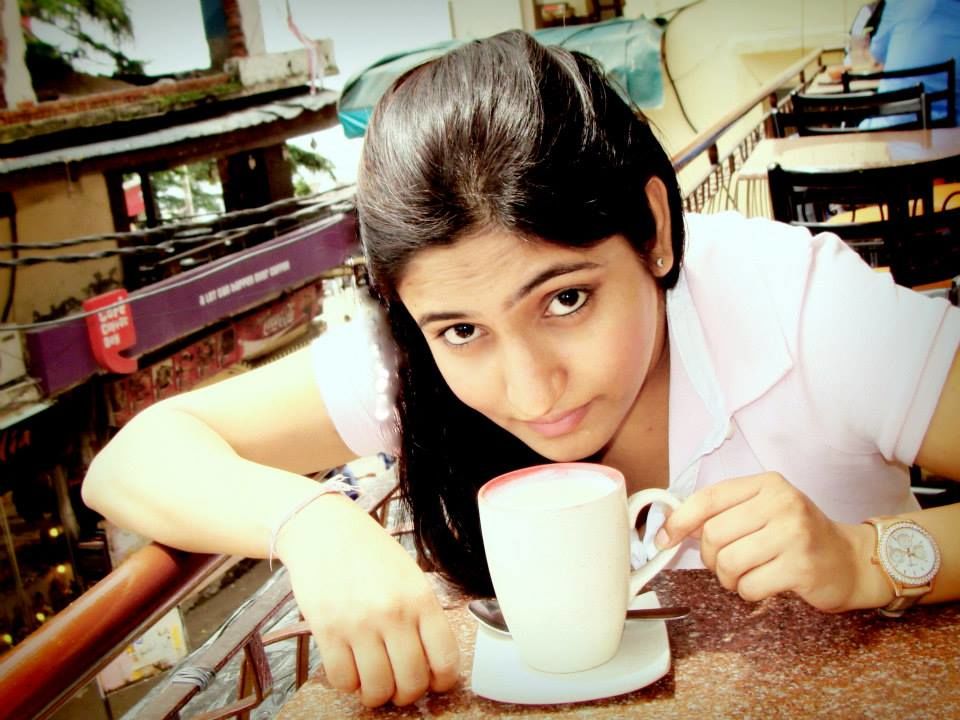 It's a must try for all. Finally at around 10 am, putting the luggage bags on our shoulders we headed for the trek to Triund It is a beautiful ridge on the mighty Dhauladhar mountain range and is located about 10 km from McLeodganj, this splendid green meadow is surrounded by snow laden peaks of the Dhauladhar mountain range, Towering high snow clad peaks seem to be at arm's length away from Triund. This trek is a very long tiring journey on foot, it takes about 5hrs for an average trekker. It is a beautiful trek through forests of deodar, oak and rhododendron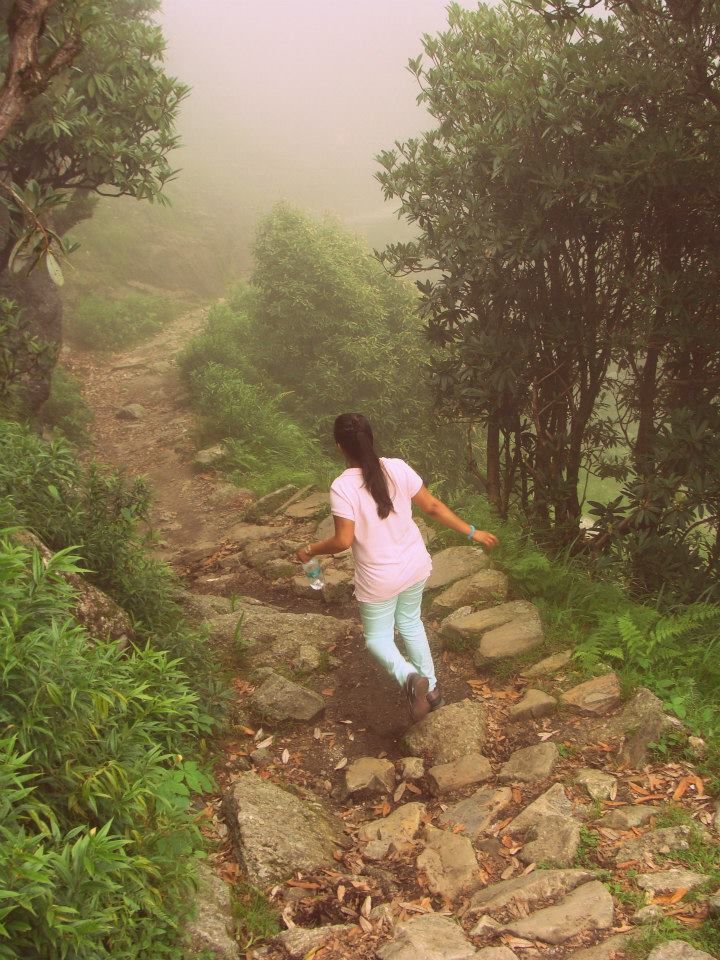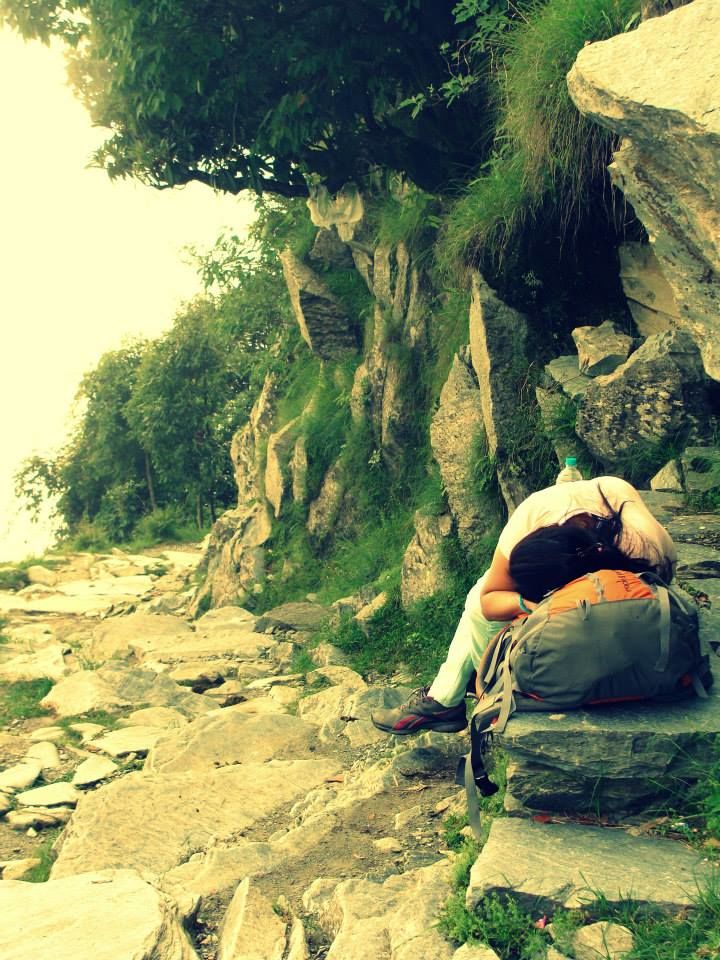 On the way you will find 2 to 3 shacks. We stopped at the last shack for Maggie and tea. and we find this guy named Amir , he played flute for us. The sound was very melodious and healing. At the same time the mountain acted as a willing transmitter of a very positive energy as the sound echoed and we felt like the mountain is giving us the love of the universe in the form of sound. That first experience of hearing that sound in mountains.. I can never forget it. Those were the mystical moments of my life I wanted to sit there forever.. but suddenly it started raining and my friend told me that it will be a bad idea to stop more. So we left after thanking Amir for playing it for us and clicking this pic of him.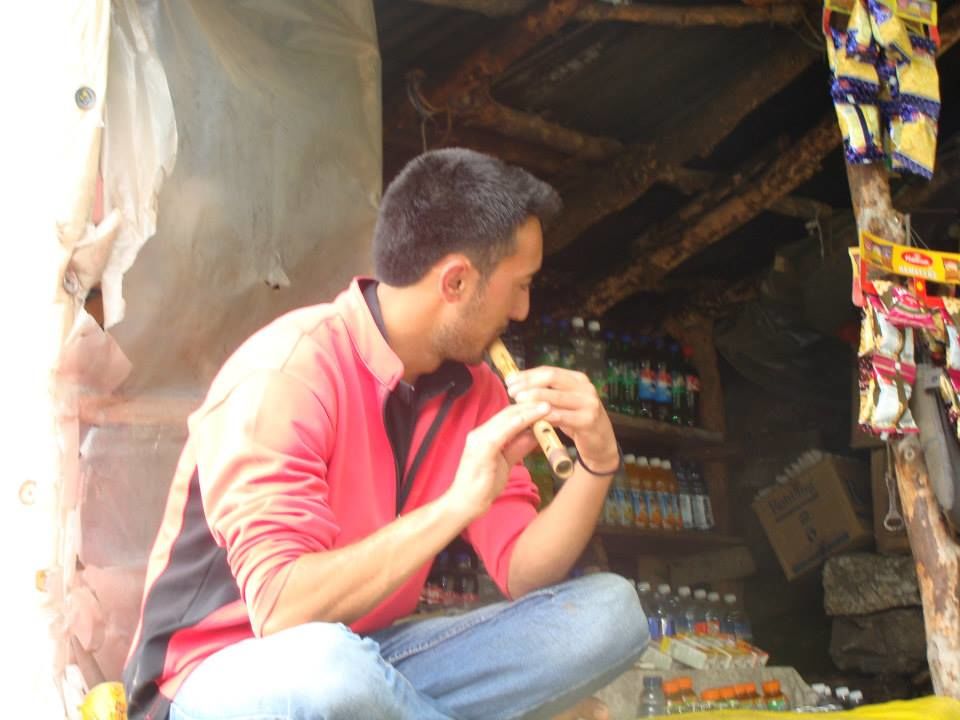 Finally at 3.30 pm we were at the top.What a view it was. We forgot about the fatigue and got lost in the iconic landscape. It's one of those places where you get that top-of-the-world feeling.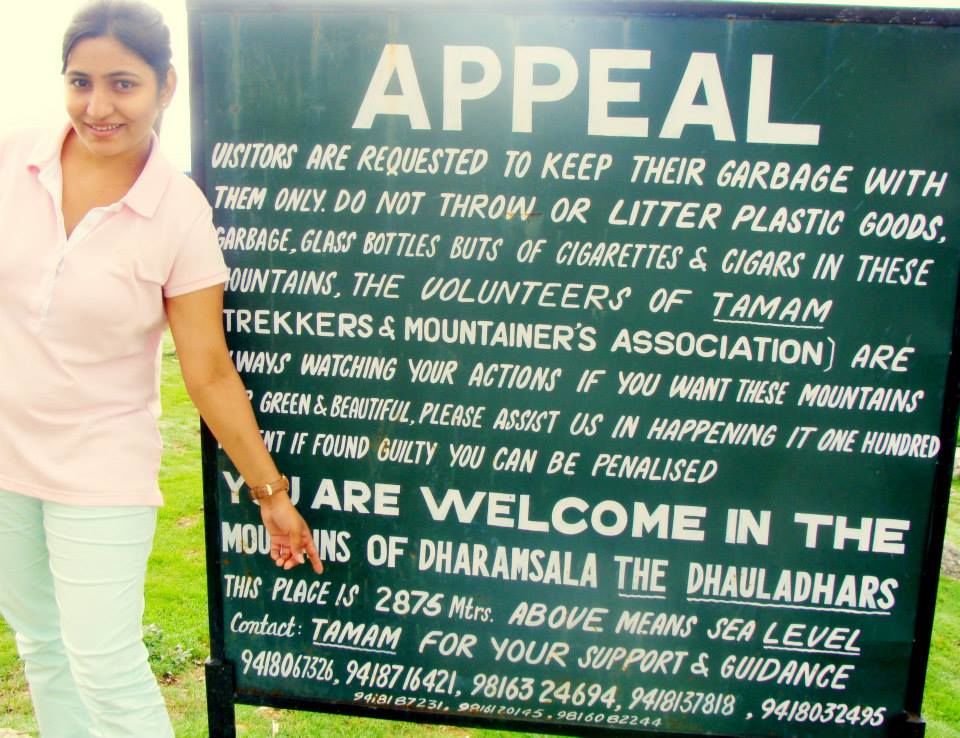 Some college guys were playing guitar.. Some people were doing yoga.. Some were singing.. This very first glimpse was an "aha" moment that happened for me with the surrounding as a catalyst. We setup our camp and then just went around to enjoy the beauty.. There is no restaurant or food corner over there , just a forest department guest house.. at around 8 pm we requested the guys at the guest house to cook some rice and daal for us as we were very hungry till that time. Then we build a camp fire and enjoyed the night just gazing at the stars and listening to music as in Delhi you will never get to see such a clear sky full of stars. I don't know when I went asleep but Around 2 AM there was a quake which woke me.. All of the people were sitting and talking like nothing happen.. when I asked them about it they told its quite normal over here.. So after remembering mom and dad and thinking that if it came this time I might not wake up (hahahhaa) , I went back to sleep.. but fortunately I woke up alive at 7 am (hahahahaa). After recharging ourselves we left for the Lahesh caves.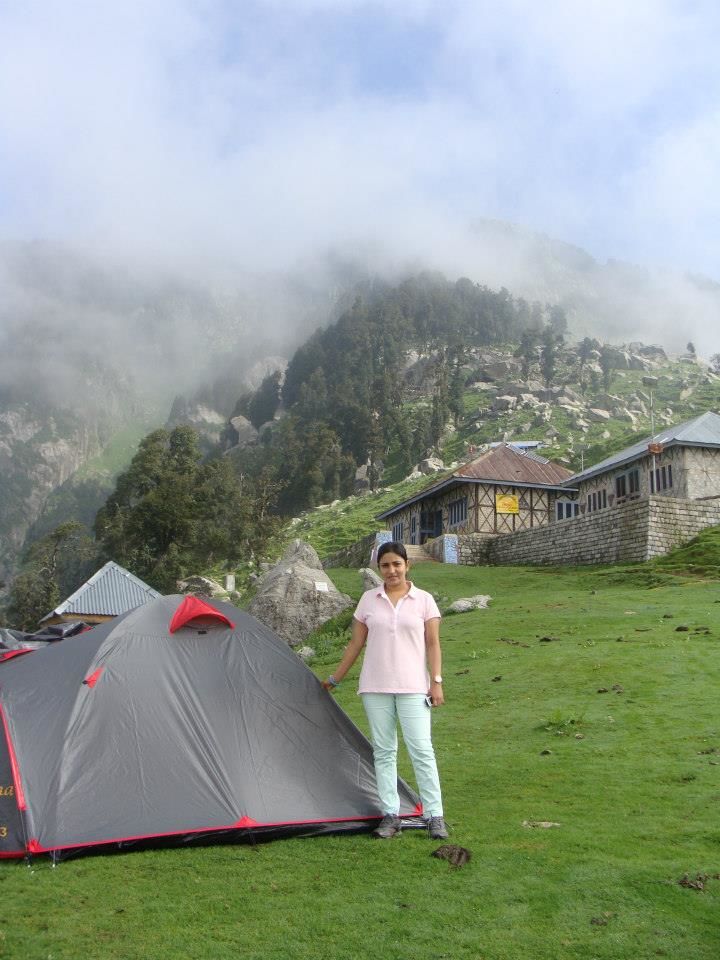 This is a beaten trek frequented by shepherds, trekkers and local people The trek climbs up to the left of the Triund rest house along a slippery and rocky path thorough oak and tosh trees. It is a well defined trail.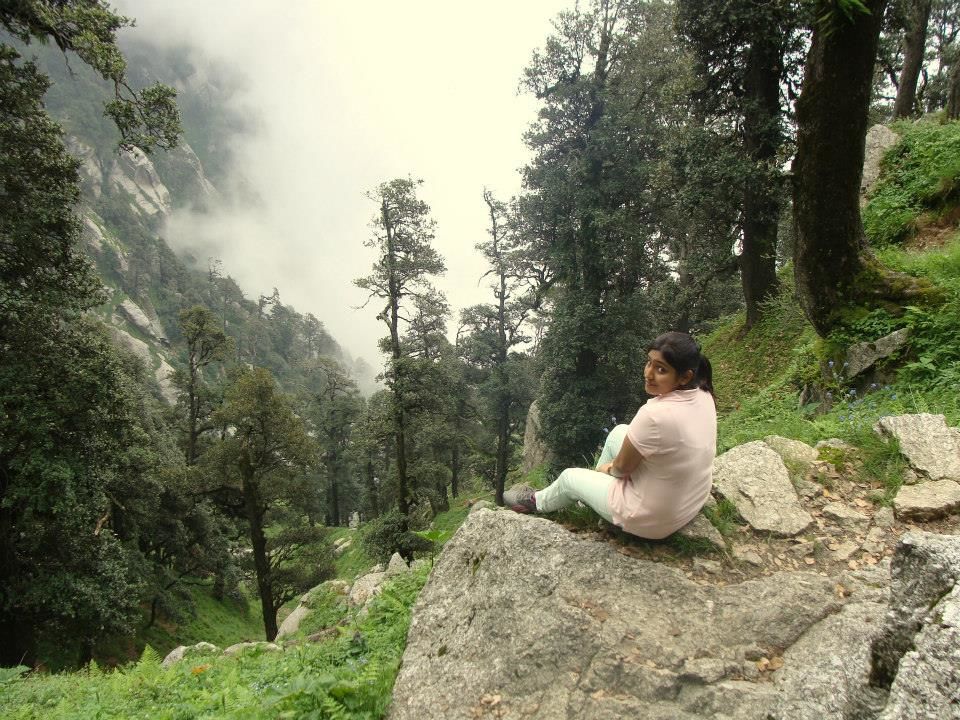 Till 1 pm we were back in Triund and after having a cup of tea.. We traced back our foot steps to Mcleodganj.
This was an amazing trip. There is nothing to fear about. Just remember not to take any shortcuts on a rainy day as it could be slippery. If you ever get the urge to pack your bags and go for a trek, do remember Triund is one of your destinations.