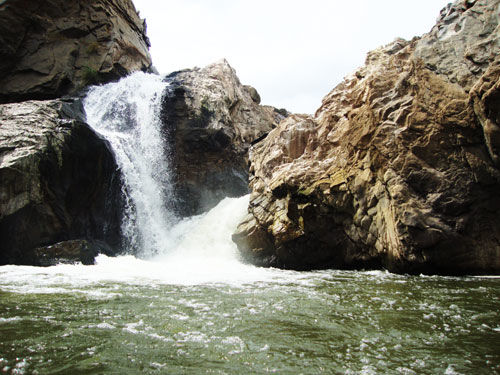 Known as the Niagara Falls of India, Hogenakkal Falls is situated in the state of Tamil Nadu. A popular tourist destination for people from Bangalore and a weekend favourite with the locals too.

The name Hogenakkal comes from the words Hoge (smoke) and kal (rocks) which translates into smoking rocks, more so justified when you see the water fall on the rocks it does look like smoke rising from the rocks. The falls are beautiful and one can even enjoy boating here during the dry season when the currents are not too strong.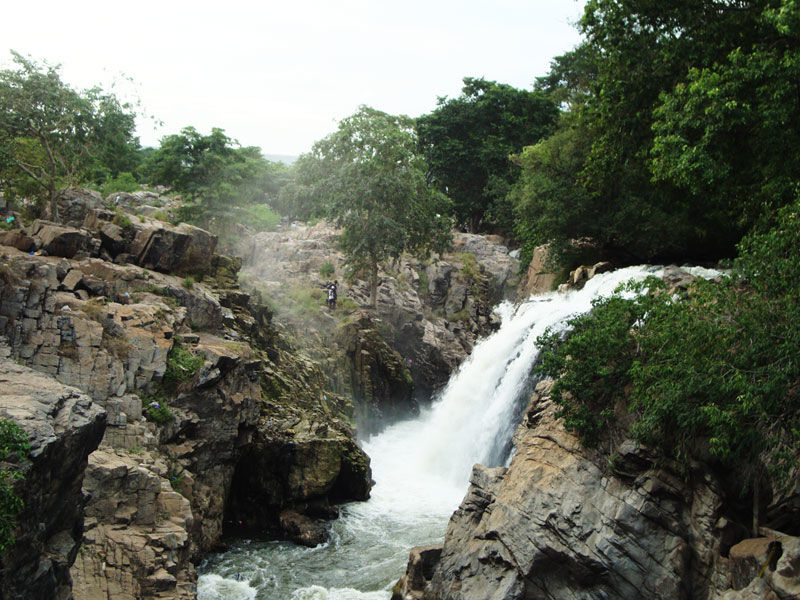 Hogenakkal Falls is situated amidst the Melagiri hills. The lush surroundings and scenic beauty make the drive to Hogenakkal Falls a camera happy one! One can see typical south style giant terracotta idols of gods on the way amongst other things. The waterfalls are a perfect place to have a picnic whether with friends or family. A word of advice though, weekends are rather crowed here, so if you are looking for a calm and serene experience then its best to go during a weekday. I was a tad disappointed with the large number of people present here, although that does show how popular this place is.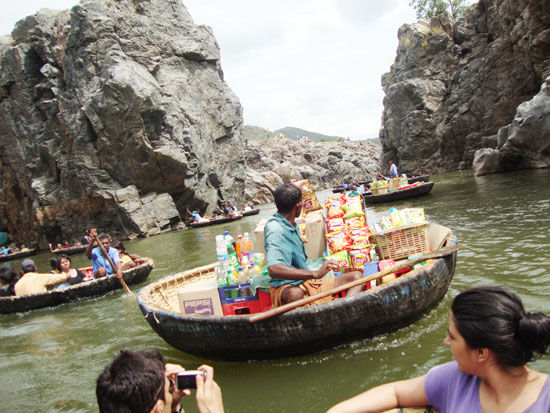 One can enjoy boat rides in the round boats locally known as Parisals that will literally take you for a spin under the falls!
Be sure to carry water proof bags for your phones and cameras and a change of clothes. The waterfall is also said to have healing properties as it flows through forests that are rich in medicinal herbs and plants and a lot of people come here especially for that.Another thing I observed here was the large number of people getting some kind of an oil massage that is said to be a specialty of the area. Apparently this particular massage has many healing properties as well. You can even do a bit of trekking in the nearby hills if you up for some more adventure.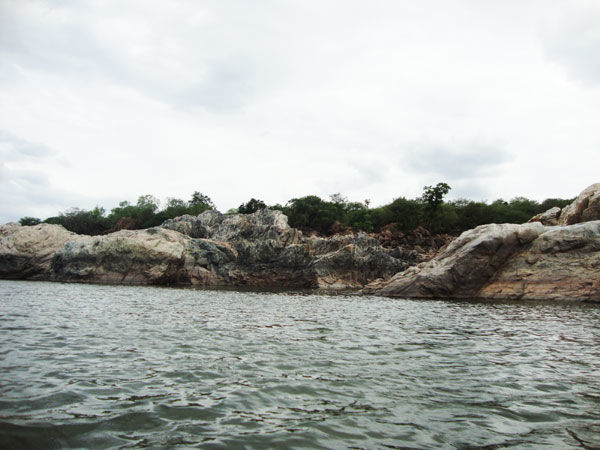 The best time to visit is between October and March. One can hire a taxi or take a bus from Bangalore. It is a two and a half hour drive to the falls from Bangalore. It can be covered within a day itself but for those who would like to stay the night the best option would be the KSTDC tourist bungalow. But I would suggest returning to Bangalore the same day if possible as there aren't any great options for an overnight stay.
It's essential to carry sunscreen, shades, loose cotton clothing and mosquito repellent. If possible do carry your packed lunch as well. There are eating options here too but they are not quite hygienic and up to the mark.