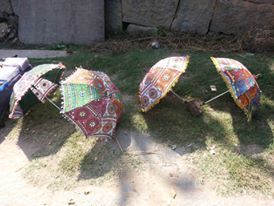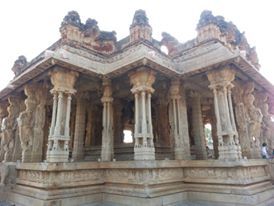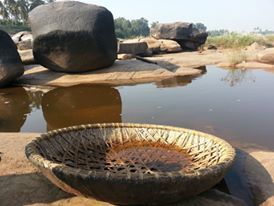 Hampi: Land of boulders, a sleepy Tungabhadra snaking through the town, ancient ruins, ecclectic cafes and a fun bunch of backpacking crowd present always
· Your Approx budget: Rs 12000 per person. This covered stays, activities like bike rides, hikes, local lunches and a guided walk through the architecture and history of the land.
· Days Spent: 4-5
· Mode of Transport: We tok a Volvo bus to get there, we took a tuk-tuk ride to the town of Hampi from Hospet, We took a boat ride accross to our stay, we took mopeds/ electric bikes to explore the ruins and also enjoyed a coracle boat ride. Its safe to say that apart from flights every other mode of transport was explored.
· What Not To Miss: The ecclectic cafes, serving simple south Indian lunches or ornate continental fare. The bike explorations, locals home visit, bicycling through the ruins, village walks and the ancient hanuman temple of Annegundi, yoga on the lawns of your stay, as Hampi as a location has a very calm vibe and a session at Bouldering at the smooth rockfaces. Hapi is the second best Bouldering destination in the world