A UNESCO World Heritage Site, for good reason, there lies immense beauty in the 15th century ruins of the ancient village of Hampi. Light on the pocket and your precious time while in India, this is a must-visit for everyone who is in search of finding inner peace and a quick break from the hustle-bustle of city life.
Mark your calendar, for a wonderful long weekend getaway filled with scrumptious South Indian delicacies, towering boulders and tons of monkeys to hang out with :D!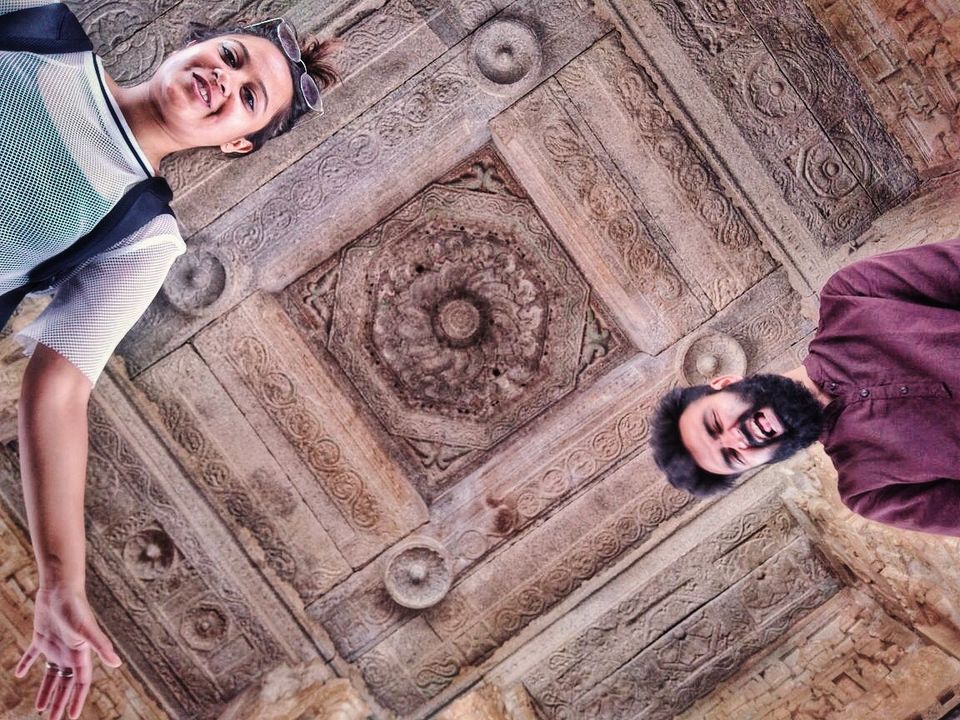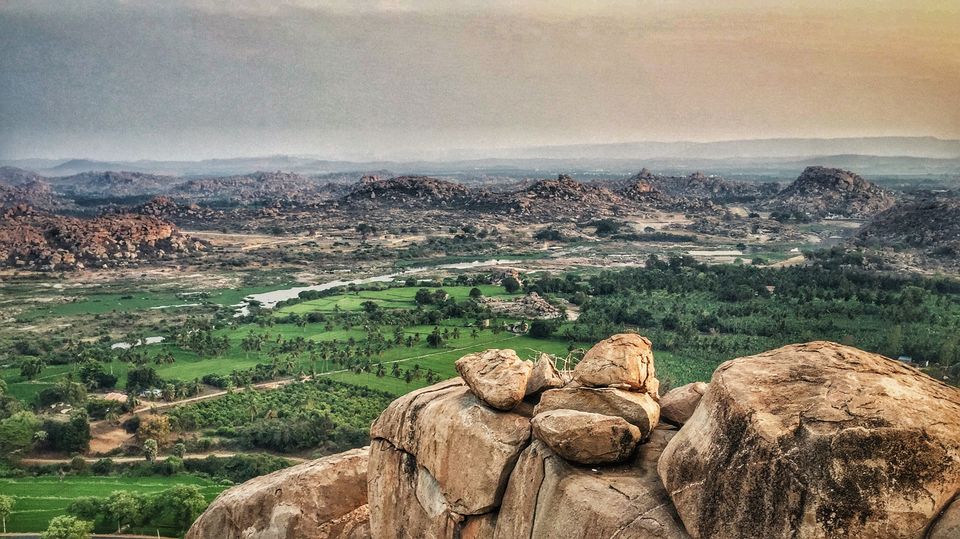 A 15-hour ride from Mumbai via bus, it will cost you between 1050-1200 INR depending on your preferred bus type. There exist two major bus stands, one operated by the Karnataka government and the other by a private operator. Both are located in Hospet. The remaining journey to Kamalapur village (2kms from Hampi) can be covered by hiring an auto for a cost of 250 INR. There are plenty of guesthouses in and around Hampi which offer attractive low budget fares. We found a perfect one (close to the ferry point and Virupaksha temple) for as low as 1000 INR for two people.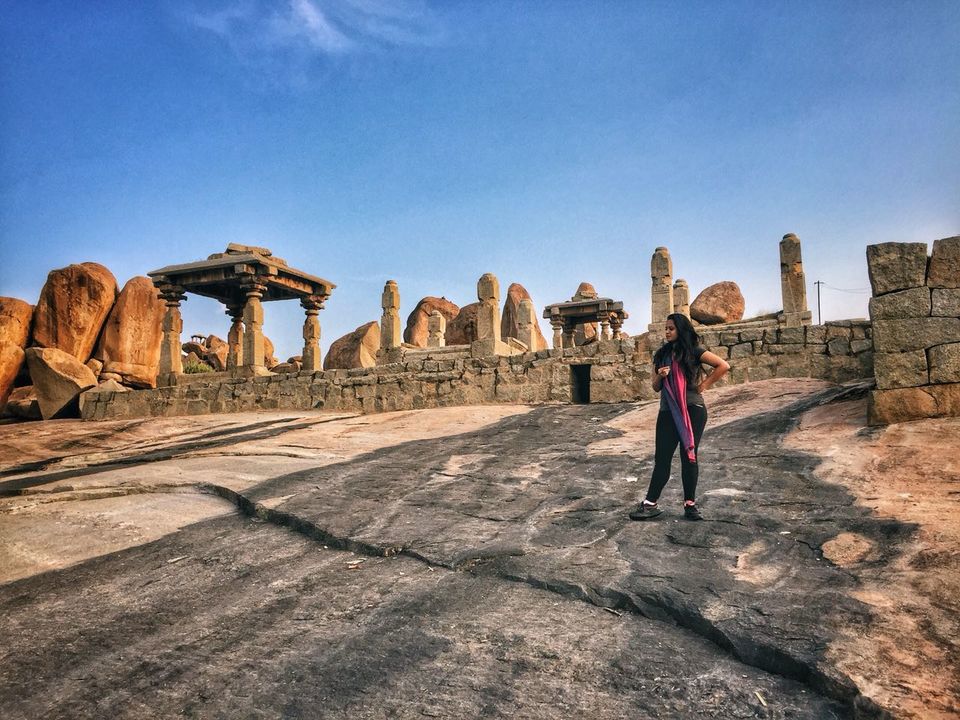 With the whole day in hand, we decided to first explore the Archaeological Museum located in Kamalapur, with breath-taking remains of sculptures spread across four different galleries and a scaled model of the entire Hampi valley! This not only gave us an idea about the valley's geography but also helped us in planning our route for the remaining days. Next, we headed to Virupaksha Temple, which has a history dated as far back as 7th century! It makes for a perfect time-travel machine to explore ancient Indian architecture, rituals and customs; not to forget immersing in a sunset perched on any of the massive boulders which surround the area.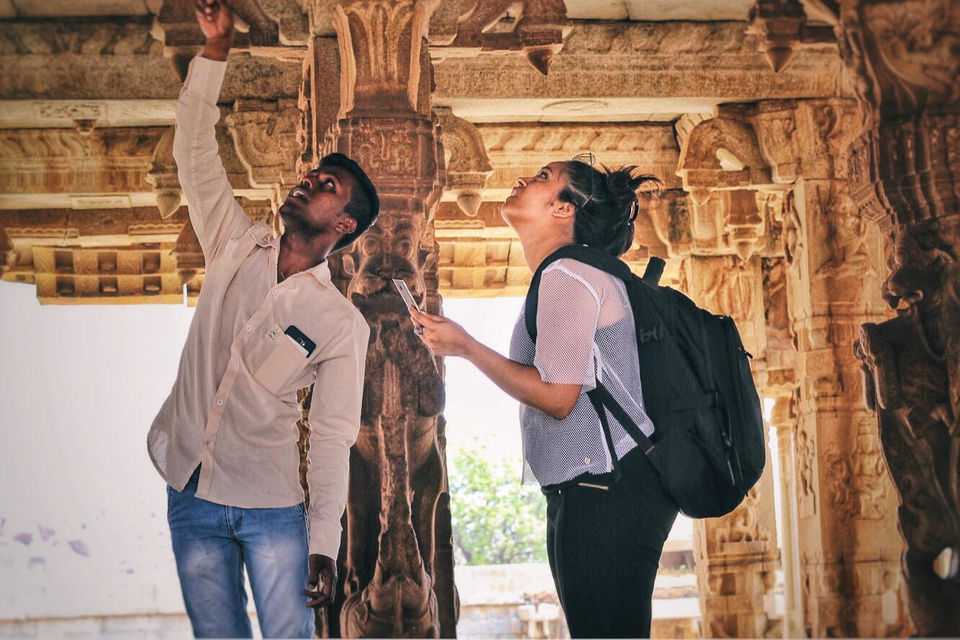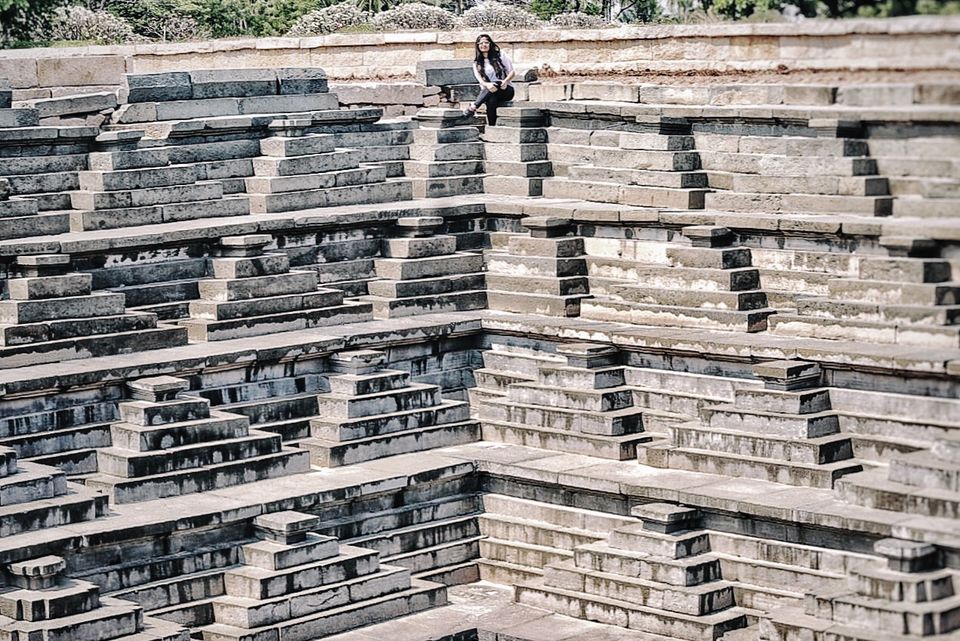 The second day was jam-packed with the entire Royal Enclosures including the Queen's Bath, Lotus Mahal, Watch Tower, Step well tank, Elephant Stables and the underground Shiva Temple to cover. Go here to get a glimpse of how ancient Indian kings and queens used to stay, pray and conduct their daily affairs. We also managed to squeeze in a trip on this day to the Vittala Temple and caught a glimpse of the glorious stone-chariot! We managed to find a haven for foodies aka Mango Tree Restaurant which offers diverse range of Indian Thalis at extremely affordable prices.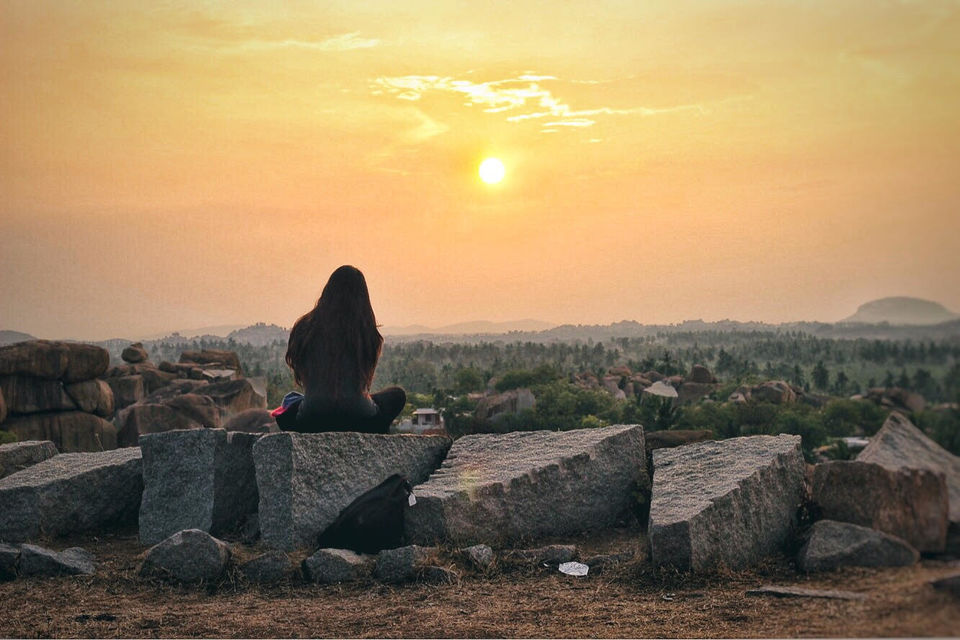 We ended the day with a sunset view atop the Matanga hill, one of the highest points in Hampi Valley.
One of the best things about your time in Hampi will be interacting with warm-hearted locals (always be kind to them!) who have many delightful stories to share about this wondrous valley. We got lucky and found an auto driver who not only took us around the entire area but offered plenty of trivia along the way. He even had a bluetooth device in his rickshaw and let us play our preferred tunes to enhance the whole experience!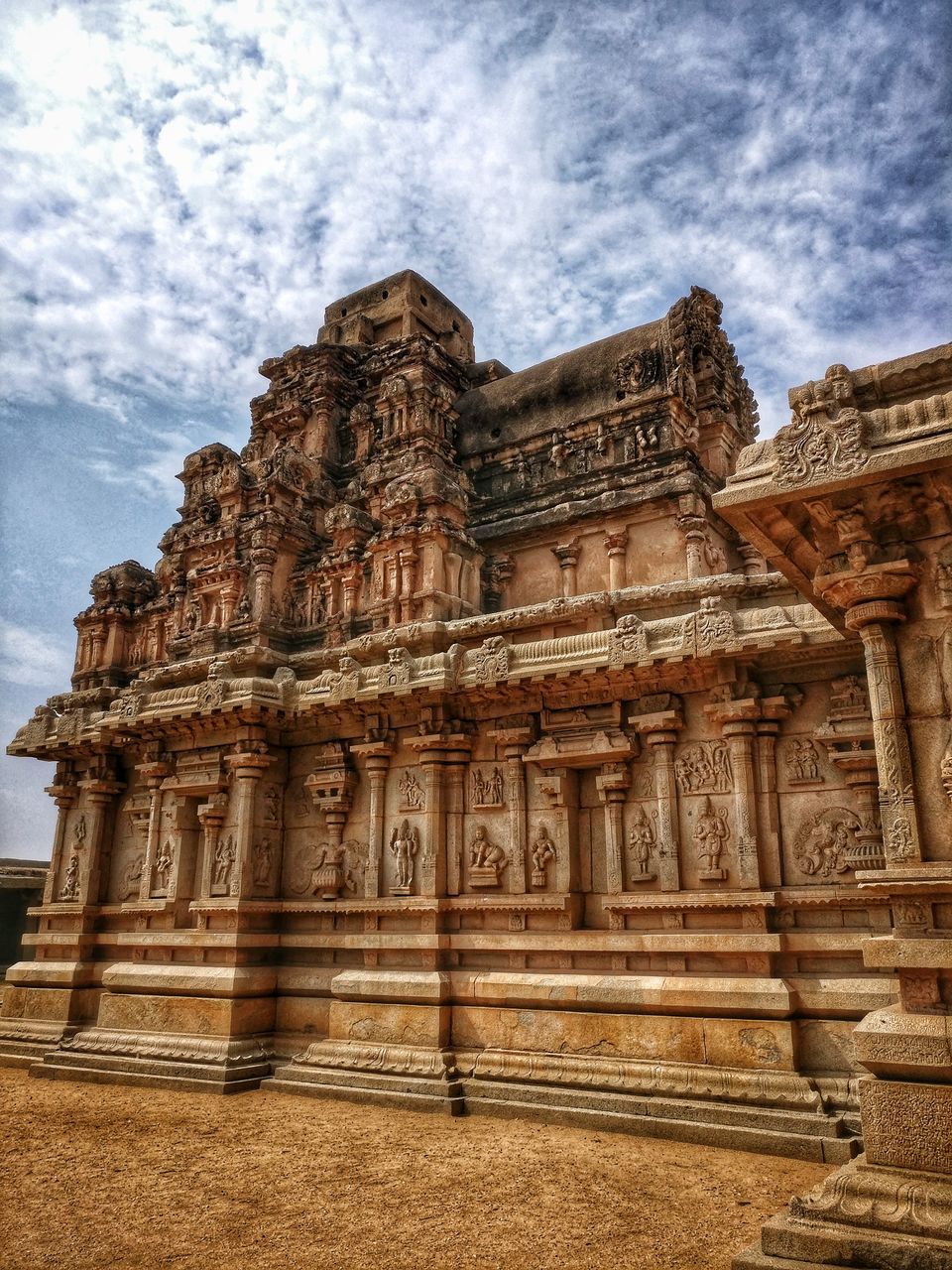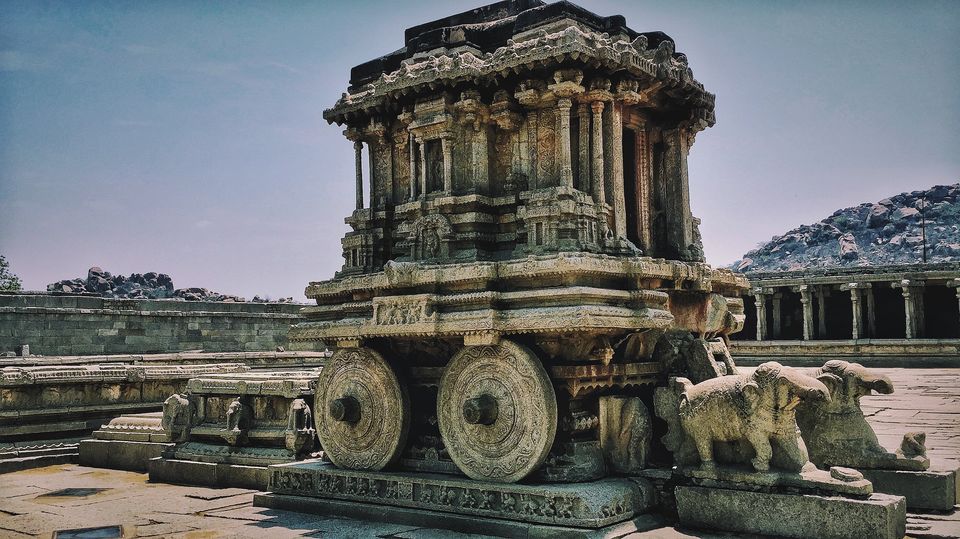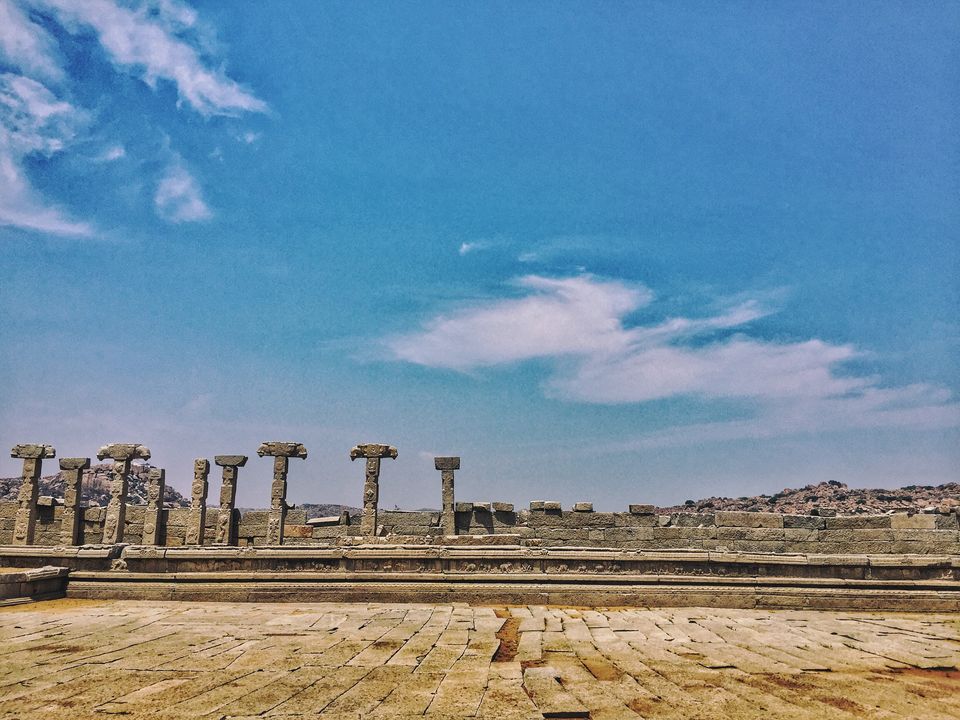 The final day's itinerary included spending time in Virupapura Gadde or the 'Hippie Island' which has both scenic landscapes and finger-licking food to offer. Easily accessible by a five minute motor boat ride from the the main Hampi village, it cost us 20 INR per person to cross the Tungabhadra river. Ensure to catch it before 5:30 pm as this is the last ride operational! The alternate route is via land (approx 26 kms) which might be your only option if you're visiting during the monsoon season (wouldn't recommend).
The ideal way to explore this area is by hiring a moped or a scooter, both easily available once you've reached the other side of the river. They charge separately for the fuel, so be prepared to shell out between 250-350 INR for the same. There also exist plenty of affordable guest houses and cottages, if you're planning to stay here. We booked a deluxe cottage at Sunny Guest House for 1000 INR for two.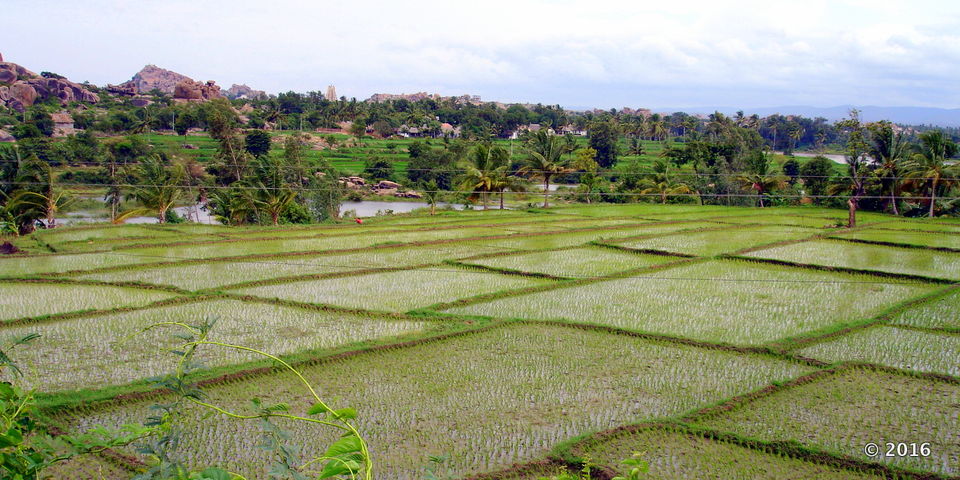 This side of Hampi has plenty of bouldering activities. You can rent out necessary gear directly from the guesthouses or stand-alone stores which dot the lane leading to the main road. It is an excellent way to meet other rock climbing and bouldering enthusiasts.
While here, don't miss out on a quiet sunset at the Monkey Temple which can be accessed via steps (575 to be precise). The whole task might prove slightly strenuous, but it's totally worth it.
Another highlight was listening to live jamming by a group of locals at Evergreen Cafe, who had come together to have some fun. Hearing them pelt out dance-able tunes was the perfect way to end our magical trip and I can not wait to go visit this place again! :)