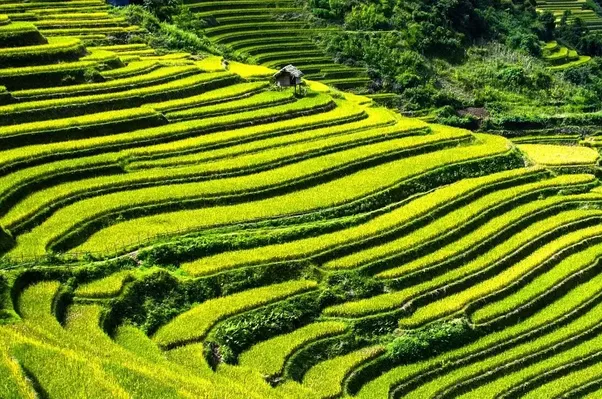 Terrace farms are a thing of beauty. These farms involve creating steps on mountain slopes for agricultural activities. This kind of cultivation activity prevents soil erosion during the rainy season and also makes for a pretty landscape for pictures. Most of the terrace farming takes place in the northern and northeast parts of the country. In the states of Himachal Pradesh and Uttarakhand, step farming is the only type of farming feasible. The misty sky, lush green farms and little huts scattered here and there together make picture-perfect scenery that you could stare at forever.
Here are some stunning pictures of terrace farms across India.
Manipur, surrounded by nine sub Himalayan Ranges, is home to some beautiful terrace farms. Adding to its beauty are the blue lakes, evergreen forests and waterfalls. This picture has been taken on the outskirts of the capital city of Imphal.
The Hanogi Bridge over the River Beas connects terrace farms to Hanogi Mata Mandir. Located in the Mandi District of Himachal Pradesh, these farms have an amazing view of the surroundings.
Step Farms near Satgarh Village on Pithoragarh to Ogla Road is a pleasant sight to behold. It's unique, it's pretty and it can be easily reached. The best time to visit is during the monsoon season.
The fields of Pedong is lush green during the monsoon season. It can easily viewed on your way to Kalimpong. Both sides of the roads are covered with farms make a stop anywhere to get few pictures clicked.
The tea and coffee plantations of the Anamalai Hills in the Western Ghats are terrace farms that will get you picture perfect shots for your Instagram. Go for s drive in the Ghats and these farms on both sides will leave you mesmerised.
Chaubatia Gardens in Ranikhet has one of the most scenic terraces in India. There are apple orchards in between. Pictures of this place can make you Instagram famous.
Take a walk in the terrace farms of the Aunter village. You will encounter the farms on your way to Nag Tibba. These farms are the best place to rest while on a trek.
Near the Tiger Falls of Dehradun, lies this stunning view of manicured terrace farms. Your trip to Doon Valley is incomplete without a shot with these farms.
The paddy plantation in the scenic mountains villages are again another picture perfect place. Sit in the lap of nature and unwind.
The Western Himalayas of Kangra Valley has a variety of plantations to explore. The lush green fields, surrounding forest, cloudy sky and huts make a perfect frame for pictures.
The rice fields of West Sikkim, are just as beautiful. Evident from the picture above, this place will never leave a photographer disappointed.The monasteries and waterfalls add to the beauty of these farms. This photograph is from the terrace farms of Tharpu.
Is your phone full of pictures taken on your last trip? Post them here to earn Tripoto credits, which you can redeem for free holiday packages and travel vouchers