Deep within the rain forests of the far North East, hidden behind the Pine and Bamboo trees, nestled among the Golden paddy fields, lies Asia's second largest village - HONG; home to the indigenous Apatani Tribe and the beauty they lost and the few who survived.
The beauty of Arunachal Pradesh, India is unparallel to any, combine it with a tribe which is slowly fading away, makes it one of the unique Travel destinations amongst many other gems of India.
Their Story:
The Apatani people are the only of their kind left in this world and unlike all other tribes, they are very Non - nomadic, meaning they do not travel. They have settled in one place and will mostly spend their entire lives in cultivating their own paddy and living their livelihoods.
Their hard work speaks for itself, from morning to evening, each member of the family, no matter how old, will lock their doors and go about doing their business. Mostly the population work on the rice fields and a few who have been able to generate a little bit more income, indulge themselves in the trade of making local wines, beers and other handicrafts.
They are famous for practicing Wet Rice cultivation method, which uses manual labor, is very energy efficient and highly productive. They do not use any forms of Machines or animals in the process.
Along with Rice, they also indulge in Fish Farming or cultivation in those rice fields only. This provides them a source of natural protein in their diets and another means to earn money.
With the use of simple irrigation system and re-use of waste materials, they remain the most eco-friendly farmers, known in the region.
The Lost Beauty:
Along with their methods of Farming, they are also famous for a unique ritual which has been practiced since prehistoric times: Facial Tattoos and Nose Plugs for their woman.
It is believed that the Tribe faced many challenges in the hilly regions when there would be raiders and thieves, who would attack the farms, houses and along with it, would kidnap the beautiful Apatani woman.
The Apatani woman was considered to be very beautiful and thus susceptible to such attacks. When the kidnappings increased, the village elders decided to do something about it. And Voila! They came up with the idea of putting FACIAL TATTOOS on their most beautiful woman. A straight line from the middle of their faces Inked - FOREVER.
In a bid to make them look more "Un-desirable" they were also made to wear huge NOSE PLUGS (called Yaping Hurlo), which would deter the attackers from "Stealing" their woman.
Well, I am not sure, how much the crime rate dropped, but definitely this practice was stopped ever since 1970. So only a handful of the older ladies remain, who will carry this mark with them till the end of their lives and which will make them the Lost Beauty of the Apatani Tribe.
The woman, however very humble and pleasant to talk to, do not like to talk about this ritual much (obviously) and often try to hide their faces if you try to click a picture. They feel that the Photographers earn money through these pictures, while they do not get any compensation. Sad, but true.
P.S: The portraits which I have clicked for this blog are by full consent of the individuals. In fact I had to buy Plum wines from their shops in order to take a picture. Fair deal.

Fascinating Fact #1
The Apatani Tribe has a different belief system and follows their own religion called Donyi-Polo. Meaning they pray to the Sun (Donyi) and Moon (Polo)
Fascinating Fact #2
The Apatani Tribe has no written History. Their story is passed through word of the mouth, from generation to generation. However the Govt. has recently started a project to document their history.
Where:
Hong, has been coveted with the title of Asia's largest village, lies in the quite and picturesque valley called Ziro, in Arunachal Pradesh.
The best modes of Transportation will include reaching Itanagar by Train and then taking a Taxi towards Ziro.
The nearest airport is at Guwahati, which is an overnight journey from Itanagar.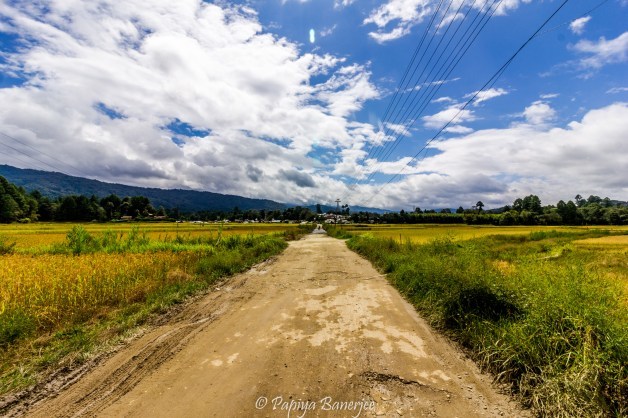 Every year there is an Outdoor Music Festival which happens in Ziro Valley ( Read about it Here) which you can attend and meet this tribe, which is slowly moving towards Extinction.
Till then, stay Curious!