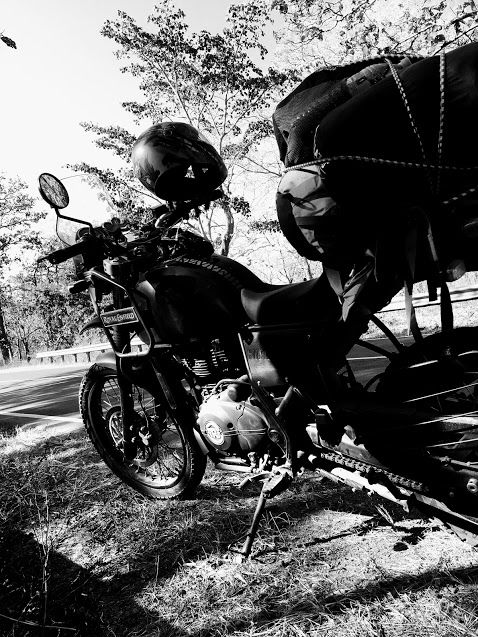 The biggest journey of my life till date had begun. A solo-bike trip across 5 states. I was travelling solo and solo travelling for me was more of getting to meet new people than knowing who I was. I've lived with myself, I wanted to live with people I had not known.
The dangers of riding solo were many, but had it paid off? This is something I can't answer. Cus, I ain't keeping a tab of pros and cons. Will I do it again? Hell yes.
Before I take you through the glimpses of my journey, I'd like to take a moment to thank a few. Without whom this journey would never have happened.
Mom and Dad: Every time I took my bike out, I was always supported, never was I forbidden to explore or venture out to take the road less taken.
Anthony: Thank you for lending me your Himalayan. That fine beauty, I eventually fell in love with after 5K km.
Sidanth & Sarath: Thanks for being my backup financial aid. I knew you had my back if things went south.
Lasya: Thank you for lending me your sleeping bag. The amount of confidence it gave is something that I cannot express in words. I always assured that in the worst scenarios, I'd have something that would let me glide into sleep.
Sravani: There'll always be that one person who will be worried, day in and day out through-out your journey. Thank you for the company I had over calls when I was riding through vast expanses of inhabited places.
23rd December: Hyderabad to Gokarna
Started at 4 in the morning with the hope to reach Gokarna before sundown. For, I am scared of riding in the dark. I am scared of those riders and drivers who would not switch from High-beam to Low-beam even after multiple signals of flickering headlights. The journey was smooth, intense, and very calming. The Himalayan provided the right seating position, back support, and comfort I'd need. After going through the state highways of Karnataka and meeting multiple riders along the way, I was halfway through. The roads were not that great, but not that bad that would make me change my mind. Most bits were under renovation, hence, it was becoming a little tiresome to manoeuvre the 190KG beast for long durations. A sigh of relief was when I knew that Gokarna was only 200 km away.
After a couple of smoke breaks and light-food stops, I was within 50 miles of Kudle beach, Gokarna.
Kudle Beach: Have you ever been to the Palolem beach in South Goa? if you've been there, you know what I'm talking about. That place is a celestial paradise. With shacks along the beach, and very few people. That place packs the perfect Goa experience.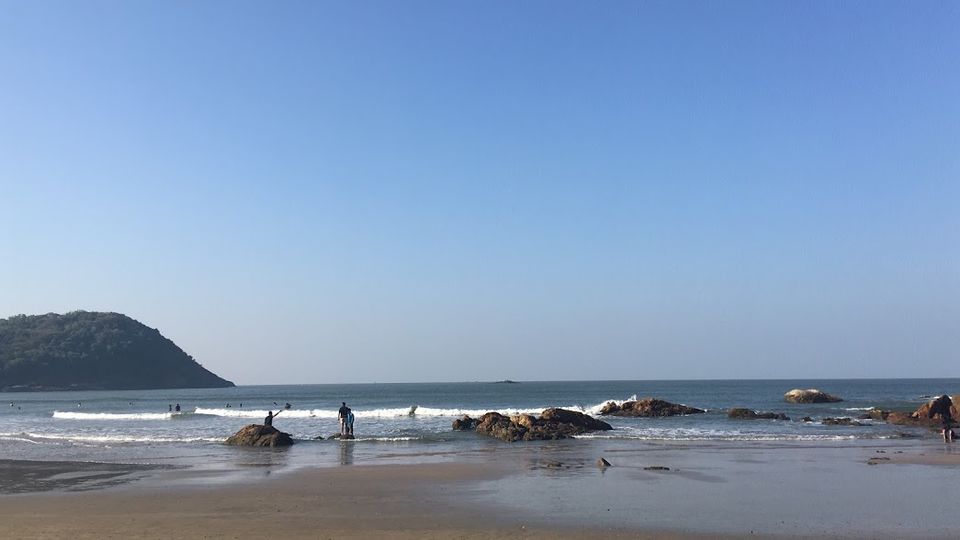 Kudle beach was very similar to that, only 10 times less crowded.
Kudle beach would soon be over-crowded. So, get there while you can.
I was on the final stretch, 30 more miles of riding would get me to the first part of the trip. That was when I met a pack of Royal Enfield riders. They were riding from Bangalore and were to the same destination. That pack had riders from 24 to 45. For a second, a thought crossed my mind. Would I still be riding when I was 40? The 25-year old instantly came up with a 'yes', but the other side in had a diplomatic answer. It said, that my dear Vimal, only time can tell.
A lot of this 5000km journey had me talking to myself and there were at least 2 to 3 variations of me in a single conversation.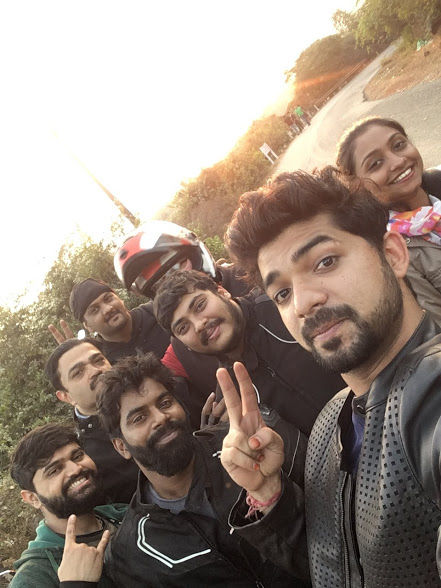 After riding with them for 25-30 km and bidding them a safe journey, I asked myself if I would ever be part of a pack like this or take on the world alone like I always do. The diplomatic me, had a very similar response ready like before while the 25-year old remained mum.
I reached Kudle beach. It was almost 6 and I had a few minutes and get down the cliff to the beach before the sun set here to lighten another part of the world. The trek down to the beach could prove tiring, for, I had a full rucksack, a laptop bag, and my sleeping bag and tent.
The sleeping bag and tent were backup options. Be prepared for the worst. This mantra has helped me more than once.
While unpacking 2 guys recognised the TS license plate and came towards me to have a chat. After knowing that I was alone, they offered to help. They were polite and helped in carrying the sleeping bag and tent down to the beach. It doesn't end there. They were natives of Karnataka, they helped bargain and got me beach-facing shack at INR 600 for a night. Remember that, it was peak season, and I was not able to find decent accommodation in my budget when I tried online before the trip began. The shack was a good fit for one. It was a thatched hut, with a cot, a fan, a mosquito net.
I changed from my riding gear to shorts and headed out to the beach to get a beer to meet the boys who had just helped a stranger. Abhishek and Abhilash. Forgive me if I have your names wrong.
They were riding from Bangalore and were Gokarna till the next morning. They were scheduled to leave for Chikmanglur the next day. Would we meet in Chikmanglur, that was unknown. After a couple of beers and star gazing on the beach sand, we bid our goodbye's and I headed back to the restaurant run by the shack to get some food. For, I was on a very light diet while riding. I didn't want to take unscheduled stops to take a dump. That would only set me behind the clock.
After a few conversations with college lads and a few other solo travellers, I gorged on some salad while reading 'Asuras'. The breeze from the ocean was cool and my aching body longed for some good sleep.
The next day, I woke up for sunrise, had my regular black-coffee with a cigarette and headed out to get some local breakfast. I didn't want what the shack had to offer, for, they served all sorts of cuisines except that of their local lands.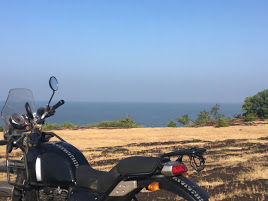 While exploring the narrow lanes of Gokarna, I stumbled upon a banner that spoke about Powered Para-Gliding. paraglidI had always wanted to do this. I was speculating the thought, for, that would bring my budget down, for, this was something I had not included in my expenses. It was worth 2500 and I pushed the diplomatic me aside and the 25-year old me urged me to go take impulsive decisions. The next thing I knew, I was on a powered paraglide. The experience was thrilling and my pilot was Nitin Kumar, world champion in Paragliding-2015. Could it get better?glider aerial shot gokarna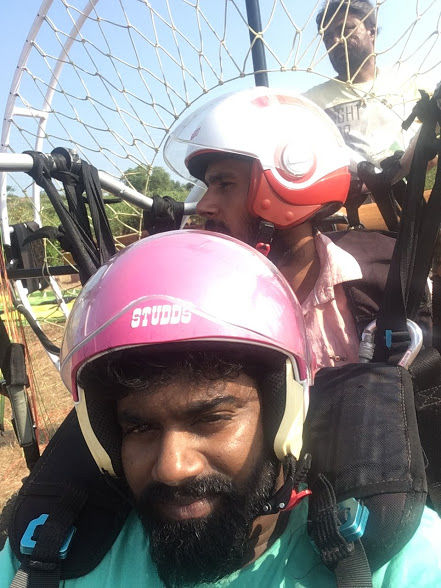 After that adrenaline filled experience, I decided to get back to my shack. On the way down, i bumped into an old friend of mine from Grade 5 from the school I had studied from then. After a chat and exchange of numbers, I headed down.
After a light lunch and a little bit of book reading, the desire to get into the water became irresistible. After swimming for a while and battling the calm waves of Kudle beach, I noticed a Russian father teaching his kids. The kids were sharp and picked up their surfing lessons quite well. I wanted to try that out, but all the shacks that rented out surfboards were on the other side of the beach, and I didn't want to take a long walk on the beach when the sun was at its prime. I approached the man and asked if he could teach me as well. Yaba da ba da ba da….
Surfing was fun. I was lost in my thoughts again. If I ever picked up a job that allowed to work remotely, I would love to come here and finish my surfing lessons.
After a tiring swim and a few surfing sessions, I headed back to the shack. I wanted to sip on some OldMonk while I finished my book. I was sitting on outside my hut and was drifting through the words that Anand Neelkantan had set. The book was intense, it spoke about Ravana's side of Ramayana. I was in that part of the book where I knew that Sita was Ravana's abandoned daughter.
While this was happening, a younger lad in his early 20's approached me and asked me if he could borrow my lighter. I noticed that he was my neighbour and was here with his friends who were all in the same age group. After a while, I was invited to join them for a few drinks.
Many drinks later, I joined those guys for a night trek and this was the first time I was drinking with lads pursuing their Graduation. There wasn't much age difference between them and me, but, 3 years of working had made me a different person. It was nice to chill with them, talk about girls, their journeys and mine.
After the night, the boys headed out to the beach and I to my shack, for, the next day, I would be riding through hilly terrain, and my body knew that it needed ample rest before the journey from Gokarna to Chikmanglur began.
I fell asleep.
Originally published here
Frequent searches leading to this page:-
telangana tourism contact number, weekend getaways from hyderabad, telangana tourism tirupati package by bus, hyderabad tour packages from kannur