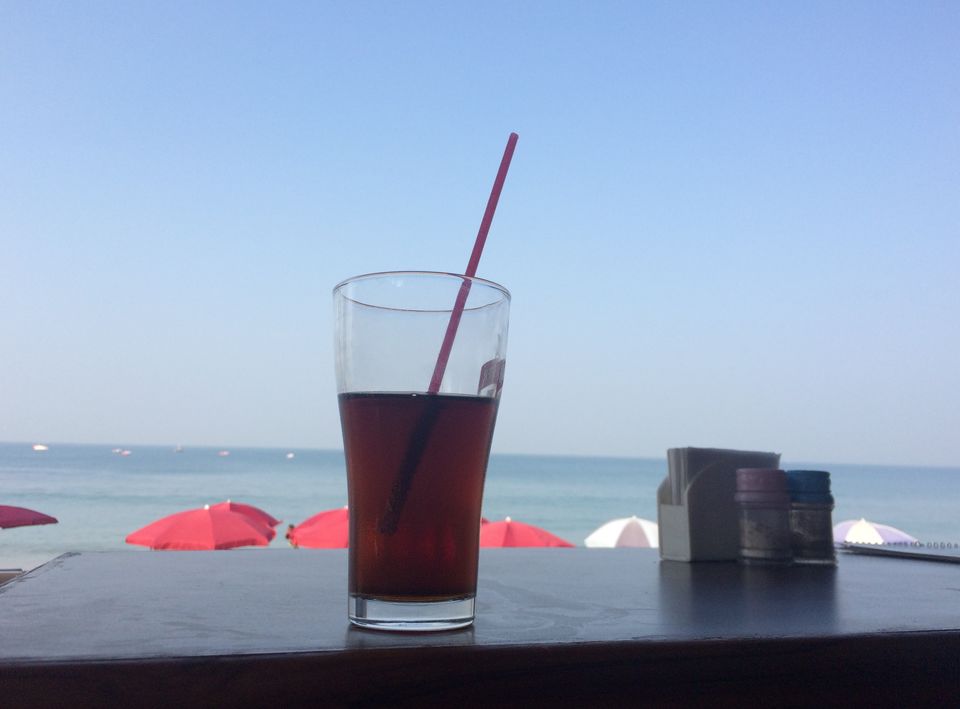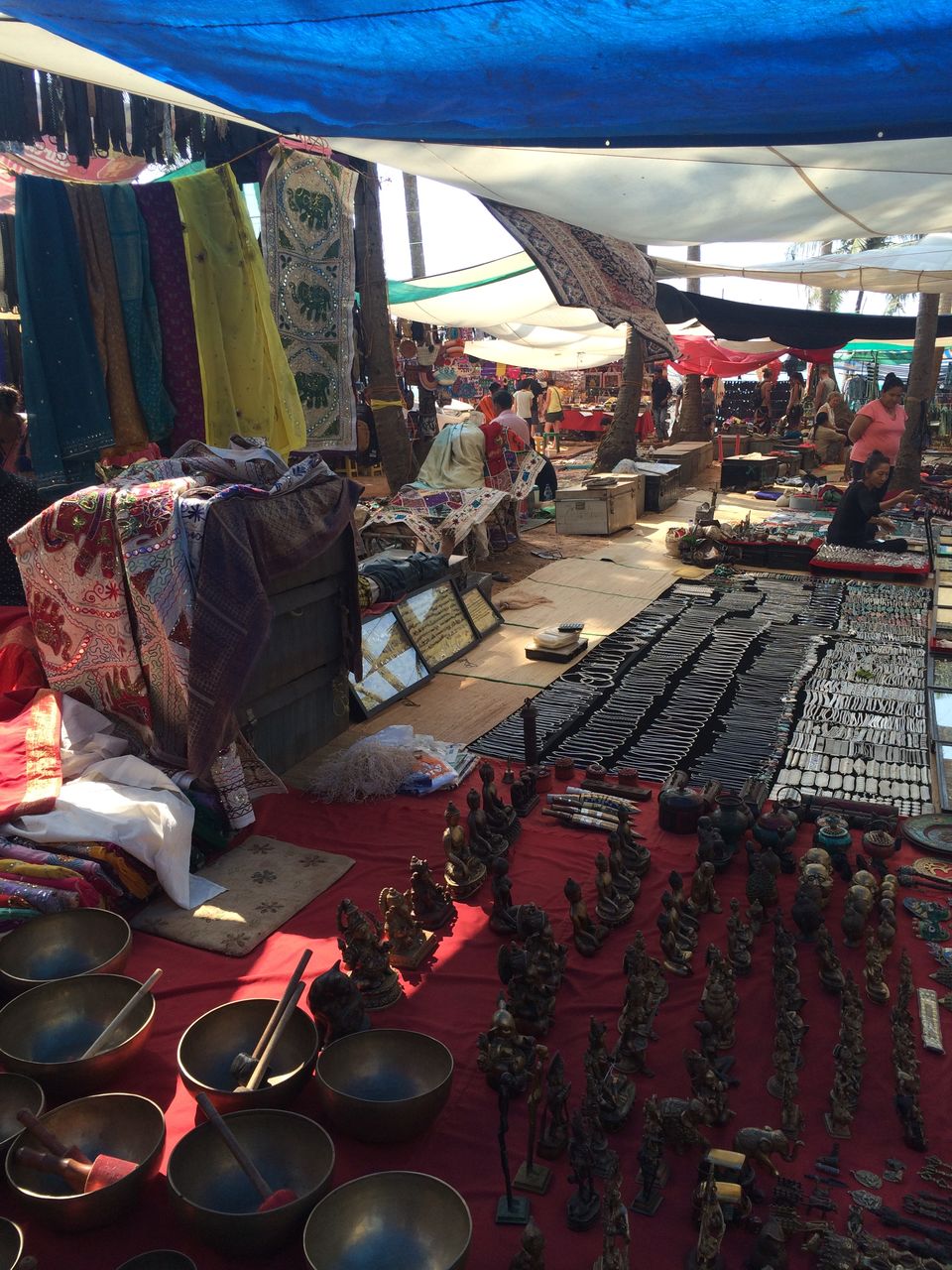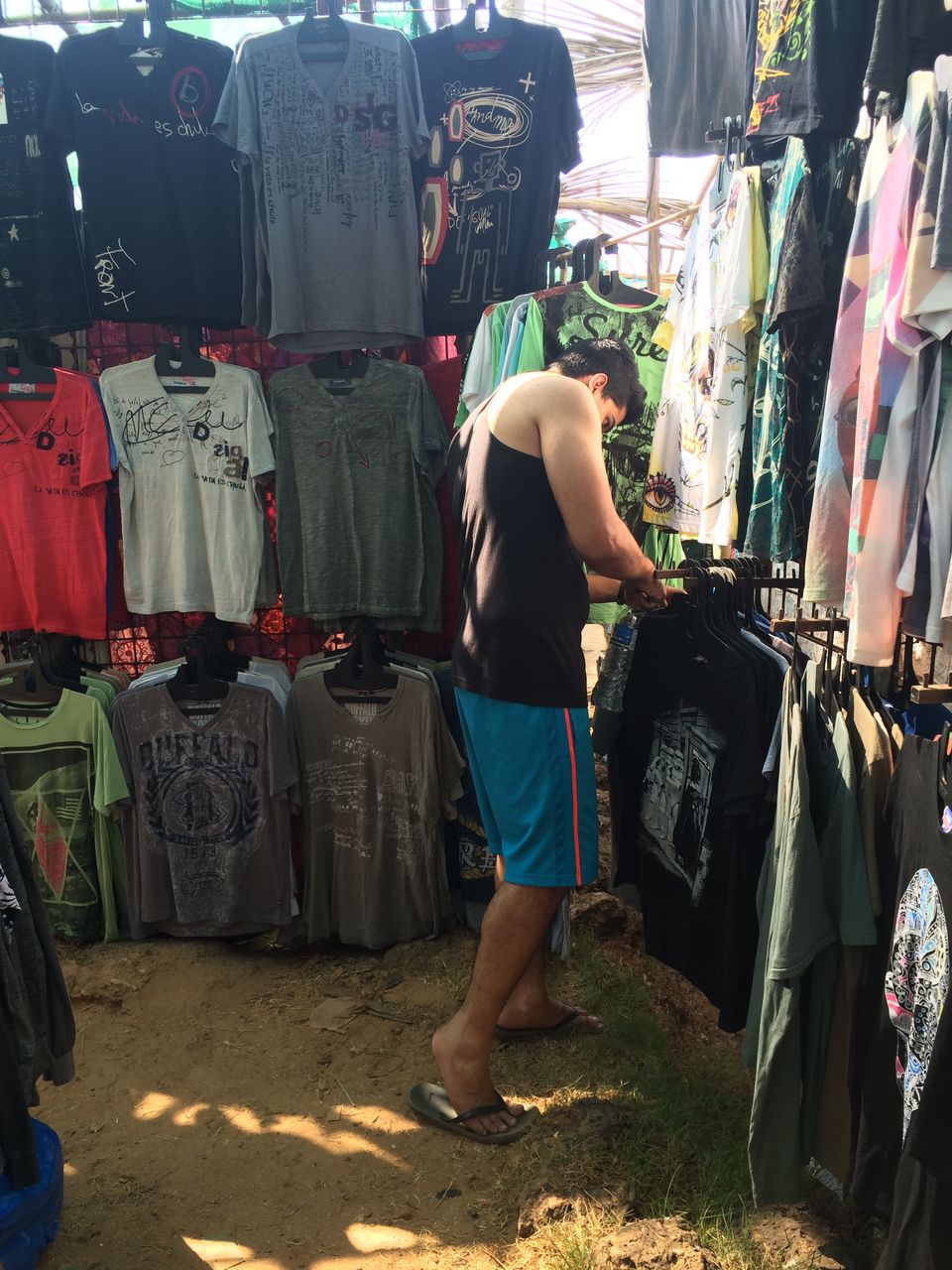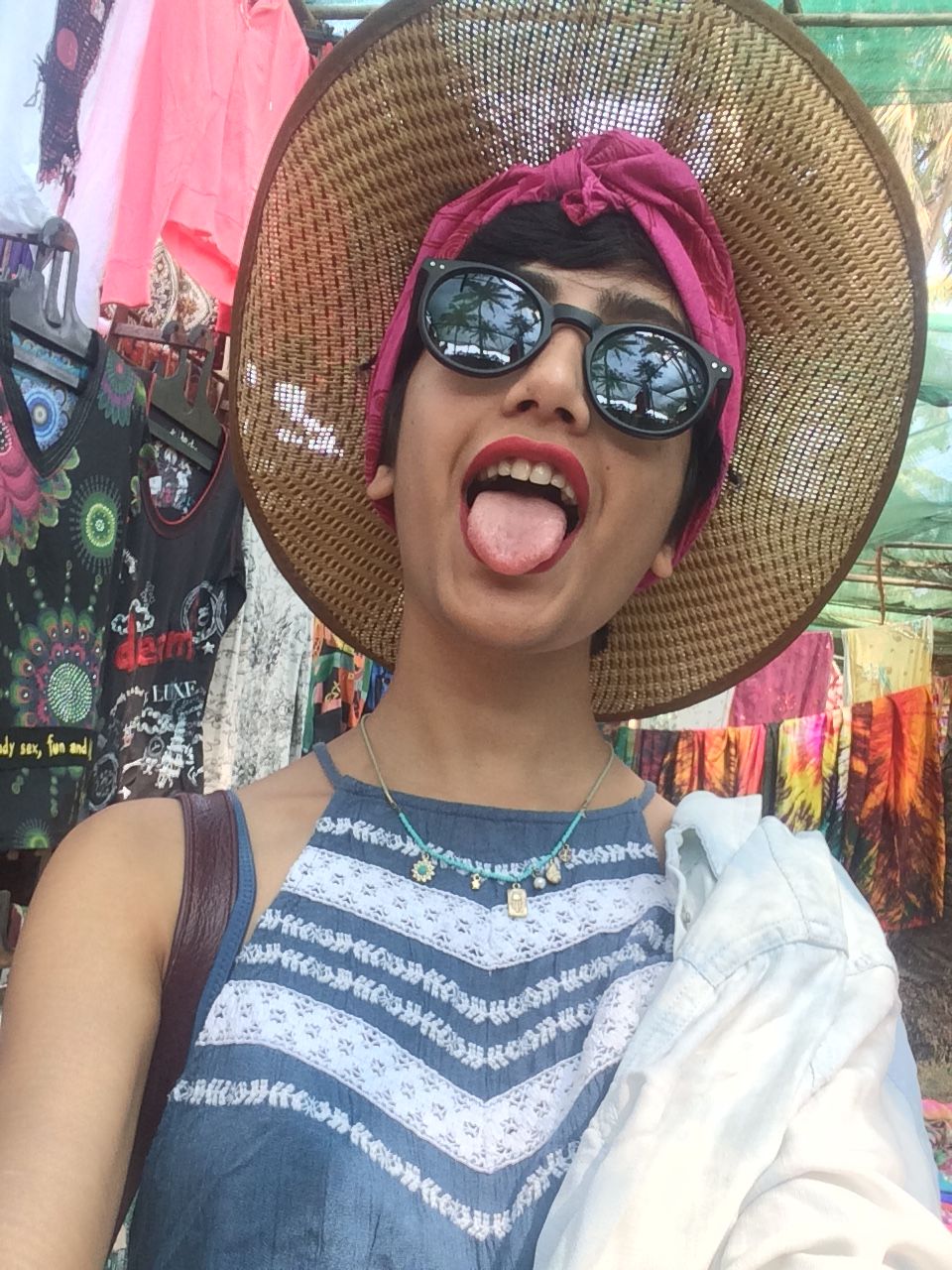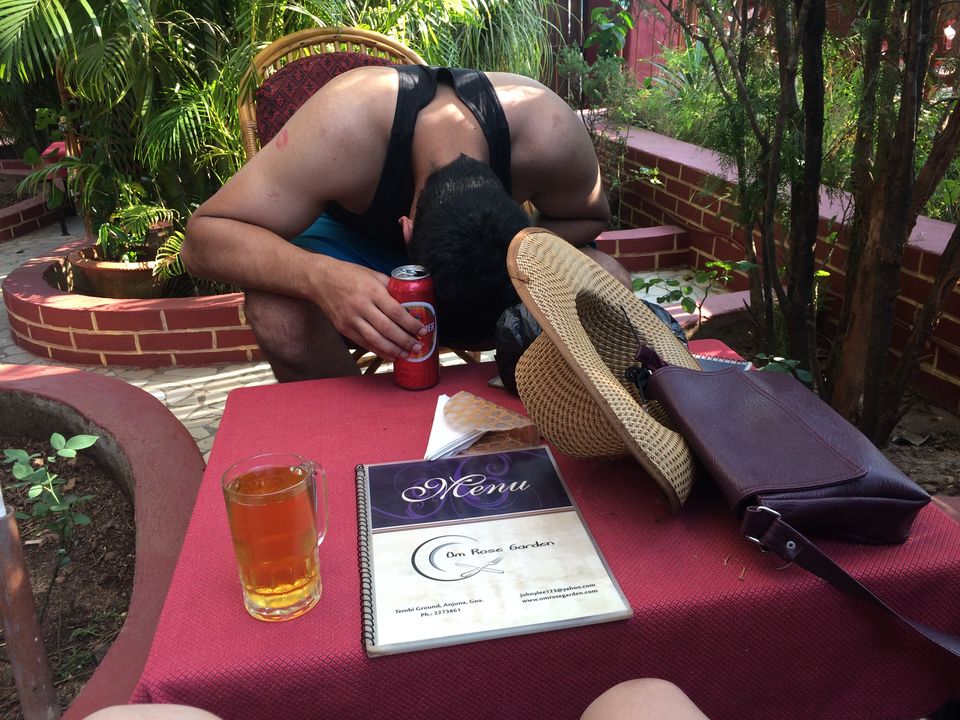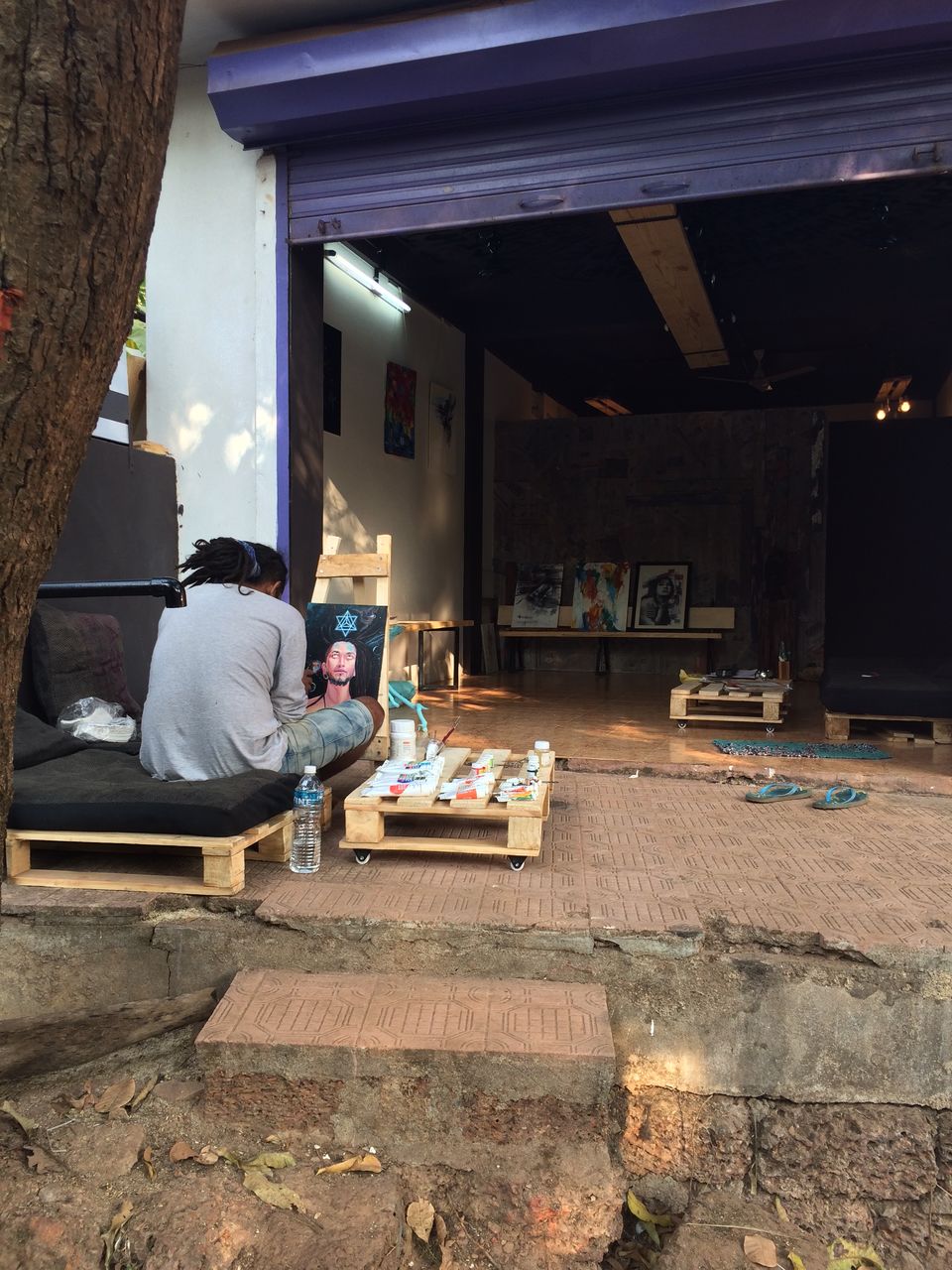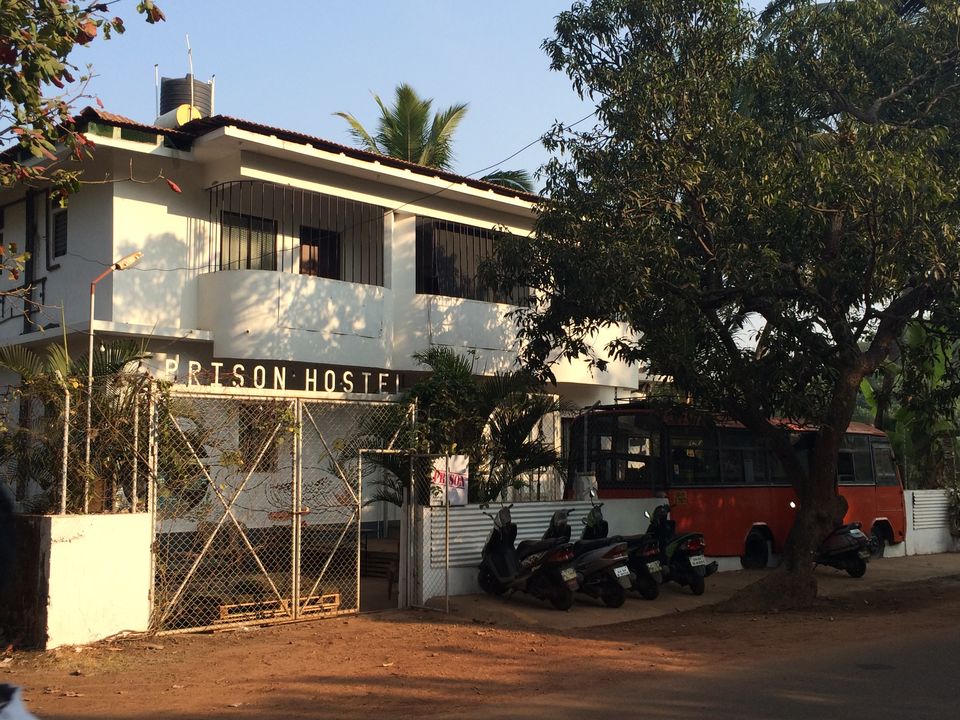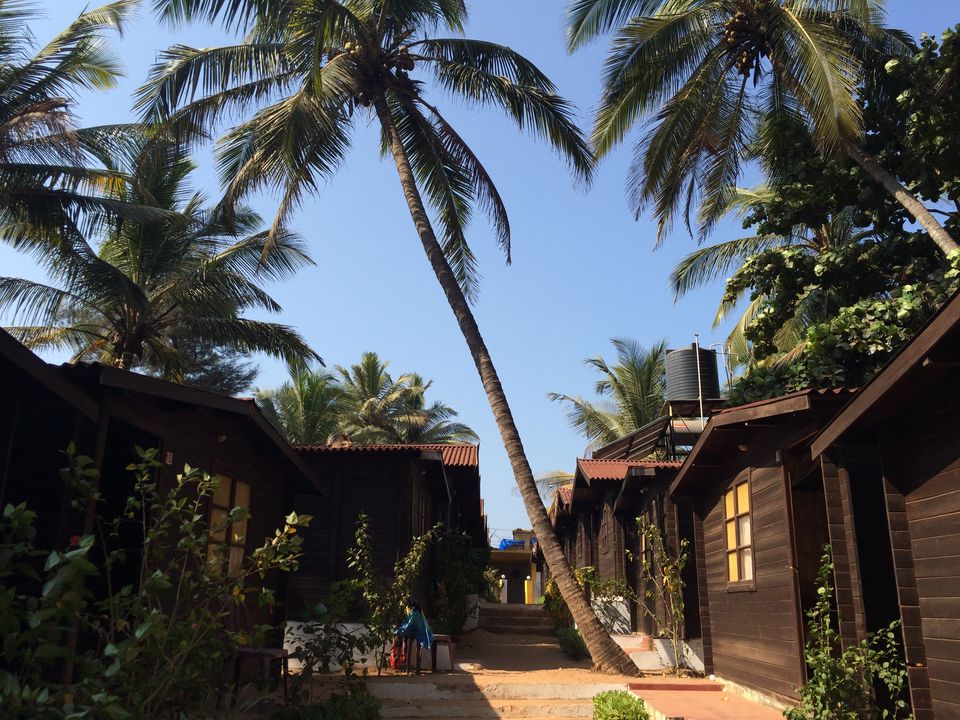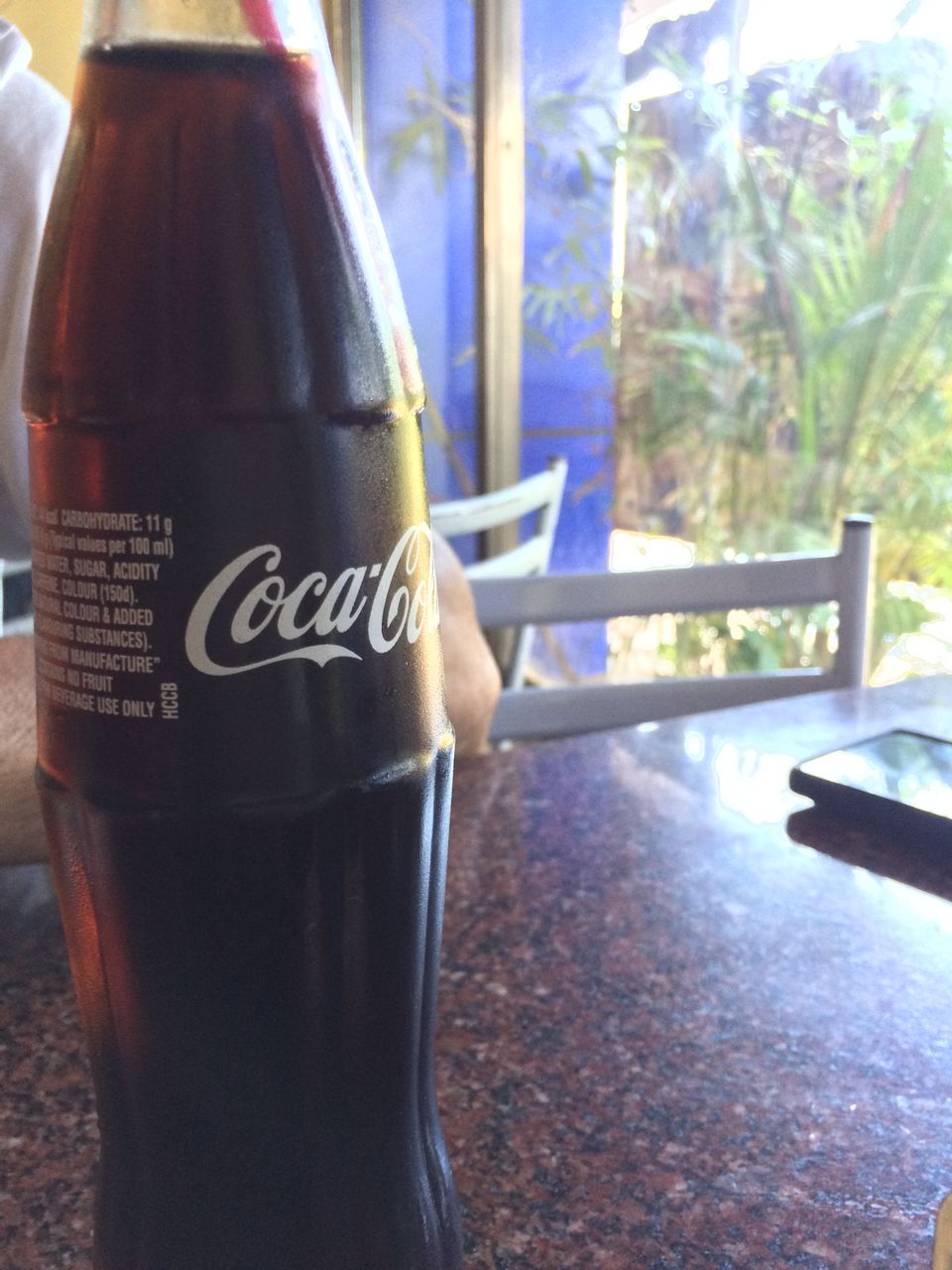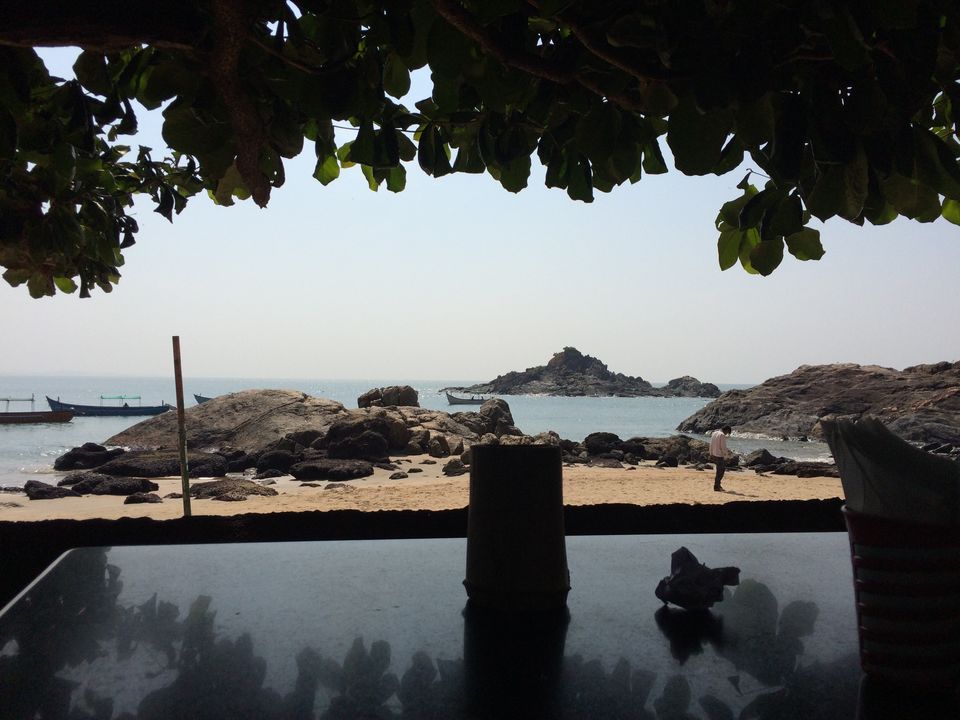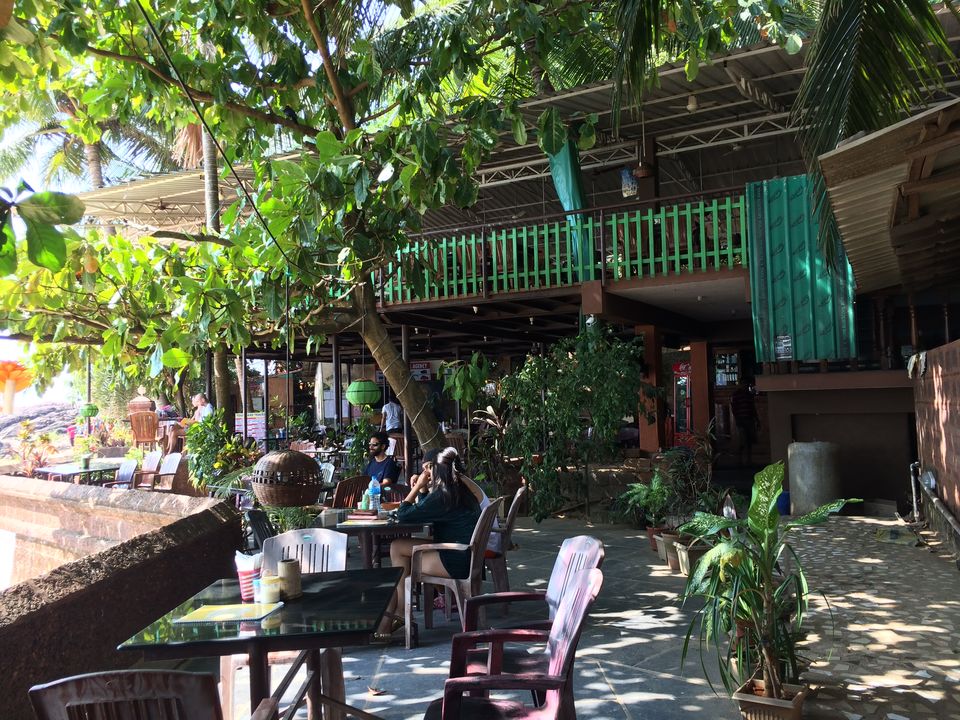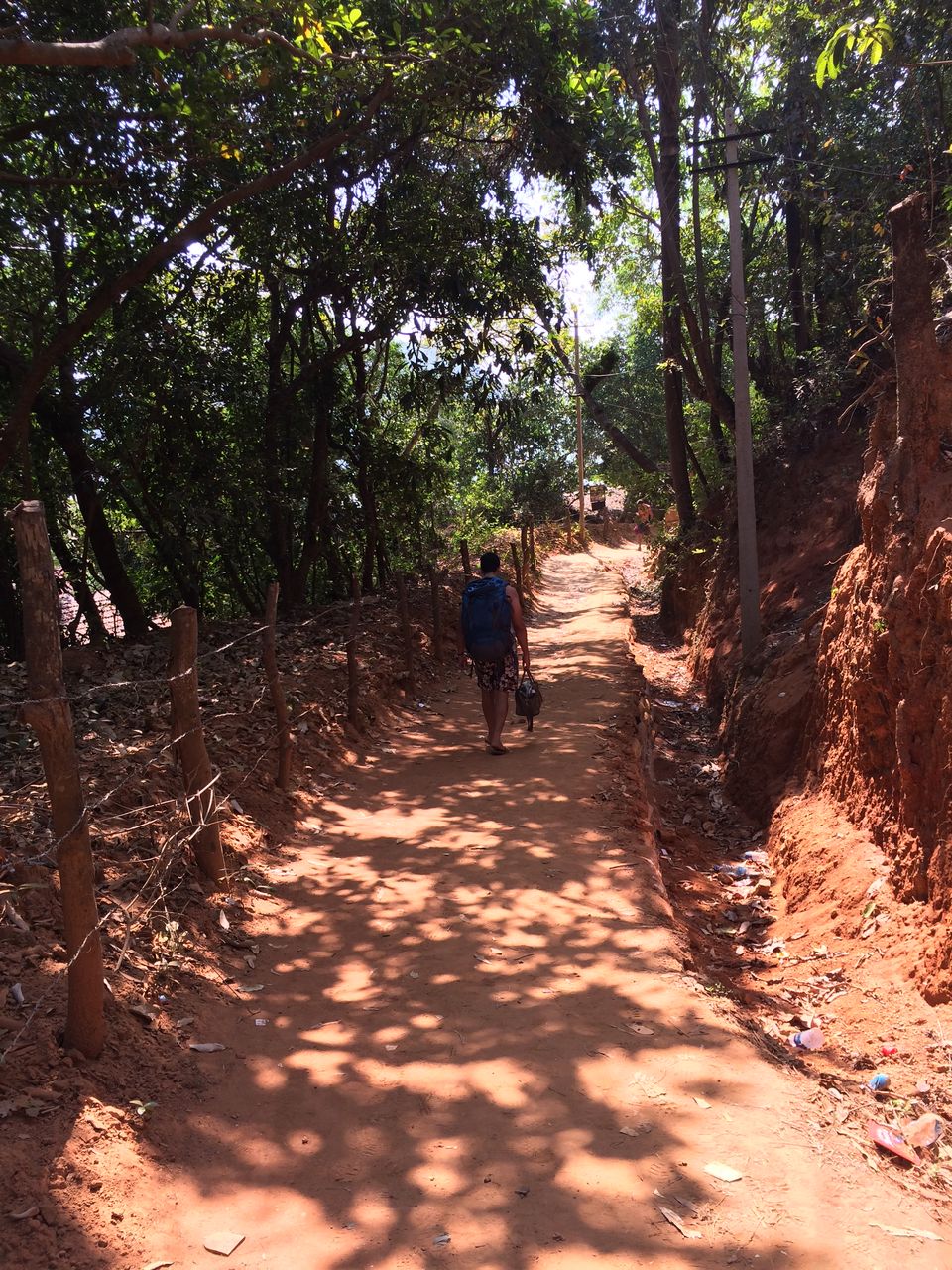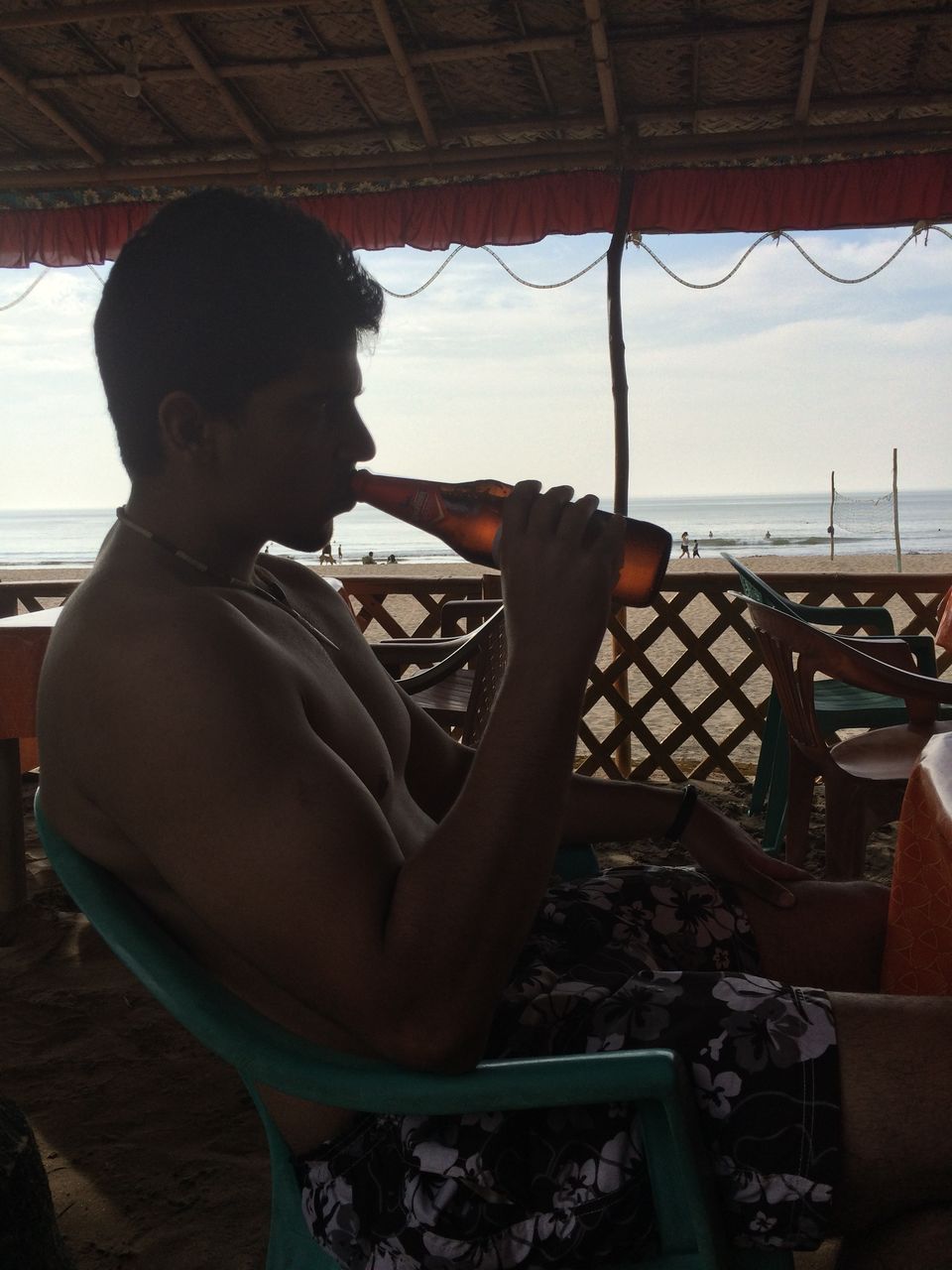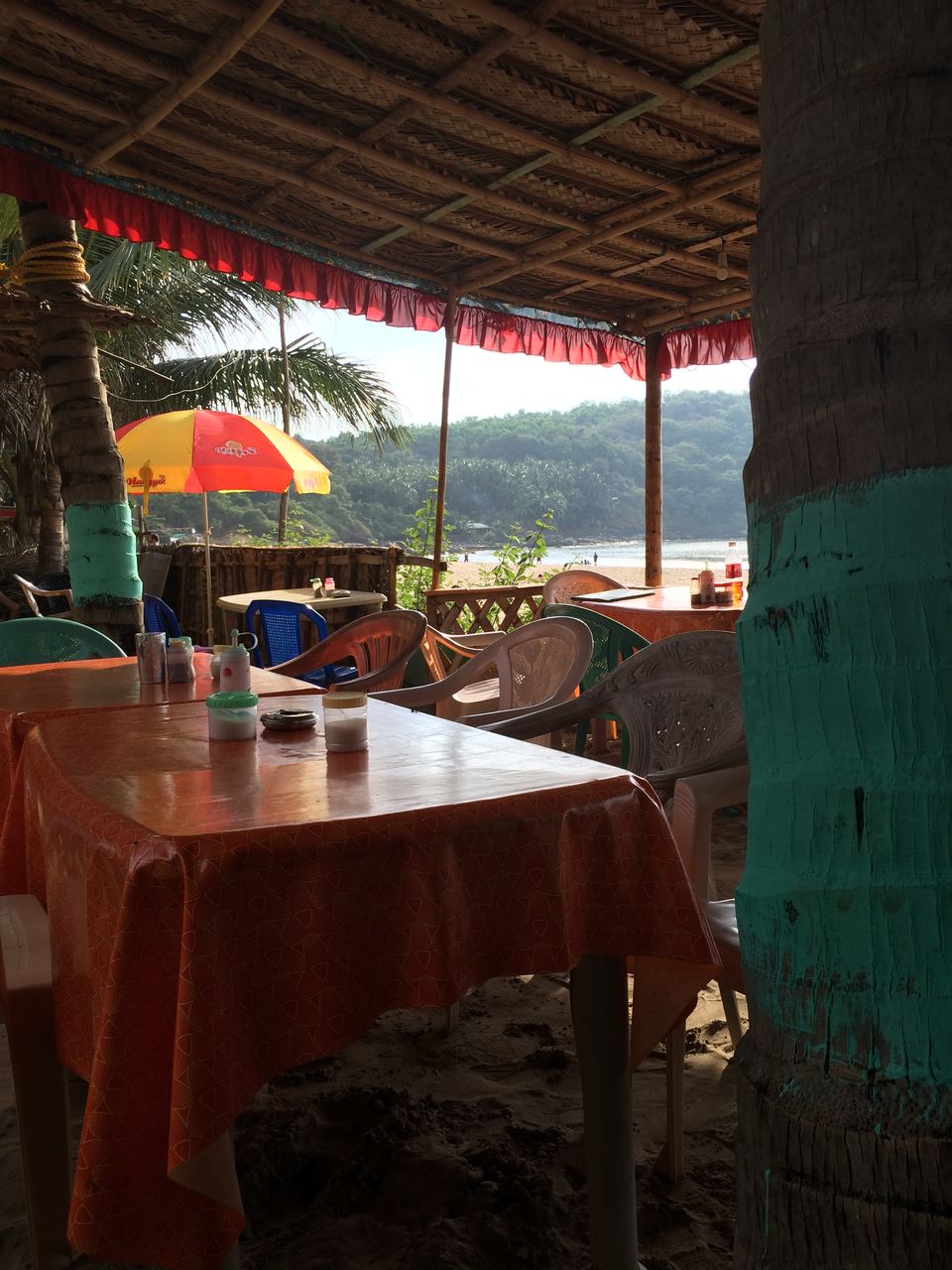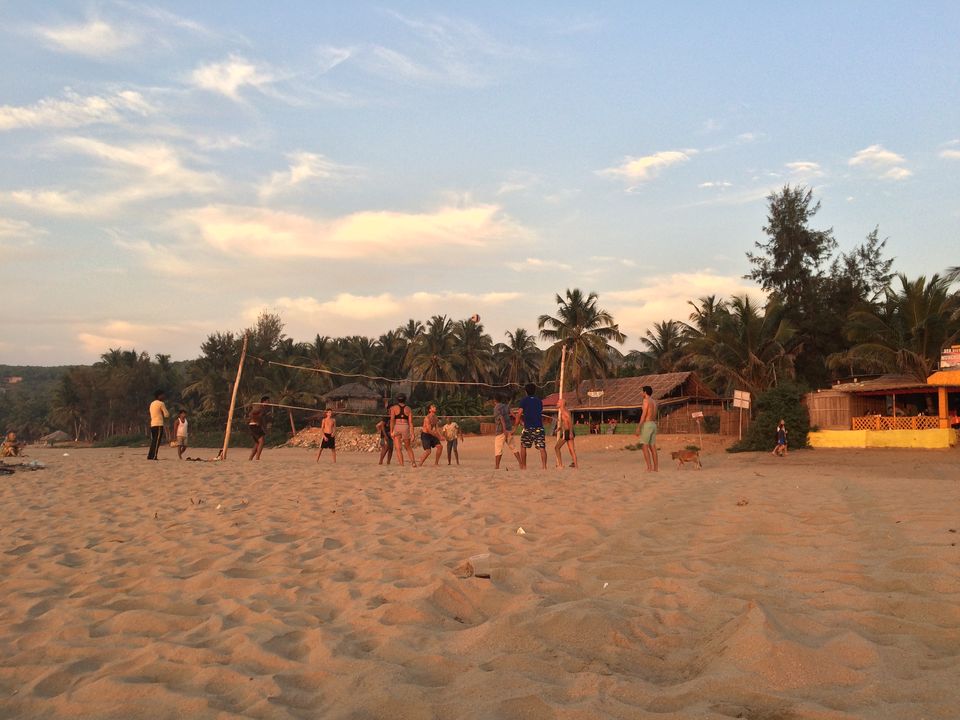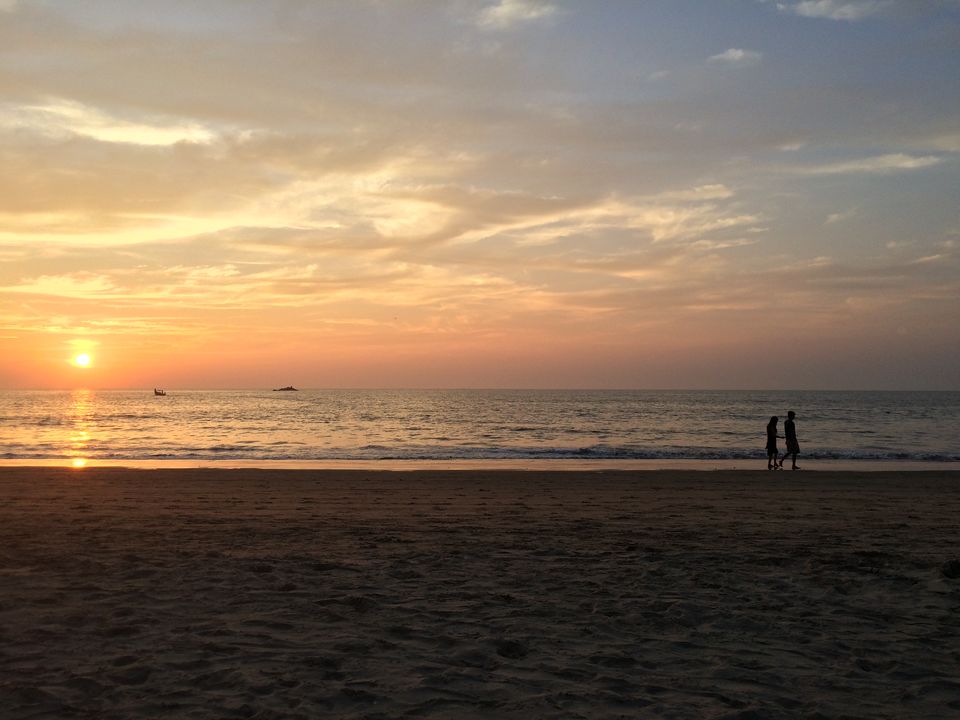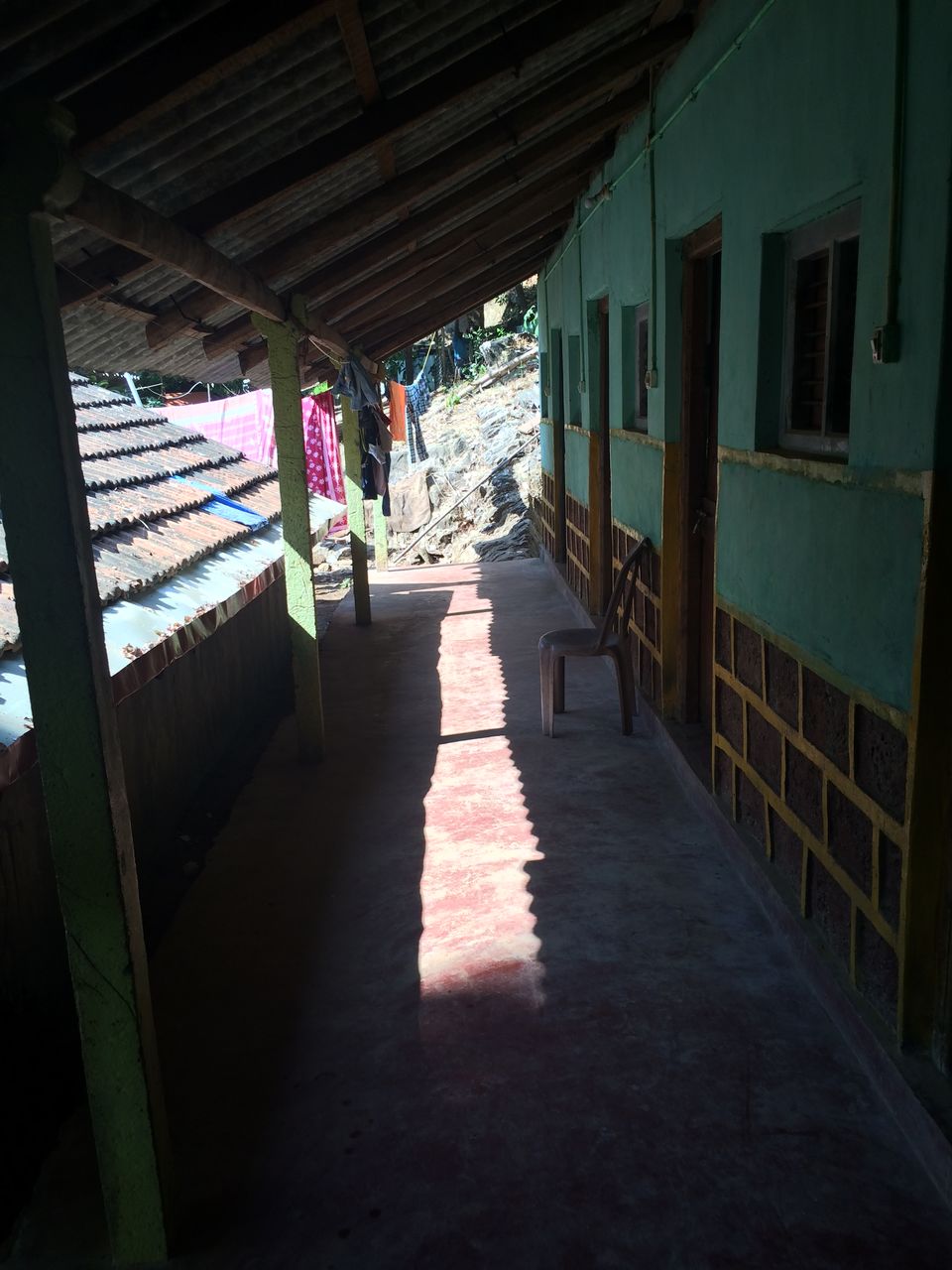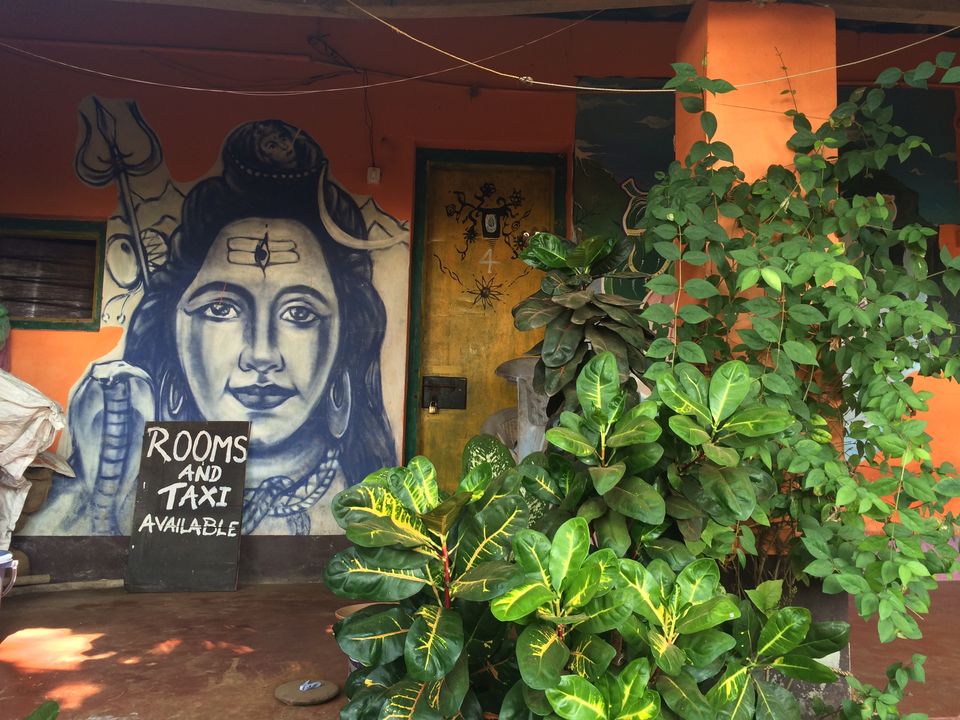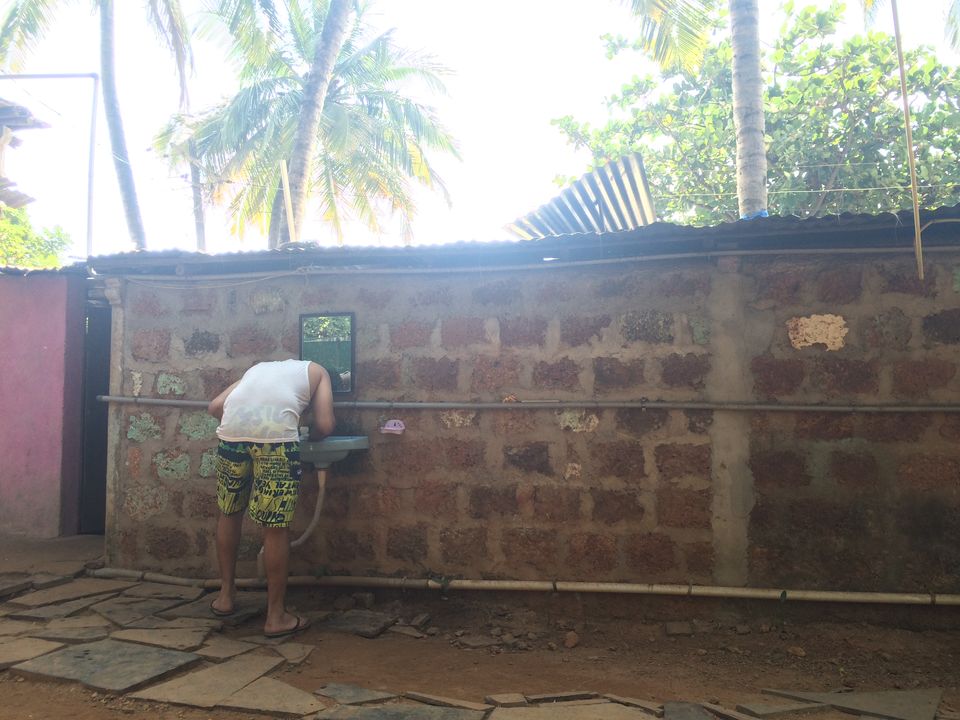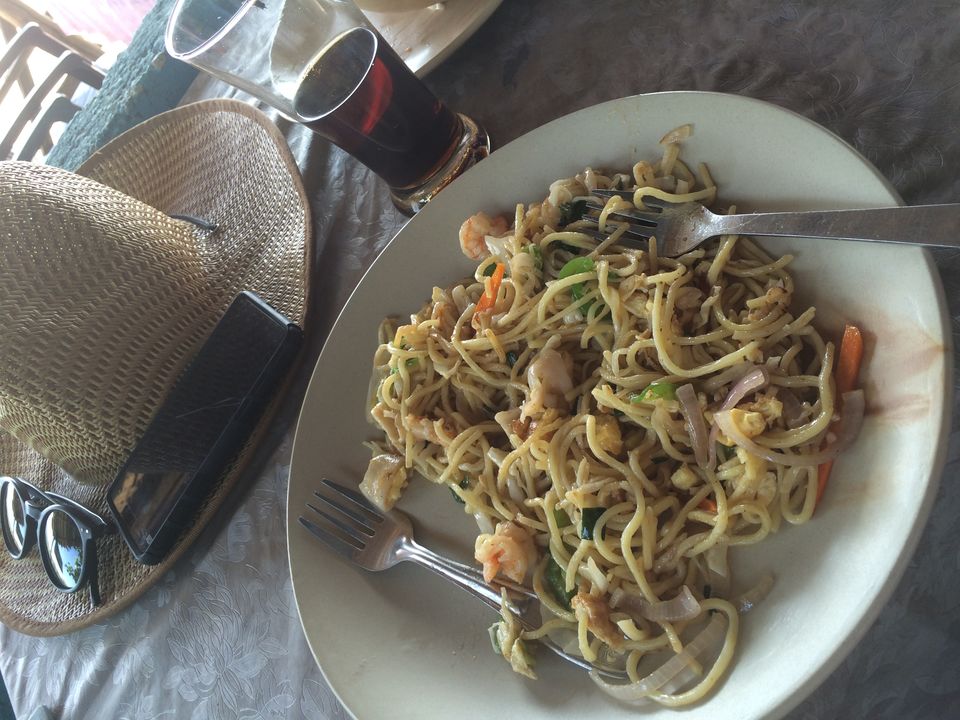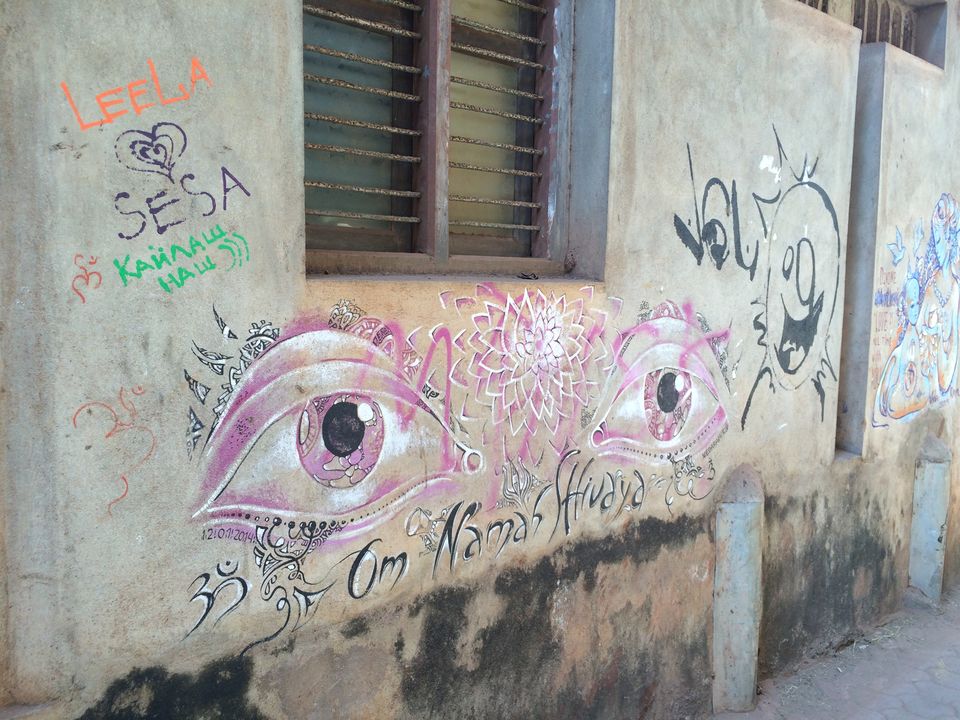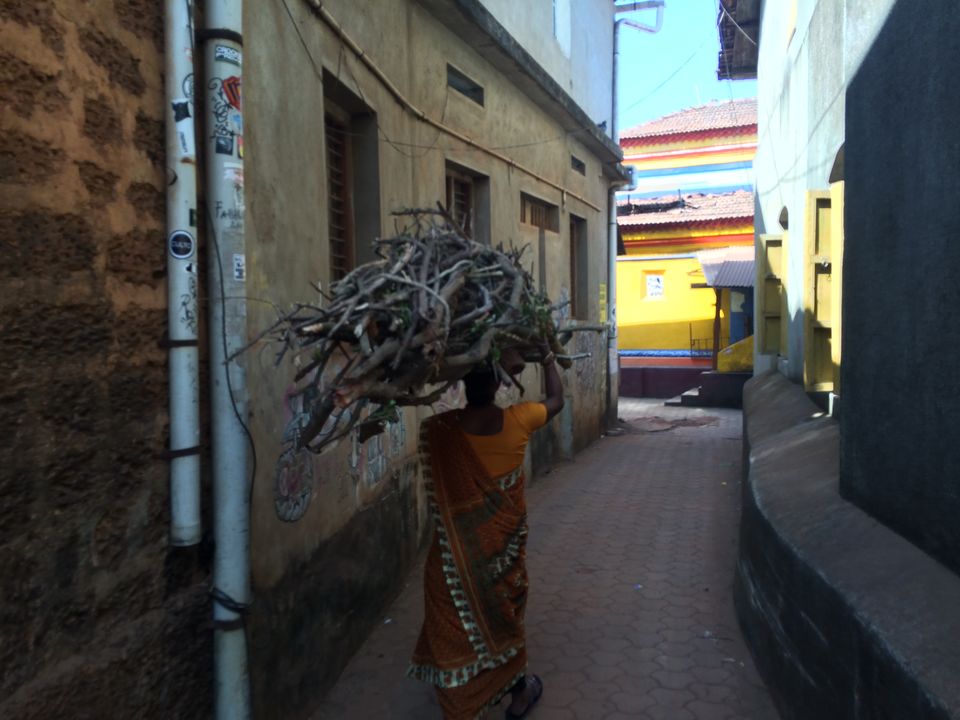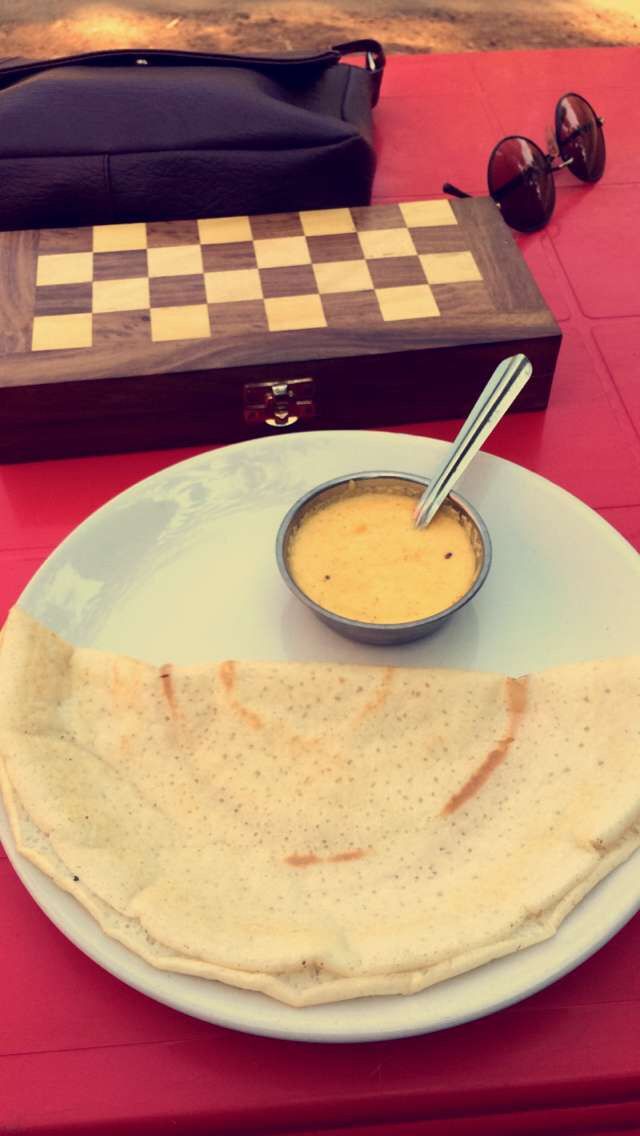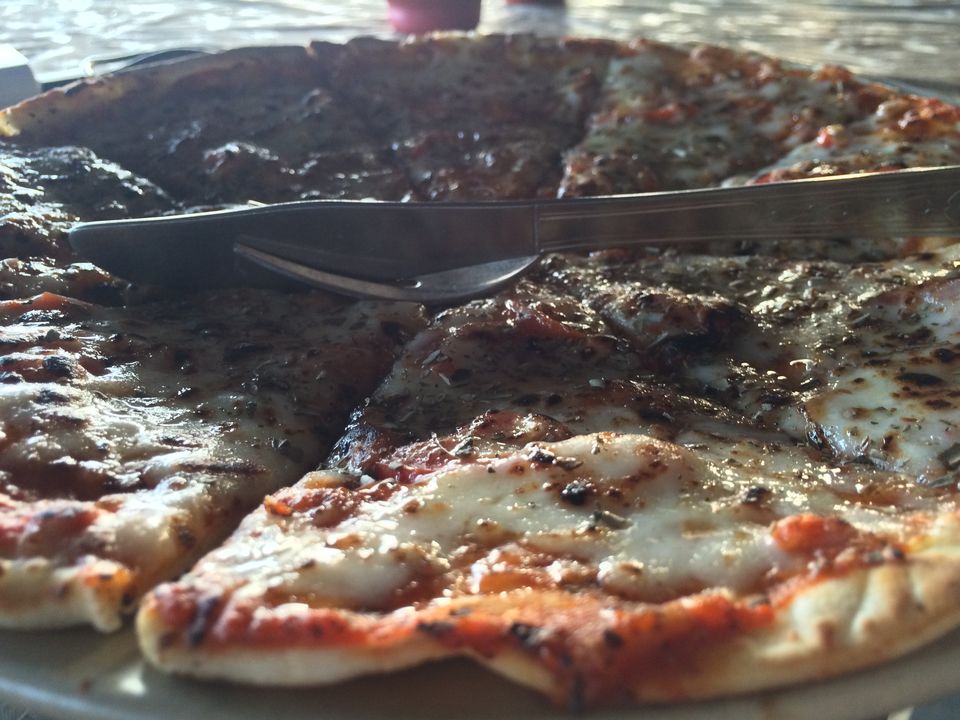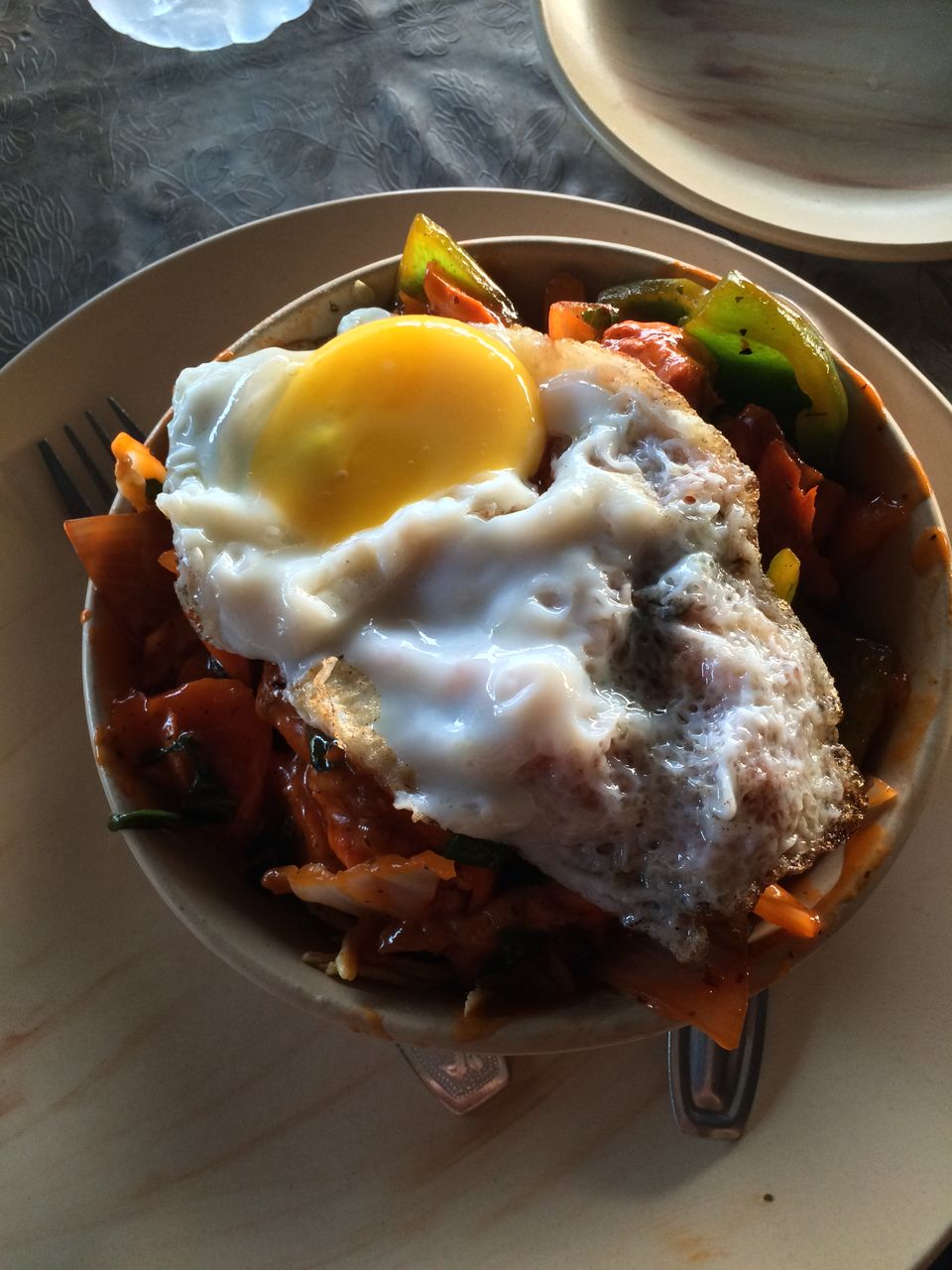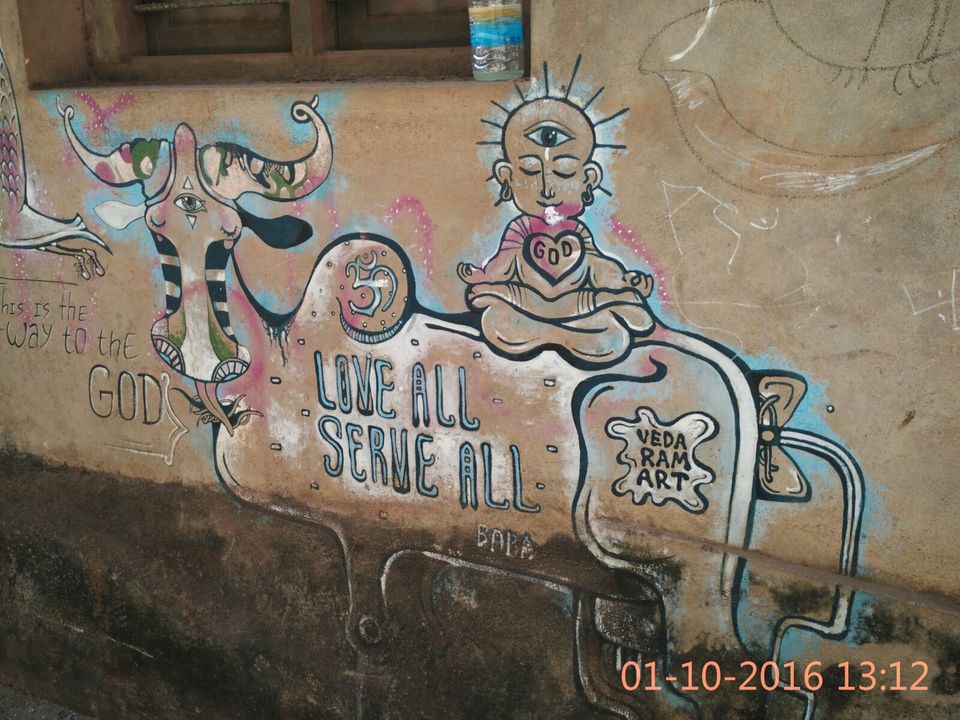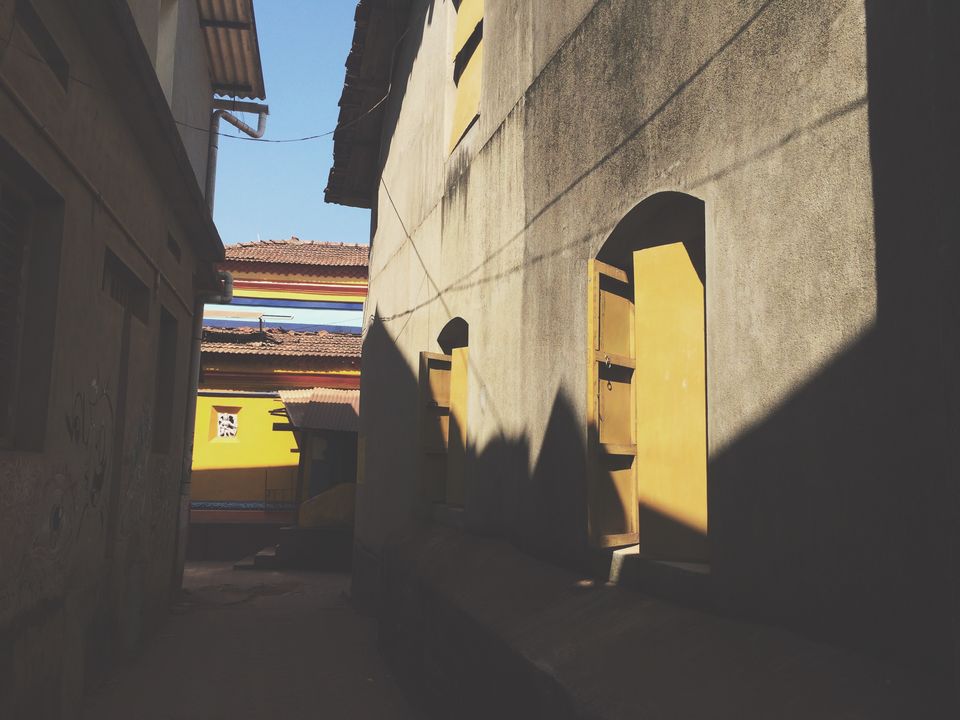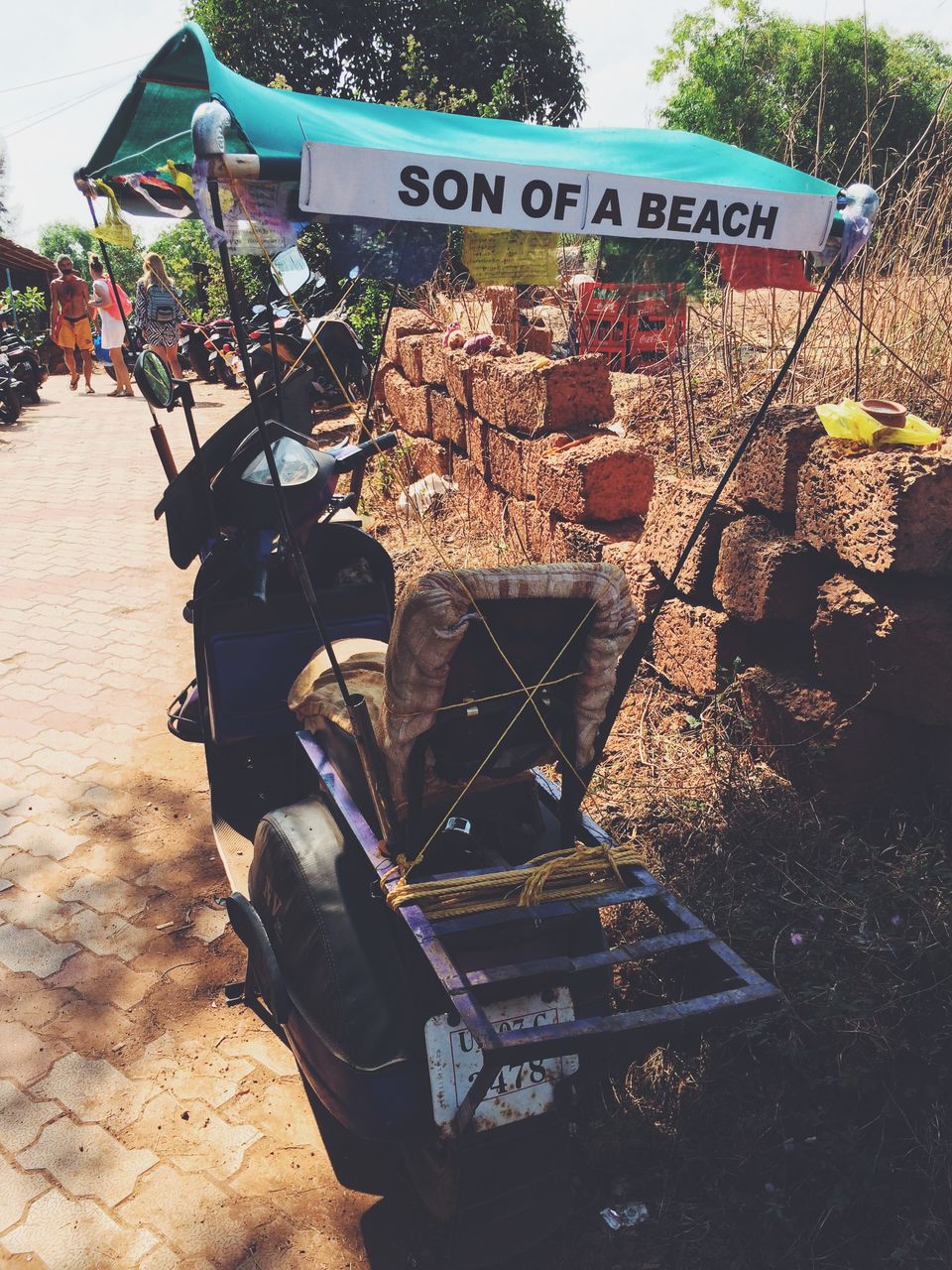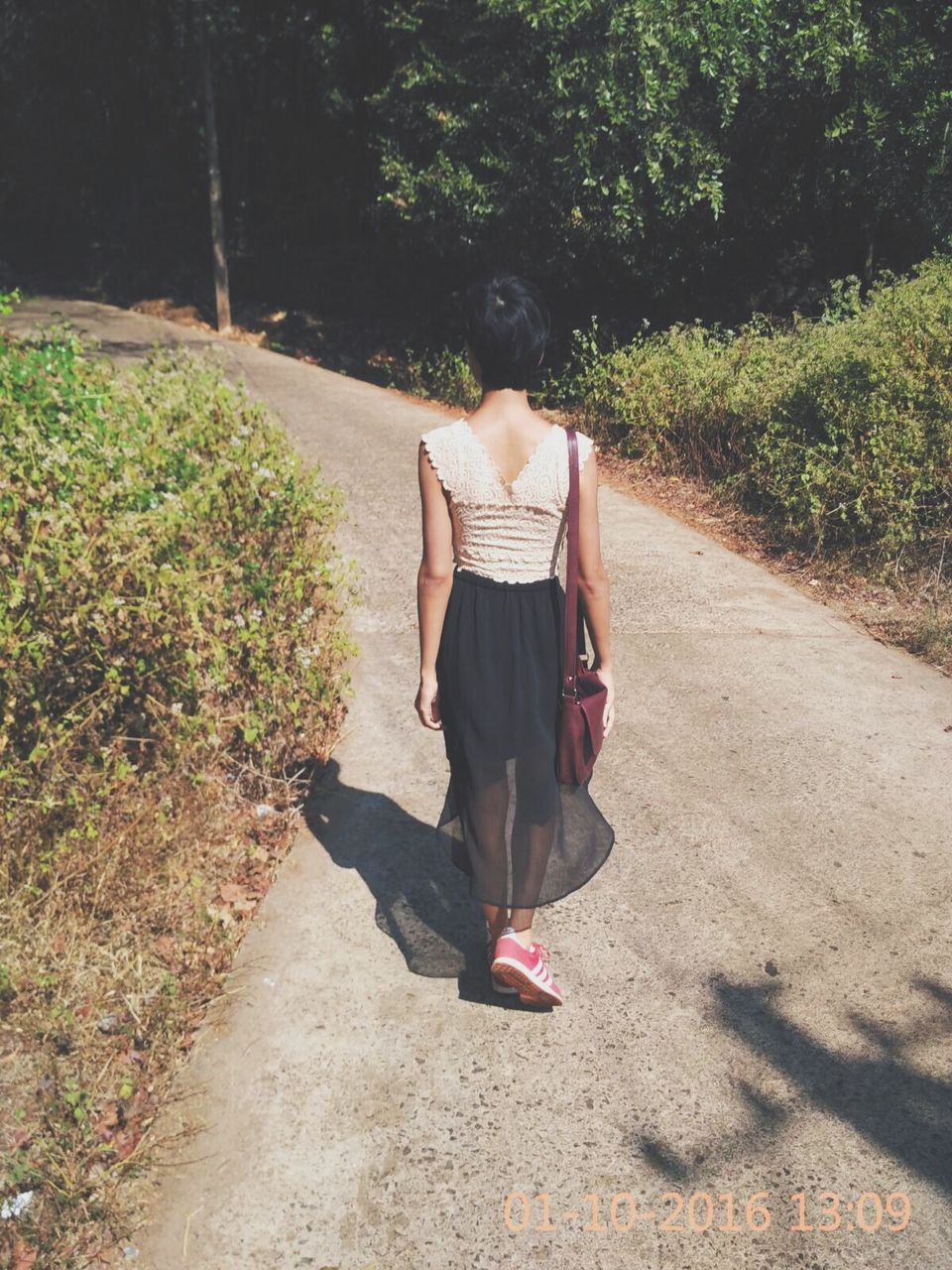 I wanted my 2016 to start with a bang, so as soon as I had recovered from all my hangovers, my friend Samarth and I boarded a bus and left for Goa. Our mood and plan was for Gokarna as it's more tranquil, but we wanted to make a stop in Goa as it is season time and we would loot the flea markets and have pretty things to wear in Gokarna.
We stayed at Seahorse Cottages on Anjuna Beach. It's a really cute place and we made the booking on GoIbibo so we got a fat discount as well (It was necessary because we were travelling on tight budget at peak time). After a tall glass of iced-tea and an enormous sea food lunch, we started making our way through the extensive flea market. It was really fascinating, I felt like I was Alice falling down the rabbit hole. It was there I realized that ANYTHING can be sold. I bought a basic fedora & fancy hippie jewelry and Samarth bought comfy-airy harrem pants. We then realized that we needed more money so we walked to the taxi stand and before getting on, we bought a beer each to quench our thirst. We spent 10 minutes convincing the taxi guys that Rs. 300 was a lot for a 1KM drive, and then we decided that we'll walk. We walked to the ATM (near Dominos), withdrew our money and had another beer at a pit stop and walked back to Seahorse. We passed out dehydrated and tired.
In the evening, we wore our new clothes and jewelry and went shack hopping. We ate a lot, drank a lot, listened to some really good live music at Cafe Looda, ate Anda Pav on the beach and had ice cream. It was a long day and we used it all up. We walked back to our cottage and after a good night's sleep, we checked out and had the best detox breakfast at Deee Kaffee, right next to Seahorse. You'll find the most hospitable staff and mouth watering food there. Right opposite the 'Kaffee' is a barber shop where you can ask for taxis that AREN'T over-priced.
We took a taxi from Anjuna to Mapusa; a bus from Mapusa to Panjim; another bus from Panjim to Margaon.
At Margaon, we stepped outside the bus depot to have lunch before we started the long journey to Gokarna. We saw a board that said Fish Thali Rs.150 and we instantly headed towards it. We climbed to the second floor of the building and it was a little place in the corner with a little door and stuck on the door was a printed paper that said 'Hotel Dreamland'. We walked in and we were greeted by the most kind man with the thickest eyebrows I've seen. He asked us to keep our backpacks on the table at the entrance as the restaurant was just a crowded little room with 8 tables. We sat on the corner-most table at the window and ordered a squid thali and a chicken thali. Both were delicious. I was trying really hard to hold my shock and excitement in at the prices - smirnoff 30 ml for Rs. 20, DSP 30 ml for Rs. 30. Just then they eyebrow man returned to ask if we needed anything else, he said to us, "If you don't like anything please tell me, if you like the food then don't tell." We laughed and complimented his food and he walked away smiling hard. He also told us how to get to Gokarna from there by train but we were too lazy to try and figure it out so we ditched his suggestion and took the buses (which turned out to be a bad decision).
At 3:30 PM, we boarded a bus to Karwar from Margaon and it took FOREVER to get there. Then we took a bus to Madengiri Cross (Gokarna cross) from Karwar. We reached the cross at about 7:20 PM - there we took a rickshaw straight to Om Beach. We wanted to save money and stay at one of the shacks so we ditched Namaste Cafe and walked across the beach from shack to shack looking for availability. Nothing. Frustrated, cranky and exhausted we had dinner at one of the shacks and a glass of whiskey before walking back to Namaste and checking in.
We washed up in our cottage, changed into fresh clothes and went downstairs to the café to have a beer and look at the ocean and chill. We had just settled down and were laughing at something really irrelevant when the entertainment began: the place was empty and a fight started in the café among locals sitting on two tables. It was HILARIOUS. They were all yelling at each other and throwing things around. For 10 minutes it happened and we got disinterested because it wasn't getting anywhere. I was just about to have a bite of my Prawns rice when we heard a slap and all of turned at once. Then there was some more noise making before the staff got involved and stopped it. But the food at Namaste is so good that both parties put their egos aside, waited outside the café patiently till the waiter parceled their food and handed it to them. Namaste café shuts by 11 PM, so Samarth and I hung on the beach for a while and then decided to go up to our room, sit in the balcony and get booming drunk.
The next day we had breakfast with a view and checked out of Namaste to explore other beaches. We tried to get a boat ride but it was too expensive for us. We met a jewelry vendor on the beach who we had smiled at while having breakfast at Namaste and he sold us a few things with love. He told us that we could trek to Kudle Beach and that it is a nice beach with families, so we decided to do the 15 minute walk to Kudle. It was 12 PM and the sun was on our heads. We put our trekking shoes on and wore our backpacks and started climbing the stairs out of Om Beach to the road. We had barely walked for 5 minutes before we shamelessly gave up on the walk and took a rickshaw to Kudle.
At Kudle we checked into the first shack we found on the beach – La Pizzeria. It was the best decision we made. The room was tiny, just big enough for a bed and a chair and there was a common washroom which was kept pretty clean. It was run by young, friendly men. The first thing we did on Kudle was put on our swimming gear and run into the ocean. We stayed on the beach for a long time and took a break to have lunch at this restaurant called Sea View. It's a really tripped out place – like a hippie paradise. We checked in there because outside on the black board it said 'Free Wifi' and we thought we could check up on our virtual world while we're lunching. We ordered pasta and hummus-pita and the waiter sluggishly took our order. He was just about to leave when Samarth asked him what the wifi password was and he turned around and in a harsh voice yelled, "JAI MA KAALI". We laughed and he laughed and we enjoyed our food and their wifi while watching a volleyball game that was happening outside on the beach.
After our long, yummy lunch, we went back on the beach and sat on the warm sand watching the sun set. We went in for a final swim and went back to La Pizzeria for a cold shower and dinner. We asked the young waiter, Sahil what was the best they had, he said, "Order anything, everything's great here." So we ordered chicken and he was right. It was the best chicken I've ever eaten. The food there was so good that all the days that we were there, we only ate at La Pizzeria.
The next day, we wanted to withdraw money from the ATM, so the guys told us that we just had to go up to the main road and walk a kilometer to the Gokarna market. They told us to not take the rickshaw as it would be over-priced. So we did as they said, and this time we could actually walk it. Between the main city and Kudle beach, there is this really tiny shop/café called Dosa – this place has the best dosas for Rs. 10 ONLY. We bought a bottle of water there, promised ourselves we'll be back for a dosa and continued walking. The walk really wasn't much and we went to the ATM, booked our ticket back to Pune and did a little window shopping. The city has really narrow lanes that have graffiti all over the walls. On the way back, we had the yummy dosa and repeated the previous day's routine of jumping in the ocean, etc.
The day for us to leave had finally come. We woke up and had breakfast at another place on the beach, it was a heavy breakfast of hash potato with a LOT of cheese. We packed our stuff and checked out. We had made friends with the staff at La Pizzeria so they offered to keep our bags while we chilled all day. There's this delectable dessert called Hello to the Queen that is something everyone must have while they're at Kudle. We walked back to the city to figure out how we'll be leaving town and to buy a chess board for my brother. We were back by afternoon and we finished the rest of the whiskey we had left. We had a delicious pizza and schezwan rice before we said goodbye to Kudle and to the very loving and hospitable La Pizzeria.
In the 3-4 days we were there, I think we build a stamina because we could actually walk to the city WITH our luggage the evening we left. Or maybe it was a slow goodbye because we just didn't want to leave. But now that I think of it, I never left. A part of me is still there, and that part of me makes me feel very happy.