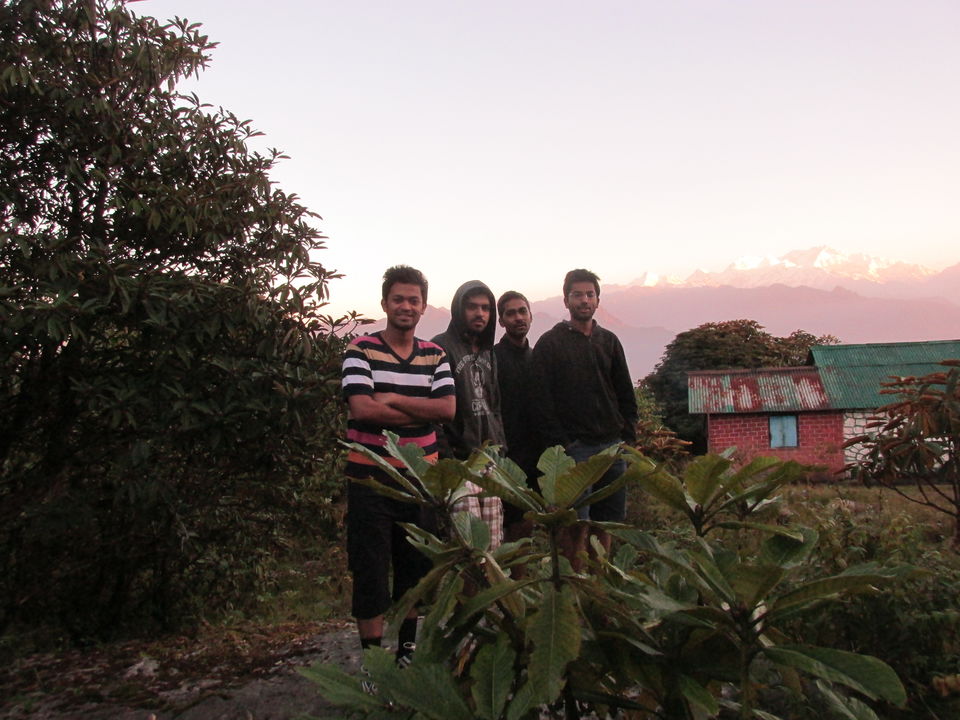 From Howrah, we reached New Jalpaiguri railway station by an overnight journey. Varsey is a very unique place in India where endemic rhododendron flowers bloom in April-May every year. Sikkim tourist office is just outside the railway station and they will help you with your plans. But they have understanding with the cab drivers if you want to book a whole cab. They charge you more and these tourist office people do not help you in such matters of bargaining. Though shared cabs are available for famous destinations like Darjeeling, Varsey is a very small place and surprisingly less known to the cab drivers as well! We were only four people but due to no other people going to that place, we had to book a whole cab.
We started our journey at about 1100 hours. We were travelling to Sikkim for the first time and we were mesmerized to see the Teesta river. For much of the route, we keep meeting this river.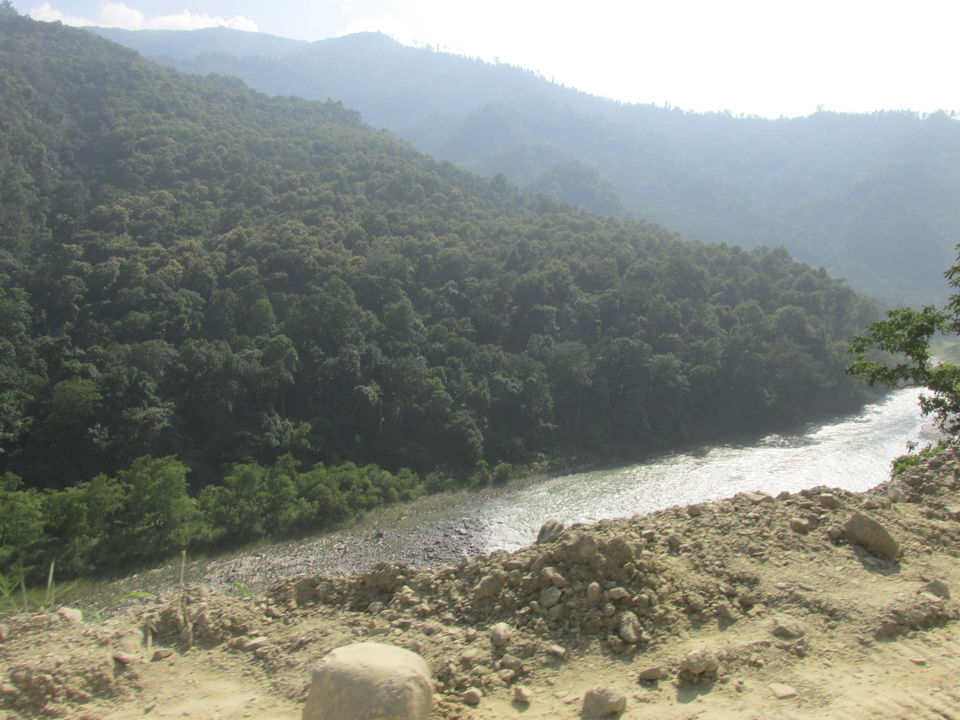 The driver was kind of crazy and was repeatedly uttering rubbish. He was driving well but kept repeating that there's nothing much he can do and everything lies with the God. After about 2 hours journey we stopped for lunch along the bank of river Teesta. The lunch was decent and we kept moving after that. We were enjoying the beauty of Sikkim all along the route and tried to absorb as much as possible of its virgin nature, waterfalls, forests, etc. Along the route, at one point we could see peak of Kanchenjunga. The driver was relying on our GPS for route. Along the route there was a landslide and it got us delayed by about half an hour. The estimated travel time which shows in Google Maps or other navigational apps do not work when you are traveling in hilly areas. You need to keep a buffer of 2 to 3 hours. We were now in doubt whether we could make it to the Varsey Rhododendron Sanctuary. But to our luck, we reached there at 1730 hours, half an hour before entry to the Sanctuary closes. We registered our names in the registry and paid a nominal entry fees for two days. It was dark already and our guide's cook was there to pick us up. It was a kind of night trek of about 4kms. The cook asked us if we want to rest along the route but we kept walking. We reached in about an hour. It is a very easy trek.
There's a small forest barrack on the peak of Varsey, constructed and maintained by Sikkim Tourism Department. Also there is another hut called Guras Kunj which is closed and was owned by a private firm. For bookings you can directly call the manager cum guide of the forest barrack. His name is Pusai, mobile number 09733412807. There is a nice arrangement of bed in the barrack and also provision for veg and non veg food.
Weather was extremely cold and we were conversing with Pusai. It was completely dark. As we stepped outside the door, we were stunned. There's no electricity and we were on the peak. This combined effect showed a sky which we had never seen before. I had never seen so many stars in the sky and we could even see the Milky way. After that we went for dinner. Arvind was the only non vegetarian among us. Rest of us had veg food. It was very good. After dinner we went to sleep in a small hut in the jungle where no tourists had come from 5 months as claimed by Pusai. We had mixed feelings of sleeping in a place where no humans are there for few miles except a few of us. Pusai asked us to wake up by 5 am since the sun would rise and seeing Kanchenjunga in its orange version is a treat of its own. We agreed and slept off in the chilling weather.
When I woke up it was around 0530 hours, realizing I was late, I rushed out. The first time in my life I saw the Himalayan range. Kanchenjunga felt like God, we feel so primitive in front of that though it was way far from us. The mountains were bathing in the early rays of the sun and they were all drenched in orange.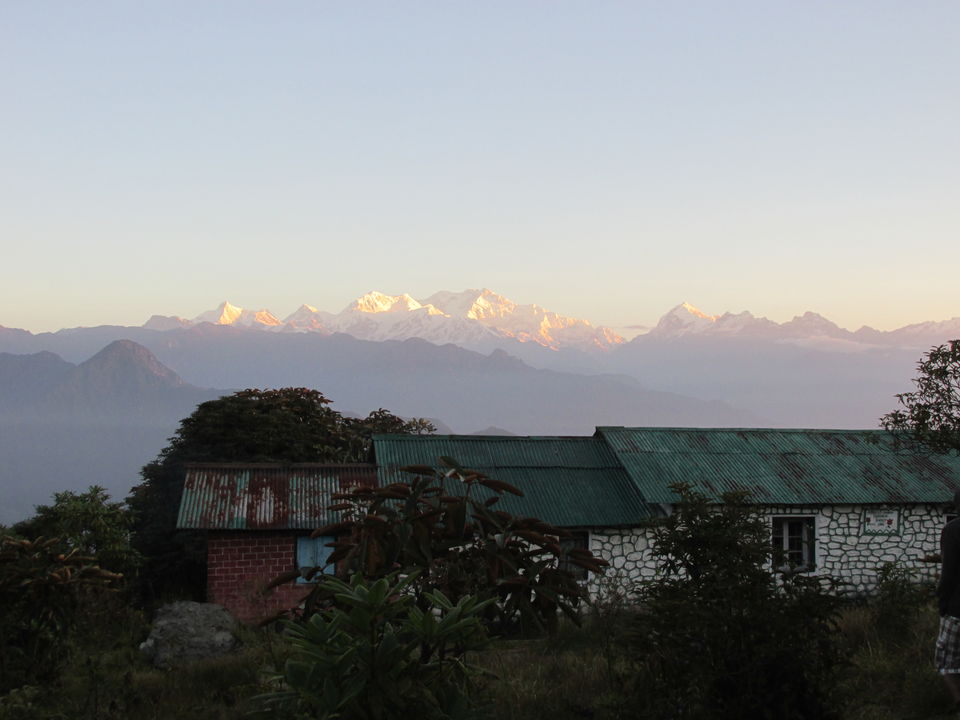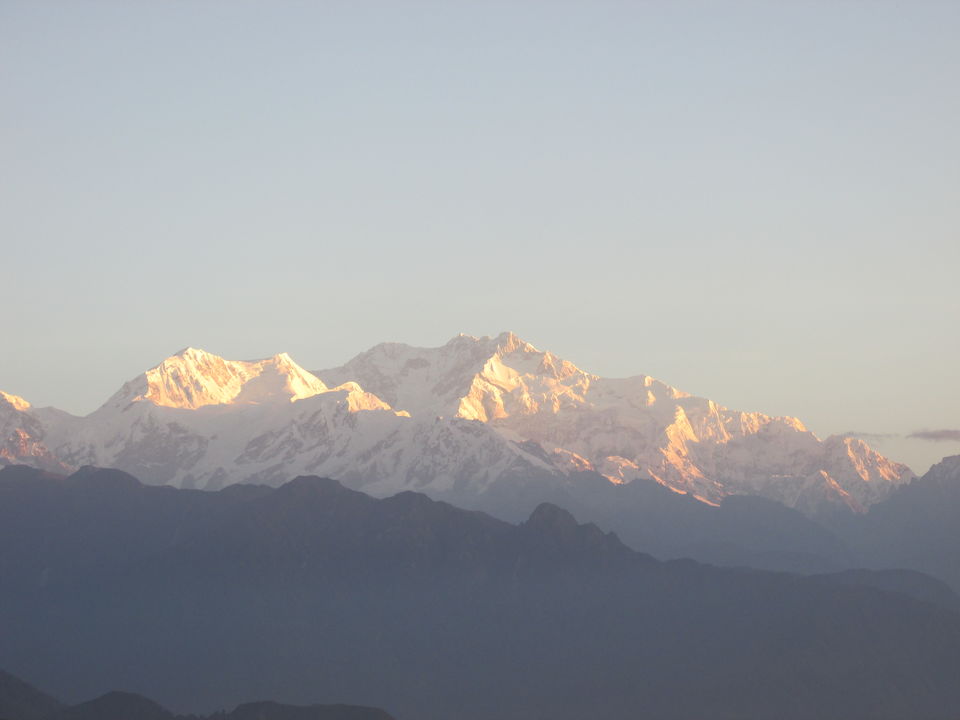 I quickly woke the rest of us up. Pusai took us to a bit elevated ground and showed us the peak of Mount Everest. It was too far to get the feeling. The breakfast was being prepared and we finished our morning duties. We did not want to let go the sight of the mountain range so we ate outside gazing at it. Our plan was to trek to Gorkhey and return via shared taxis. But Pusai said that the route is closed by heavy rains and dense forests. He insisted us to stay at his place Bariakoph(which was about 8km decent from this peak) for a day and head to Gangtok.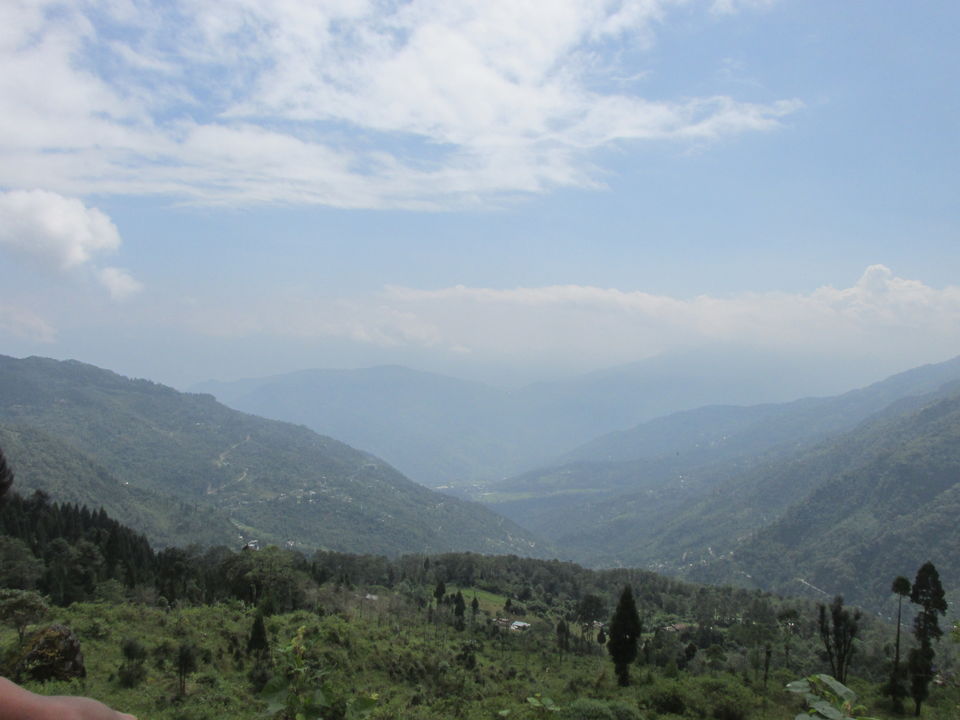 We reached his home by afternoon and had our lunch. We rested a bit, tea was being served. Our devices got recharged since his home had electricity. He took us to a small waterfall which was merely 100 metres from his home. And at about half a kilometer there was a Buddhist monastery. We visited this and let Pusai go back, we stayed back for a bit more time. We got into that water and it was chilling cold. We competed within ourselves as to who can stand more time in water. I could hardly stand 20 seconds and my feet were numb. Abhishek and Arvind were better. Aditya was like he was not feeling anything. He was there in water for eternity. May be Buddha bestowed some special power to him.
By the time we returned it was almost dark. We were served tea and after that dinner. There was only one vehicle in a day which would go to Gangtok and it was at 0500 hours. It was a big challenge for us to wake up at 0400 hours and reach the road which was well about 3km. Somehow we woke up and made it up to the cab.