We arrived at the New Jalpaiguri Junction Railway Station the next day at an ungodly 3am. This is the station that connects the North-East to the rest of India. The Siliguri corridor is so narrow it is called the "Chicken's Neck" sandwiched between Bangladesh to the South and Nepal to the North. This is a heavily militarised zone because of its strategic location. After getting out of the station, all the touts in the vicinity poured in on us offering us options from auto rickshaws to taxi rides to hotel stays. But soon they found out we were fluent Hindi speakers and not foreigners and their regular tricks wouldn't work with us. You feel bad for them sometimes, they are only trying to make a living but sometimes they are also conning you. It is a good vs. evil struggle for you. Our plan was to find the closest government authorized lodge to rest for the few hours we were there. To get rid of these guys we made a frantic run outside of the station giving them the idea that we had this place figured out and soon we were on our own. The area almost looked like a war zone and it was our first time in the state of West Bengal. We walked along the roads until some tea shops opened up at 7am. Somewhere outside we saw a big statue of Netaji Subash Chandra Bose, paid our respects to him with a salute and continued our morning walk. There were street dogs and plenty of cows on the road, carefully looking at us strangers. Posters of Mamata Banerjee, the Chief Minister of the state and party slogans everywhere. Walking up and down, we didn't want to go back to station again to face the constant bombarding from the touts. After about 8am we came across a military barrack and attached to it outside was a small food canteen. This is where a lot of military and ex-servicemen come to have a chat and enjoy some meals.
I was carrying a camouflaged rucksack, and looking at my size and build, the people thought of us as military servicemen, taking time off on a holiday. After this, I pretty much use this as a cover story for any dicey stranger I meet along while travelling.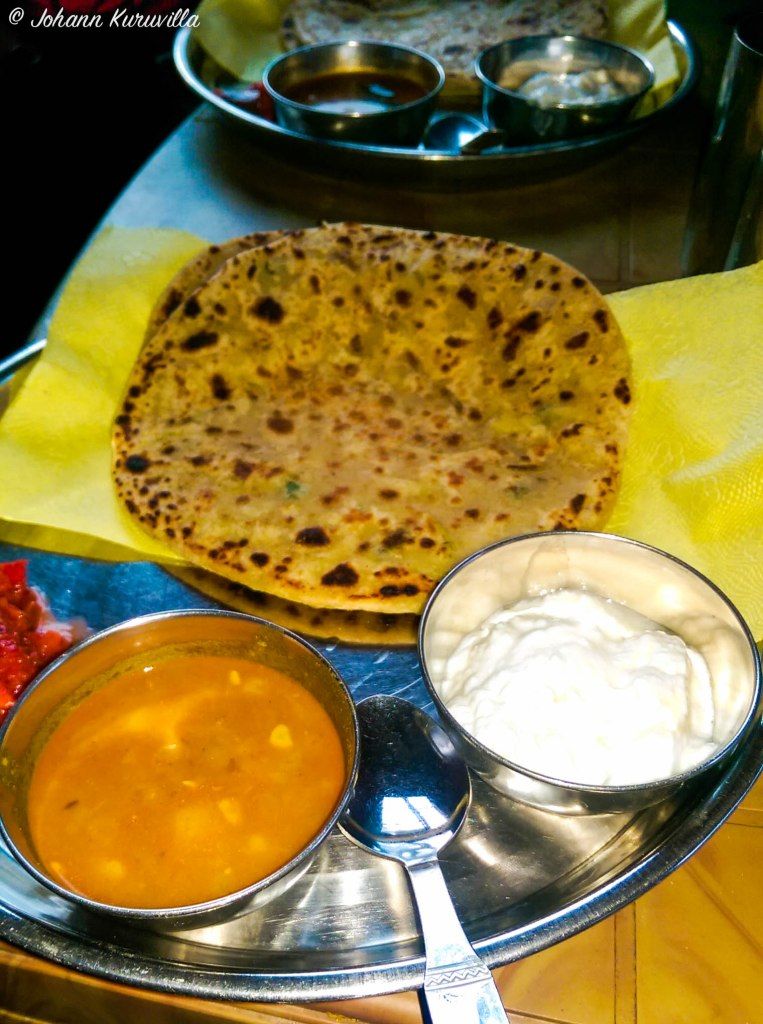 We had an amazing plate of aloo paratha with the curd and pickle and some chillies for breakfast. The meal felt so good, we actually sat there enjoyed it for a good hour or more. After a while we met a good Bengali man who shared a lot of his stories with us. This guy had worked in a lot of South Indian cities and loved people from Kerala as he found them the most friendliest. When he found out I was from there, he couldn't stop but tell us tales of his adventures. He even helped us avoid the touts at the station and gave us some ground info on how to get to Sikkim.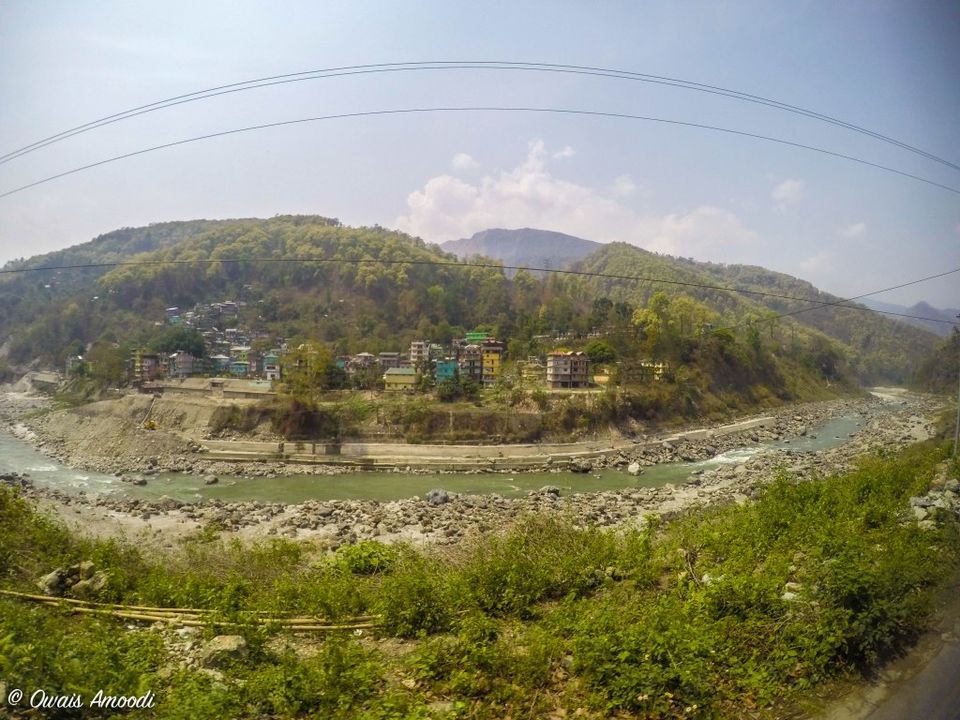 With his advice we headed back to the station to find out a small Sikkim Tourism office inside. In now broad daylight, there in all its glory, stood the government lodge right next to the station, which missed our eye on our way out in the night escaping from the touts. That was such a bummer. Outside there was a West Bengal tourism office but they looked more keen on sending us to Darjeeling than Sikkim thereby boosting their tourism. After trying to persuade us that travelling to Sikkim was difficult because it was a Sunday, we almost changed our plans to Darjeeling and visit the Nepal border. With all due respect, Darjeeling is a really beautiful well known hill station but because of it's huge popularity for so many years, we knew it would be extremely crowded, over-hyped and expensive for our stay owing to the holiday season. Sikkim is a far lesser known place and only became a part of India in 1975. The lesser the people going there, the better the experience we will get. Quickly now Sikkim is becoming a brilliant tourist destination in India.
I sent my friend in to go and look for the Sikkim Tourism office to get some info and safely sat outside the station guarding our bags. It was a matter of five minutes or say maximum ten. But this guy didn't come back for like half an hour. I started to panic. To give a brief introduction about my friend, he is a short person and we sometimes call him "the hobbit" amongst us friends. Thirty minutes and there was still no sign of him. I thought that was it, someone must have kidnapped him looking at his size. So I picked up both our bags and was going to enter the station where a huge crowd was building up due to the arrival of some morning trains. Just then he popped out and got my heart rate back to normal. The reason I was worried was because when you travel with someone you automatically become responsible for each other and you tend to keep a look out for each other at all times. I was happy to see him but to our bad news the Sikkim Tourism office was shut tight for the day. They don't open on Sundays apparently.
Dismayed at the prospect of spending the day in Siliguri we walked out of the station to plan what to do next. There had to be some other way. I went back to my itineraries and quickly found out there was another office a few kilometres from the station. We made a deal with a cab driver and made our way out of there. He dropped us somewhere in the middle of the city and we started to walk around to find this place. After a while we found it, and this one was closed too! Luckily though, we found a few Sikkimese people around and asked them what our chances were of getting out of West Bengal the same day. All was not lost and there was a bus at around 12pm which we could catch. Now very happy, we booked the bus there and waited around to board it. The bus stations and roads began to fill with people, Sunday was in full swing. Amongst them two corporate hippies walking around with big colourful bags.
At 12 noon, we left the city on the bus. Sikkim State Transport, it was supposed to be an air conditioned bus but an hour into the journey, the aircon got busted and for the rest of the journey we were dripping in sweat and couldn't even open the windows. I went back to listening to Karsh Kale and my friend played around with his GoPro. En route we stopped for some bread and omlettes near Kalimpong the last town in West Bengal before Sikkim. Reaching the Rangpo border crossing, all foreigners had to get out of the bus. So both of us got out and I waited for my foreigner friend to finish all his entry permit formalities. We then hired a shared taxi to Gangtok the capital of Sikkim a short distance from there.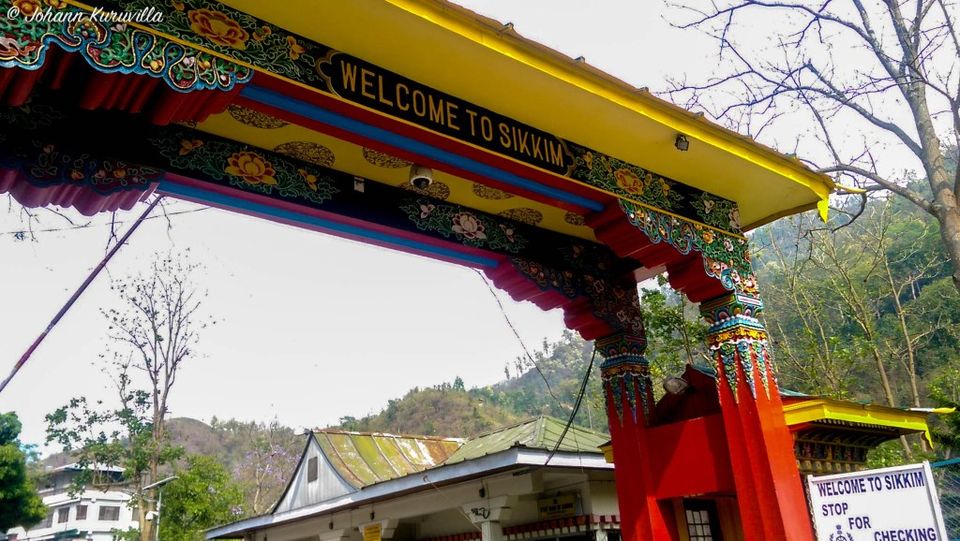 Filled with fellow hipster youngsters in the cab we discussed about the latest music and enjoyed the remaining of the ride, finally making it to Gangtok by 5pm. We were so happy because the weather just changed completely by then and so did the scenery. We were now in a lush green hilltop city and it almost looked like a rain was on its way. The place was so clean we doubted if we were still in India. Sikkim has a strict ban on public smoking and no littering policy and it's just amazing. The people, the place, the food and everything offers something different to your normal India. Recently it was named the first fully organic state in India and it certainly does live up to its name.
We made our way up to M.G. Marg, the most happening place in the city. There was some steep stair climbs to do. By this time carrying our heavy load of some 15-20kgs each, we became really tired and exhausted. We wanted to find a good place to stay, something cheap and affordable and definitely not 5 star. But this required a lot of walking. Both of us did not have working phones either, and mine was completely dead by now. So we had to find an internet centre to get some info on home-stays and guesthouses in the area. We found a good one on Trip Advisor but they were full booked for the day, so we settled for a regular low cost hotel room on M.G. Marg for that night.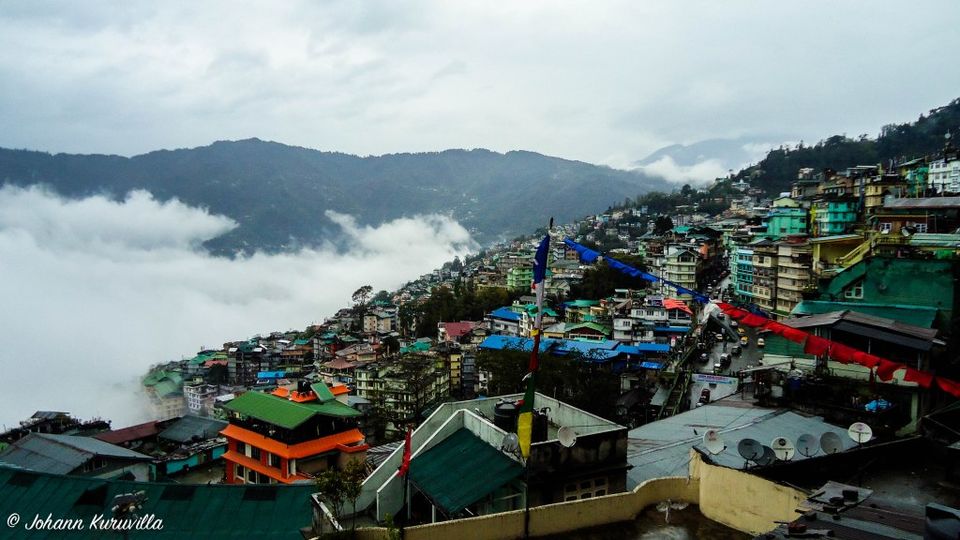 The next day we woke up to see the entire city engulfed in clouds. The weather was beautiful, clouded with scattered rains throughout the day and the clouds were so low the whole city was literally inside it. We were at 5400ft and at the foot of the Himalayas. We walked around the whole day, enjoying more of the place and the magnificent food at some of the restaurants. Nothing could match the momos (dumplings) here. The people were so helpful and friendly. There was something about the aura of the place, we felt rejuvenated already.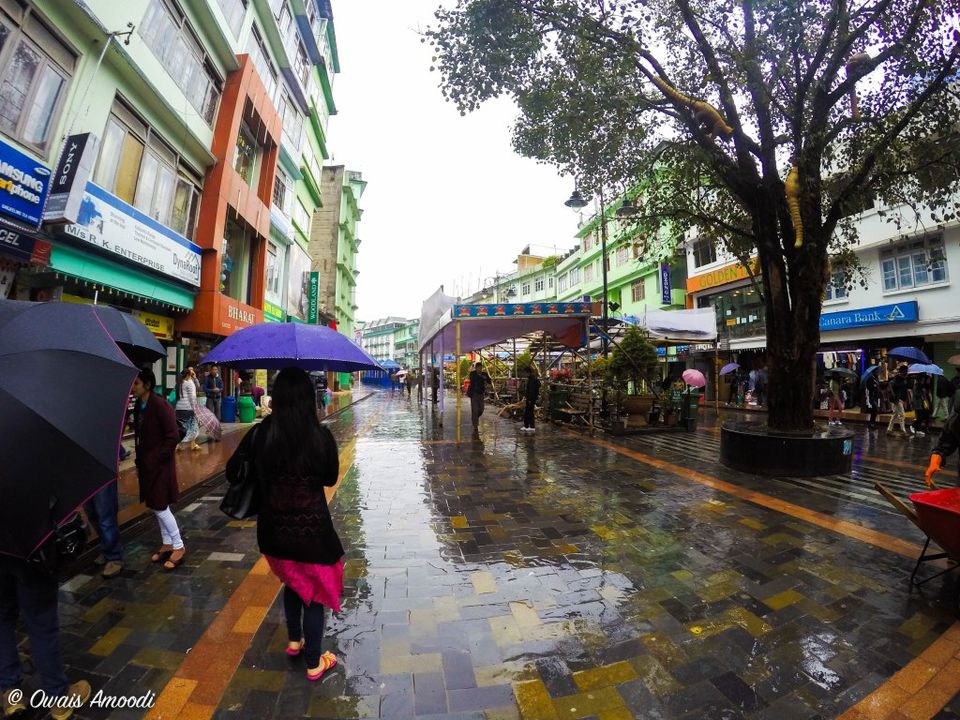 We got to a guesthouse by noon and again went out to roam the streets and enjoy whatever we could find. When we returned back to the guesthouse in the night, the weather turned out to be so cold with all rain that had been pouring the entire day and we hadn't experienced this before having lived forever in the middle-east and southern parts of India. Freezing to our knees we went off to sleep that night witnessing nothing short of a dream the whole day. Like the famous quote says, "The best dreams happen when you are awake".