My friend suggested a place we should not miss so we decided to move ahead and explore. The first stop however was the confluence which one should not miss. We drove a bit further towards the Kedarnath Route and just before the tunnel you can park your vehicle in the designated parking slots.
Head towards the temple and follow the stairs to reach the confluence. The site itself is mesmerising and you would love to spend as much as time you want there.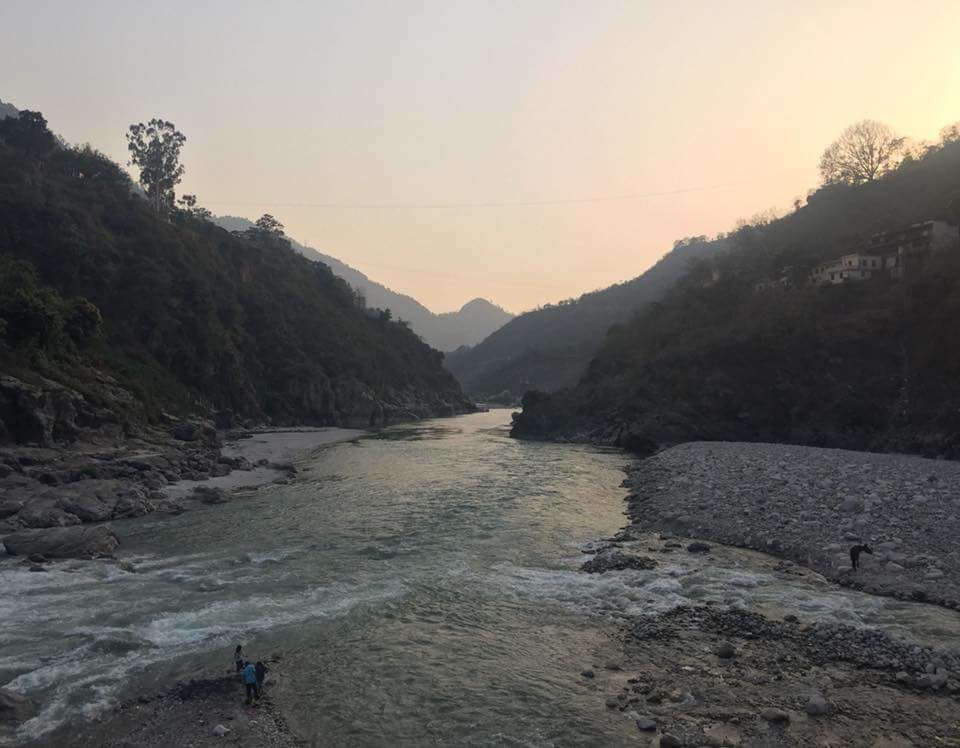 After witnessing the two mighty rivers we moved further to the place suggested by my friend. The place is knows as Koteshwar Mahadev Temple. The temple is dedicated to Lord Shiva and is situated on the banks of River Alaknanda. The temple is not far from Rudraprayag  and it would take you not more than 15 Minutes to reach the temple. 
P.S. mind the stairs as they are quiet steep
Festivals in India bring in a certain fervour which one can only feel but is difficult to put in words and festivals are always best to celebrate with family and friends. 
Holi the festival of colours is one such event where you gather and apply different colours both dry and wet on people who may be your family, friends or passers by willing to play with you. It's more like the Tomatina or Tomato festival in Spain with only difference of colours instead of tomatoes; the enthusiasm, zeal and excitement is the same. 
But this time we decided to do something different, this time we planned a Trek to another picturesque location in the Garhwal Himalayas.
The place is full of wildlife, flora and fauna is in the abundance and one can have a mesmerising view of the great Himalayan Peaks. We started late night from Greater Noida ;love for night drive has its own charm not to forget less traffic and clearer roads thus less tiring; our first destination on the way was Rishikesh. 
It took us 5 hours to reach Rishikesh where we had an amazing breakfast at a road side Dhaba. Mouth watering paranthas with a hot cuppa relaxed our sour backs and replenished our empty stomachs. We started our journey for Rudraprayag - our pit stop for the day.  The town of Rudraprayag is situated at the confluence of Alaknanda and Mandakini rivers. It is also the gateway to the Holy Kedarnath Shrine.
The best places to stay in Rudraprayag is GMVN (Garhwal Mandal Vikas Nigam). The place is nice, well maintained, well behaved staff and has got some good views of the confluence too. It is a good idea to get the bookings done in advance as you might face some challenges during the holiday season. 
We reached Rudraprayag by lunch time. Although the plan was to relax but trips should never go as planned.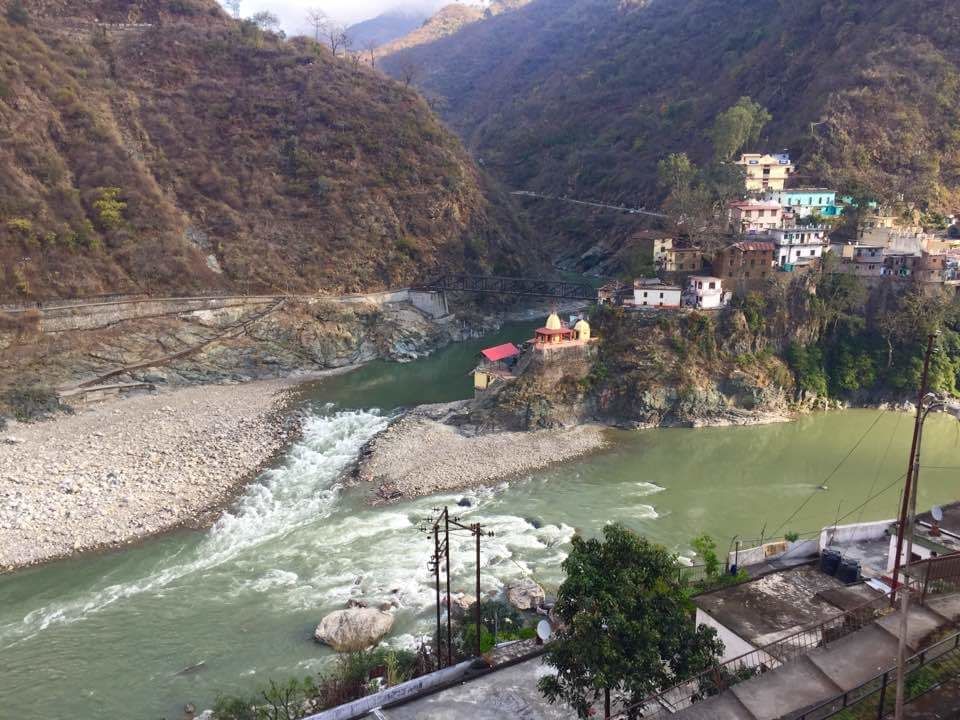 Next morning we were all set to leave for Kartik Swami temple. The temple is in the upper Garhwal region and is dedicated to the elder son of Lord Shiva - Kartikeya.  Although one can find many temples dedicated to Lord Shiva, Ram, Ganesha in the north but temples for Lord Kartikeya is more prominent in the South. 
Kartikeya also known as Murugan, Skanda, Kumara and Subrahmanya, is the Hindu god of war. He is the son of Parvati and Shiva, brother of Ganesha, and a God whose life story has many versions in Hinduism. An important deity around South Asia since ancient times, Kartikeya is particularly popular and predominantly worshipped in South India and Sri Lanka as Murugan.
Kartikeya is an ancient god, traceable to the Vedic era. Archaeological evidence from 1st-century CE and earlier, where he is found with Hindu god Agni (fire), suggest that he was a significant deity in early Hinduism. He is found in many medieval temples all over India, such as at the Ellora Caves and Elephanta Caves.
The iconography of Kartikeya varies significantly; he is typically represented as an ever-youthful man, riding or near a peacock, dressed with weapons sometimes near a rooster. Most icons show him with one head, but some show him with six heads reflecting the legend surrounding his birth where six mothers symbolizing the six stars of Pleiades cluster who took care of newly born baby Kartikeya. He grows up quickly into a philosopher-warrior, destroys evil in the form of demon Taraka, teaches the pursuit of ethical life and the theology of Shaiva Siddhanta. He has inspired many poet-saints, such as Arunagirinathar.
Kartikeya, as Murugan or Subrahmanya, is found as a primary deity in temples wherever communities of the Tamil people live worldwide, particularly in Sri Lanka, Mauritius, Indonesia, Malaysia, Singapore, South Africa and Réunion. Three of the six richest and busiest temples in Tamil Nadu are dedicated to him. The Kataragama temple dedicated to him in Sri Lanka attracts Tamils, Sinhalese people and the Vedda people. He is also found in other parts of India, sometimes as Skanda, but in a secondary role along with Ganesha, Parvati and Shiva.
The temple can be reached after a 3 Kms hike from a remote village named Kanakchuri. The drive from Rudraprayag to Kanakchuri can take anyway from 3-4 hrs depending on the road conditions.
The best time to visit the temple is throughout the year however for more clear views of the Himalayan peaks and snow en-route one can plan in the month of Feb-March. During this time one can find  Rhododendron or Buransh as called in the local language in abundance. Buransh is also the state flower of Uttarakhand. It is said and experienced by us as well that eating the Buransh flower can give instant energy and so you will find Buransh Juice to be one of the main items in Uttarakhand.
The temple is also famous for its trek route which is through a dense forest and ridges from where one can see a beautiful sunrise and sunset.
We reached Kanakchuri village by mid afternoon and were all set to start our hike. Remember to fill your water bottles and pack some snacks for the route. One can buy chocolates, fruits and enjoy hot maggi from the village shops as well.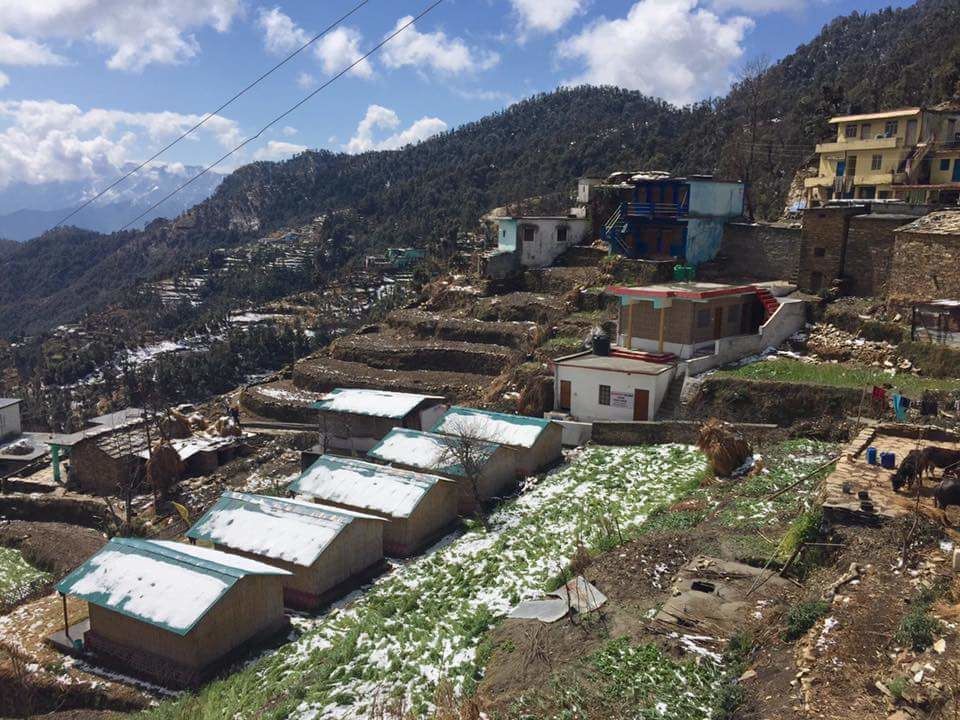 After an uphill hike of 2 Hours we managed to reach the temple. The temple offers breathtaking views of the Himalayan peaks and if you are lucky you might witness Snowfall during the trek as well.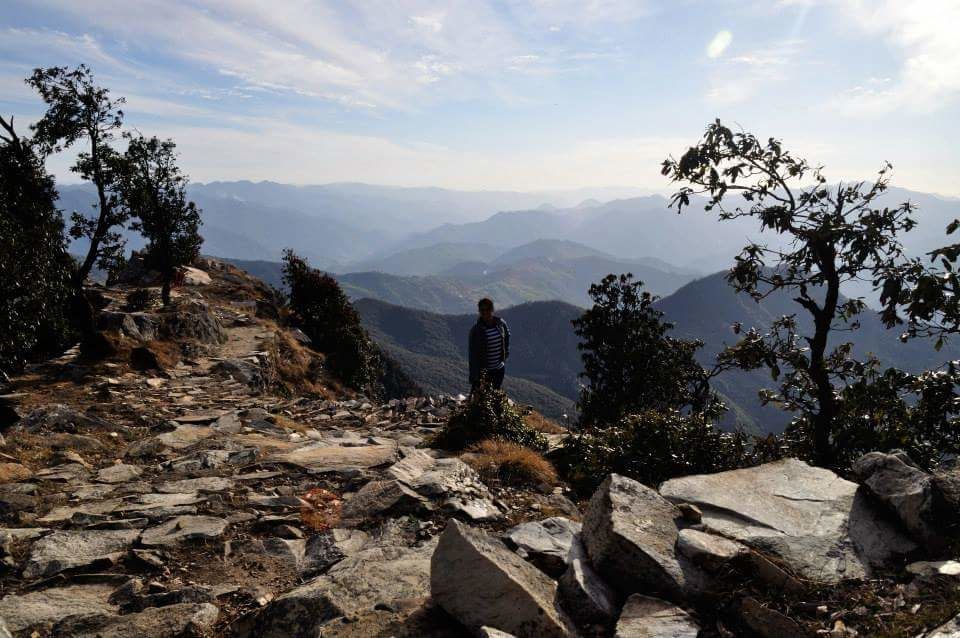 We called it the day after visiting the temple and offering our prayers to Lord Shiva.
The hike is a photographers delight that one must undertake not because it is sacred but because it has such beautiful views to offer. 
Plan your travel as per the weather conditions and don't forget to keep warm clothes if you are planning during Winters.