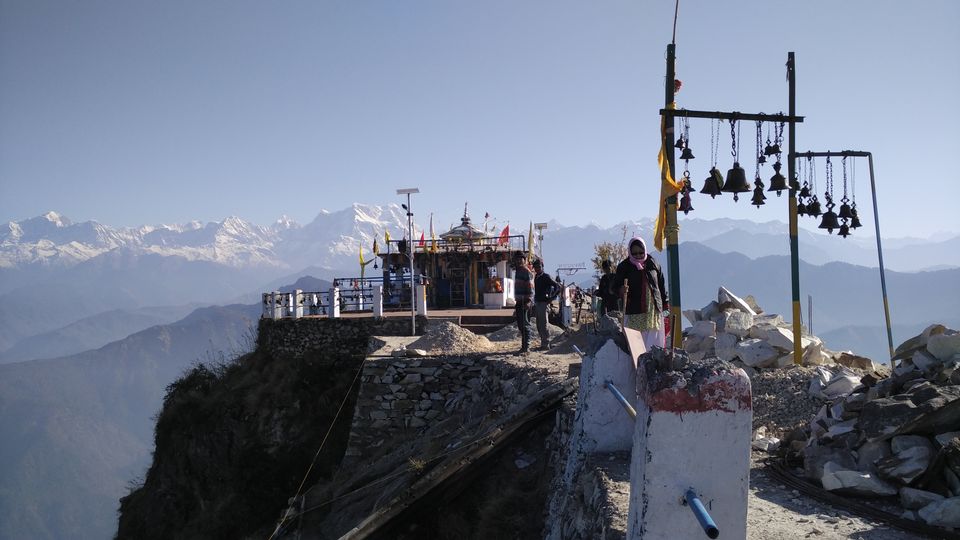 #CoffeeWithTripoto
Uttarakhand is known as the land majestic Himalayas, deep valleys, lush green meadows, serene and tranquil views. It is the land of warm-hearted people, Madua chapatti and Bal mithai. The alluring nature of Uttarakhand attracts travellers across the world.
There are so many tourist spots in Uttarakhand, some of them considered as luxurious vacation destination or pilgrimage and some of them show you the real challenge, takes you out from a nutshell of illusive urban comfort and feel your heart with a sense of achievement.
Kartik Swami temple in Kronch Parvat truly falls into the second category. It is offbeat in its real sense and away from the noise and crowd.
It was 11 th April, my Mom and I boarded the bus for Rishikesh from Kashmiri gate bus stand at 10:16 PM. You will get ample number of buses which are going to Rishikesh and other major destination of Uttrakhand. One can also avail train but the number is few. You can also reach Haridwar by train which is around 30Km away from Rishikesh and then can reach Rishikesh by shared jeep, private cab or by bus. We reached Rishikesh around 5AM and then took a hotel for 1hr for a short refreshment.
Then we took the bus to Rudraprayag (895meter) around 7AM and the fare is Rs.200. You will get these buses in every half an hour till 5PM. There is also a direct bus from Delhi to Rudraprayag which leaves Kashmiri gate around 9:30 PM. We reached Rudraprayag around 12PM. This is one of the Panch Prayag (five confluences) where Alaknanda river is meeting Mandakini river.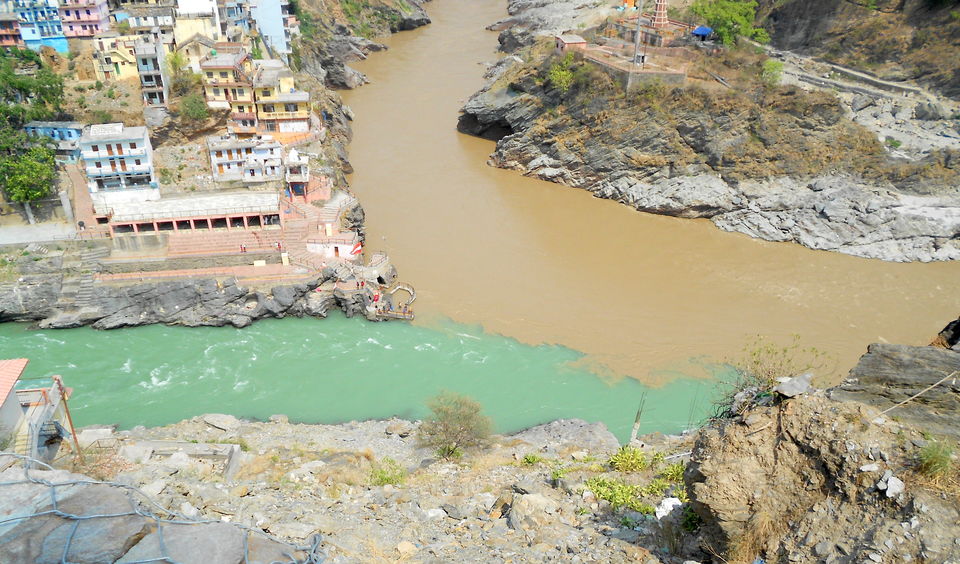 From Rudraprayag you need to board a bus towards Pokhari and get down at Kanakchauri Village which is 40 Km away from Rudraprayag. You can also take private cab or shared jeep for Kanakchauri which will take around Rs.1600 and Rs.50 respectively. But they are not good in number. You will get buses in one hour break till 5PM and the fare is Rs.55. On our way we had a quick lunch at Chota Chopta (people also call it Chopta, although this not the same Chopta near Tunganath Trek) and reached Kanakchauri at around 4 PM. We had a tea break and started our trek to Kartik Swami temple (3050 meter).
You can also ask Ballav Singh Negi, who runs his tea stall in Kanakchauri and can also carry your luggage in the trek. At the beginning of the trek GMVN is constructing a rest house. Uttrakhand govt. is also planning to construct a cemented road from Kanakchauri to the temple. You can also stay in Mayadeep Resort, the only place to stay in Kanakchauri.
It was a trek of only 3Km which can be done by people who are trekking for the first time. Once you will start the journey you will find that it's not a proper road just a man-made trail. You don't need to take any guide. The road is within the forest and if you are lucky enough you can see various types' of birds. There are so many Rhododendron Trees and March and early April is the best time to see the flowers.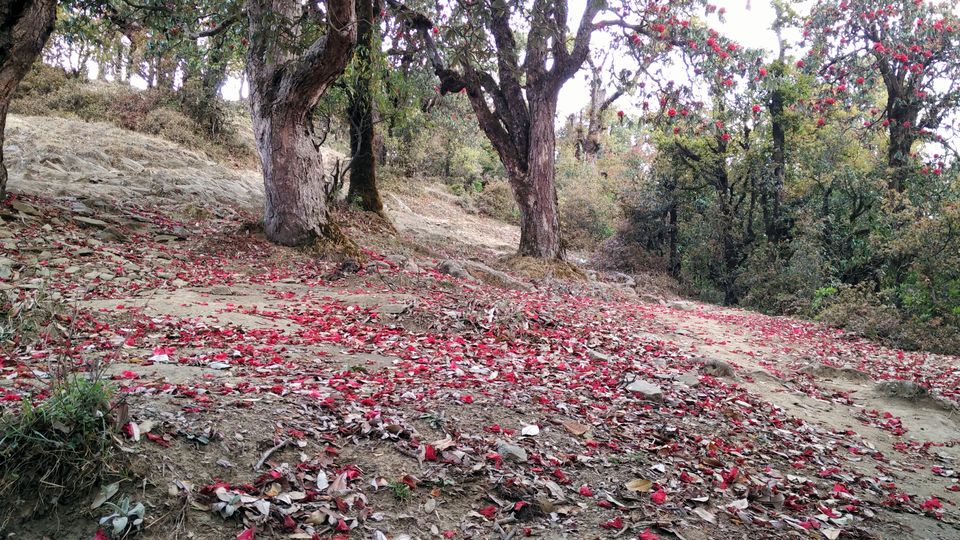 The more we climbed up the views was becoming more exquisite. At one side you can see deep valleys and on the other hand you can witness the snow cladded mountains.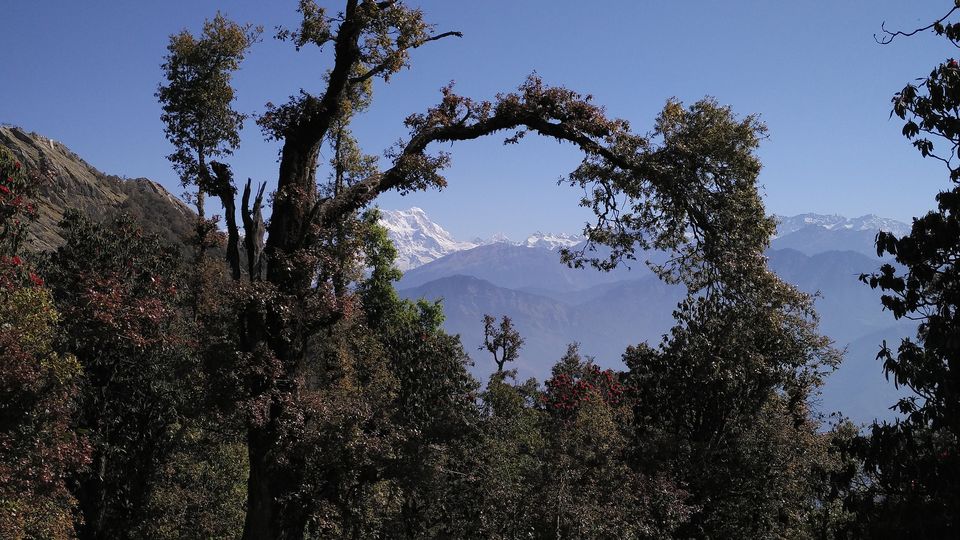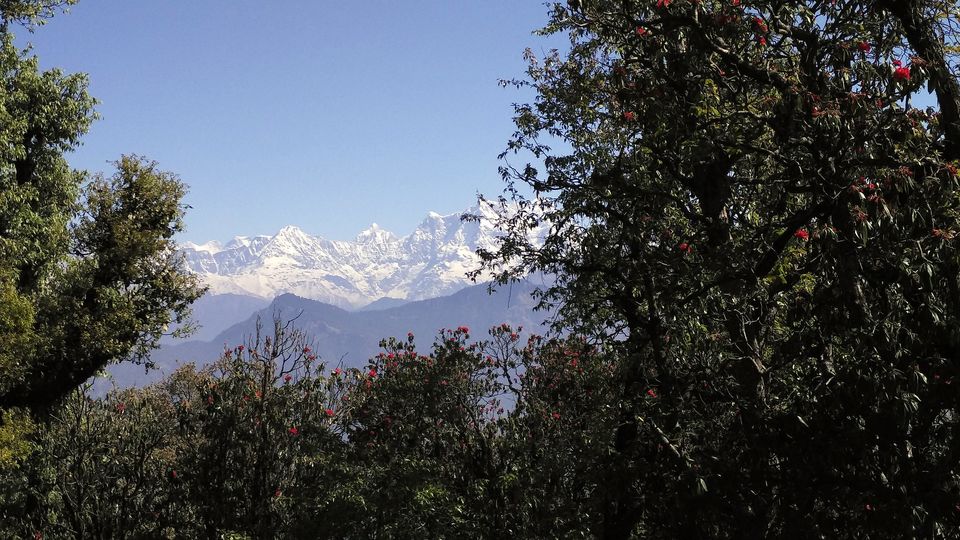 Around 6PM we reached to the pujari jee's hut which is 1Km downhill from the temple. Swami jee was very kind hearted and welcomed us with hot tea. He is young by heart and shy by nature. He opened a room for us in his own home which only has few blankets. No one stays there apart from very few trekkers and local people who somehow get stuck in the temple. There was no toilet also.
There was another police officer (Ravi Bhaiya) posted who is the one and only companion of swami jee. He cooked dinner for all of us. We had our dinner with light talks, warm feeling, dal roti, salads and sooji. The distant peaks who seemed like wearing silver jewellery in moonlight.
Next day at 5:30 we started our trek for them temple. The path was awfully narrow and just beside you can see the deep ditch. But when we reached the temple the view was spectacular. You can see snow peaks like Nanda Devi, Chaukhamba, Trishul, Kedar Dome, Parvati Mukut etc.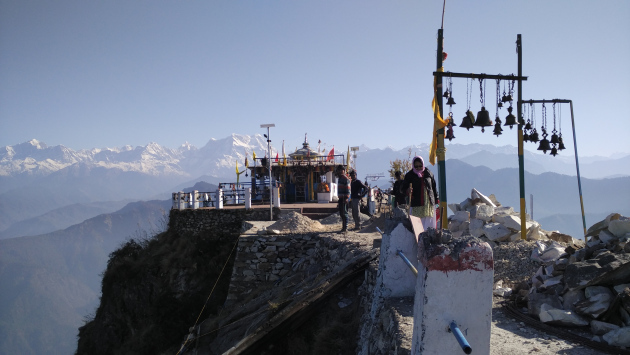 Just sit and enjoy the surreal beauty of the place. We both were just sitting and watching the sunrise. The glaciers and ice were looking like melted gold in the first ray of sun. Such a great beginning of a day. The mysterious land of Shiva, Vishnu, Kartik was there to shower the divine bliss on you.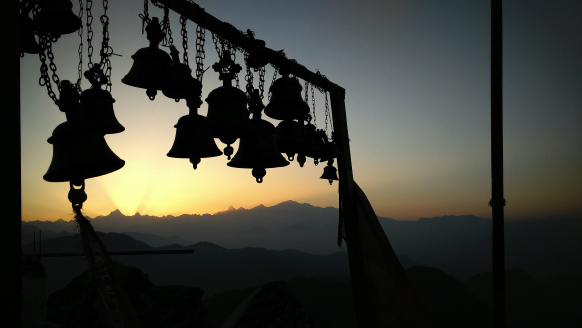 We returned to real world from the trance state as Ravi Jee calling us for the morning Arti. We performed our puja. We felt like the title Uttarakhand is really apt, Devbhoomi- perhaps this is place where you feel the presence of God and you are in heaven.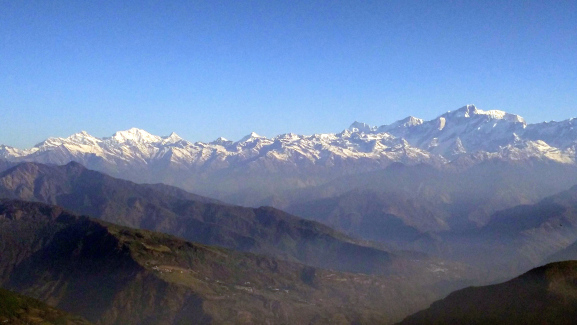 We got down at Kanakchauri and took the returning bus for Rudraprayag at around 10AM.

Nearest Rail station - Rishikesh
Nearest Airport - Jolly Grant Airport (Dehradun)
Best time to visit - October to June
Notable Facts:
*Carry woolen
*If you want to avoid crowd then avoid the Kartik Sankranti time.
*If you are staying in Pujari Jee's house you may give any amount as you wish to provide.
*It is one of the perfect weekend getaway from Delhi
*Forget to the worries, you will enjoy the fullest. :)
***For more information feel free to call me on 8527638093, you can also write to me on alakananda.banerjee25@gmail.com.
You may also visit https://exploreenjoyblog.wordpress.com/