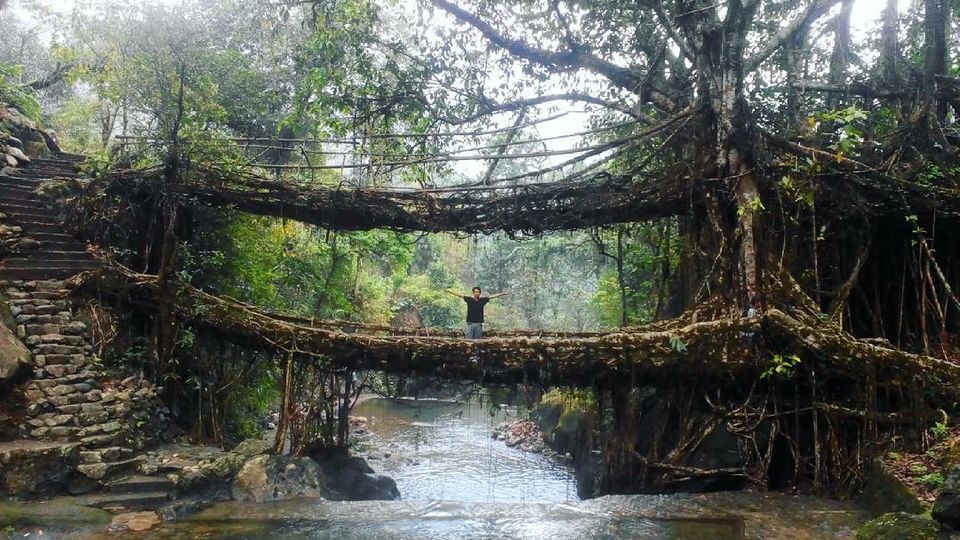 Bridge: A Lifetime Experience
29 Mlr 2019Sandeep BardewaEdit"Double Decker Living Root Bridge: A Lifetime Expellrience"
Deep in the dense forest of Meghalaya, shrouded in clouds and rain for much of the year, are breathtaking natural and man-made beauty. Even the Lonely Planet had once put Meghalaya in its "Best in Asia list of the continent's too 10 destinations to visit". Lonely Planet said: "Opportunities for hiking, climbing, caving and rafting abound ". After decades off the tourists map, people are starting to notice this backwater.
Meghalaya is synonyms to "MAWSYNRAM and CHERRAPUNJI", the wettest places in the world. But Meghalaya has much more to offer to tourists than heavy rainfalls. It has many water falls which give marvelous sight to behold. The famous Nohsngithiang Falls or Mawsmai Falls, popularly known as " Seven Sisters falls", The Nohkalikai Fallsknown for spectacular plunge pool, The Dainthlen Falls, the most picturesque waterfalls, Sweet falls, dangerous yet beautiful. It has many natural caves,Mawsmai Cave, being the famous of all and the recently discovered world's longest sandstone cave named KREM PURI. Meghalaya has more than just a falls and caves, it has an ineffable natural beauty of living root bridges. Beautiful bridges built by engineers are not only practical structure but also stunning pieces of art and architecture but when the Mother Nature herself become an architect, the result is nothing sort of breath taking. Meghalaya is blessed with such beautiful treasure of natural architecture which will blow your mind: LIVING ROOT BRIDGE
Living root bridges are a novelty for many people. These bridges are bio engineered by indigenous khasi people for crossing fast flowing torrents during rainy season. The most famous of all the bridges is UMSHIANG,DOUBLE DECKER bridge of NONGRIAT village that my friends and I chose to trek. It is situated in the vicinity of Cherrapunji(sohra)
We started our journey from Shillong, we were 5 people which you'll get to know once you get into this journey with me.It's a 2 hours drive to the village where the trekking starts. The drive is another blissful experience in itself since the road that leads to the village goes through Mawkdok and Cherrapunji. You can see tourists from different places who have come to visit the place. The Mawkdok is the first view point at outskirts of Cherrapunji where you can see tourists with selfie stick clicking pictures, buying local food,snacks and some even trying zip lining. It's a perfect way of Cherrapunji welcoming you.
Drive is not a drive if there is no music involved in it and we had everything for such ocassion . Personally, I think punjabi songs are the best for such drive. After 2 hours of drive, we finally reached a place to start our trek. We were all set and all the necessities had been taken care of. Unlike other trekking where the toughest part of the trek is usually on the midway or in the end, here the toughest part is at starting point itself. The steepest 3500+ steps that descends steeply and takes nearly an hour to reach to the village. The untouched hamlet could be seen from the steps. I vividly remember what Mohit and Pradeep said when they saw the sight of the village from the top,"I'll settle in a place like this after retirement, distant from the noisy city life."
We were all excited and shouting like anything until we realized that we have been walking down the steps for nearly half an hour and the steps were never seem to be ending. Some people were climbing back and were all drenched in sweats and panting like a tired cheetah after a hunt. We could only imagined how we were going to climb up. The journey of 3500 steps which started with a single step finally came to an end. This has to be one of the best achievements of my life. After taking rest and catching our breathe , we started walking towards the living root bridge. To travelling between trees and forest is the best therapy in the world and the place was perfect for it. The place was calm,there was a sacred groove forest of indigenous trees, you could hear bird chirping, you can hear the sound of the stream or river flowing.It was every nature lovers dream, We still were 5-6 km away from the bridge.
Asish, unlike us , wasn't from northeast. He was from Mumbai and this was his first time to Northeast. I could only imagine how his legs were feeling after walking down 3500 steps. He had come to visit Shillong with my brother Pradeep. Mohit and I are college mate and we had seen almost everything that Cherrapunji and Shillong has to offer in terms of scenic beauty during our college time in Shillong . We used to go for ride to Cherrapunji almost every month with our friends. That was our sweet escape. We used to ride with winds and sometimes with rains. Boishali, the Rani Laxmi Bai from our group, is from Jorhat, Assam and she visits us every year during holidays and musical festivals. So the group itself was diversified in itself. We rested in between ,had snacks , danced and got right back on our mission to see the Double Decker Bridge. The journey to the bridge is not an easy task even after those 3500 steps. We have to cross two small bridges and have to go through village before we could lay our eyes on the bridge. But walking through the forest with the sound of the nature is never tiring . The native villages have recently upgraded from a wooden to steel bridge, but the bridge is a hanging bridge and it can make you go numb on your feet. But it comes with a beautiful sight. The constant swinging of the bridge and the sound of the water makes it even better to cross, something every traveler can relate to.
You can also see tourists lying on the rocks and getting tanned. After walking and crossing the bridges, we were almost there. We could small kids greeting us, tourists taking rest on the hotels, the constant sound of the water flowing. After walking for another 30 mins we finally reached what we had come to look , " The Double Decker Living Root Bridge." To see something in pictures and to experience something in person is completely different. It was breath taking to see something like that. The mother nature never ceases to amaze us. Though we were tired and were dripping with sweats yet we were contented. The small falls was a bonus. We see people swimming and smiling with delight. After clicking the pictures, we decided to swim, and I was the first to get into the small pool under the Double Decker bridge. The best part of getting inside water was free Foot Fish Massage. Spoiler Alert! YES! When you go there even if you don't swim, just put your foot inside water and you will be given a foot massage for free by mother nature. Just like mom, Mother nature knows when her children are tired and offers Foot Massage to relieve the pain in a way that leaves us speechless . We were happy that nature has so much to offer to us in a way that we can never imagine.