Indian Army stands as an epitome of adherence to duties. The story affiliates to a Major of Indian Army who has not been delinquent in his duty to safeguard the Indian border even after his death. As bizarre as it sounds, it is a tale testified and recognized by none less than the Indian army itself. In Sikkim, along the Indo-China border there is temple dedicated to a dead soldier who is believed to be patrolling the border even after his death.
Harbhajan Singh was born in 1941 in Sadrana village in Gujjarwala district of erstwhile Punjab. He died in 1965 at an young age of 22, while serving in the 23rd Punjab Regiment as an adjutant. On a ill fated night, he slipped into a glacier while leading a column of mules carrying supplies. His body was recovered after three days and it is believed that he guided the searching troop to his mortal remains. Later he appeared in the dreams of one of his comrades and asked to construct a memorial dedicated to him. This memorial over the years has acquired status of a temple and Harbhajan Singh has been accepted as a saint.
Few eerie facts about Baba Harbhajan:
Babaji is still enrolled as a Major in the Indian army and his monthly salary is sent to his family members.
The room of Babaji has all necessities like bedroll, table, water bottle, mirror, an umbrella, clock, etc. just like any other soldier. His uniform is neatly ironed and shoes are polished everyday. On some days, army men have reported to have found mud on the shoes and crumbled bed sheets.
Babaji is allowed an annual leave in September. During this time, his luggage is packed and it is sent to his hometown in Dibrugarh Express from the New Jalpaiguri station. During the entire journey, the berth allocated to him is left empty. He is also accompanied by two other soldiers in his journey.
Even the Chinese army accepts the presence of Babaji and places an empty chair for him during flag meetings between the two sides.
Baba Mandir can be reached from Gangtok. The Jawaharlal Nehru road connecting Nathu La, bifurcates about about 4 kms before Nathula to the Baba Mandir. This Baba Mandir is not the original temple. It was constructed in 1982 for the convenience of the visitors and now visitors are not allowed to the original Baba Mandir from the Nathula side. I visited this temple while on the first day of my Gangtok trip in which I visited Nathula pass and Tsomgo lake as well.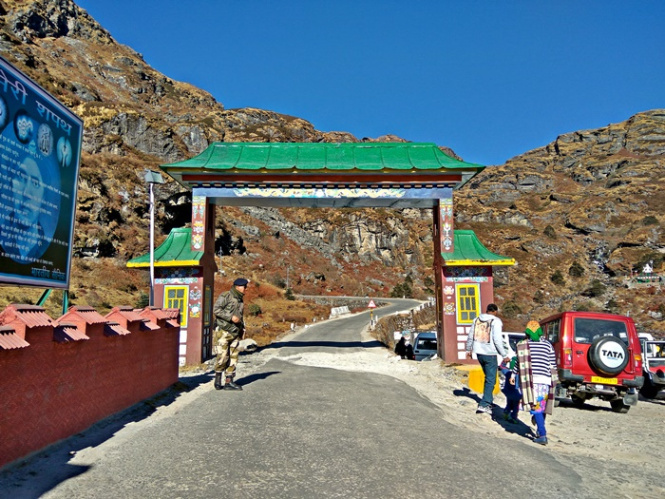 The Baba mandir is a small temple with tapered roofs.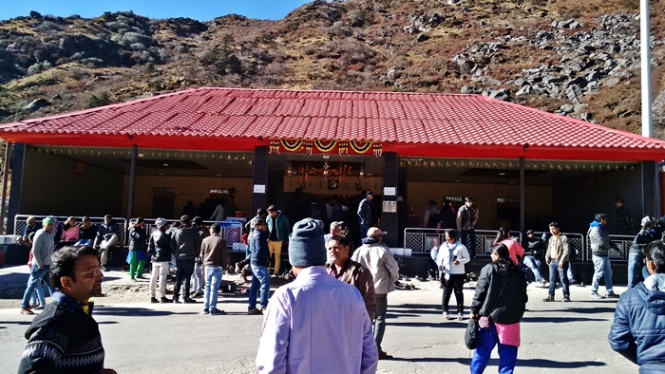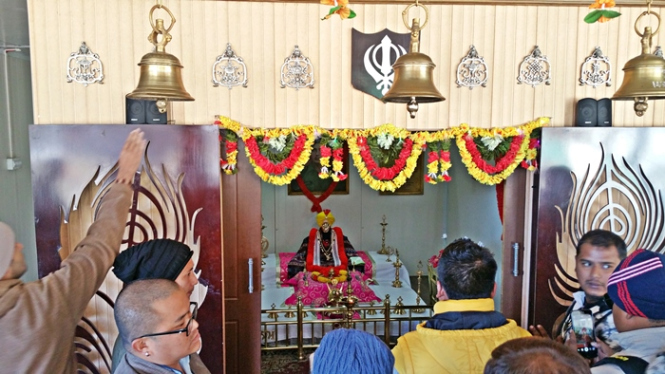 In the main room, there is a brass idol of Baba Harbhajan in sitting posture, placed on a bed surrounded with golden railings. He wears a turban and has a scarf over his shoulders. There is a half photo of Baba in army uniform hanging on the walls.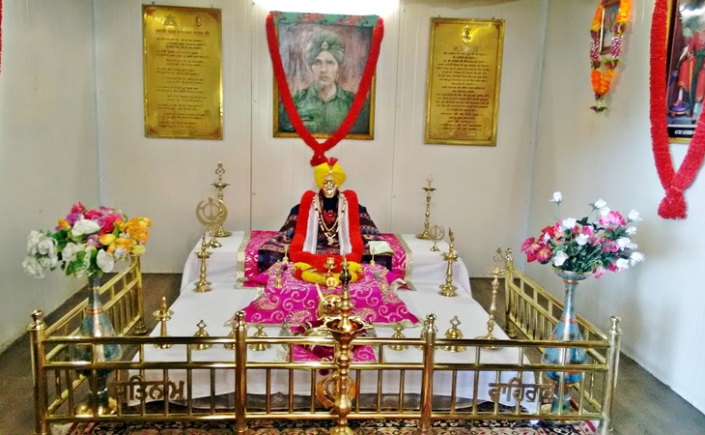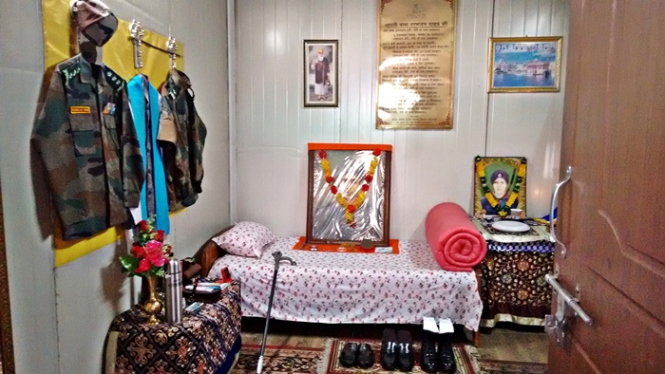 The temple also has a resting room and an office for Baba Harbhajan. In the resting room, you can see the polished shoes and ironed uniform of Baba Harbhajan Singh. There is a small bed, a table, an umbrella, a water bottle, a clock and a mirror on the wall.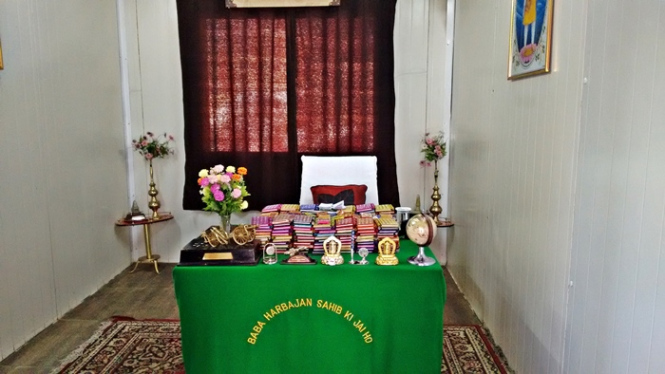 The office room for Baba Harbhajan which has a table with few books and trophies on it.
There is another room where you can see a framed photo of Baba Harbhajan and plastic bottles filled with water. There is a belief that a bottle of water kept in front of Baba Harbhajan for 10 minutes can cure all ailments if consumed with proper devotion while following the rules. In this room, you can find water bottles kept in racks with labels of different regiments. Perhaps these bottle will be sent to the respective regiments as blessings of Baba for curing the soldiers.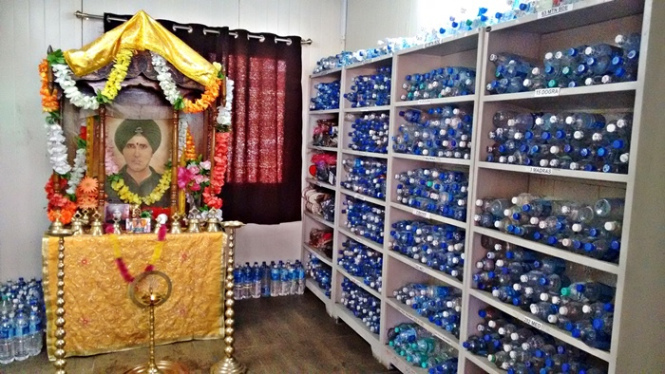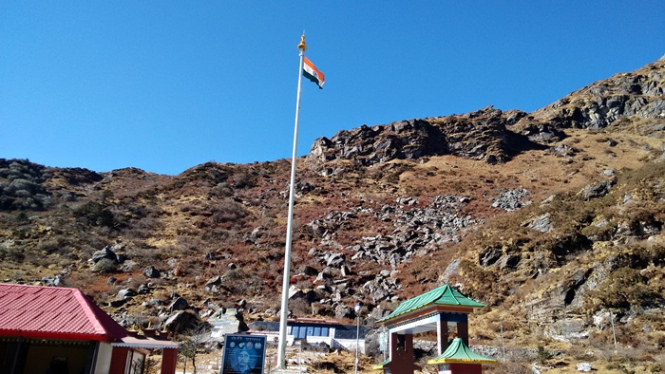 Behind the temple, there is an Indian national flag unfurled on a very high mast.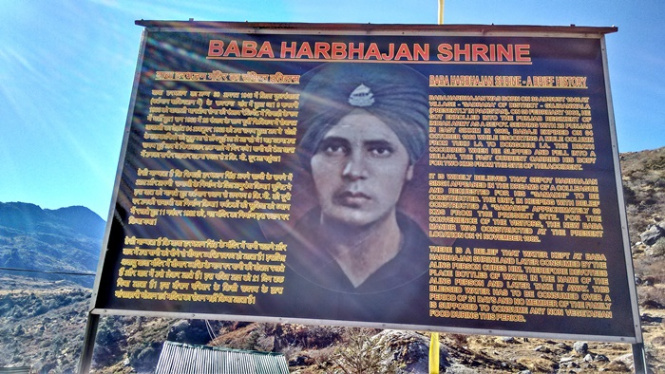 I was curious to visit Baba Mandir ever since I have heard about the legend. I am glad to have visited it during my Sikkim trip. Some people disparage it as superstition but when you see army personnel distributing prasad and serving baba in this temple, it definitely makes you think beyond rationality. If you are visiting Nathula, make sure to drop by this temple as well; anyways, a day trip package to Nathula comes along with Baba Mandir and Tsomgo Lake. Hope you liked this post.. Please share your views in the comments section below. Stay tuned for more articles.. I would like to end this post by paying my tribute to this brave soldier with an excerpt of a gazal written by Jagadamba Prasad Mishra:
शहीदों की चिताओं पर जुड़ेंगे हर बरस मेले
वतन पर मरनेवालों का यही बाक़ी निशाँ होगा