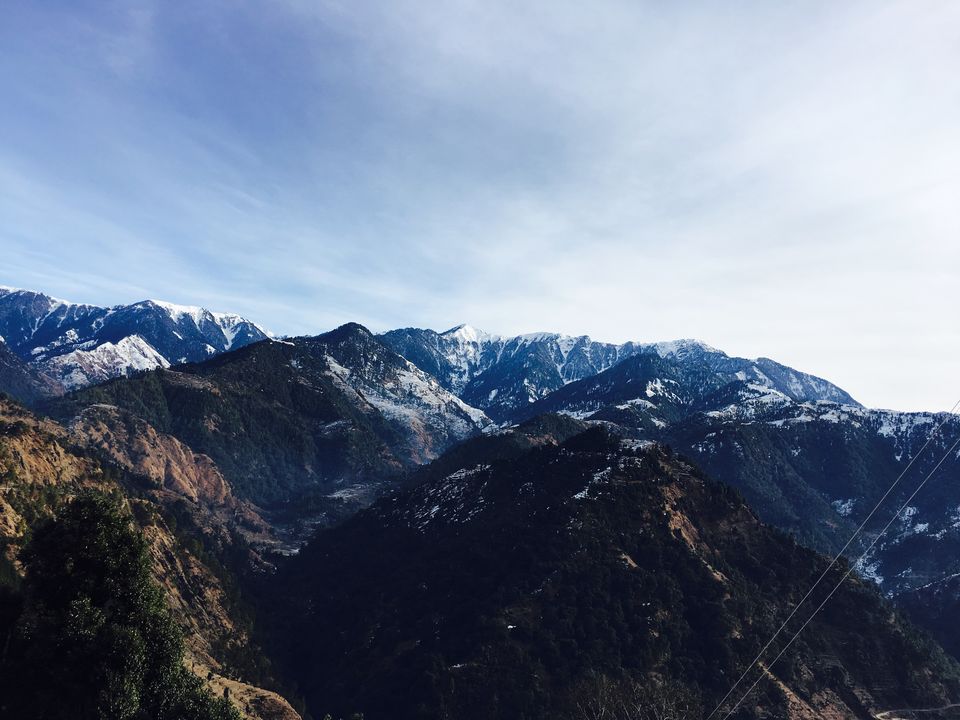 Just 2 days passed by my Jodhpur trip and here I was, yet again with my bag pack. Next destination was 'Himalayas'. I was very excited for this trip because neither snow nor winter were the part of 'Amchi Mumbai'. The feeling that my body will drive through extreme cold conditions were giving me jubilant vibes. Yes, I worked pretty hard in my office for this 2 days so that I could complete my work before going. Since it was my fantasy expedition I had to ask for two days leave, which my supervisor readily agreed. May God bless such extraordinary soul.
This trip was planned with my office colleague who was from Delhi and is a Punjabi. Let me tell you Delhi - Punjabi is a deadly combination.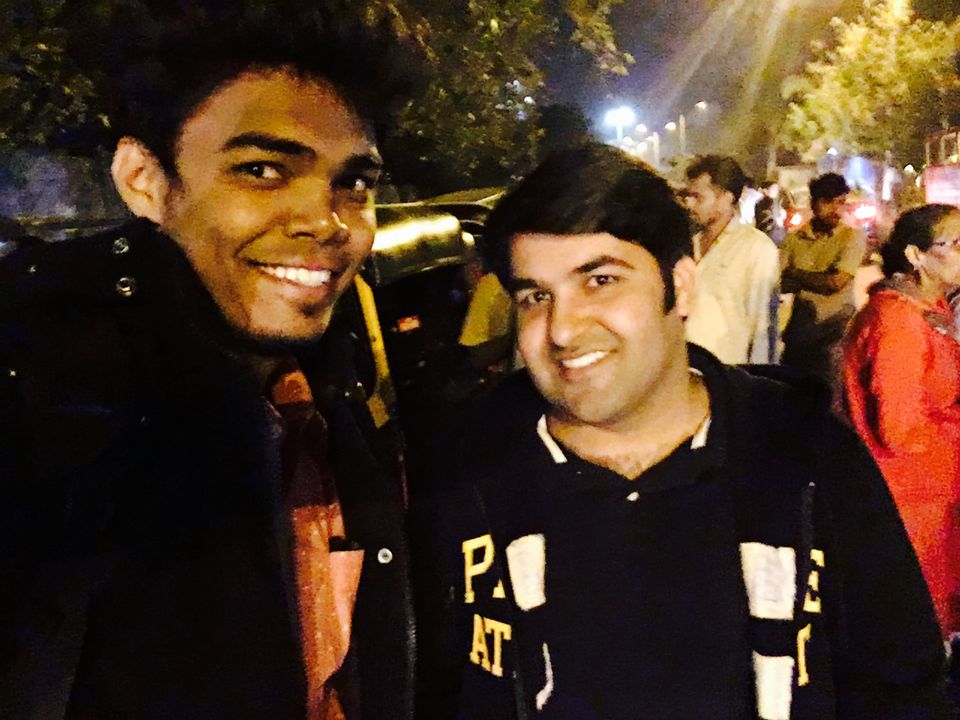 It was a Wednesday, we had to leave in the evening. Flight was scheduled at 22.20. We left by 1900 and after a cancelled Ola cab, we finally got into Ola share by 1930. As per Mumbai traffic calculations we assumed that we would reach airport by 2100, but no, all citizens of Mumbai had to hit the roads that day. It was a traffic nightmare in Powai. However our cab driver over the period of time realized that these fellas need to reach airport before take off. He just made sure he owns the road and got us to airport by 2130.
After 45 mins of airport rituals we managed to grab burgers from KFC so that my stomach didn't feel 'Forever Alone'.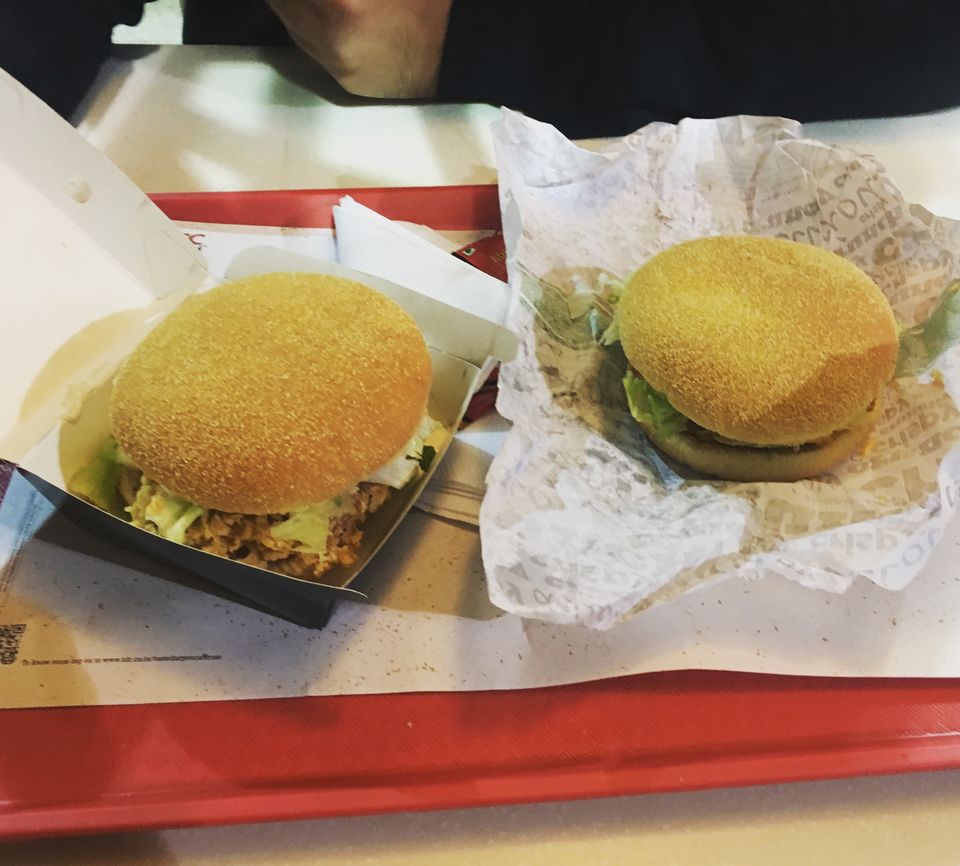 Later we realized that flight was delayed by an hour. Uff! I was already tired but people on airport never fail to entertain you. This time it was a verbal fight between 'GoAir' officials and frustrated customers.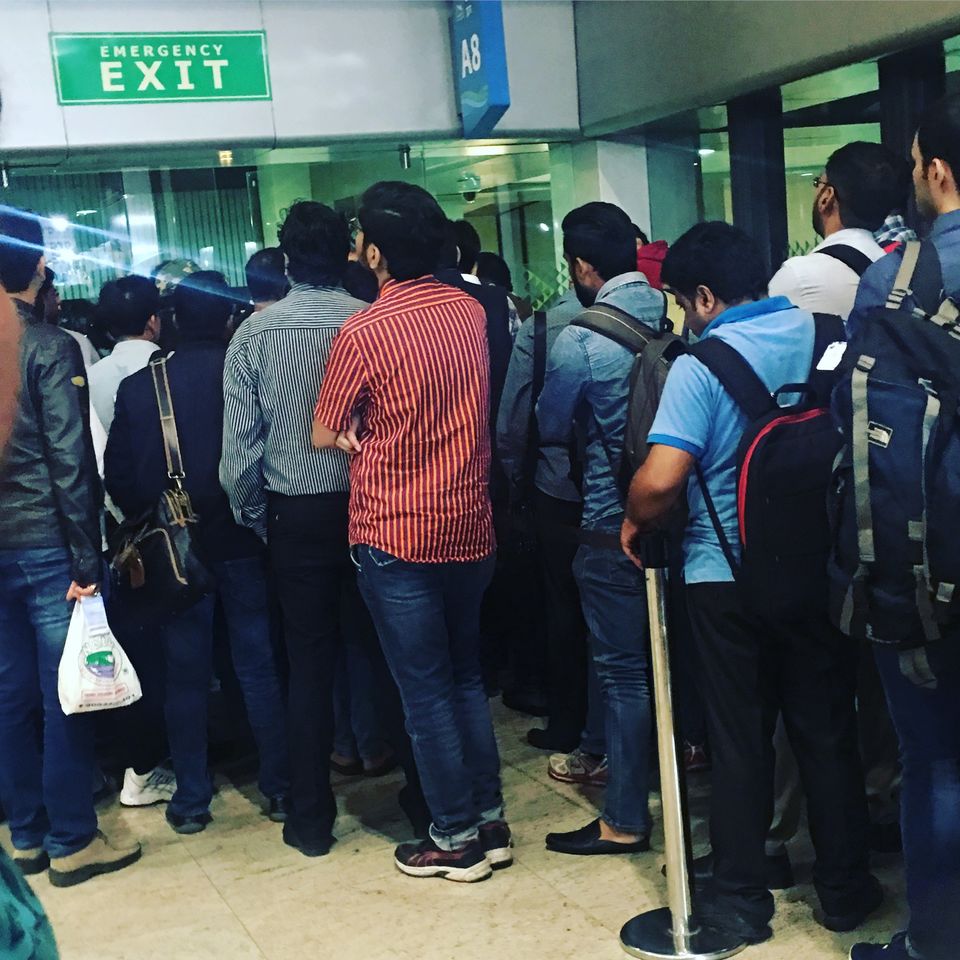 Lastly the boarding begun and I thought finally a end to tiresome day. But wait, GoAIr officials sniffed my happy thoughts an made sure I suffered some more. I was assigned a 31F seat, but air hostess made me realize that 30 is what they have in flight. With me 3 other people were assigned the adjacent seats. But before takeoff and after changing my seat thrice they finally managed to give me a middle seat.
After 2 sleepy hours we reached Delhi and the announcement was made "Outside temperature is 7 degree Celsius". I couldn't't resist myself to get down first and feel the chilly weather.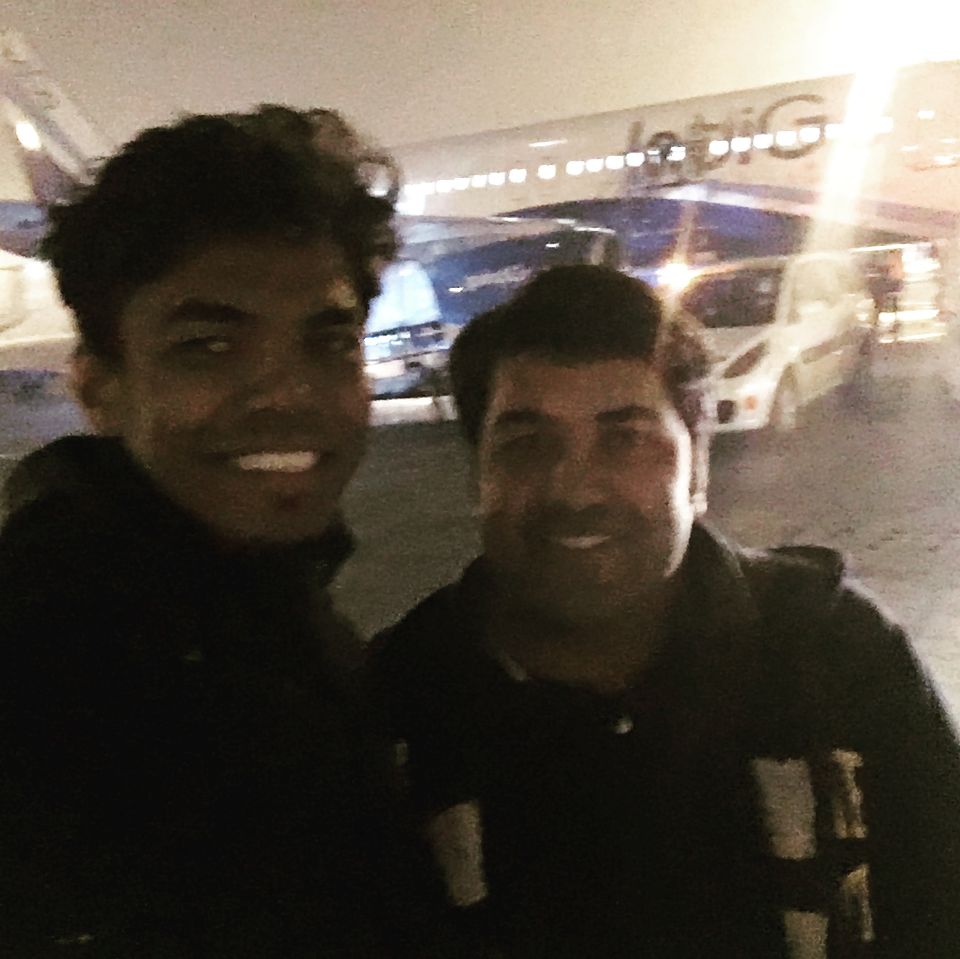 I could barely walk in such cold weather. Booked a Ola and reached my friends place where we had a goodnight sleep before the start of our himalayan expedition.
Started our day at 7, we had planned that we will eat parathas at Sukhdev in Murthal, but dare you deny the breakfast to Punjabi Moms. His mom made splendid breakfast and before reaching the last bite of the supper I was already full.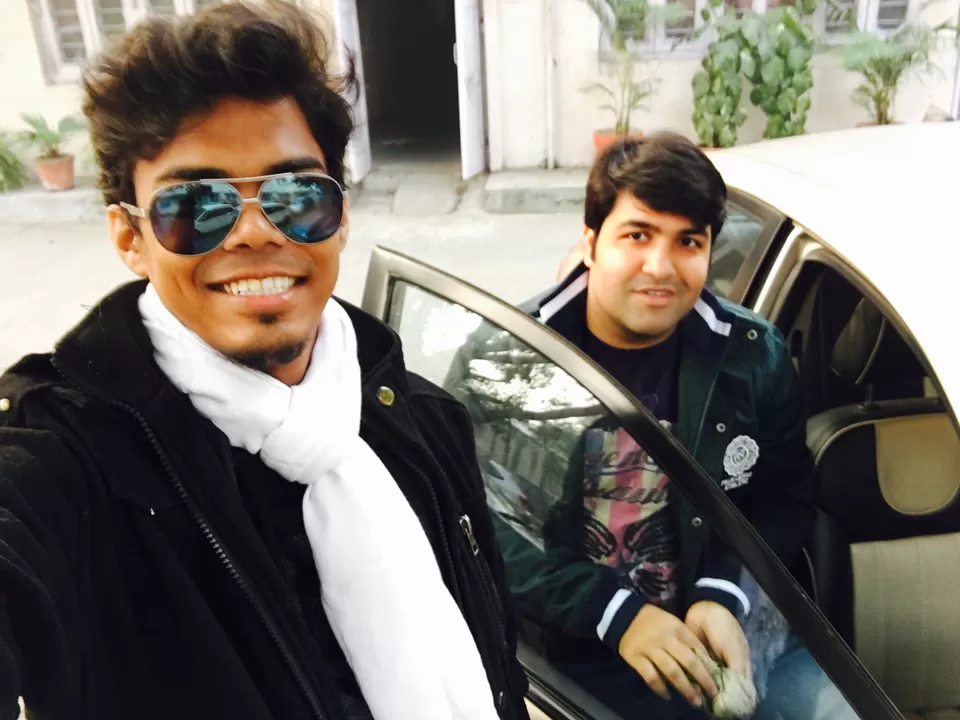 Left from his place at 8. Two more friends of his were gonna join us. 1 from Delhi other from Chandigarh. Both PUNJABIs. Yes you can figure out the playlist now.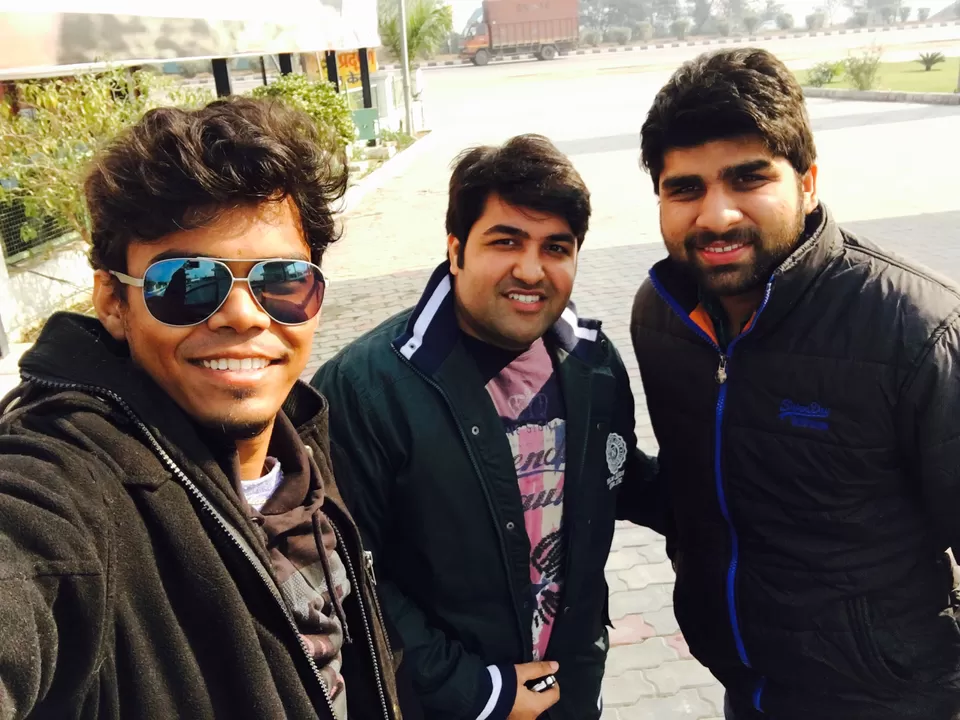 Picked one from Rajiv Chowk metro station and headed to Chandigarh. Still we didn't have a plan as to where to head from here. It was a flexible tour, no hotel bookings, no sightseeing. Just find snow and enjoy was the moto. After 250kms and 2 Facebook check ins, we reached Chandigarh to his 2nd friend's place. Again a delicious food by Punjabi mother.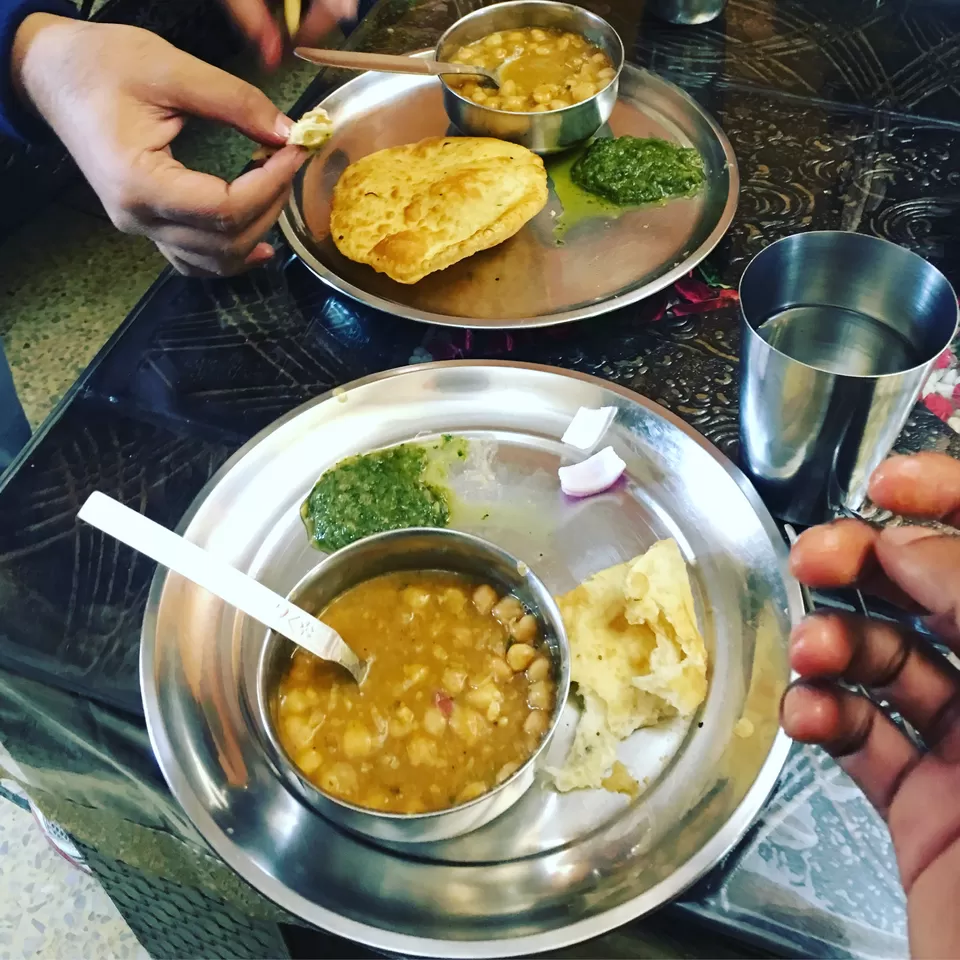 Till now just 150/- were spent on food which was at the airport the other day. A bag pack traveller like me will surely like this equation.
By 1430 we left Chandigarh and headed for Dharamsala. Punjabi songs started to look like a fourth dimension to me by now. Forget time, I started counting the distance on number of songs played. after 45 punjabi songs out of which 17 were repeated twice and 9 were repeated thrice we almost reached Kangra to grab a tea and experience the beautiful moon.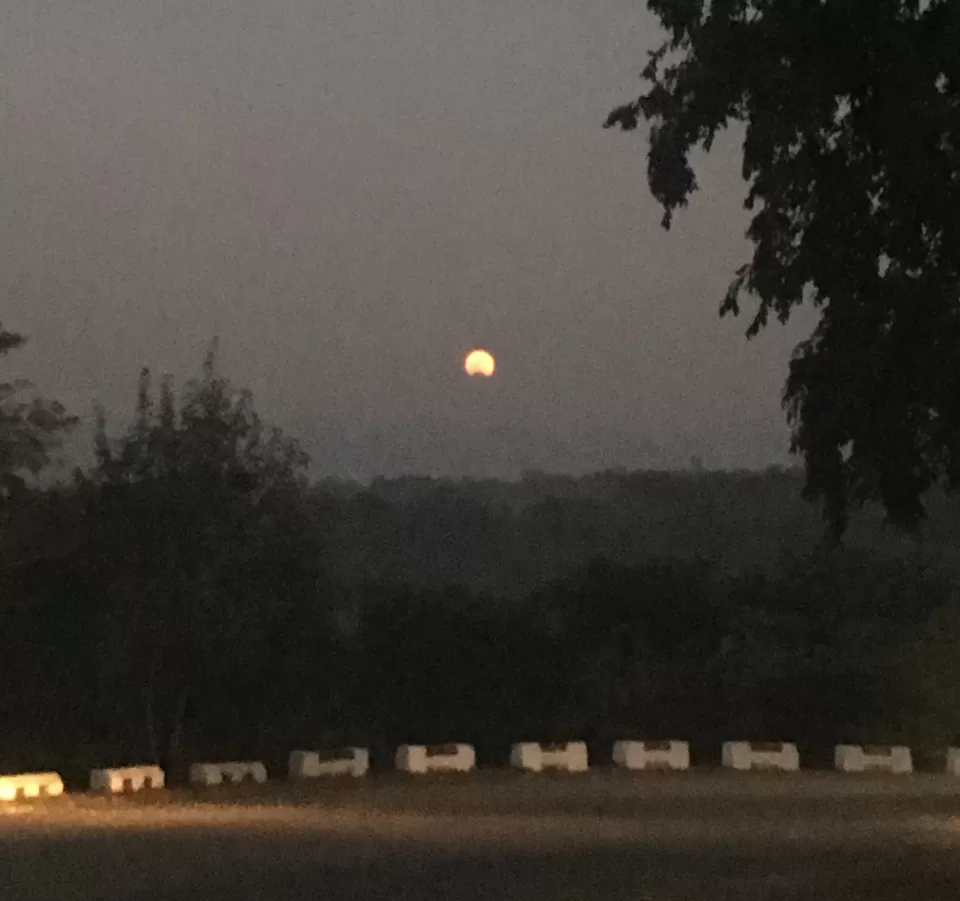 And then after 17 Punjabi songs we reached Dharamsala. It was cold, around 2 degrees but snowfall still could not be found. We stopped by a Himachal Pradesh tourism hotel named Kunal. They gave us a room for 1300/- for 4 people. Fair deal. Room was very spacious and had a balcony.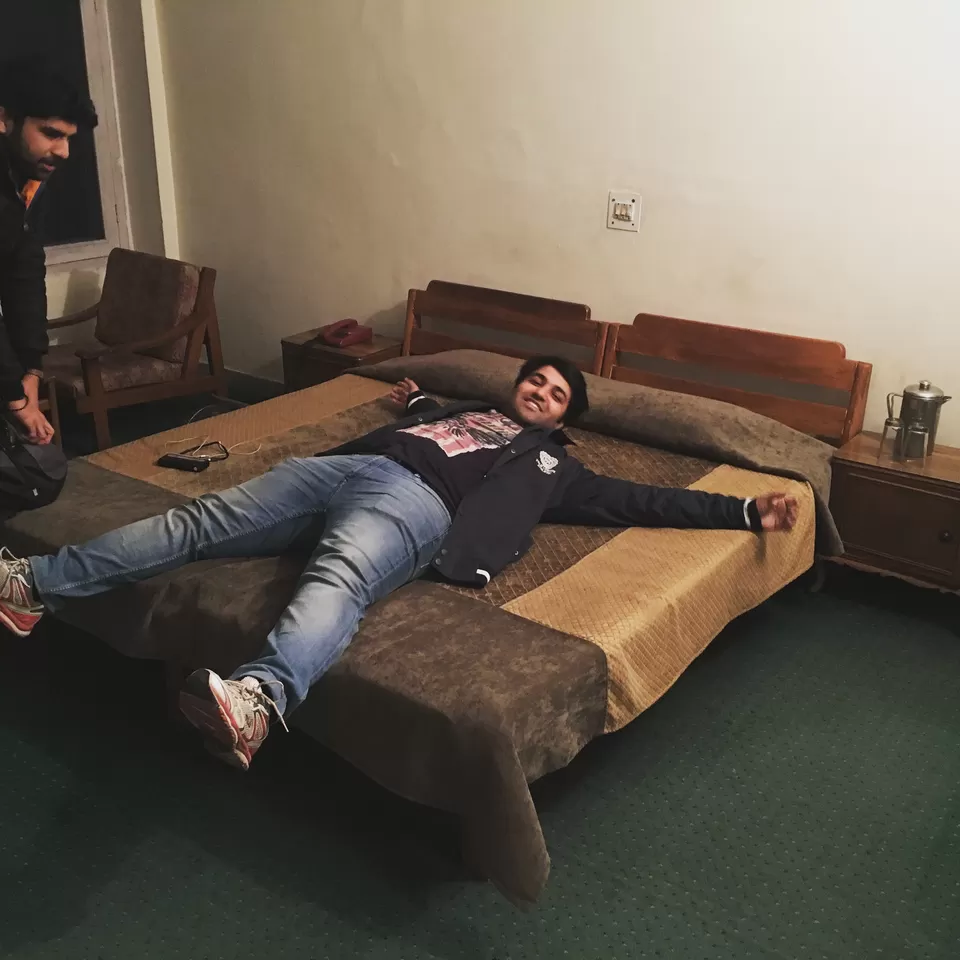 We settled there, ordered food and after 2 hrs of long talk, we adjusted ourselves in 'Razai' and slept making promises to each other that we will start early in morning.
As usual nobody was up until 8. Later we had to hurry up since we had to explore few places and travel in evening. as soon as i came out of hotel i saw the first snow on mountain.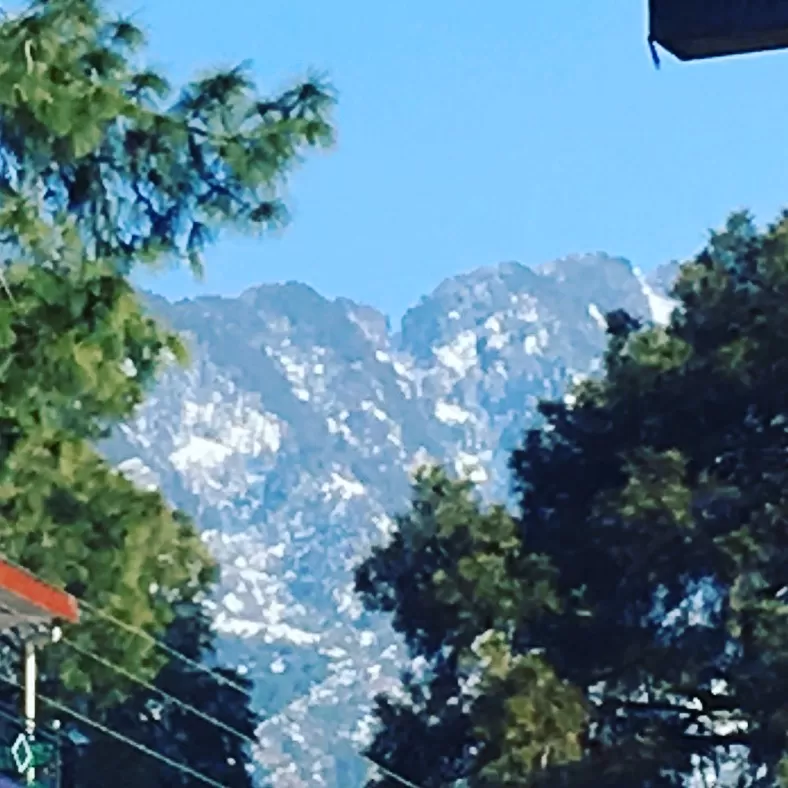 My excitement rose by 200% now. I was eager to see the snow beds of Himachal. We started heading towards Mcleod Ganj. Its 20 odd kms from Dharamsala or I must say just 7 Punjabi songs away. Still we didn't discover any snow by the road. Locals said the snow was further 4 kms ahead of McLeod Ganj at a place called Dharamkot. Its a start point of very famous 'Triund Trek'. Roads were bad, we parked our car sideways and started trekking.
Though the trek was picturesque, I still haven't had stepped on snow.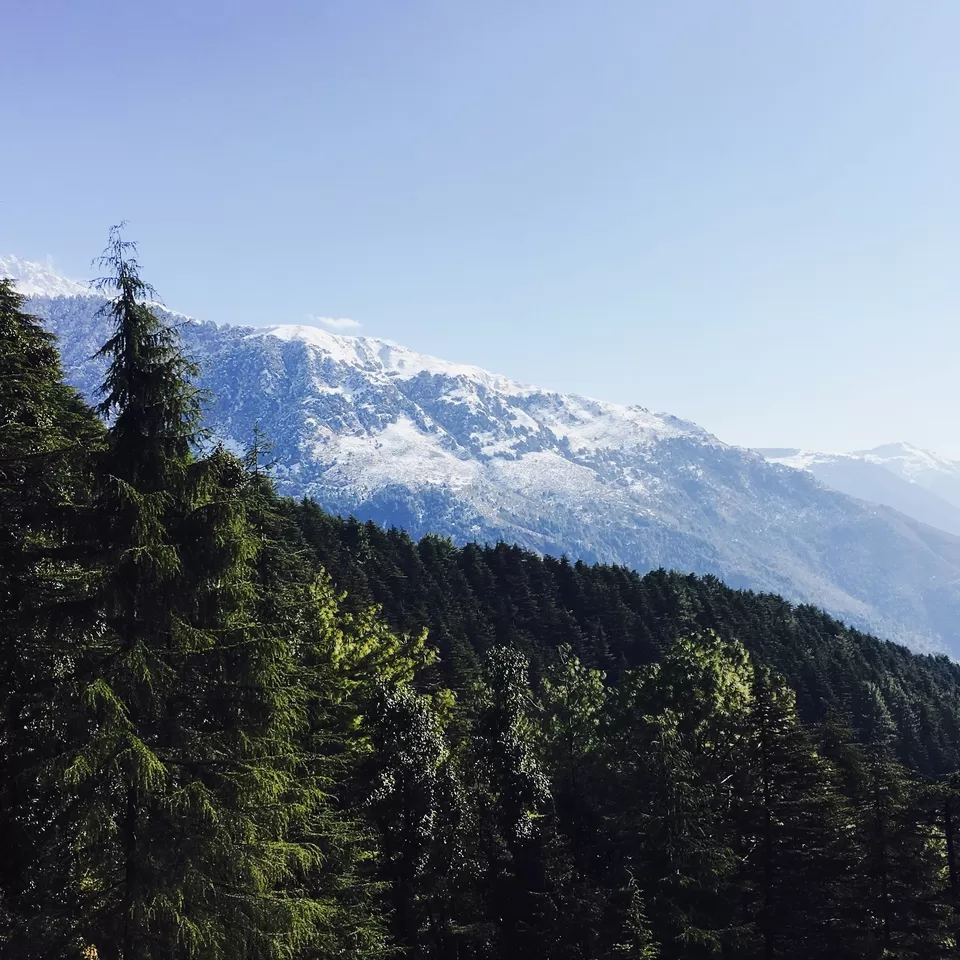 Gradually after walking for 20 mins, we started seeing snow on the road sides. It wasn't the wow factor but atleast we found something. We stopped by a place to have maggi and tea. Few drivers were discussing the snowfall at Dalhousie. I wished we were there. After clicking few pictures we started walking.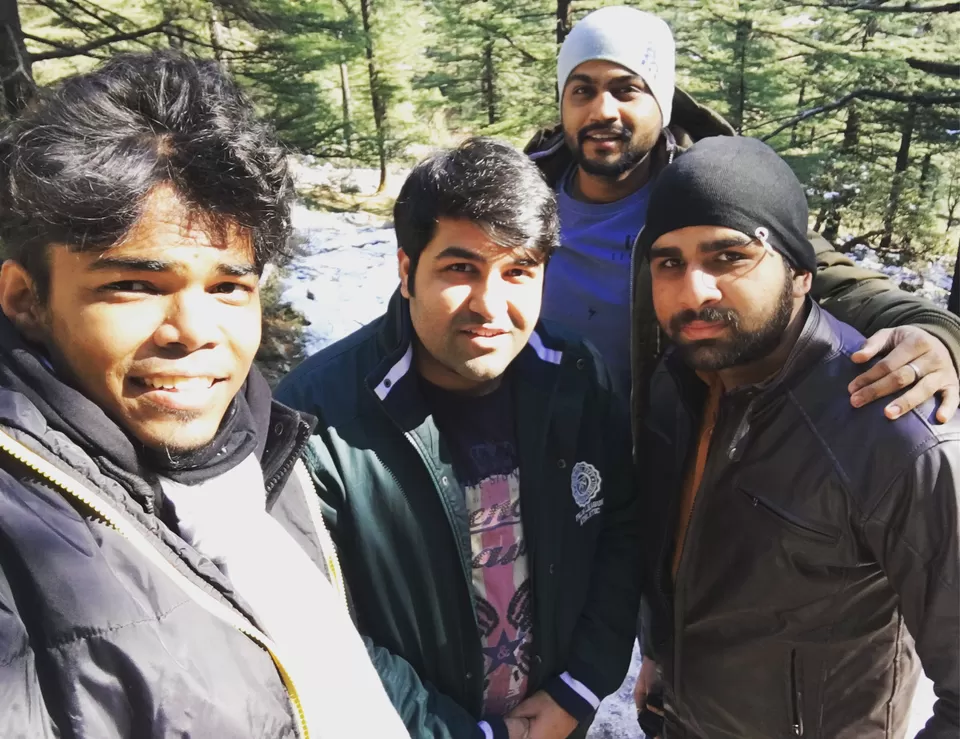 Finally we discovered considerable amount of snow to click picture on. The view of the valley was breathtaking. We started walking on the snow clad roads. Clicked many pictures and played a lot.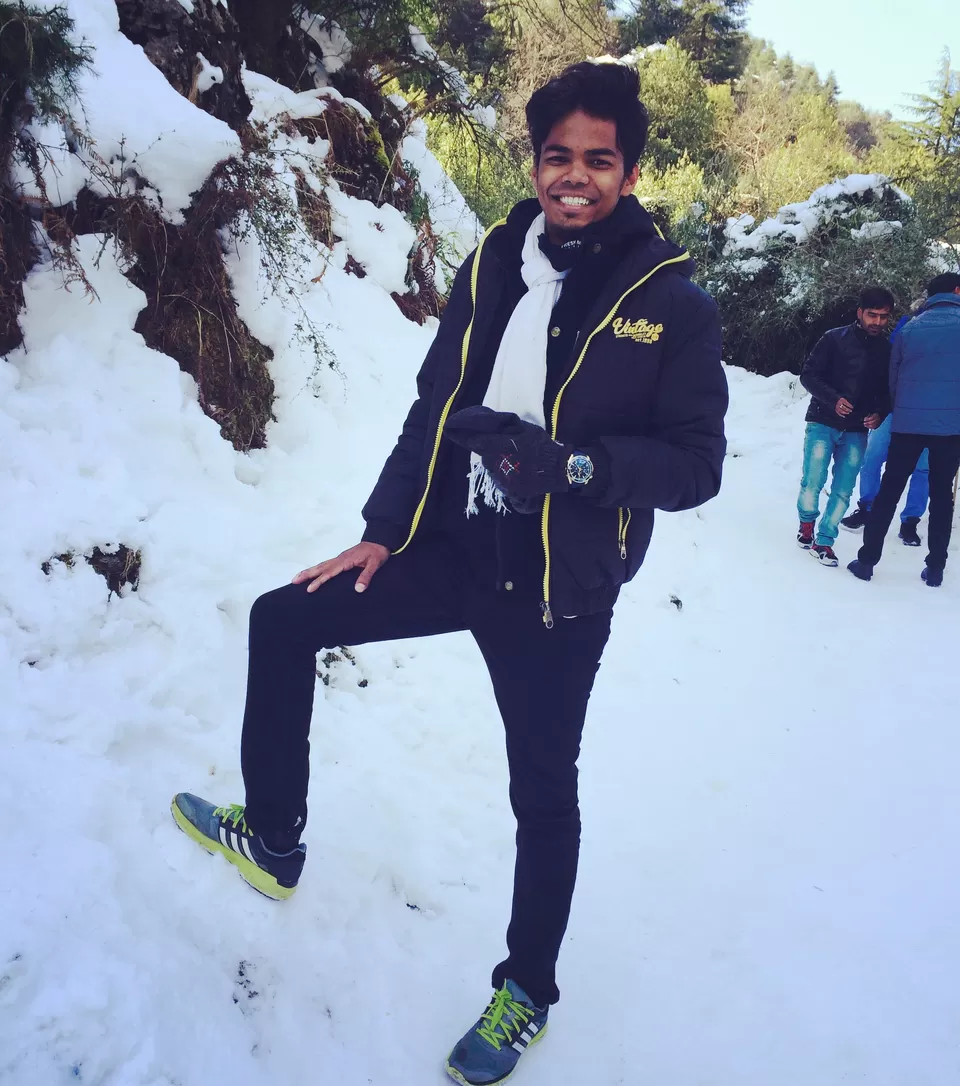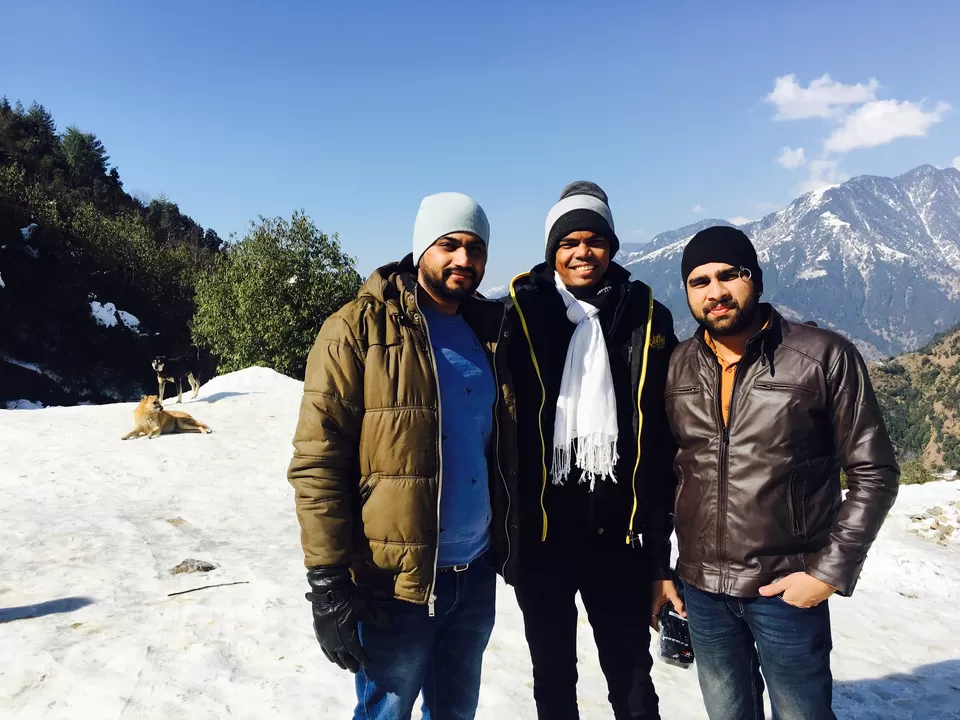 Still my hunger for snow bed was pending. After consoling my heart and discussing with my office friend we agreed that next day we will head to Shimla from chandigarh. So that worked for me at that time, since I knew entire shimla was white.
We came down to McLeod Ganj to have food in Nik's Cafe. This one was suggested by my supervisor.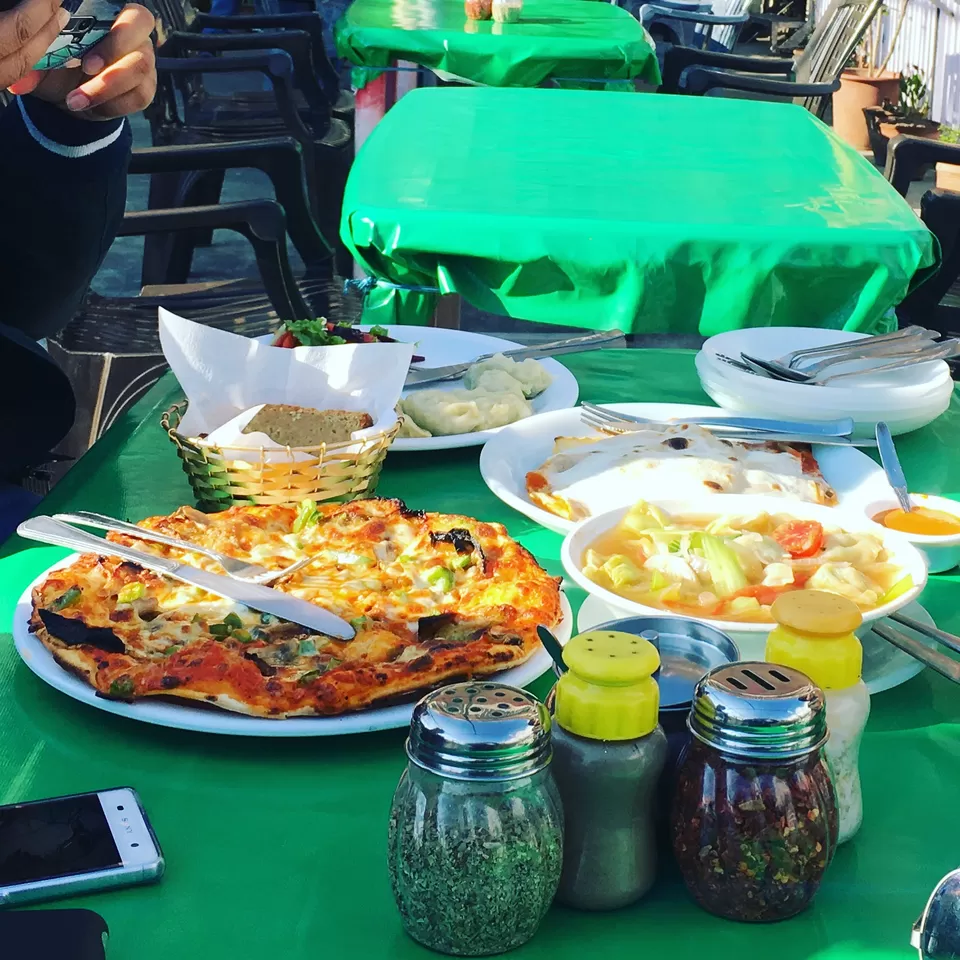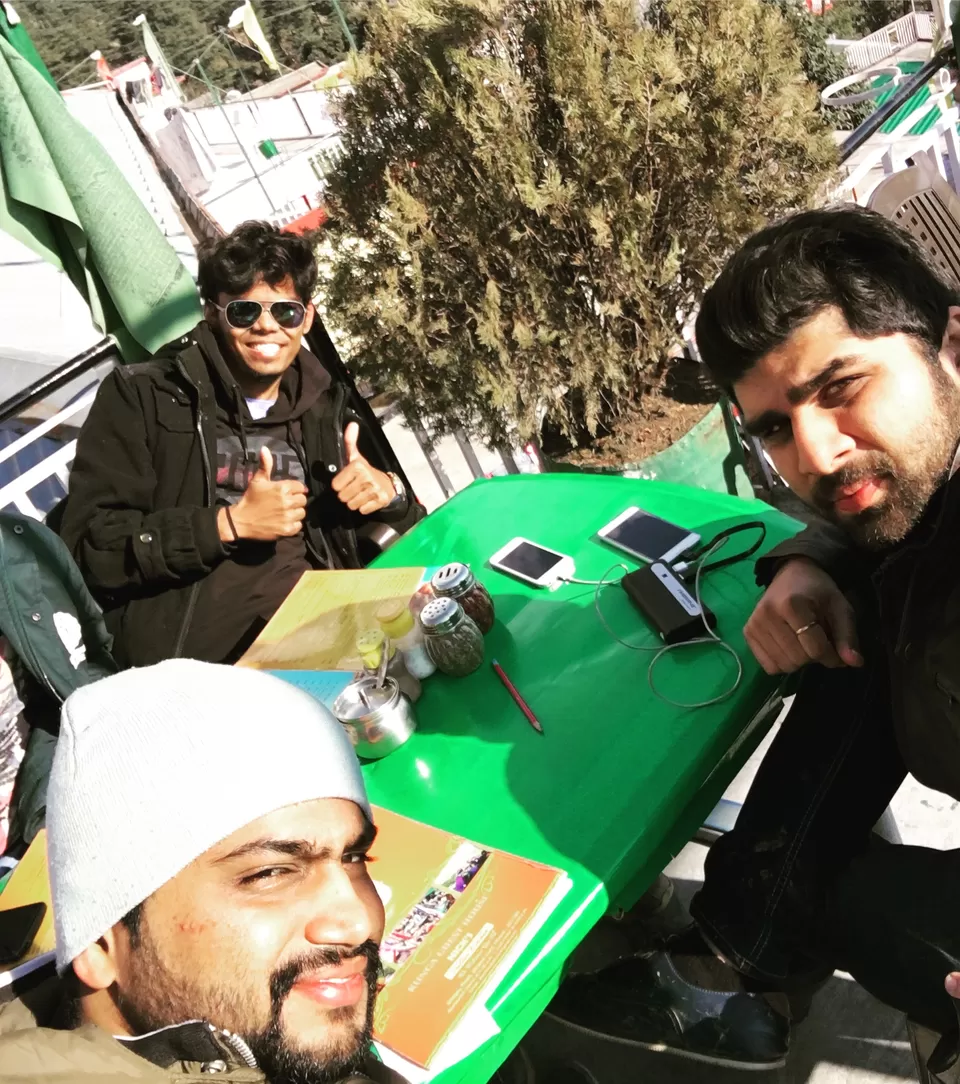 After having super Italian food and experiencing the snow clad mountains from restaurant table we started our journey towards Chandigarh. This time we thought of taking another route through Palampur. His other 2 friends had to reach Chandigarh next day for some work. But we both still wanted to experience healthy snow. So later we thought of going Kullu and head to Chandigarh next day. But it was getting dark. We stopped by for tea. We inquired their for snowfall at nearby places. A guy told there was a heavy snowfall in Barot since past two days. It was 25 kms away from this team stall.
We thought of giving this place a chance. I was still not convinced. But as soon as we took the turn from Ghatasani for Barot, hill ascend started. The roads were nearly 30 degree inclined and heading straight to the mountains. Gradually we started seeing snow by the road side, which was recently moved by the bulldozer.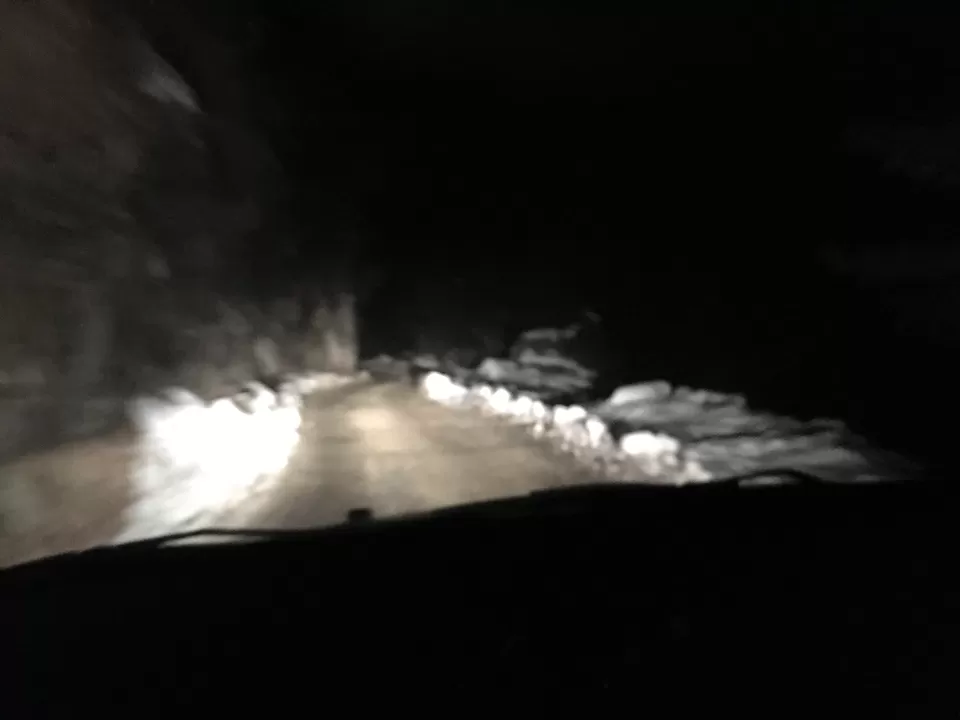 Then we were at a certain height on the mountain, and it was a full moon day. Believe me, I never had seen such breathtaking view of nature in my entire life. We could see huge mountains along with coniferous trees covered in snow. The moonlight falling on those mountain was simply astonishing. I wished I had a night vision camera that day.
Now my excitement had reached a whole new level. Though it was dark we could see ample of snow in moonlight. Barot was just 15 kms away from the turn that we took at Ghatasani but it took us 1.5 hrs to reach there.
Finally managed to get a good hotel at 2000/- for 2 rooms. Hotel was near Uhl river. The river was almost frozen. The temperature was a staggering low.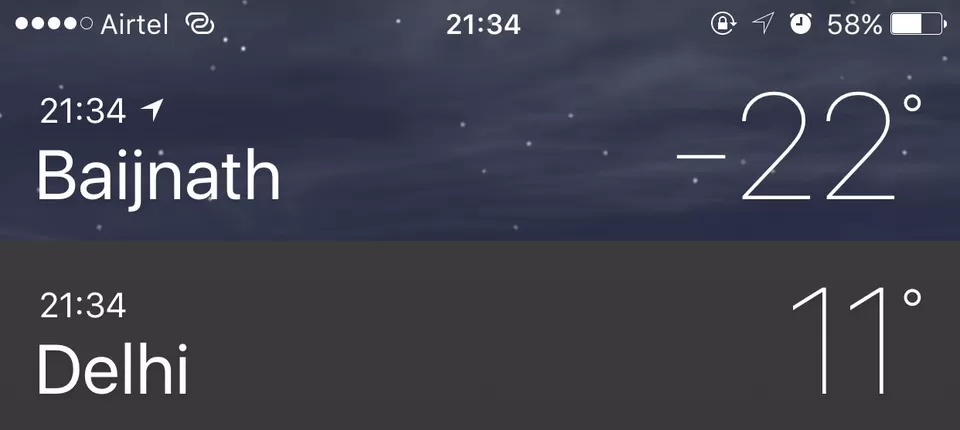 I had not been in such extreme condition ever. I was wearing 3 T-shirts and 2 Jackets to keep myself up for this expedition.
The host made us very tasty food on Lohri day. We celebrated Lohri by the bonfire near river. It was an excellent experience.
After burning two heaters we grabbed the Razais and slept.
What a magnificent view as soon as I got up. I could just see white mother earth.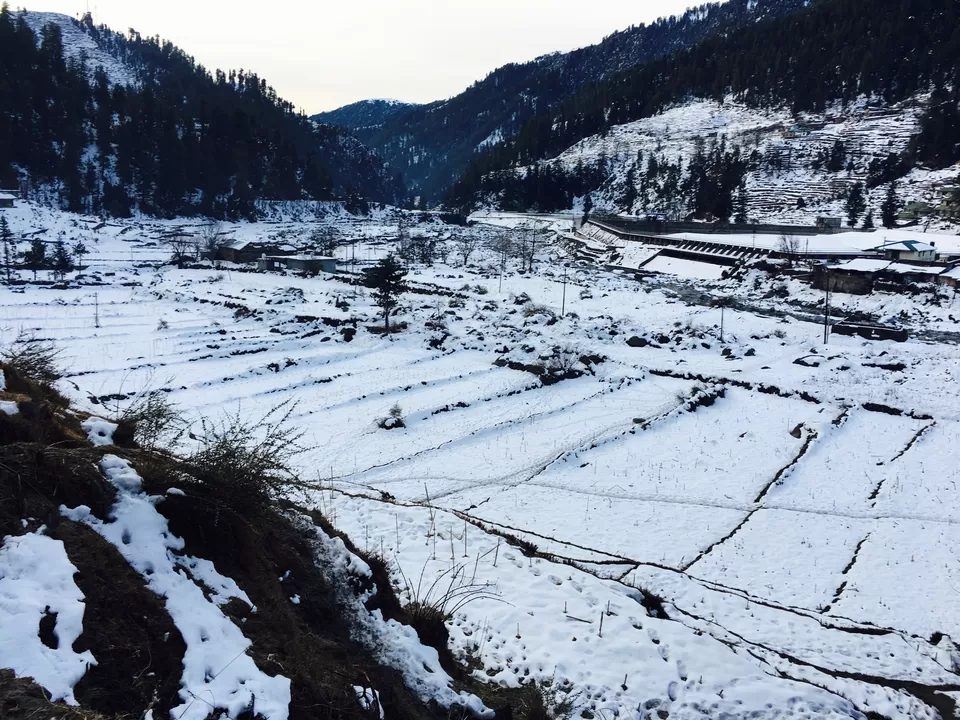 Taps in the bathrooms were just giving ice, no water. Somehow we got freshen up and left for the day to explore this place.
Thick ice layering was all over the car, took 30 mins to remove those layers. Then as we started the journey in car, we came across numerous breathtaking views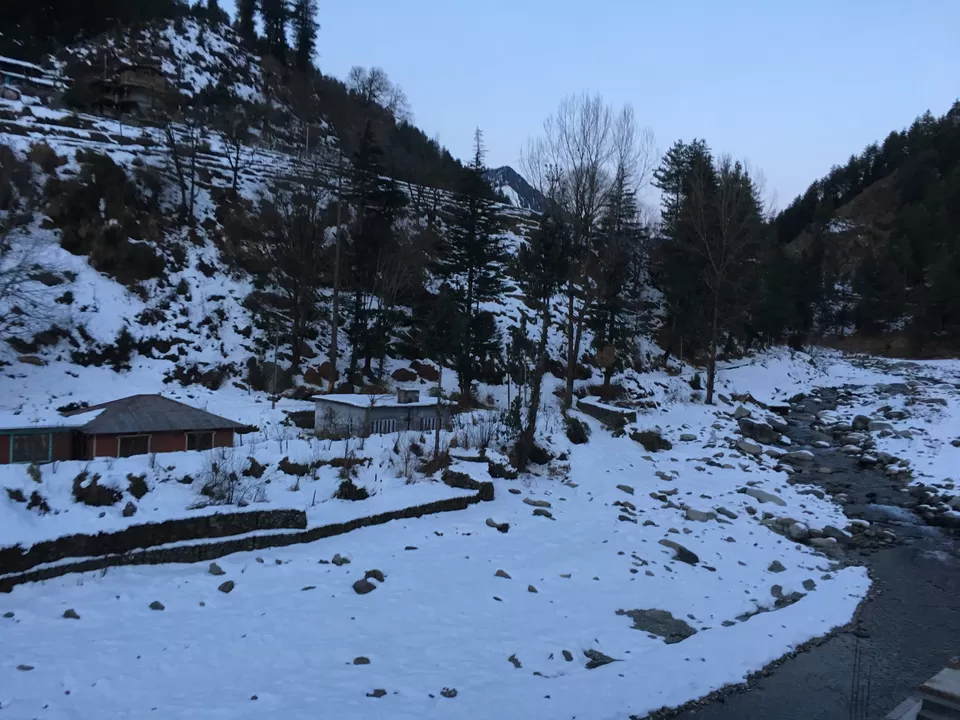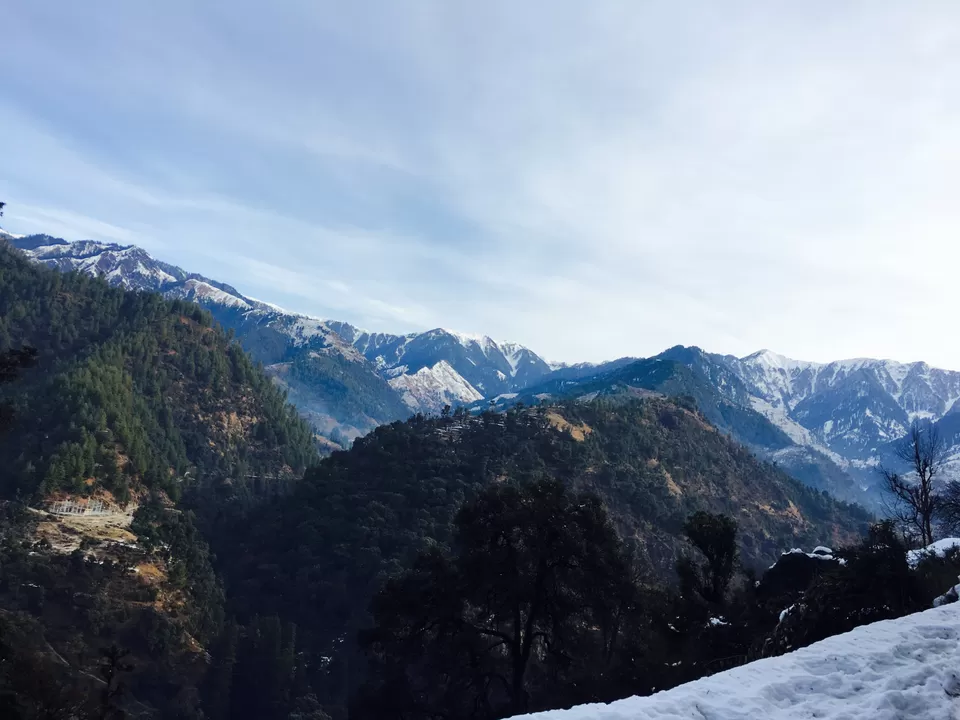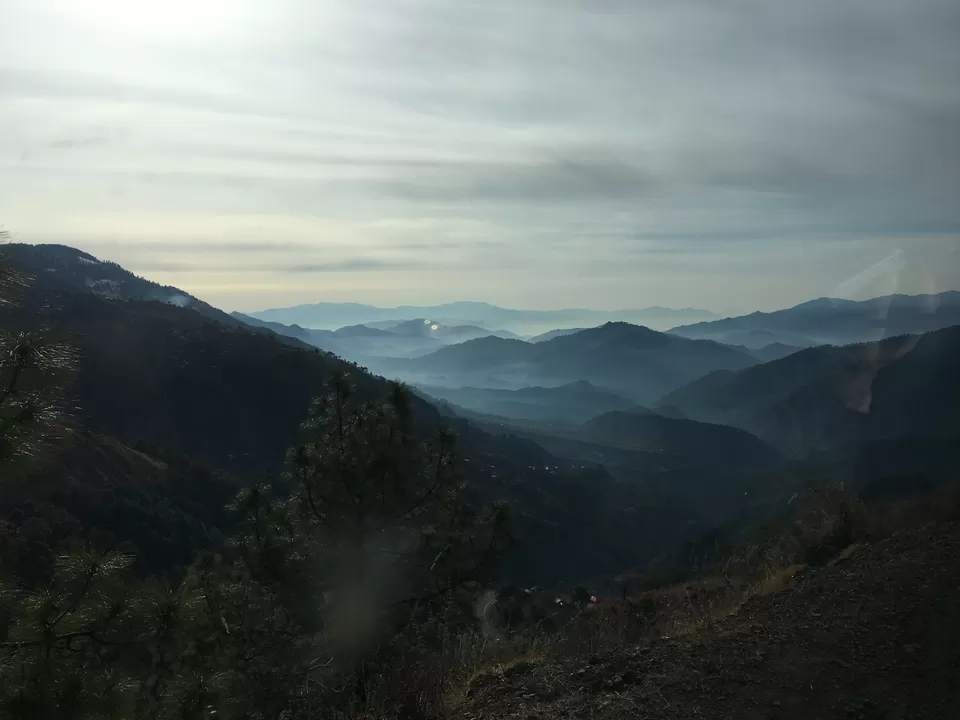 We stopped by a mountain farm which was entirely white. Clicked few pictures and played with the ice.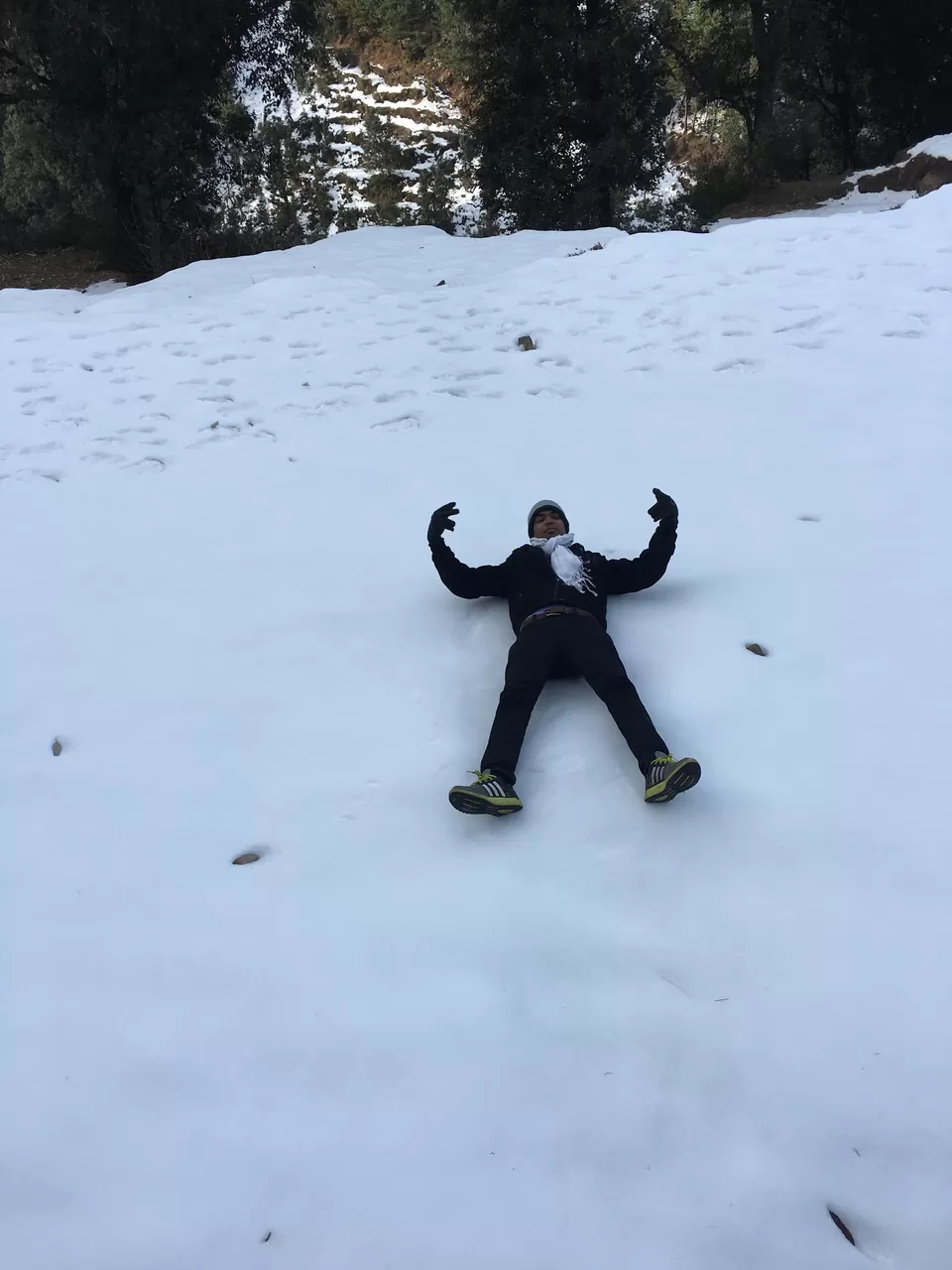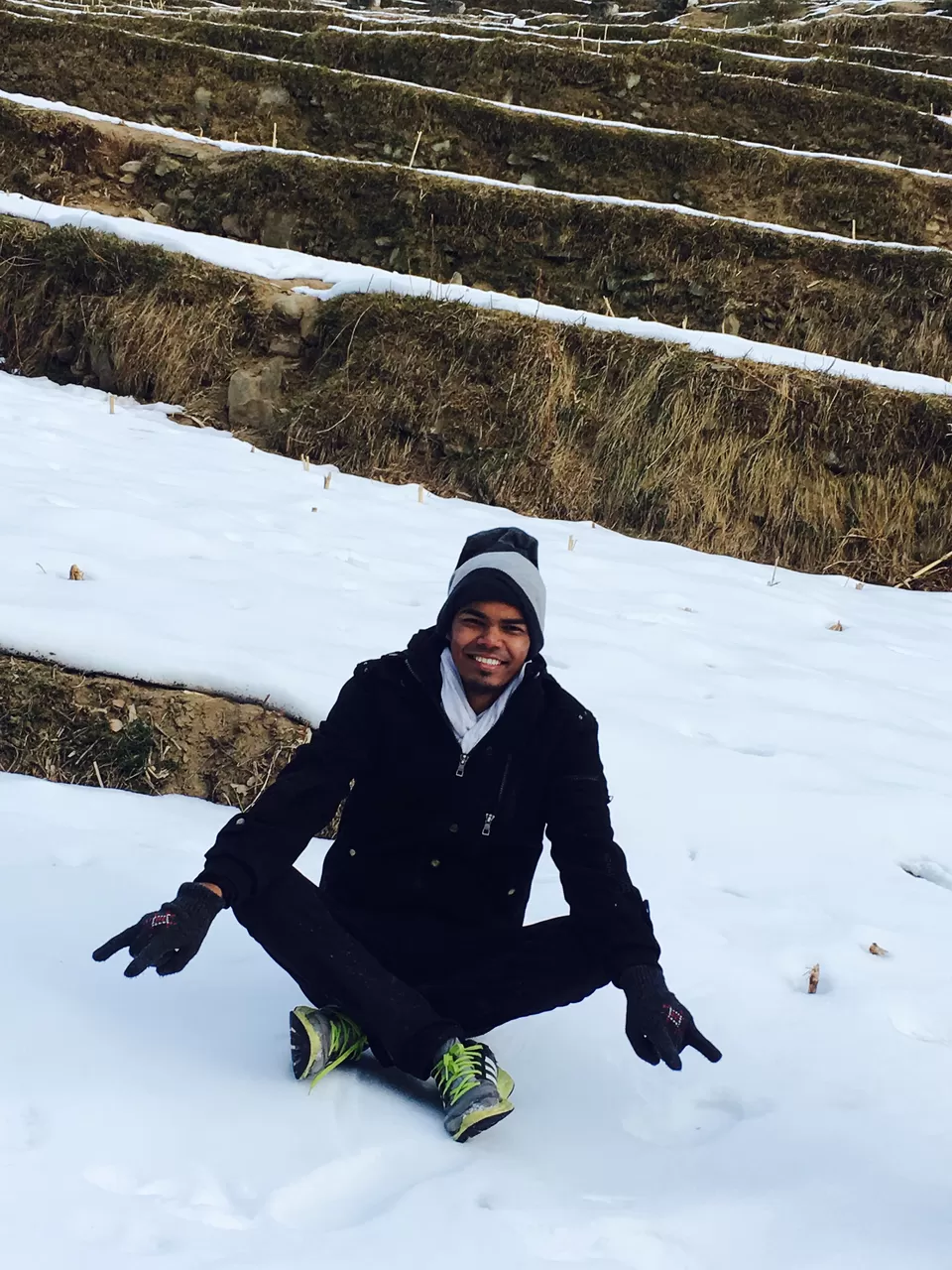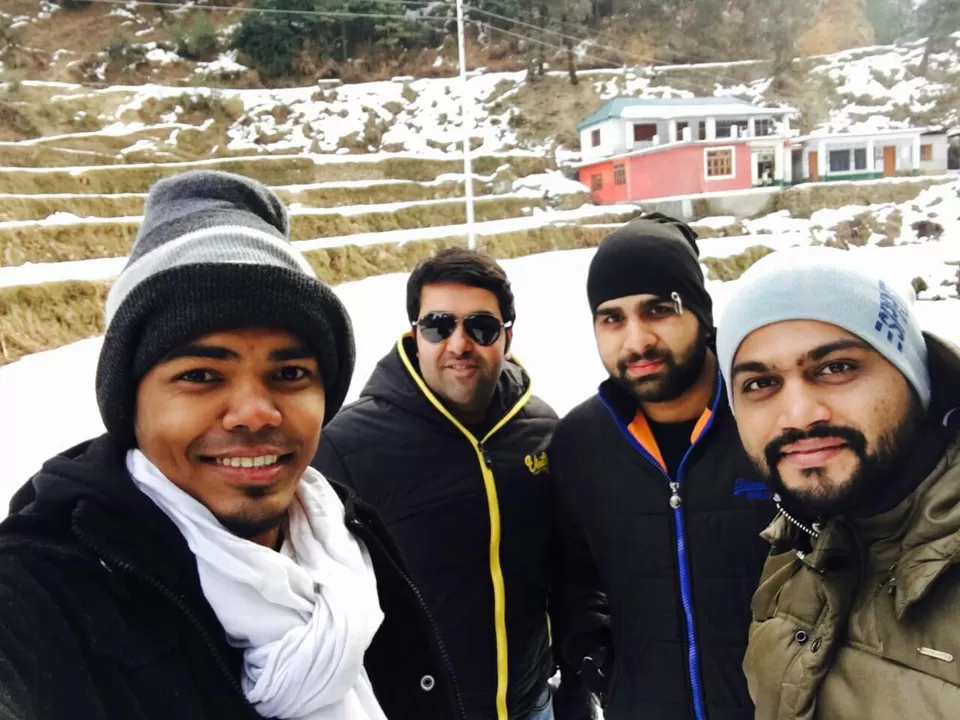 Barot was the best decision we made on this whole trip. Who wanted to visit Shimla now. We had all the fun and experiences here. We have been through extreme conditions here. I had turned all pink by now.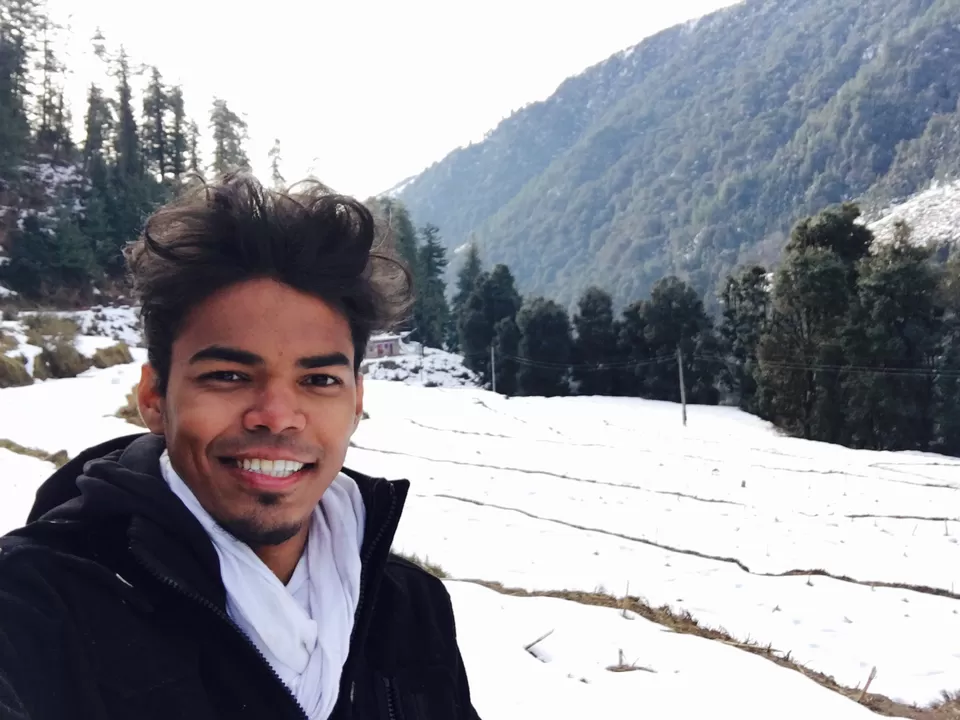 Now my soul was satisfied. My trip became successful. We headed Chandigarh after it.
Reached Chandigarh at 7, dropped his 2 friends and headed for Delhi.
We stopped by the famous Karnal Haveli to have famous Makke Di Roti and Saarso Da Saag.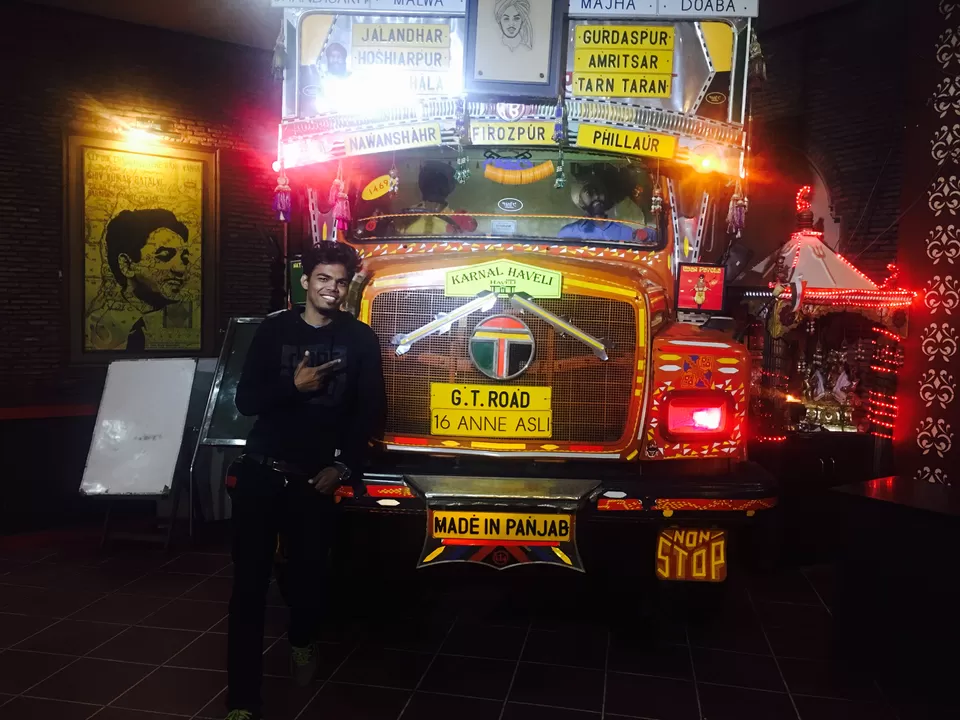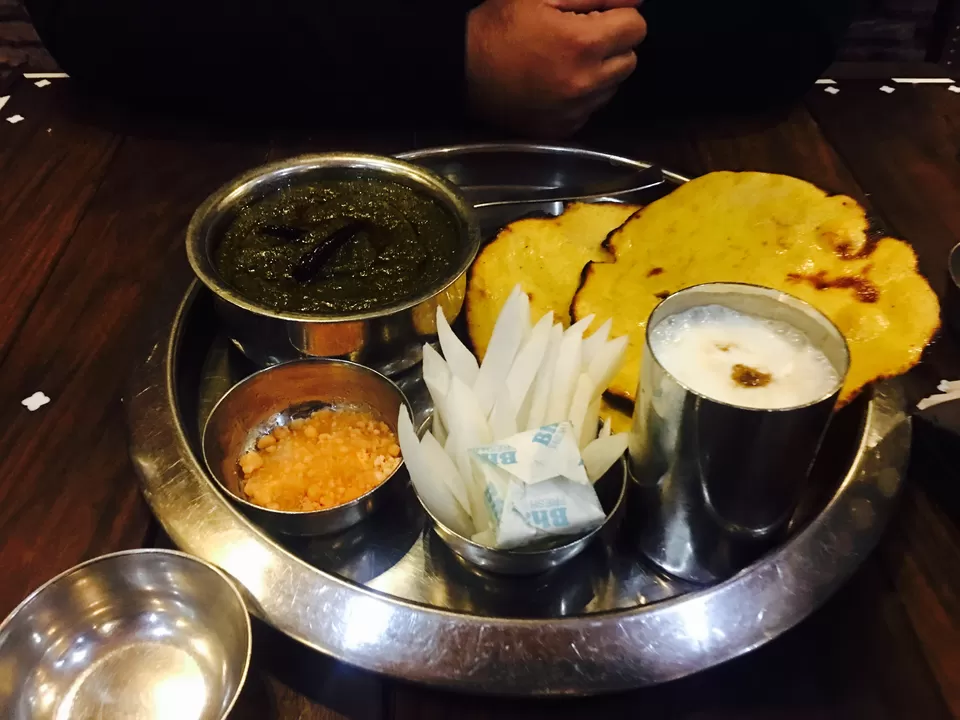 Finally after 15 hrs of journey we reached Delhi and trip ended on a happy note. Next day I was off to Mumbai.
"Badi Cannt Trip Thi" (Trip was fabulous)