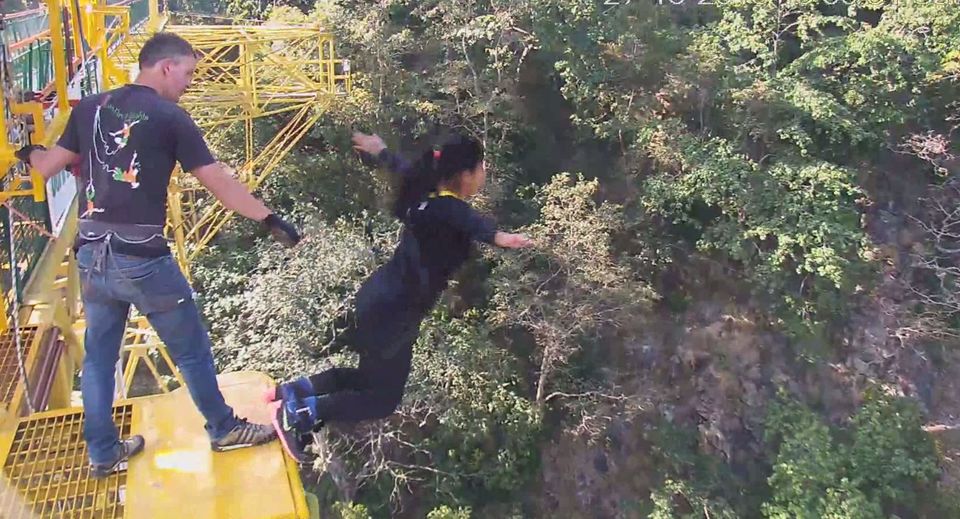 Just imagine, if you have fever,feeling cold, unwell and tired, you're falling from a high cliff, screaming louder... You think you will die... As soon you're about to hit hard on the ground, you wake up and it was only a dream.
But what if you could experience this dream with wide open eyes ?
Yes... This was a my experience on a bungee jumping day, which shows my curiosity for Bungee Jumping.
I stood at a height equal to 30th floor of a building. The wind was strong & made the platform sway. The giant bridge and platform structure was looking horrible from a long distance. "Your turn", exclaimed the instructor, "OMG" I thought. I smiled and started walking towards the edge. I was getting ready for a
83 meters jump, which is approx 273 Ft. I could hear my heart in my ears!
This was the first bungee jump but surely not last!
In that moment, a lot of thoughts flashed through my mind but only a few of them I remember today.
What if jumped down and didn't come back up?
What if I twist my arm or leg beyond repair ?
What if I accidentally pee while bungee jumping ?
What if I am too afraid to bungee jump ?
Am I crazy to be doing this?...Not completely crazy, but only a little. No sane person would ever jump off a bridge just for kicks. Why can't I just eat chocolate and enjoy the rush ?
By the way, this post is my bungee experience near Rishikesh. In case you're looking for travel destinations in Rishikesh, then check out my Travel Blog
Well, such questions kept rising in my mind, making me real nervous. . . I looked down and skipped a heart beat! The rocks were visible at the bottom of a river which flowed gently in its purest form. The instructor advised me to not look down but straight. I saw a yellow board where one can concentrate if scared of heights. But, I decided to look down before and during the jump !
Ready...? 3...2...1... Jump
If you are afraid and didn't do it in first go, they would give you another chance, even if you fail to do it in second chance than you are disqualified and no more chances are given.
I jumped... I was accelerating at a dangerous pace towards the river. . I screamed... My screams pierced through the peaceful valley and the green forests around me. Was it due to the fear of death? No! It was pure bliss!
3 seconds, the free-fall lasted for only 3 seconds. But, that was more than enough to qualify Bungee Jumping as the most thrilling adventure of my lifetime! I was pulled back by the cord tied at my ankle and that's when I regained my senses. In my mind, I played those 3 seconds multiple times and realized what I had just done was a nerve-wrecking & thrilling experience. I oscillated and bounced back multiple times, hanging from the platform way above me.
Check out my Bungee Jump in the video below.
Then, there was peace. My screams and joyous cheers had subdued and nature's silence had enveloped my intense emotions. The staff offered me a water bottle and showed me directions to trek back to the office. I waited for my friend to jump. After some more screams, we all had finished our jumps. We then headed to center to see the pictures and the video captured quickly and bought them straight away.
All in all, It was a magical thrill which gives you memories of life.I had an amazing experience and was thrilling to be able to tick this expe rience off my bucket list.
FAQ's What are the charges for Bungee Jump?
Bungee at Jumping Heights costs INR 3550 per person. You'll have to pay INR 500 for a pick and drop by bus to the jump spot at Mohanchatti. You'll have to pay an amount of INR 750 for the video of your jump and 200 for per photo, and entry tickets INR 100
Is it okay to book the bungee on spot?
If you are traveling on a weekday then you may find a spot but it is recommended to book your jump online through their Website.
Is the bungee jumping in Rishikesh safe?
They have a team of international experts who assist you in the jump. They have conducted more than 50k jumps so they have a specialty in safety measures.
You can also do Giant Swing: 3550 / person, Flying Fox (If you are doing alone) : 3000/ person,
Flying Fox (3 persons in tandem): 1800 / person