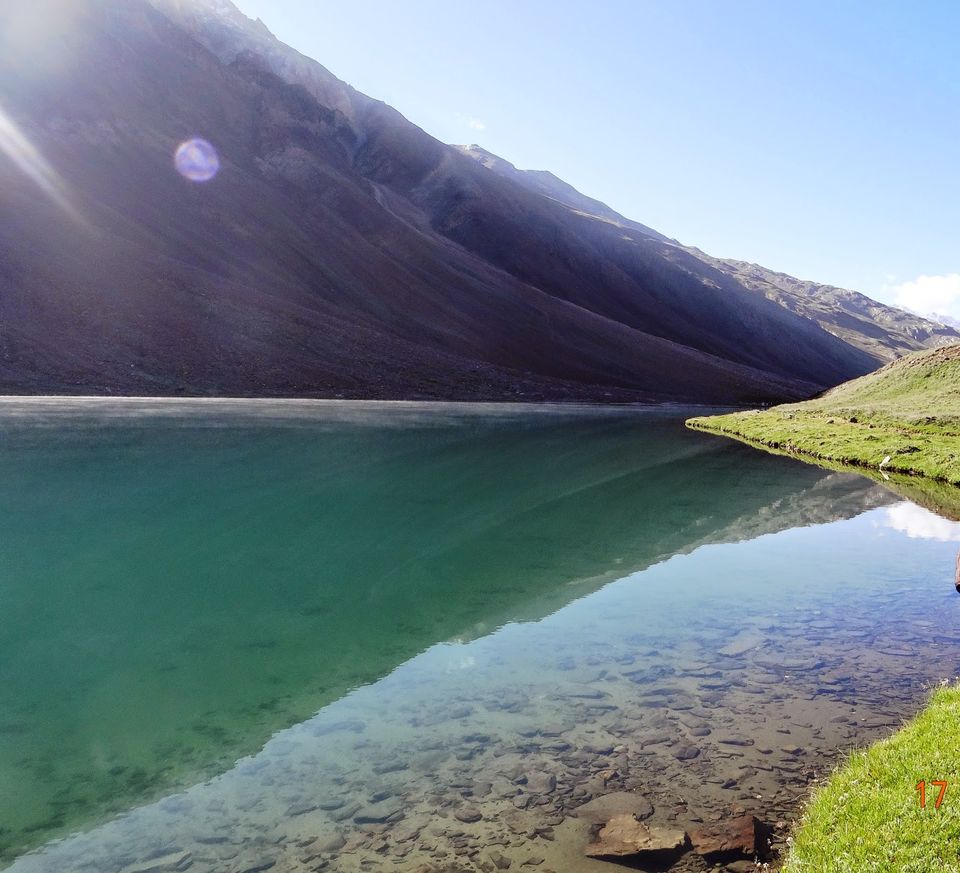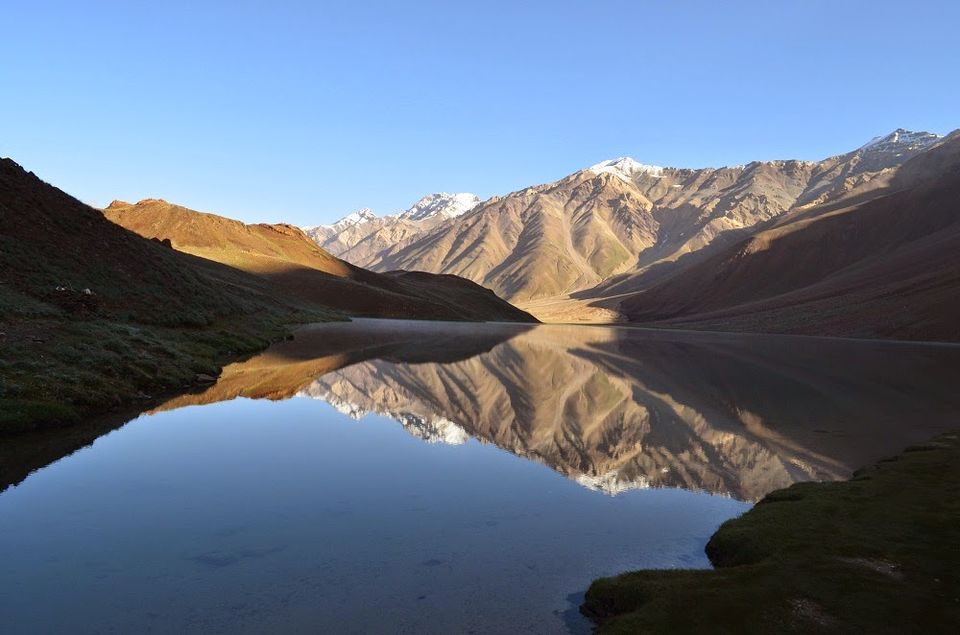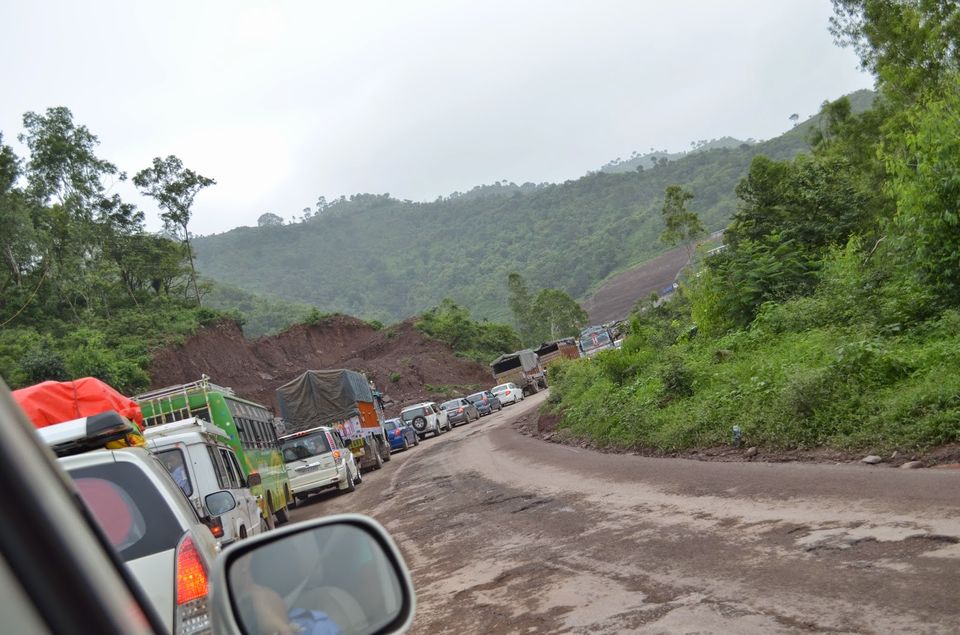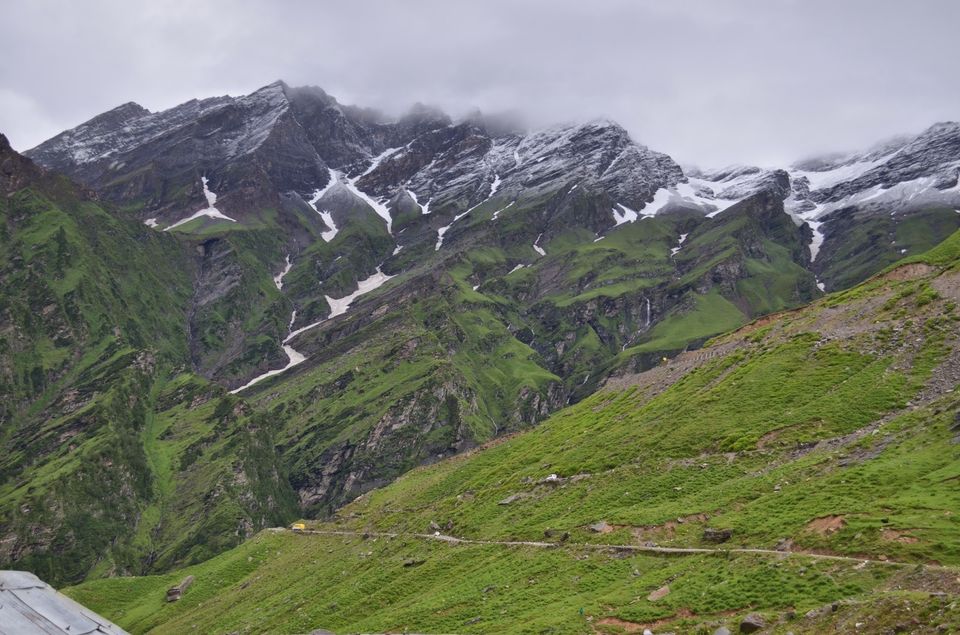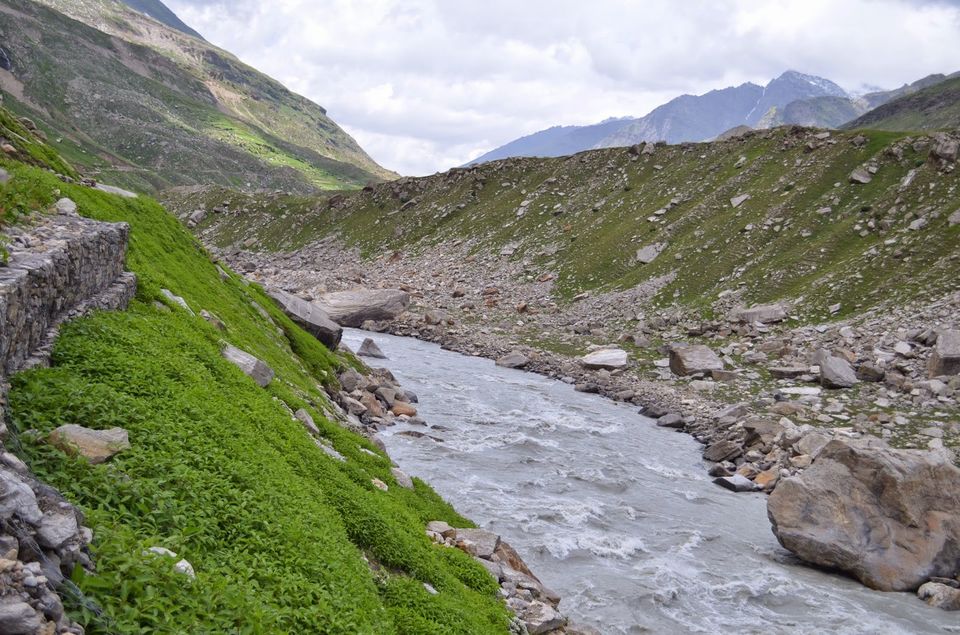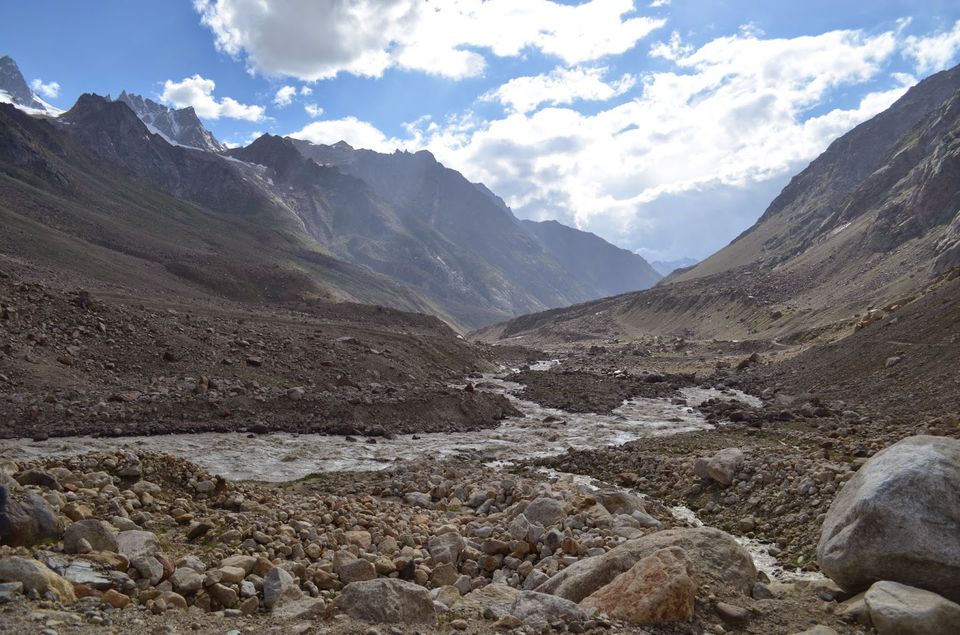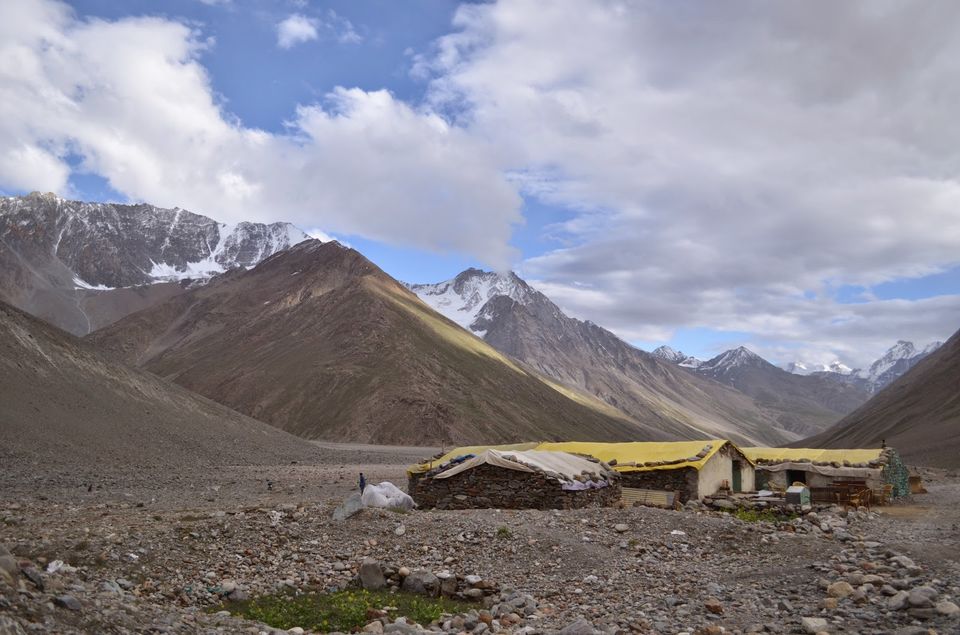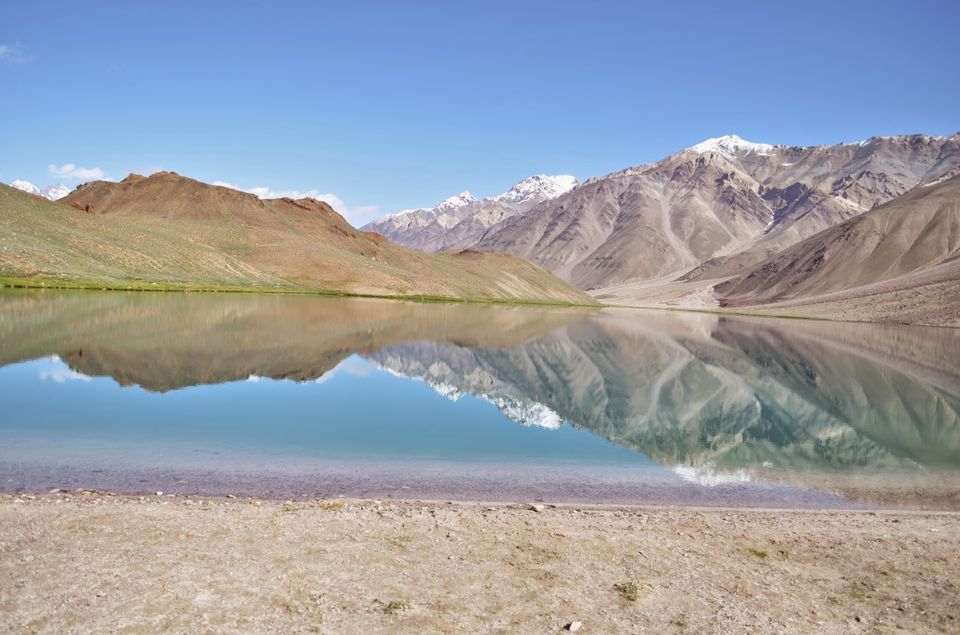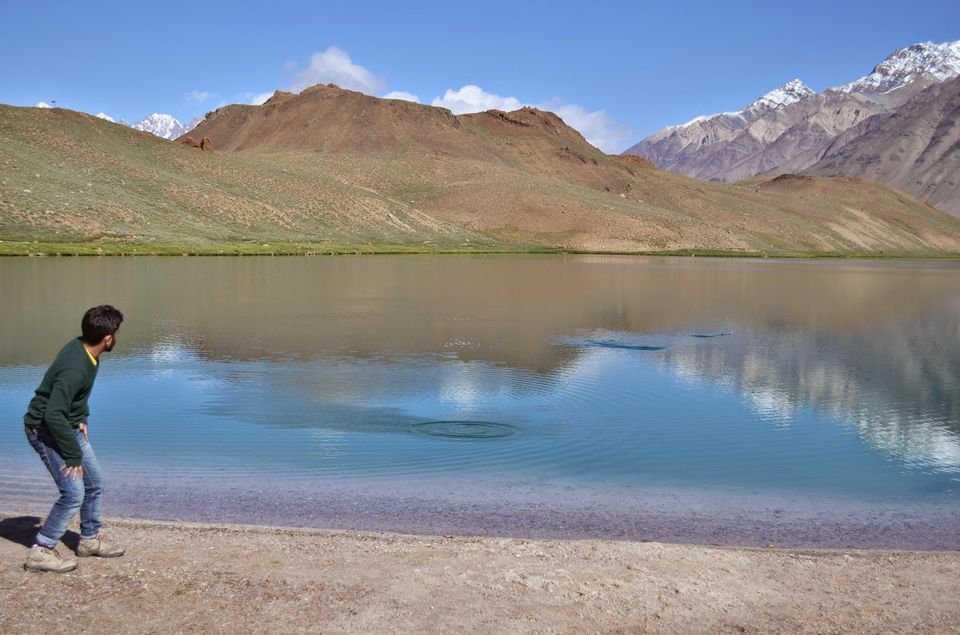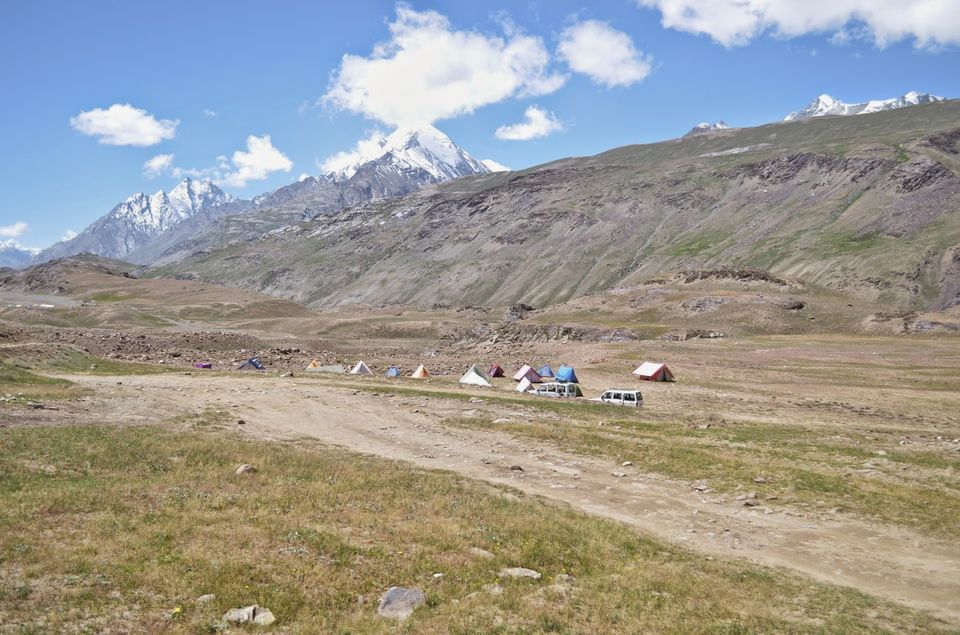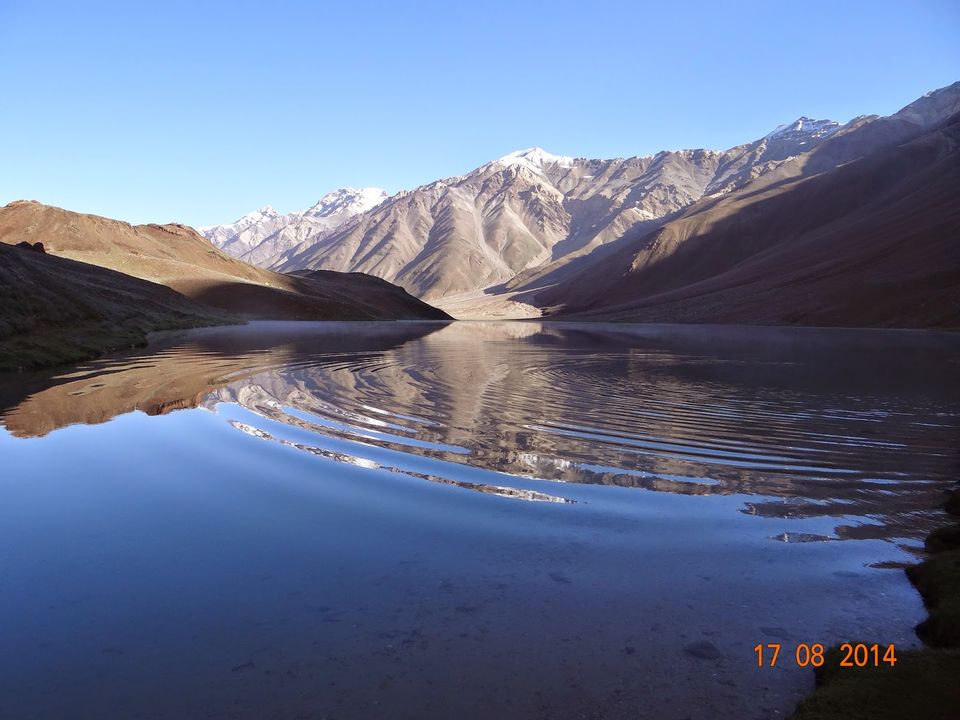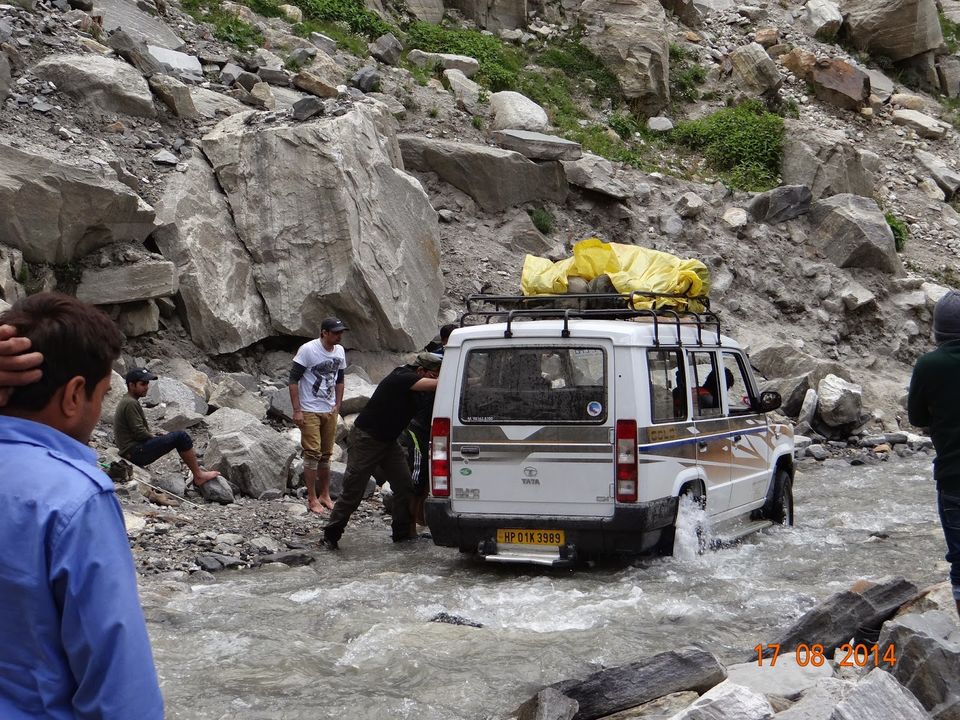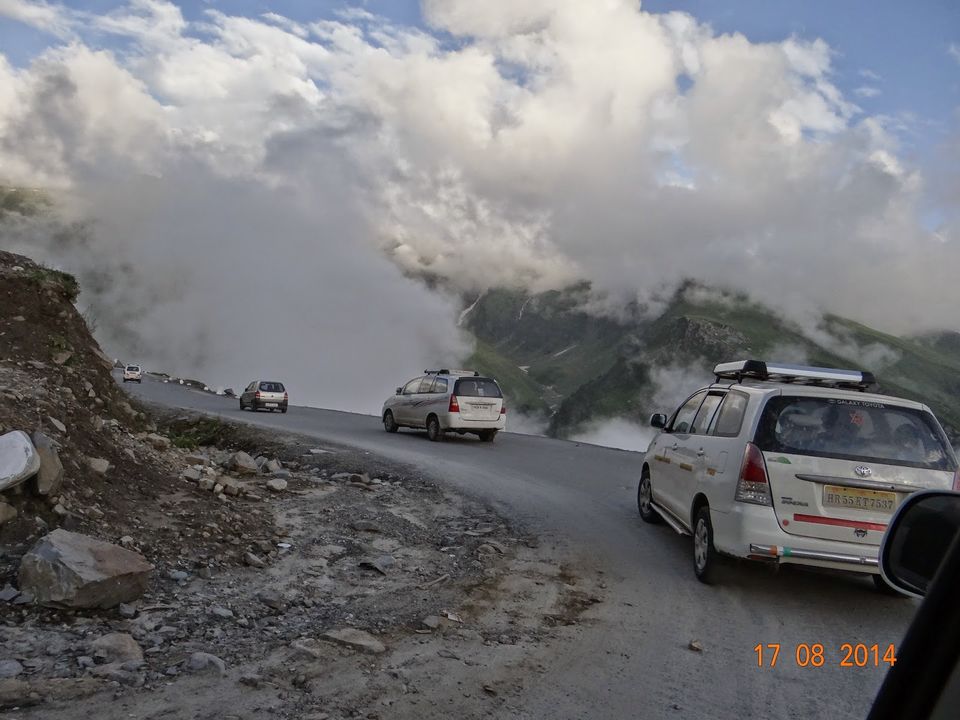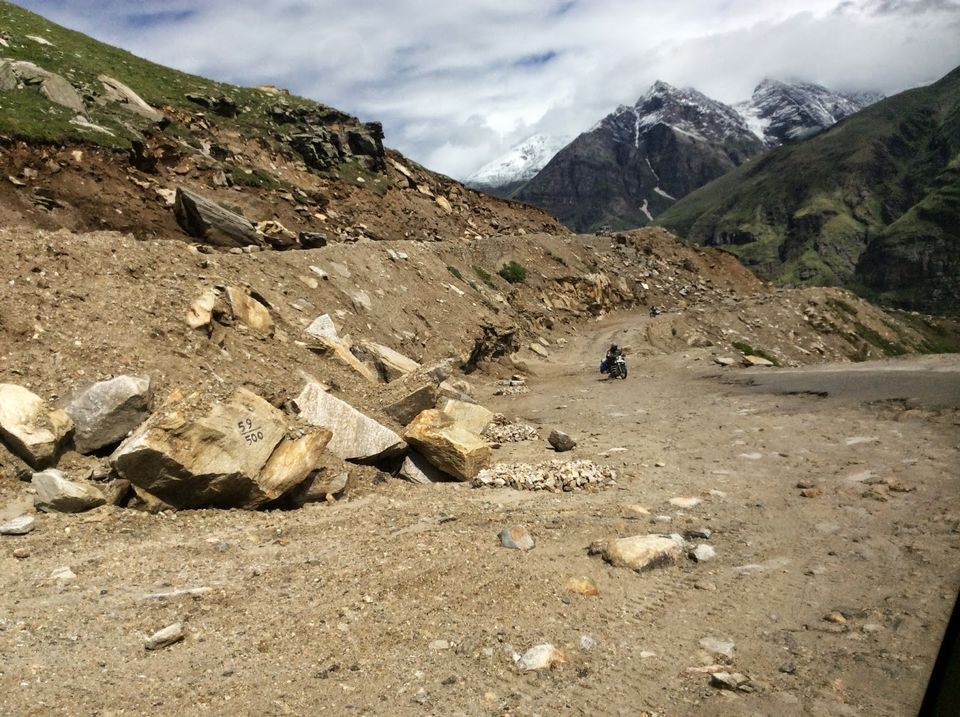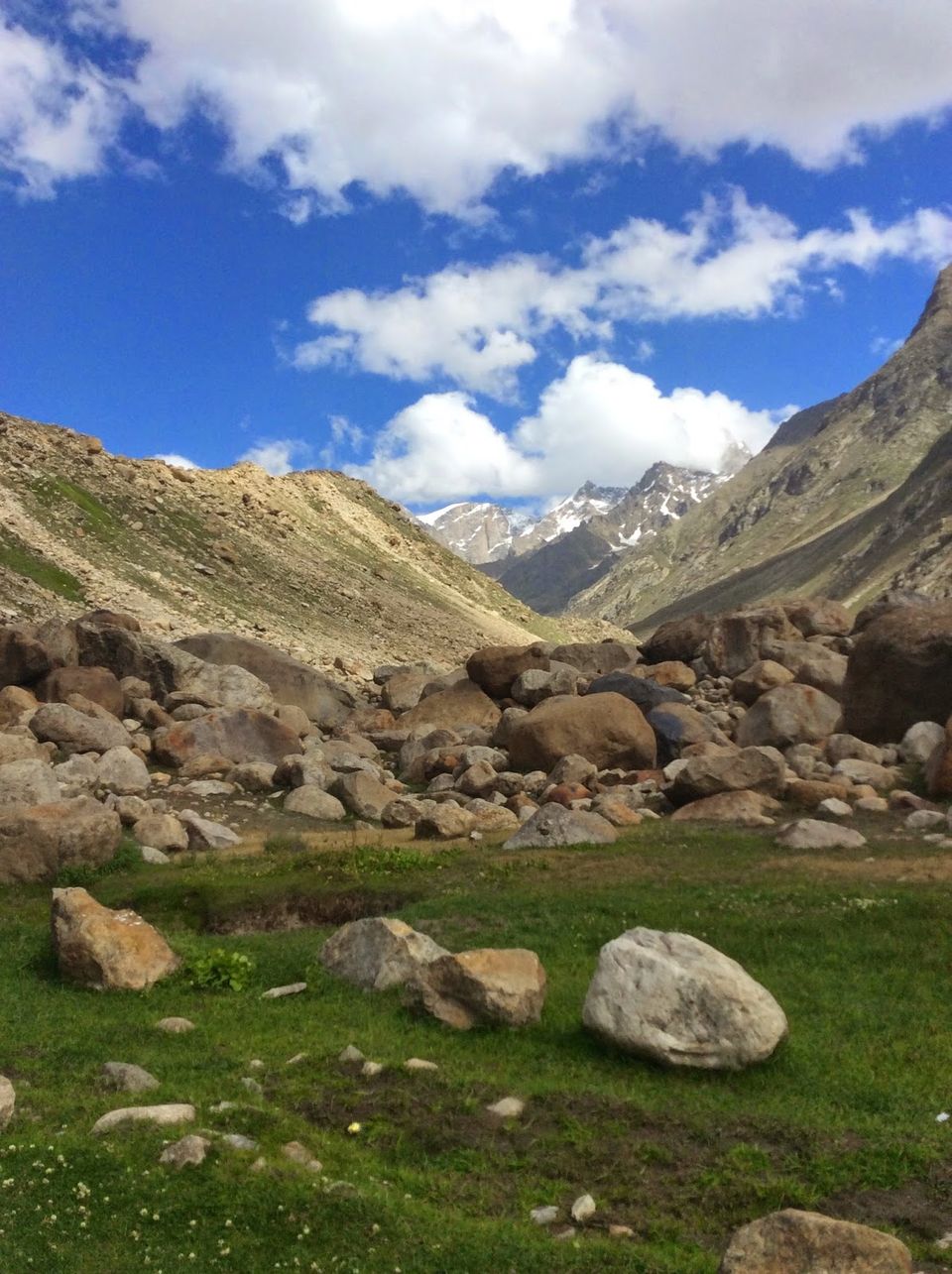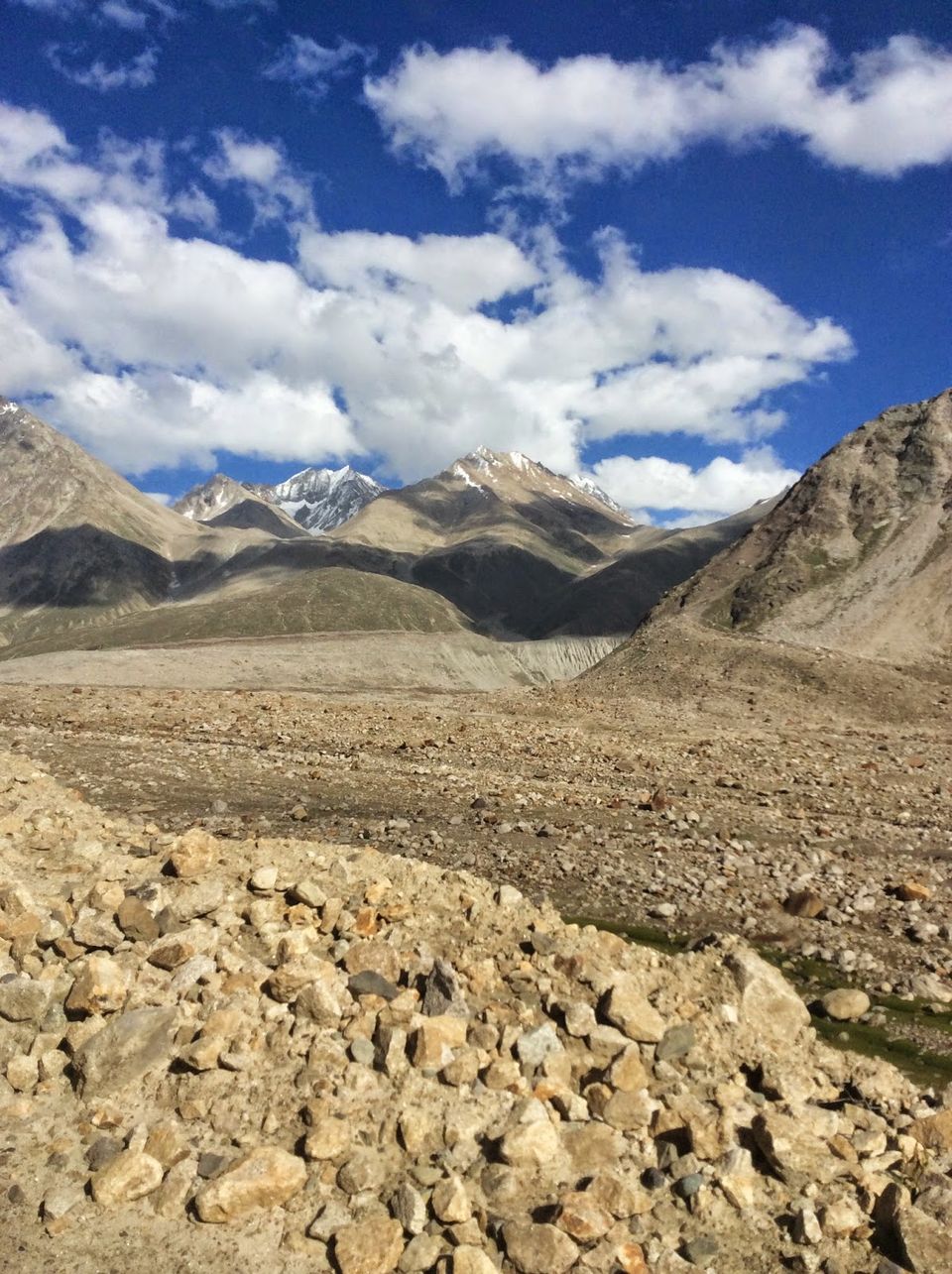 Location: It is situated in the Spiti Valley, which is a part of Lahaul & Spiti District of HP. You have to take the Manali – Spiti Route from Manali. After covering around 20 Kms from Rohtang you have to take the diversion for Spiti Valley. (If you go straight the route will take you to Leh)
After crossing Batal you have to take the diversion for Chandratal instead of going to Kunzum/Kaza.
Altitude: 14030 Ft. above sea level
Best Time to visit – Route generally opens from July till October/November (Depending on the snowfall) if you are planning to reach via road. Chandrataal can also be trekked through Kunzum La.
Travel Time: Delhi to Chandigarh (250 Km - 4-5 Hrs), Chandigarh to Manali (290 KM - 8-9 Hrs), Manali to ChandraTal (150 Km – 6-8 Hrs)
Route we followed: Delhi to Chandigarh – Manali – Chandrataal (via rohtang) – Manali – Delhi
Road Conditions – Route is good and manageable till you cross rohtang pass, after that the terrain is really difficult, specially for small cars. Its an off-road travel for 80-90 Kms. Its suggested to travel in vehicles having high ground level clearance or may be 4X4 Wheel drive (especially in monsoon season).
Stay: In Manali and Chandigarh you can find plenty of staying options. For Chandratal the only option is that you have to stay in one or the other camp. The Camp we stayed were pretty clean and the sleeping bags were also clean and warm. Details and contact Number for Chandrataal Camping is: Mr. Sansar (+91 9625727343)
My experience: The tour started with 9 friends, we hired two INNOVAs for our travel. We started at 4.30 Pm in the evening from Delhi and reached our hotel in Chandigarh at around 10PM. Next day we started at round 8 AM for Manali. And as we covered 50 Kms from Chandigarh our encounter with huge traffic jams started to begin and followed us till Mandi. Though it made our journey more exciting as every time we used to get down and have funtime on those hilly terrain. As it was not enough we had a flat tire, though we didnt loose time as we were anyways standstill bcoz of the traffic.
The main reason of the very slow moving traffic was the flood in Mandi which washed away a bridge on the previous day. The River Vyas was mightier than ever, the current was so furious that anyone can be scared by just one sight of it. We halted at Mandi to have dinner at arround 10.30 PM. Drive after mandi was pretty smooth as there was not much vehicles on the road at this hour of the day. Finaly after a funfilled drive we reached manali at 2PM at night.. And we went straight to bed as next day we had to start early.
Once you reach Manali, you forget all the turmoil you took to reach out the place. Beautiful lush green mountains welcome you with Vyas flowing by your side almost everywhere in the city. We started our journey from Manali at 6 in the morning, and reached Rohtang at around 9. After crossing rohtang we took an off-route to Koksar (around 5-6 kms) to fix the flat tire we had last night. Koksar is a beautiful small village that lies on the Manali – Leh route. The food at this little village was very good, one must try CHAI here. You can also try momos and chowmein which is the local food for entire Tibetan region. The momos were so tasty that I had to take its recipe from the aunty who was serving it.
After being refreshed with lunch we again started our journey on the Roadless route to Chandrataal. Every now and then you will find water crossing the road. One can find every element an adventurous road journey might have: Narrow roads full of water, stones and slush. But the landscape on road side makes up for the bumpy ride and more.
And its kind a thrilling when all of you have to get down on such "Nalah" and push your/others car to move forward. As cars getting stuck in those nalas are commom sight there because of the stony roads.
Our next halt was at Batal where you will find STD/PCO for making calls, soon after leaving Manali you won't find any network in your mobile phones so this is a pleasant surprise. The scenery here is just awesome. There is a small shop from where you can grab some munchies. Chandrataal is around 16 Km from here.
We reached Chandrataal base camp after such an eventful journey at around 6.00 PM. And the feel of the beautiful landscape is beyond words, in the middle of nowhere and surrounded by huge barren mountains. The chandratal lake is around 2 Km from here, 1.5 Km is motorable and .5 Km we were supposed to trek. After a small walk around the area we were off to the dinner tent where we got maggy and tea as our evening snack and later was served.
Our camp organizer Mr. Sansar was a very helpful and courteous person, he helped a lot to relieve us from altitude sickness.
We reached Chandratal at 7 AM in the morning, and we were mesmerized by the first look of it. I was spellbound with the beauty of the crystal clear still water and its mirror like reflection.
As the Day progresses the water changes its color from dark blue to sea green to turquoise blue. And its just not the water even mountains change their appearance with the time of the day. Snow clad mountain, clear blue sky and a few white clouds making a mirror like reflection
You can walk around the lake and witness awesome view all around the lake. Total periphery of the lake is around 4 miles which will take around 1-1.5 hrs to take a full round. The lake is considered holy as per hindu mythology hence taking a dip in the chilled water is considered auspicious here.
After spending few hours at the serene lake we started heading back to Manali.
Luckily our ride back was easier as there was less water on the roads making it easier for the vehicles to cross and we got down only twice because of the bad road. On our way back we halted at rohtang to have maggi & omlet. Just a few miles after rohtang, one can go for Paragliding, which was our original plan, but due to the weather we were unable to do that.
The weather in Manali was so awesome, it seemed like you are walking amidst the clouds.
But the traffic jams while entering back to Manali can never spare you. Finally we reached our hotel at around 7.30 in the evening. Had a Laid Back dinner at the hotel room. After taking Bath we went to raom around in Manali.
We collected the memories of serene surroundings for the lifetime and next day morning started our journey back to Delhi, halted near Chandigarh to have the Gopals' famous Lassi and covered the distance in around 14 hrs to reach home. This was one of the most memorable trips I had so far..
Tips –
Carry medicines of altitude sickness, headache and other essential if you are prone to it or otherwise also.
Try avoiding night journeys, as you might get stuck easily in these routes and it can be scary at times.