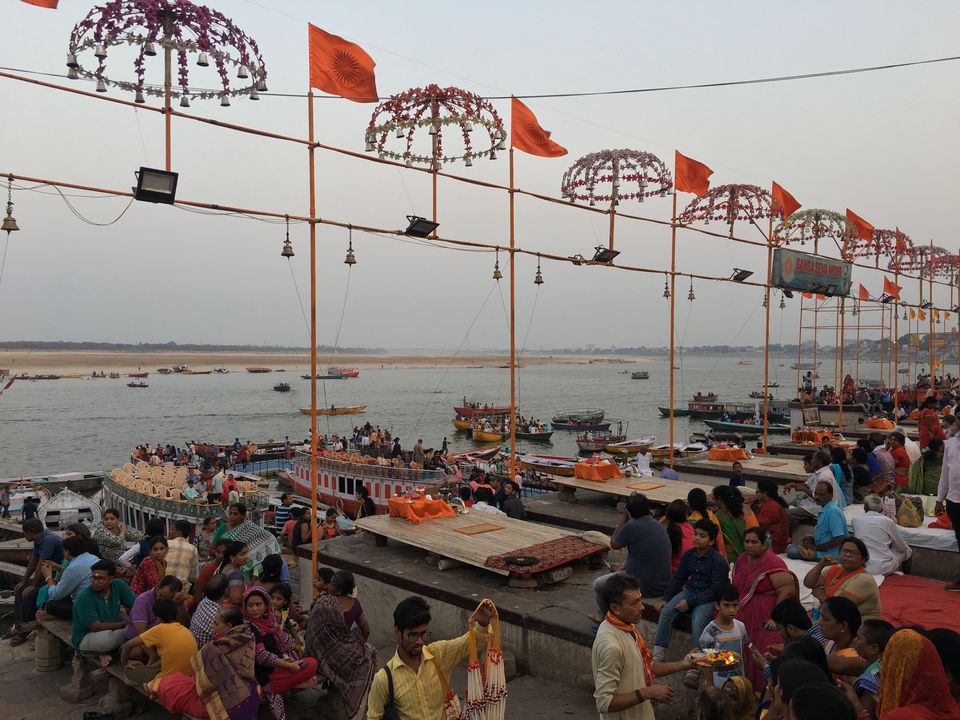 Welcome the the land of lord Shiva,Varanasi aka Kashi as well as Banaras among locals.being the oldest city it is a cultural blend of heritage with a taste of modernisation.let me call it Banaras further in this blog to feel like Banarasi again :) as I associated with this place since long and it fills my heart when it name comes in my mind no matter where i go.this city has everything for each category of travellers exploring streets,temples,food or those wants to smoke marijuana with Sadhus at the ghat.i always feel blessed and lucky to be born and raised in Banaras.this holy city is so vibrant and colourful once you are here you never want to go back.
There is so much to write about which this one blog can't accommodate so let us point down it to the world renowned most sought of Ganga river Aarti which i never missed when i am in Banaras since my childhood.there are many places like Rishikesh,Haridwar,Prayagraj and many more where we worship river everyday but the evening Ganga Aarti is something special and well choreographed,it has different level of energy,same enthusiasm each and every day without a miss,mesmerising mantras chanting by young boy and girl priests/scholars traditionally draped in saffron coloured cloak synchronised with bells and soothing music that takes place at famous Dashashwamedh Ghat.the Aarti timing vary depending upon weather conditions and the time of sunset for two hours in the evening.it is widely attended by tourists around the globe and locals so reach at ghat which is 2-3 kms from city centre at leas 1 hour prior to aarti to not miss this magical worship.this is one thing nobody missed when they are in Banaras and the top thing to do leaving everything aside. in many ways you could enjoy evening Aarti by seating at one of stairs of ghat or from a boat facing ghats after taking mandatory tour of all ghats.i recommend second option to hire a boat or get on to a shared boat if you are solo to enjoy the aarti in best possible way and to get spectacular panoramic view of ghat with reflection of diyas (lamps) and glittering lights on the river water at banks.the boat guy will be your guide as well to keep you entertained and enlightened with history of city,different ghats,temples and aarti.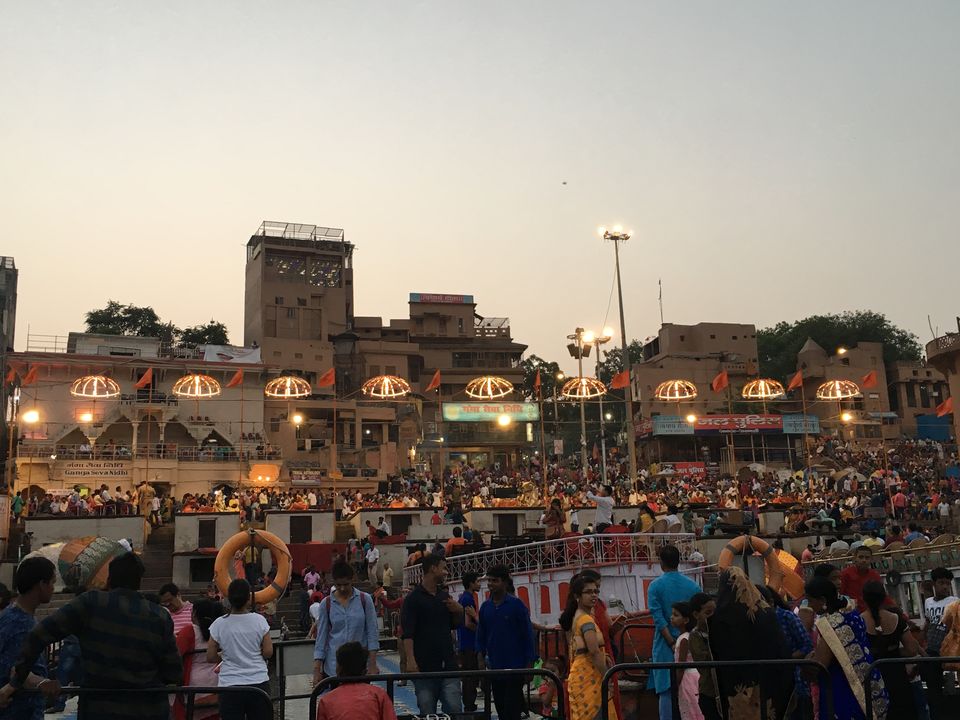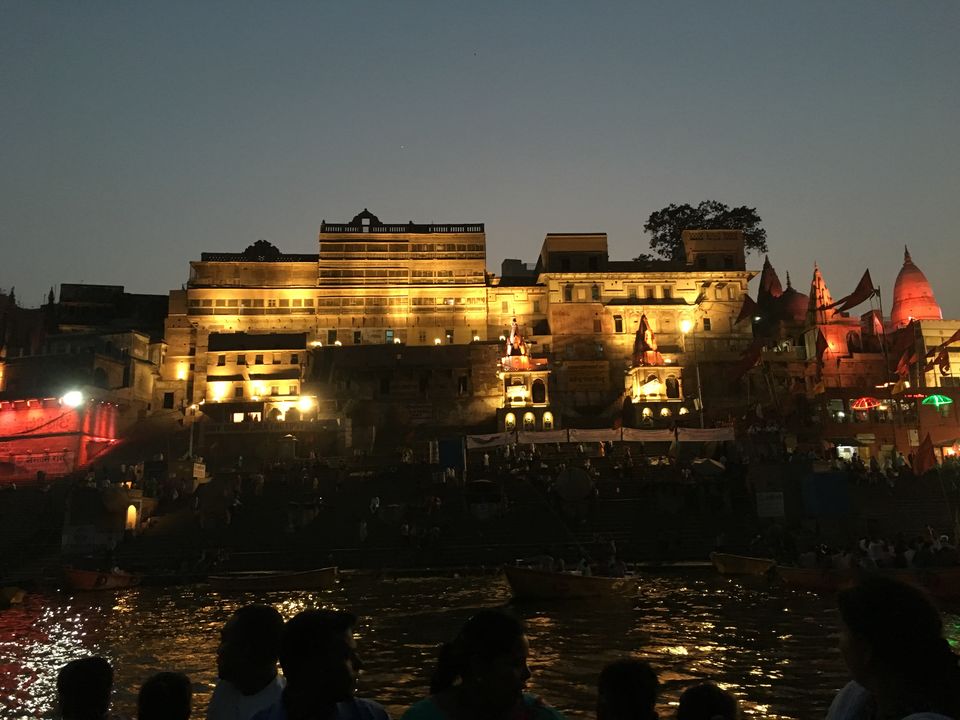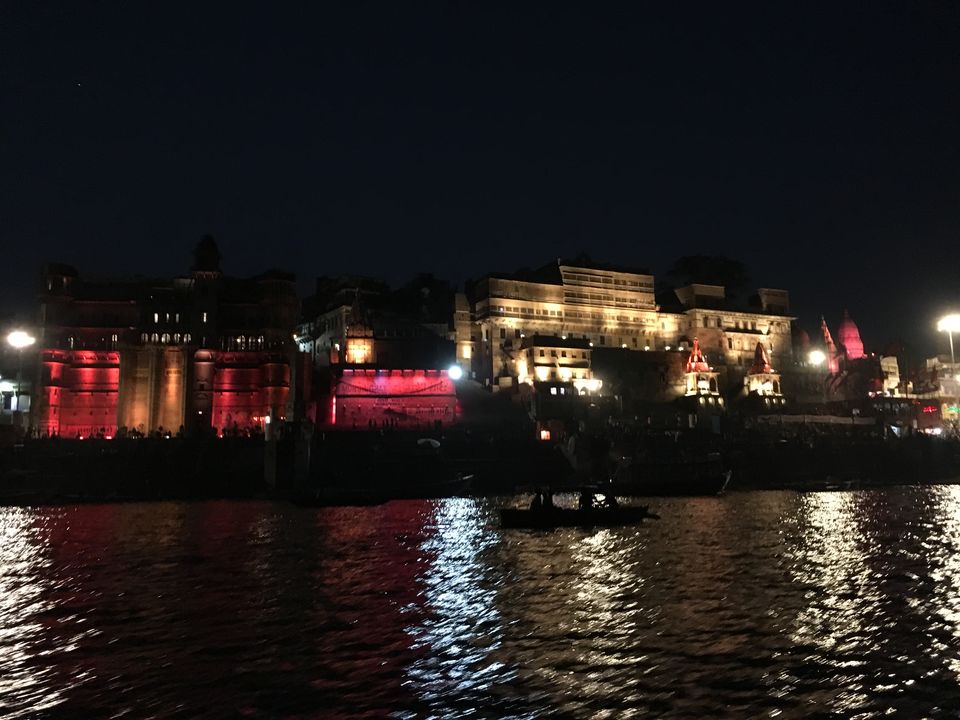 Aarti started on well decorated and organised stepped stage with saffron patakas (religious flags) and beautifully lit chhatirs (holy umbrella) with powerful continuous blowing of conch shell and it leaves you speechless and you forget everything as your eyes and soul got stuck at big lamps with hundreds of diyas waving in hand of young pandits (priests) in circular pattern synched with hymn and chants creating bright and sparkling hue in dark sky.sandalwood scents purifies air all around.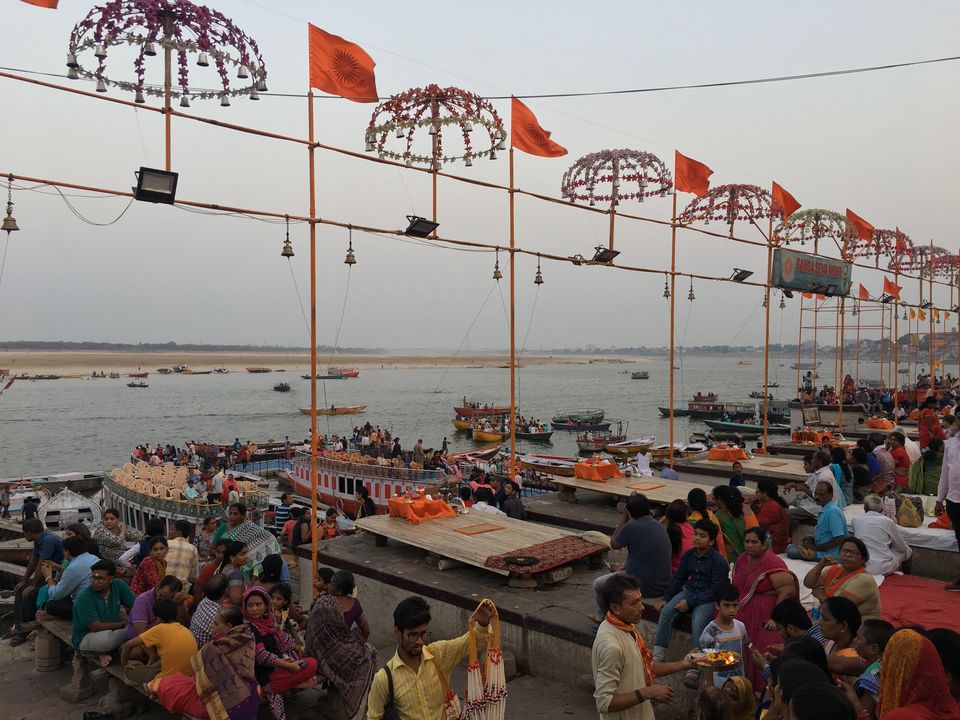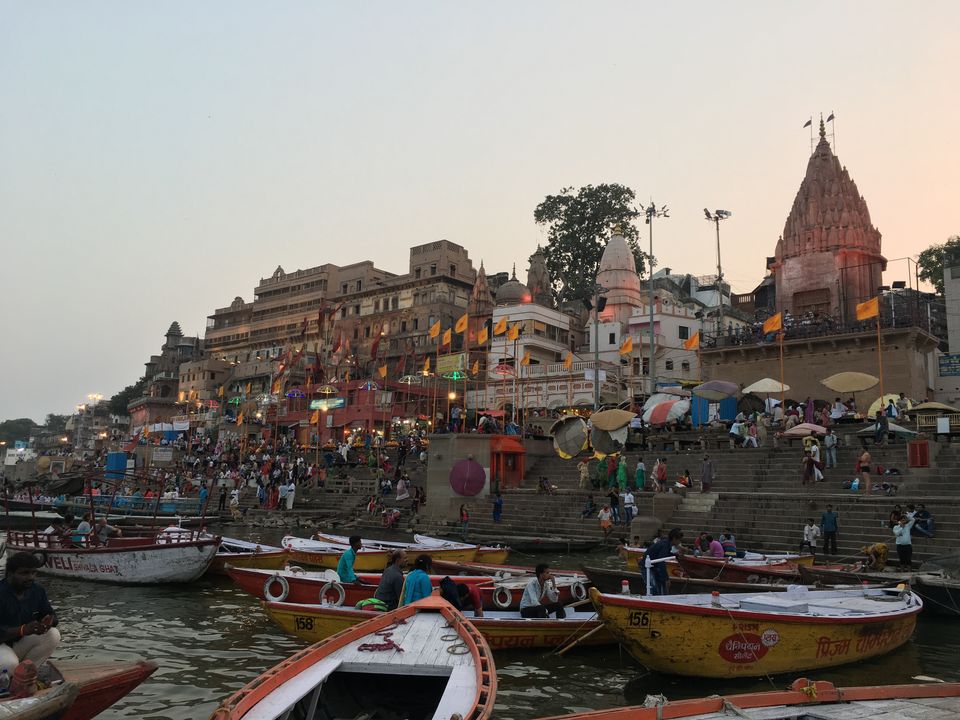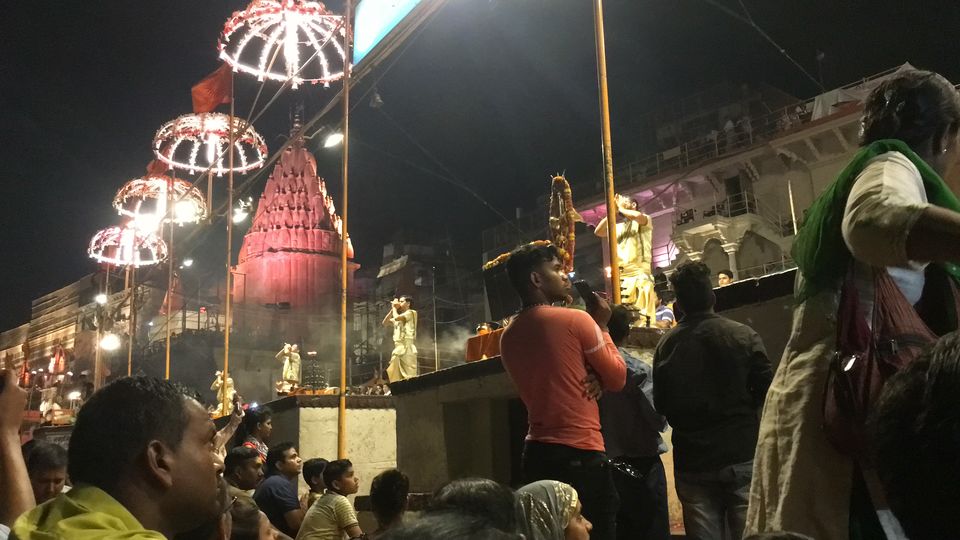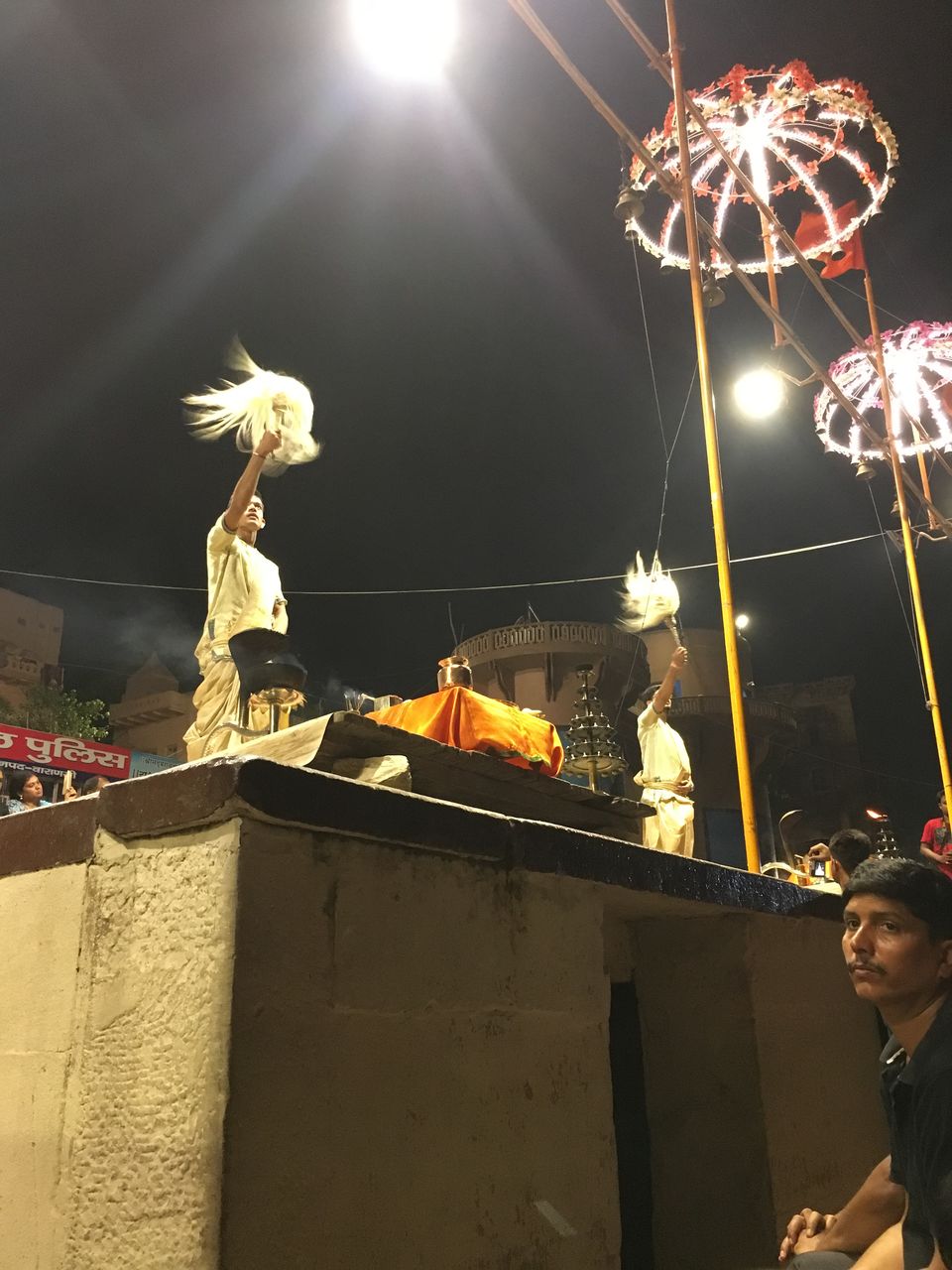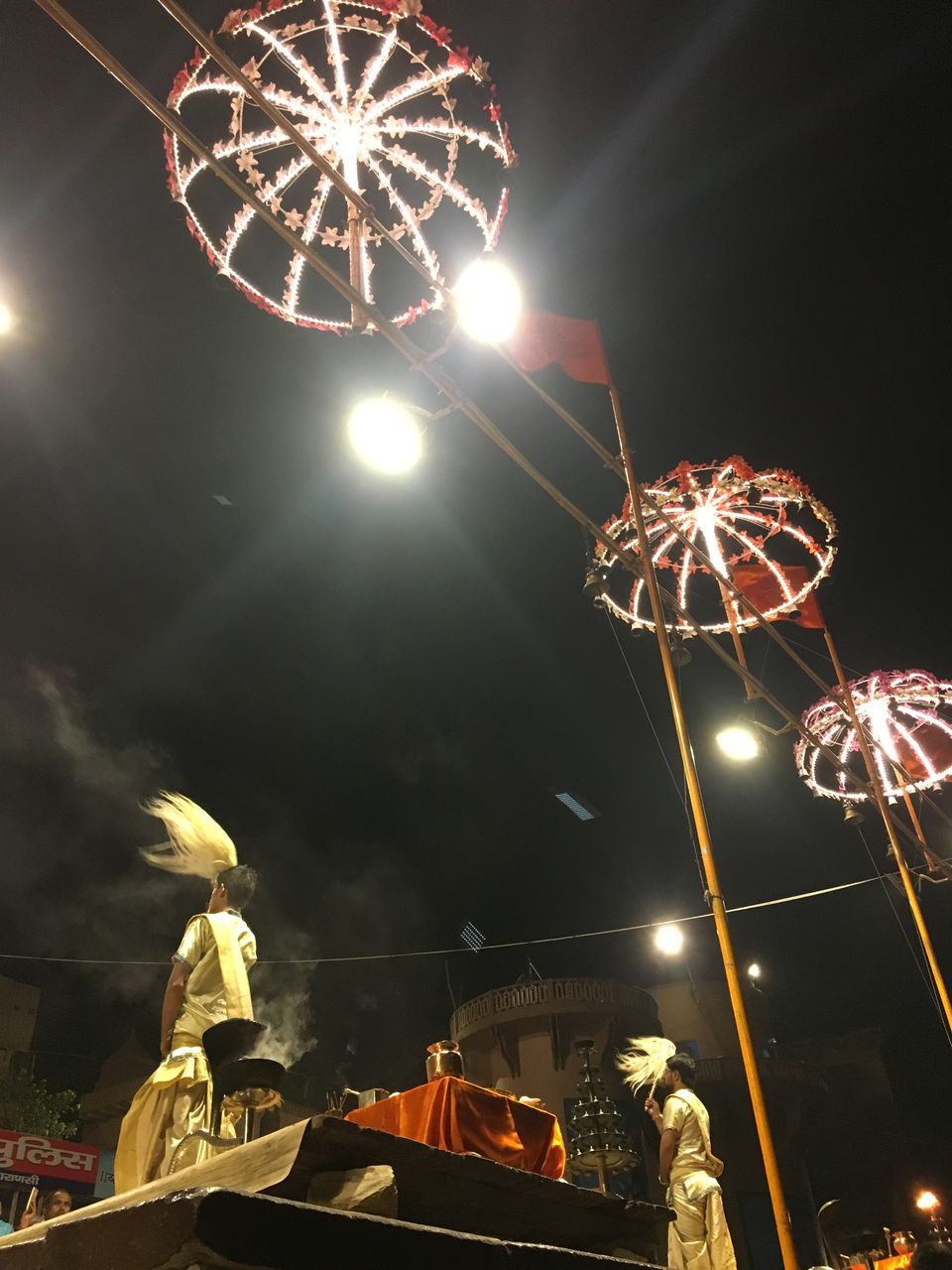 The boat will take you up to Manikarnika Ghat where body meets with ashes and it is to be believed that this is one of most sacred ghats of all as Mythology says : the Jewel from the ear of Lord Shiva fell off while bathing at pond at the ghat build by Lord Vishnu so the name is placed as Mani (jewel) Karnika (ear) and other citing is when Shiva danced angrily the Jewel fell off ear thus the name formed.another important reason why it is so sacred is according to popular belief whoever cremated here gets Moksha or salvation and souls gets freedom from cycle of life.there is also a Moksha Bhawan (Salvation Home) at ghat where one who are near to death can reside for few days in the desire to die in Kashi in order to break the chain of birth and death and never reborn thus to attain salvation.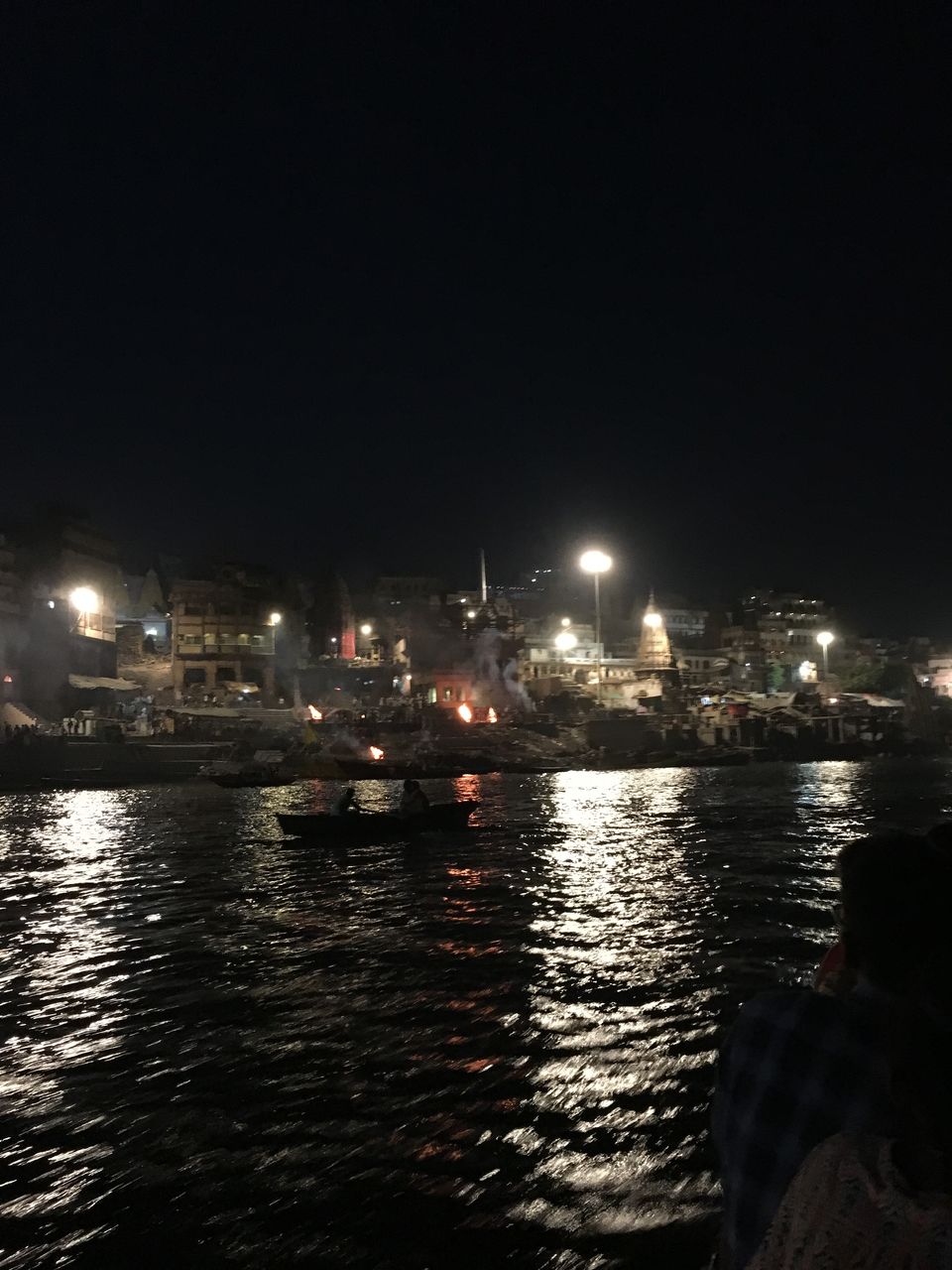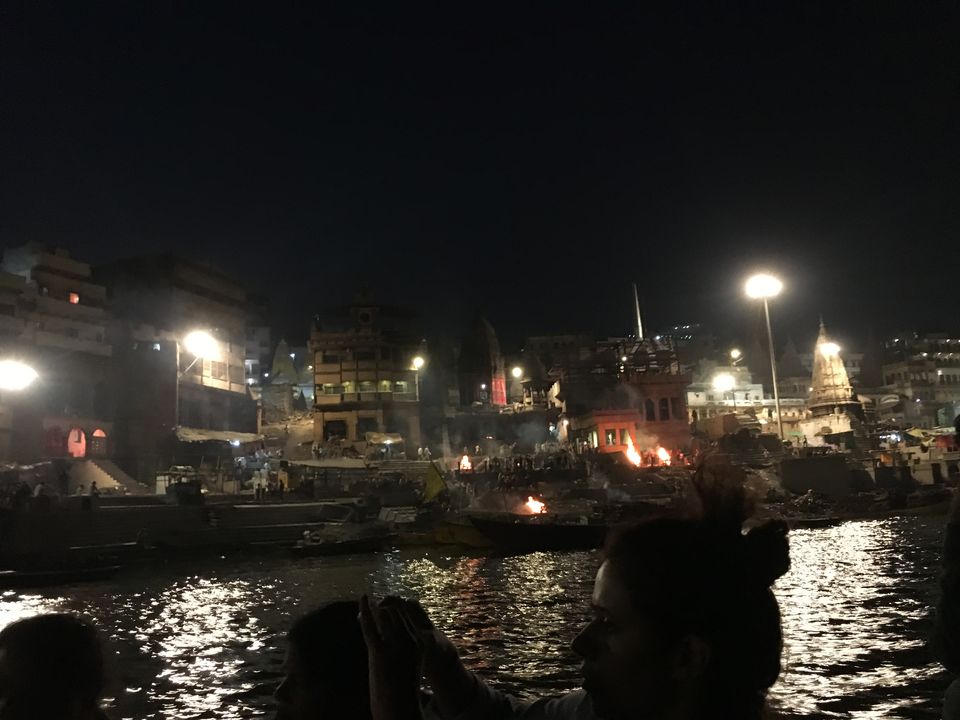 If we believe what Hindu Mythology says about this historial city ,Lord Vishnu requested to Shiva after may years of meditation (tapasya) to not destroy this city when he was destroying world he got convinced so the city survives.
Once in a life ever you come to Banaras do not miss to get taste of holy city of salvation with charismatic Ganga Aarti to make your trip a lifetime memorable experience.
"Har Har Mahadev"