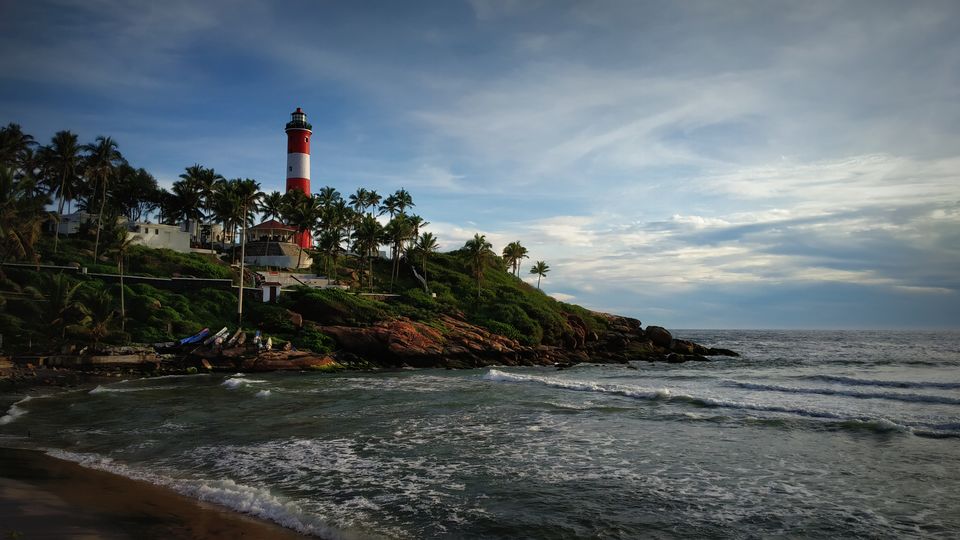 Do you love apricating— basking in the sun all day long? On a beach holiday, my favorite things to do are tan, drink exotic mocktails and eat a lot. To fulfill these wishes, my strolling shoes took me to Varkala and Kovalam, which are a must-visit when you are in God's own country. The beachy, relaxed vibes make these places perfect for everyone, be it solo travellers, honeymoon couples or families.
I will never forget the last 4 days of my Kerala trip that I spent in these 2 places, partly because of their natural beauty and majorly because of a fantastic traveller I met. "We don't meet people by accident. They are meant to cross our path for a reason." Before embarking on this journey, these were mere words for me, but I realised the underlying truth when I met Joe, whose motto in life is "Everything happens on purpose".
Let me take you on my wonderful journey across the two mesmerising coastal towns of Kerala and narrate how travelling can make you meet the rarest breed of people.
The bohemian vibes of this place are magical. A solo traveller can easily fall in love with its hippie culture along with the shacks on the 15-meter high Northern Cliff adjacent to the Arabian Sea that serve delicious food and play global music.
This coastal town in the southern part of Kerala has some of the best pristine beaches that make it look like a little paradise. The most unique feature I observed there was the Black Beach. Further to the north, where the cliff ends past Papanasam Beach, is another small beach known as Thiruvambadi Beach that has black sand. Imagine how scenic that would be!
The place is great for buying souvenirs, oxidised silver jewellery, cool tops, harem pants, scarves, and a lot more. Along with that, the beach-facing restaurants offer tempting food. Surprisingly, someone like me who is not much of a foodie, ended up eating like there is no tomorrow.
Must try- Vegetarian Momos at Trattorias and Falafel & Hummus Pita at Nomad
Beaches, Ayurveda and Shopping- Kovalam is all about these 3. This idyllic coastal town is known for its 3 adjacent crescent-shaped shallow water and low tidal beaches- Lighthouse Beach, Hawah Beach/Eve's Beach and Samudra Beach.
If you are willing to indulge yourself in some kind of relaxation activity, then you can choose from Ayurvedic treatments, massages, yoga and meditation. Moreover, you can buy rich spices, wooden statues and handicrafts as souvenirs.
Kovalam is a perfect place for leisure and relaxation. The beach line is dotted with a number of hotels and restaurants. Enjoying a meal or sipping coffee amid the soothing sound of waves is the perfect way to unwind here.
Must visit- The German Bakery, Malabar Cafe and Crab Club Restaurant
At 1-hour driving distance from Kovalam, this is a wonderful place to watch elephants. You should reach there by 8:30 am when they are taken for a bath and later being fed (cooked rice and jaggery). The same routine is followed at 4 pm also. As many as 30 elephants can be accommodated at a time within this zone. They are well-fed and taken good care of. It's absolutely delightful to watch such cute and naughty elephants goofing around. You can touch and feed them as well. Adorable baby elephants are a real treat to the eyes.
Boating options are also available at the lake. This place is a photographer's delight because of its pure scenic beauty.
And I met someone who is the human embodiment of sunshine…
Are you aware of the most uncommon type of people who feel like sunshine? You just feel warm and happy in their presence. You can talk to them about anything- be it the kind of car you drive or about infinite power of the universe. Till date, I have met only 3 sunshine souls and luckily, I met my 4th in Varkala at the hostel. He was my roommate- Joe, a German solo traveller who lives in Australia.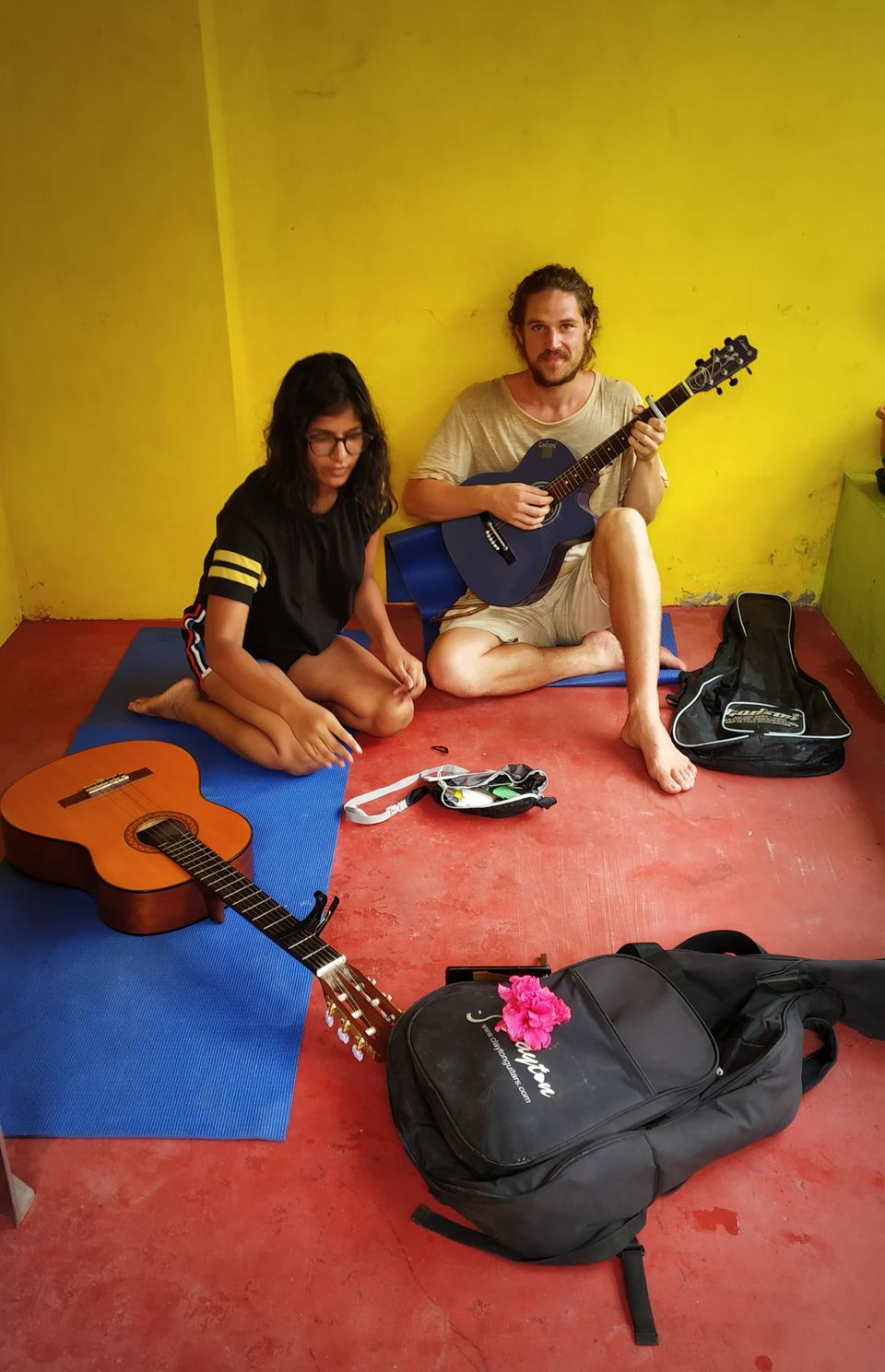 My 1st impression when I saw him was actually not about him; it was about his huge monster backpack, which was thrice the size of my big backpack. I wondered for how long has he been wandering or will continue to travel. I was resting inside the room and he was outside, playing guitar and singing with his friend, Saumya. They had just completed their Yoga programme together in Trivandrum. I told them I loved their voice and free spirit, especially Joe's who also has a very unique sense of humor, the type when someone finds comedy in the most normal/boring activities.
I was with them for one day only as I had to leave for Kovalam. I said goodbye to them followed by a mandatory "See you soon". Little did I know that this "See you soon" was going to be manifested in just 2 days because, after 2 days from then, I returned to Delhi and met Joe again. This has been the fastest manifestation in my life so far!
I was at the Kochi airport for my Delhi flight when I got his text asking me whether I have a washing machine. All his clothes and sleeping bag had become mouldy due to dampness and he wanted to wash everything. I invited him to my home where he met my king-size family because I live in a joint family. He was quite surprised to know about such a concept of family, which is now very rare even in India. He greeted everyone with Namaste and a big smile. He asked my mother about the significance of bindi, vermillion, etc. He had a conversation with my father also regarding jobs, houses, and more. He was so happy to be at home where he was taken care of and served so many yummy dishes. Even my mom and dad were quite comfortable and happy in his presence. And yeah, he made fun of the fact that I still live with my parents, which is the most Indian thing but completely an alien notion in his country.
He stayed in my home for 2 days and we talked a lot about thankfulness, positivity, hope, love, friendship, happiness, emotions, relationships, marriage, family, prayers, feelings, bucket list, environment, food, our gratitude journal, books, our secret pact, and especially how everything happens on purpose.
I had also told him about Rusty, my pet dog, passing away recently and how much I miss him. I showed him Rusty's collar and shared his few incidents. Looking at my sad face, Joe said, "I can bark like him early in the morning and bother you like he used to do." That made me giggle because his reaction was totally different from others. When everyone said to me in a low voice, "I am sorry for your loss", he was the one who tried to make me laugh.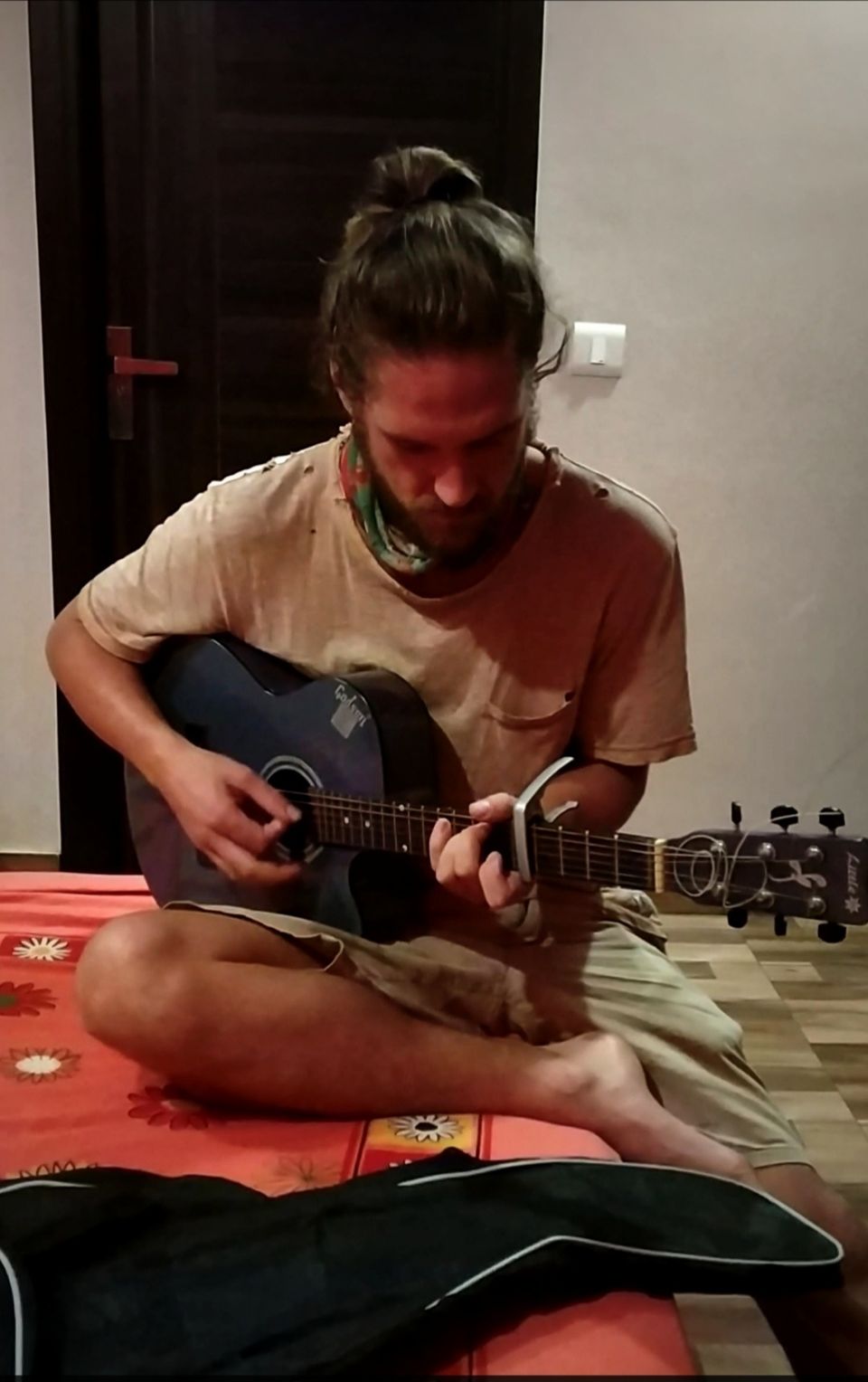 He sang a German song that he wrote for his best friend to say thank you. I recorded it and still listen to it because that's so soothing. I told him about my Vipassana meditation programme also that is scheduled for this month and he gave me a fair idea about it as he has already done that in Thailand.
I took him to Qutb Minar and Connaught Place to show him a little bit of Delhi.
And then, the day came when he had to leave for his journey ahead. While packing his stuff, he gave me juggling balls and taught me a little bit in order to distract my mind. Well, I showed him how pathetic I am in that!
We said "See you soon" with the hope of meeting again, which I believe we will. Some other country, some other time…
And now we share our stories with each other, and it feels so good to know that it's our strong love for travelling only because of which we are connected.
P.S. Joe gives great bear hugs :)
This was all about my Kerala trip that I took when my emotional health was in a mess. All the places were unbelievably beautiful and I was able to appreciate them even more because I realised that some amount of darkness is needed to be grateful for the light. Maybe the places were the same, but my perspective to look at them changed. Moreover, I have started to feel that the most wonderful thing about travelling is meeting people during the journey. Kerala healed me in so many ways. In short, it saved me!
Don't forget to visit Munnar and Alleppey when in Kerala. Check out the places to visit and things to do here.
Keep travelling!
Frequent searches leading to this page:-
Kerala Tourism Packages Honeymoon, Kerala Tourism Packages For Family, Top Kerala Tour Packages With Price, Best Kerala Tour Packages For Couple With Price, Kerala Tour Packages 3 Nights 4 Days Price, Best Kerala Tour Packages With Price From Delhi