I think it can't get any better, my last night at Kovalam Beach. Though it is off season and most of all would say, 'No' to Kerala in the middle of monsoon, this is the best time for me to visit Kerala. To see and experience what makes Kerala-Kerala, one can't do without visiting it in monsoon. Oh, actually this can get better in two ways: 1) if Rajesh uncle from Pizzeria could listen to my request and turn off the Bollywood music he is playing (he think probably this attracts tourists?) 2) if it was a bit safer to walk around on the lonely beach at night. Going back to Rajesh uncle and tourists, Kovalam is a big NO in the season (September-ish to January-ish) because it becomes commercial beyond my enjoyment. But, today I can count the number of people on the beach without recounting my fingers and can count the number of people in this restaurant without using numbers! [HINT: there is no one here, except me]
Now, I'll tell you why and how this evening is perfect-ish. I am sitting by a lantern under a coconut thatch leaf shade overlooking the Arabian Sea in its high tide rushing to meet the shore being welcomed by the thrust of monsoon showers and my big (BIG) smile.
Just like this beach – The Lighthouse Beach, I am half drenched in salt water, half in fresh water and am glittering in the black sand all over. The monsoon breeze is embracing me like a lovers' hug and this black south cotton lungi I have wrapped around as a shawl is doing the job of ma's hot masala chai. And, there was a big bijli just now, and again!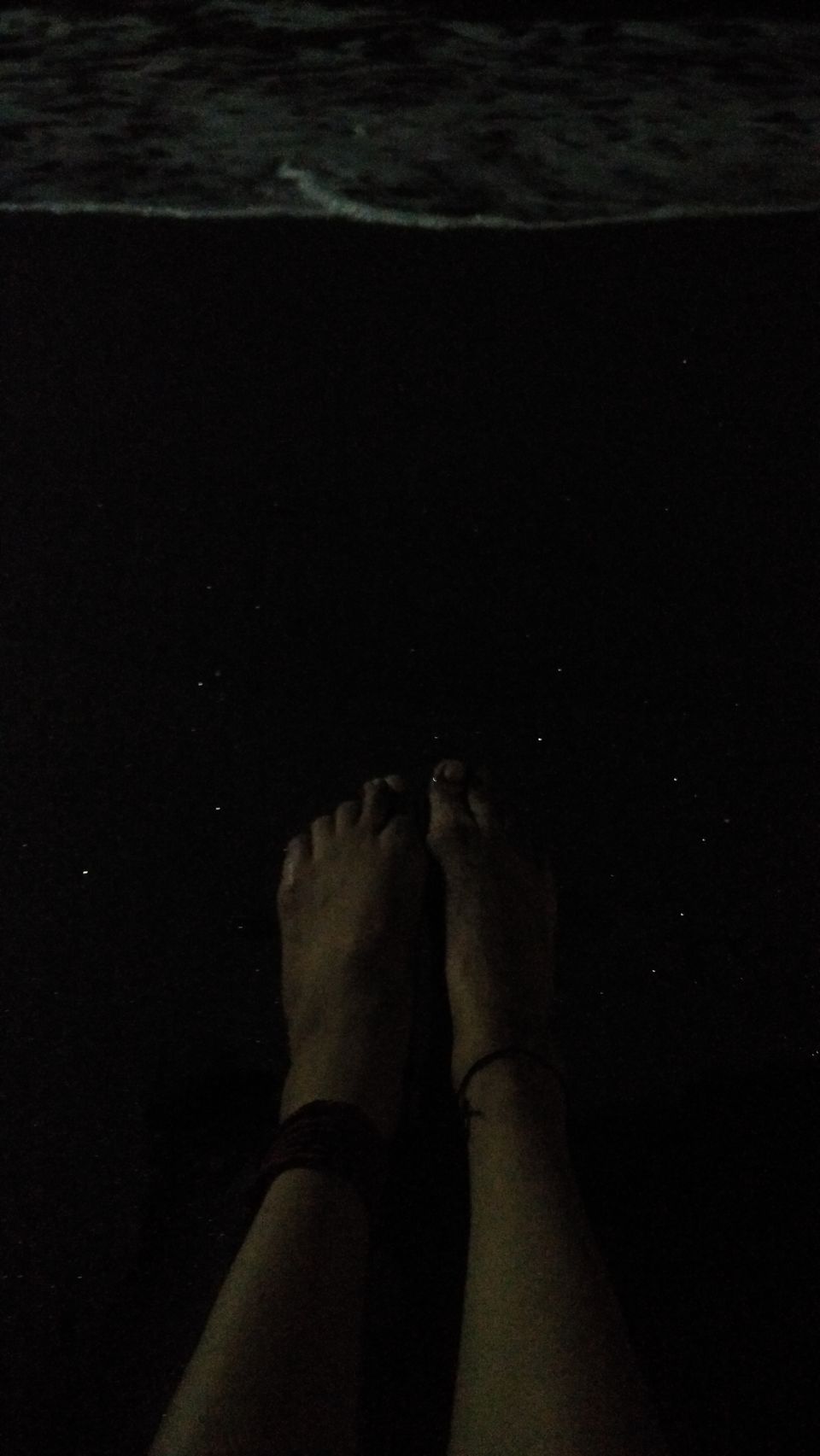 Pizzeria is this restaurant owned by Mr. Rajesh Kumar who is a native of Kovalam. He says this place became commercial about 13 years ago. Rajesh uncle is a stout and smiling middle-aged man whom I met on Day one when I went hunting for brunch. I walked all across the beach until I stopped at Pizzeria only because it had a sea view. I asked Rajesh uncle if he had dosa but all he had was Chinese, sandwiches, some western breakfast dishes, and rice. I smiled and went ahead only to realize after 10 more mins of strolling around that Pizzeria was the best I could do as all the other shops were either closed for off-season or served the same menu for about 100 rupees more. So, here I was, back at Pizzeria where Rajesh uncle greeted me with the same big smile. After struggling through the menu for another 5 mins I decided on coffee and fried rice. I found myself a front row seat, the same one I reserved for all my subsequent meals at Pizzeria.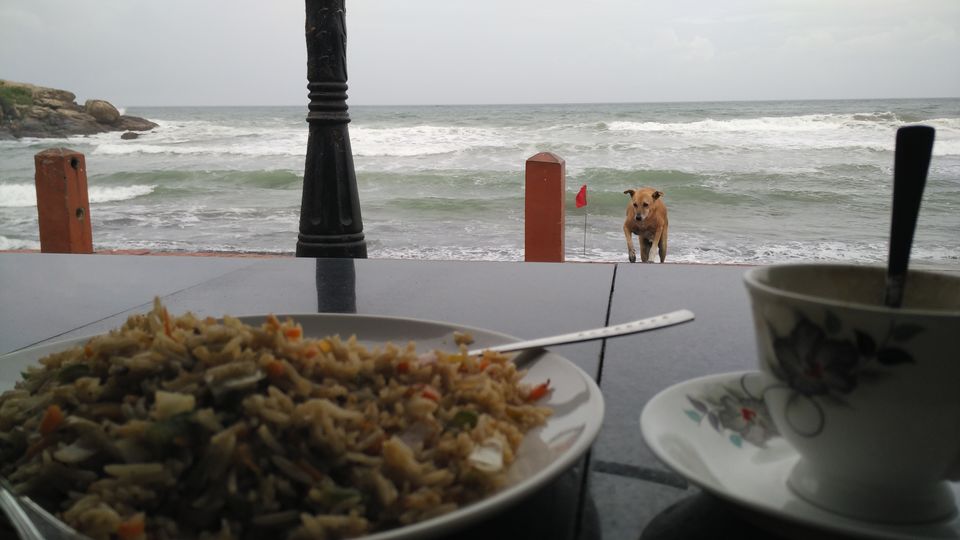 I was regretting on how the fried rice was going to be crappy and how I should have ordered pancakes, maybe? But within minutes, the cook- now doubling as the waiter- comes to serve me my brunch. To my surprise, both of those things were worth my decision- so delicious! About the same time, I met another Rajesh, unlike Rajesh uncle this one was probably 25-28, max 30. He had grown a beard like every other guy you see these days with his moustache curling up. He had a smiling face, kind eyes, and curiosity to learn what I was doing there all by myself. I am not too sure about what I told him as I had been telling people all sorts of stories to ward-off danger coming towards me for traveling all by myself. I thought he worked there and I asked him if the two-wheeler rentals were open these days. He quotes me Rs. 400/- day and went to confirm if the rental were open. By the time he comes back I almost forgot about Rajesh as I was in no mood to go anywhere but chill on the beach after an eventful day in Kanyakumari the day before and four sleepless nights in Tuticorin. Now, Rajesh came back to tell me that all the rental shops are closed but he could lend me his Deo for Rs. 300/- day. I was almost getting full and some bargaining exercise sounded tempting. I asked Rajesh, "what if I rent it for half a day today and all day tomorrow?", he smiled, hesitated and asked where was I planning to go and how many people I was going with? I made up a facetious but plausible plan about going to Poovar that day and to Varkala the next. Next, he asks, with a surprise on his face, "all by yourself? Would you like me to come along?" Now, sensing the creep alert, I said- "No! I am going alone, tell me how much?" He smiled and said Rs. 300 for two days, OK? I said yes, but suddenly I realized that this bargaining exercise turned into a real deal and my chilling plan has turned into an oncoming adventure. Opps! I also then realized that I'd have to drive, may be in the rain, may be through traffic, on the slopes, via state highway and how good is my driving anyways? I then text Aashita didi about my deal and she gives thumbs up which I very cunningly translate to all the motivation I needed to drive.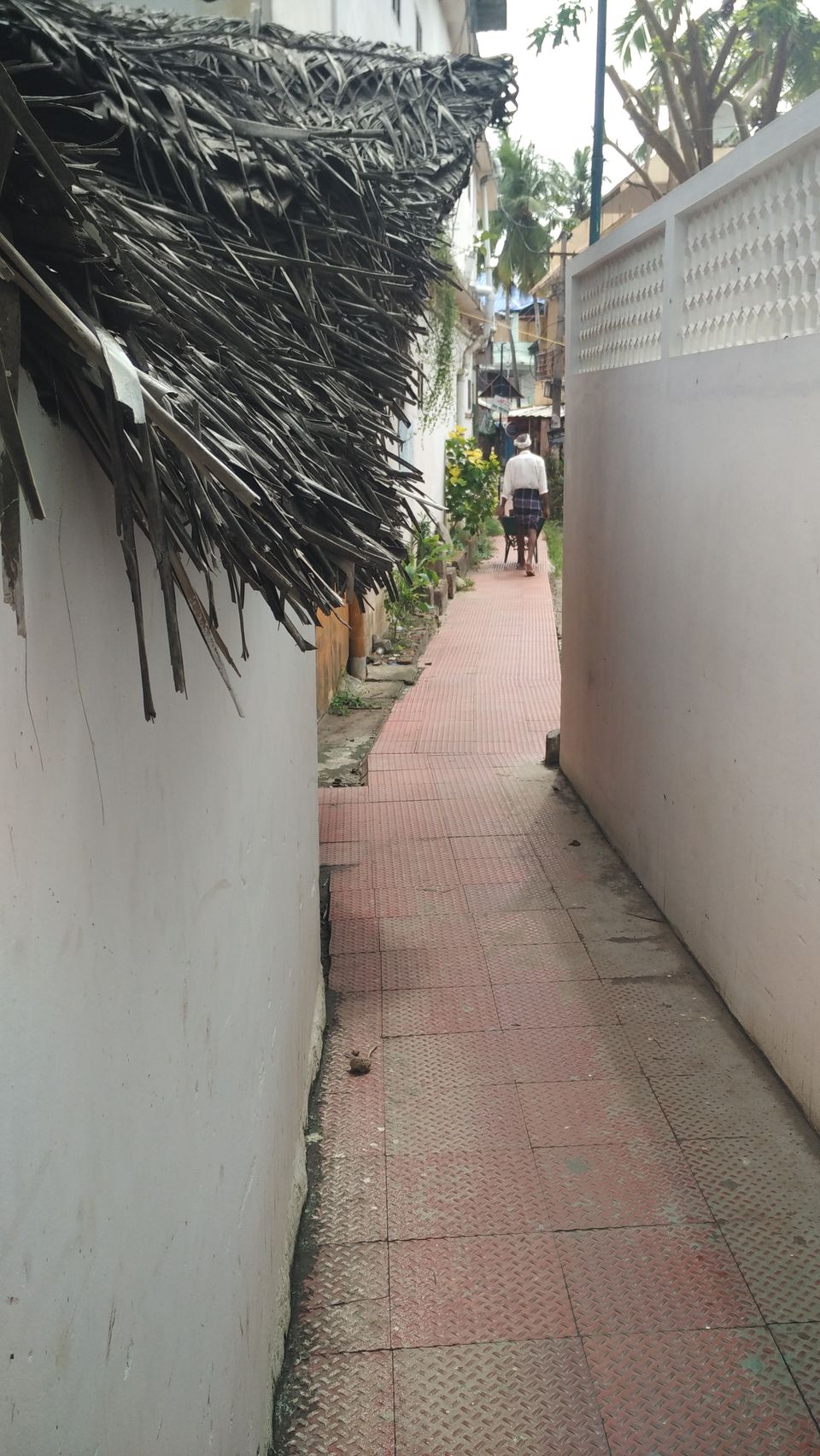 So, at 3 pm sharp I reach Hotel Peacock which was so far away from my hostel that I would have gotten lost if not for Priya and Pratibha, 2 girls from Hampi, Karnataka who tagged along with me. Just like them, there were a lot of tailors and cloth-makers all around the shacks. These shop owners seemed at ease in the off-season. Rajesh, who was only 3 minutes late but due to impatience those 3 minutes seemed like 30. He finally handed off his "darling" to me with a safety brief and multiple pledges to be careful and safe.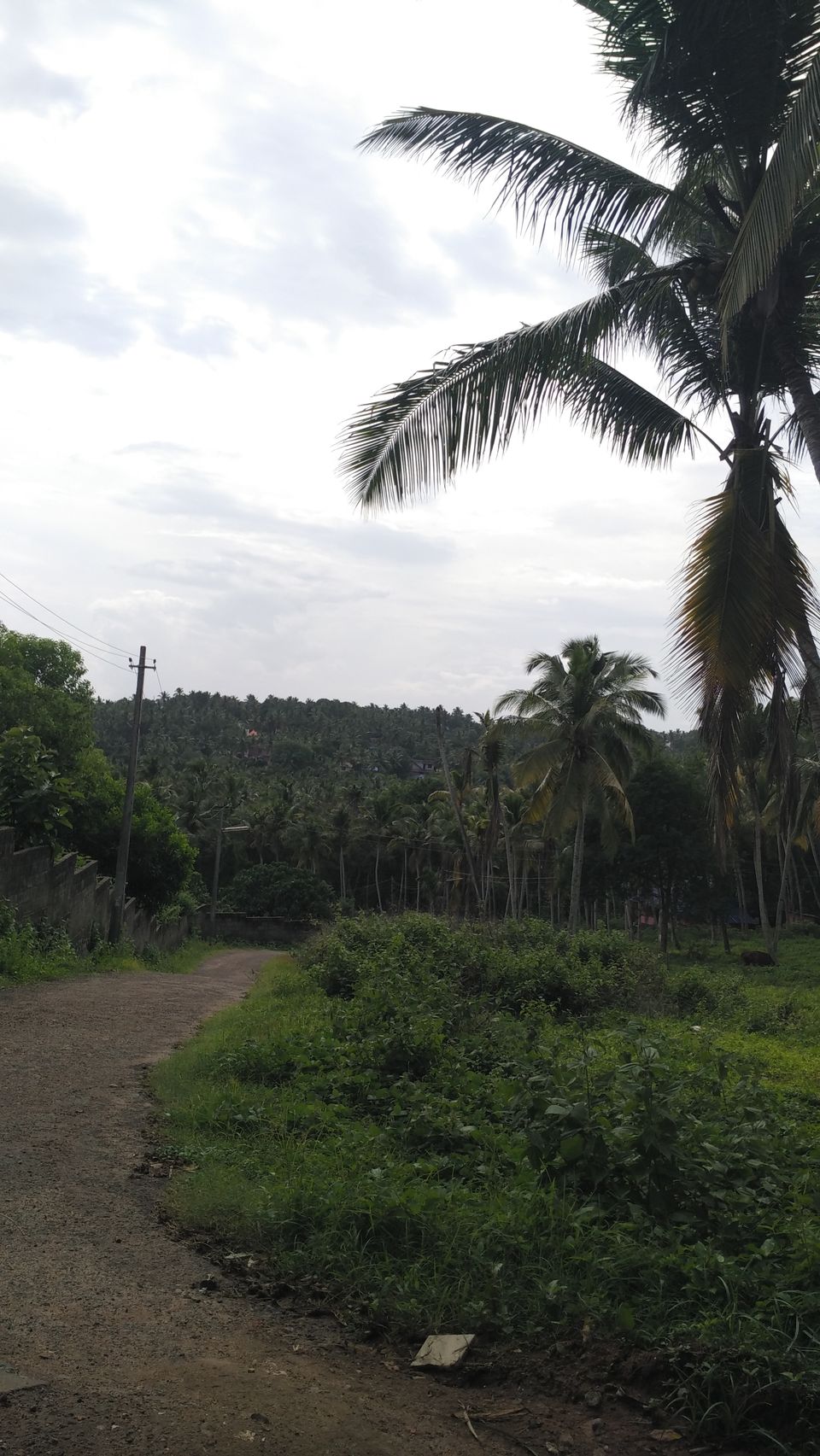 I started off for Poovar and after making a couple of stops at random view points in between, I reached Poovar in about an hour with the help of human GPS disguised as Akkas and Annas. In Poovar, I was snapped by boating agencies who demanded Rs. 3500 for a 1.5 hr boat ride. Again, I was chilling at Poovar beach which had a river on one side and sea on the other but these agencies won't leave me alone and my bargaining skills won me a boat ride through the backwaters for Rs. 500 (under-the-table) for 1.5 hr. (Again, I can't imagine how commercial this place could get in season!). A guy named Alley was my boat rider who was about 18-20 years old from Trivandrum. Alike, everyone I came across, Alley was also curious to know why would someone come to such a beautiful place all by themselves? Little did he know, or maybe he did, how peaceful it was to be traveling alone. But what he got out of me was a story I mastered by then- "My dad is on a short-term project in Trivandrum; I am visiting him for a week, was bored so drove off to Poovar", but "Where is your mom? And where does your dad work?" Oh Gosh! Did I get trapped in my own story?
Alley showed me mangrooves, or mangroves, and how there were water snakes in the Neyyar River but he could swim around them without any worry. By the time we got to Poovar Island, it was raining so heavily that it was no safer to ride our boat or stay on the Island, but we did both. Alley was surprised to know that I could swim and would like to swim, so, he took me to the end of the island after the rain where I could swim in the river. Unfortunately, my side-slit palazzos wanted the opposite. Before heading back, Alley took me offshore through the mangroves to show a hiding place where a Raja used to spend summers in boathouse-like villas. I have this feeling that this was not really a part of the scheduled ride.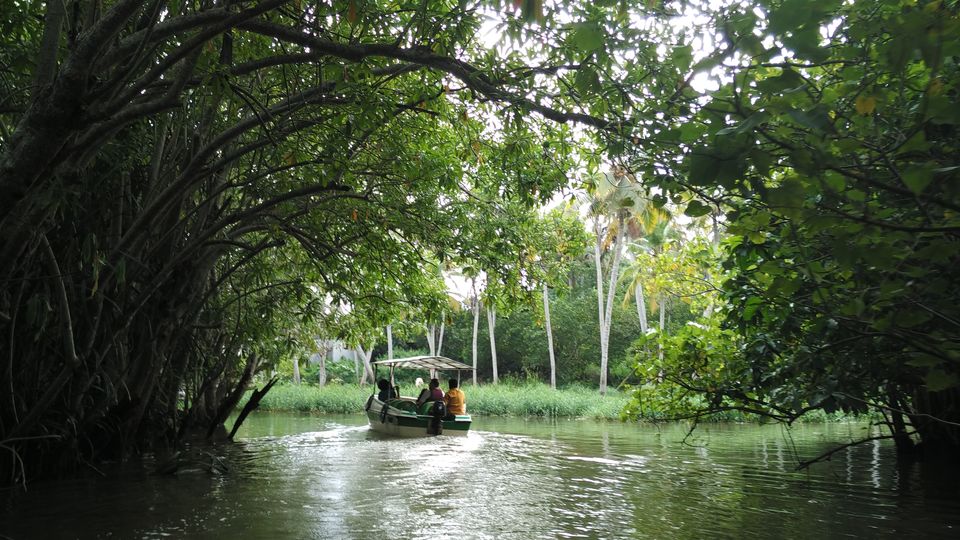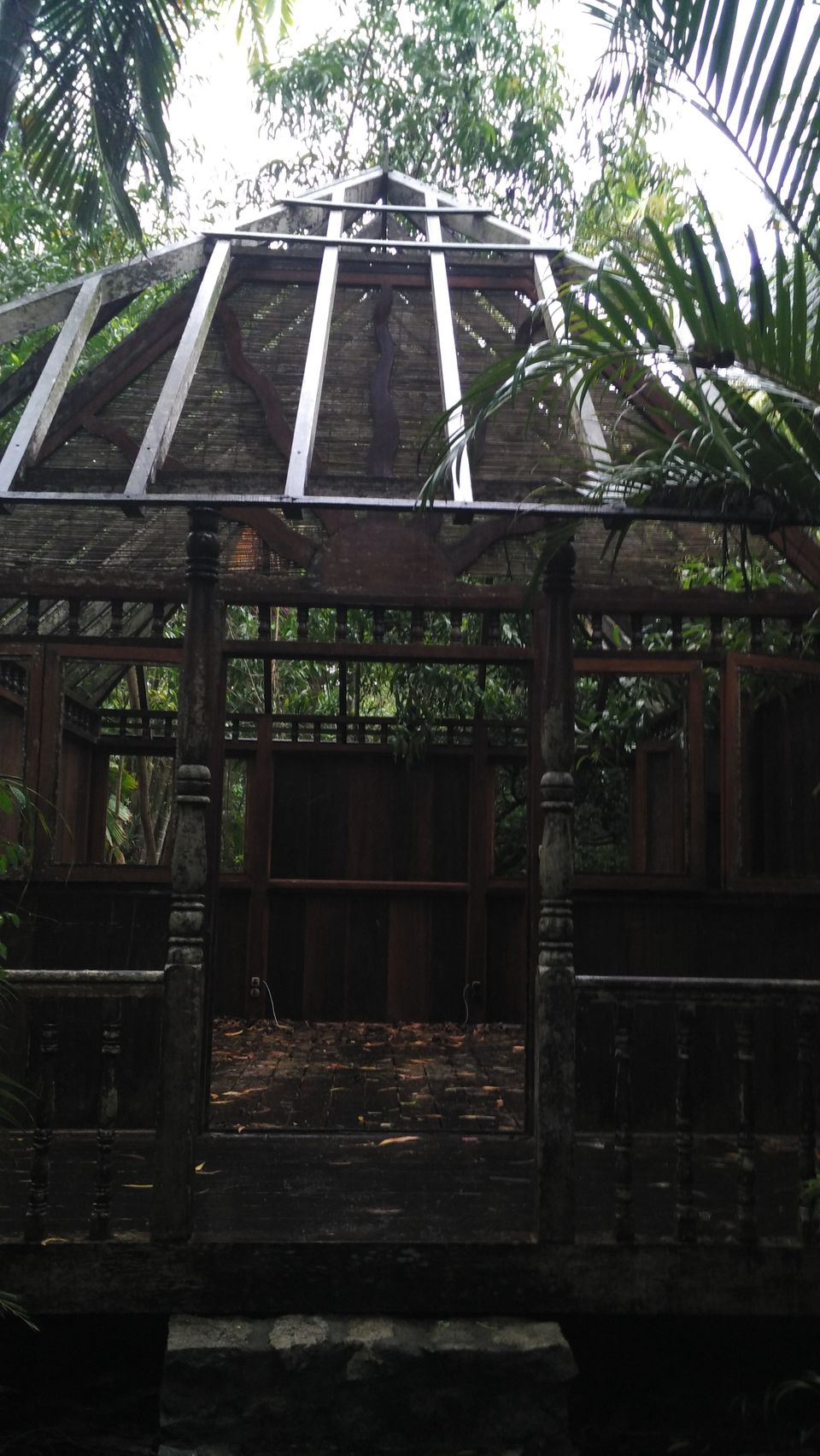 I came back to Kovalam exactly by the scheduled time and met Amit who was staying at the same hostel. He was also traveling solo from Bangalore but hailed originally from a small town near Nagpur and was an avid history reader. So naturally, he made me feel bad about my history knowledge like not knowing what Savitri Bai Phule did, but talking to him made me feel great about how much I knew about the ocean. For the record, Savitri Bai Phule won right to education for women and we all should be thankful to her. Rest of the night was spent by the light house on the beach where the black bauxite sand was now glittering in the ambient light.
Just like how all plans end, my very much studied, researched and pre-pre-planned itinerary for day two was also a flop. My plan was to go to Ponmudi, a nearby hill station, by early morning bus, come back by noon, get Deo from Rajesh and visit Vellayan Lake and a couple other spots. But I woke up only to find out that Trivandrum is where I will be heading to get my now-dysfunctional phone fixed. Hmm, flashbacks came to me- clicking pictures in the rain, dropping it in the sea and million other times here and there. This is when one feels sorry and promises yourself that no matter what you will be careful from now on, but, how can one change our defining characters? So this sight-seeing day turns a bit too hectic. I was never able to get my phone repaired but I have now switched to the age old rock star of phones-Nokia 1100, good old days.
The good thing about this plan was my quintessential visit to the Padmanabhaswami Temple just to know what makes it the richest temple of the world. If being richest means charging Rs. 150 for special entry and honouring all sorts of donations, then what good is this wealth? Anyways, by the time my phone was being operated by the repair shop which I somehow found without knowing a thing about this new city I ate Kerala style meal and a paid a short visit to the fishing harbour in Vizhinjam, which I later found out was an international seaport. Rest of the evening was spent overlooking Arabian Sea from lighthouse, spotting the oncoming monsoon and finally being hit by the showers, those beautiful showers.
I knew exactly what I wanted for my last dinner in Kerala – Malabar fish curry and I knew exactly where I wanted to go- The Pizzeria, the name if you wonder comes from the famous coal-oven cooked thin crust pizza they serve in season mainly for their western tourists. Uncle Rajesh accommodated my request to get half a plate of curry, made extra spicy.
The next and last morning was spent overlooking the sea where I was mostly focusing on this girl who was trying to access the waves for surfing. Surfing was my hidden reason behind going to Kovalam but on my way, I found out from Kovalam Surf Club how they were closed for the season and I will have to come back again when the season opens in September. While I am busy contemplating my unfulfilled purpose of visiting Kovalam, I am woken up by a familiar voice saying, "Hi, Radhika! You are having rice this early?" Now, excited that I got to see Shahi before leaving I waved back with utter excitement while pointing towards my stomach and grimacing about how hungry I was.
Shahi, a.k.a. Shahjahan, was a local-born and bought up in Kovalam. I met him first when I was trying to find my way around the cliff, below the lighthouse. While am climbing my way up to the cliff he waves at me asking where did I want to go? I just shrug my shoulders indicating that I have no idea, just like that. He told me that I can climb but I shouldn't go all the way around or to the lighthouse. I gave him thumbs up assuring that I will be safe and started climbing. After getting to the top take and in the breathtaking view, I rested my eyes on Shahi and another old man as they kept fishing by the cliff. By taking small and careful steps, I kept going around to get a better view of the sea and the fishermen. Shahi and the older fisherman were also intermittently turning back to observe me and smiling back to acknowledge that they appreciate I am listening to their advice. I really wanted to go down to the edge where they were fishing so that I could be closer to the sea but I found a comfortable spot up top and settled there to carry on with my observations. Next, the old guy lighted a cigarette and passed it to Shahi while helping him with the fishing line they were trying to untangle. Then Shahi looks back and asks if I would like to come down; I excitedly shook my head and started to make my way down carefully. I managed to go down and settle on a big stone right where the ways were breaking -ready to be splashed by the next big wave, but the old man asked me to move back and sit by the snake boats that were secured behind me. By this time Shahi was ready to throw his bait far behind the wave break. He threw the line and called it back within 5 mins. He tried multiple times before he came back for a fresh piece of bait. I asked him if he caught any fish yet, a stupid question as I could see he hasn't but well this is how creative I can get with obvious questions. Shahi said, "One has to be patient". Shahi then took out a previously caught black-colored crab, broke his leg and used that as bait on the line. When his line was ready he showed it to me and said, "Fishes love crabs" to which I said, "Me too!", he chuckled and mentioned he did as well. I asked him if he was a fisherman, he told me how he loved fishing and would fish for his friends and family but sometimes if he had access fish he would sell it to the hotels.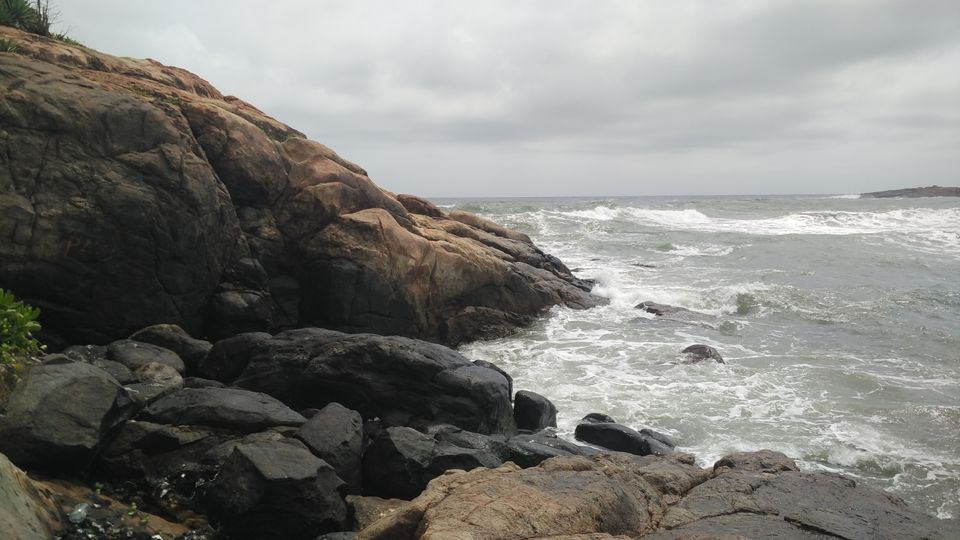 By profession, he was a seasonal worker in a local hotel. He told me how he can't imagine his life without the ocean. I told him how I am from a landlocked place, fell in love with the sea life and I am trying to study it through conversations like this. Shahi might be working in the hotel but he was a man with a lot of knowledge about the ocean; he told me all about the changes and loss of fishes he has been observing all these years- fishes were fewer and their sizes were getting smaller. He was sad to see all the trash but he didn't believe banning plastic could solve the problem altogether. Putting his fedora hat on, he went back to throw his line behind the surge. What caught my eye when I first saw Shahi, was a locket he was wearing in a beaded necklace. The locket had a wave carved on a circular shank piece. I couldn't but tell him how much I loved his locket, but at the same time, I couldn't imagine anybody but him carrying it off with that sauvé. At last, wishing each other Eid Mubarak we shared our last goodbye.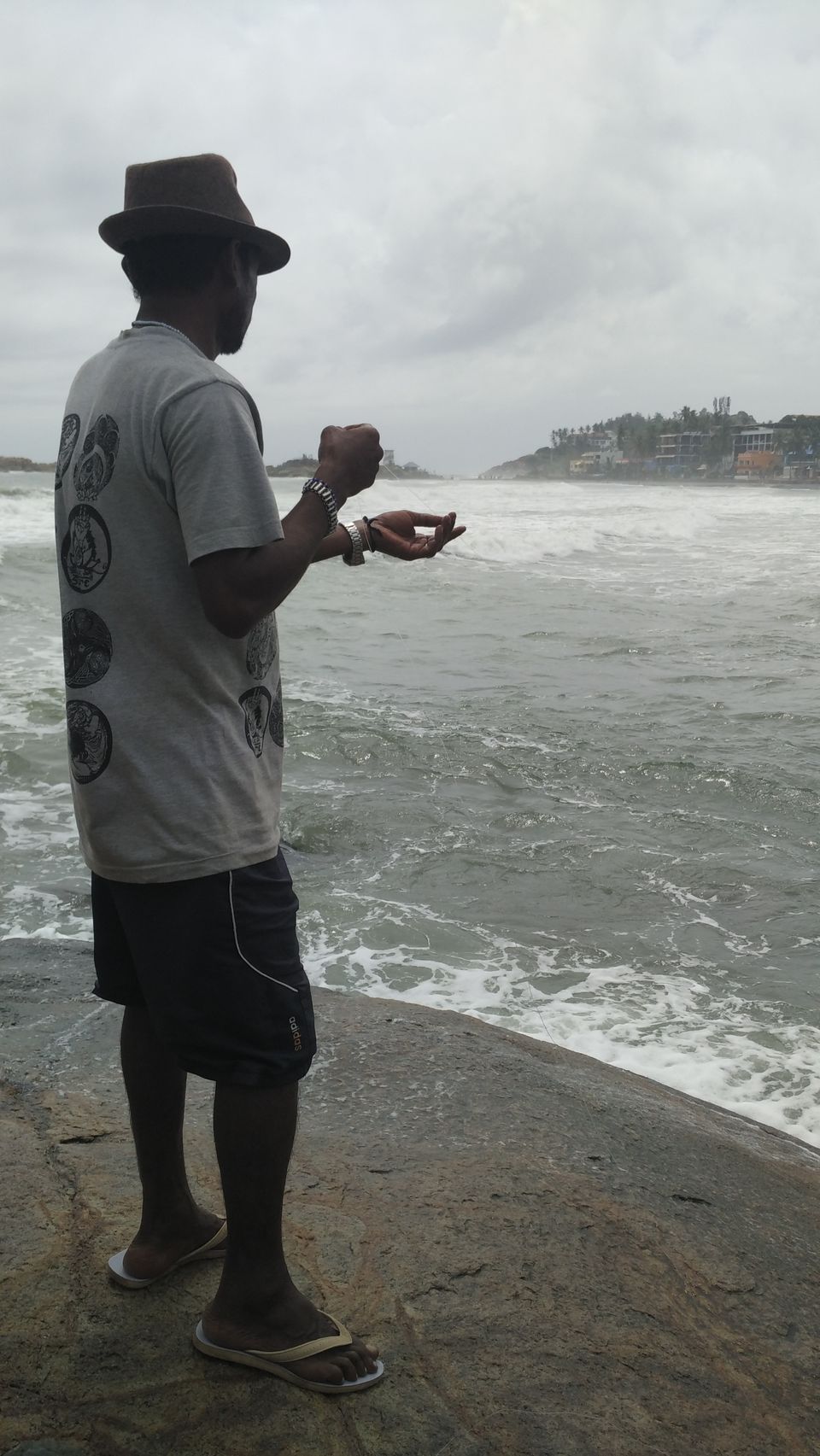 Going back to my last morning where I was observing that female surfer- after some time I lost her among the increasing number of tourists visiting Kovalam probably for Eid break. Among these tourists were a group of three sweating friends on their bikes trying to find something to eat and deal with one of their hungry friend's tantrum? The female surfer passed by my restaurant so I called out to her asking if the waves were any good? At first she had a confused look on her face, but later on, she told me how she didn't want to surf all by herself and was going to wait for her friends to come back. She was a sports teacher at a local school and a member of Kovalam Surf Club, originally from the Netherlands! Excited about the coincidence, I told her how I came to Kovalam to surf with Kovalam Surf Club but only received their email after my arrival. And guess what? She took a few seconds and asked, "Is your name Radhika? I was the one who replied to your email, I love your name!" Sakiya, the surfer, told me I should come back in September and Kovalam would treat me with a great spot to learn Surfing. I don't know if I would be able to go back in September, but I guess now I have a reason to go back to Kovalam in the season.
And such is life, no matter how random it may seem, at the most unexpected time it will prove to be all part of a master plan. What would have been a better way to soak up the Arabian Sea for the last time than to actually step in the Sea? At last, at the end of my third morning, I suddenly started to long being in the Sea, so I rushed through breakfast and ran towards the waves without caring about how heavily it was raining. After getting all salty and sandy, I went back to pick up my umbrella from under the watch tower where almost immediately a lifeguard named Vergin offered me a seat to start up a conversation. To break the ice, he told me how tides change when monsoon season hits accompanied by the changing color of sand and water. And how could I have not been a part of this conversation? This was a great start to catch my attention. Regardless of our language barriers- Malayalam vs. Hindi- we were able to talk in broken English-Hindi-and-interpretative sign language. We talked about how I wanted to conserve ocean, he told me about his books on Kerela coastline, his years of observation by the Kovalam coast, his educational and community awareness work. We finally parted with his blessing for my future and his promise that once he translates his books in English he will send me a copy. Vergin advocated on how I should come back to study and work along the Kerela coast, and I think I was already hooked on to this idea; his arguments only strengthen my wish to work on the southwest coast.
Roughly from past one year, I have been so close to the sea that I could visit it whenever I wanted, but no matter how many times I do, I can't grow tired of it. In fact, I only come back feeling motivated to do all I can to give back. The sea, the ocean, can't seize to amaze me and I can't but be humbled by this magnificent creation of nature, a world of its own.