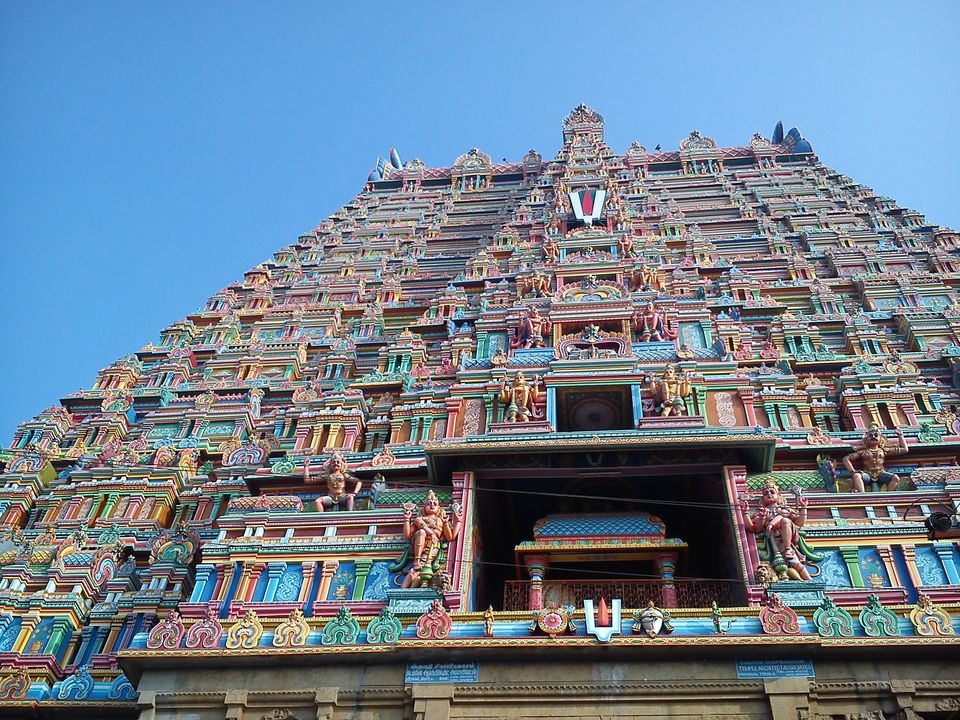 A date with my mom would usually go like this: a visit to a Church, shopping for shoes and clothes, lunch, a movie and off to the spa. We try to have these bonding moments each time we can, and such days don't have to fall on any special occasion.
Now, I'd like to stretch our usual one-day date into a week or two spanning 6 cities across India. Of course, given that your moms are up for an All-India tour and have the same little joys as my mom's, you may also try to take the following route.
1. First, we go for a pilgrimage to Velankanni, the Tamil Nadu state which is home to one of India's biggest Catholic pilgrimage centres, the Basilica of Our Lady of Good Health. My mom is a big devotee of the Our Lady. There, we can recite as many rosaries as she would usually do, especially on a Wednesday, and pray for good health and safety. Of course, depending on one's beliefs and culture, other religious sites can also be found in Andhra Pradesh (Tirumala Venkateswara Temple), in Rajasthan (Dargah of Moinuddin Chishti), and in Punjab (Harmandir Sahib), among many others. What's important is to start this trip with a moment of prayer and reflection with your mom. [I have not been yet to these sites, so for now, I'll show you pics of Goa and Trichy.]
2. Now, from Velankanni, we can go for lunch in Bangalore, in nearby Karnataka. I know India offers a lot of rich and diverse gastronomic pleasures, but Bangalore is home for me now. So, I know which stomach pleasers could lead to my mom's heart. For example, we can do some restaurant-hopping along Church Street or around Indiranagar. My mom's not a picky eater, but she does have a smaller appetite. We'll see about that. Who knows, she might just opt for some soup at any Chinese restaurant or actually go for a full-on Indian buffet somewhere. The point is: we don't want a hungry mom on the road.
3. To lose those extra calories, as we also would want our moms to maintain their, well, great health, we might need some breeze walking and at least, some arm exercises while rolling out and choosing one cloth after the other in textile-haven Coimbatore, again in Tamil Nadu. My mom is not the fashionista kind, but she definitely loves her white pieces. She's not into sarees and other colorful stuff and all, but a pair of light day dresses and/or dusters would really make her clothing bucket list. How about yours?
4. We'll not go far from Coimbatore for some pampering as we head further south to Kerala for some ayurvedic sessions. Normally, my mom and I would only go for body scrub and full body massage. But since, we're in Kerala, a couple of days' therapy and diet might do wonders on our stress-stricken systems. Just be sure the treatments are compatible with your mom's medical condition and blood pressure levels, etc.
5. Relaxed and feeling lighter than ever, we are ready to face the mean streets of Mumbai. The movie buff that she is (my grandfather used to work at the town's box office), my mom would definitely want to check out the film scene of the Bollywood kind. We'll struggle with the language, but with our deep telenovela sensibilities, we'll sing and dance our way through a Hindi feature. My mom's a fan of love stories of the highly dramatic leaning.
6. Our cinematic hunger satisfied, we'll step on towards my mom's other guilty pleasure: shoes! They say Agra has a big footwear industry. My mom's a simple woman but she goes head over heels when it comes to sandals, slip-ons, step-ins, shoes. And while in Agra, we might as well cap our weeklong date with a stroll, new shoes and all, around the Taj Mahal to watch the sunset. Just be careful not to get your new pair mixed up with the rest of the footwear being left outside of the site. If ever, our big date might end up on the wrong foot.
Let's go treat our moms to a trip they totally deserve!//