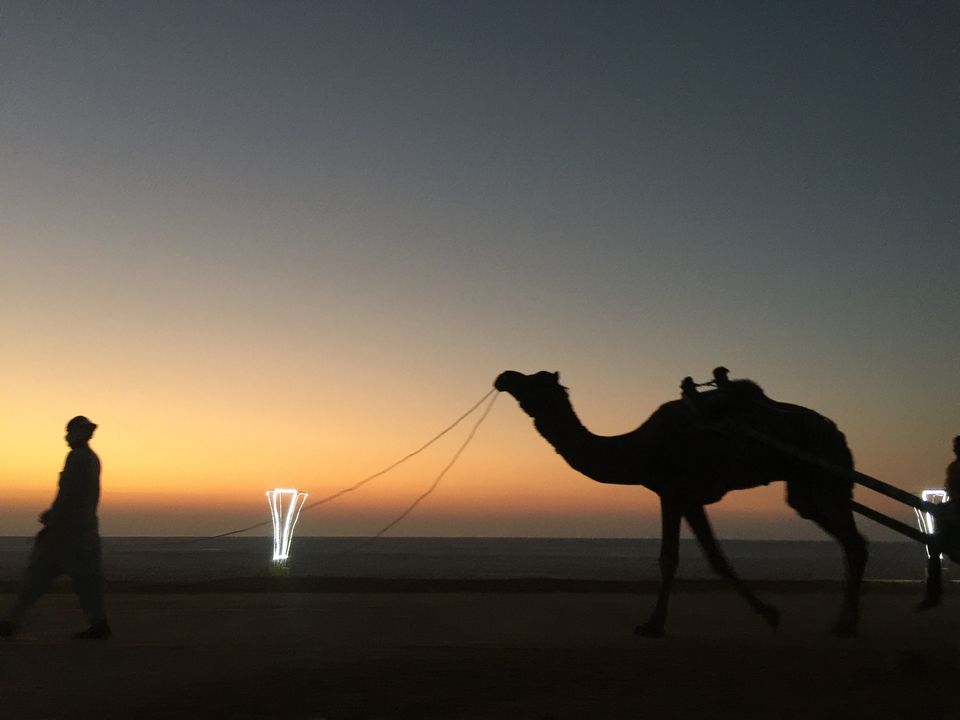 Road Trip from Bangalore -> Mumbai -> Daman n Diu -> Rann of Kutch -> Mount Abu -> Udaipur -> Jaipur. 3716 Kms, 11 Days, 4 Riders.
Travel is the best way to improve your life because it builds many skills at once. Instead of making long resolutions list this year, just travel.
With stunning beaches, a rich culture, ancient heritage buildings, varied food options, mesmerizing mountains, never ending lonely roads, majestic temples and most important some quality time for yourself, India is an enthralling country to see through your eyes.
Millions of tourists across the globe visit this wonderful land spending millions of grants, and guess what we don't need even a passport to see our own country, so why wait, get set go!!
My Mantra of Travel
Work, Save, Travel, Repeat!!
Born in a family of Truck Drivers, who are in fact the back bone of this country, driving was in my blood which I had inherited from my grand dad, so neither my parents could keep me away from this journey.
After a period of 2 years travelling to the North, exploring Ladakh Valley, the next trip on my mind was Rann of Kutch, the world's largest salt desert, measuring over 16,000 sq km, sleeping under the open sky, and surrendering myself to this beauty on earth.
After a year of planning, I was sure to welcome 2017 on the highways of India, where my roots belong in real.
Day 1: Bangalore to Belgaum : 550 Kms
Dec 22, 2016 – early morning, I started my solo drive from Bangalore to Belgaum, where I was meeting my partner rider Pradeep Patil apna child hood bheedu.
On the way from Bengaluru, I stopped at Davanagere – 280 kms, to meet my father and receive his good wishes for the rest of the journey.
Finally, I completed 550 Kms on day 1 and took good rest and get energized for the drive ahead.
Day 2: Belgaum to Mumbai : 500 Kms
Started Day 2 with a quick bike Pooja by Pradeep's mom and we were all set for the journey. The chill weather, and the rising sun was a perfect time to hit the road. Within an hour of our ride we were at the Karnataka-Maharashtra border. Post crossing Kolhapur,It was time to taste some Maharasthrian breakfast - Upma, Poha, food always tastes better when served with a smile.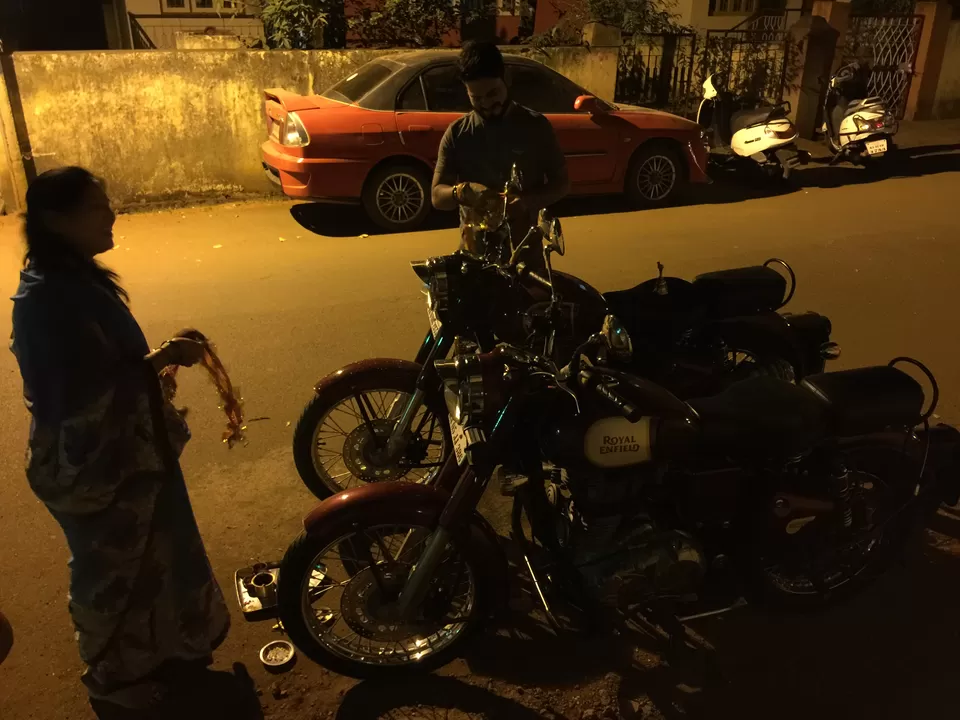 Close to 3 Pm we were in Pune, the weather wasn't too appealing at Pune as it was scotching hot. We stopped for a quick lunch and continued the journey to Mumbai which was 150 Kms of drive, however the sad part was we couldn't take Pune-Mumbai express way, as bikes are not permitted.
The old NH4 is very busy and it took us close to 4 hrs to reach Panvel and we landed in Mumbai, Andheri East at around 9 PM, beating Mumbai's crazy traffic.
Yet reaching late didn't spoil our mood, we explored the Mumbai night life, had lip smacking food at Juhu Beach and took good rest for the journey ahead.
Mumbai Stay: Hotel Symphony House, Plot No. 192, Shere Punjab Society, Andheri East, Mumbai, Maharashtra 400093. Ph no: 97024 35211
Day 3: Mumbai local Sightseeing
2 of our friends, Kumar Swamy & Thejaswini Kumar were about to join us from Mumbai, we drove Vasi to collect their Royal Enfield which we sent via Agarwal Packers.
By 11.30 PM, they reached the hotel and the 4 of us finally met, had dinner and slept om time and get geared up for our ride to Daman the next morning.
Day 4: Mumbai to Moti Daman : 165 Kms half day sight seeing
Left the hustle-bustle of Mumbai, Drove via Mumbai Thane highway which was loaded with heavy traffic for miles, however the advantage of travelling on bike, you can always tweak the traffic and make your way out.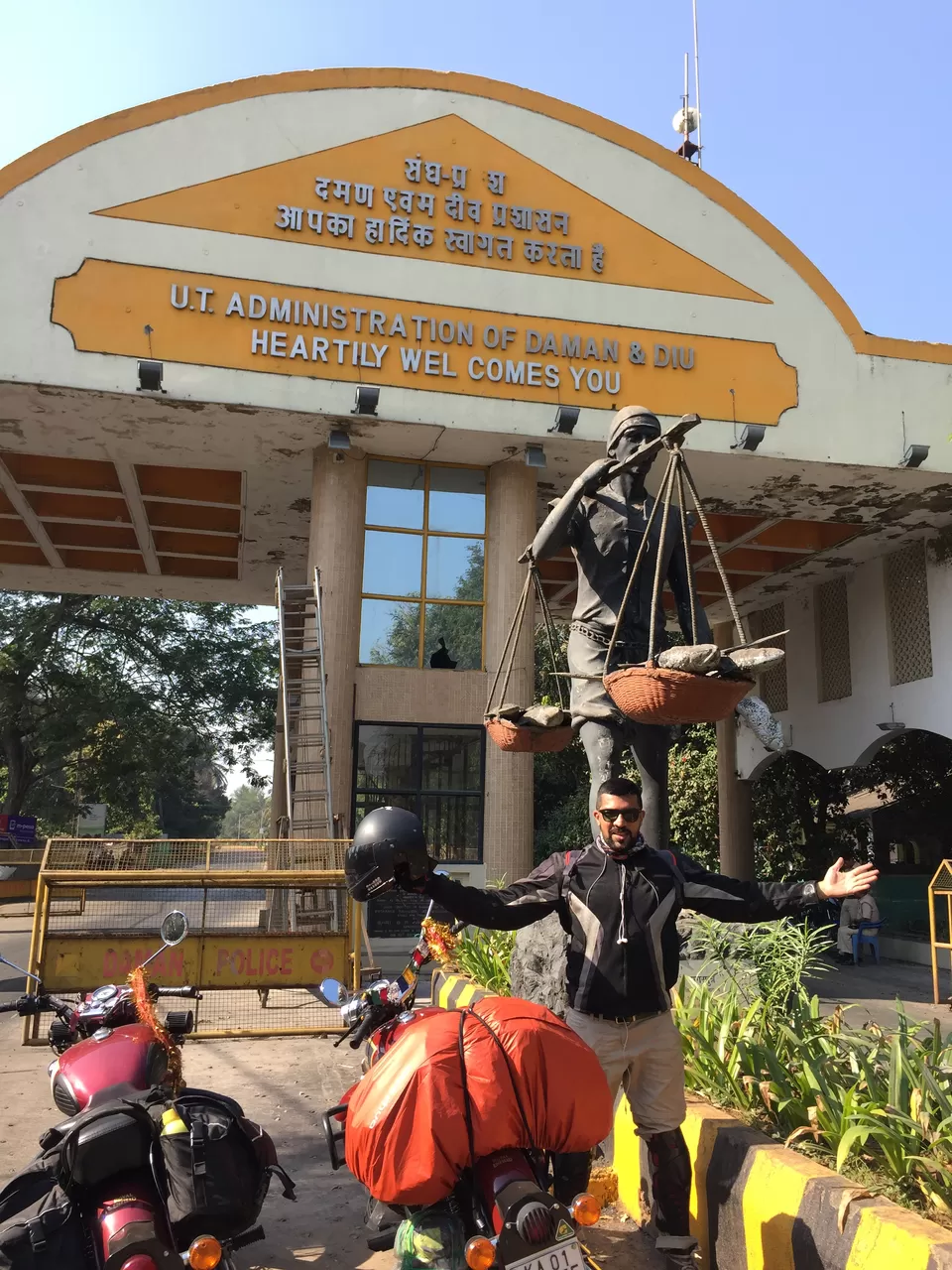 Around 3 Pm we touched another UT,Daman – the less explored. A tiny beach town with yummy food the moti Daman beach was the first relaxing stop, must try the prawns masala and pomfret fry.
After sunset we left Daman to drive until Surat,Gujrat for our night stay.
Gujarat has one of the best highway networks, unlike NH 4 which is usually busy, NH 8 was comparativley free and amazing to drive.
Finally managed to find an excellent budget hotel on Surat highway.
Daman to Surat : 110 Kms
Surat Stay: Hotel Horizon, 19/20 Jalaram Estae NH No-6 Kadodara Bardoli Road, Surat - Bardoli Rd, Kadodara, Surat, Gujarat 394327 Ph no: 97254 01153
Day 5: Surat to Maliya, Ahmedabad 450 Kms
Ahmedabad was our next destination for stay before we reached Kutch. We stopped at Malliya for rest and the drive ahead to Kutch.
Stay: GK Hotel, Maliya-Halvad Highway, Near Petrol Pump,, Malia, Gujarat 363670 Ph no: 7046009901/2/3
Day 6: Malia to Dhordo (White Rann): 206 Kms
We started early after a good delicious Gujarati breakfast. Yes Gujarat is really a dry state, but for those who wish to enjoy a drink in the cold desert – Rann, the only hope is Bhuj , so don't forget to buy your bottles in Bhuj which is half way to Kutch.
Ask for Hotel Prince, New station road, Bhuj. There is a small permit room behind the hotel. Please note liquor is sold only to the tourist and travelers who are not from Gujarat, So you need to carry below things in order to buy 2 bottles per person.
1. Non Gujarat petrol bill/hotel bill.2. Gujarat petrol bill/hotel bill. 3. Govt ID photocopy
Hotel Prince, Station Rd, Lal Tekri, Bhuj, https://www.google.co.in/maps/place/Hotel+Prince/@23.2518554,69.6760029,19.08z/data=!4m5!3m4!1s0x0:0x199d8cb5e11fc7b4!8m2!3d23.2516072!4d69.6761084
Please note this information is only to help who ever wish to enjoy a drink, even though i dont :)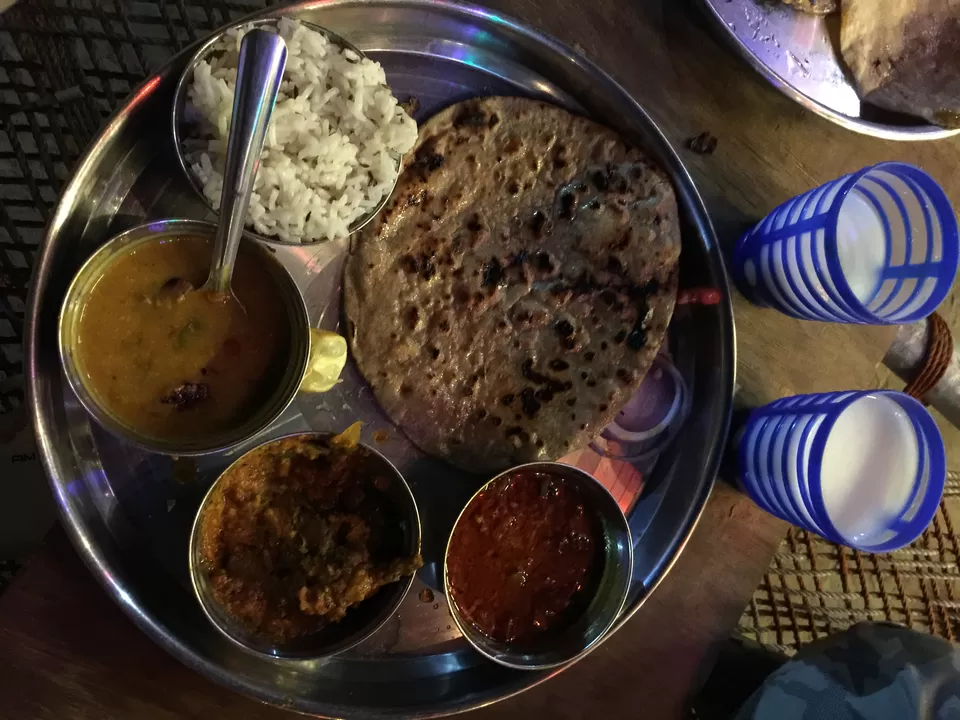 The one thing that is guaranteed in Gujarat is food and refreshing Chhach (Buttermilk), wherever you stop at any random Dhaba or hotel, you will enjoy a delicious meal and buttermilk. So don't hesitate to stop for any number of short snack break.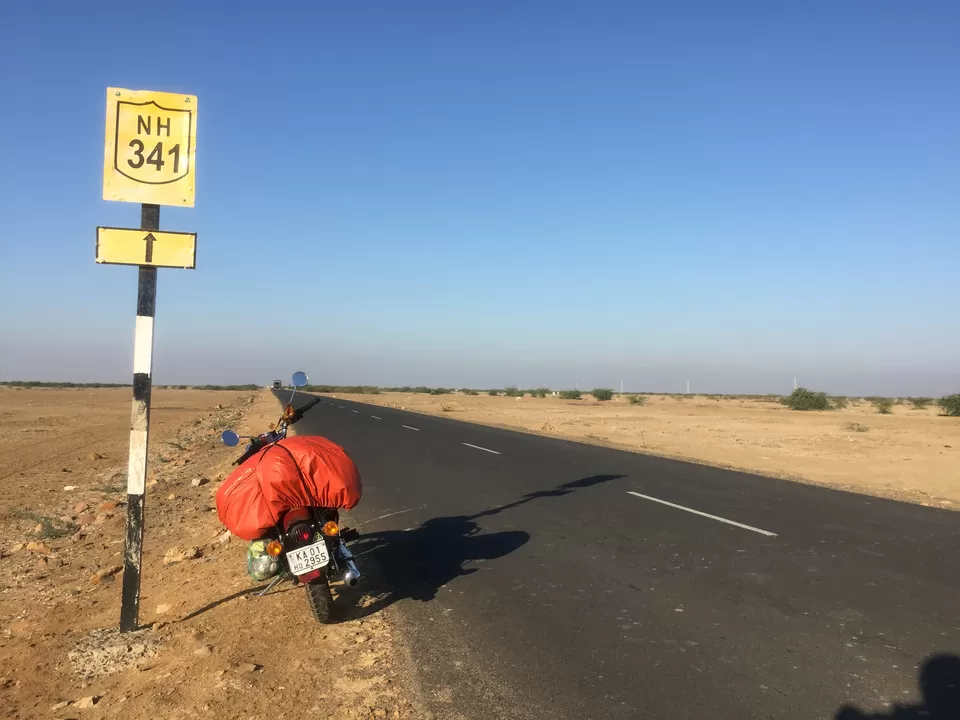 The stretch from Bhuj to Kutch is one of the best roads any rider would love to try. This 80 km stretch will leave u spellbound and where you enjoy the company of yourself and that thumping sound of your bullet.Let your thoughts flow freely, keep your eyes wide open and enjoy the beautiful desert view on either sides of the road.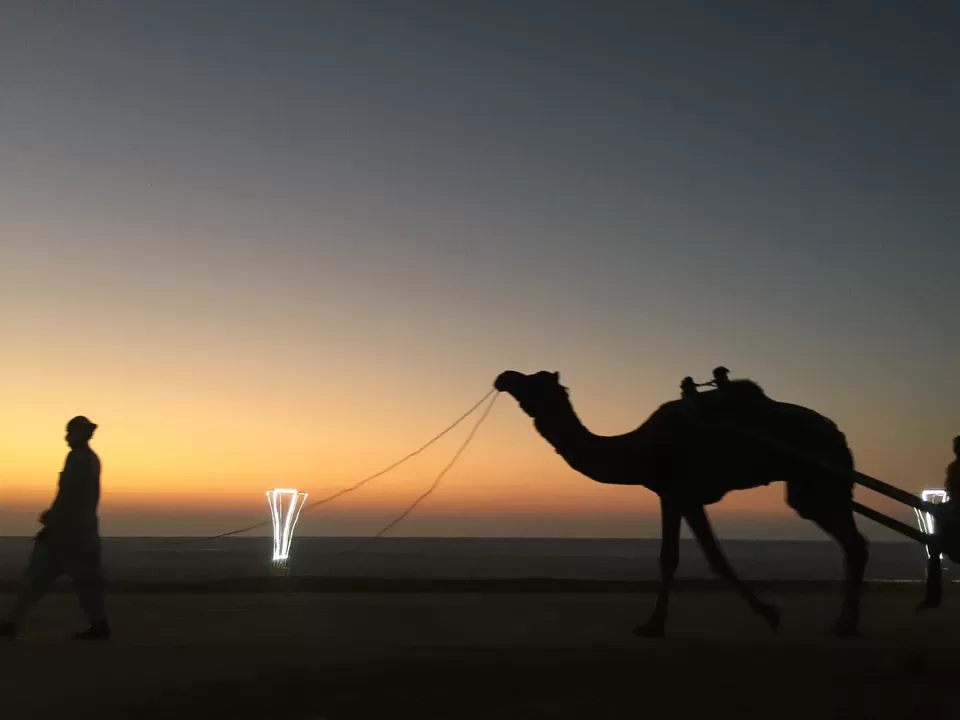 Finally, around 5 Pm we reached White Rann. The Great Rann of Kutch is the world's largest salt desert that measures about 16,000 sq kms. This means 16,000 sq kms of absolute whiteness!
If it were a country, it'll be more than 3/4th the size of Israel and much bigger than countries like Jamaica, Qatar etc.
Nowhere in this world will you find a counterpart to this amazing piece of geography that turns marshy during the monsoons and back to its brilliant white glory during the winters and summers.
Stay: Rann Kandhi Gorewali, Bhuj, Gujarat 370510 Ph no: 9427449041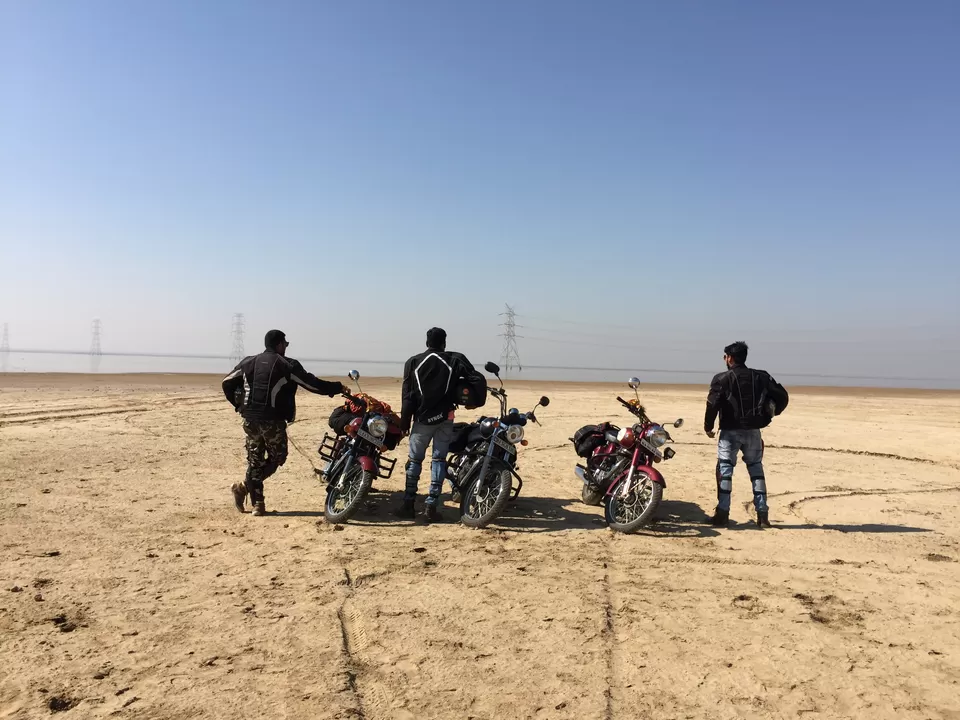 I can sum up the White Rann in just one word – mesmerizing. Walking on those crystals of salt that stretches endlessly for miles and watching the sunrise and set is magical. At sunset, it was filled with people, but during sunrise, we almost had the entire Rann to ourselves. It was freezing cold and waited almost for an hour for the sun to dawn. The White Rann is a unique phenomenon. You can see it only during the winters after the ocean recedes post the monsoons leaving behind crystals of salt. In my opinion, a visit here is once in a lifetime moment.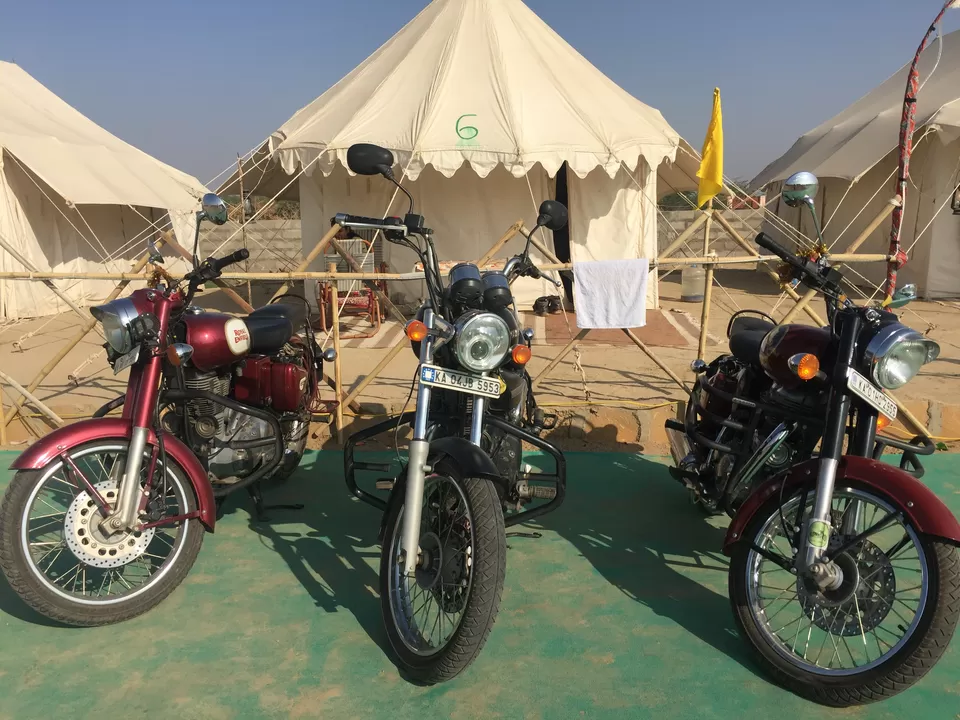 You have a dozen options to stay but we chose a village stay. Good food, ambience, clean and neatly maintained tents. Adding to this, the resort will arrange for a bon fire party with local folk singers to mark the occasion. So time to relax and live the moment, the reason why we travelled 2500 kms.
Rann to Bhachau 160 Kms
At around 4 pm we left Kutch and were on our way to another Royal state – Rajasthan.
Halt at Bhachau.
Stay: Hotel Shiv International, Sunrise Mall, Near New Bus Station, Dudhai Road, District Kutch, Bhachau, Gujarat 370020 Ph no: 02837 223333
Day 8: Bhachau to Mt Abu 365 km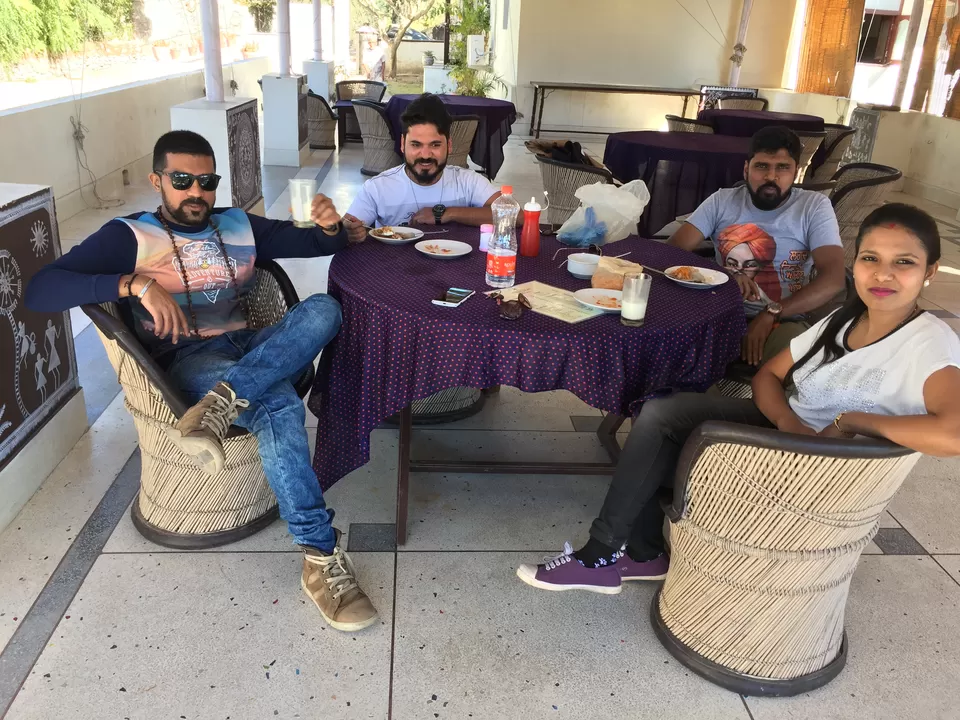 Started early from Bhachau and were amazed to spot one of the beautiful hill station in Rajasthan, It offered an oasis with its green forests, hills and beautiful lakes. Mount Abu is undoubtedly very beautiful. Mountains and amazing viewpoints have been my weakness. The complete stretch of 30Kms uphill gives you the best viewpoints. We were happy to locate one of the best resorts in Mt Abu, cosy heritage rooms, the bon fire, music, royal Rajastani Mutton, what more to ask for!
Halt at: Akhey Vilas Heritage resort, Near Gujarat Circuit House Kumarwara, Mount Abu 302501 .Ph no: 96722 77743
Day 9: Bhachau to Udaipur 165 Kms
Next day was a pretty small journey but we were heading to one of the royal cities of Rajasthan. Udaipur a charming city with shimmering lakes, ancient architecture, grand mansions and plenty of folklore.The best thing happened with us in Rajasthan is Lake Pichola, We boated on Lake Picchola and marveled at the gorgeous landscape with grand palaces, mostly now heritage hotels, in all directions. Particularly spectacular was the lighted up Taj hotel in the shimmering waters of Lake Picchola. We did try street food and yes when in Rajasthan, eat like a royal. Every restaurant on the lake Pichola offered a roof top, open air spectacular scenic place for dinner. Shimmered lights, music, cold wind and smoked meat. It was the best way to welcome the new year.
Day 10: Udaipur to Jaipur 400 Kms

Next day we had an unplanned inclusion in our itenary, Kumbhalgarh fort, about 90 Kms from Udaipur, is one of the biggest forts in the Mewar area of Rajasthan also known as Great Wall Of India, the second longest fort in the world after Great Wall of China. When we think of Rajasthan, we conjure up images of vast desert, and barren land, So it was a pleasant surprise when we passed fields and fields and more fields all along the route. Even though there isn't much online about this fort and unexplored part of it, added the mystique to this place. Once you trek and reach the highest point of the fort, you realize how far you have come and it's a beautiful moment to capture the sight. This fort also boasts the birthplace of great Mahrana Pratap. Happy us, started descending to move to our next destination.
Not every trip of ours is complete without a visit to a holy place, yes we did manage to seek blessings at Khwaja Garib Nawaz dargah in Ajmer. I offered namaz at the mosque inside the dargah and thanked almighty for helping us reach safe and prayed for the rest of the journey.
Finally, at around 2 Pm we managed to reach Jaipur, our final destination. The only thing on our mind was Nahargarh Fort since we had heard a lot about the route to the fort top. As promised, it was one of the amazing route, narrow lanes right from one of the street takes us directly to the top of the fort. Beautiful view points and you can see the entire city at certain points. This is the same fort where few of the epic scenes from the movie Rang De Basanti were shot.
After a quick lunch, we spent some time street shopping and finally booked our bikes at one of Jaipur's Transport & Logistics and headed towards the airport to catch our flight back to Bangalore.
With a mixed bag of feelings, memories, new experience, new people, food, nature, beauty. Altogether, it was one of the best welcome to the New Year!
Truly Incredible India!!!!!!!!