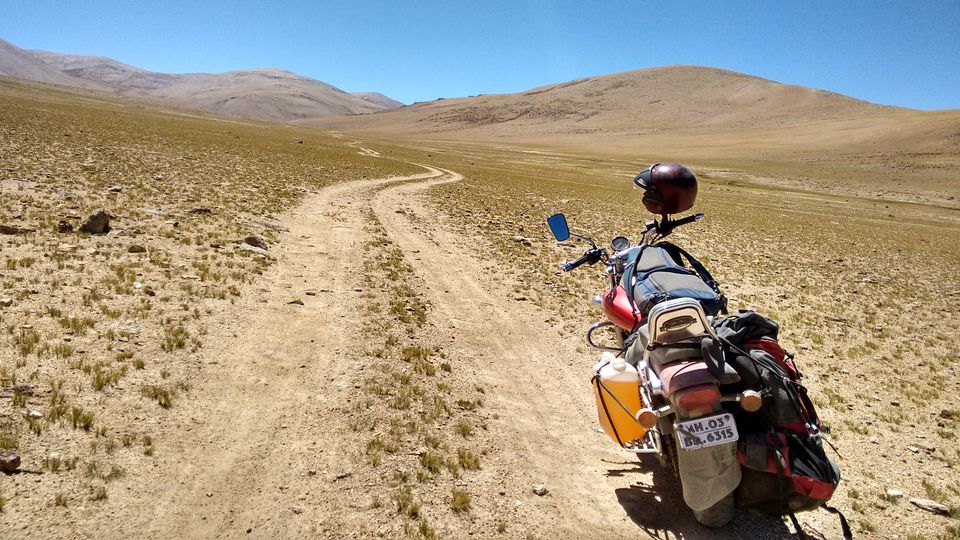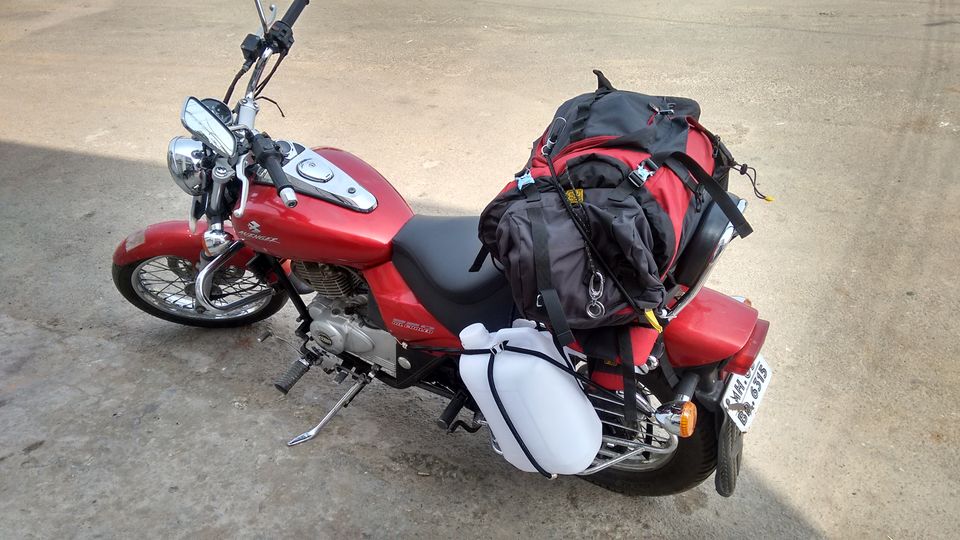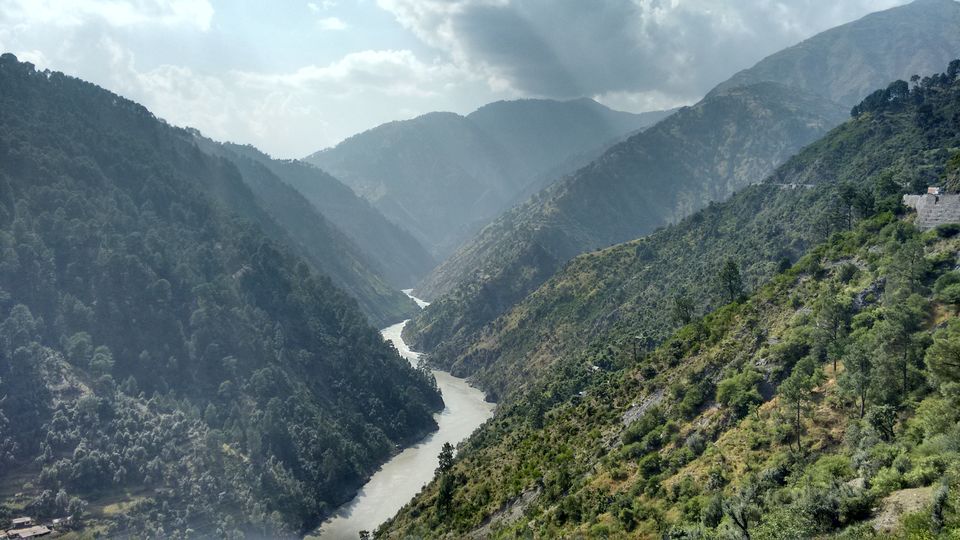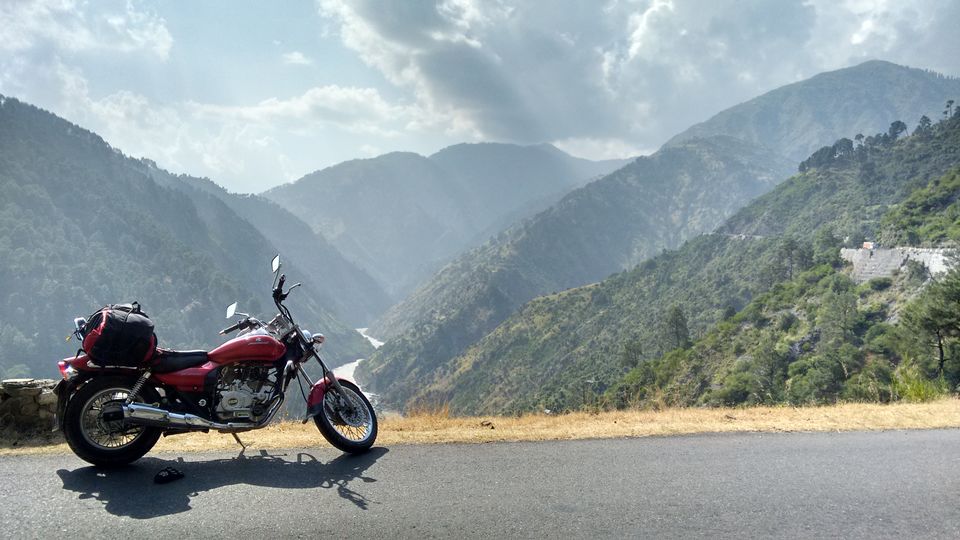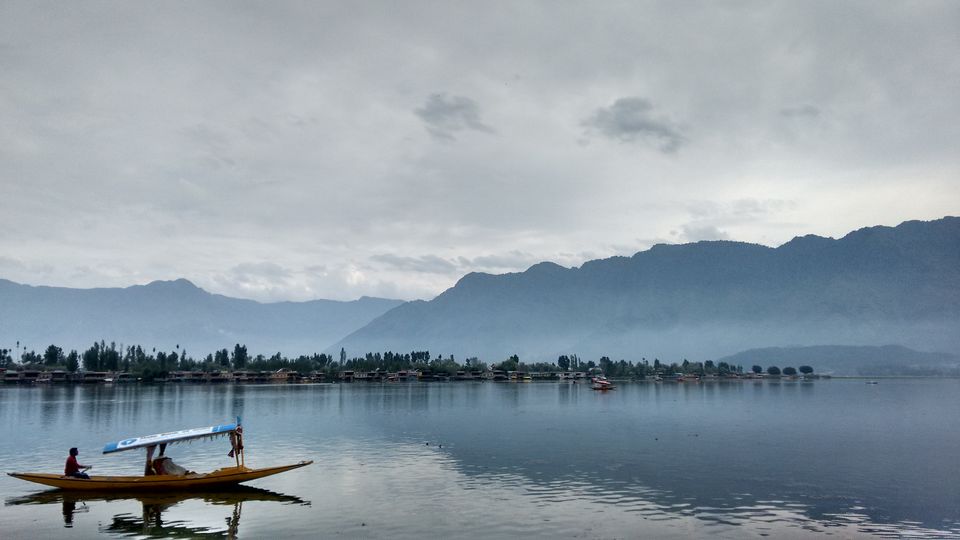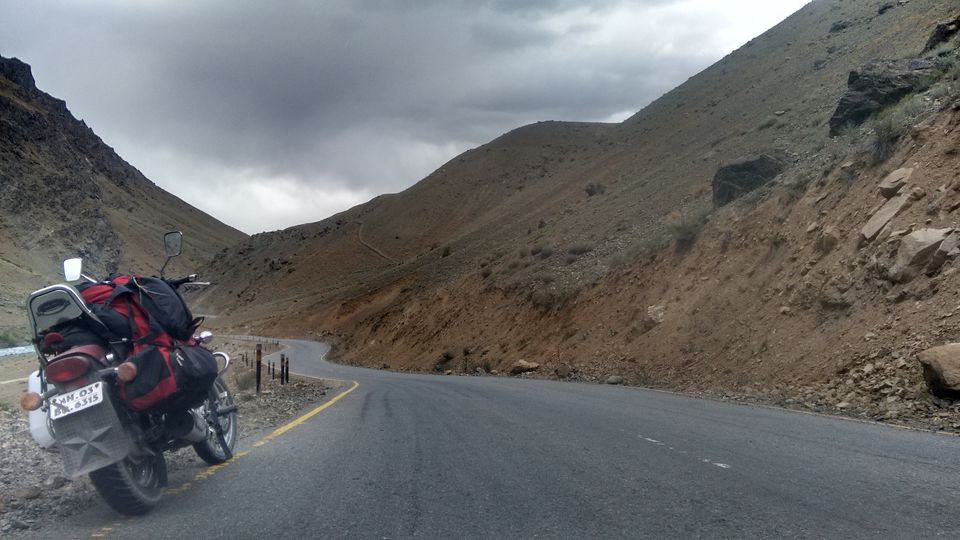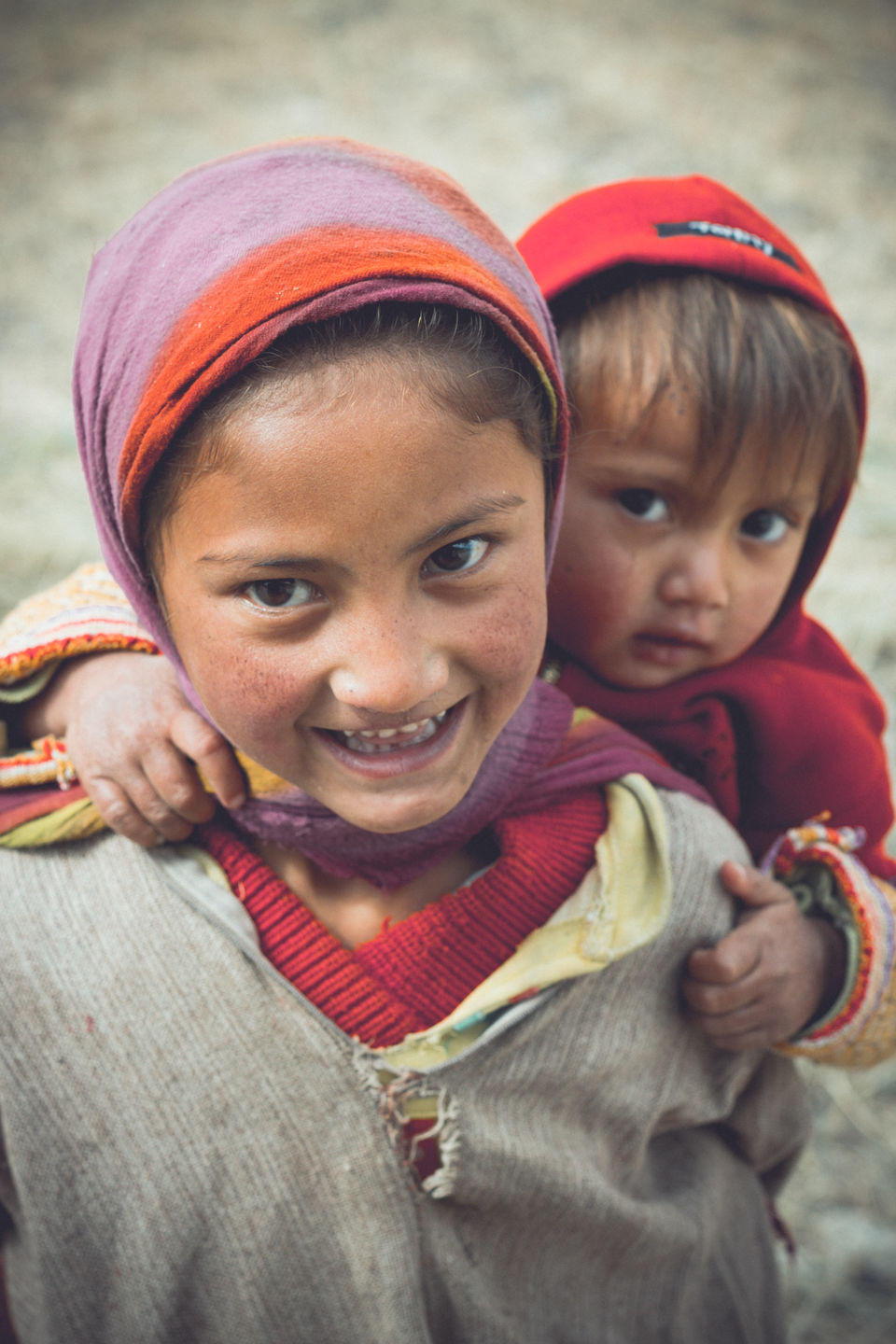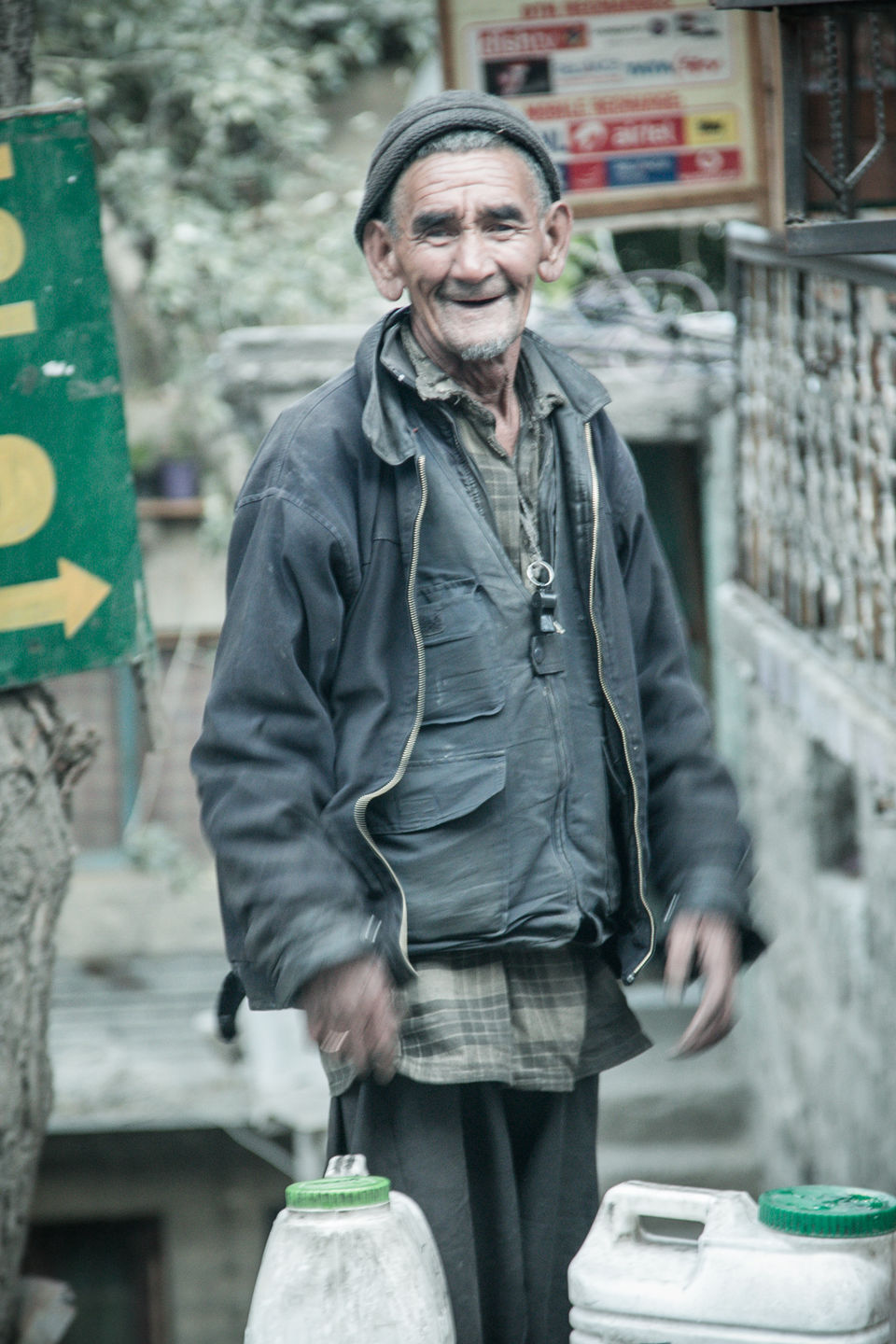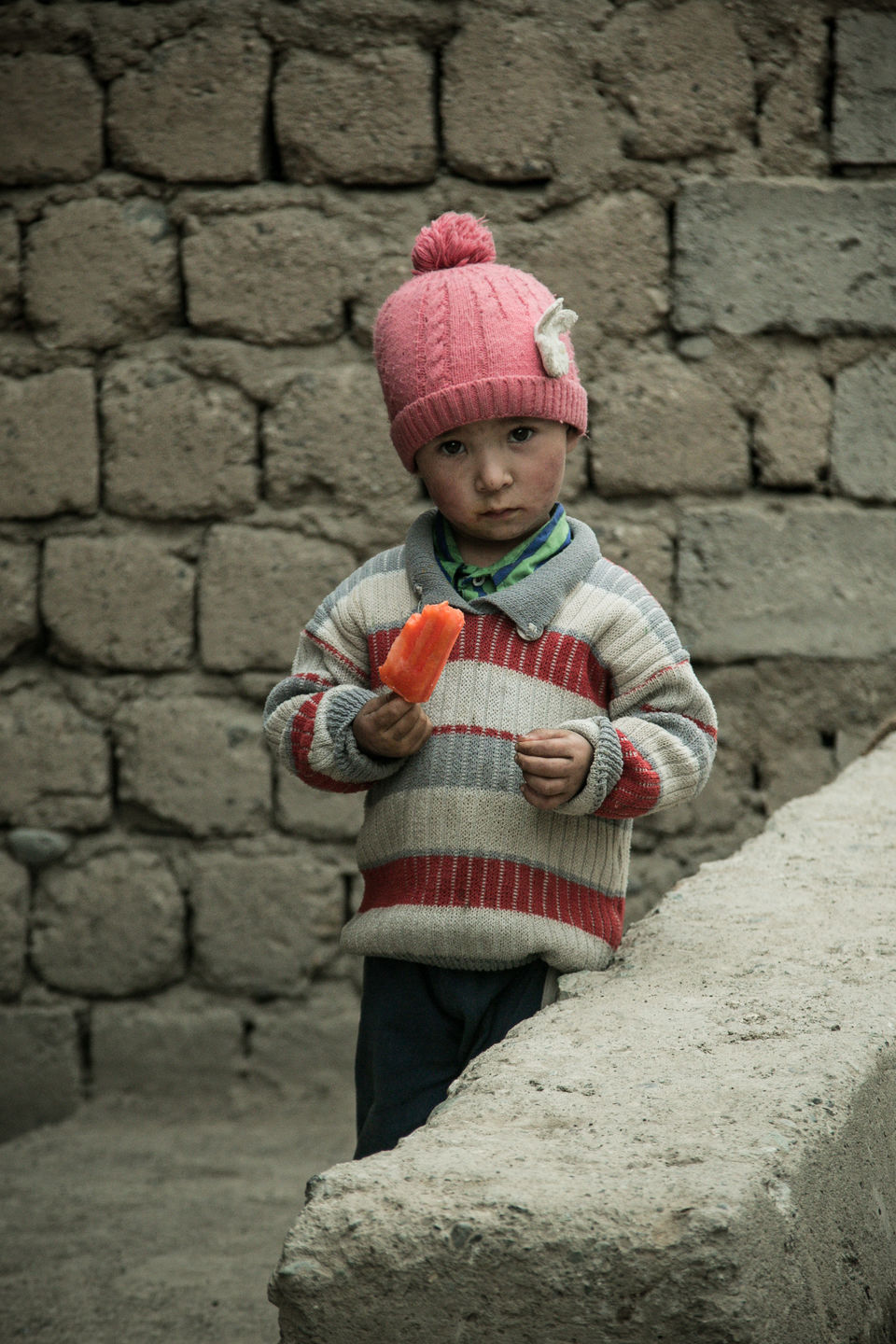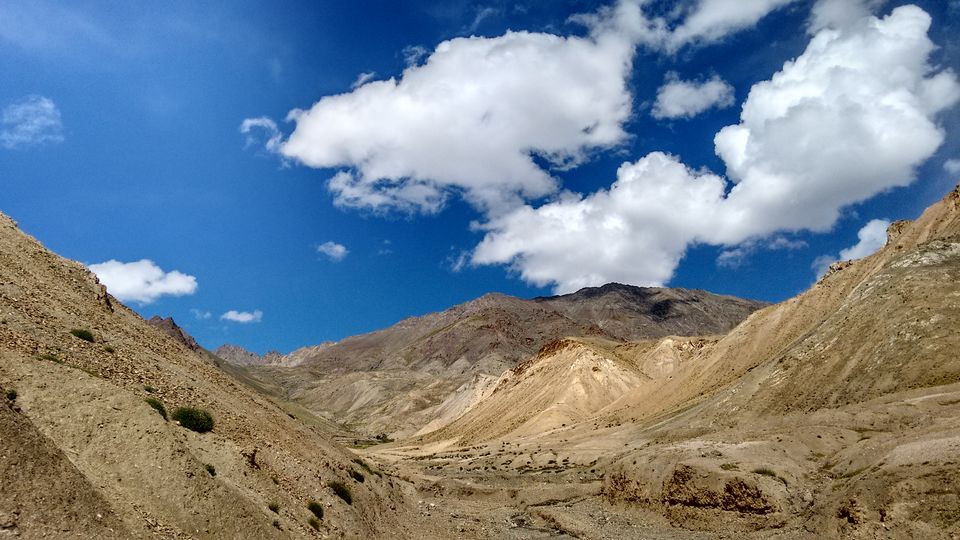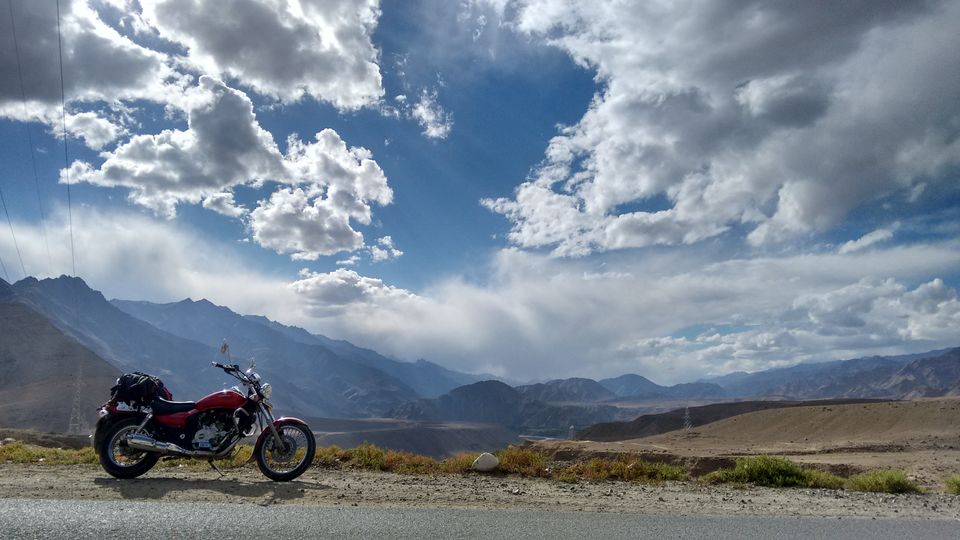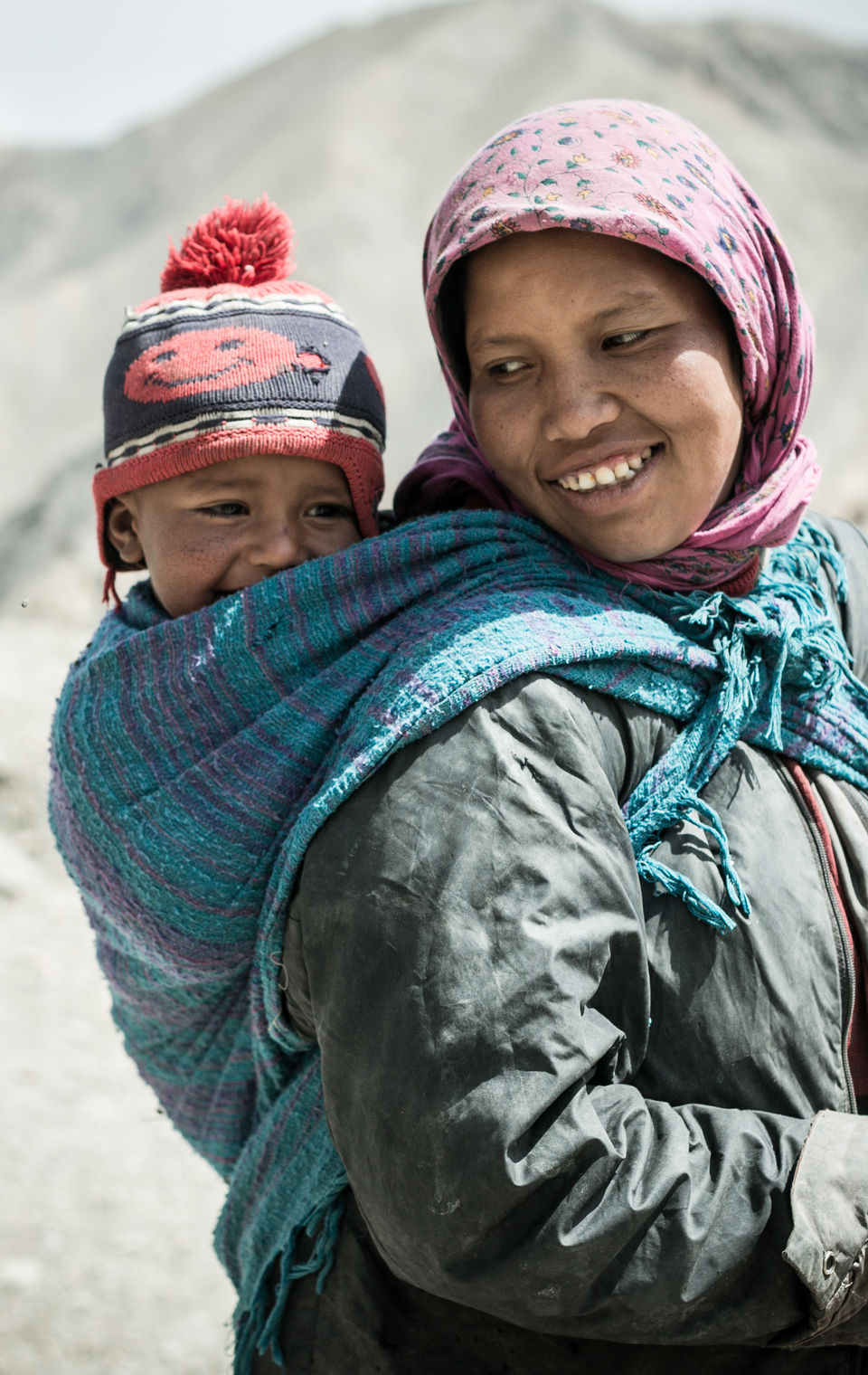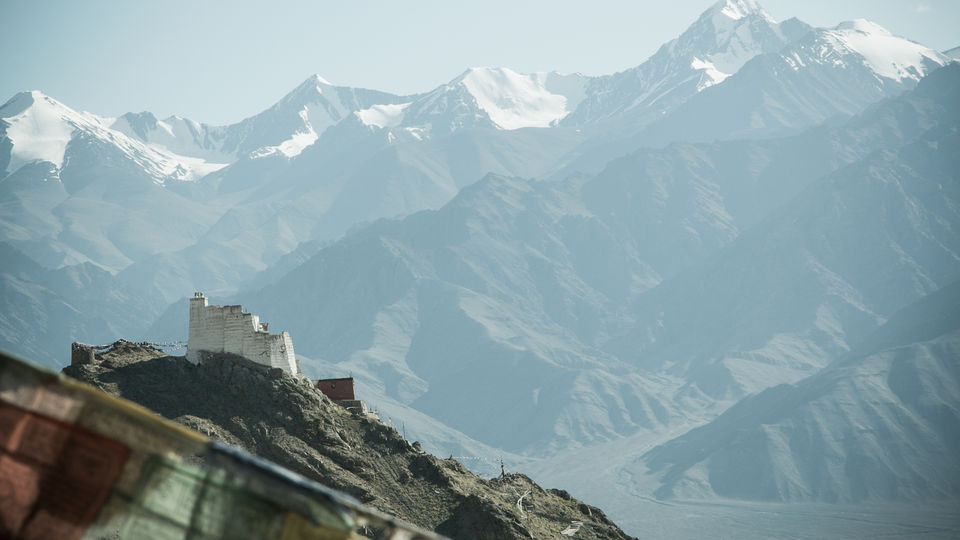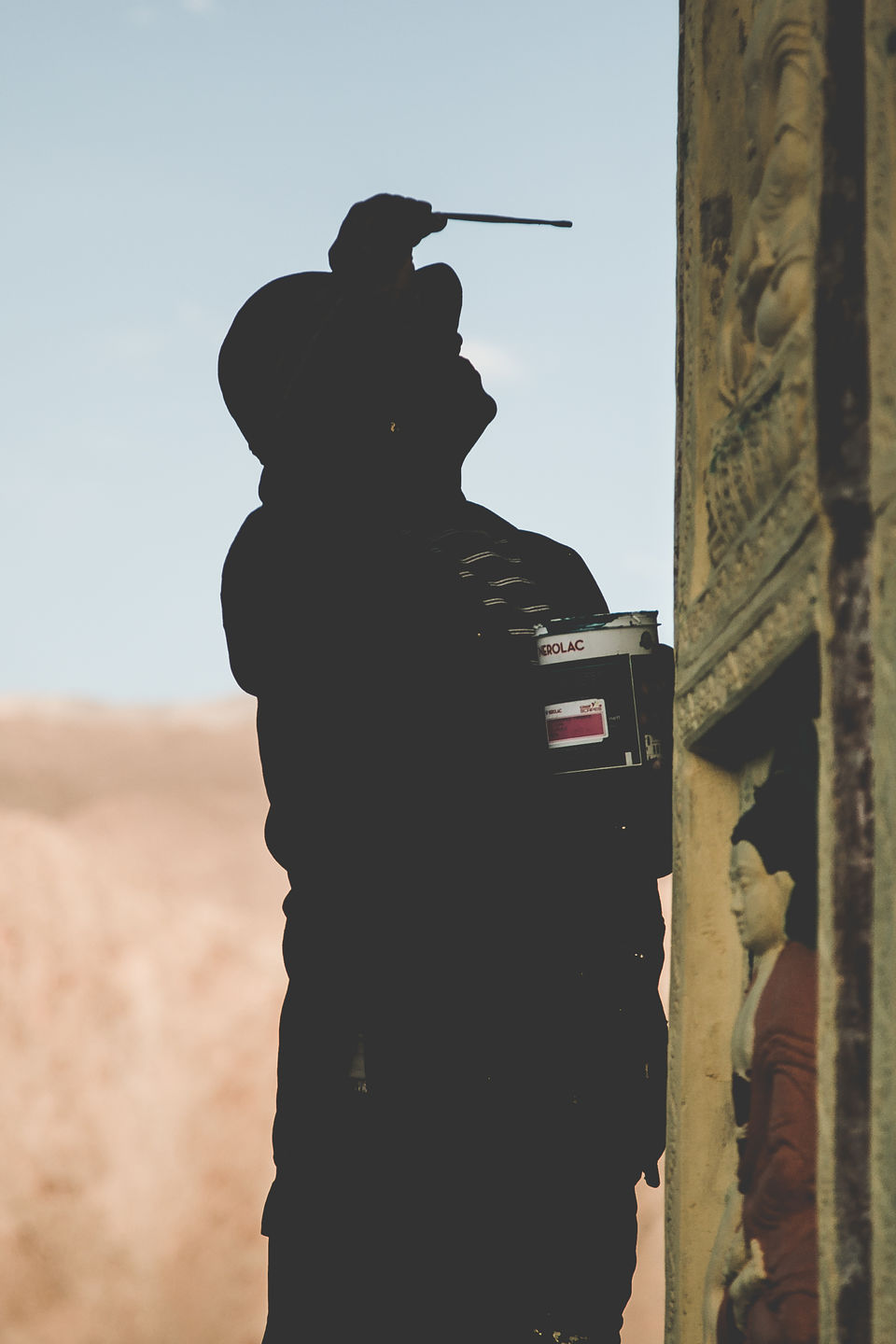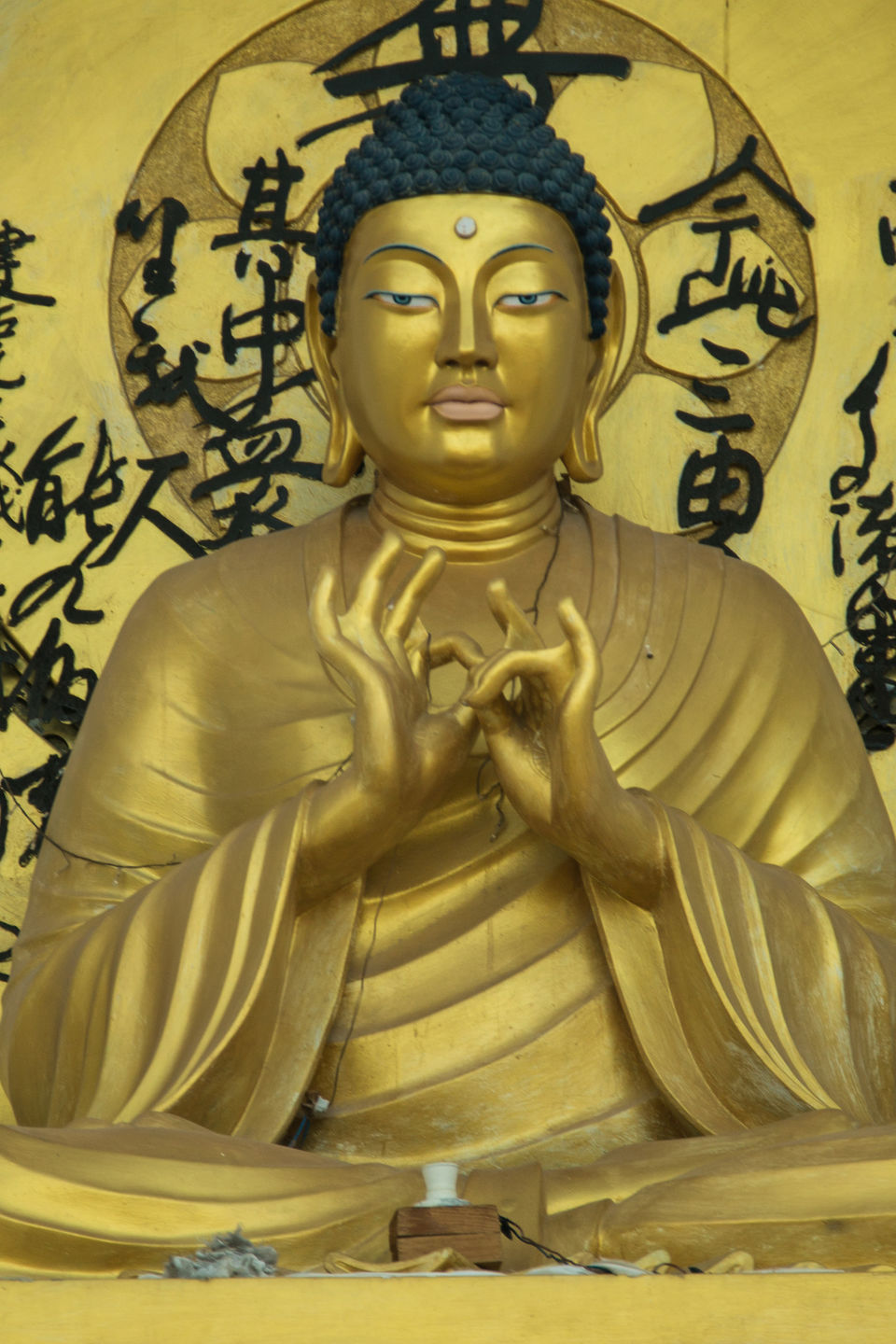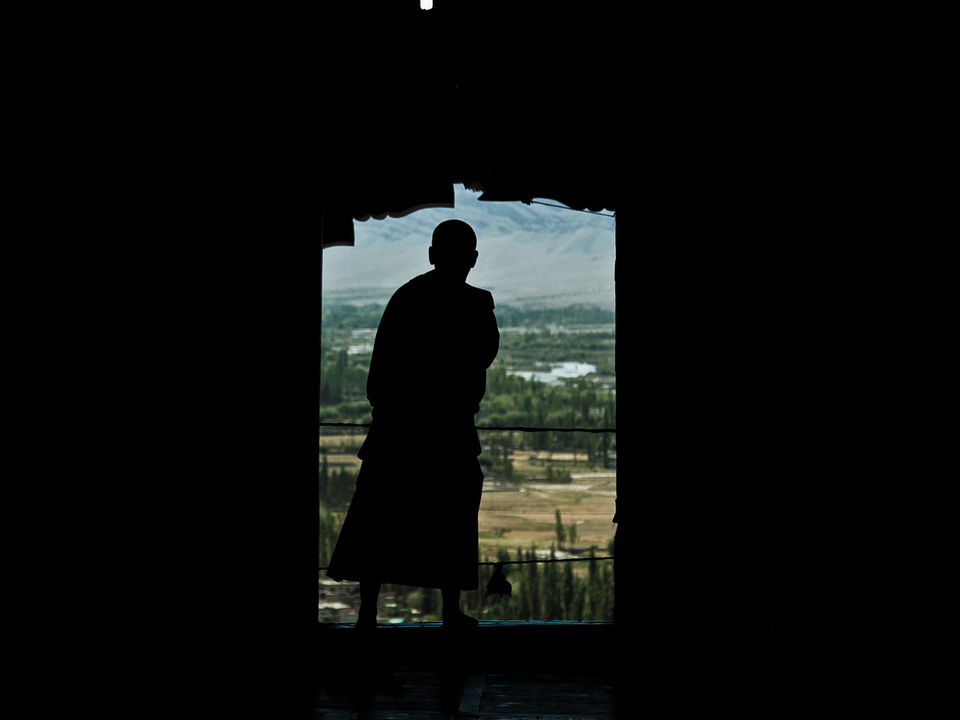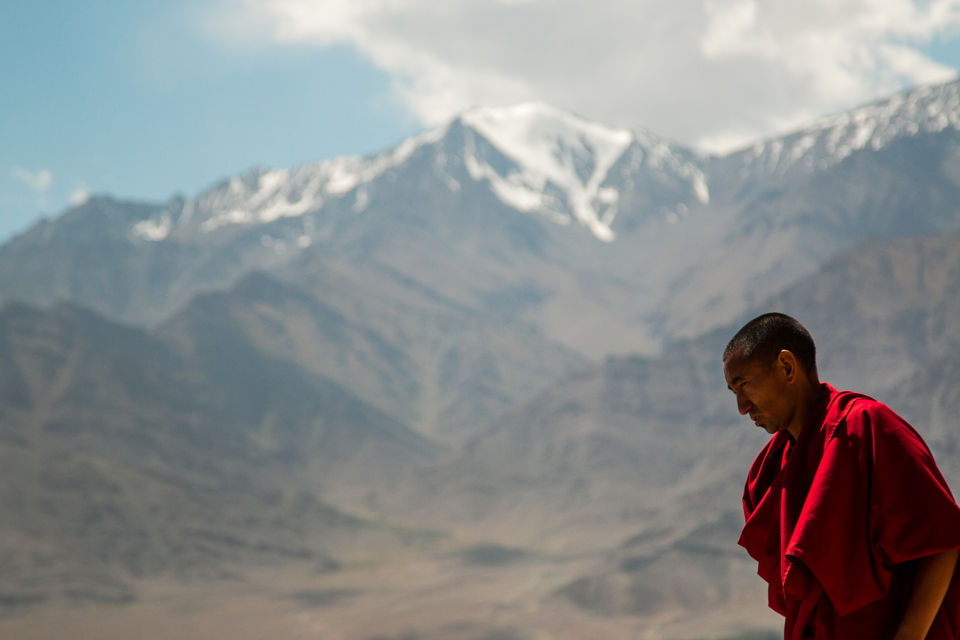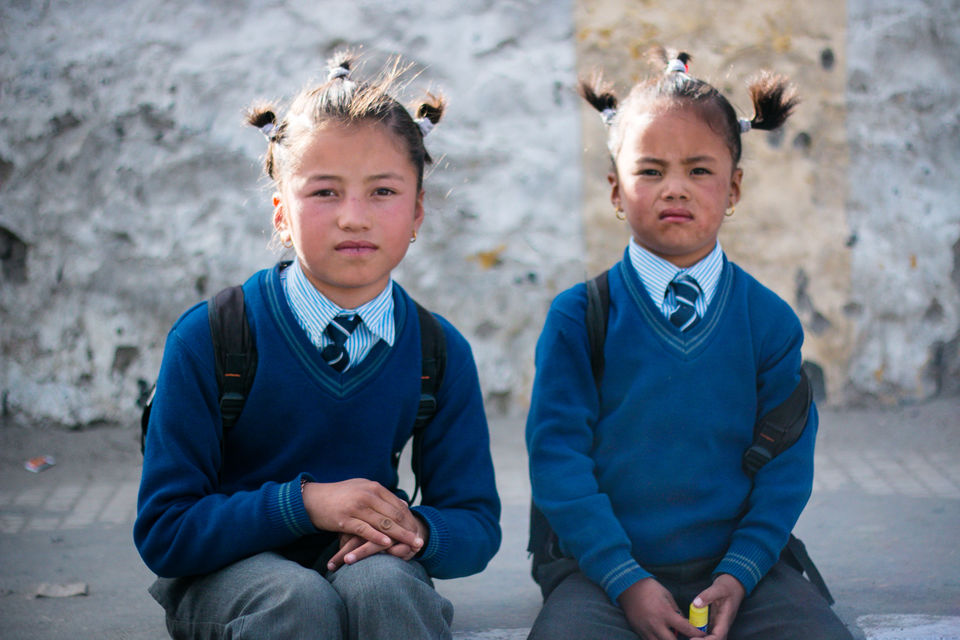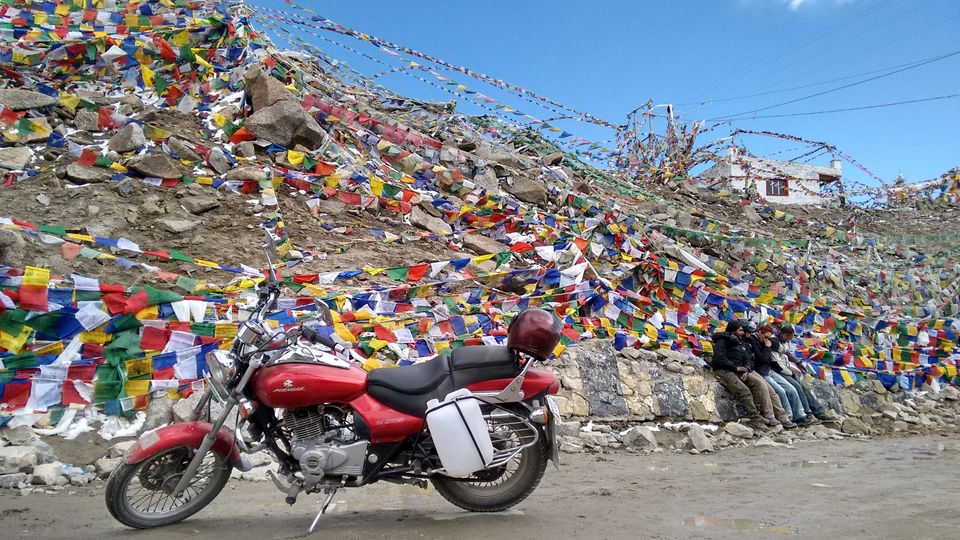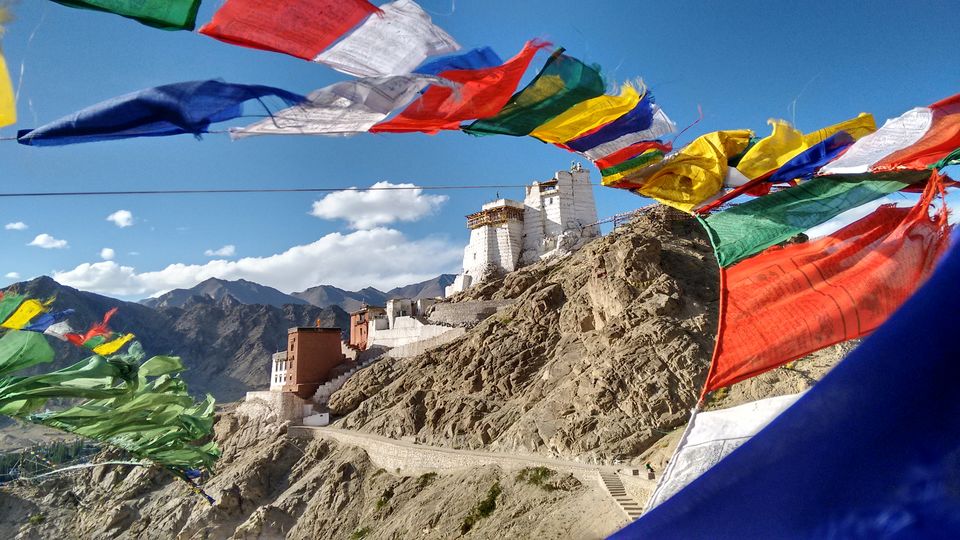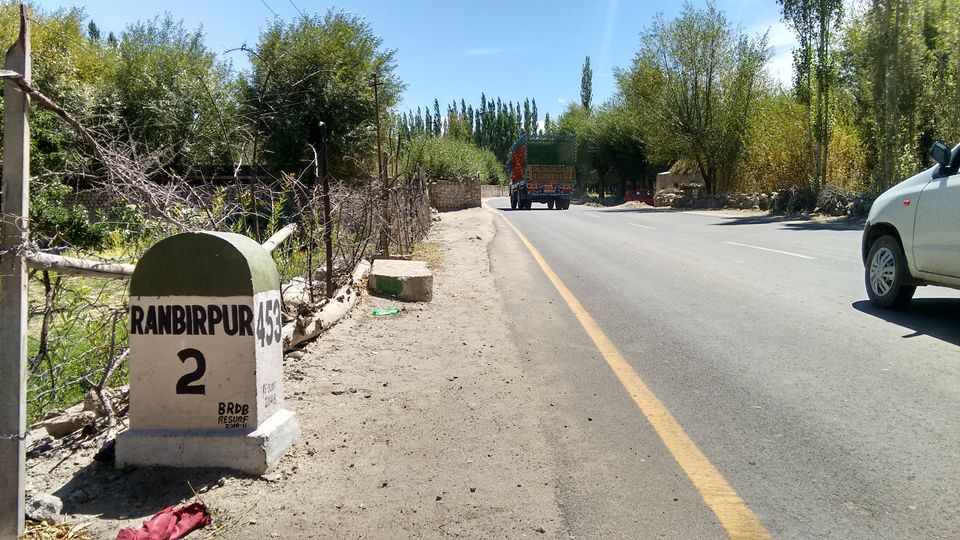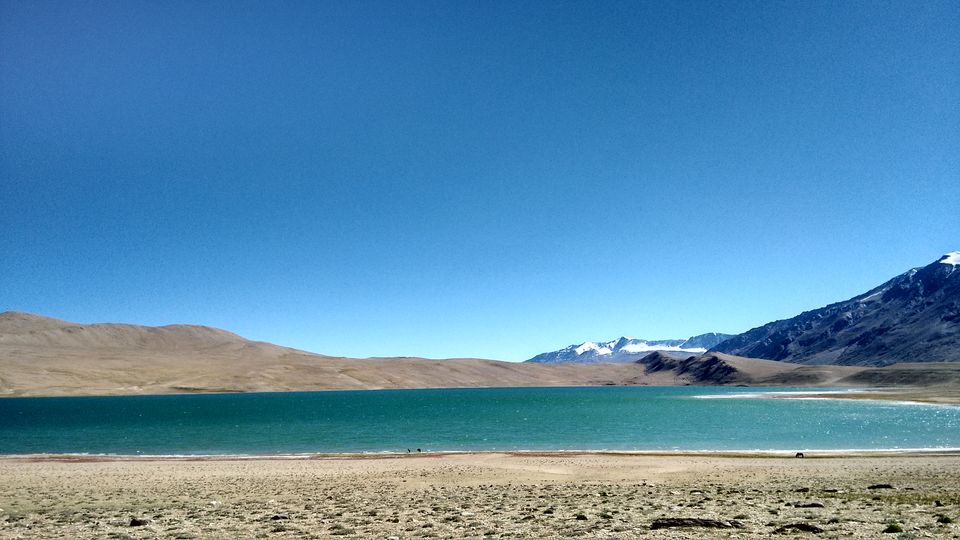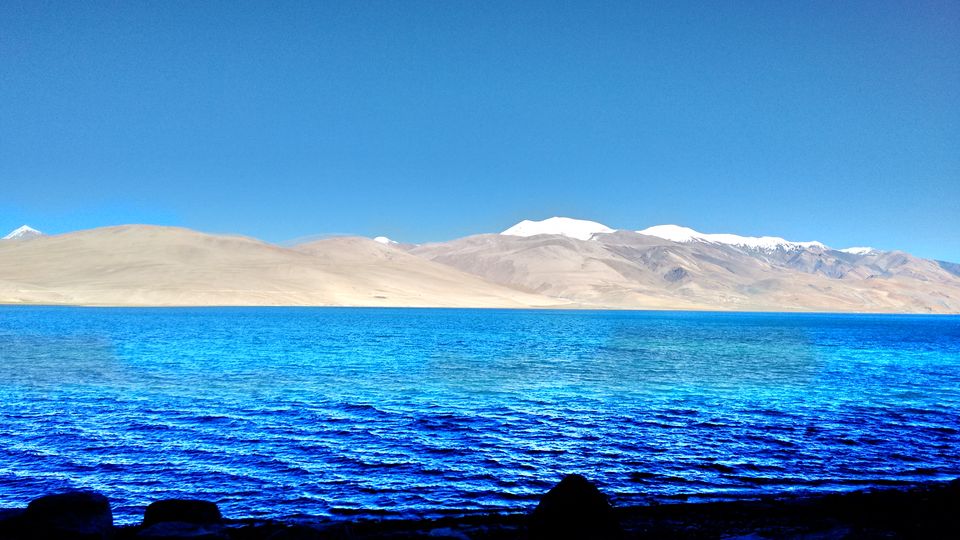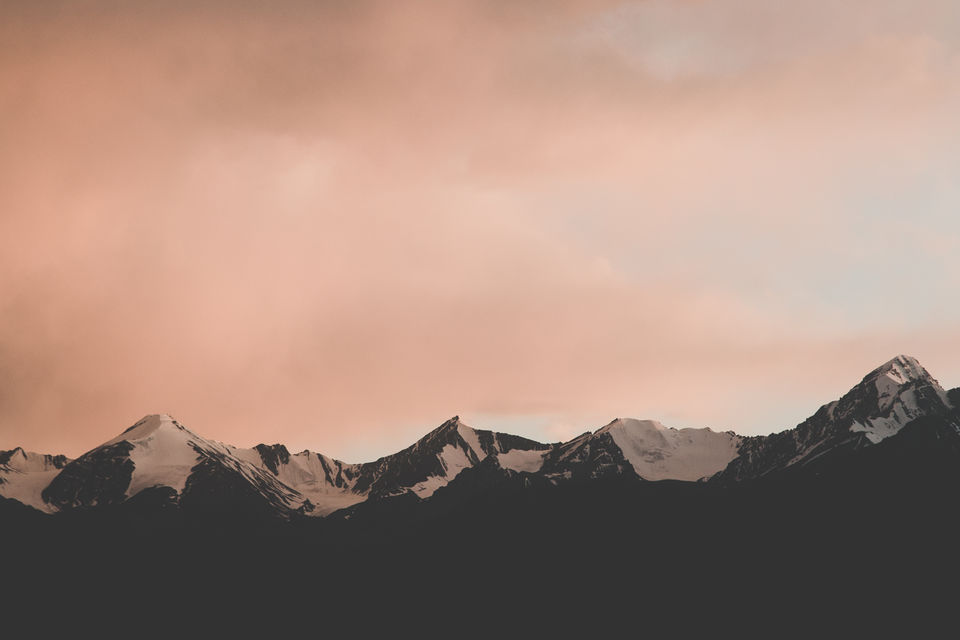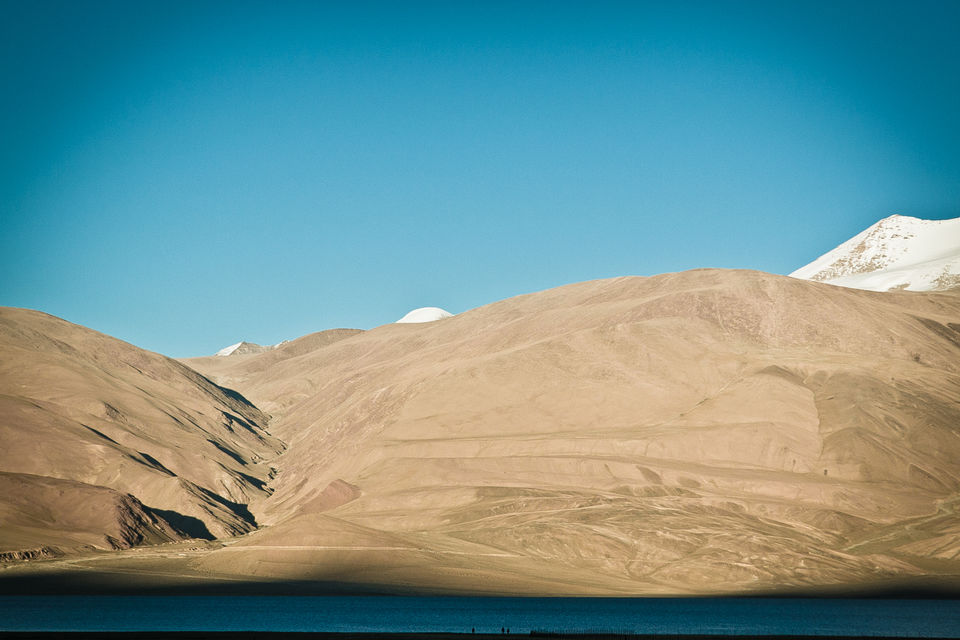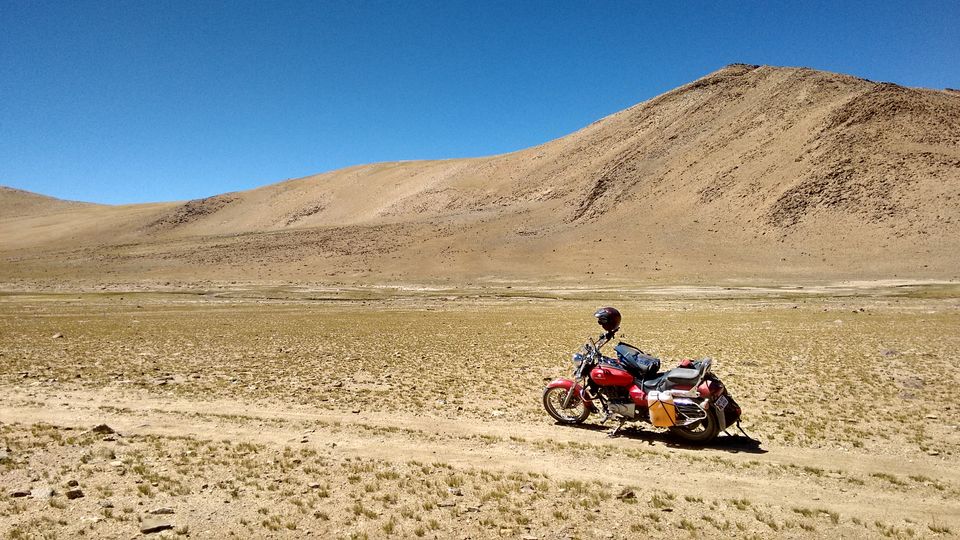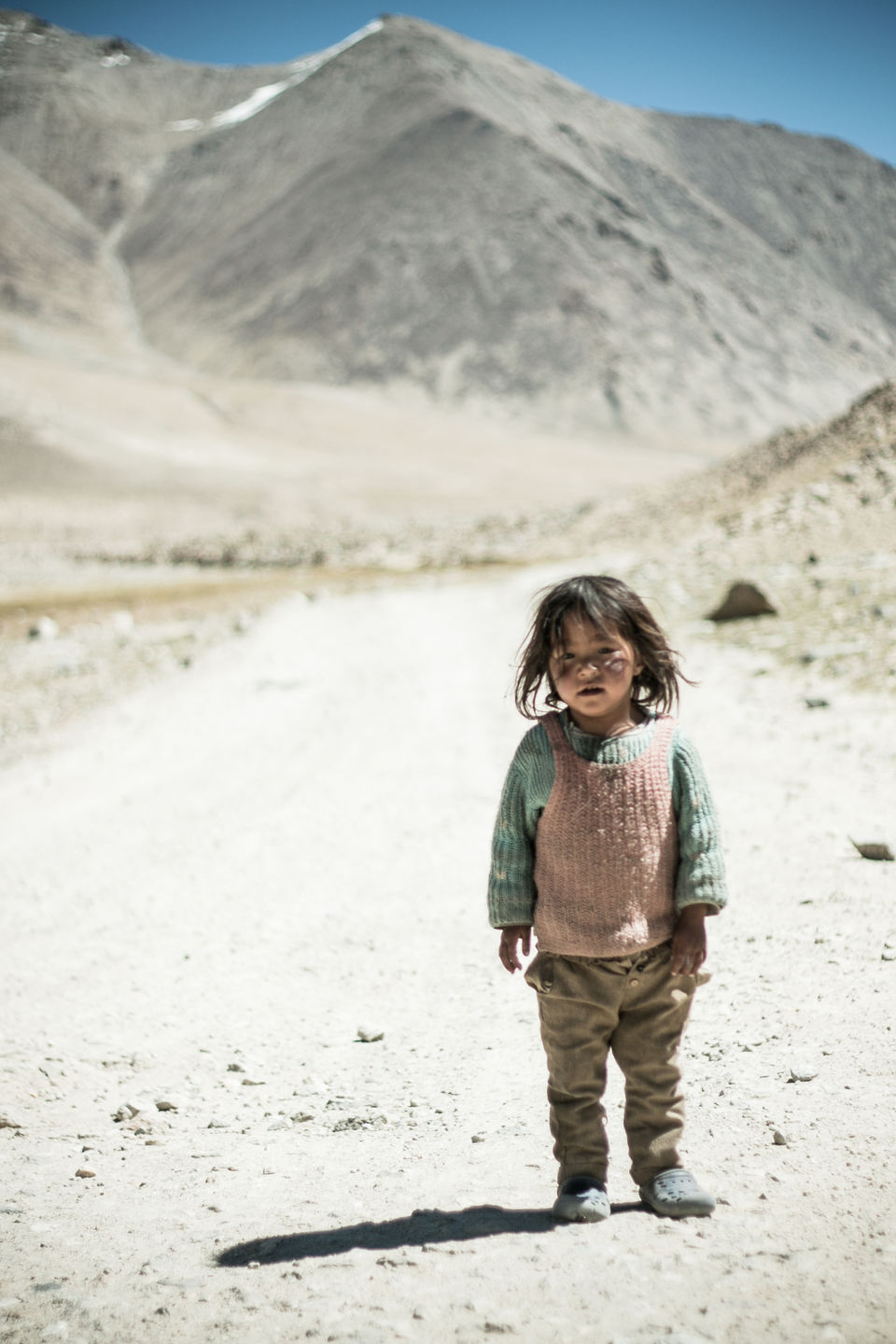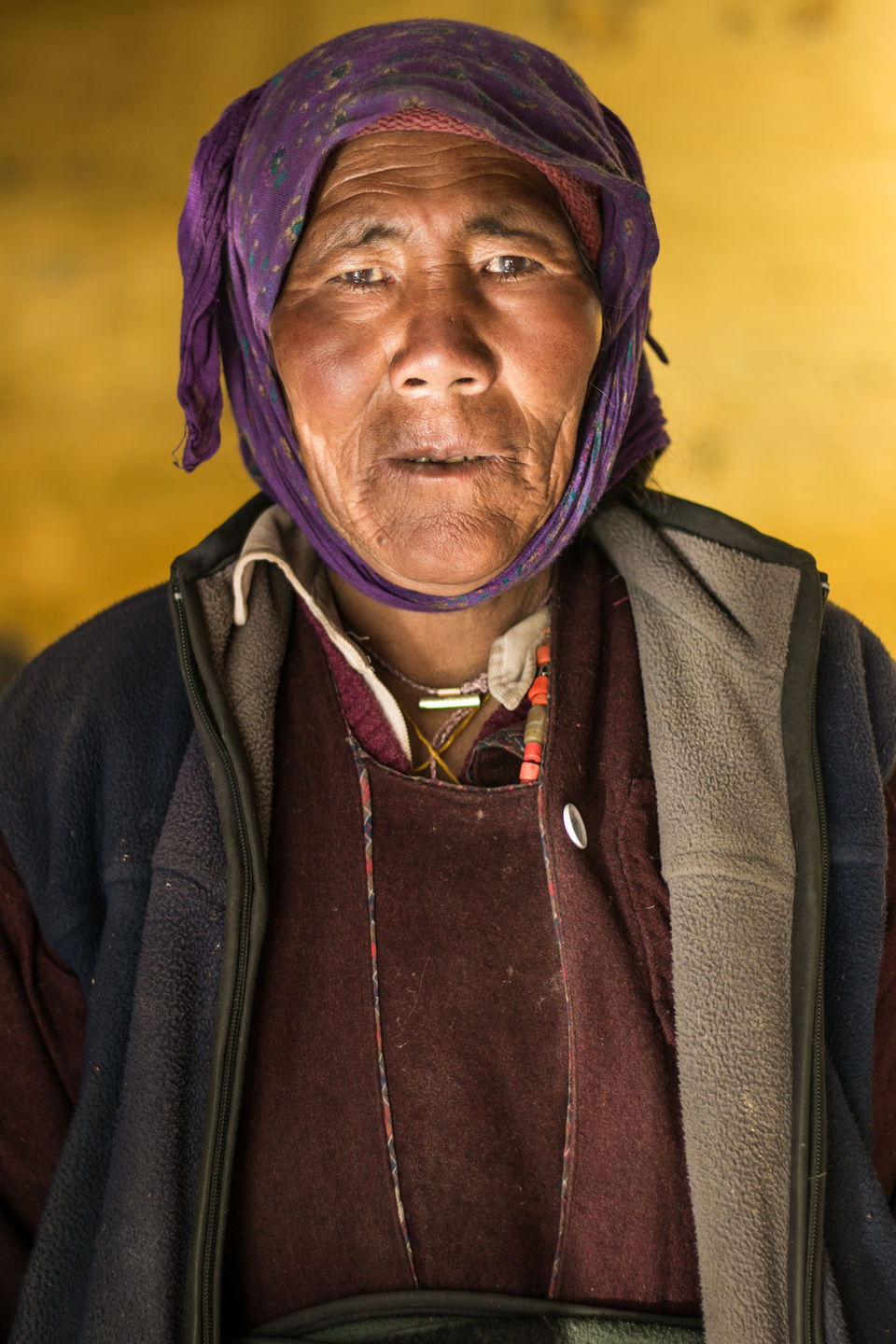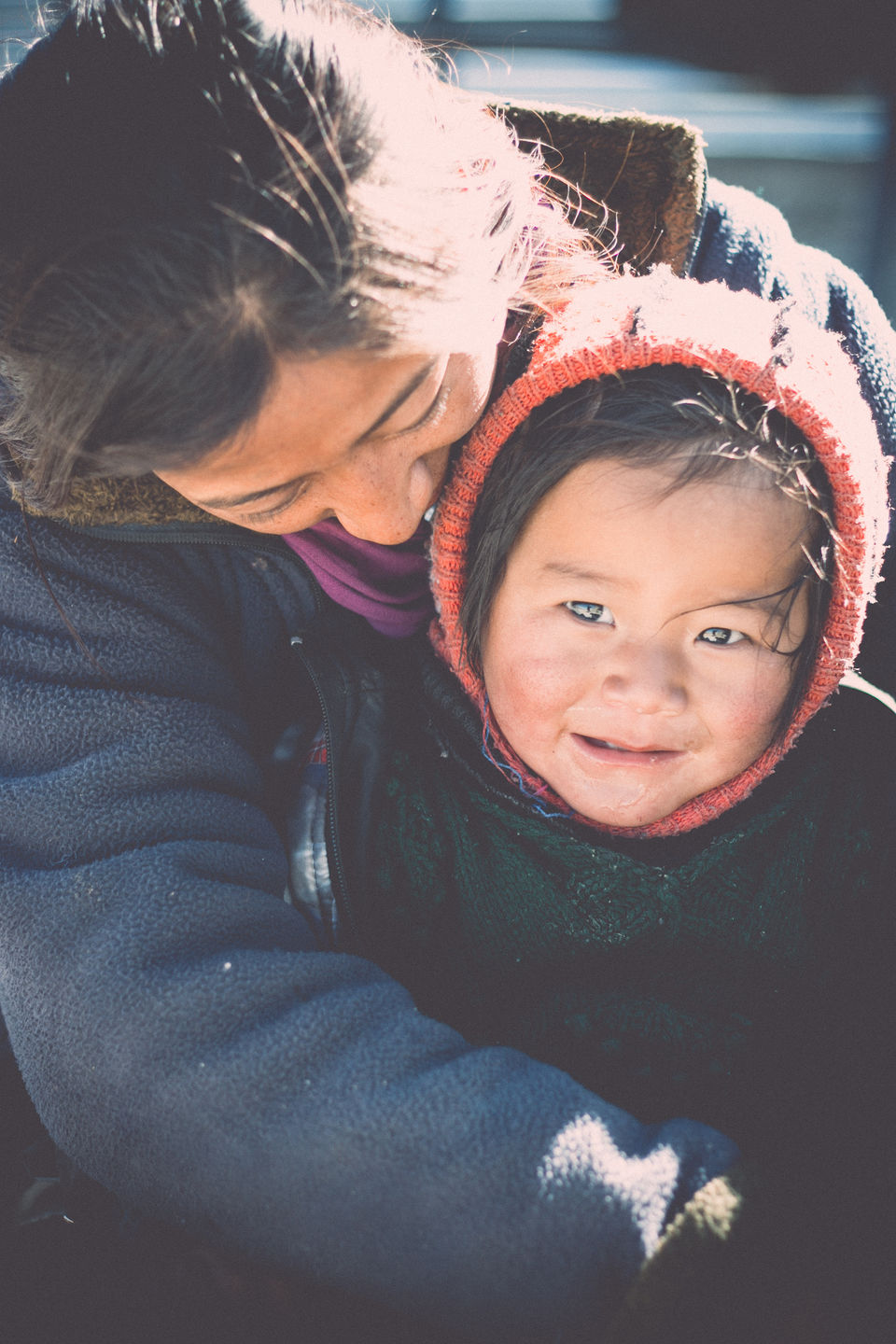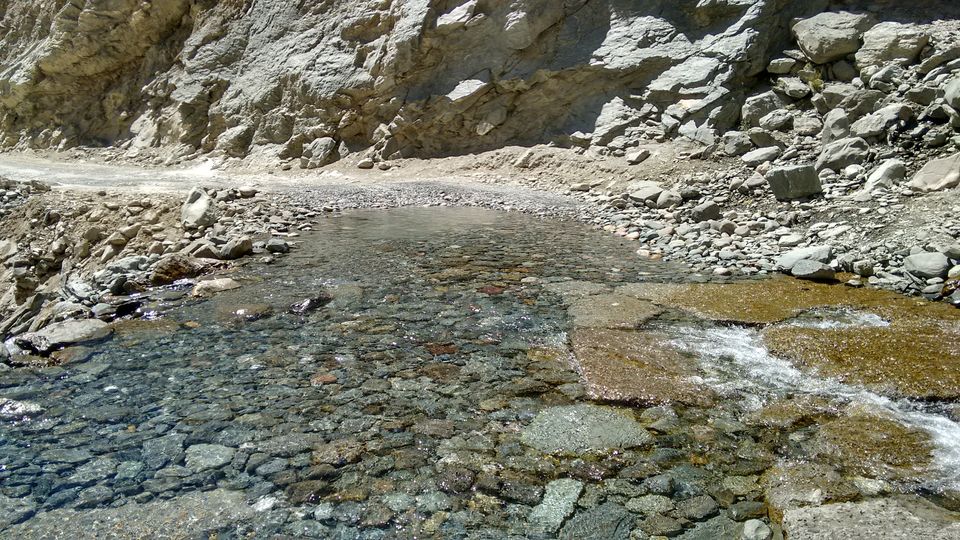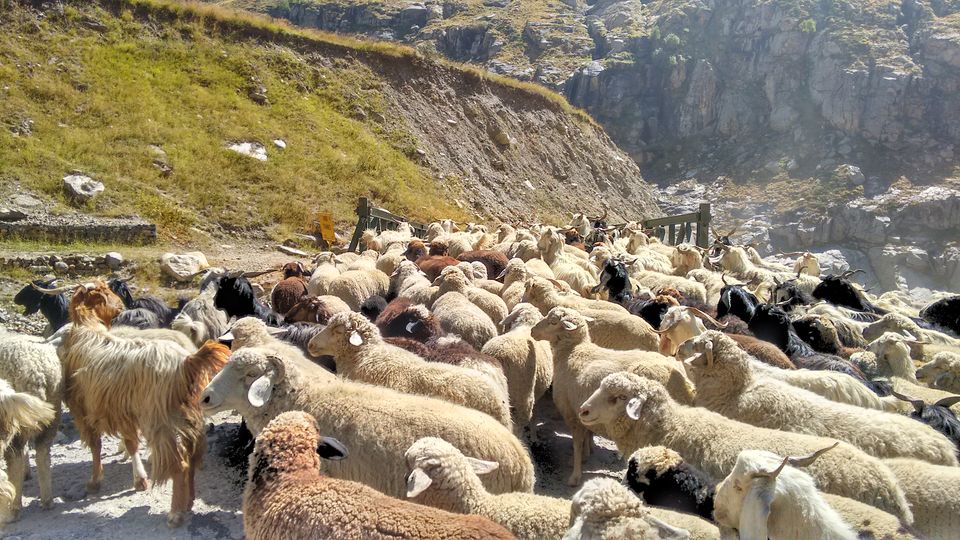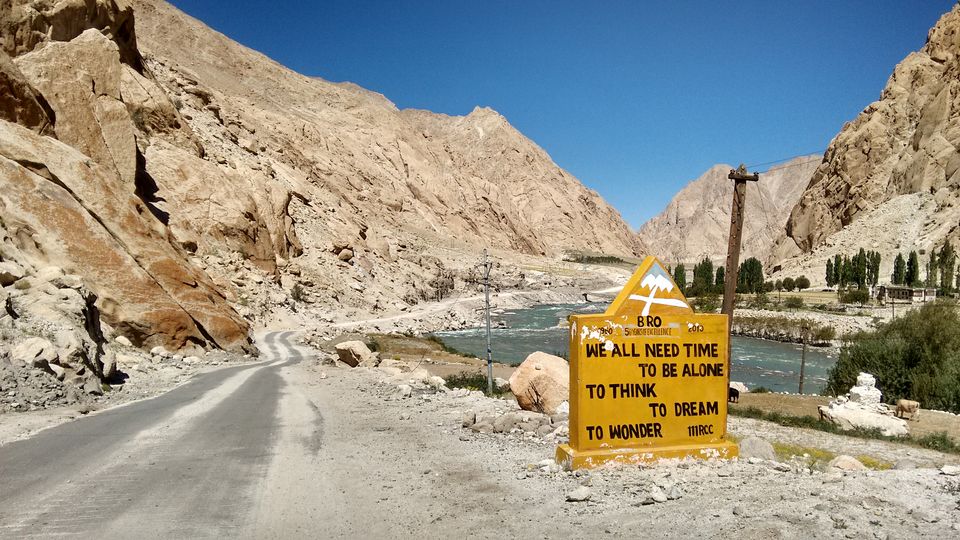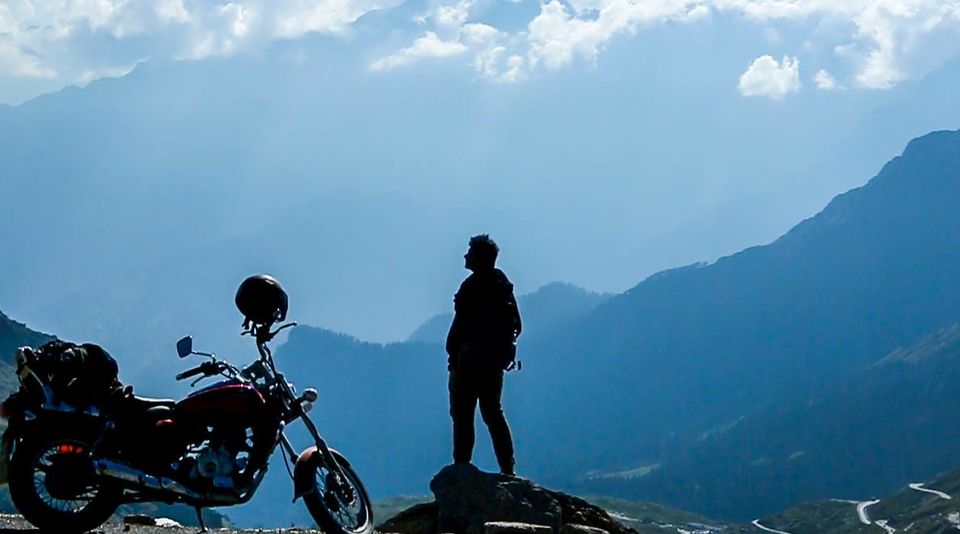 Trip Trail: Jammu | Srinagar | Kargil | Leh | Tso Moriri | Sarchu | Manali | Chandigarh 
Distance: 1924kms
Duration: 10 Days
Ride: Bajaj Avenger 220cc 
Overview: It took me quite a while to settle down my thoughts about taking up this solo trip.
I'd been waiting to visit Ladakh for over two years, the place had my heart even before I saw it. May it be from the stories that I heard of other people or the pictures that went by on the internet, Ladakh was meant to be on my travels, one fine day.
To have my two wheels go along with me was something I might've only dreamt off sometime back, I never thought I'd be up for it. 
But thanks to the many people I had a chance to interact with before my ride that ultimately gave me clarity plus confidence to do it. 
And from what I remember, it wasn't anytime sooner than the moment when I first started the ignition on my ride at Jammu that I realised, this is it, it's happening. :) 
Here's How It Went By:
Day 1: Train journey from Bandra Terminus to Jammu Tawi via Swaraj Express. There's one that leaves 4 times a week from Bandra. I had decided to port my bike from Bombay to Jammu, thus I reached a day early to wrap up the cargo procedure. The train left at its scheduled departure of 7:55am. Fingers couldn't have been crossed any tighter, that moment. 
Day 2: So I was supposed to reach Jammu Tawi by 2:30pm but a track-line work near Mathura got the train to run 8 hours late from the scheduled arrival.
I reached Jammu Tawi at 11 in the night, sigh. The earlier plan was to clear the bike from cargo and reach Katra which is 50 kms from Jammu just to get a sense of the road and the ride both before beginning the mighty trail, the very next day. It had to be canned, I stayed over at Jammu, cleared my bike in the morning, refilled, packed and got ready to leave for Srinagar by 11am. How far was Srinagar? 298kms. 
The ride to Srinagar was going to be challenging, I was certain. Plus, the Lodge manager told it'd be impossible to make it to Srinagar before sunset considering that 80% of this 298kms is through hills. Let's add that to the anxiety, already. 
This was the First leg of my journey and probably the most important in terms of figuring out the state of roads up here, my control over the ride, getting into the zone, watching out for my temperament and above all, to have an answer by the end of the day to 'Can I Really Do This?' 
As the day progressed, the race to reach Srinagar went on and on and on!
The first few glimpses of Kashmir came along the way to prove the words real right, "Agar firdaus ba ruay zami ast, ami asto, ami asto, ami ast.." meaning 'If there is a heaven that exists on earth, it is this, it is this, it is this..' 
I made it to Dal gate by late evening, the sun had gone down with some light left behind for me to see the lake as a consolation price to have made it before dark.
Day 3: Comes the Second leg of my journey, a heart-full of excitement and a mind-full of curiosity is what made me ready to cruise on the best highway in India that there is; NH1D, the 422 gorgeous kilometres that link Srinagar to Leh. 
I'd split this leg of the ride in two days. Srinagar to Kargil and further from Kargil to Leh. 
From catching a glimpse of the first milestone for Leh which read 420 kms to making it through the deadly Zozilla pass, riding through the mild showers in Sonmarg, cruising along with the Indian army trucks to sharing the ride with a local, this turned out to be truly incredible.
One can opt to stay at Drass too (60kms before Kargil) which according to the records is the coldest place during winters that there is in India. 
I'd opted Kargil because it'd save more of my time on the next day to begin my journey towards Leh. 
Thanks to the streets and busy by-lanes of the Kargil market, I got to click some really good portraits in here. My lens finally had a reason to smile. 
Day 4: The Third leg of the journey is here. Goodbye Kargil! Leh, I'm coming!  
Of all the days I was out there, this one mattered the most. Because it was on this day that I'd finally see the place that had kept me awake for nights.
Also, it was a gift that I was gifting to myself on the eve of turning 22 that day! I've even sang the birthday song cruising alone on those gorgeous roads. Shhh! :) I can't really fathom into words as to how beautiful the ride was. It was getting tough for me to concentrate on the road as I was high on these gorgeous mountains around, nearly hypnotised by the unreal blue sky, taken over by the landscape completely, I was indeed, tripping! 
I reached Leh by early evening, spent a couple of hours searching for a good guest house. I'd opted to stay at one because I really believe guest houses give you a deeper sense of the place, a better insight on the lifestyle out there and also somewhere it never lets you feel away from home. 
Day 5: In the morning, I left for KharDungLa Pass, the highest motorable road in the world (Just 18,320 ft.) It's only about 40-45 kms from the base city of Leh but the ride is a serious test on your back, torso and above all, patience.
Touching the ground at KharDungLa felt like a sweet victory. Treated myself with a plate of hot Maggie and Kahwa at the highest cafetaria in the world. 
I started my descent towards Leh post that. Went around the local market and spent my evening at the lovely Shanti Stupa which got me to climb some million steps but it was worth it. 
Day 6: So according the flow of my plan, I'd left this day open to see what fits well and how.
I left early in the morning and covered all the monasteries out there; Hemis, Thiksey, Choglamsur, Tsemo Gompa as well as the picturesque palaces of Shea & Leh.
Must say that these places are a must-visit when you're in Leh, they talk to you in brief about how Leh as a region has evolved throughout the decades and also lets you a have an insight on the lives of Monks (Lamas) who live there leaving the circle of comfort and luxury far behind.

It was my last day in Leh, I was to start my descent towards Manali the next day. I spent the last evening on the topmost level of Leh Palace (9th) from where I saw the sun go down behind the mountains and I bid adieu to Leh as the city-lights slowly came on. 
Day 7: I had an option of either going to Pangong Tso or Tso Moriri.
I put down the calculation in front of me.
Pangong has great accommodation options, it's a hardcore tourist destination, people crowd in here in all time of the day plus the interesting Indo-China share. 
Tso Moriri has only one small village adjacent to it that has nothing but a few simple tent/guest houses, no major crowd pull there and majorly bad roads en-route. 
Thus, I circled in finally, on, Tso Moriri.
Indeed, I took the risk of being ridiculed back home that I went to Ladakh and I skipped visiting the highly famous lake from 3 idiots. Totally worth it. 
Thus, comes the Fourth leg of my journey, Leh to Tso Moriri. 
A lot of stretches on this route are real bad, they can be merely called as 'roads'. What adds to the frustration is when you ask a passerby as to how long the road remains ugly and the answer bounces back saying around 40-50kms and then you slowly begin sculpting some serious self-confidence in your mind.
Indeed it's challenging but that very first glimpse of the placid blue lake that your eyes catch will soak away all your frustration. You'd feel at solace in no time. 
Korzok is where you'd stay if you come to Tso Moriri. Sweet little village, is home to a 135 year-old monastery, you can see the lake at distance from any of the guest houses out there.
The calmness that surrounds the sea, the unreal blue hue that reflects and the gorgeous evening light that falls on the mountain top, it's mesmerising, I felt overwhelmed. 
It was a night to remember as I got to spent some good time over some great music and conversations with a few travellers I met along.
I remember peeking out of my window to gaze at the sky full of stars, never really seen so many of them together, I think I heard them sing a lullaby to me. :) 

Day 8: I was out in the morning, fixing my luggage over the bike having a chat with the guest house owner over an omelette and a cup of hot tea when I realised that I'd be going back the same ugly route that I came from. Damn, I choked there for a moment. 
It was the Fifth leg of my journey, I was heading to Sarchu from here onwards. Also somewhere along the route, I'd be leaving Kashmir and entering into the state of Himachal Pradesh. This one had to be tough, both on the body and mind. 
It was on this leg of the journey, that I went completely off-route, off-road and most of all, off my mind. In a nutshell, I'm in a complicated relationship with shortcuts from now. (Please refer to the picture in the gallery above)

Sarchu is located at an incredible altitude of 14,000ft and just the thought of how cold it may be gets you a cold feet. There's no connectivity, only tented accommodation, nothing fancy, you'll get food cooked by the locals in their dhaba tents (I stayed at one of them) and there's only one telephone that's available in the entire village which is at the BRO check-post. 
The ride to Sarchu had been quite full-filling and tiresome at the same time.
I bid adieu to the night chatting with the family I stayed with over dinner, clicking a few pictures of the starry sky and reminiscing my trail in Ladakh till then before I closed my eyes. 
Day 9: Sixth leg of the journey is here. I left for Manali early in the morning with a heavy heart and mind full of mixed emotions. The journey was approaching its end, Manali was the last stop in my triumph of covering the nation's most beautiful highways Srinagar-Leh & Leh-Manali. The baggage suddenly felt heavy :) 
Riding amidst the ugly transport truck traffic, crossing water streams that crossed the roads, being drenched in dirt to being stuck amidst a passing cattle, making it through the treacherous Keylong and Rohtang pass was quite an experience. The two wheels went through it all. 
I reached Manali around evening, settled in my hotel room, spoke to family and friends about my whereabouts, went around the market hunting for a good dinner and desert and soon enough, I threw myself in the bed for a good night's sleep..
Day 10: I don't know how could I sum up that feeling in words but I never really felt that I was done.
It was the exact same excitement I had here that had held my mind back in Jammu when I'd first started.
I think I never wanted this to end but at the same time I knew the calling from home grew louder and thus the next morning I woke up, buckled up and got all ready to set the ride into the last gear and also into the last leg of my journey, the Seventh in-line and the last one but I was sure it was also the first of many to come :) 

Reached Chandigarh the next morning after having a stop-over for the night at a place named Swarghat that falls on the border of Himachal & Punjab. 
Gave in my bike to the cargo office, wrapped up the documentation, strolled around and settled in a good cheap hotel.
The train left from the station next morning, never had this sense of relief and pain felt together. 
Going through the pictures and notes back there in the train made me realise that sometime while being out there somewhere in the middle of the road, I'd given myself the best memories to die with. Overwhelmed, I felt a little too grown, along. 
The journey was finally over. By the end of it, I had places to look back to, people to stay in touch with, a few relations to reflect on and above all, some stories to bring back home :) 
Tips & Suggestions:
Stay Recommendations
-Lonely Guest House | Srinagar 
-D'Zozilla Residency | Kargil
-Laksdup Guest House | Leh 
-Mentok Guest House | Tso Moriri, Korzok
General Tips
-Use the day that you land/reach Leh to relax and let your body be well acclimatised to the weather. 
-Since 2013, Indian nations do not need an ILP (Inner Line Permit) for most of the tourist places like Pangong, Nubra, Turtuk etc. (Excludes a few)
-Carry enough warm clothes, the temperatures dip down during the night. 
-To avoid slightest of the chances of catching AMS, keep your body well-hydrated and increase your intake of carbs. Avoid smoking. 
For Biking Enthusiasts
-If you're worried about the state of roads, well, don't be. The Border Roads Organisation has done a brilliant job in maintaining them through the worse of the scenarios. I've mighty respect for them. The roads can be well divided as great, good, bad and ugly throughout the Srinagar-Leh-Manali run. BUT, make sure you have a good prior experience of long rides before you venture out. Won't recommend it to amateurs/beginners.
-Get your bike well-serviced and well before you start your journey. Would recommend to do a trial run of 100-200 kms too.
-Carry chain lube, extra clutch cable, puncture kit along, incase there's a need.
-Carry your original bike papers, ID proofs and other relevant documents.
-Keep a map handy
-If you're planning to do Leh-Manali through Tso Moriri, make sure you carry enough petrol for the next 600kms as there aren't any fuel pumps on the way. Having said that, you'll find a lot of Dhaba tents too on the way that sell fuel but obviously at a bigger price.
-If you're riding with a pillion, please make sure you'll are both wearing helmets and whatever body gear that is essential.
-Make sure you stop at every 60-70 kms to stretch your muscles and relax. Drink enough water.
-Always make way for the Indian Army Trucks.
-Help Border Roads Organisation by co-operating in any of the road-dig ups/clearance going on. 
And above all, enjoy your ride. :) 
Even though I feel I've poured all my thoughts out on this article, a lot of it still remains etched in some corner of my mind never willing to be set free. 

Thank you Ladakh for everything, there's a part of me with you now.

It may never come back :)