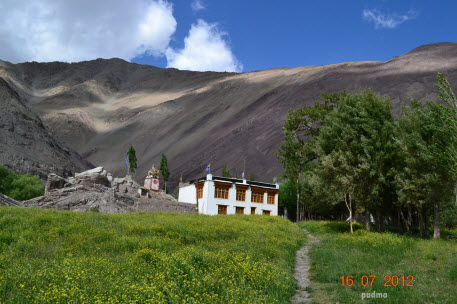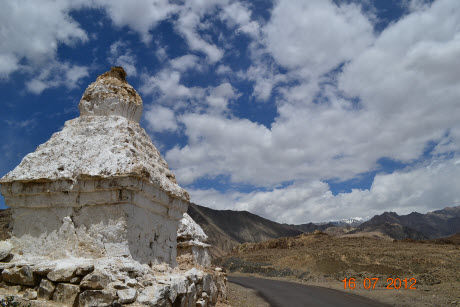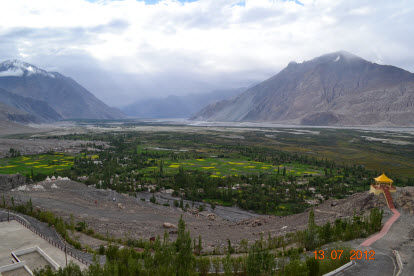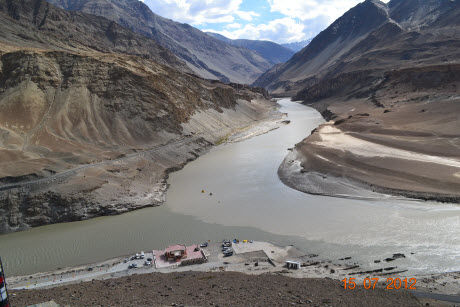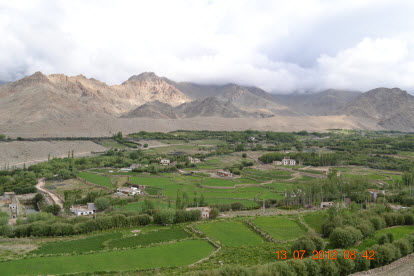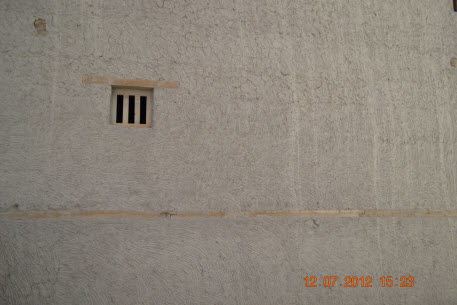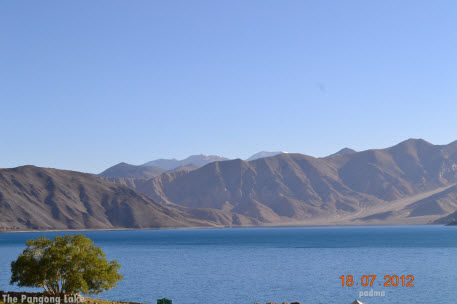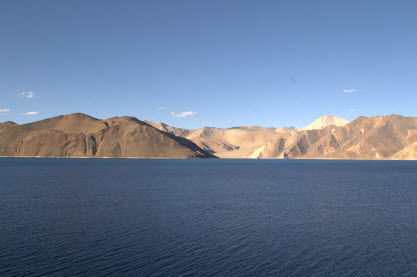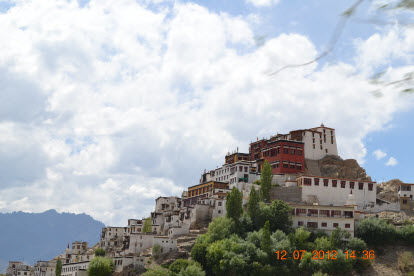 The pristine waters flowing in the rivers and streams, the large expanses of emptiness surrounded by mighty bare mountains and the mystic blue sky above; all blend perfectly together and form a heaven called Leh – Ladakh!
Om Mani Padme Hum, the Buddhist mantra adrift with the flow of the wind, the aura surrounding you all over Leh. Asking around what the meaning is of the sloka would be in vain for it is inexplicable. Besides the colourful panel of rectangular prayer flags representing five elements to the enchanted prayer wheels, engraved rocks, this mantra keeps following you, or should I say travel along with you.The place is full of chortens and large prayer wheels at every corner which gives the feel of the rich Buddhist culture and its glorious tradition carried through the ages. All these, in the midst of the magnificent Himalayas appear and give a sense of a portrayal of a great painter's imagination on his imaginary canvas.After being in such heart capturing scenic beauty, the language spoken by the natives of the place soothes your ear. For a while I stood still to realize whether it is because of the place from where I had come. The conversation which lands in your ear, intentionally or unintentionally, adds as nectar to the whole thing. The greetings of the natives with the word julley, wearing a smile comforts you to the core.
Calling a visit to this place a pilgrimage would not be wrong. The place is a heaven for every person who loves traveling and one will not be tired capturing every scene that comes across hundreds of times. And still finding the next moment more worth capturing with another scene in the camera besides the heart. Thanks to the new technology with digital cameras. Unlike the roll cameras of yesteryears, we can take in numerous pictures of a cloud creating a shade, touching the swirling trees on the mountains, the fluttering flags against the unforgiving wind, etc. One need not have to worry about setting a perfect frame. Whatever you see would be the perfect frame in itself. As soon as the summer season sets in, and as the connectivity regains to function, people rush there from all parts of the world. Do not be surprised when you come across people with various ideas of fun, adventure, exploration, looking for serenity. This is the perfect destination which makes this place a different world altogether. Many prefer to reach the place by air while many think it is worth a ride to reach these mountains on bikes and start their journey from either Manali or Srinagar to make it a trip to be cherished forever.
I have always wanted to visit this place about which I have heard about from thousands of people who had visited it. My urge to explore by myself what this place is all about grew stronger day by day. The question which usually came on my mind was "is it like any other tourist destination or more than that?" So, the planning started with some of my friends. However, I had to visit this place alone as none of my friends could make it to this trip. But, fortunately, I found a companion through a blog who was also going alone and hence, we paired up for this trip. What happened next was two single girls having the fun of their lives. We chose to fly to this dream land, as it was the only practical option left with us, as we did not know how to ride a bike. A look from the air-bus and you will see the mighty bare mountains below giving you their first glimpses of splendour and charm and making you feel more humble. You are simply mesmerized by the way they stand high and marking a magnificent landscape on this earth. This must be one of the most beautiful and challenging aircraft landings in the world.
Day 1: The Day to AcclimatizeAfter landing on this wonderful piece of the earth, I was surprised to see that it was different, different from the other tourist destinations, away from the hustle bustle of any regular tourist destinations. With innumerable monasteries lined and the colorful prayer flags in the town flapping in the strong wind. All these give a tranquil sense. Every moment you would feel like running upto the majestic mountains and hug them.High altitude makes acclimatization extremely important before beginning our quest. We took a full day rest after reaching Leh in the morning at hotel Leh Chen at Chagspa Road. Since this hotel was bit far from the market, we got to experience and witness the quiet nice view from its windows. We lay still and watch the colours of the landscape changing its colour from morning to evening. Hence gifted ourselves a serene day.Later in the evening, we visited the local market flooded with stalls and shops selling artefacts, jewellery and restaurants. This happens to be the hang-out place for the tourist. May not be wrong in saying that it is the only place where we could see crowd. The restaurants were of a range of German bakeries, Tibetan and Indian cuisine. Placing your order when hunger pangs starts would not be advisable in these restaurants as cooking takes more time due to the altitude.The Leh market is full antiques and pashmina shawls. Don't forget to try producing a sound from the Tibetan singing bowls available in the markets which produce a queer monotone and is used for meditation.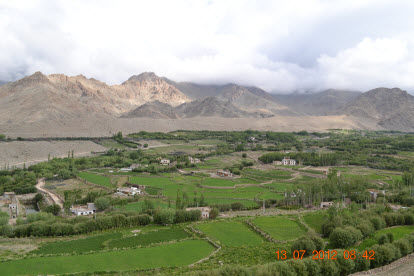 Day 2: Leh – Hemis – Thiksey – Shey Palace – LehEnjoying the serenity of the place from the hotel far away from the maddening of the market area, commuting up and down to the market was not very practical. Hence, we decided to shift to a hotel nearby after we had acclimatized to Leh's high altitude. Later, we shifted to Hotel Antelope which is just a walk away from the market. This also was a nice hotel and booked myself in a room which gave a view of the Leh Palace! This made our commuting to market for our meals and try the various stuff available in the place. As our plan was to visit Nubra valley and Pangong Lake, we gave the passport photocopies to the travel agent to get my Inner Line Permits prepared.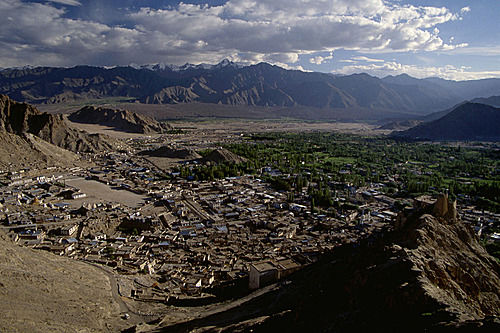 We utilized the second day for some local sightseeing. This we started by visiting the Hemis Monastery, Thiksey Monastery and Shey Palace. Hemis monastery, 47 kms from Leh, looked intriguing from outside among the mountains. This monastery has a room which houses a statue of Lord Buddha, in another room a statue of Lord Padmasambhava and a prayer room for the lamas. The monastery also has a museum and a souvenir shop which has Tibetan style stuff at reasonable prices.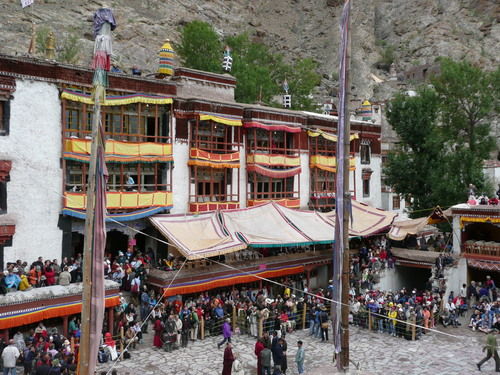 Thiksey Monastery was a s mesmerizing as I had envisioned it to be. The backdrop of azure blue sky made it look almost mythical.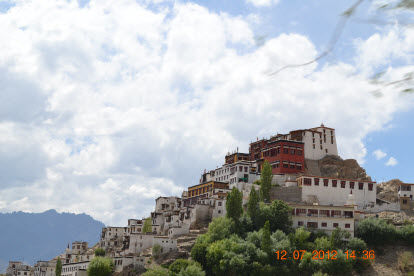 Shey Palace had a lovely view and good structures to see with a temple of Lord Buddha. You can see the mud walls' structures with which the palace is made of and is a common sight in and around Leh.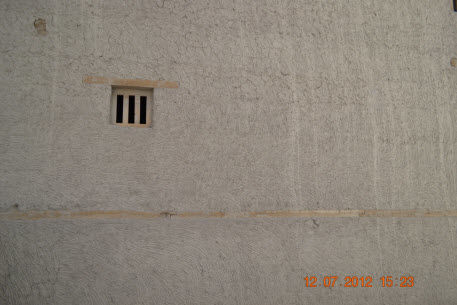 Day 3 and 4: Leh – Khardung La – Hunder – Diskit – LehThird and the fourth day were planned for a visit to Hunder and Diskit in Nubra valley via Khardungla Pass which is said to be the highest motorable road in the world. This road has real breath-taking views and showcased such a contrast over a span of a hundred kilometres. First came the snow clad mountains which slowly gave way to bare mountains and then sand like a desert. It changes so drastically while you move forward. It changes from yaks in the snow to Bactrian camels unique to this place in the sand. This really feels so amazing.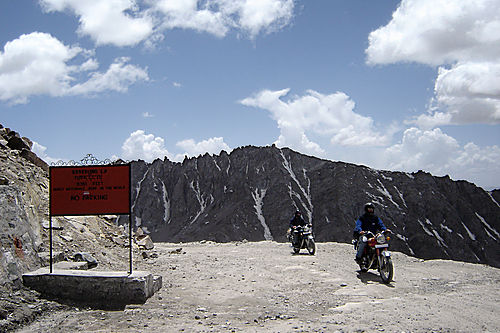 We first visited the Diskit monastery which had a large statue of Buddha recently built and it looked lovely in the monsoon setting. Then we had a homestay at my driver Zigmit's home in Hunder village. There we learnt that Hunder was called Sonetar and which meant 'the first one'. They told us that this was believed to be the first village which was habituated in this part. His mother made a local dish called skew at our request.The next day morning we had a stroll in the village which was so lovely with streams running everywhere and huge mountains around. People had grown wheat and mustard. The colours of yellow and green blended so well. For breakfast Zigmit's mother made 'Khumani roti' and we set off for our next destination of Hunder camel safari and left the beautiful Hunder village. Most of the local people were Buddhists with a minor portion of Muslims as well. People here looked very peace loving and soft spoken. Next we had a lovely time in sand among the camels and set off our journey back to Leh town with our driver Zigmit.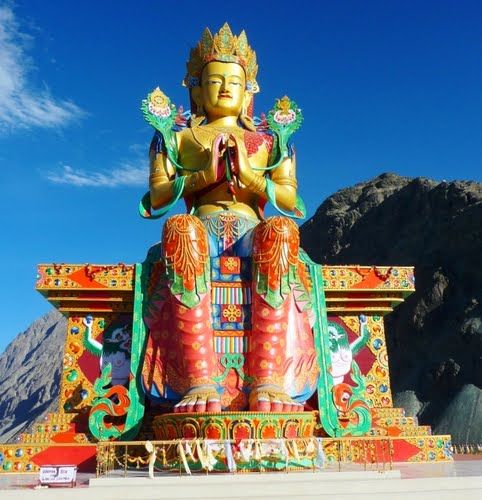 Day 5 and 6: Leh – Magnetic Hills – Alchi – Confluence – LehThough the plan was to do some local sightseeing on these days, our mischievous minds led us to some unexpected adventure. We came to know about Activa being available on hire for local sightseeing and hired one for the day. Eventually we made friends with a pair who were traveling on bike and mentioned their plan of going to Alchi which is about 60 kms from Leh. Well what happened next was pure fun, adventure and a unique experience. We decided to go to Alchi with them! The Activa's speed dipped to as low as 10 kmph while climbing the steep slopes but never stopped and somehow we managed to reach Alchi by evening. And gosh, this was an awesome drive with an awesome destination at the end. This place has a monastery which is one of the oldest monasteries in Leh. This place was simply beautiful. The thing which is captivating about this place is its simplicity.We felt like staying there for the night even though we had no clothes or anything for the next day. This was amazing and we visited the confluence of the Zanskar and Indus River on the way while returning back to Leh. We also saw the might of the Magnetic Hills where cars were moving up against the slope even in neutral position. How amazing!!!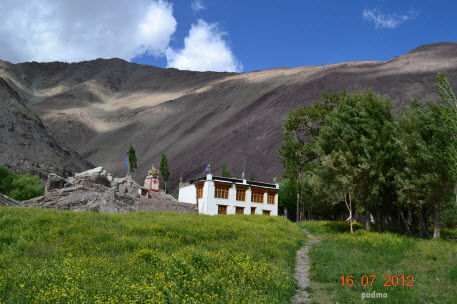 Day 9: Leh Local SightseeingThis day was completely to shop for souvenirs, say goodbye to the friends we had made along the way in Leh and just wrap up things for the next day. As this was the last day at Leh, we felt a wish to stay here for more days. The heart was not ready to leave this heaven we had witnessed all the while.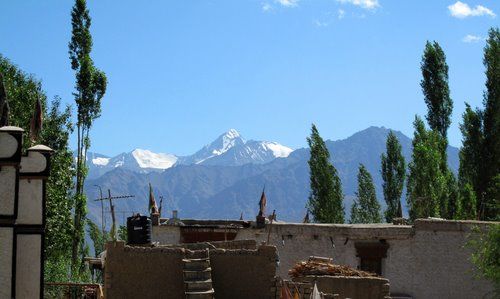 Day 10 and 11: Leh – Pathar Sahib Gurudwara – Kargil – Srinagar – DelhiWith a heavy heart, we packed our bags and said goodbye to this lovely place with which we had grown fond of. We left for Srinagar via Kargil town to catch a flight back to Delhi. Along the way we visited Gurudwara Pather Sahib very well maintained by the army. We also visited the Lamayuru monastery which is believed to be the oldest monastery in Leh. This place is also called the Moon land because of the landscape which gives a feeling of being on the surface of the moon. We stayed at Chaanigund army area with Bihar regiment overnight. And this is how the journey ended. I wish to get a chance again in future to visit this place and relish nature once more.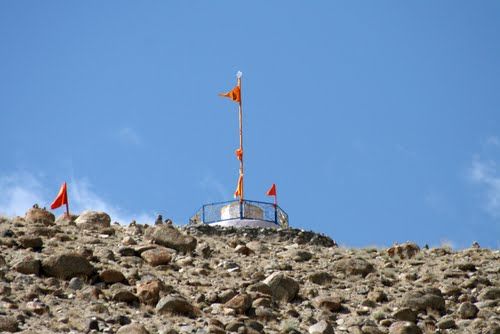 Day 7 and 8: Leh – Pangong Tso – LehAfter the wonderful adventure to Alchi, the next destination was the famous Pangong Tso Lake. We got a local company for the trip and we took Eon to conquer the roads leading to the lake. We sat at glacier fed waterfalls and frozen lakes en-route. By evening we reached the famous Pangong Lake. The first sight of the lake and we were all mesmerized by the blues it reflected. The eyes relished the colour which made us all feel elated just by looking at it. This was something which I had never experienced before. It was so vast and made us feel at bliss. The people who haven't seen this have missed something in their lives. The feeling I would never be able to describe but maybe this is what is called being at peace with oneself, feeling a joy beyond this world. We stayed at a camp near the lake for the night and started our journey back to Leh town the next day.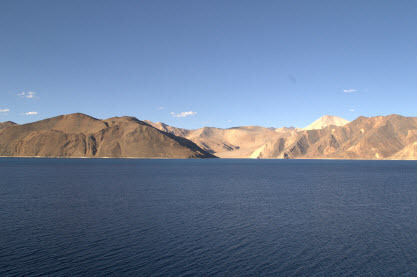 Frequent Searches Leading To This Page:-
manali leh srinagar tour packages, top leh tour packages with price, things to do in leh, leh holiday tour packages leh ladakh tour packages itinerary, leh ladakh road trip packages