Imagine three crescent-shaped beaches separated by rocky outcrops. Imagine skies swooped by egrets and cantilevered fishing nets. Imagine sun-doused coves and abandoned ports. And now imagine a cliff jutting out to the sea, sitting on the very edge of which is an exquisite home. Sounds like a far-fetched fantasy? Well, rejoice because you can find this right here on earth at the Niraamaya-Surya Samudra, overlooking the placid waters of the Arabian Sea.
Away from the cacophony of sights and sounds of Kerala's touristy furor, Niraamaya is set in the midst of coconut and jackfruit groves and more than lives up to its name, which translates to a sense of well-being in Sanskrit.
Niraamaya Retreats Surya Samudra is Ideal for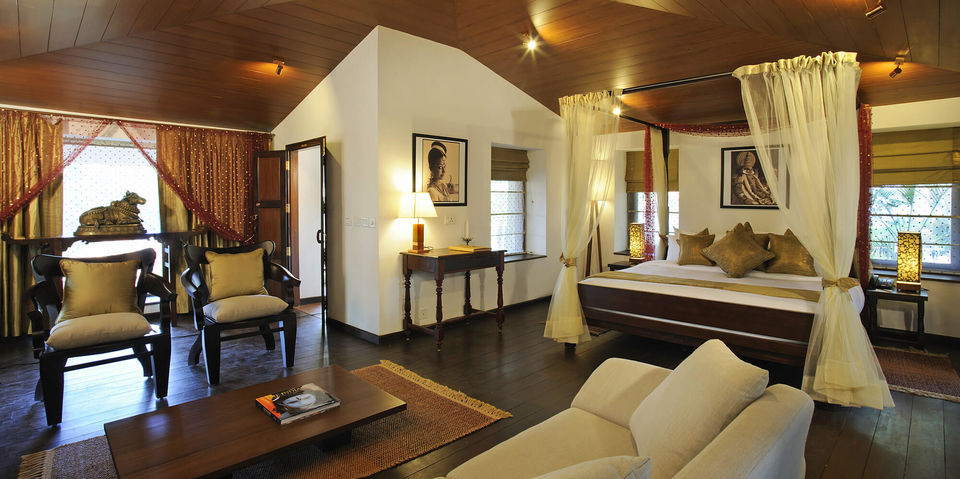 Niraamaya is the perfect hideaway for travellers looking for an Ayurveda-based retreat. Families, a large group of friends and couples can either have a complete staycation here, or use the resort as a base to explore Kovalam and its cornucopia of secret trails and beaches. The entire resort can also be rented out for parties, reunions and big celebrations, in general.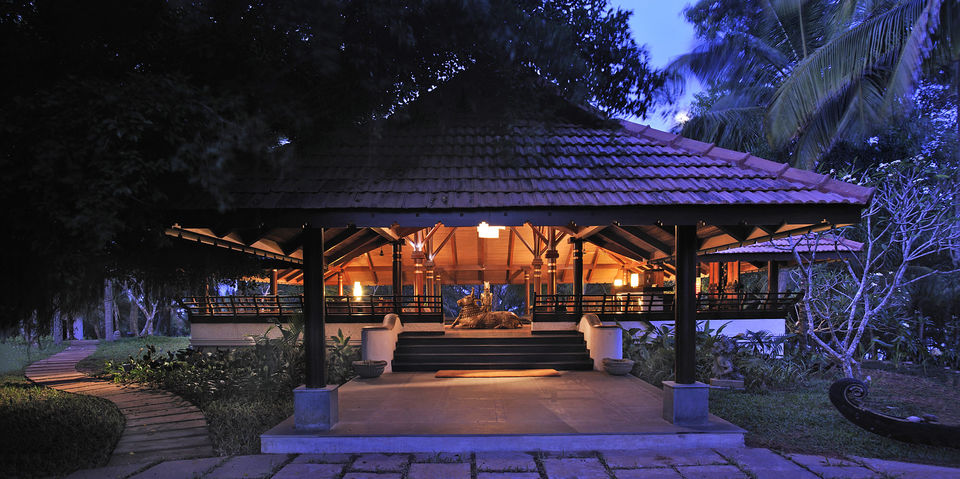 A ginormous Ganesha statue, reclining by the lawn ushers you into Niraamaya Retreats Surya Samudra, that's a perfect blend of comfort and luxury. The resort welcomes you with 32 acres of landscaped gardens that are dotted with hammocks and traditional Kerala-style cottages or tharawads. Touted to be one of India's best Ayurveda resorts, it was brought to life by Klaus Schleusener, an IIT Madras professor who purchased several tharawads from Keralites in the 1970s and restored them into one-of-a-kind heritage cottages. Decked with numerous windows, these cottages are privy to a myriad of views. As you hop from window to window, you'll be greeted with frames of vegetable patches, treacherous tides of the sea at dawn and squirrels sauntering around for sustenance.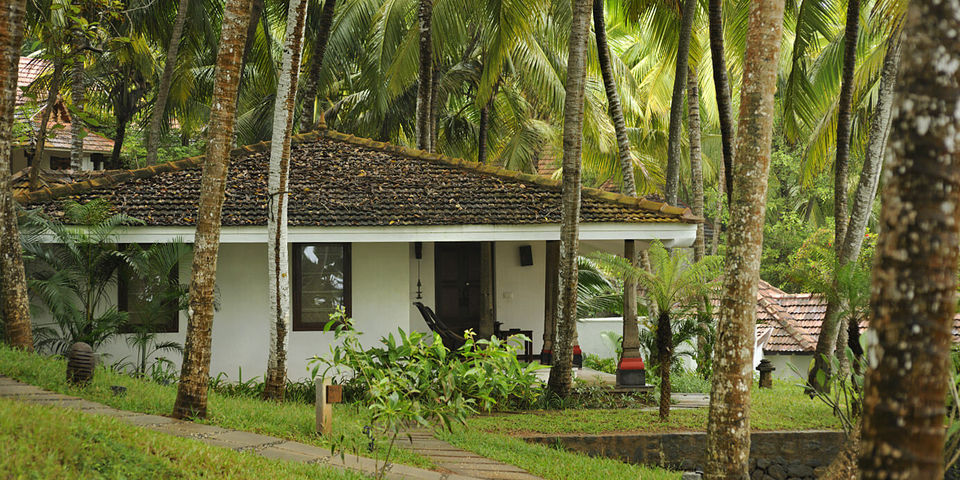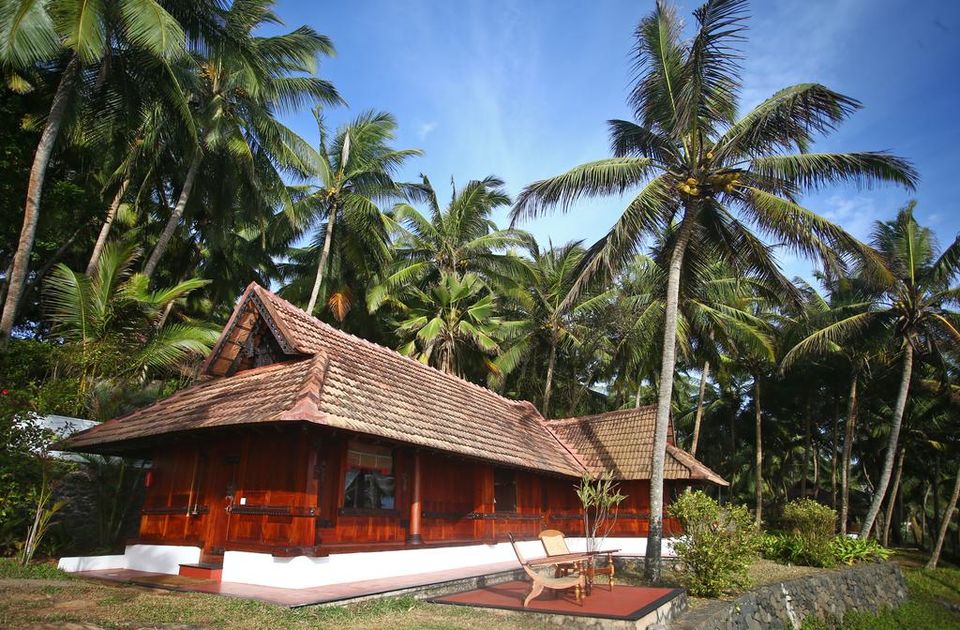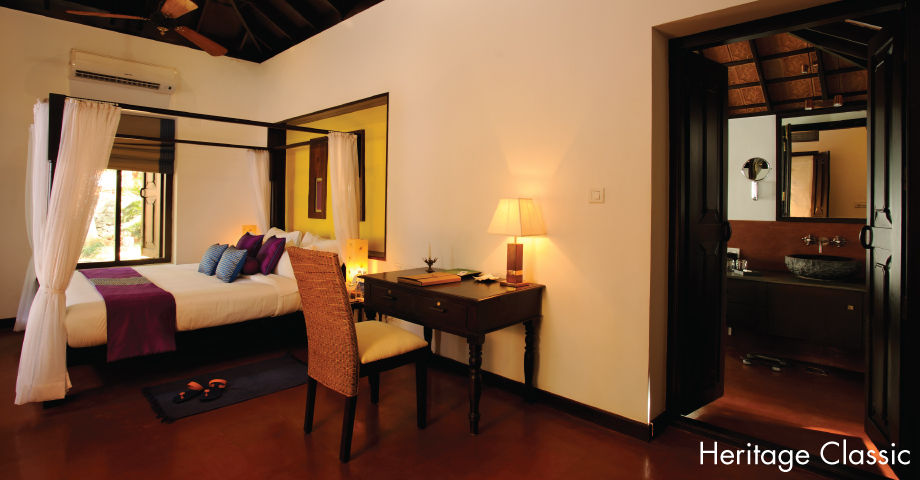 Each of the homes – be it the Rock Garden rooms, Banyan Tree bungalows, or the Octagon, are all built with dark Keralan wood and designed with the highest of ceilings and swanky alfresco showers. With some striking stone elements, the cliff-facing Octagon is Niraamaya Retreats Surya Samudra's most enchanting cottage. With a lovely outdoor tub in the private garden, Banyan Tree Bungalow is crafted keeping couples and honeymooners in mind. Furbished with colonial furniture, planters' chairs on the patio and beds so extravagant, you wouldn't want to leave your room, the cottages are also stocked with organic cotton bathrobes and Forest Essentials' toiletries.
Food
Niraamaya's kitchens run on a made-to-order ideology. The resort boasts of a café, a restaurant and a seaside bar – Café Samsara, Essence and Madira.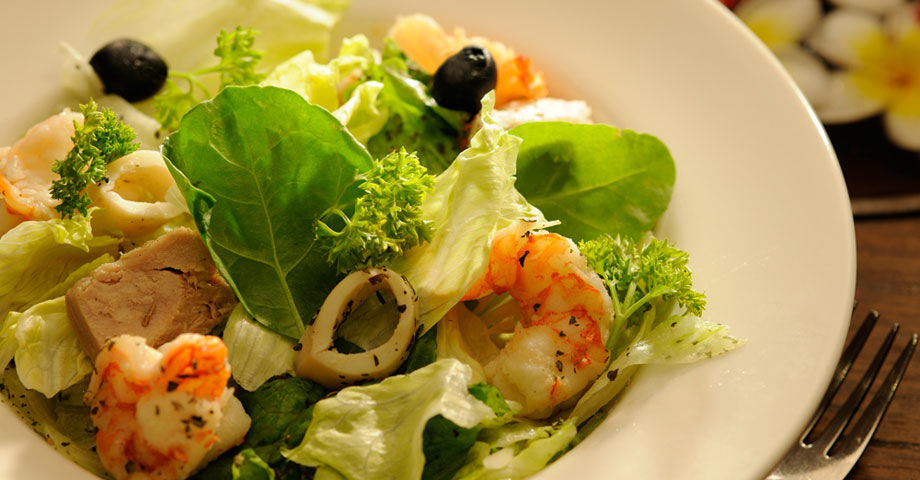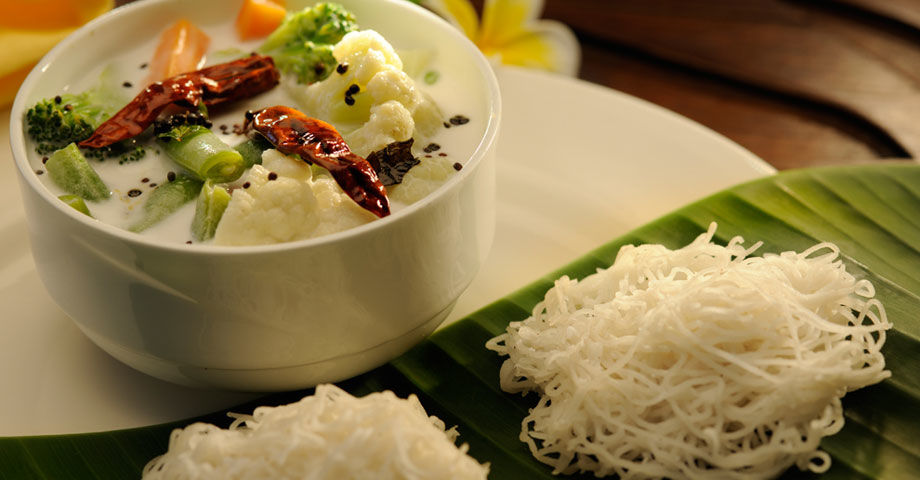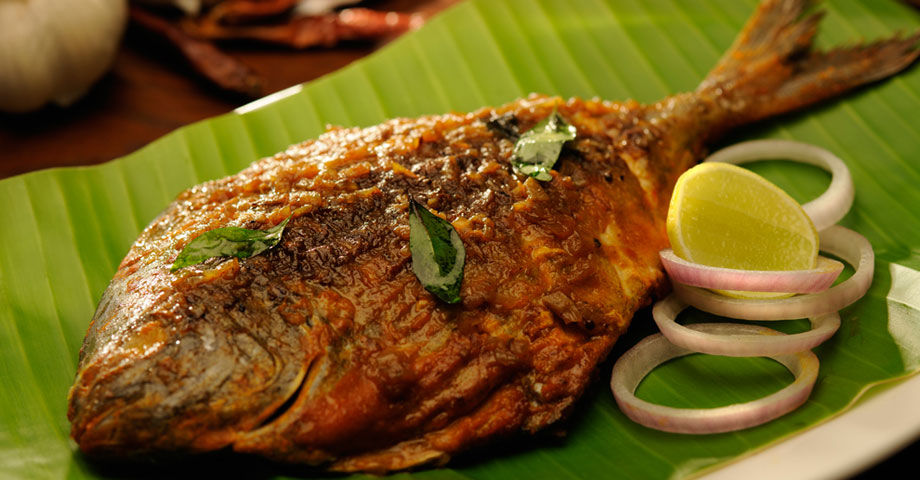 Café Samsara's menu features Kerala's authentic fare and some delectable European dishes. Try any of the Malabar curries, the pepper squid or any prawn dish.
Essence is an elegant Thai restaurant and is perched on yet another cliff. You can see whatever you ordered for, being prepared from scratch.
Madira, is Niraamaya's beautiful seaside bar. Go here for sipping on cocktails as you watch the sun come down on the Arabian Sea.
Cost
During peak season,
Rock Garden Room: ₹13,834
Heritage Classic Cottage: ₹18,105
Heritage Premium Cottage: ₹27,213
Banyan Tree Bungalow: ₹34,999
The Octagon: ₹38,999
The tariff includes daily breakfasts.
For further details, visit their website.
Best time to go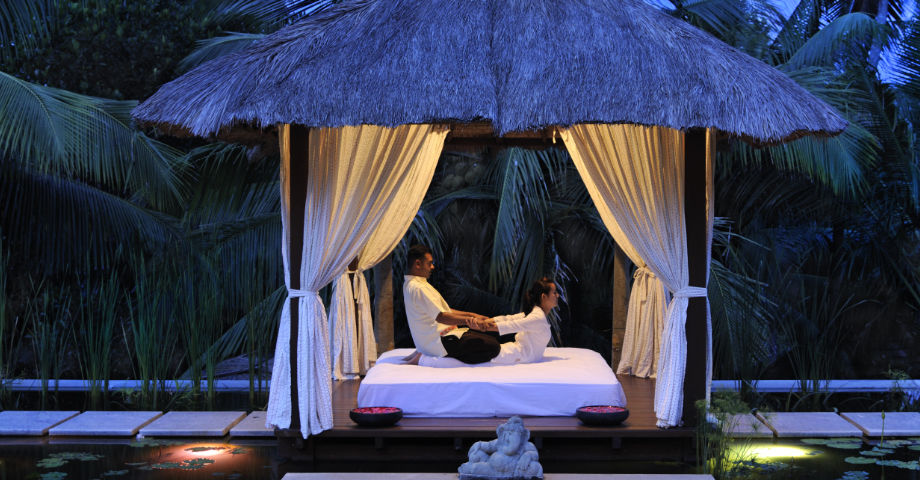 November through March is the ideal time to visit the resort. Winter comes to Kovalam during these months and it's the perfect season for exploring the town and its beaches. The temperature goes as low as 16 degrees celsius and as high as 34 degrees celsius. Every year, in January, the Great Elephant Festival and Gramam (the Kerala village fair) take place by the Kovalam Beach.
What to do in and around the property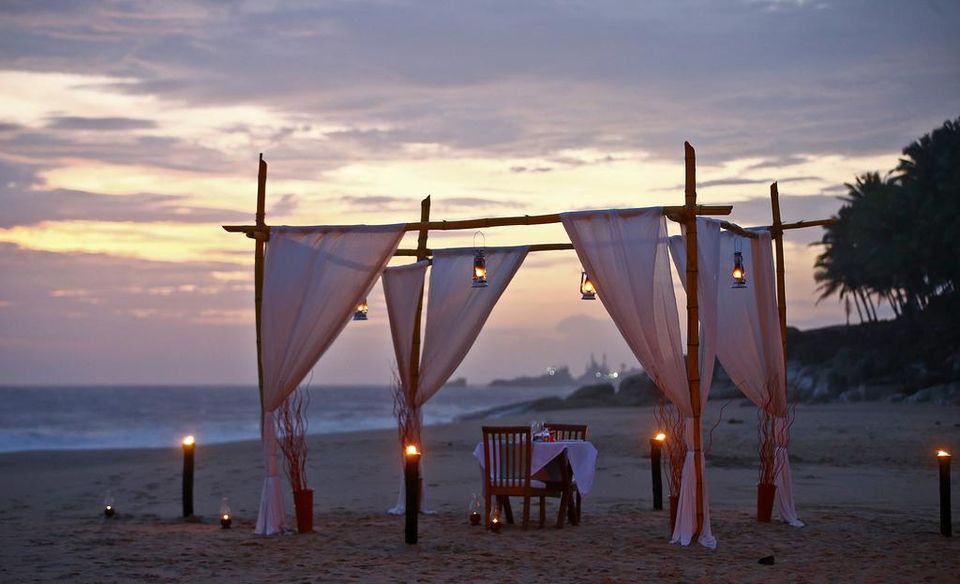 The staff can arrange an intimate candlelight dinner or a barbecue by the beach. If you're looking at a destination wedding, Niraamaya Retreats Surya Samudra is bound to make the most indulgent event of your life, just a tad more special.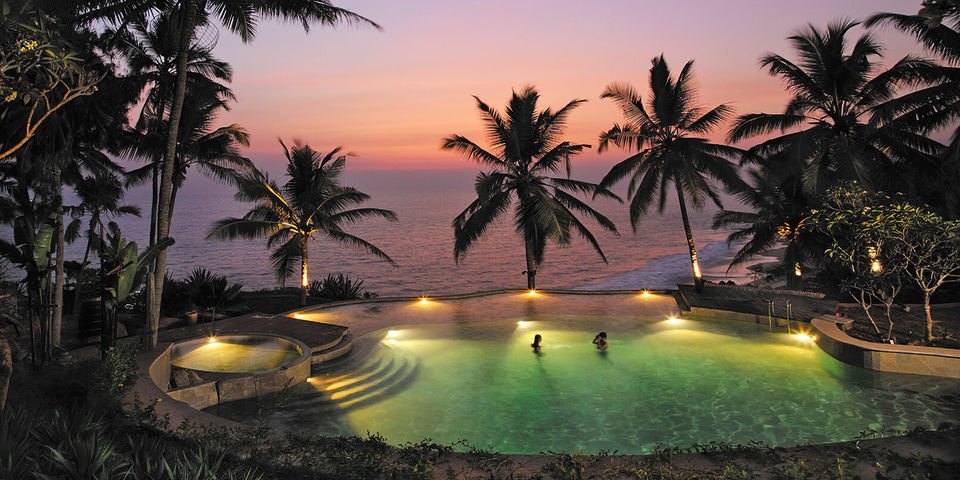 The resort also fans out over the quiet Samudra Beach, and two mosques wearing the kitschiest of colours. Its two neighbouring beaches of Lighthouse and Hawah are a short walk away and mostly sans tourists. Niraamaya is also flanked by an enticing jade-tinted infinity pool and for those in need of an enlivening yoga or spa session by the beach, the staff will be all too ready to make it happen.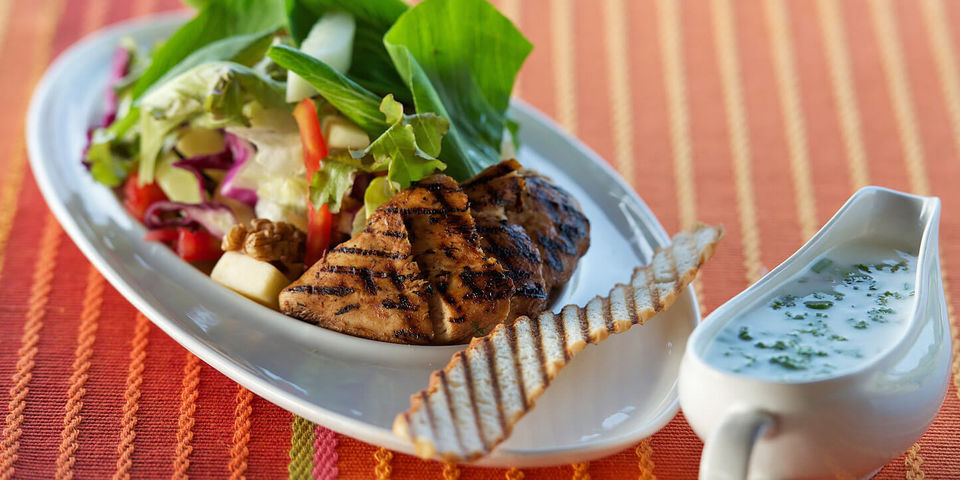 The Niraamaya Culinary School sets up cooking classes in an attempt to preserve and bring to light local recipes. Eight kinds of classes are held, wherein you cook the following:
The best of Travancore: Mussels ularthiyathu, crabmeat rasam, Travancore kingfish curry, ghee rice and pachadi
Syrian Christian specials: Carrot pickle, Alleppy fish curry, pepper squid, kappa and banana flower thoran
Kuttanadan menu: Tomato pickle, crab curry, chicken roast, red rice and avial
Southern Spice: Beef coconut fry, meen moilee, coconut rice, pineapple kaalan and beetroot pickle
Inspired by Ammachi's kitchen: Meen pollichathu, nadan chicken curry, ullitheyal, brinjal pickle and lemon rice
Nadan Kerala menu: Multi-lentil dosa, coconut and tomato chutney, sambhar, crab curry and fish pickle
From our wellness kitchen: Drumstick gravy, lentil curry, tangy bitter-gourd masala, jackfruit flour chapaati and bamboo rice
Ayurveda menu: Cabbage thoran, nadan cucumber curry, pan fried vendekkai, black rice with drumsticks and millet bread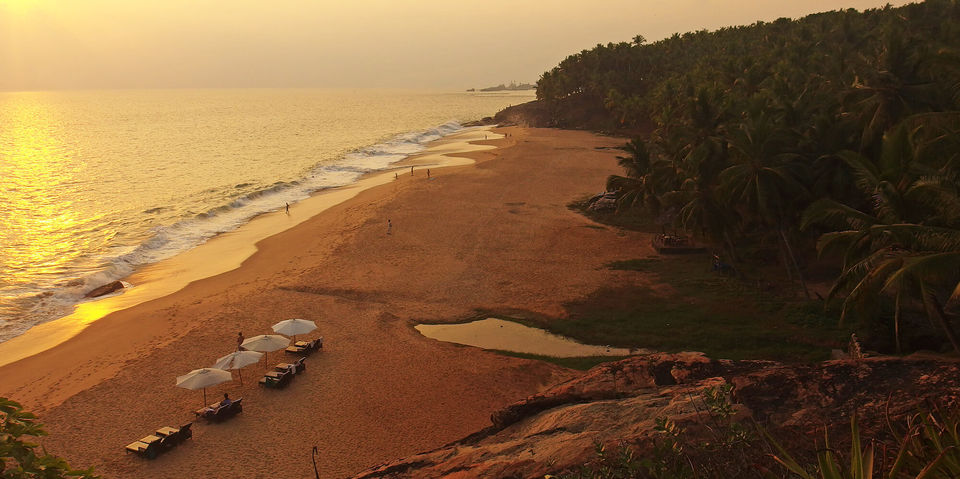 Several tours are organised by the resort, which can be tailored according to your convenience, such as:
Backwater cruise and beach picnic: A 20-minute drive will take you to the backwaters of the Poovar estuary, and thereupon a motor boat will take you through coconut groves and small Kerala villages, leading up to the Golden Sand Beach. Gobble up the picnic lunch from the resort, sitting on the sun bed that'll be set up here by the staff. (Rs 10,000 per couple)
Fisherman's delight: This is a tour led by Niraamaya's chef. You'll visit Kovalam's local fish market and witness the ancient custom of fish auctions upon a boat's arrival. Choose a fish of your choice and have it cooked for you at dinner. (Rs 5000 per couple)
Trivandrum cultural immersion: The tour begins with the ancient Padmanabhaswamy Temple and its adjoining bazaar. Follow it up with the Kuthiramalika Palace and soak up the stories retelling its rich history. For lunch, have a Sadhya meal served on banana leaves in a rustic Trivandrum restaurant. Go to the Napier Museum for its fantastic art gallery. (Rs 6000 per couple)
Around the property
Some of Kerala's most invigorating massage and treatment centres are located in Kovalam, such as Somatheeram and Shin Shiva.
Wake up early to catch the daily fish auction that takes place at the nearby Chowara Beach. Fringed by rows of fishing villages, and coconut palms, the coastline also boasts of an Ayurvedic resort. The Ayyappa temple can also be spotted at Chowara, sitting on a hill overlooking the beach. Catch the mass at the Analothbhava Matha church.
A 30-minute ride away from Kovalam, drive to the island of Poovar. Get aboard a boat and ride across the glistening backwaters that are studded with mangroves and look out to the Arabian sea. Poovar's skies are frequented with snakebirds and kingfishers.
Six kilometres away from the resort lies the Kovalam Beach, that's hugged by a ivory-white shoreline. Indulge yourself and book an overnight backwater trip to Allepey, on a traditional houseboat.
Catch a sunset at India's southernmost tip, Kanyakumari that's a two-hour drive from Kovalam.
Spot the Indian bison or a herd of wild elephants at the Periyar Wildlife Sanctuary. Five hours away from Kovalam, Periyar beckons you in with its dense forests and the ultimate promise of spotting a magnificent tiger.
Kovalam is also neighboured by vast stretches of spice plantations. More than often, you'll find yourself walking through fields of pepper, nutmeg, cardamom and cinnamon.
Getting there
By rail: Kovalam is connected to the Trivandrum central station, from where it will take around 40 minutes to reach the resort.
By air: The nearest international airport is in Trivandrum. It takes around 40 minutes to reach the resort from the airport.
By ferry: You can also board a ferry from the town of Poovar, that is seven kilometres away from the resort.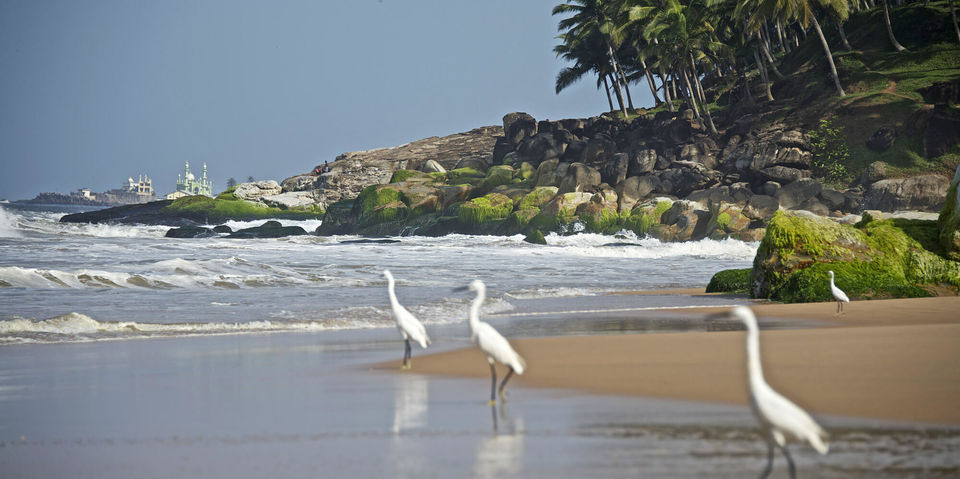 Have you stayed at Niraamaya Retreats Surya Samudra? Tell us about your experience by sharing your story on Tripoto, and inspiring millions of travellers across the world!
Frequent Searches Leading To This Page:-
how to reach niraamaya retreats surya samudra