It's an uneventful morning at Sargakhet. A magpie breaks into a song and the sun glints through rhododendron forests. Rows of picket-fenced wooden cottages spill out into fields of apples, plums and chestnut. A row of men cycle their way to work through wildflower spangled meadows. And just as quietly, you fall under Sargakhet's evocative charm. Planted in Mukteshwar, the town is folded deeply into Uttarakhand's pine forests and is home to the charming organic resort of Dyo. Translating to 'heaven' in Sanskrit, Dyo the organic village resort lives up to its name in more ways than one.
Ideal for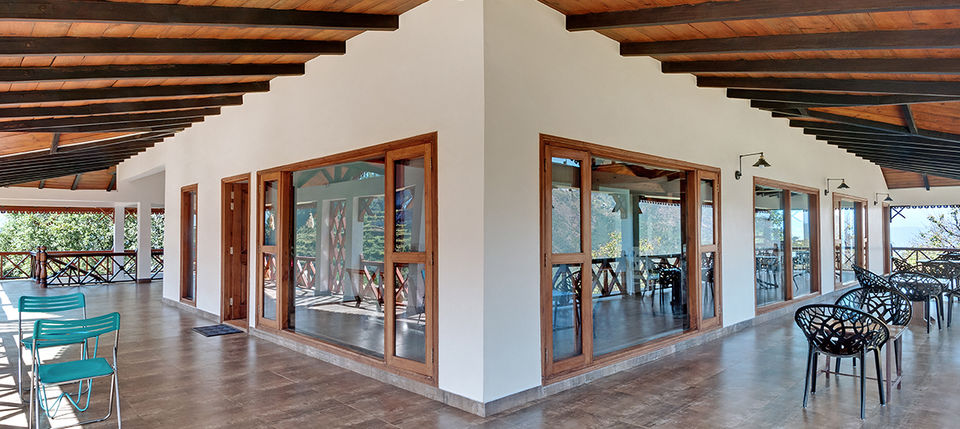 Dyo is the perfect getaway for families looking for a rejuvenating break in the mountains, away from their routine lives in the city. They can either have a complete staycation here, or use Dyo the organic village resort as a base to explore Mukteshwar and its cornucopia of secret hills and trails.
About Dyo the organic village resort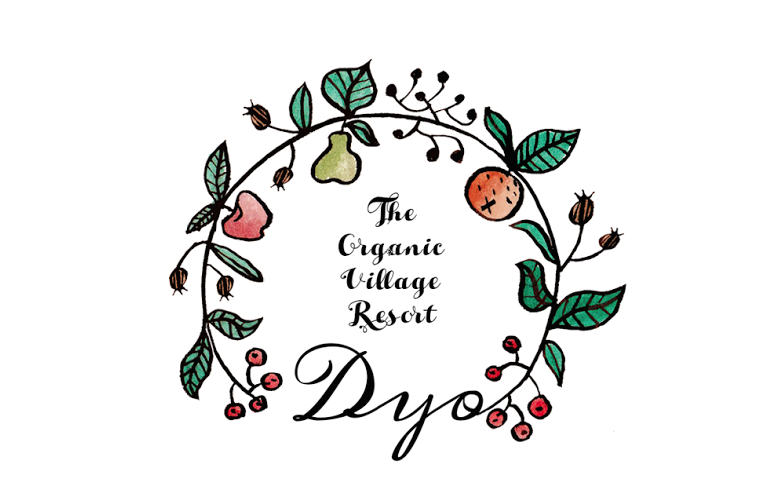 Dyo's logo portraying the circle of life, ushers you into the resort. The signage is inspired by the fact that each life on this universe takes birth, blossoms and eventually disseminates its energy amongst other beings.
Sitting on top of a hill in Sargakhet's Amravati Estate, Dyo the organic village resort is set against plum orchards, and the towering peaks of Nandadevi, Trishul and Panchchuli. The resort also finds a mention in author Jim Corbett's The Temple Tiger and More Man-Eaters of Kumaon.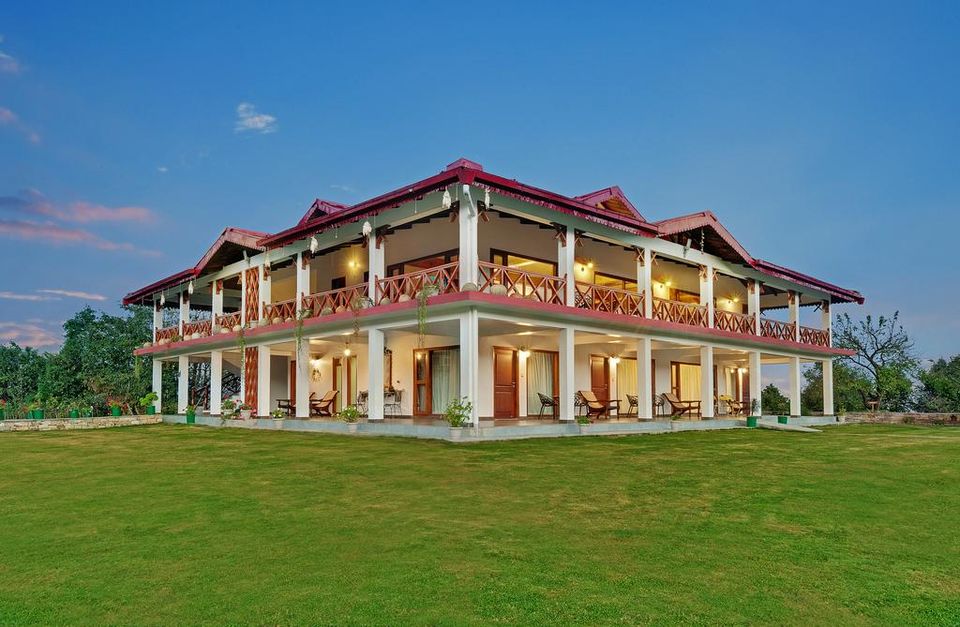 Brought to life by the Sharma sisters – Kanika and Kushika, the organic village resort was conceptualised with the thought of giving back to mother Earth. The sister duo left their management careers and instead, learnt organic farming – wherein lies the ethos of Dyo. The resort advocates agro-tourism, and employs various environment-friendly practices on a daily basis. Nearly four lakh litres of rain-water has been harvested till date keeping in mind the water scarcity in mountainous regions. Using compost pits, fallen leaves, farm and kitchen waste is recycled into manure, and solar roof panels are installed to conserve energy. In an attempt to blend in farming with hospitality, Dyo involves local farmers by educating and employing them and later selling the organic produce to the cities.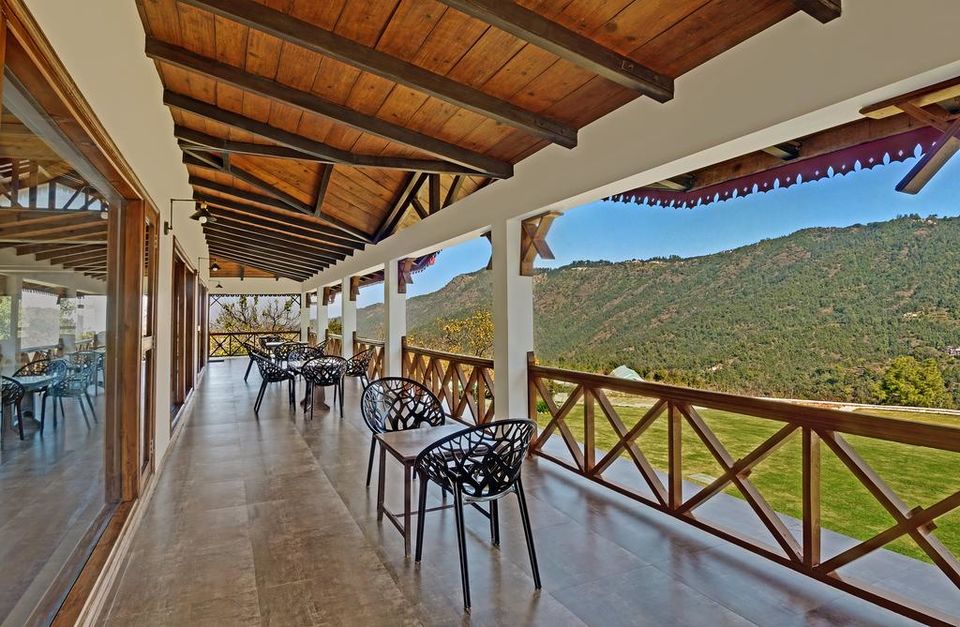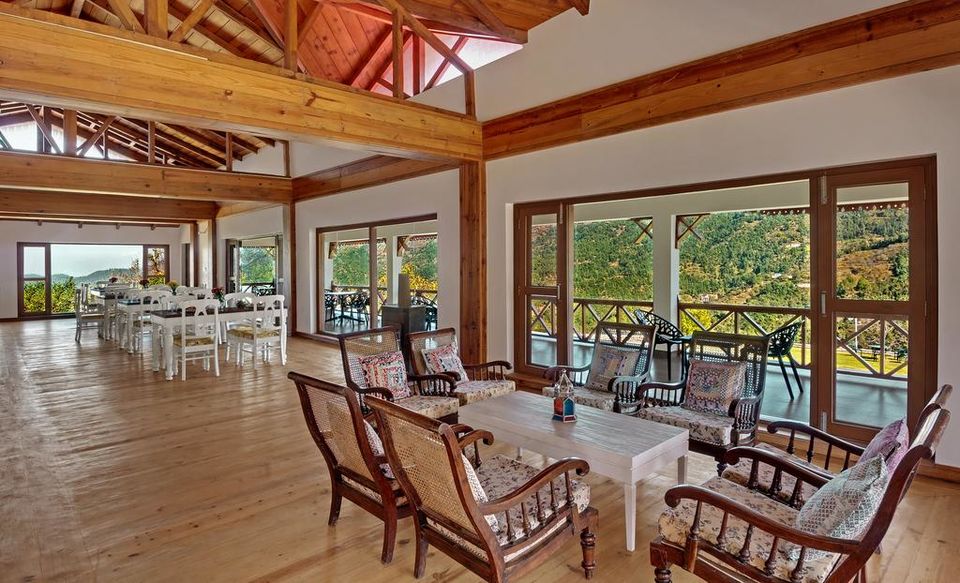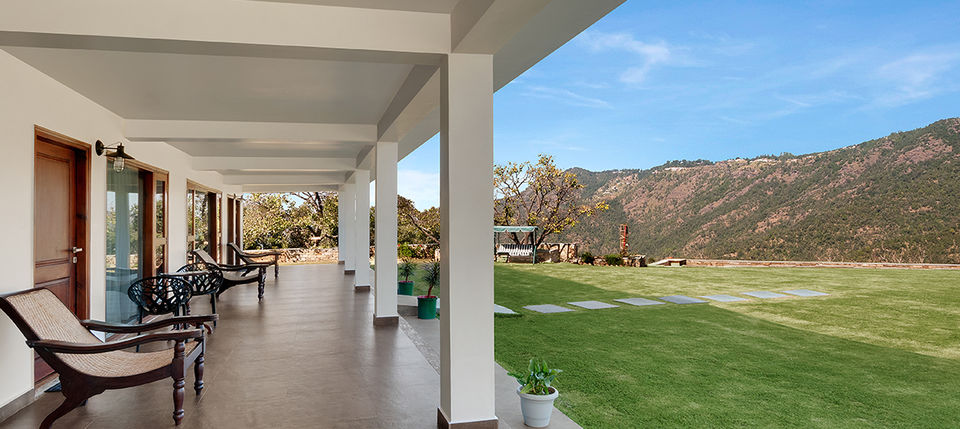 Dyo boasts of five minimalistic rooms – Urvi (earth), Ira (water), Viha (air), Ark (fire), Vyoman (ether), each epithet derived from the five universal elements present in every animate form.
Food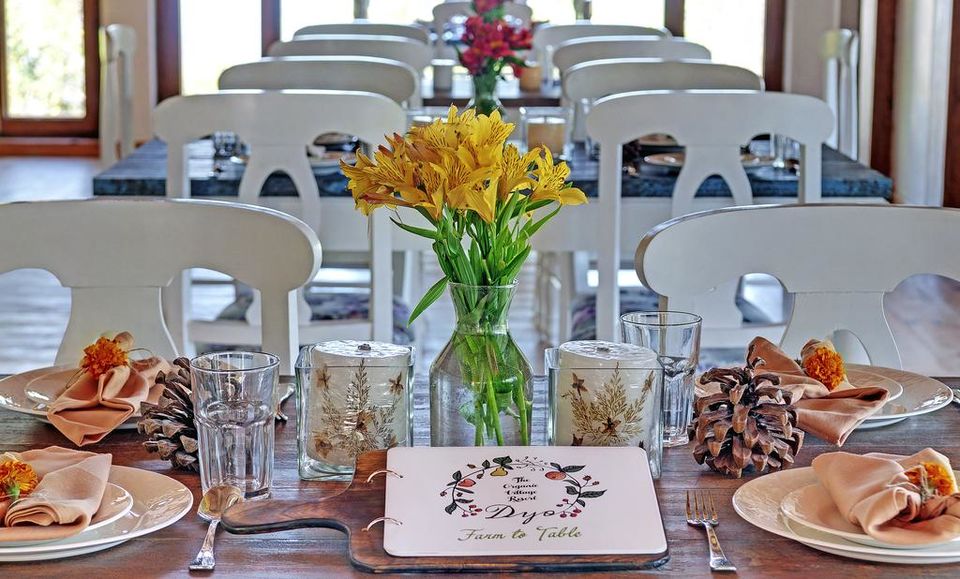 The Dyo café offers a farm-to-table experience, wherein guests can partake in organic farming at the resort itself. Depending on what you and the kids want to eat, vegetables and fruits can be picked from the farms and handed over to the chef for the final preparation. Make sure to try the Kumaoni thali and their freshly baked breads, cookies and homemade jams. The café also serves an assortment of teas, with the lemongrass-infused green tea being an absolute delight.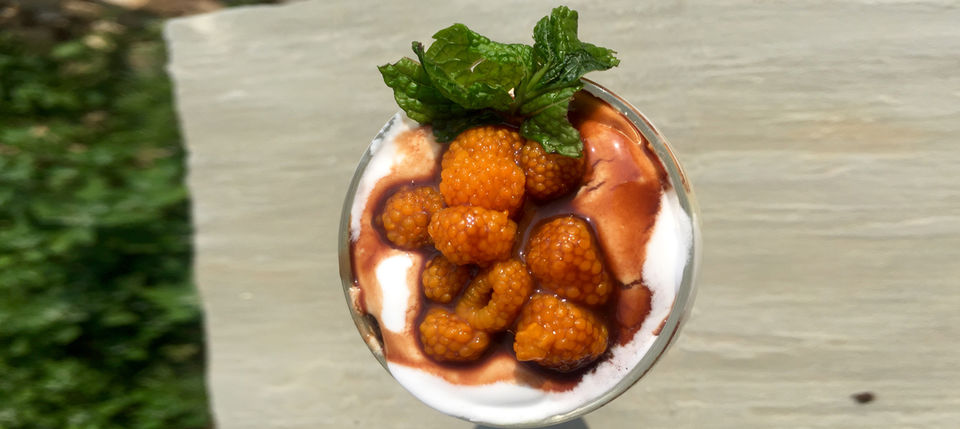 Eighteen kilometres away from the resort, this cafe will beckon you in with its rustic furnishings and then delight you with its eclectic menu. Featuring umpteen dishes inspired by the local cuisine, go for their mutton curry, the taste of which will stay with you long after you've left the place.
Head to this cafe for some great pizza and a good cuppa. Their pizza dough is made using organic unbleached flour, derived from a roller-milled blend of wheat, that makes for a distinctive taste. All the vegetables and dairy products used in the dishes are sourced from their own organic farms and are devoid of any chemicals whatsoever. You can also go to their neighbouring shop, and marvel at the mere variety of tea they sell – rose and mint, chamomile, lemongrass, rosemary and thyme. Also on sale are their scrubs, jams, chutneys, oils, dry herbs, bhaang seeds and the local rajma.
Cost
The tariff is based on double occupancy per night, per room and is inclusive of breakfast and dinner.
Luxury Rooms: ₹14,160
For further details, visit their website.
Best time to go
October through January are the months when Sargakhet is at its most beautiful. The sporadic rains withdraw by October, making way for chilly nights, and winters are welcomed to the town by mid-November. If you are lucky, you might even catch a snowfall or two while at the hilly town. Regardless, every room at the Dyo will expose you to the most spectacular panoramas all-year round.
What to do in and around the property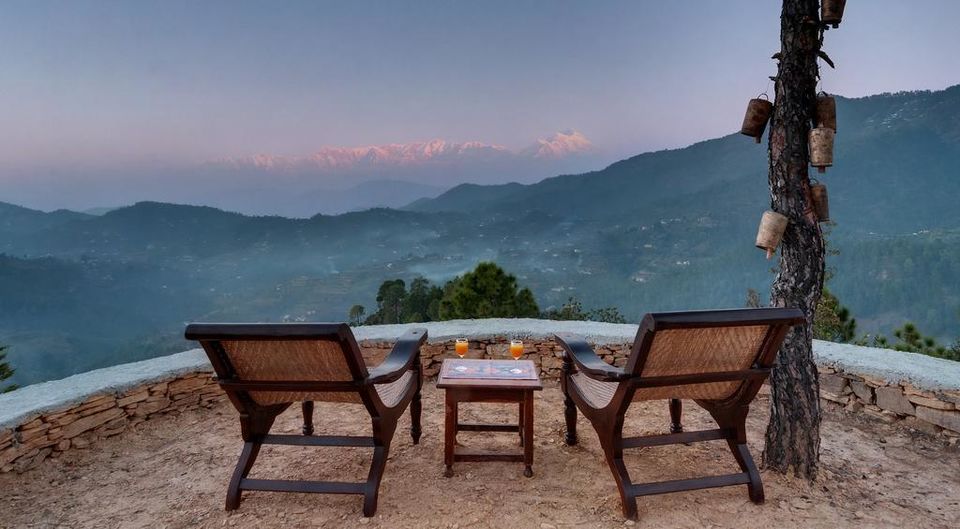 Dyo stores numerous board games for children and adults alike and if desired, also organises bicycle and sightseeing tours and bonfires in the evening.
Farming: You and the children can get busy on the farms or their fruit and vegetable plantations. Connect with locals and learn about both – organic farming, and the Kumaoni way of life.
Around the property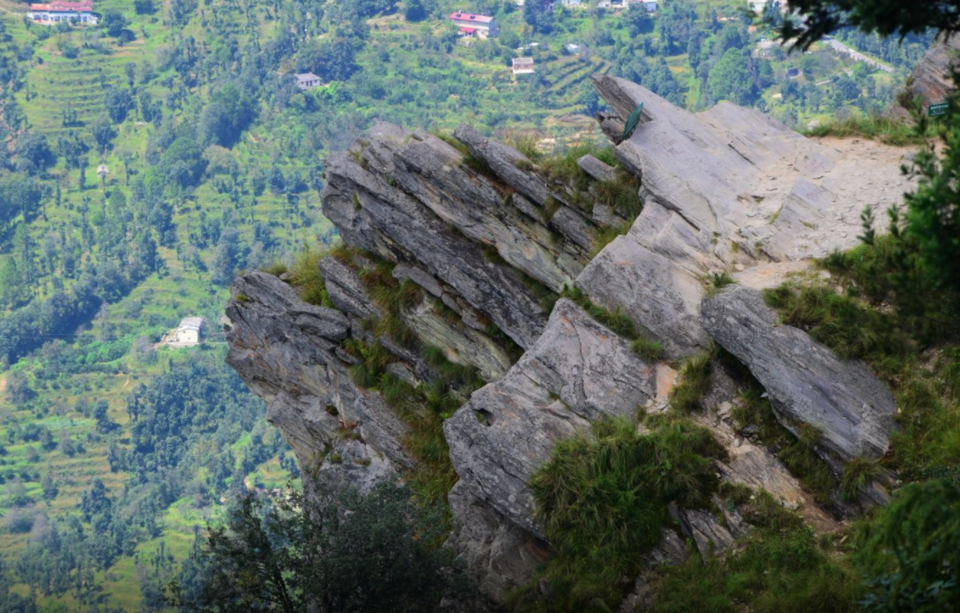 Locally referred to as Chauthi Jali, an hour and a half away from the Dyo, these dizzying overhanging cliffs are cloaked in Hindu mythology. Supposedly, a celestial battle was fought here; the remnants of which –hazy outlines of a sword and a shield – are etched onto the rock formations. Frequently thronged by devotees and curious tourists, Chauli ki Jali subjects you to breathtaking vistas of the Kumaon valley and offers a glut of hair-raising experiences such as zip-lining, rock climbing and rappelling.
Mukteshwar derives its name from this 350-year-old temple that is dedicated to Lord Shiva. It's believed to be built in the 15th century, by a Pandya king hailing from Tamil Nadu. One and a half hour away from Dyo, and planted at an elevation of 7,500ft, the dham was once home to a saint, Shri Mukteshwar Maharaj, and is now blessed by his disciple, Swami Sanshudhanand. The tranquil temple grounds are essentially a tapovan (a forest of austerities or spiritual practice), the perfect place for meditation.
Dhakuna Waterfalls
This hidden waterfall near the placid Kosi river is ideal for a picnic in the midst of its dappled deodar forests. Head to Dhakuna for a game of frisbee and some of the most mesmeric pictures you can ever capture in Mukteshwar. One can also try angling in the river that sustains the Mahseer fish.
This waterfall located in the Dhari village, shimmers away to glory on a sunny day. Fringed by small rock formations, numerous caves and thick forestation, one needs to embark on an easy hike crossing many random brooks for about two kilometres to reach the falls. Birdwatchers are bound to fall in love with this spot that is home to a plethora of birds, such as the red billed blue magpie, grey treepie and titmouse, to name a few.
For travellers looking to take back home souvenirs, make a visit to the Kilmora Shop. Some of their shelves are decked with locally-made jams, preserves, chutneys, artisanal soaps and scrubs. Others are chock-full with shawls, stoles and woollen tunics.
Getting there
Dyo is located in the town of Sargakhet, less than a kilometre away from Mukteshwar.
By air: The nearest airport to the property is located in Pantnagar, a little over a 100 kilometres away. Accessible by taxis, it takes three and a half hours to reach Dyo.
By rail: The railway station nearest to Sargakhet is 63 kilometres away, at Kathgodam, connecting all major Indian cities such as Kolkata, Delhi, Guwahati, Chennai, Mumbai, Bangalore, Bhubaneswar and Cochin. Plenty of local taxis and shared jeeps ply from Kathgodam to Sargakhet, with the drive lasting for about two and a half hours.