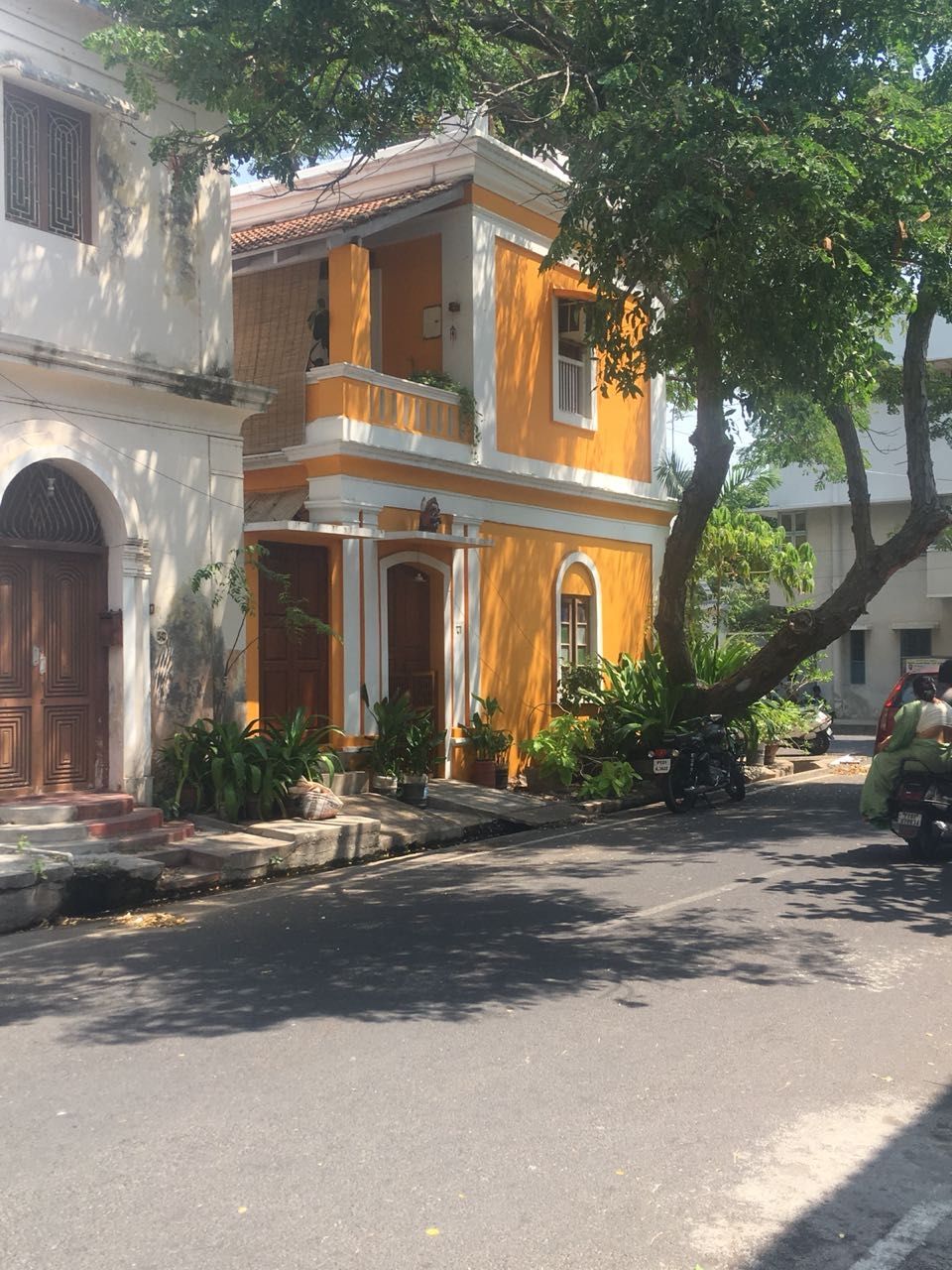 It's been a while since I wanted to start traveling. The busy schedules with respect to work, family and my other interests however kept me away from going for a trip, for a really long time. So finally We (myself and my husband, Dhinakar) found a Sunday to veer it off to Pondichery.
Driving to Pondichery from Chennai via ECR- East Coast Road is the easiest option. You can also opt for buses that ply between Chennai and pondichery via ECR and also other routes. It takes around 3 hours to reach Pondichery as we did not rush the drive. ECR is two laned after Mahabalipuram and it is safe if you don't go in very high speed and actually have a control of your vehicle.
The first best thing about visiting Pondichery via ECR is ECR itself. Yes. I have always been in love with this road. Scenic and serene, this road offers you a view of sea, the bay of Bengal, every now and then. There are many small passes between, from where you could go to the beach. You could have a sight of a ship or two. The boats that are put up on the beach. The unending stretch of sand will make you to stop your vehicle and soak into the nature's bounty. Get as much of the sea as you can.
Spot 1: Manakkula Vinayagar Temple
We started around 6 AM in the morning and we were able to reach Pondichery by 8.45 AM. Our first stop was at Manakkula Vinayagar temple. No idea about the history of the temple but the temple is very contemporary. It is a small one and ideally shouldn't be taking you more than 10 minutes if it is not crowded.
We then headed for breakfast at Adyar Anandha Bhavan located in the street next to Manakkula Vinayagar temple.
Spot 2: Promenade beach
After hogging on to idli and dosa and finishing it up with coffee we went to the Promenade beach. 9.30 and 10.00 AM is definitely not an ideal time for beach, especially in the hot summer's of Tamizh Nadu. But still we went there just for the sake of it as it was very close to where we were there at that time. This beach is the one that you might have seen in lot of films. The beach is not of sand but of hard rocks and ensure that you tread safely on it. Early morning or evening should be ideal. So plan it accordingly and don't make the mistake that we did 😆
Spot 3: Annai Aurobindo ashram
After beach we went to Annai ashram. This place is quite popular where the mother, referred as Annai, disciple of Shri Aurobindo resided and her final resting place is also inside this premise. The silence is soothing and the colours and fragrance spread by the numerous flowers are just refreshing. You might not feel the heat of the sun.
Spot 4: French colony -White town
We then lingered for some time in the French colony, looking at the splendour of the houses where a few French people who made Pondichery their home still reside. The yellow painted exteriors, bougainvillae blooms offer a great background for taking photographs. You could actually do some street shopping here. Plenty of western clothing is available and you can bargain too.
Spot 5: Pondichery museum
Next stop was at Pondichery museum. I wouldn't say that it is a must visit place. But if you have some time and if you like to take a stroll in the French colony, you could give a try. It houses the arms and other items that was in vogue at the time of French colonization. A few idols, paintings, excavated articles from places near and around Pondichery were all kept in display.
Spot 6: Auroville
Our last stop was Auroville. I honestly have no knowledge or understanding about Auroville and we just went there. The entry to Matri Mandir needs to be booked in advance and we never did any research on that. So all we did there was taking a really long walk inside and started back to Chennai.
Lessons learnt:
1. Plan a bit. Just hitting the road and going on is fine for a one day trip but a good planning always helps.
2. Be aware of the weather of the place that you visit.
Places that we might want to see the next time we visit Pondichery
1. Bharathiyar museum/ house
2. Paradise beach
3. Matri Mandir
4. Explore Auroville
5. More beach time 😆