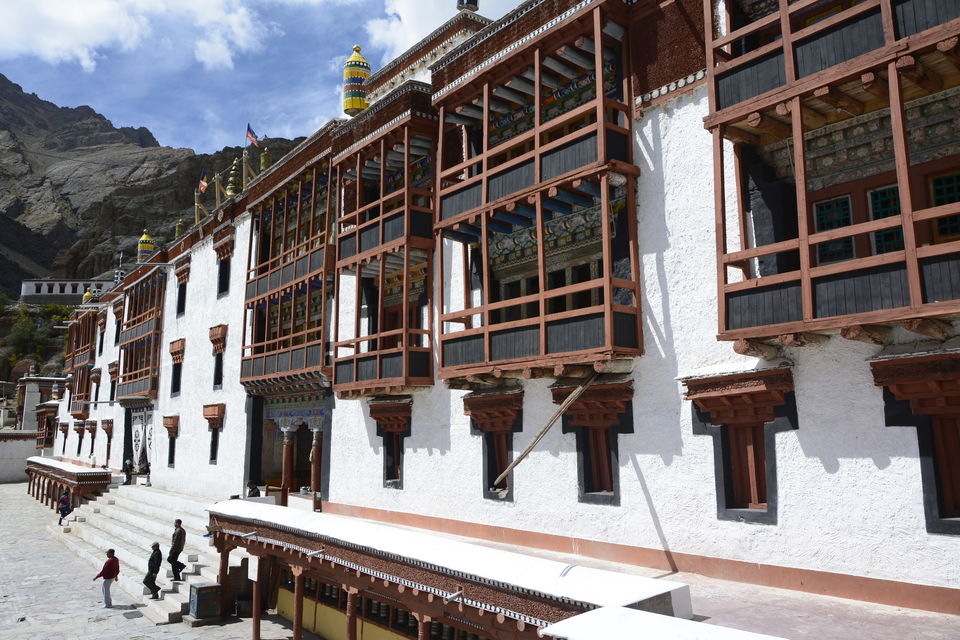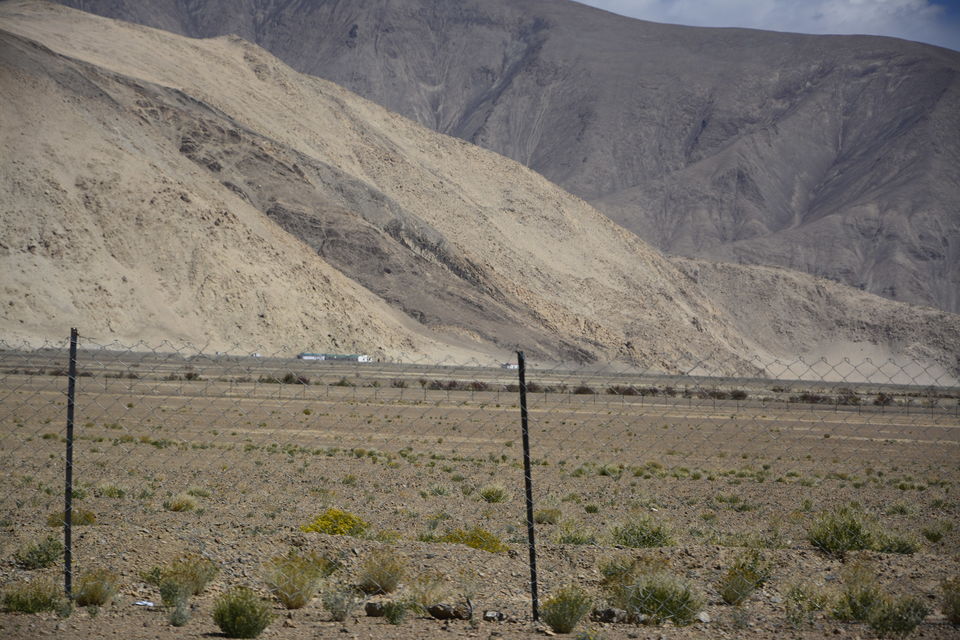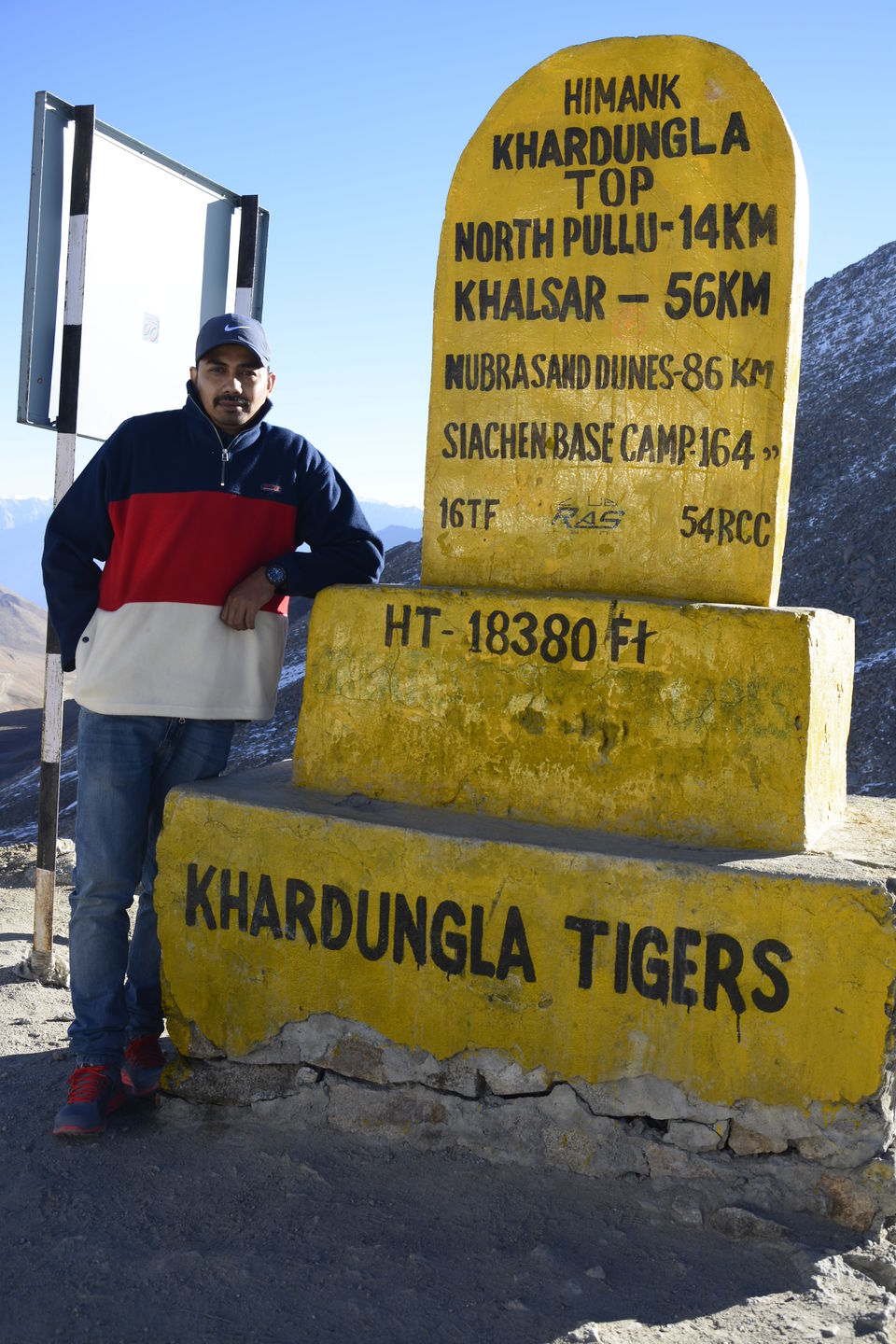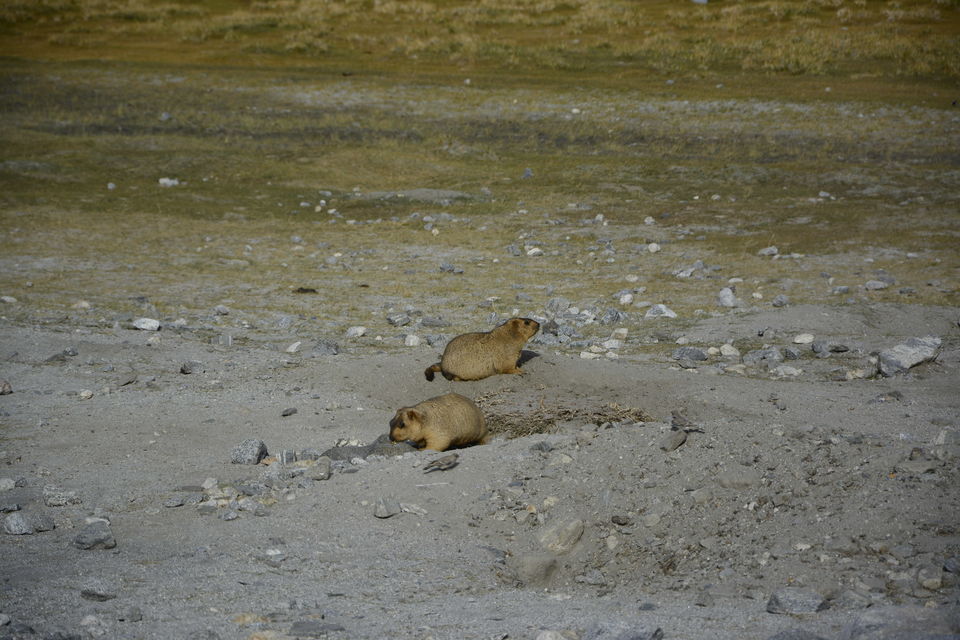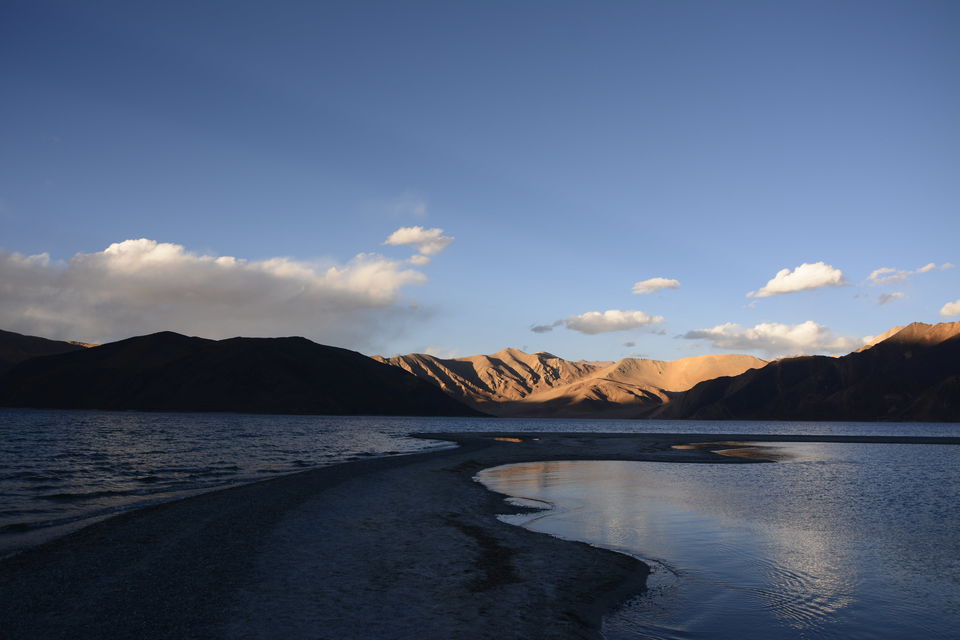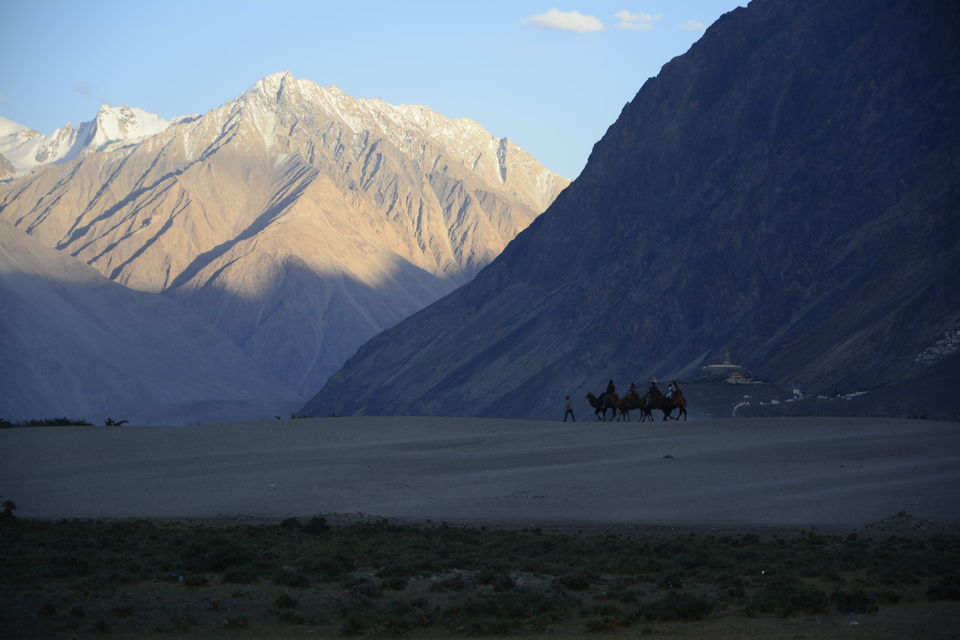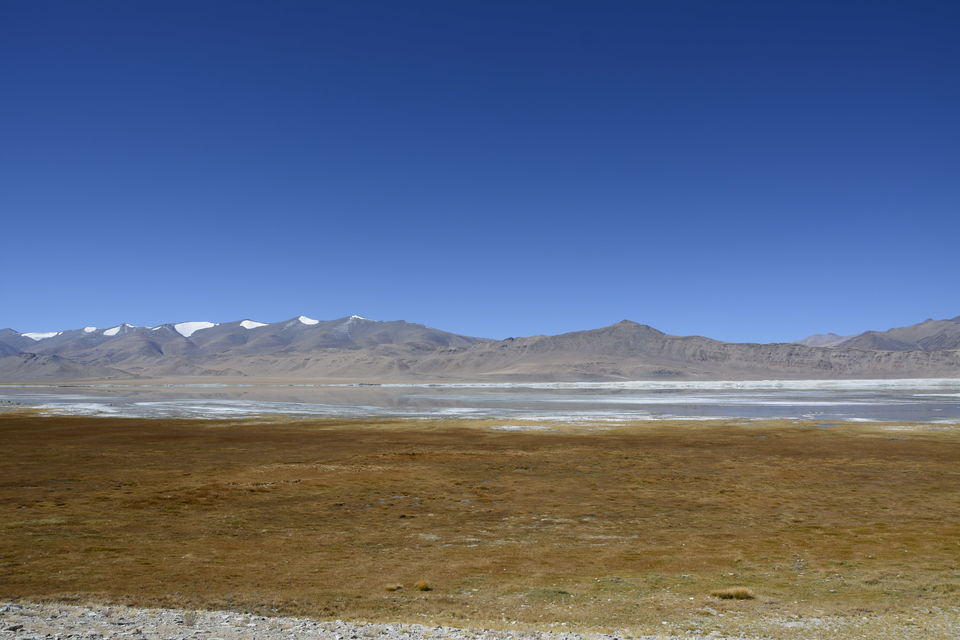 Day 1: 
Boarded the Delhi - Leh flight & reached Leh on 19th Sept'14 around 10 am. Leh airport is surrounded by hills with a small runway. The flight takes an 'U' turn to land to avoid any possible collision with the hills. After coming out of Leh airport post getting the luggage, met our trip guide cum driver Angchuk who was waiting for us with my my husband, Sarbojit's name board.
He took me to Hotel Kaal which was prior booked. Reached hotel at 11 am with a pre-planning of going out for local sight seen at 3 pm. They offered us breakfast, which we could hardly eat. We already had sandwiches offered by the airline. Hotel Kaal kept a suite booked for us which was just WOW.
As per plan, freshened up to relax till lunch call. The living room windows displayed glimpse of  Leh. Away from the traffic & pollution, it is certainly a treat for any visitor. Lunch was simple with good taste. Now it's 3, time for local Leh visit. Angchuk is in and time to go. He took us to a rock museum where we was various different category and rare species of rocks. Opposite to the museum, there was a monastery which was local and small but unfortunately closed for renovation. From there we went to Chemo monastery. Spectacular view of Leh and Shanti Stupa.  
Our next visit was Leh Palace built in 17th century. The palace had 9 levels, made of bamboo & wood. We could climb up till level 7 due to the ongoing repairing work. Not well maintained though good to visit. 
Our next venture was Leh market. It's a typical shopping road with couple of restaurants. Our guide told us if we want to try good moms, should go to Himalayan Cafe. It was good one, chicken@160 and mutton@140. Post filling stomach we decided to walk a bit and buy a jacket for me with a bargained price@1200. Definitely cheaper than mall price. We also bought Aapricot, locally called phating. Now time to go back to Hotel and rest the night. We have a big day to tomorrow. Once we back to hotel, dinner was ready. A sumptuous buffet with North Indian cuisine. Met a few people at dinner table who shared their experiences of Ladakh trip so far & plans for next few days. The night was peaceful & cozy.
Day 2: 
Expedition Nubra valley.  
We started our journey @ 5:30 am due to a transport strike @ Leh. The journey Began through rocky mountains under spectacular blue sky. Our first halt was at tope kangri view point to shoot the rising sun over hills. Then we arrived at Sor Tulu check point, where we had to fill all our details to go further.
Next stop Khardugn la pass, an experience of life time. Can't forget the "India Gate" (a small pass through the mountain decorated with colourful Ladakhi flags). What a feel it is to stand at the world's highest motor arable road at 5359 mtr! This pass opened at 1975 and yet functional. 
We almost forcefully opened a military cafe for tea to bit the chill. Khardung village was our next stop for another cup of tea. Angchuk also completed his breakfast overthere. We saw a version 2 of India Gate on the way and immediately after that had to stop for an hour as the road construction was goin on. 
The journey starts towards Nubra again. We went through the much talked Diskit village. We gave lift to a monk while visiting Diskit monestry. This monestry is 500 years old and holds the heritage value. Unfortunately we could not go inside the main hall as it was lunch time, however compensated it exploring the surrounding a a stream just behind it. Next halt was at a 50 ft high Buddha statue, sculptured 3 years ago. 
Then we passed through the sand dunes to reach Nature Nest camp at. Nubra valley. The camp had tents with attached balcony & toilet. The cleanliness, attentive stuffs & simple yet good food made the stay pleasant.
After lunch & rest for sometime we headed towards sand dune as pre planned. Was amazed to see the waves of white sand surrounded with mountains. Not far from the desert "shayak" river flows down with it's magnificent blue water!
A culture show and camel ride was offered to tourists. However, we chose to walk over the desert. The flowing wind, cactuses & enthusiast camel riders accompanied us. After a nice stroll we decided to go back to our car. I must mention about the latest hobby of Sarbojit of collecting unusual stones (developed after visiting stone museum). So he picked up a red stone on the way.  The day ended with a hearty meal at the camp.
Day 3:
We decided to take a little off route than 90% tourist and go to Pangong directly. ur journey started at 7 am post breakfast. The route to Pangong from Nubra is not through all smooth roads, however, it shows a wide variety of nature Ladakh has in her kitty. We moved forward keeping sand dunes at our left. 
Then entered the small roads the local villages likeTangyer & Digsr. We saw a few enthusiast. bikers on the way. The road went up to the top of the mountains & we entered Wari La pass. Covered with snow & scattered stones, it exactly reminds of vanilla ice cream with choco chips! 
We could not enjoy the beauty much due to the spine chilling cold breeze. We came down from the hill to find a few military tents, then arrived at Sakti village. Post this, the road was better & went mostly through valleys along with Indus River. Hemis was our next destination. This is the richest monastery of Ladakh. Hemis museum offers valuable information about Stakstung Raspa & other Buddhist gurus.
 Kharu was our next stop for delicious mutton momo & veg noodles at a very reasonable price. Again the journey begins through the range of mountains & this time we passed Chang La pass, 3rd highest motor able road in the world. It was again through loose stones & snow. Did not see any tourist other than a French tourist group. 
We kept driving along with a small river & after an hours drive got into the tar rod, which lead to a beautiful village Dhurbuk. As this is Angchuk's village he cordially invited us to his home. The hospitality of his family is like icing on the cake. Post tea at his place, we start again towards Pangong. This route passes through a lot of military base camps. We passed through Tungsey, muklep & Pangong village. At Tungsey village we got to see the military medical camps and a few luxurious hotels (which is not common in this region). A mini sand dune appears again before reaching Pangong. 
Finally we get to see the deep blue water of Pangong lake through the mountains.3 idiots, the movie has left it's influence here big time. We get to see a lot of "3idoits cafe", "Rancho cafe" at the bank of Pangong lake. This lake is 132km long with 70% of it being in China. The water is clear like glass and reflects spectacular shades of blue. The shade of the mountains adds to its beauty. 
We stayed at Pangong Inn as per the plan. The hotel stuff welcomed us with hot tea. Post this we went to visit the 3 idiot shooting point. The lake has formed an "U" shape around a piece of land here. There are 2 watch towers to facilitate the viewers. 
The weather was getting colder & we decided to move away from the chilling wind.The day ended with a warm dinner & peaceful sleep at Pangong Inn.
Day 4:
 Today we are set to venture out another lake, Tsomoriri. As planned we started around 7 in the morning post breakfast. The journey started exploring Pangong lake as we drove about 30 km at the bank of the lake. We passed through all hotels & camps mostly winding up due to off season. Witnessed the changing colour of the Pangong lake with the shining sun. Also, saw a speed boat of army loitering around in the lake; probably a security measure against growing Chinese encroachment.  Finally Pangong lake takes a turn towards China & we move ahead with the villages.Our journey continues through the LOC, Theming post. It was an mazing experience to witness the military camps, army officials on duty, the bunkers. We were thrilled to see the battlefield of 1962 India-China war. The memento of Shahid Shaitan Sing & his regiment of 114 martyrs tells us the story of how this brave warrior saved our motherland. We also saw the Indian & Chinese flag meeting house where the annual official meeting of the brigadiers are held. Finally we reached Cheshul, the last village of India close to border. Cheshul has an air base & military airport. Definitely worth mentioning we saw quite a few wild mules, horses, pashmina goats and marmot( a mangoosh like animal who lives 6 months under ground).
We took a tea break at Cheshul. From Cheshul again we started & looked for a place to get some food. We passed through Tsaga & Mudo village. At Nyoma village we found a small food joint run by a Ladakhi lady. Maggie & black tea. The lunch is over & it's time to go again. 
After a drive of of about 1.5 hours we reached Sumdo village. This is a village only for Tibetans funded by India govt. we moved forward and reached a pass & passed by yaytso lake. Finally reached Korzhok village. The blue water of Tsomoriri lake welcomed us. Nomadic camp was booked for us. After a cup of tea & a bit of rest we went for a walk at the lake side. The rays of setting sun created beautiful reflection on the lake. We found a helipad at the bank of the lake, possibly used by the army. We also went to the view point at the top of a small hill. It was already dark. The lake water created a misty view. As the cold was unbearable we decided to go back to hotel. Also it was time for dinner. Dinner was simple ( you can't expect more at such remote place).
We sat @ the hotel lobby glaring at the clear sky for some time. So many stars are surely not seen from any city of India. We had interrupted sleep that night as the oxygen level at Tsomoriri is low & often creates a little discomfort while sleeping. 
 Day 5:
It is time to say goodbye to Ladakh as we are all set for Manali. However, we never knew Ladakh has so many precious moments in store for us through the journey. We started our journey from a Tsomoriri after a filling breakfast of Alu parantha & pan cakes. We moved out of Korzok village & reached Sumdo village in about half an hour. We kept on moving keeping Sumdo at our left. After sometime we reached a barren land at which was visibly yellow in colour. Angchuk told it was a Sulpher mine. We could see a cave like structure also, possibly made by nature itself. Sarbojit did not miss the opportunity to explore some Ladakhi stones. He entered the cave & came out with a handful of shining, bright yellow Sulpher stones (it turned greenish later). We also witnessed a non functional matchbox factory in a while. Next surprise was the natural hot spring in biting cold! 
Not far from the Sulpher mine, we saw barren lands, sometime with occasional shalow ponds  & cracks on the earth surface. Vapour was coming out of the cracks & the water at the ponds were bubbling hot. I dipped my finger in the water to examine as I was not convinced by Angchuk's word & nearly burnt my finger. We saw few temporary camps of local doctors, who use these hot water to cure diseases of the local villagers. May be the medicinal property of the water; may be faith.... Who knows.... But it cures! 
These nomads play shepherds partly, roaming to places along with their Pashmina goats & sheep. After drive for another half hour we saw "Nomadic Residential School" at our right. The government has taken the initiative to educate the children from nomadic families at free of cost. Trust me, it looked much better than any government school seen in metropolises! It was around 11 am & we saw Tsokar lake at our left. As the core character of Ladakhi water bodies, it displayed blue water. However, it had white rims at the edge. From distance it looked like covered with soda water. People rightly call it as Soda lake! 
A few military trucks passed by as we paused there for a couple of snaps. Tsokar village is a small habitat not far from the lake. We saw a warehouse there. This is used to store the wheat villagers get from the government at subsidised rate & distributed as per the number of members in family. Organised indeed! We were desperate for a tea break but could not get a scope before reaching Pank. The part of Pank where all cars pause for break looked like a mini fare(mela). I was surprised to see the temporary stalls with permanent toilet at backside & temporary sleeping arrangements for night riders! The stalls had stove for serving the customers with tea, bread-omelet, Maggie....& piled up blankets & mattresses at the other side! We had omelet & black tea. As the cold went down considerably, we bought a bottle of cold drink as well. The journey started again through the mountains. After some time we started climbing up a hill almost to at it's pick. I sensed we might be crossing some pass. My intuition was right. We passed through La Chung La & Nakee La passes respectively. By this time, the mountains have started changing their shapes. They are much higher & rocky now. I kind of missed the golden brown shades. We reached Sarchu after two hours drive. We stopped for lunch at a small restaurant cum night shelter. We had our lunch packed by the hotel from Tsomoriri. Hence, we didn't need to buy food. However, the shop keeper welcomed us to sit at his shop & have our packed food! We bought mineral water bottles from him.
Sarchu is the Border of Ladakh & Himachal Pradesh. So, after leaving Sarchu we officially left Ladakh & entered HP. The motorways at HP definitely needs improvement. We passed through the partially constructed, water flooded (by the screams running down from hills) roads. Baralacha pass is worth mentioning for it's height. We reached Dorcha at a dusky evening... A much awaited tea break! As we neared Lahul valley the mountains got greener. We passed through Gyspa. Akshay / Suraj Taal is definitely worth mentioning for its blue water. Finally reached Keylong. 
It is a small town at Lahul,surrounded by Christmas trees & snowy mountains. Ideal for a weekend vacation. We checked into the Hotel Dekiet as per scheduled for night halt. The hotel had standard 3 star arrangements & served great food. It was more than enough to fill the stomach & fall asleep within no time. 
Day 6: 
Morning started with a warm shower & sumptuous breakfast. We started a bit late as Manali is only 4 hours drive. The journey started through the bumpy roads of HP & we reached Sissu in an hour. We didn't have any plan of halting here, however, we had to. The bridge to cross a local river has broken down. The repair took around 2.5 hours. By this time the place turned into a busy town with hundreds of honking cars, buses, road side shops going out of stock to meet customer demands. Thankfully we had enough water & didn't run short of it. Finally we started again.
 The roads were dusty, bumpy & terrible till we reached Marhi. Many people completed lunch here & so did we. As we were nearing Manali we saw honeymooning couples roaming around. 
Couple of adventure enthusiasts were trying there luck on parasailing from near by valleys. We started climbing up hills & the increasing number of tourists indicated we are nearing Rotang pass. As usual Rotang pass was crowded by tourists. However, there was no snow. I could not stop comparing it with Wari La pass. We drove down through the lash green mountains & valleys to reach Manali by evening. Take away from this trip: The enriching beauty of nature, people's zest for life against all odds, a memory of lifetime.