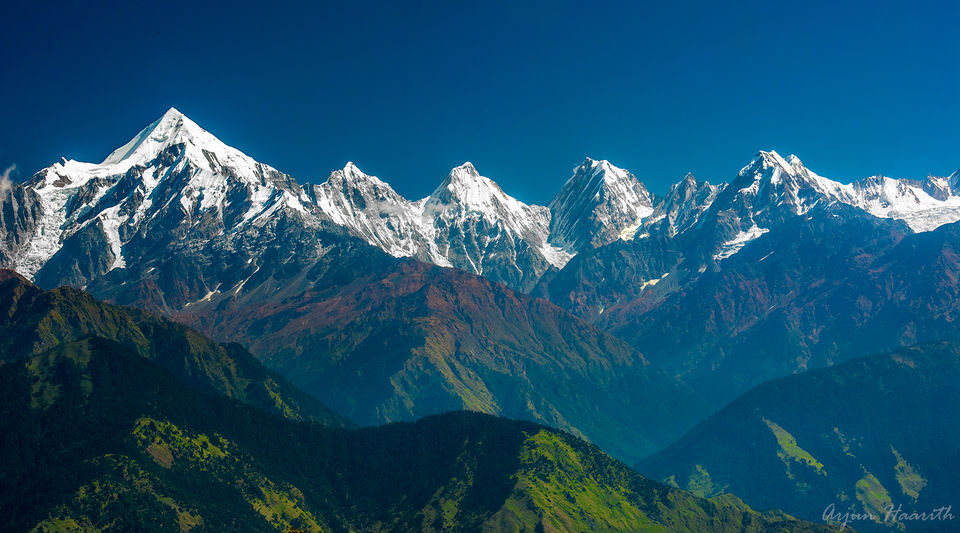 I am always on the lookout for remote places untouched by the mechanic hands of modernity. Such places provide an escape from the fake niceties and meaningless life of the metros. When I discover such places I rarely write about them due to the fear that the readers will turn it into another Ladakh or Spiti. But, this time I am taking a chance and sharing with you all what I recently discovered - Darma Valley, Uttarakhand.
Located in the easternmost part of Uttarakhand, Darma Valley shares its borders with Tibet and Nepal. The valley has about 12 tribal villages with a population of 5000. The valley never gets the attention that other popular Himalayan valleys get. Very few tourists make it here which has left it untouched and ripe for exploration. Guarded by glaciers and enriched by Darma River, the valley feels like a 19th-century impressionist's dream. Aromatic wildflowers bejewelling green meadows, colourful orchids dotting craggy mountains and the friendly locals living in a different era altogether.
What to see and do in Darma Valley
Darma Valley is an ode to the simpler pleasures of life. The best thing to do here is to take in the natural beauty of the place and observe the lives of locals. Yet, there is something for those who desire more.
The Panchachuli peaks and glacier are the icons of Darma Valley. Almost all the visitors who ever make it to the valley don't leave without witnessing the breathtaking sight of five conical peaks clad in snow. The five peaks, ranging from 6,334 metres (20,781 ft) to 6,904 metres (22,651 ft), have an important legend attached to them. It is believed that the Pandavas cooked their last meal here before ascending to heaven. You can follow their footsteps on a multi-day trek which will take you past immense glaciers, flowery meadows, pastoral lands and remote villages.
There are mountains all over the world, snowy and otherwise. But in India, the mountains a spiritual importance since they are considered to be abodes of gods. And, the mightiest Hindu god has an affinity for the mountains of Himalayas. Ancient scriptures mention eight mountains with an Om impression on them. We have only discovered one of them so far - Adi Kailash. Despite several attempts, it remains unclimbed and undisturbed by men. You can go on a multi-day trek around Adi Kailash to catch glimpses of its virgin peaks. Parvati Lake, Shiva temple and the scenic villages of Nabidang and Daniya are other highlights of the trek.
Homestays with locals
What if you are not interested in multi-day treks and just want to take it easy on your vacation? Kumaon Mandal Vikas Nigam (KMVN), a state government undertaking, recently started a homestay initiative here. Around 125 families are providing homestays in Darma Valley under this initiative. KMVN trained the families to provide standard accommodation and sanitation facilities. Dantu, Dugtu, Baling and Nagling are some of the villages with incredible homestay options. These homestays give you an unparalleled opportunity to experience and understand the little-known culture of this remote valley. The simple and serene lifestyle of these villages is the ideal antidote to our busy chaotic city lives. So relax and rejuvenate yourself with fresh air, organic food, leisurely walks in the woods and perennial smiles of locals.
When to visit Darma Valley
The best time to visit and trek in Darma Valley is from mid-March to mid-June and mid-September to late October. The average temperature during these months is 27 Celsius with little to no rainfall.
How to reach Darma Valley
By bus: Dharchula, the nearest town to Darma Valley, is well-connected with major regions of Uttarakhand through motorable roads. From Dharchula, you can hire taxis to get to Darma Valley.
By rail: Kathgodam Railway Station, 271km from Dharchula, is the nearest train station. From there you can hire a taxi or get on a bus to Dharchula.
By air: The nearest airport with decent flight connections to Delhi is Pantnagar Airport located some 305km from Dharchula.
Where to stay
The aforementioned villages of Dantu, Dugtu, Baling and Nagling have homestay options. Or you can bring your own tent for a complete wilderness experience.
Have you been to Darma Valley or to the Panchachuli trek? Write your own travelogue and share it with millions of other travellers. And subscribe to Tripoto Youtube Channel for stunning videos.