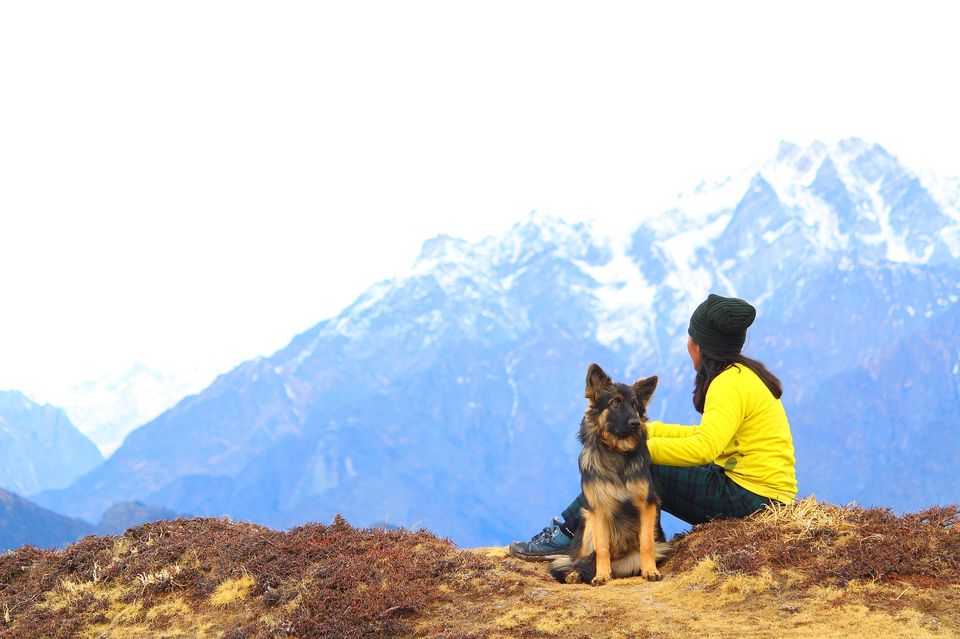 Hello hoomans. I am Troy. An 18 months old long coat German Shepherd. I love car drives and "my spot" is the window seat. This is a story of how my momma turned my love for car rides into an adventurous road trip last winter from Agra to Auli.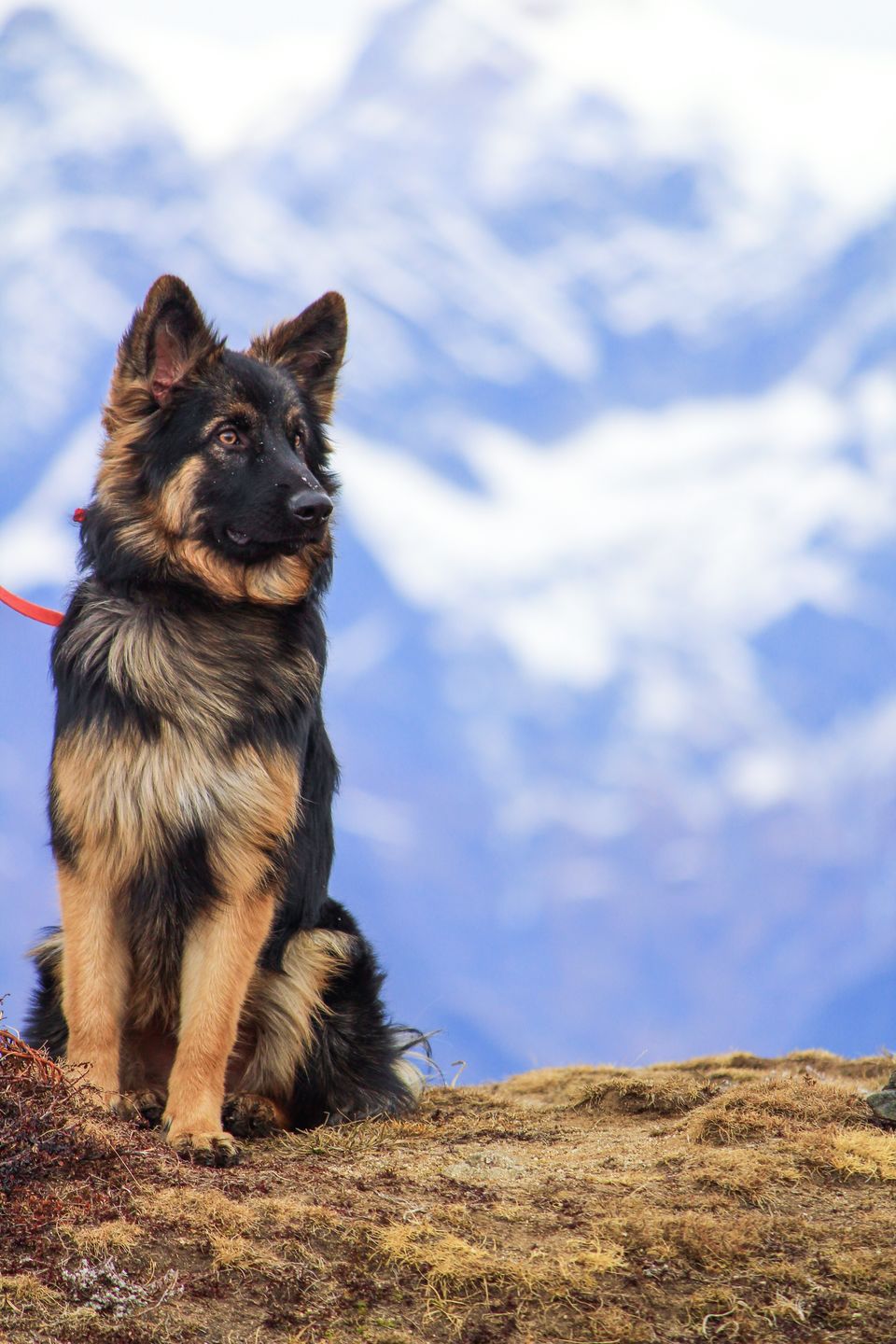 Everytime I pack my bags, along with the excitement of a wanderlust loaded itinerary comes the heartache of leaving my pet behind with someone. But last winter was different. My 6 month old german shepherd loves car rides so I decided to take him on his first road trip away from the hot winds of Agra for his first snowfall in the quaint hill station of Auli.
Despite the glamour of road tripping and the passion for photography, travelling with a dog comes with its own set of challenges. And nothing better than a car to experience it all in. It gives your pet a familiar space and means that you can carry enough food and water around at all times and a great way to bunk up in if the place you are going to wont allow dogs on public transit.
I prepared the rear seat of my car accordingly, with a comfortable hammock dog seat cover ( available on Amazon ) to contain all the hairshedding and dirt which is a given on any road trip. Its always advisable to keep spare leashes and collar / body harness to ensure your pets comfort throughout the trip. I also packed my dogs extra towels, food bowl and a couple of chew toys to keep him busy. I loaded up on some wet dog food packets, bread packets and bananas because I was uncertain if I could get raw chicken pieces for him during the trip. And most importantly, like humans, dogs can get car sick too. So always make it a point to consult a vet and keep a stock of the necessary medication for your dog to prevent car or mountain sickness.
All set. And we were off. Troy with his favourite hooman. For dogs, transport is not a way to get from place A to place B but a thrill and an adventure. So just like small kids, he also suffers from the delusion that when he was looking out the right-hand side, he was probably missing something far more interesting on the left-hand side and for this obvious reason, both the rear windows were rolled down as we drove all the way from Agra to Rishikesh with his head and tongue out !!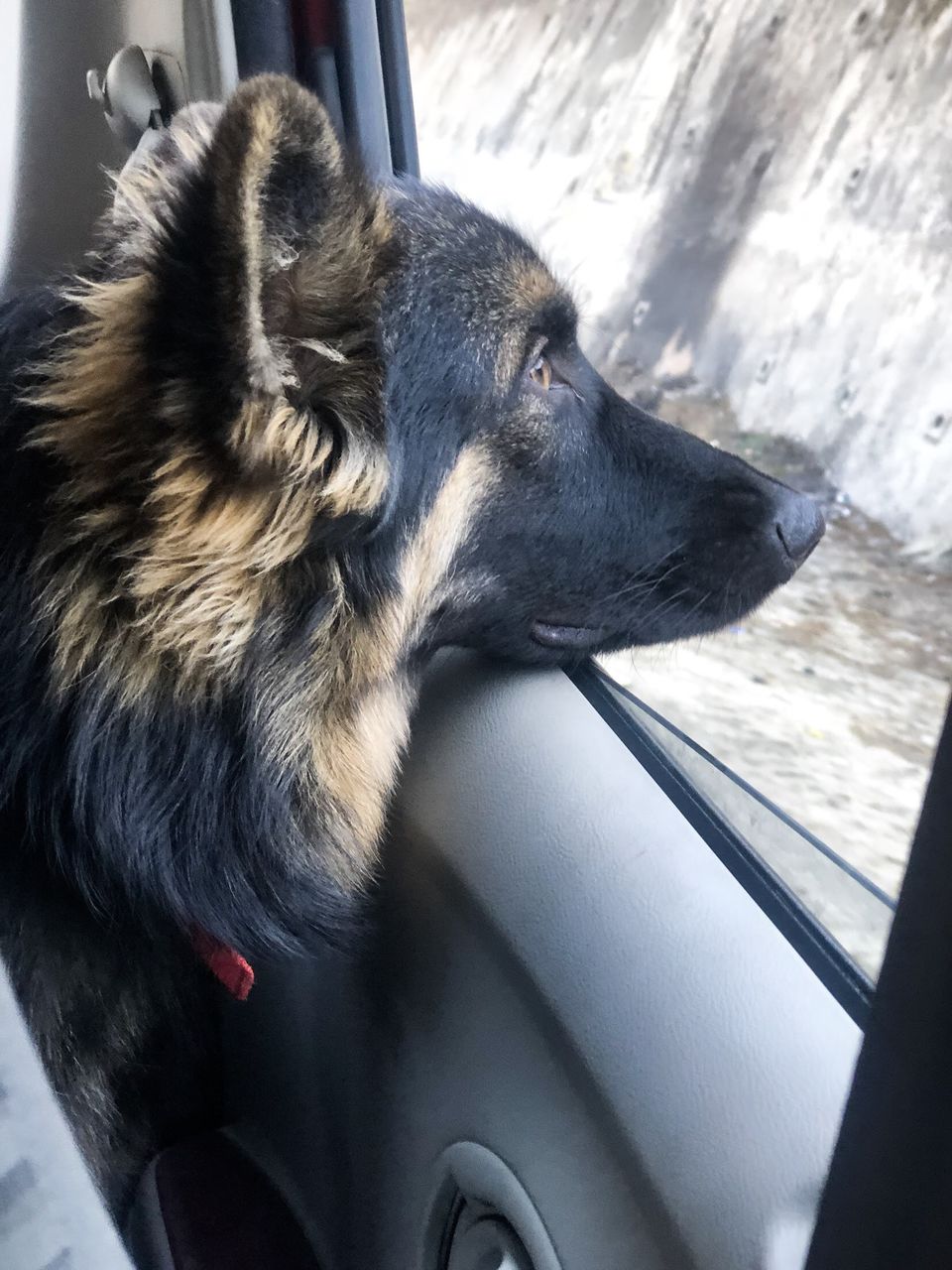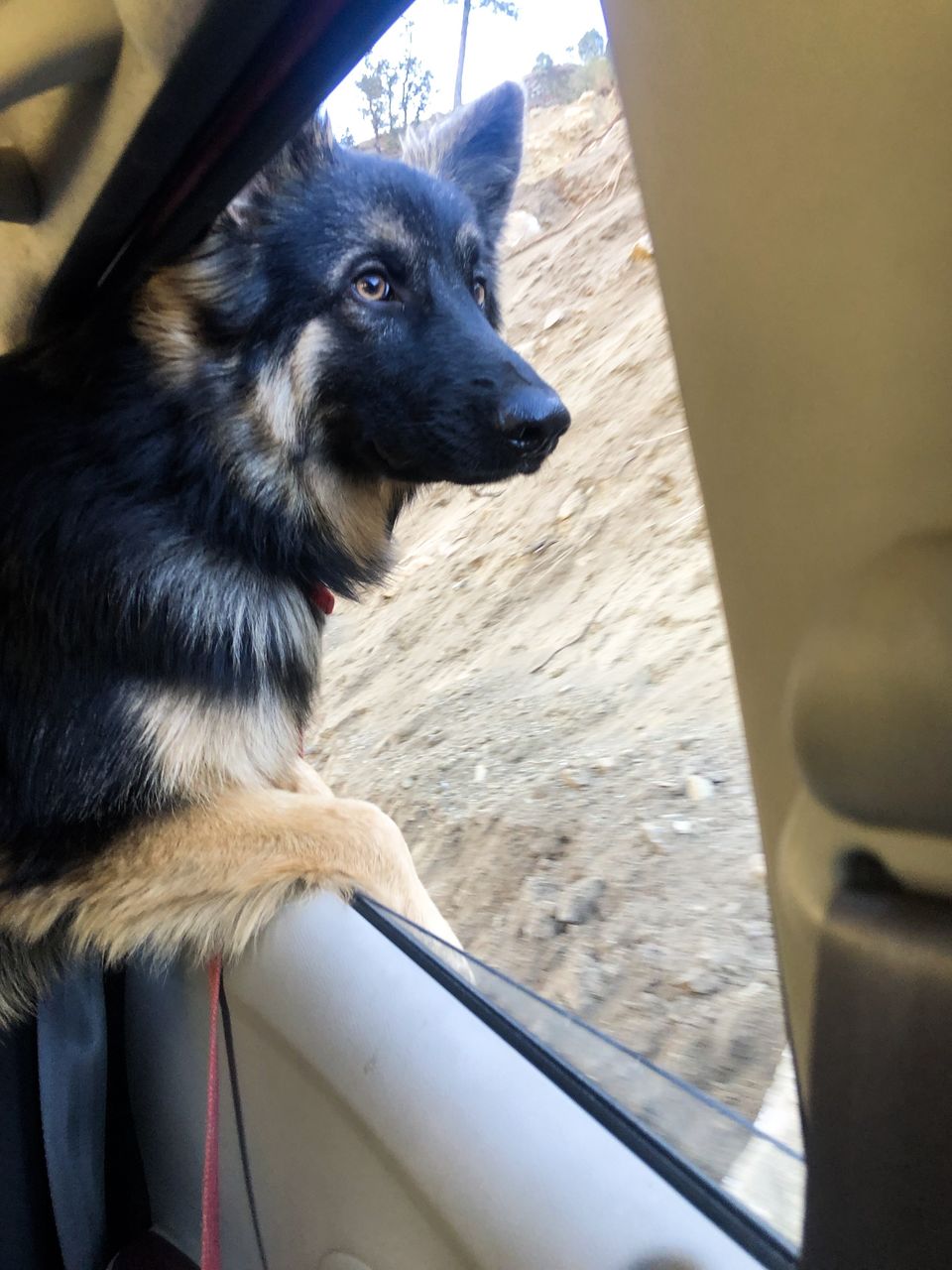 After periodic roadside halts for pee and leg stretching, we reached Rishikesh where I had booked a nightstay at a pet friendly home stay ( Ganga Vatika Boutique hotel ). I find its always polite to call up and inform the hosts about the dog you are travelling with and be prepared accordingly. Me and Troy thoroughly enjoyed our evening in Rishikesh as we were welcomed by our hosts who had a dog of their own, the friendly and cute Tigrethon. We were showed around the place, a small patch of ground for dogs to do their business and the homestay where I could cook up a meal for me and my pet.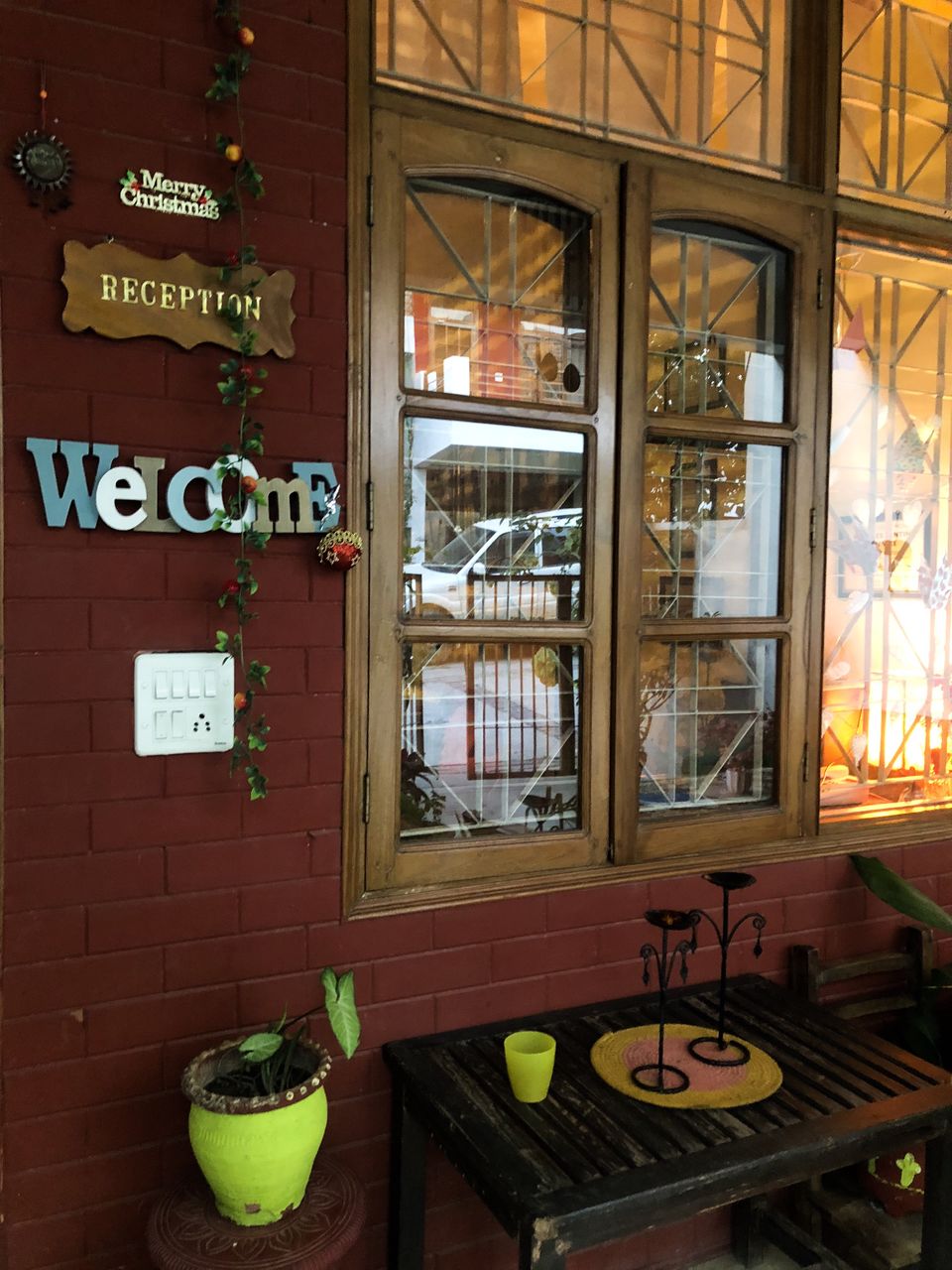 After feeding Troy and myself to a heavy breakfast, we were back on the road for day 2 was going to be more gruelling and it was a long drive from Rishikesh to Auli. I had enquired from the locals enroute that the road was being constructed at multiple places with diversions. As we drove onto NH 58 in the Tehri Garhwal region, we reached Devprayag, the holy confluence of Alaknanda and Bhagirathi. I kept checking on Troy for any signs of car sickness or an subdueing of the mood due to the slight increase in altitude. We drove along the pristine blue river down in the valley and azure skies above us. Am sure Troy was enjoying the greenery on both sides, Parle G biscuits with pahadi chai breaks at small shops, occasional small kids waving and chasing our car and the attention from fellow vehicles on the road as their occupants pointed at him and clicked pictures of a bemused dog with his head outside the window.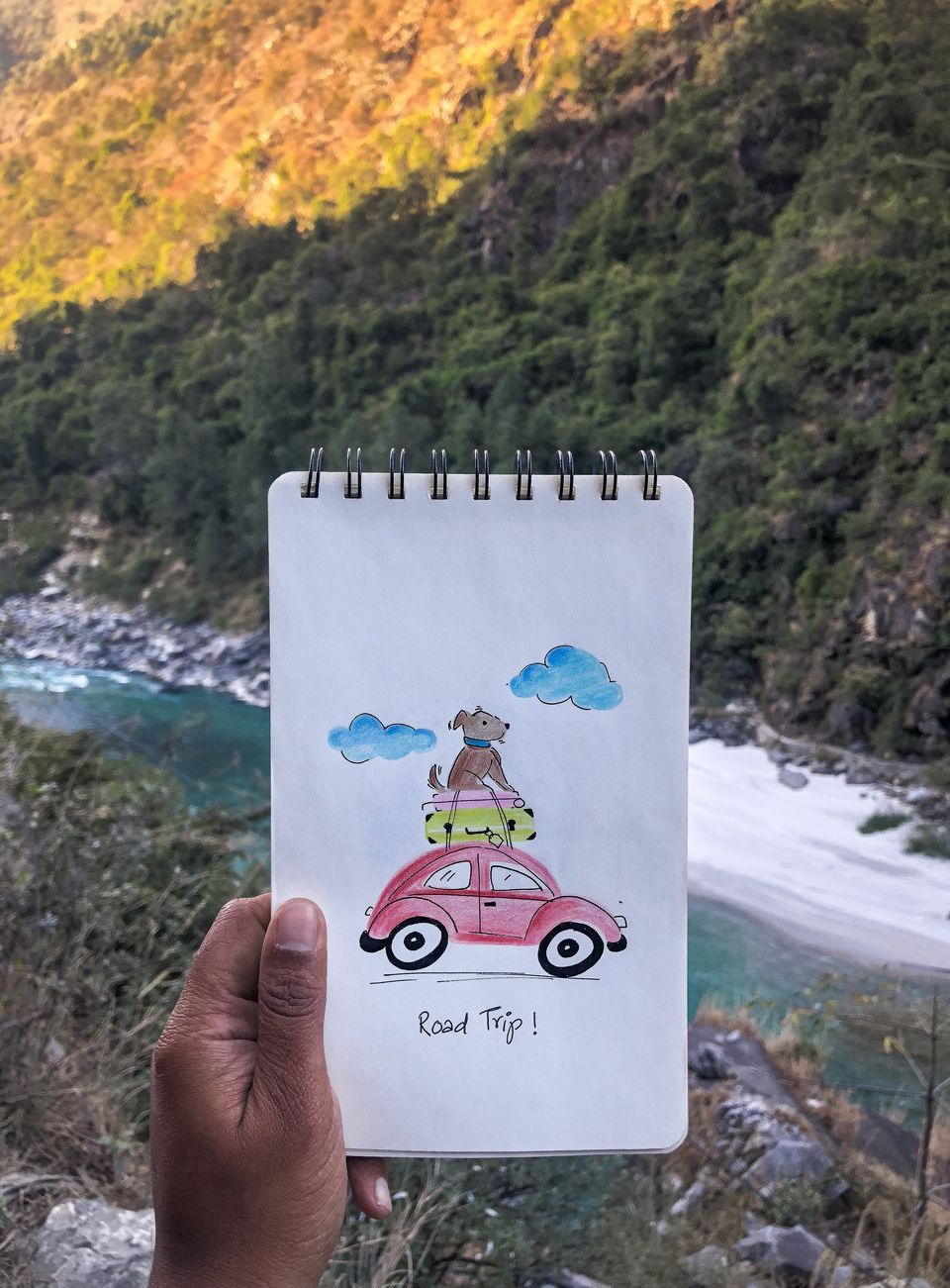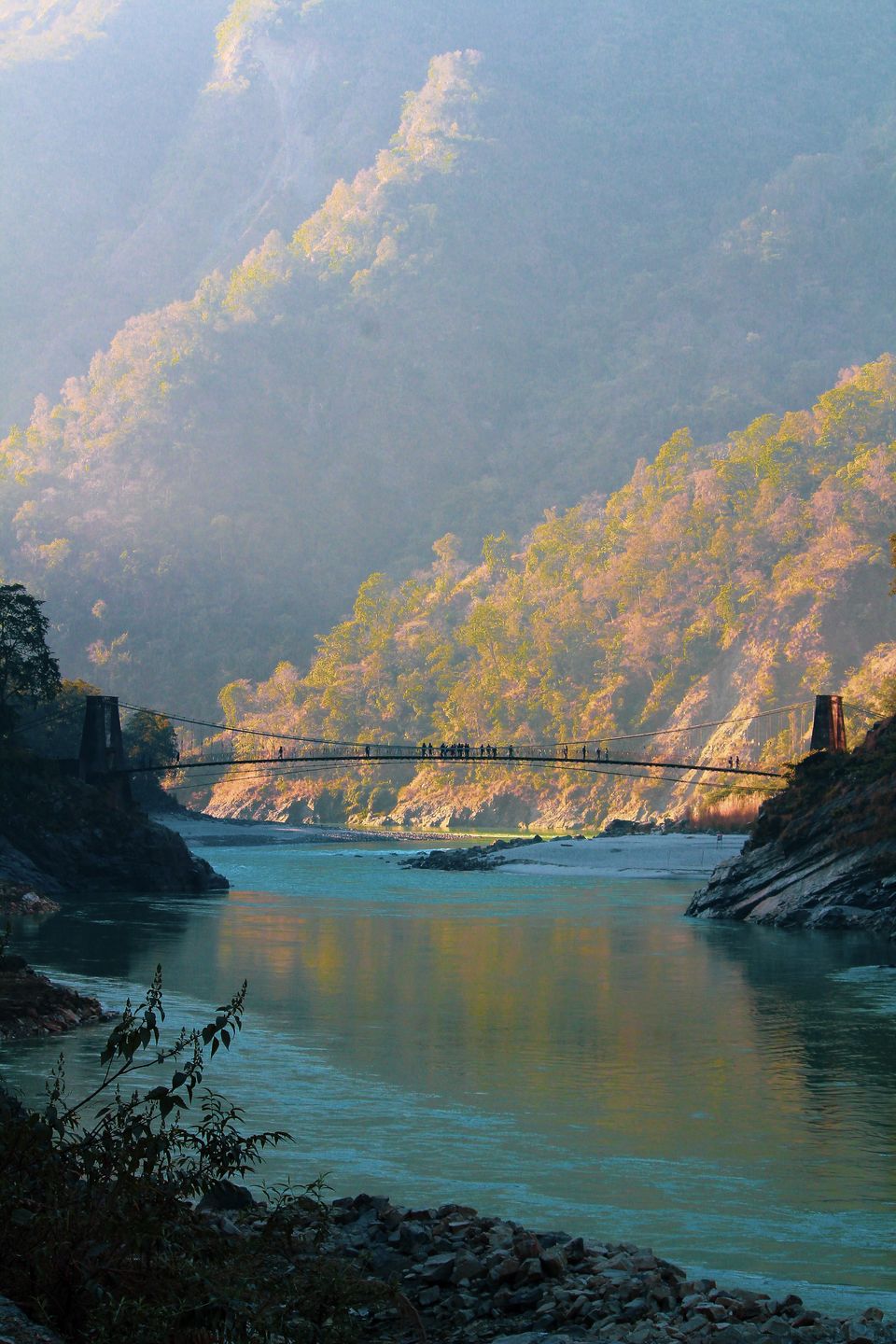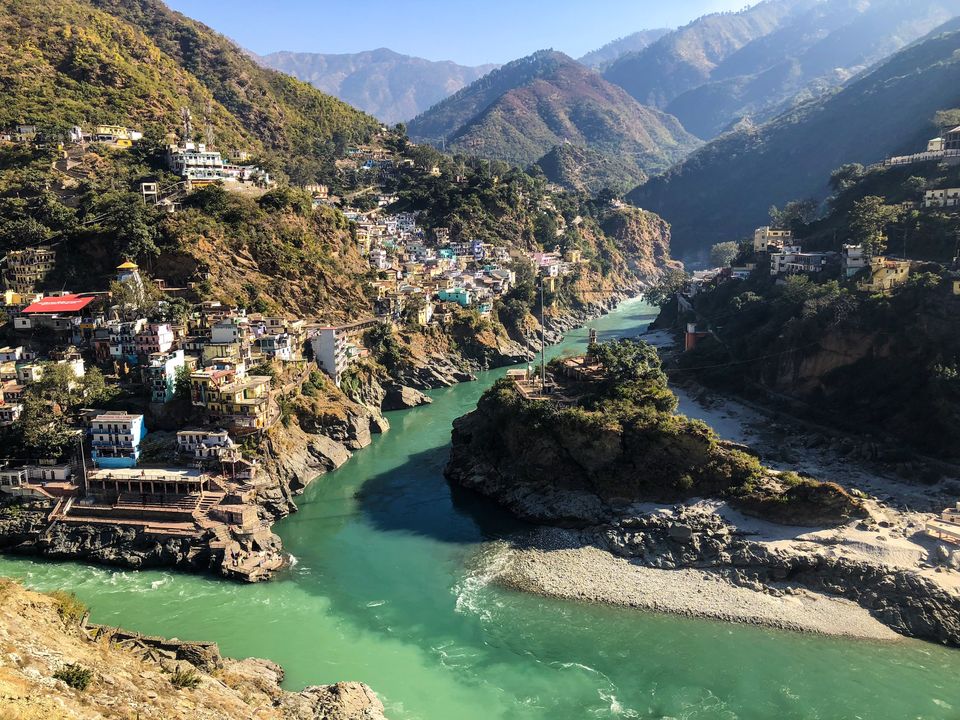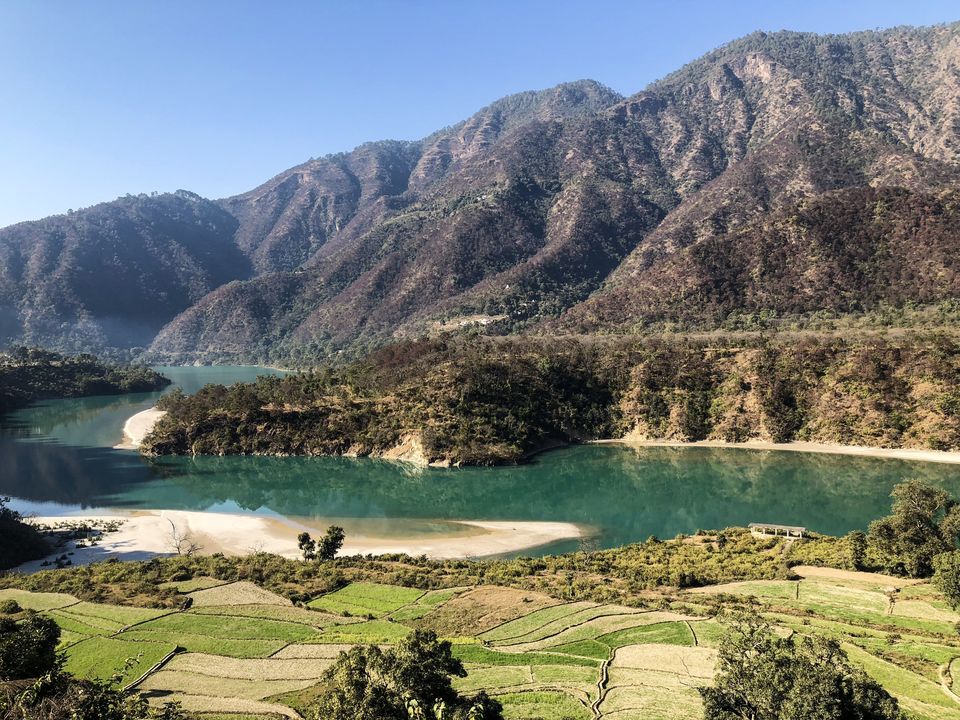 After a 11 hour tiring drive all along from Rishikesh – Devprayag – Srinagar – Karnaprayag, we reached the town of Chamoli. And here I laid my eyes on the goddess of Kumaon and Garhwal, the magnificent Nanda Devi. At 7816 m, it is the second highest mountain peak in India. With the last leg of 15 km and enveloping darkness after Joshimath, I plonked myself behind a carrier truck and drove on the winding road full of potholes. All along the drive, Troy was enjoying the cool breeze with his head out once again, probably smelling the scent of oaks and coniferous lining the road with the dark sky dotted with stars and the majestic Nanda Devi glistening under the moonlight.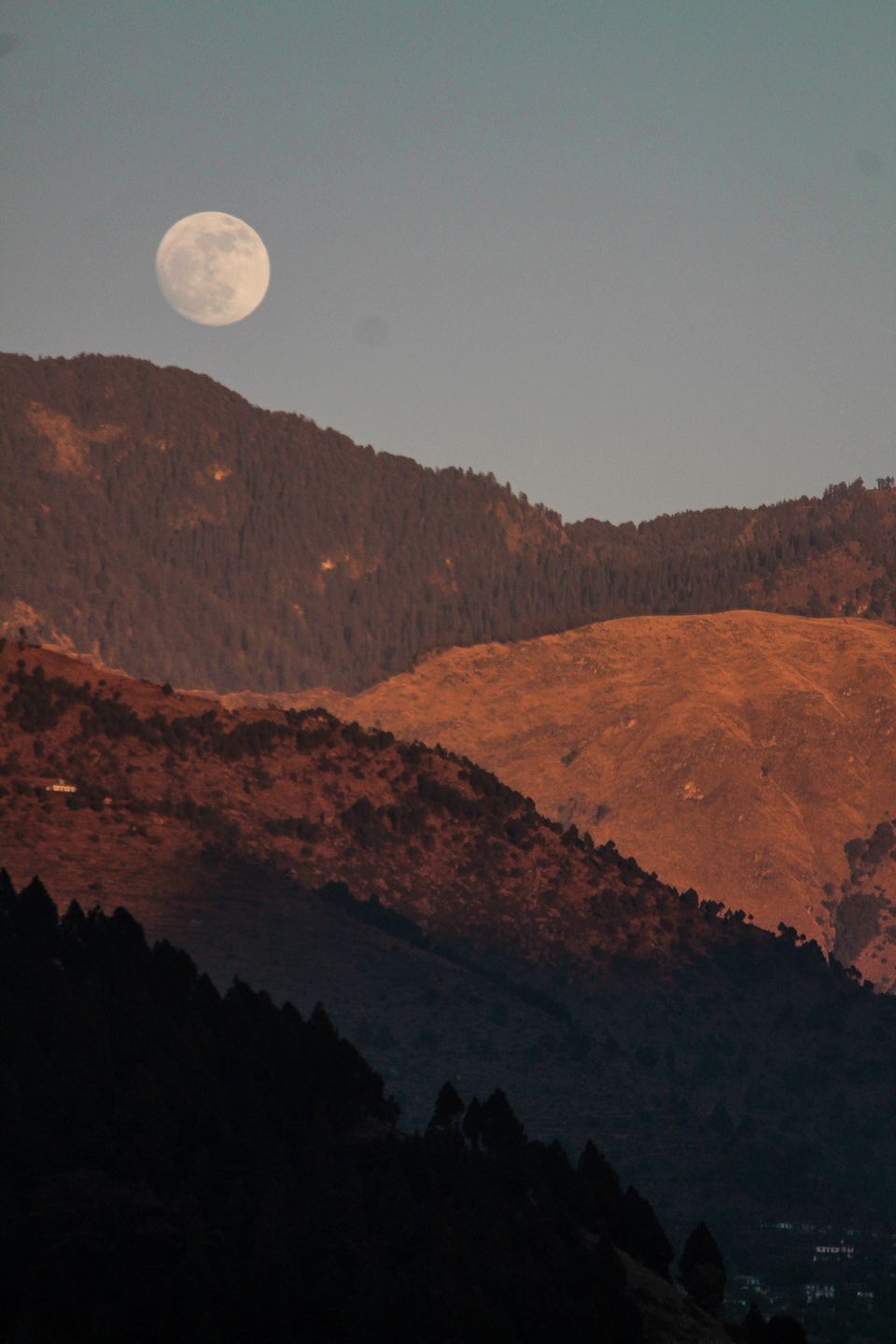 We reached our prebooked guest room in ITBP cantonment area around 9pm. It was around 2 degrees in the night but Troy being a furry long coat german shepherd doesn't require warm clothing. Nevertheless, I made it a point to cover him with his thick bedspread.
Also, since I travel a lot with him since our first time, I make it a point to never allow him onto the bed in a hotel and always lay a thick bedspread/towel on the ground for him to sleep on. Apart from being loving dog owners, it is important to be responsible because in a nation which is still not pet friendly, it is the onus of the dog owners to not make others around repulsed by their pet's behaviour.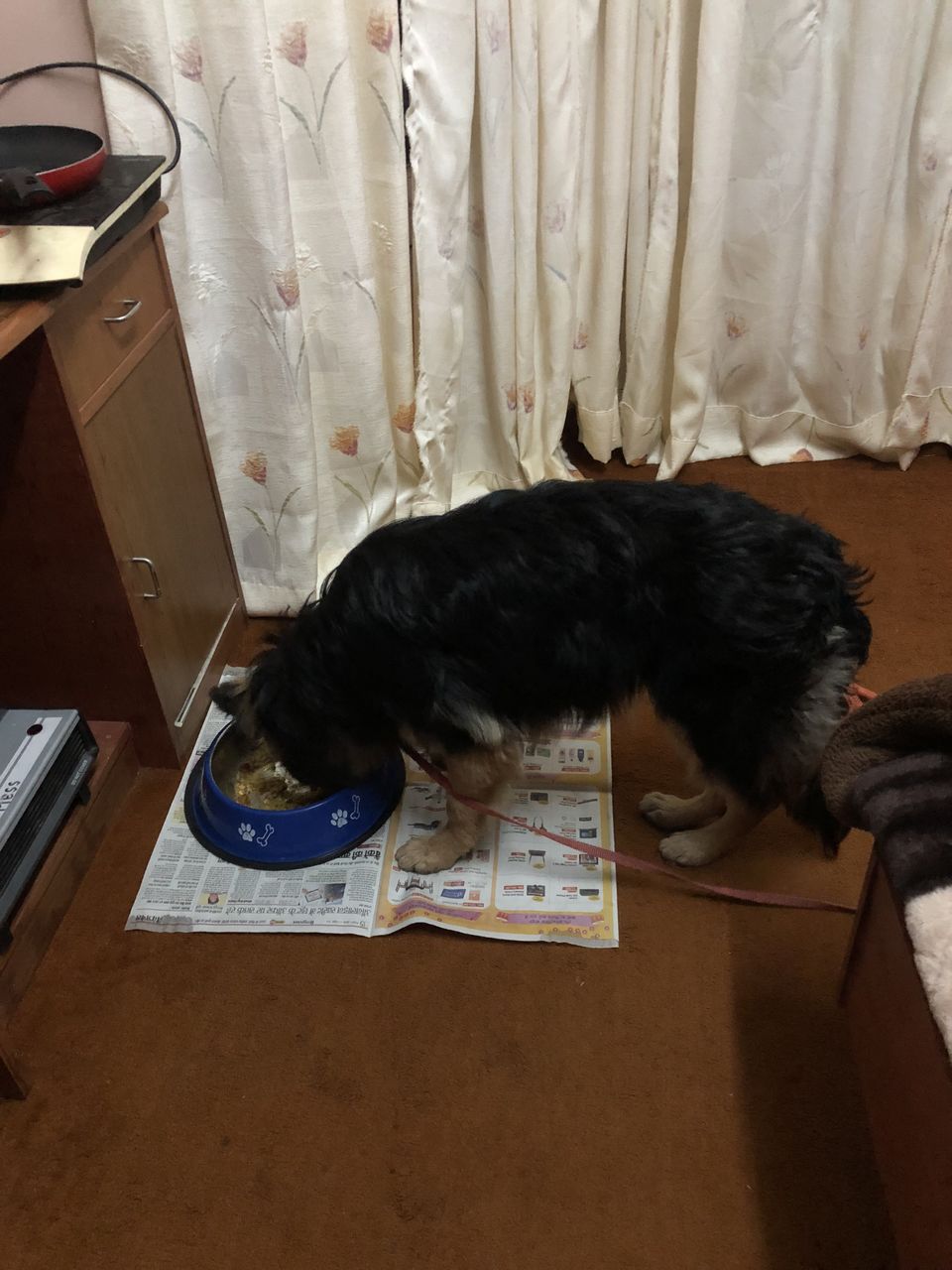 It is a known gospel that in mountains, one must wake up early to see the sunrise because there is nothing more poetic and serene. But I didn't need an alarm clock for that, I had my dog to wake me up. The view from my room was a breathtaking one with the snow laden Himalayan peaks and amongst them, the Nanda Devi. I enjoyed a hot cup of coffee in the sun while Troy eyed the birds on the trees.
It is really beautiful to walk around and enjoy the lukewarm mornings. This gave me and Troy the perks of climbing up and down from the road and go the offbeaten paths. After a while we reached the Garhwal Nigam Vikas Mandal from where one can take the Ski Chair lift and also join the ropeway down to Joshimath. However I had that planned for the next day. Me and Troy walked up the pathway till the ski chairs terminal and set off on a small hike up the hill slope to venture around. Kids and adults were amused and frightened at the same time to see a big black furry dog but I assured some of them that he is extremely friendly and well behaved. I was happy to see that some people complimented me on training my dog well in public and not frightening them. We took a detour from the common path and reached a clearing where I could let him run around freely and sniff away to glory.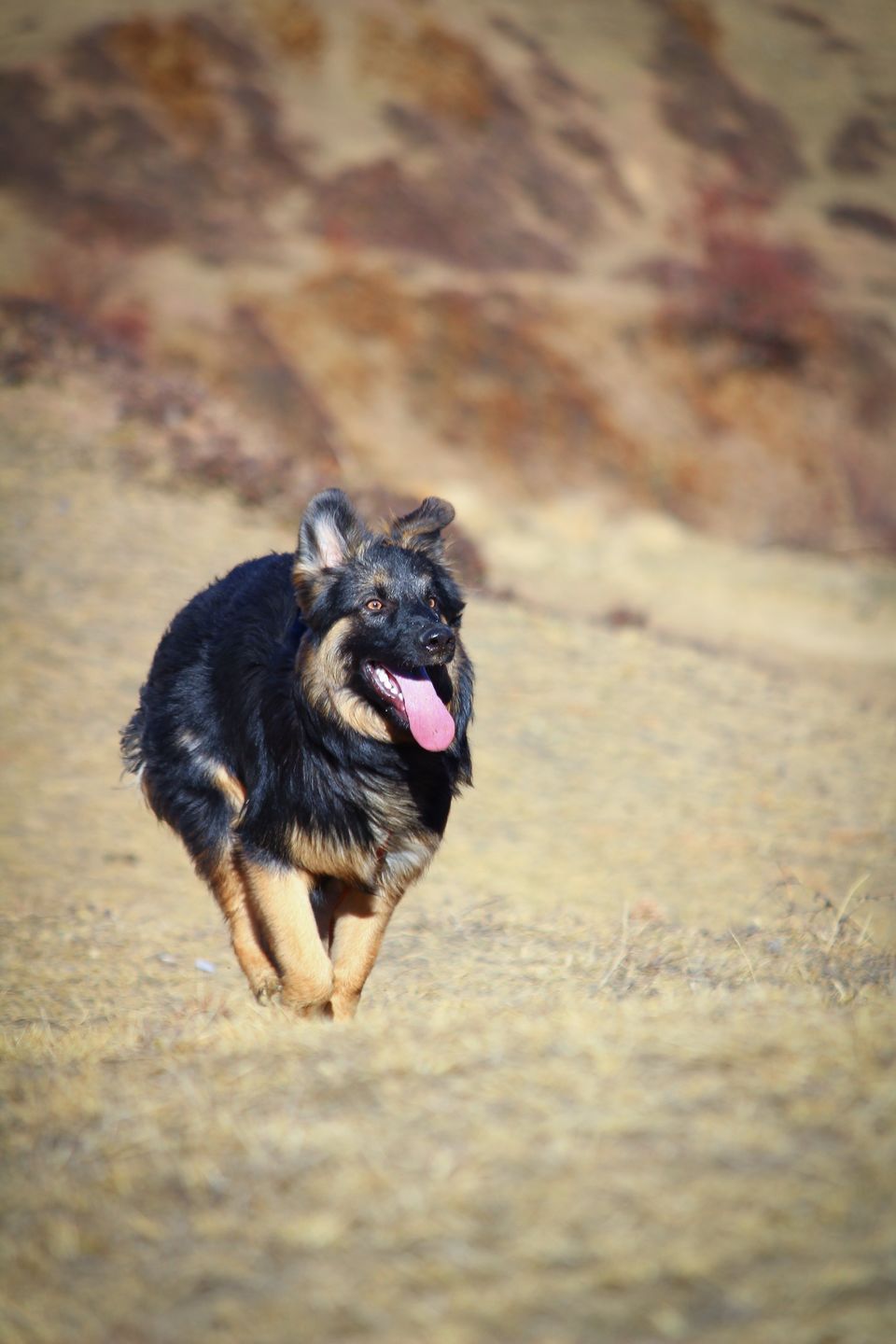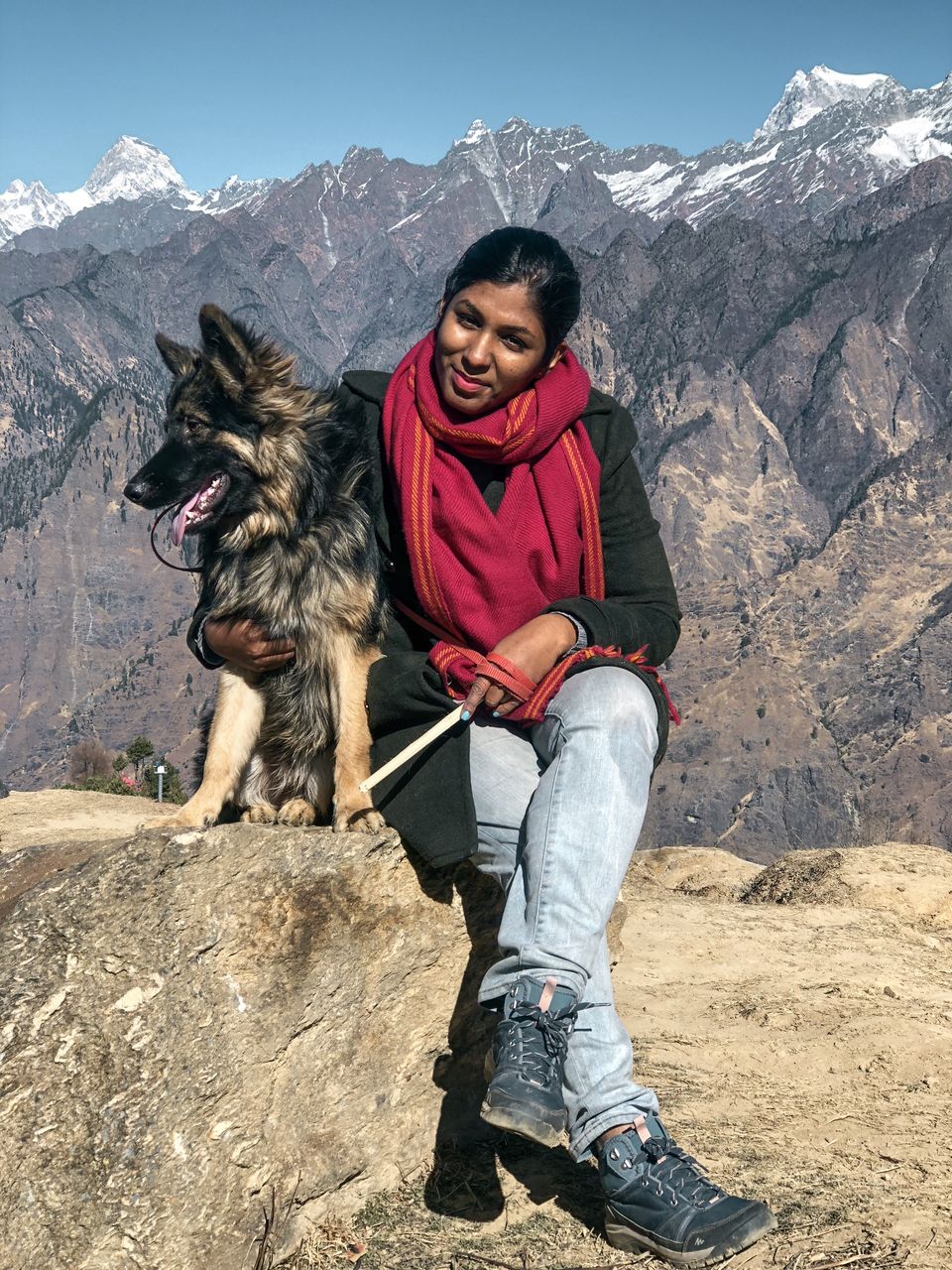 After enjoying the sunset and photographing the pretty hues of the sky, we made our way back to the path and sat in a small maggi shop. The quintessential pahadi cuisine – maggi and hot coffee are a given. I generally kept Troy on the leash around the pahadi dogs to prevent any territory claimimg street fights.
If you are in Auli, please bear in mind that there aren't any fancy cafes or restaurants for tourists to bite into pizzas or pastas. All the hotels have their own restaurants where the guests can dine. So to be on the safe side, pack some cup noodles or dry food to munch on. Or be prepared to drive down till Joshimath for some hot food.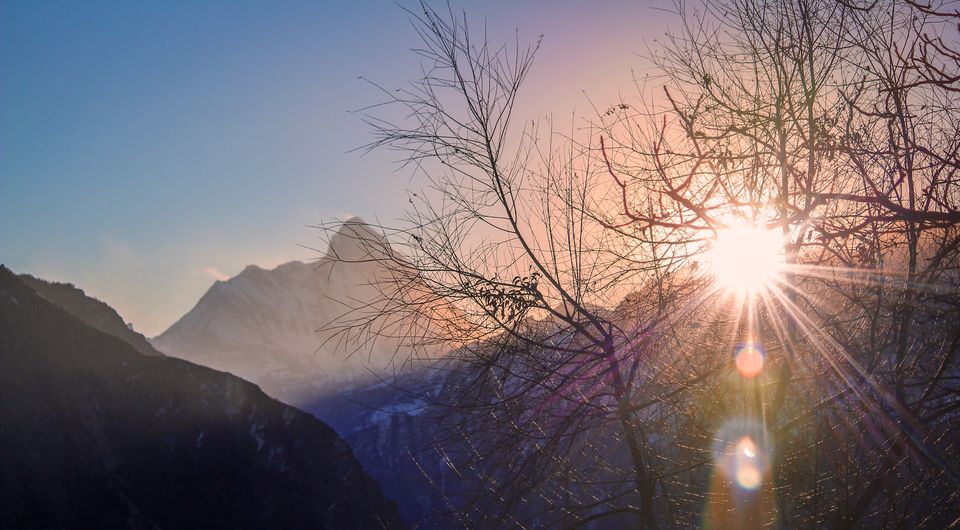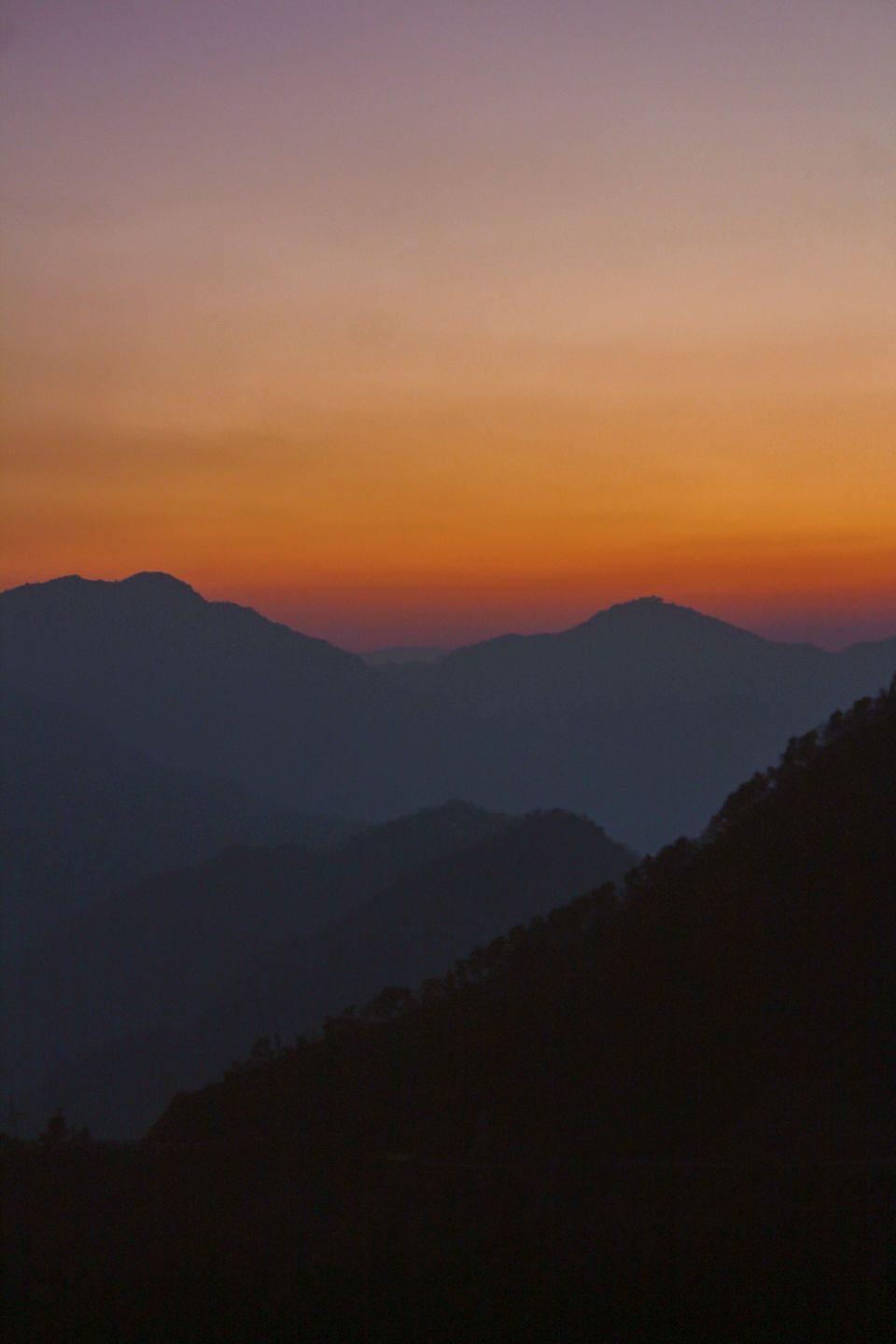 Me and Troy left our guest room with essentials in a backpack packed for a small trek. We parked our car at GNVM and trekked up all the way till Auli ski resort huts. One can take the ski chair lift from GNVM till the ski resort for 300 INR per head. The man made Auli lake is adjacent to the ski huts and one can spend time sitting around it.
We hiked up further till the upper terminal of the famous Auli – Joshimath ropeway. It is boasted as Asia's longest spanning over 4km in distance. One can take the ropeway starting at either end for 750 INR per head round route and the ticket is valid for 3 days.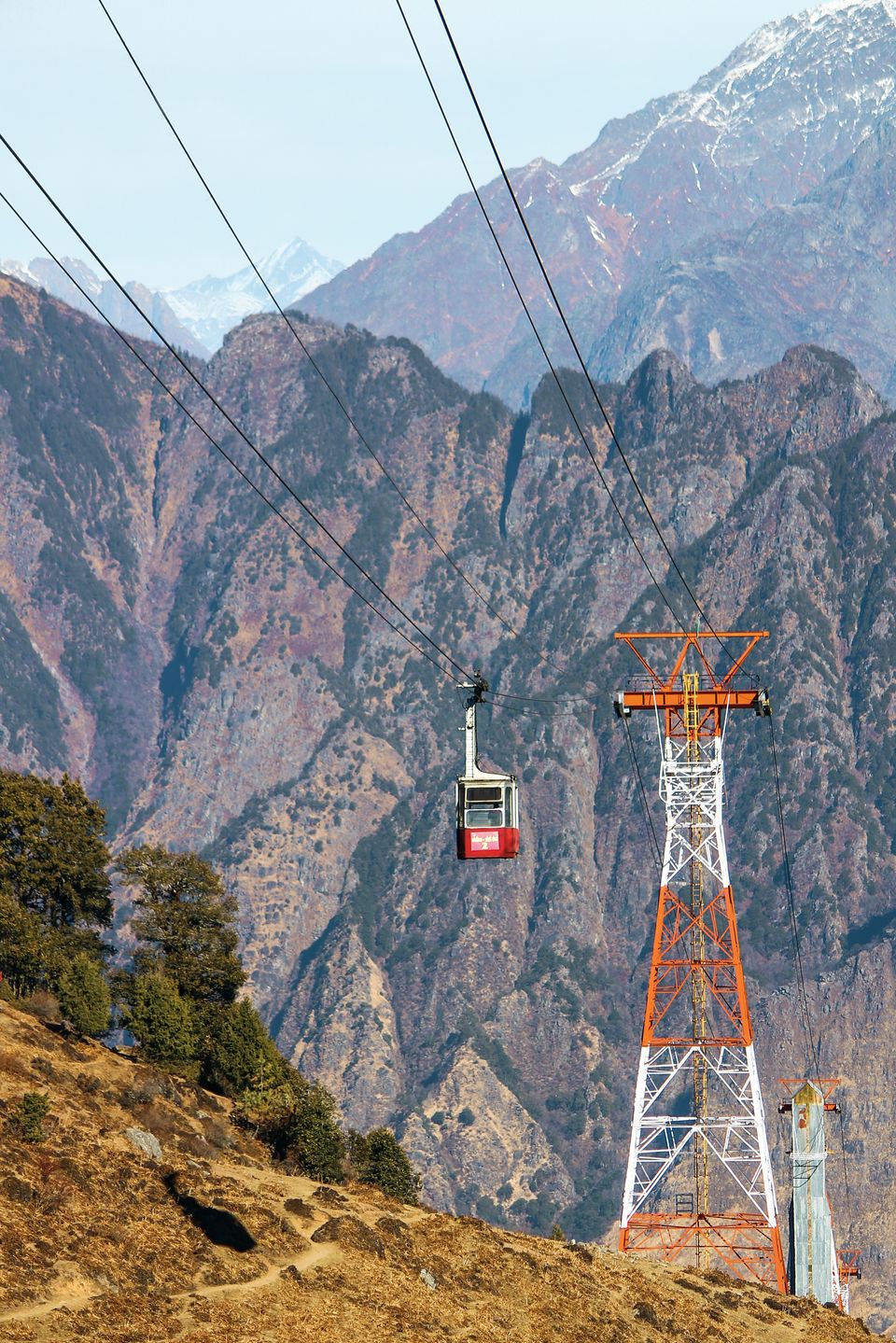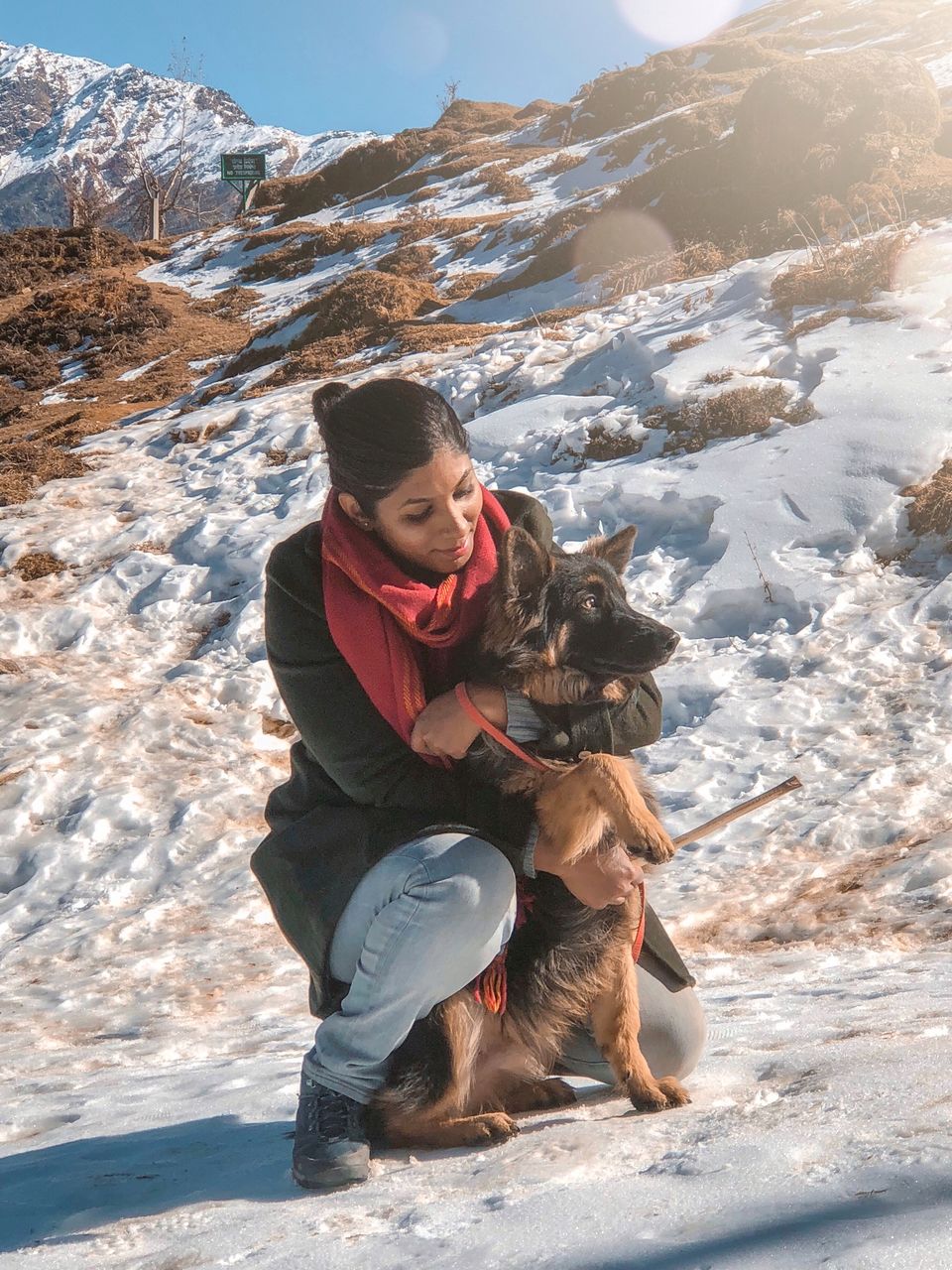 Since Troy wasn't allowed on the ropeway cable car. I requested one of the tea shop vendors to look after him while I went in the ropeway and came back. He was kind enough to agree so I left Troy chewing on a chewstick with the shop vendor and enjoyed the post card perfect views of the Garhwal ranges with some of the daunting peaks in view like Nanda Devi, Dronagiri and Hathi – Gauri Parbat. 25 minutes of rapturous silence as one floats from Auli to Joshimath in this gondola, enjoying the panoramic views of the cute village of Auli which mimics Switzerland in the winter months is worth every penny. Also, one can get off at pillar no 8 to enjoy the ski chair lift.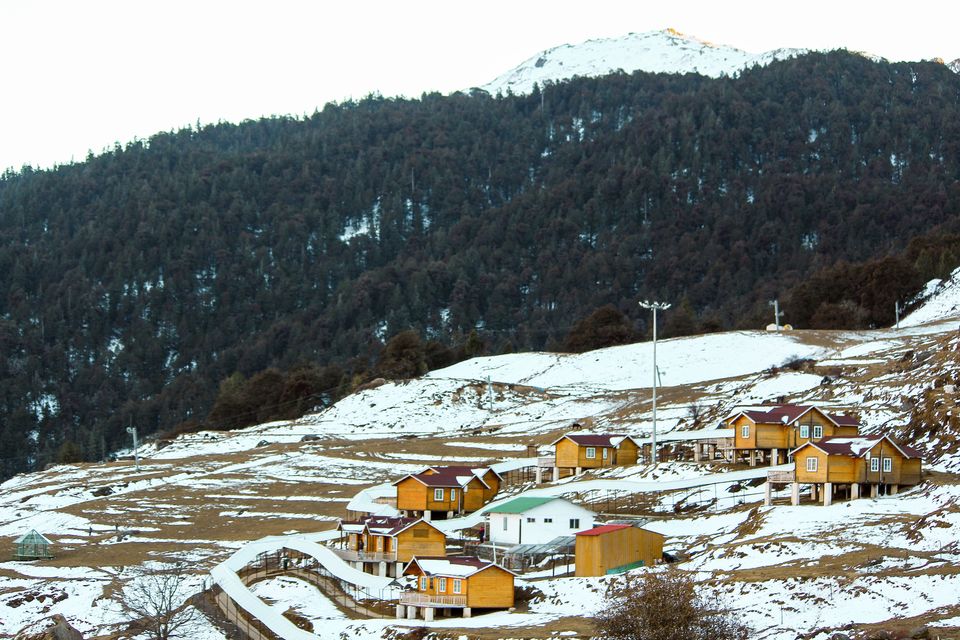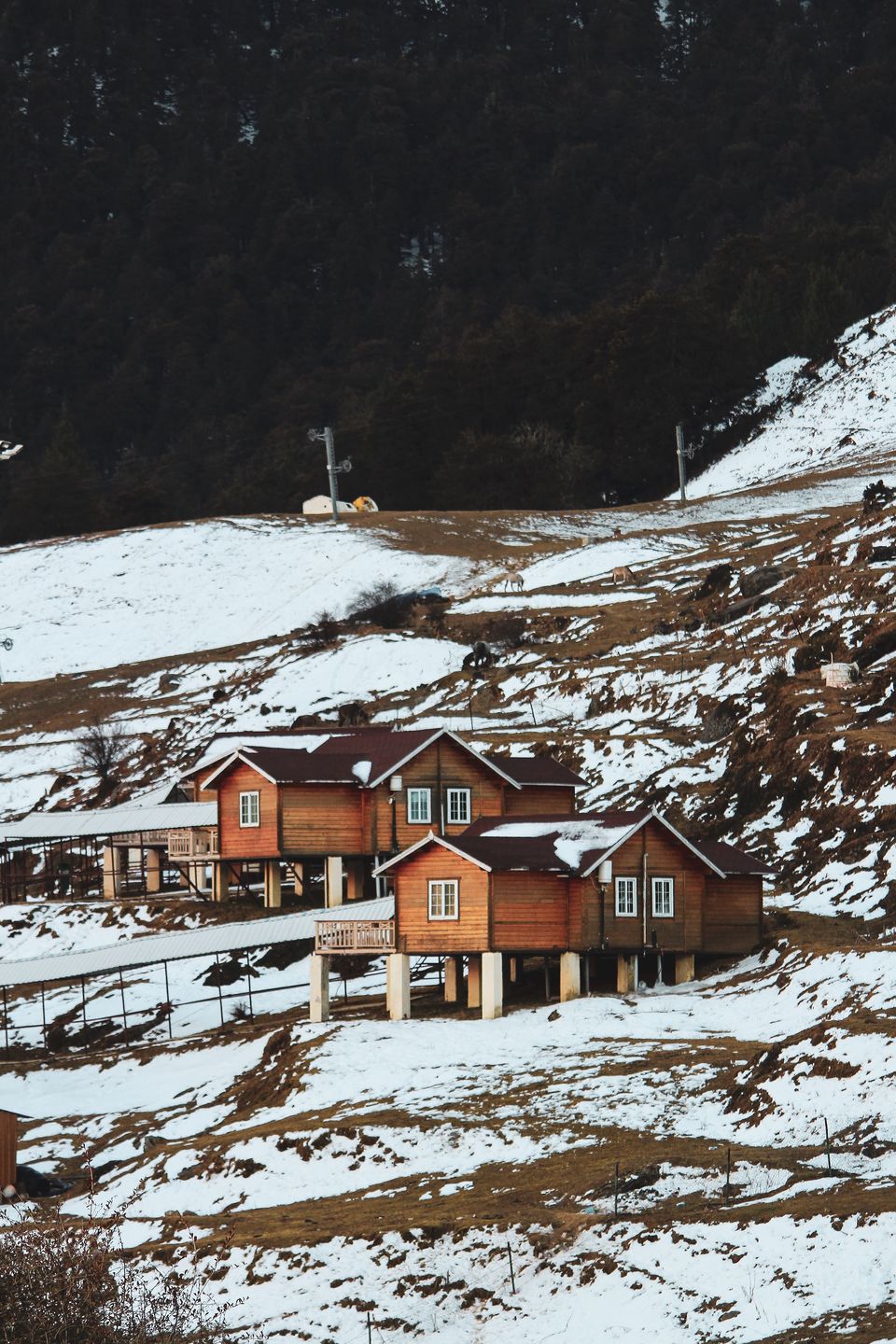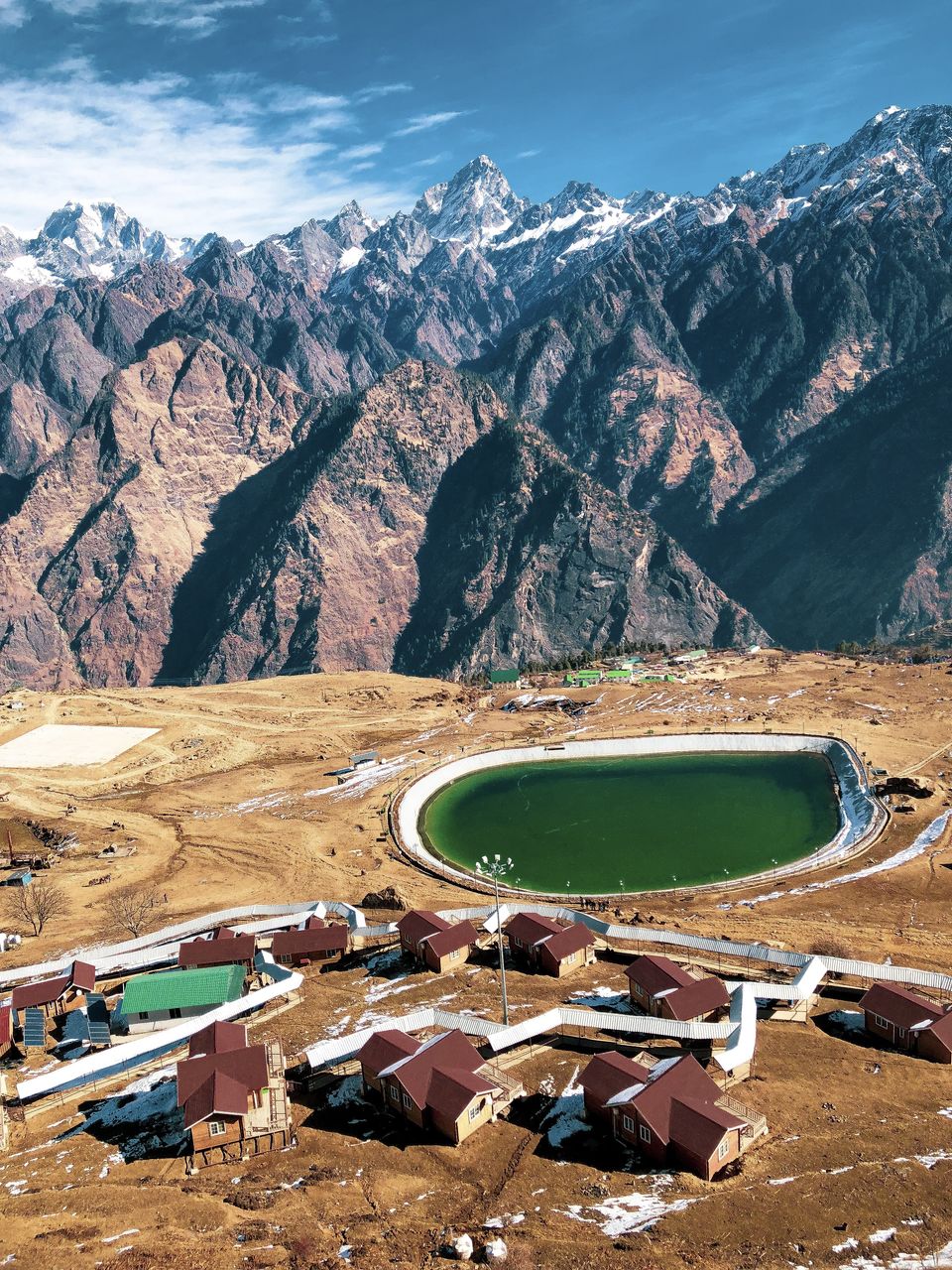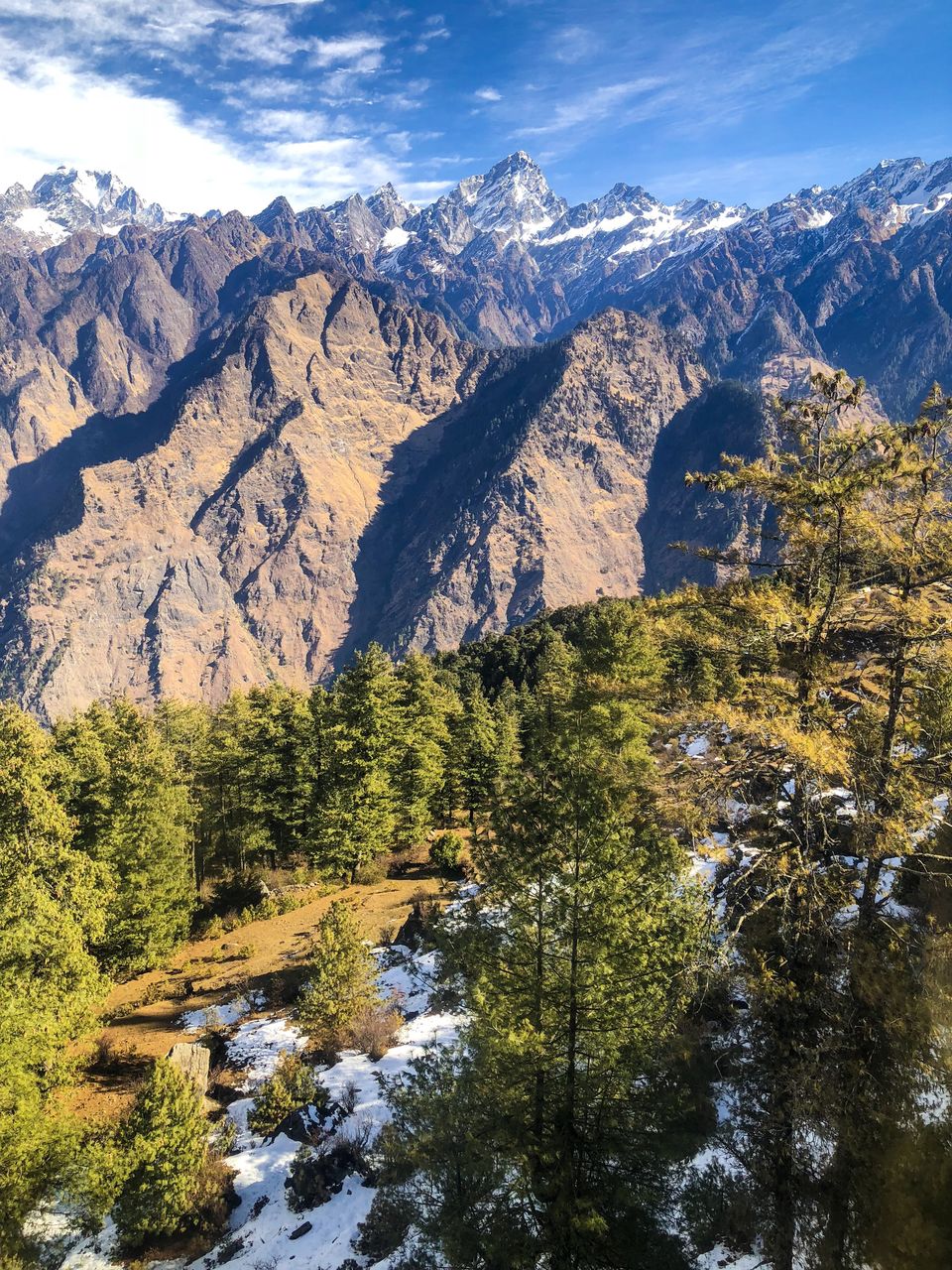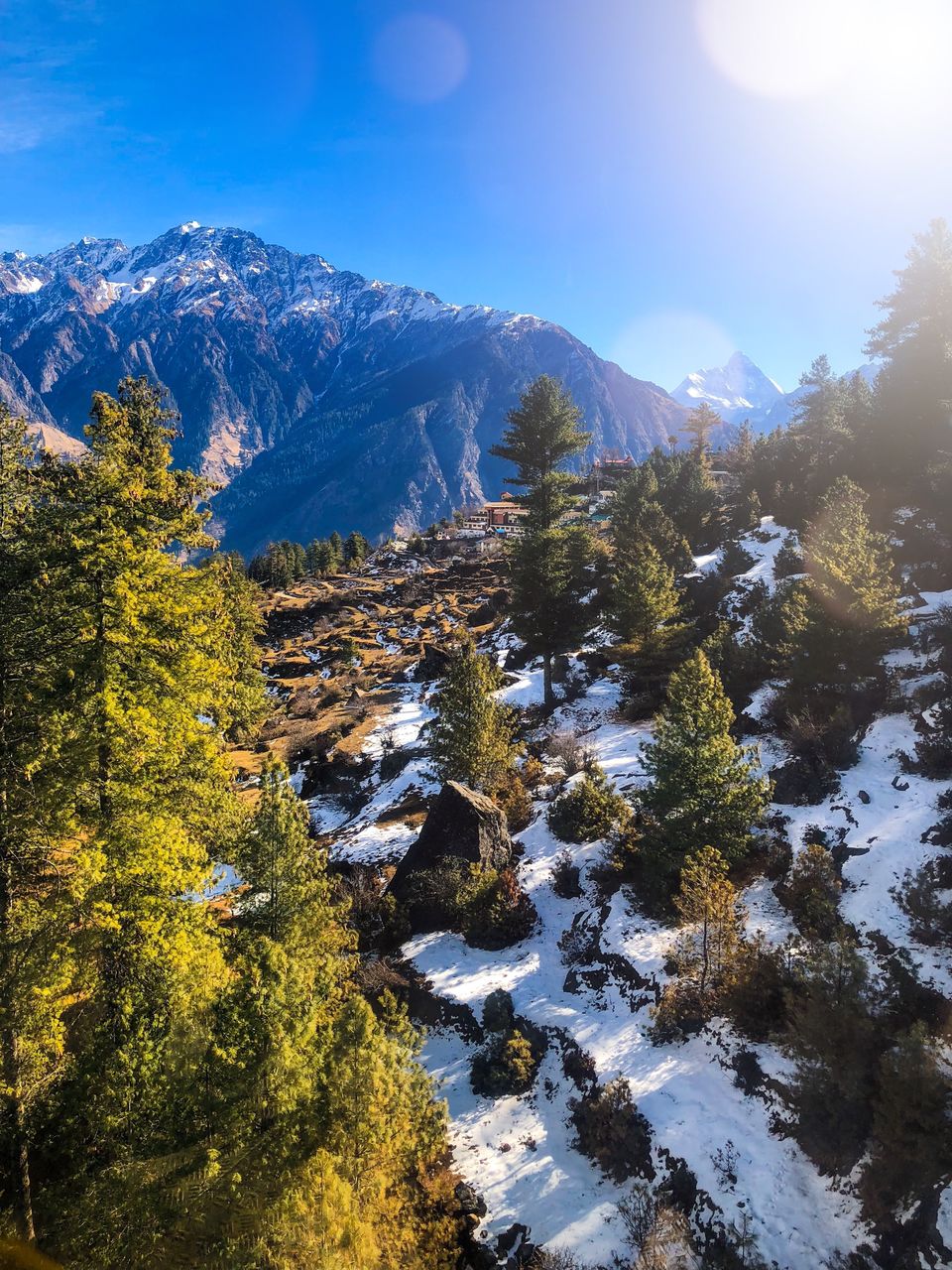 After my cable car ride, it was time for some fun skiing and the short Gorson Bugyal trek. The trek started from a snow covered clearing and this is the moment I was particularly waiting for. To let Troy enjoy his first experience in snow. And boy was he happy !! He jumped and ran around in the snow with so much excitement. I was amazed at the comfort with which he was making his way through the deep snow and burying his nose inside it for minutes together. I also built a snowman which I allowed him to smash into later. After an hour of snowy fun we followed the pony's and small groups of people trekking to Gorson. Bugyal in pahadi language means a meadow and that's what the end of the trek looked like. After walking through snow and mud for nearly 3 hours, taking pictures around the mossy alpine trees of Deodar and Oak we reached the beautiful Gorson meadow which offered a 360 degrees view of the garhwal ranges and Himalayan peaks.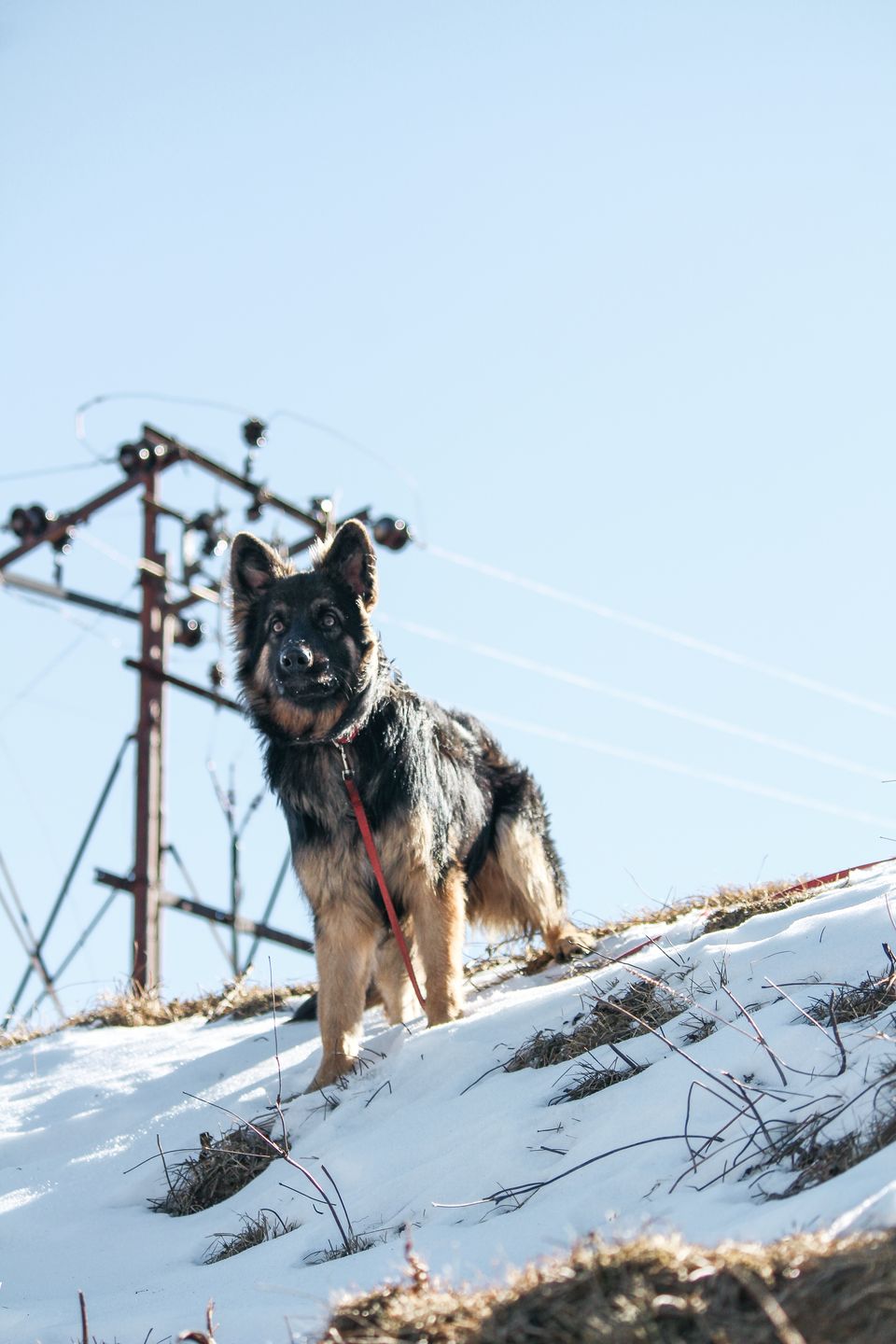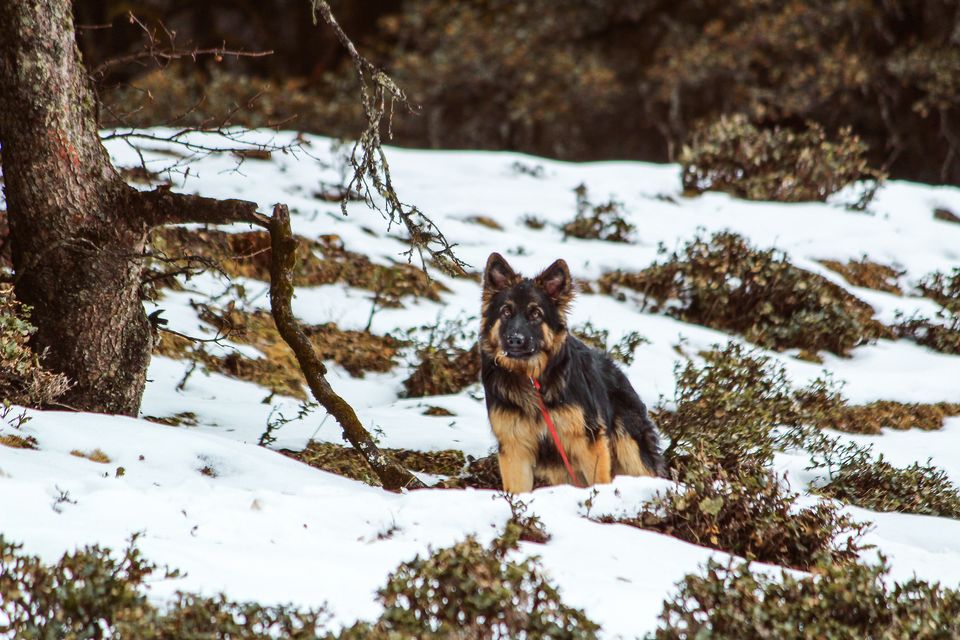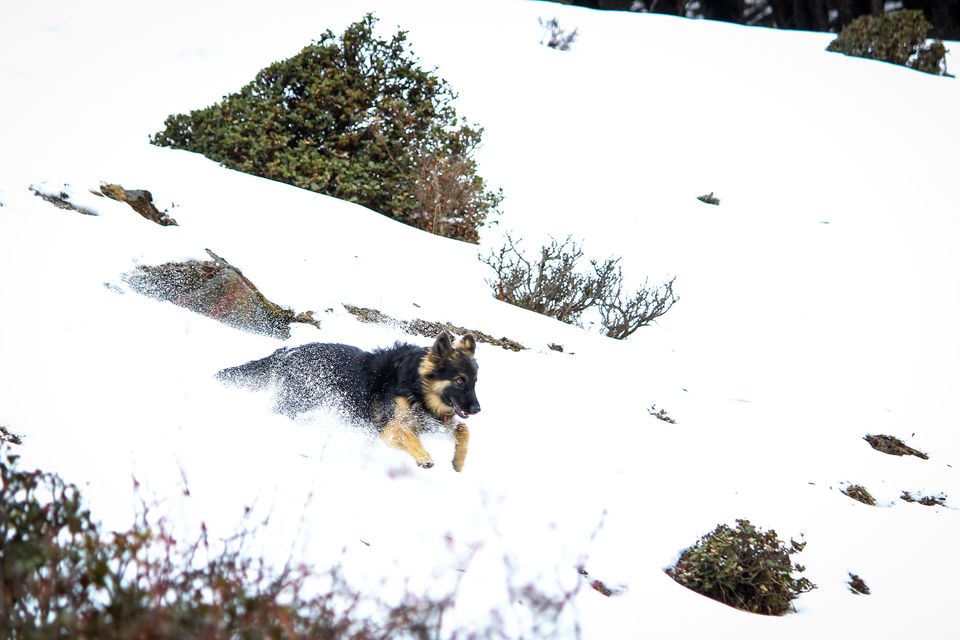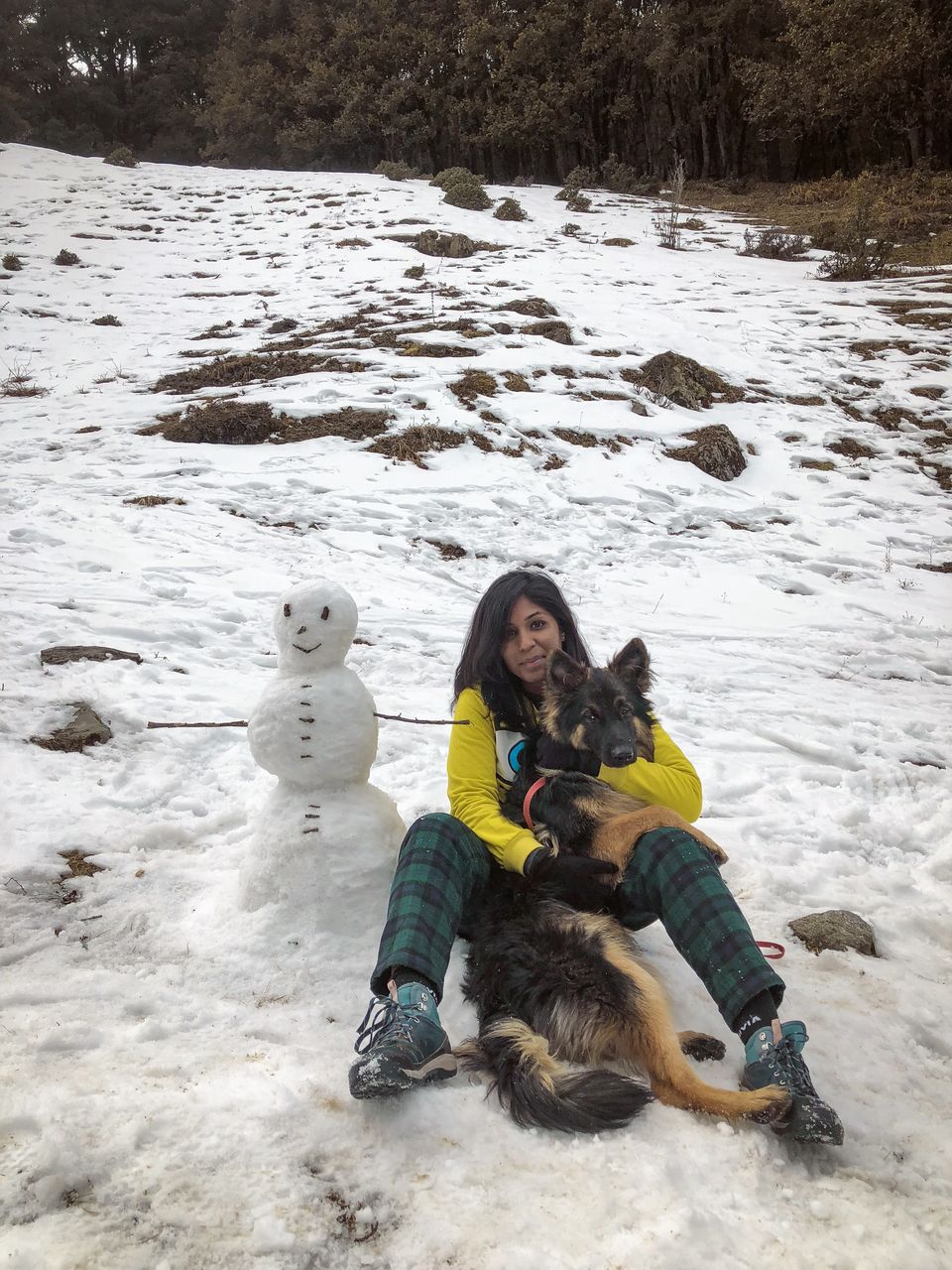 The beautiful evening ended with the sun painting the mountain tops in hues of gold and pink and as the chilly darkness set in, we made our way back. Ofcourse, Troy had befriended a lot of people on this trek and made it into their hug filled selfies.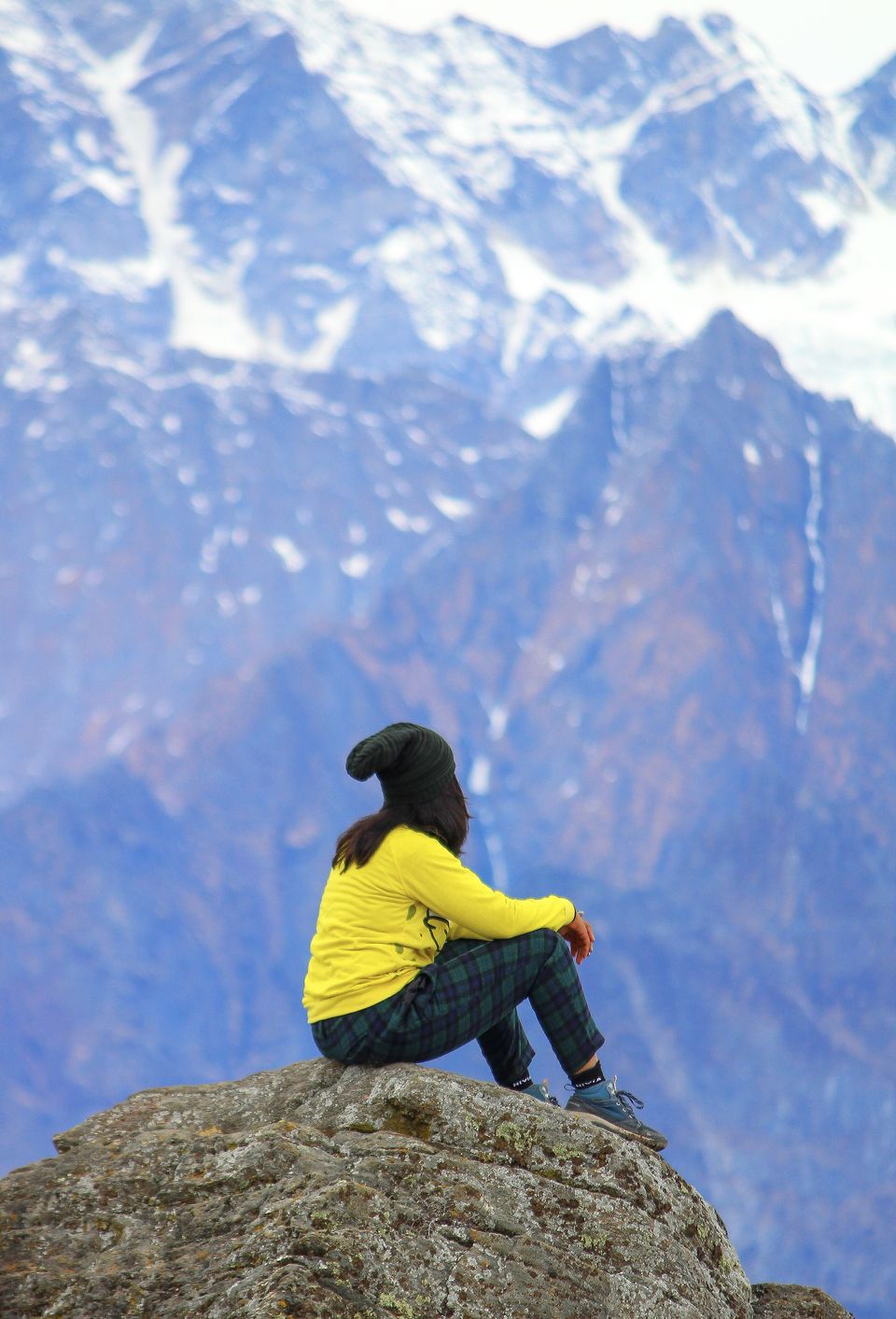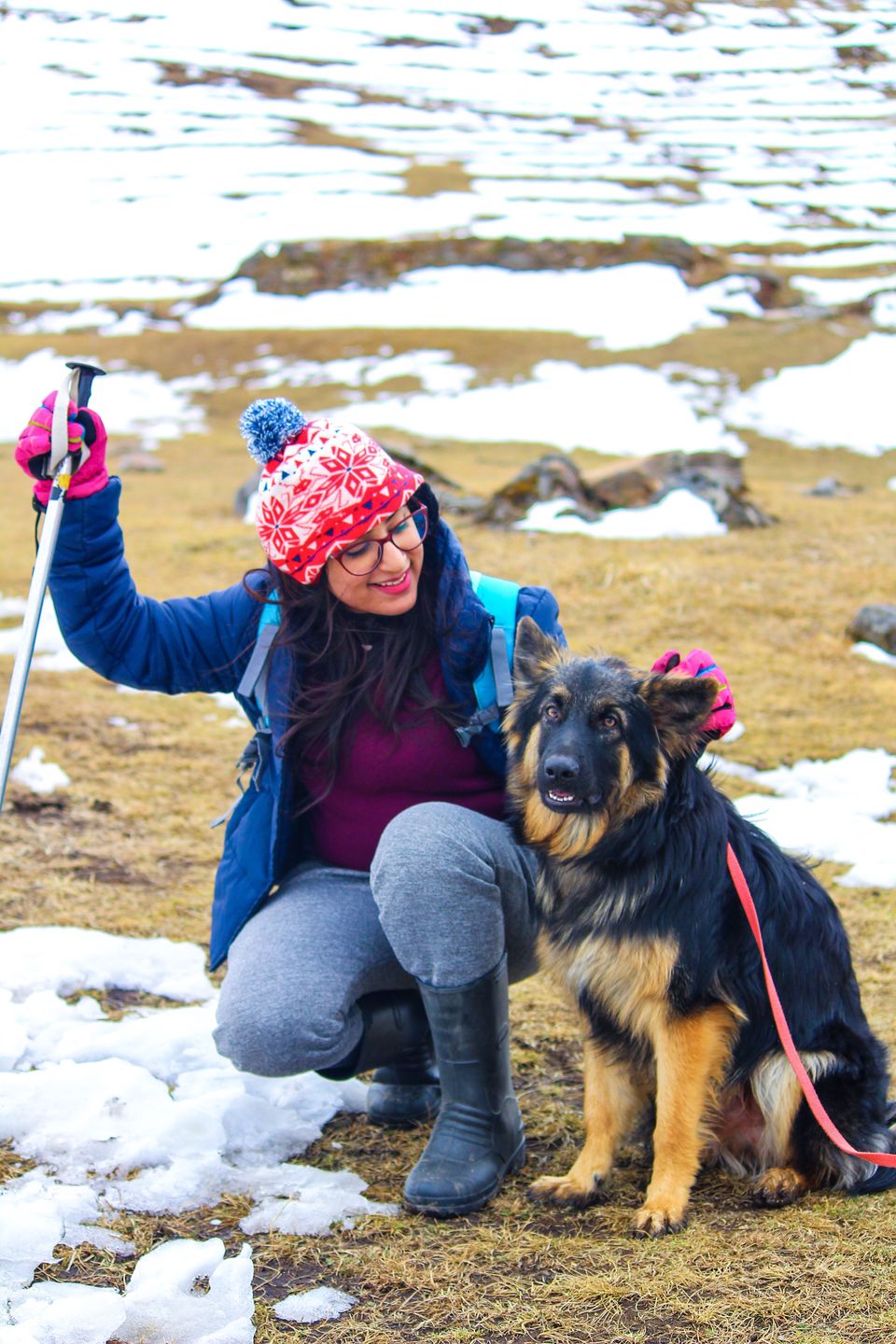 We headed back to our guest room and it was time to bid Auli adieu.
Who says diamonds are a girl's best friend ??!!! I beg to differ !
I drove all the way from Agra to Auli and back with my 6 months old german shepherd. It was easy and not at the same time. Because I never looked at him like my pet who is there to amuse me or provide me happiness when in need. More so like a baby and a big part of my life, towards whom my responsibility is magnanimous and love, unconditional.
I love the way my attitude towards tending to his needs more than mine have made me feel so small because the ability to love and give is what I have learnt from this wonderful creature. And what goes without saying is that more travel stories of mine will be seeing and exploring the world with him !!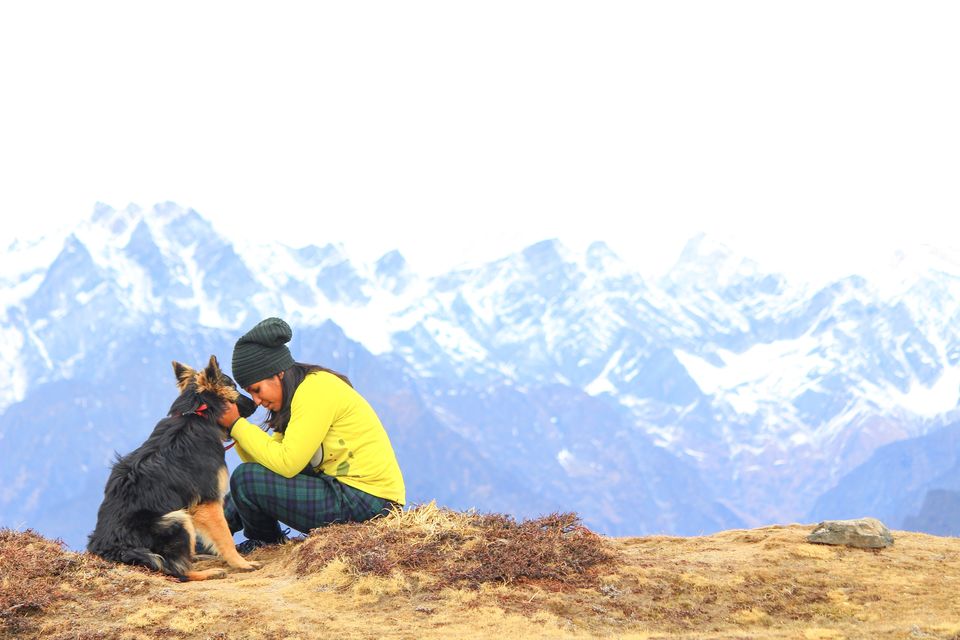 Hope you enjoyed reading this !
#travelwithpets