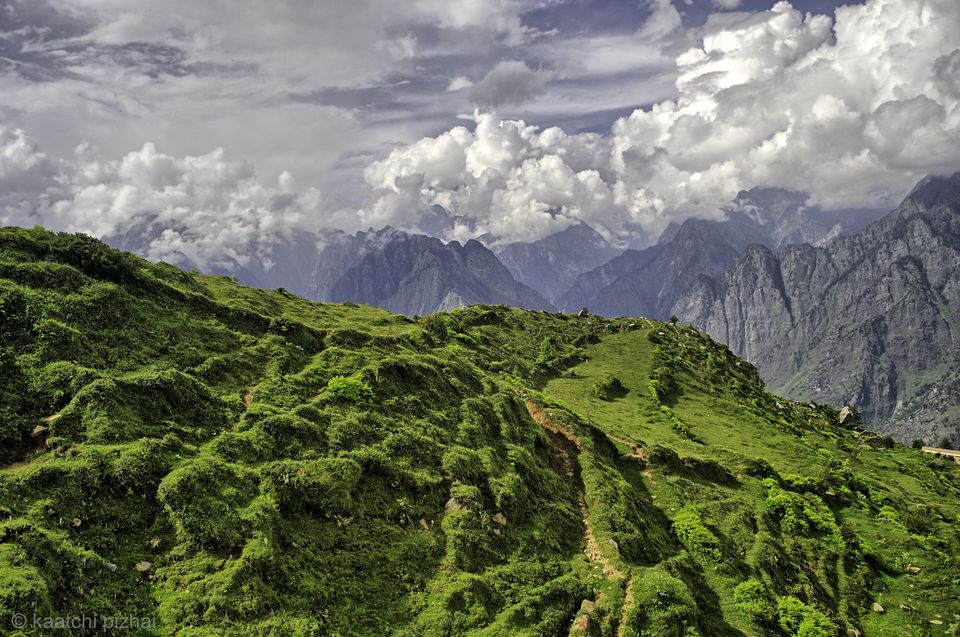 The Auli Gorson Bugyal trek is also known as the Snow View trek because during winter (January to March) it remains covered in thickest of snow, having areas with nearly 6ft of snow in Auli. This trek offers some of the most eye-catching views of the Garhwal Himalayas: a number of high altitude peaks like Nanda Devi, Nanda Ghunti, Hathi Parbat, Ghoda Parbat, only to name a few. Auli is quite rightly known as the winter-sport destination of India. It brags about some of the longest snow-capped slopes - as long as even 3km - which makes it the longest skiing slope of Asia.
Where is it?
Auli is located in the Chamoli district of Uttarakhand, India.
Auli can also reached in the following ways:
By Air: The nearest airport to Auli is Jolly Grant in Dehradun. This is about 275km from Auli. Delhi airport to Jolly Grant should cost about 2500 INR by air.
By Rail: The nearest railway station is at Haridwar. This is about 285km from Auli. Delhi railway station to Haridwar railways station should cost about 500 INR by train.
By Road: The nearest motor-able point is at Joshimath. This is about 16km from Auli. Should cost about 500 INR by car.
By cable-car: Auli is reachable from the town of Joshimath by a ropeway ride of 4 km. The rope-way ride costs about 750 INR/person, up and down inclusive.
Difficulty level
The Snow View trek is one of the easiest treks of India. The trail offers magnificent views of the Garhwal Himalayan range, Shivaliks and more. This is one comfortable trek and an ideal one for beginners who want to savour the Himalayas.
DIY
Snow View trek is no doubt a do-it-yourself trek. The trip begins at Haridwar and ends at Rishikesh in 5 days. The overall cost of the trek part should be about 8,000 INR.
When to do it?
Auli is at its best during December to February. At this time, Auli is covered in thick snow and breeds winter-sports - snow-skiing, snow trekking, and more - both national and international.
Snow View trek begins from Haridwar. A journey of 40km by car from this ancient pilgrimage site leads to Rishikesh. Joshimath is about 245km from Rishikesh and should take about 8 hours or so. Auli is 8km from Joshimath via ropeway. Next comes Gorson Bugyal which is a 4km uphill trek from Auli. Rest of the trek is a retrace of the exact same trail but backwards to Rishikesh, and eventually Delhi.
This is the route of the Snow View trek:
Haridwar* > Rishikesh* > Joshimath* > Auli* > Gorson Bugyal > Auli* > Rishikesh*
Itinerary
Haridwar to Rishikesh (1 hour)
Haridwar is 4-5 hours from Delhi by train. Rishikesh is another hour or so by car from Haridwar, an ancient pilgrimage site for Hindus. It is that confluence where the Ganges emerges from the mountains to the plains for the very first time. Haridwar is located at the base of the Shivalik Himalayas. The word Haridwar consists of two smaller words: hari, meaning God; dwar, meaning gateway. Put together: Gateway to God. It is in reality gateway to the Char Dham.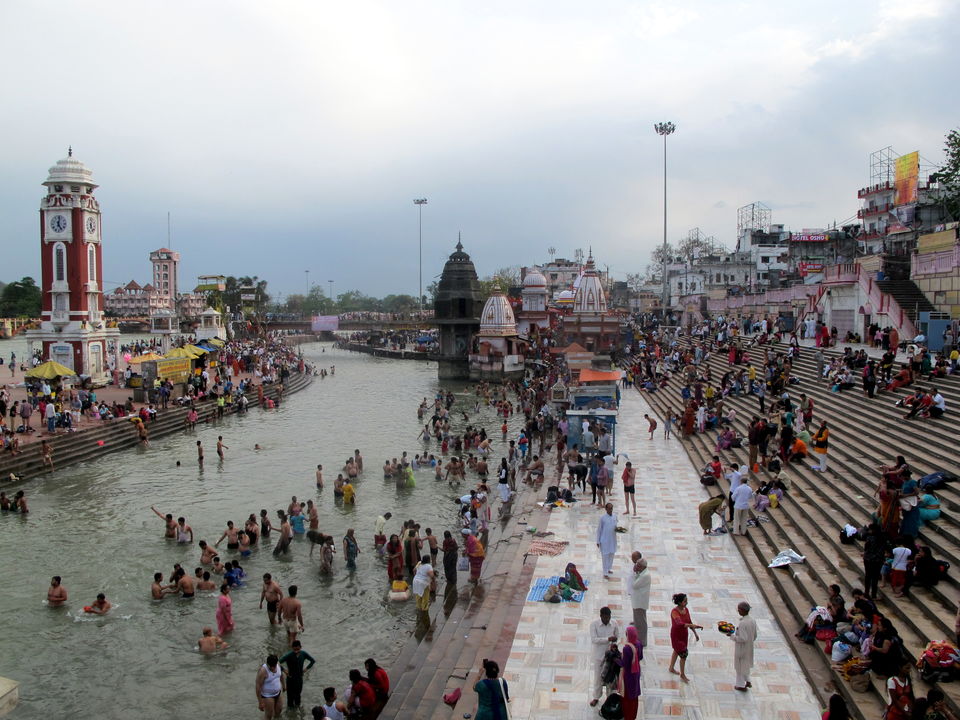 Rishikesh lies in the Dehradun district of Uttarakhand. Precisely 40km from Haridwar. Rishikesh marks the confluence of the Ganges and Chandrabhaga. It is surrounded by the Shivalik range on all three sides.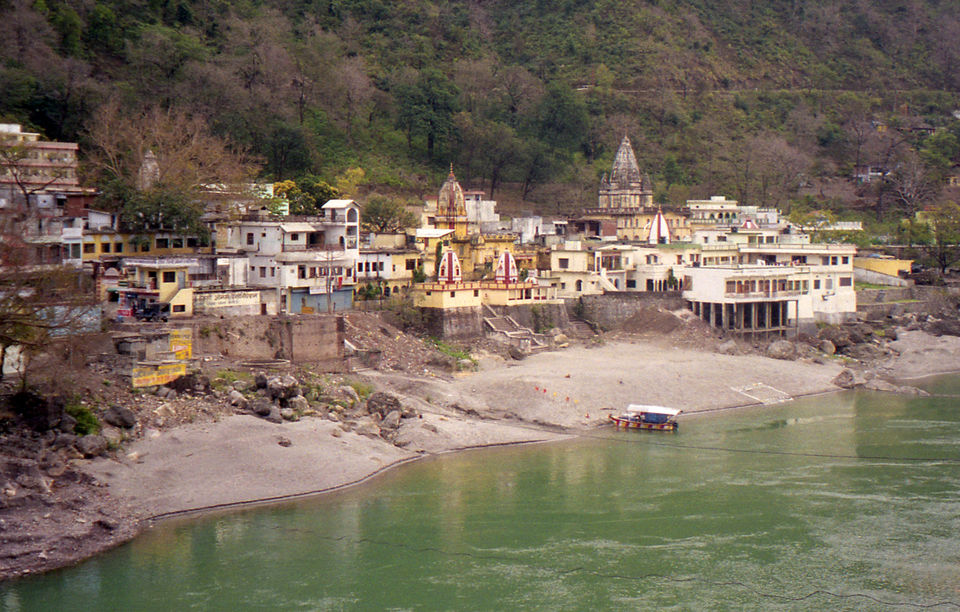 Rishikesh to Joshimath (8 hours)
Joshimath lies in the Chamoli district of Uttarakhand. It is about 245 km from Rishikesh by car amd should take about 8 hours. The journey crosses Deva Prayag, Rudra Prayag and Karna Prayag. Joshimath marks the confluence of Alokananda and Dhauliganga at Vishnu Prayag.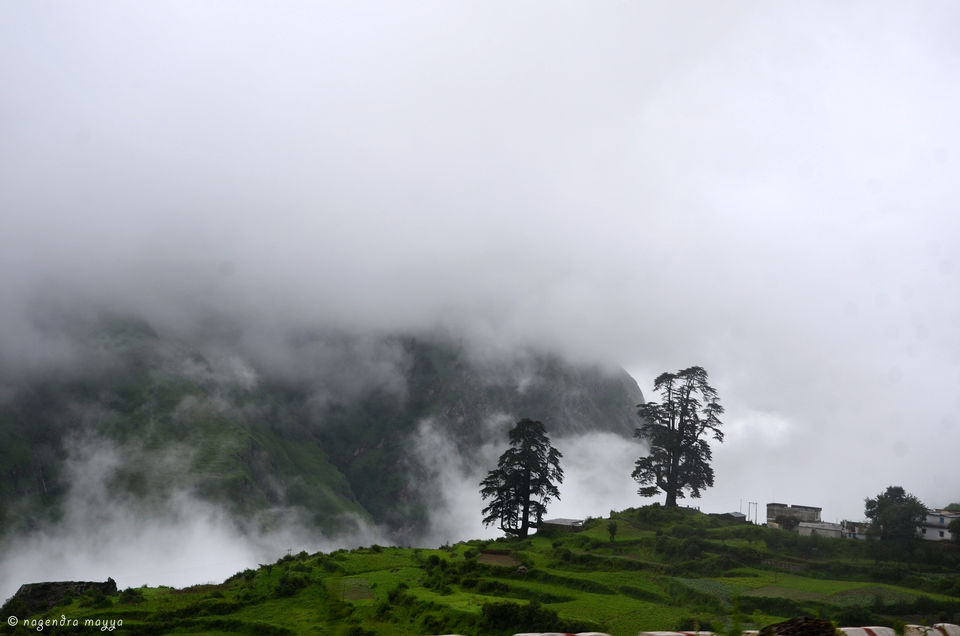 Joshimath to Auli (30 minutes)
The best, not to mention the most exciting, way to reach Auli from Joshimath is via a cable-car journey. These cable cars are known as Gondolas. Interestingly, this ropeway happens to be the highest one in India. Being about 8 km from Joshimath to Auli, also makes it the longest no doubt. The ropeway journey offers some of the most breathtakingly thrilling views of the Garhwal Himalayas. The highest peaks which are clearly visible are Nanda Devi, Dunagiri, Neelkantha, Hathi Parbat and more. The ropeway journey also features the view of the world-famous snow-capped ski slopes of Auli. The cable-car trip costs a total up and down fare of INR 750.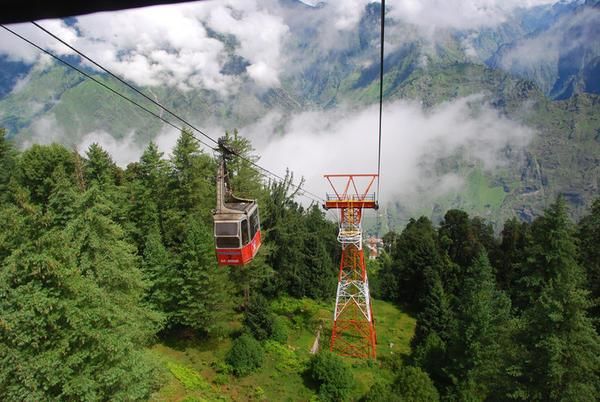 Auli
Auli is one of the most beautiful destinations the Indian Himalayas can offer. It is a popular winter-sport destination of India and is famous for skiing, snow-trekking, speed skating, luge, snowmobling, and several other winter-sports. The 3 km long skiing slope makes Auli one of the longest skiing slopes of the world.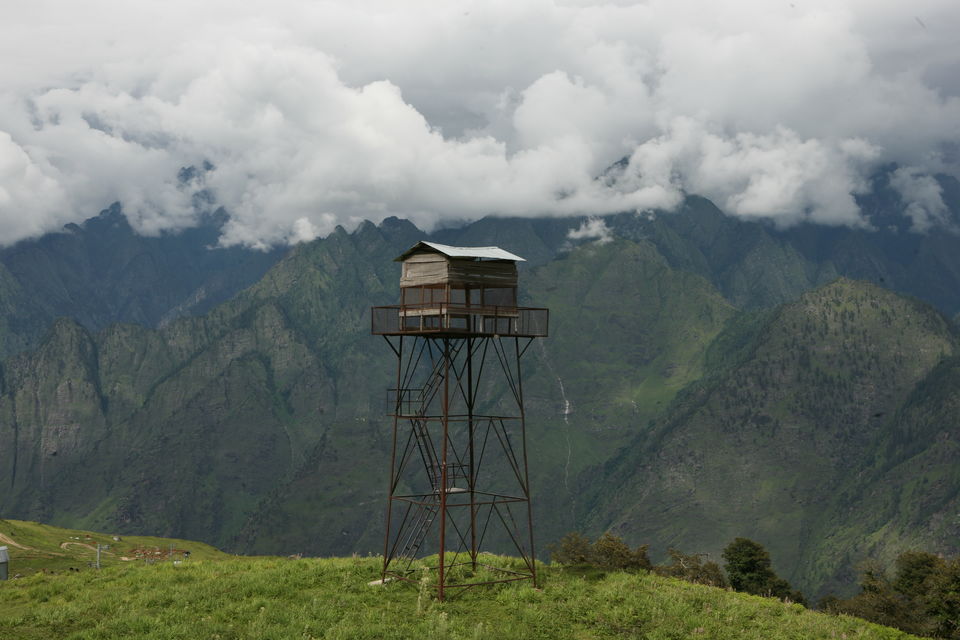 Coming to Gorson Bugyal, it is a short uphill trek of just 4km from Auli which brings you to a densely forested and thickly snow-capped stretch of meadow; this is Gorson Bugyal - the very heart of the whole trip. The Bugyal is surrounded by and covered in dense evergreen vegetation of rhododendron and oak.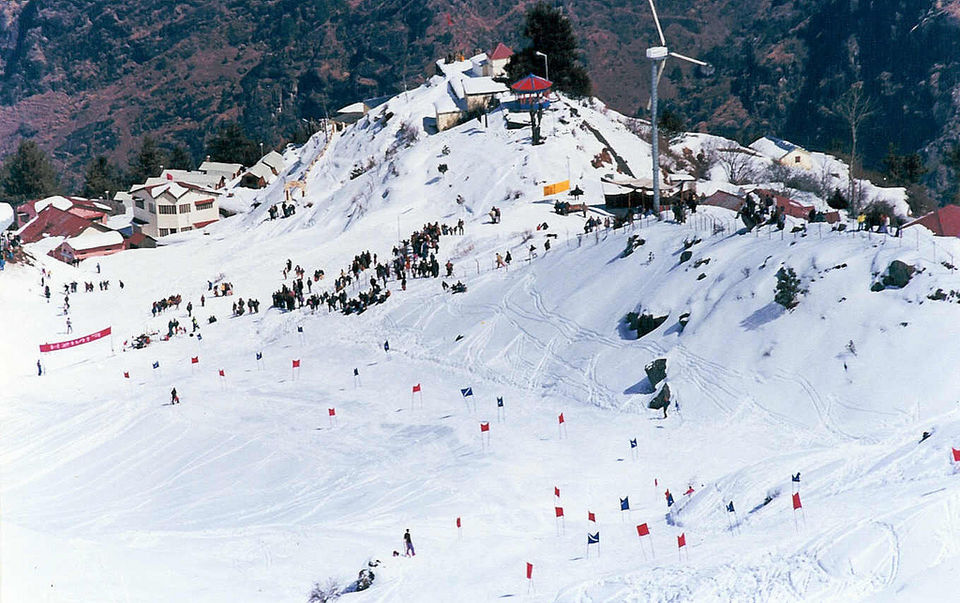 The meadow being thickly covered in snow - even as much as 6ft high - serves as an ideal spot for snow-skiing among various other winter-sports. Gorson Bugyal also offers eye-catching views of some of the highest peaks of the Garhwal Himalayas: Nar Parbat, Hathi Parbat, Dunagiri, etc. The spot is at an altitude of 10,026ft and devoid of any accommodation, making it necessary for the visitor to head back to Auli.
Auli to Rishikesh (250 km)
The trail from Auli to Rishikesh can be retraced in the same way but backwards: a cable-car journey of 8 km to Joshimath and another hour by car to Rishikesh. The distance between Auli to Rishikesh should be about 250 km.
And Rishikesh to Delhi is about 230 km by car. Should take about 6 hours.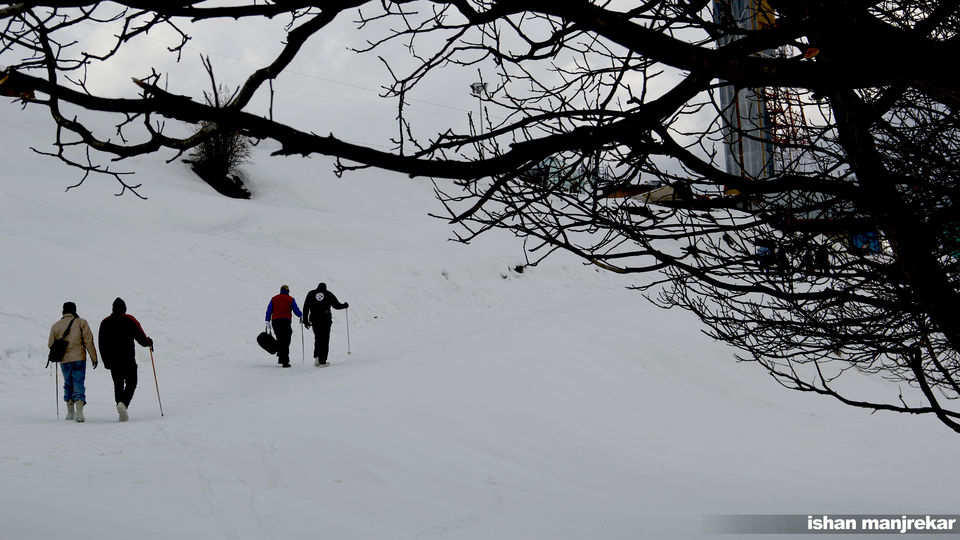 Why is this sentence awkwardly hanging here?
What to pack?
Use rucksack to carry luggage. Use plenty of drinking water. Prefer full-sleeve clothes; two warm layers would be needed at the campsites - especially the higher ones - where temperature falls drastically after sunset. Carry two pairs of trousers and thermals. This trek would also need sturdy pair of hiking boots to negotiate with the rocky trail; extra pair of socks just in case. Carry flashlight and personal medication (if any).
Go to this link for further reference:
https://www.tripoto.com/trip/complete-list-of-things-to-take-for-a-your-first-himalayan-trek-58513c043d61a
Don't forget to mention your favorite trek in the comments section below or write a travelogue on it to inspire other trekkers on Tripoto at www.tripoto.com