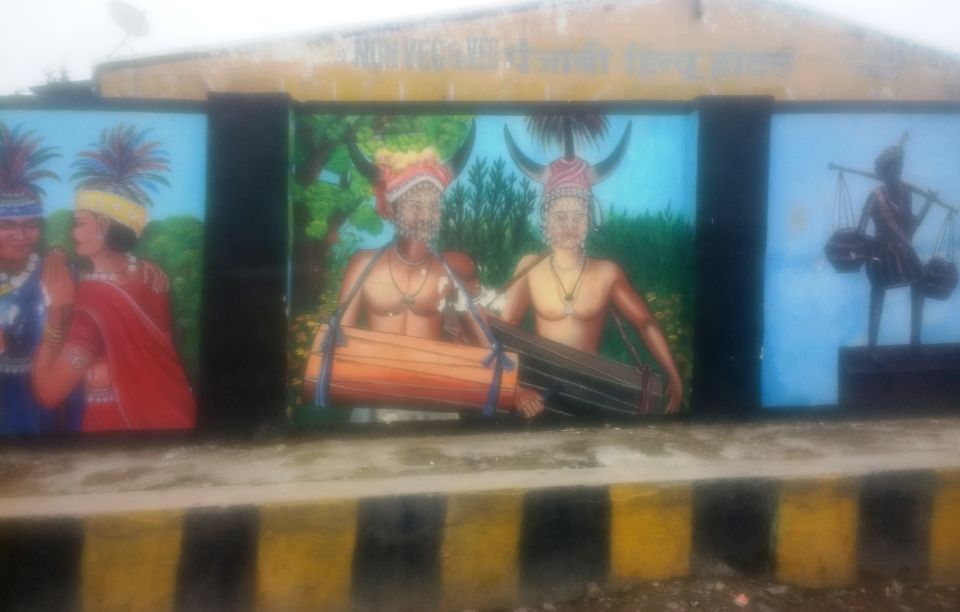 I was told to go to Bilaspur for a conference by my office. I was excited because this would be the first time I would go to Chhattisgarh and I was determined to make the most of it. I did extensive research beforehand and was raring to go!
I landed in Raipur early in the morning, and had three hours in hand before my train to Bilaspur. I wanted to go somewhere, but the lady at the Ola desk in the airport told me very pessimistically that there was very little to do in Raipur in general and literally nothing to do in the morning. She told me to just sit around in the airport till it was time for my rain. I was taken aback, because the brochure I had got from the airport travel desk told a different story. She looked through the brochure and dismissed all the places listed there. This was the first time I encountered the pessimism of the people in the travel industry in Chattisgarh – I was going to encounter it countless time during my trip.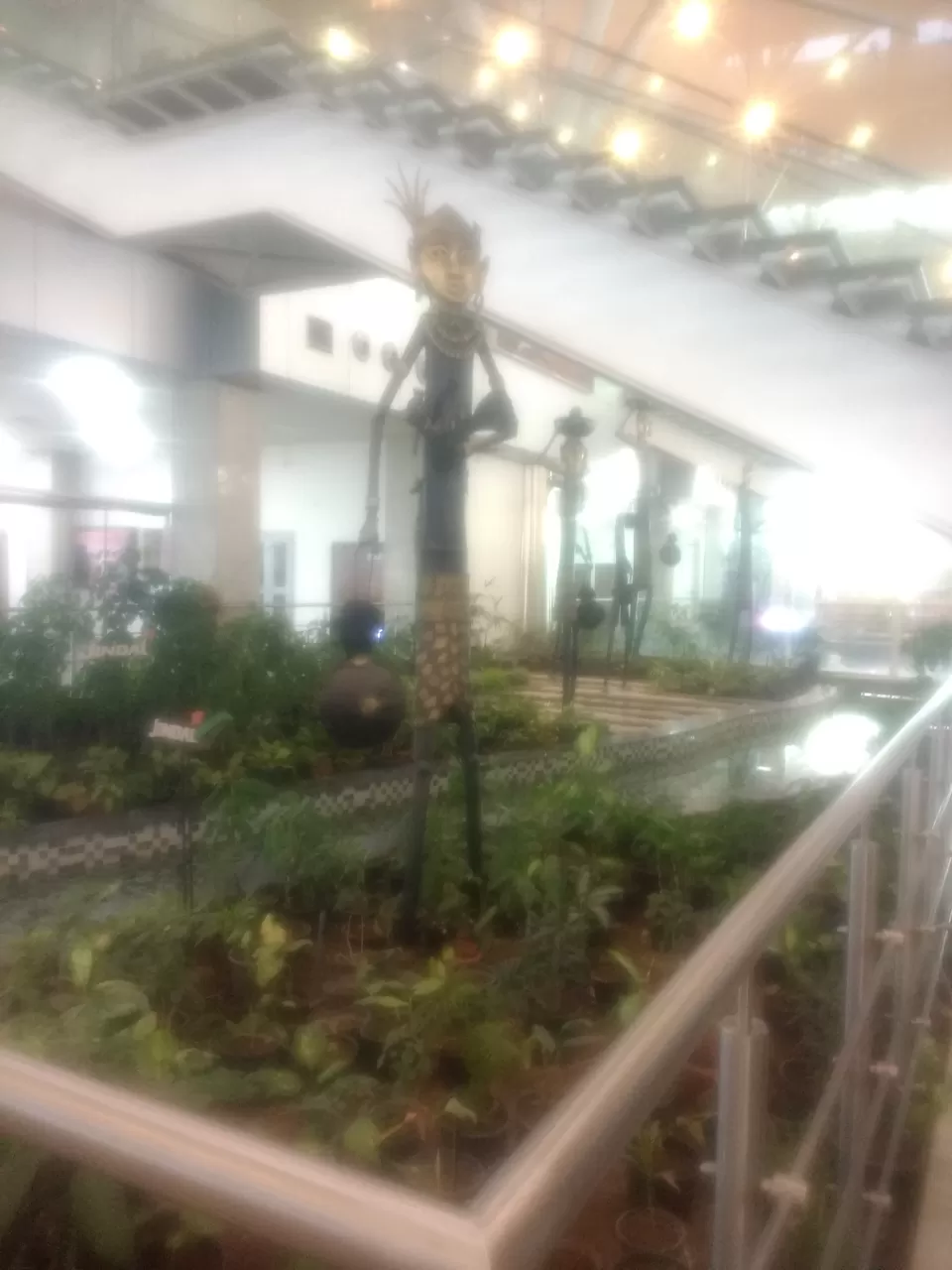 After a bit of deliberation, I decided o to head to the Mahant Ghasidas Sangrahalaya – it had got good reviews on Google, I was interested in knowing more about local art and craft, and it had apparently opened at 9.30 am. On the way to the museum, I saw a beautiful lake with a neat ledge going around it, where people were sitting and enjoying the weather (it had drizzled that morning so the weather was especially nice). The driver of my Ola informed me that it was called Marine Drive because it was modelled after its Mumbai counterpart.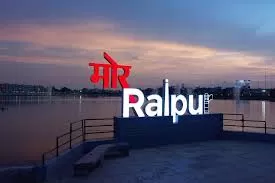 At the museum, I discovered that it was closed because of Kabir Jayanti. I was bitterly disappointed. I still had a couple of hours to kill, so I told the driver to take me to a good restaurant – i asked him to choose. He took me to the popular breakfast place called Maharaja Restaurant, where they had excellent vegetarian food – south Indian food, various kinds of chaat and some north Indian breakfast food. It was cheap and tasty, and it was very near the railway station so it was very convenient for me.
Discovering a Fort
Once in Bilaspur, my colleague and I immediately set out to explore because we had a few hours to ourselves. Our research had revealed that while the sightseeing in Bilaspur was mostly ordinary (a zoo and a few temples), there were several gems to be discovered in the outskirts of the city, just an hour or two away.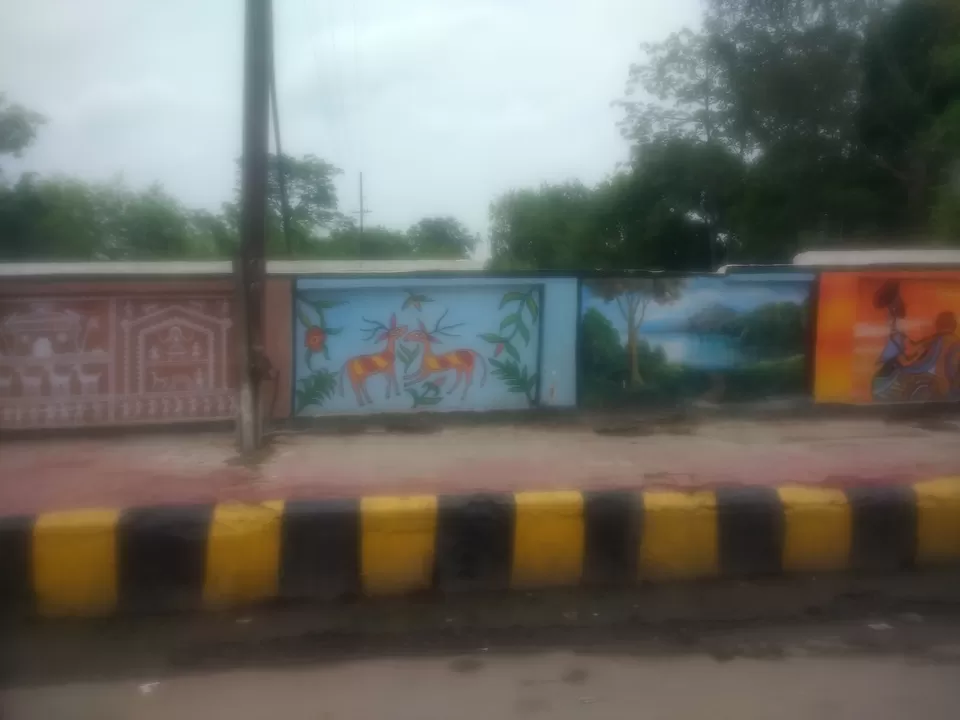 The one place we had been excited about was the wildlife sanctuary Achanakmar which was a part of Project Tiger. However, we discovered by calling a few resorts near Achanakmar that the sanctuary had already closed for the monsoons. To visit one of the greenest states in India and not get to visit a jungle was hugely disappointing for us, but we soldiered on.
The hotel receptionists were largely unhelpful about places to see, except for one lady who was not Chhattisgarhi and therefore had explored the place a bit. We still decided to go to a popular dam at a one hour distance from Bilaspur, called Khutaghat dam. It is a popular picnic place for locals.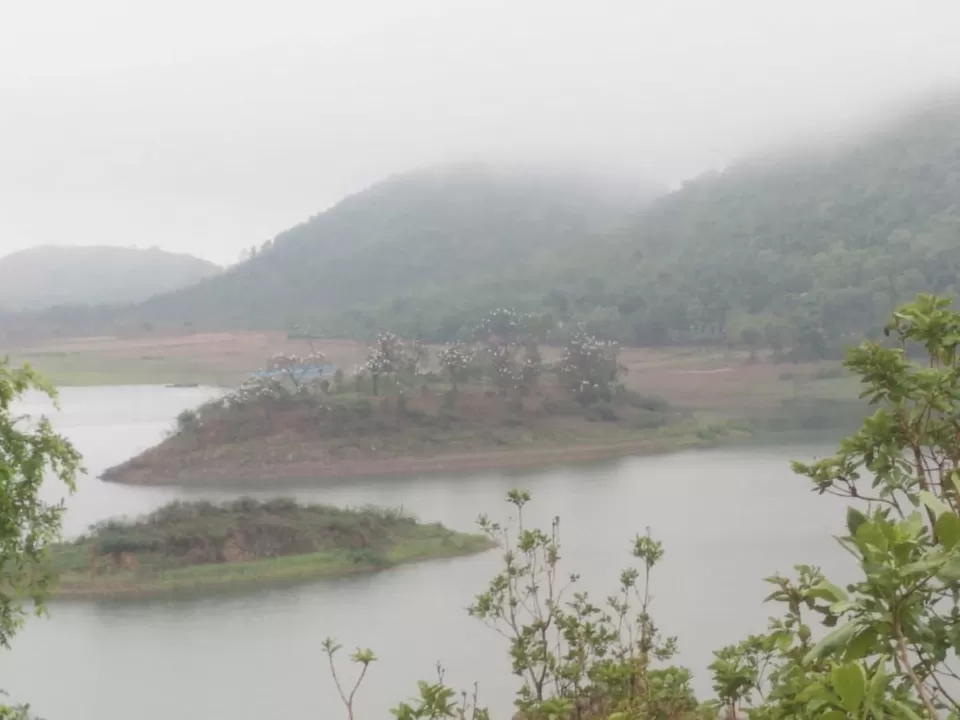 It rained heavily on the way to the dam and we enjoyed the ride very much. When we reached, it was drizzling and the weather was cool. The river was huge and beautiful, with small green islands in the middle. There were flowers, butterflies and birds all around – it was beautiful. The roads on top of the dam were winding and right at the top was a small, beautiful rest house. We spent a lovely time there climbing and walking around.
From the dam we wanted to go the Ratanpur fort. The driver denied having any knowledge of the fort and said that Ratanpur was famous only for the Mahamaya Temple. We had read on Quora about the fort and decided to go to the temple and ask the locals there about the fort. We had packed naan and chicken curry from the hotel, which we ate on the way as lunch.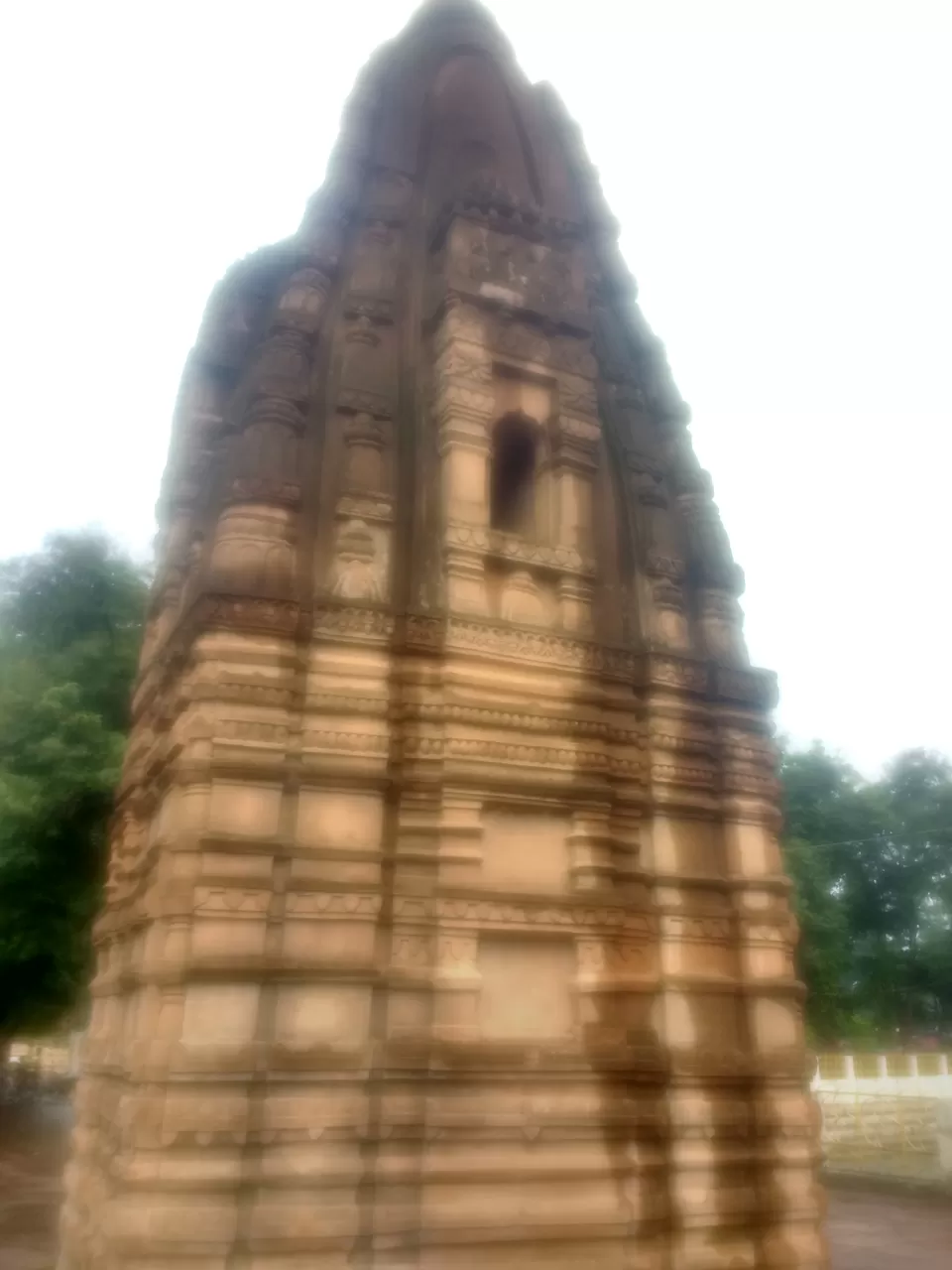 We were right, and there was indeed a fort very close to the temple. It was very well maintained, surrounded by gardens. There was a tiny lake nearby to add to its beauty. We saw plenty of local schoolboys enjoying themselves there.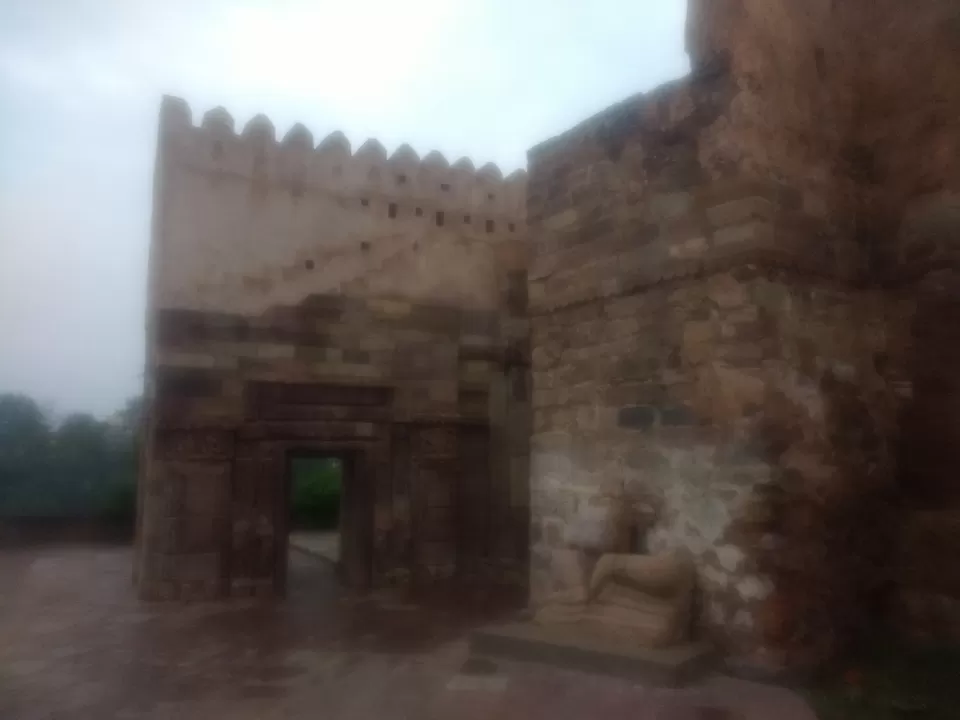 Eating and Shopping (day 2 and 3)
We were busy with the conference all day and got a little time in the evening for going around. We were determined to go eat out at a locally popular place and went to Maosaji, which is the Haldiram of Bilaspur! We ate something really unusual there, called Pizza Cone. We also ate some local foods such as mangaudi, aloo gunda and jalebi. We also packed some varieties of baklava to take back.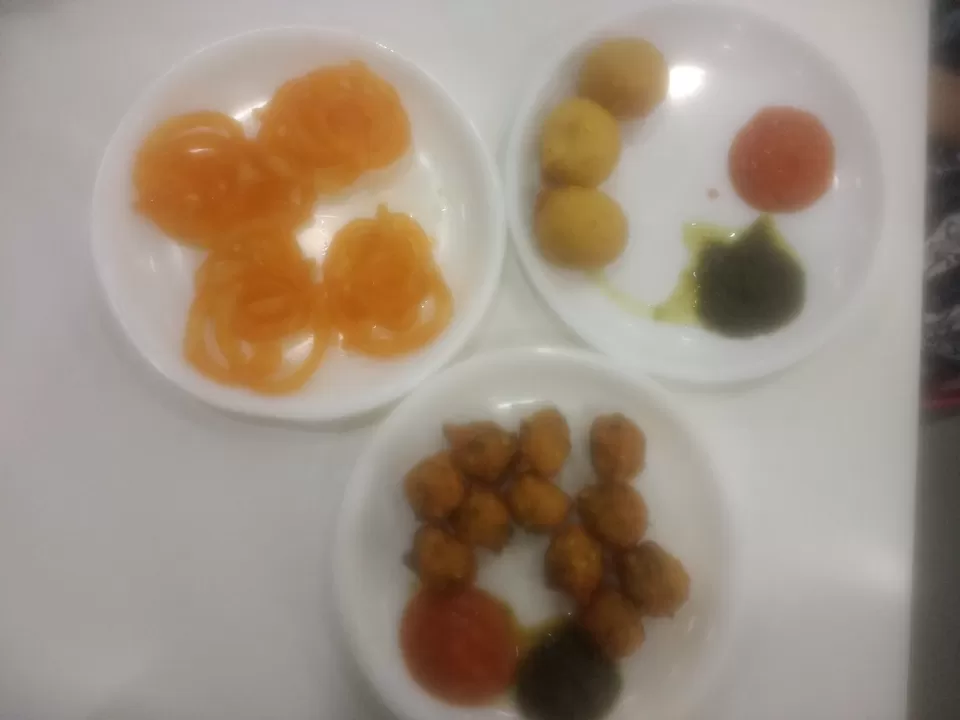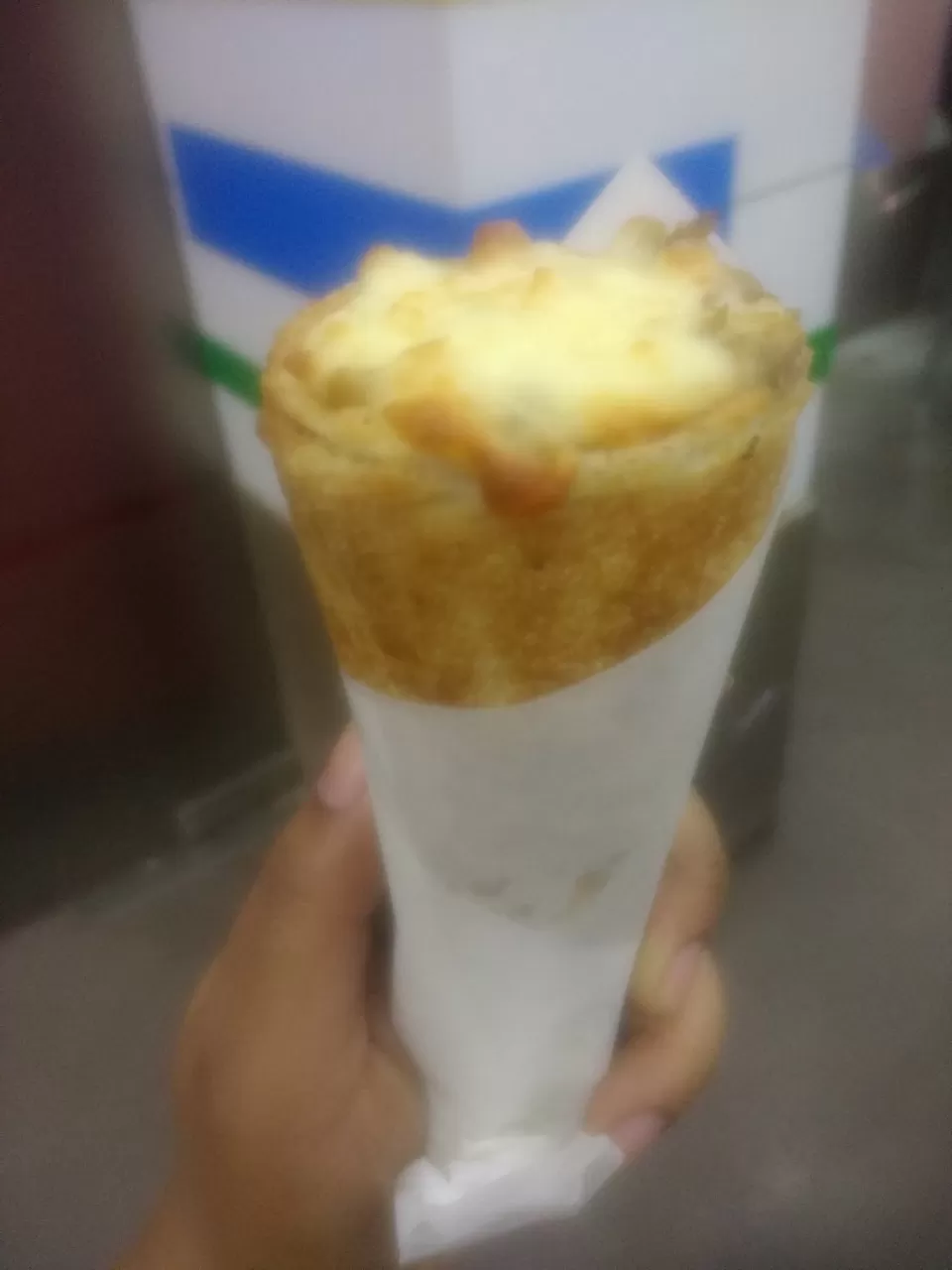 We also went to the local market called Gole Bazar, which was very enjoyable. There were many eating places and a variety of jewellery and clothes shops. There was a long line of Bilaspur's famous Kosa silk shops. Foodies that we are, we ate at two very interesting places there – one was Sri Shyam Rabdi and Lassi shop, which was a tiny blink-and-you-miss-it shop where we ate the best possible rabdi. The other was Pendravali Sweets, which sold an astonishing array of laddoos – we ate samosa chaat there. Apart from the local market, we also visited a famous mall there, Rama Magneto, and ate some ice cream from Top 'n Town, which is a popular local ice cream brand from MP.
We also wanted to eat authentic Chhattisgarhi food, and our hotel staff, as usual, unhelpfully told us that it was impossible to get any such food in Bilaspur. However, we got lucky because a college girl who was attending the conference with us told us about a place selling traditional food – Bilas Garh Kaleva. It was a small shop which served the yummiest food possible. We enjoyed Fara, stuffed Fara, Bafauri and Chausela there – all rice-based dishes. The eatery has since then moved to 36 Mall.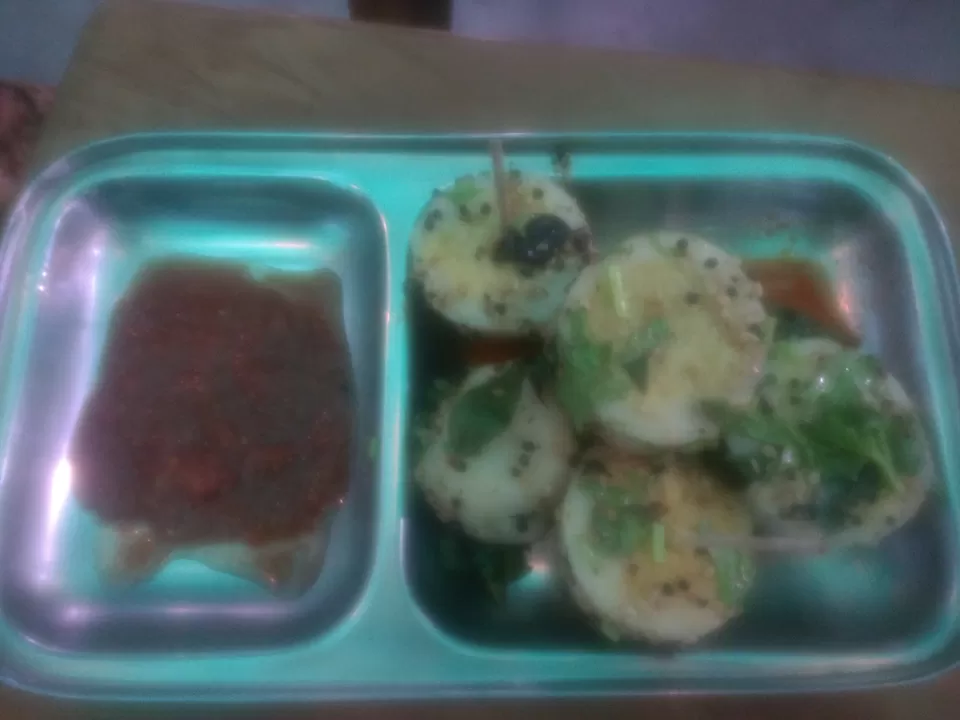 I bought a Kosa silk sari from a wholesaler from the Chhuri region, which is famous for Kosa.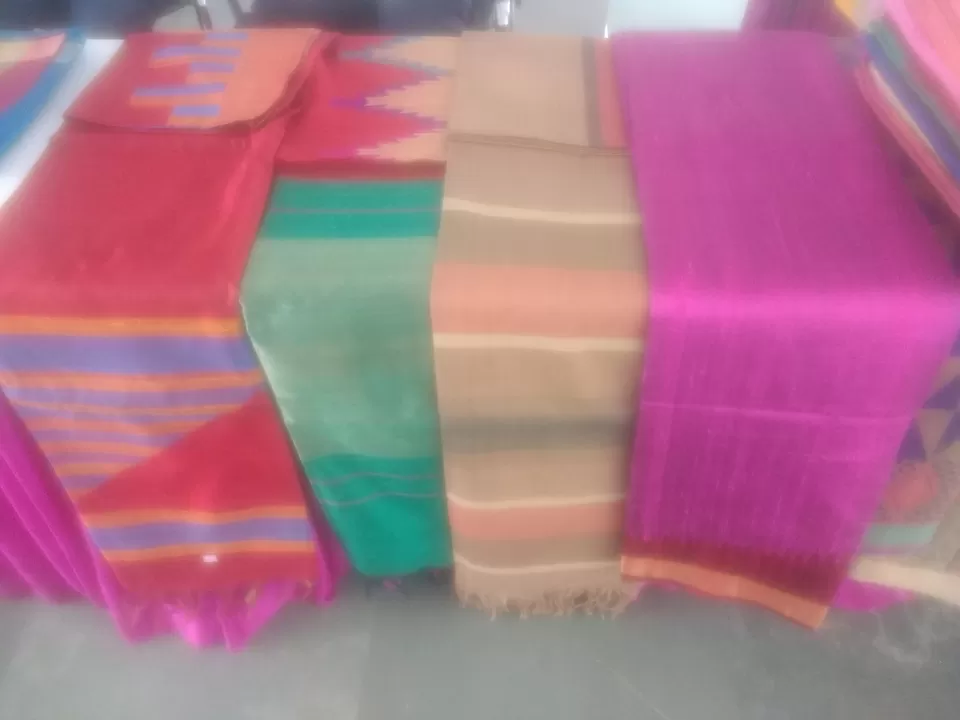 Trekking through Green Islands
We had a few hours in the morning before our train, so we set out early in the morning for Madku Dweep. It was a tiny island made famous by the discovery of 10th century temples there. We wanted to see the excavations and to be a little closer to greenery for one last time before leaving.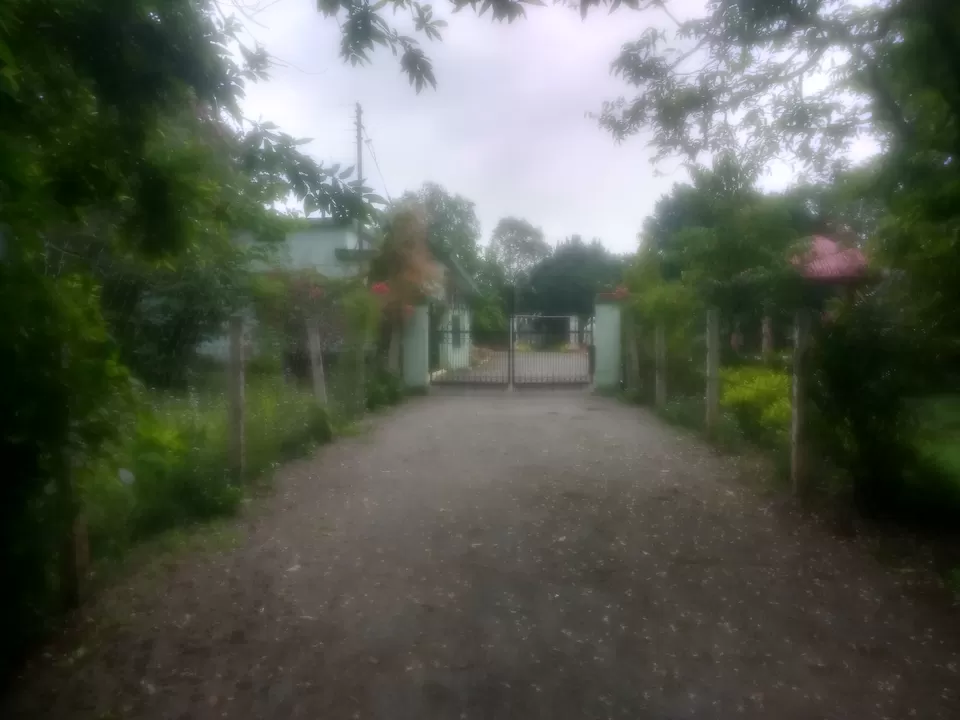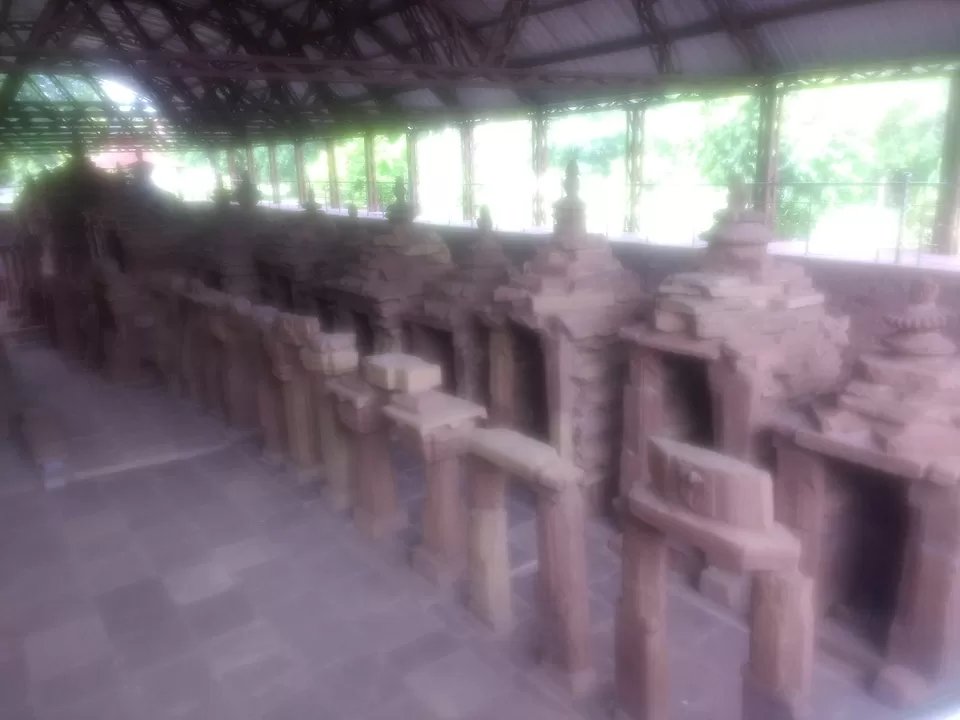 Near Madku, there was another small and green island, called Prem Taapu. We went there via a small, wooden boat, and trekked through the thick greenery in the island. I was wonderful and rejuvenating.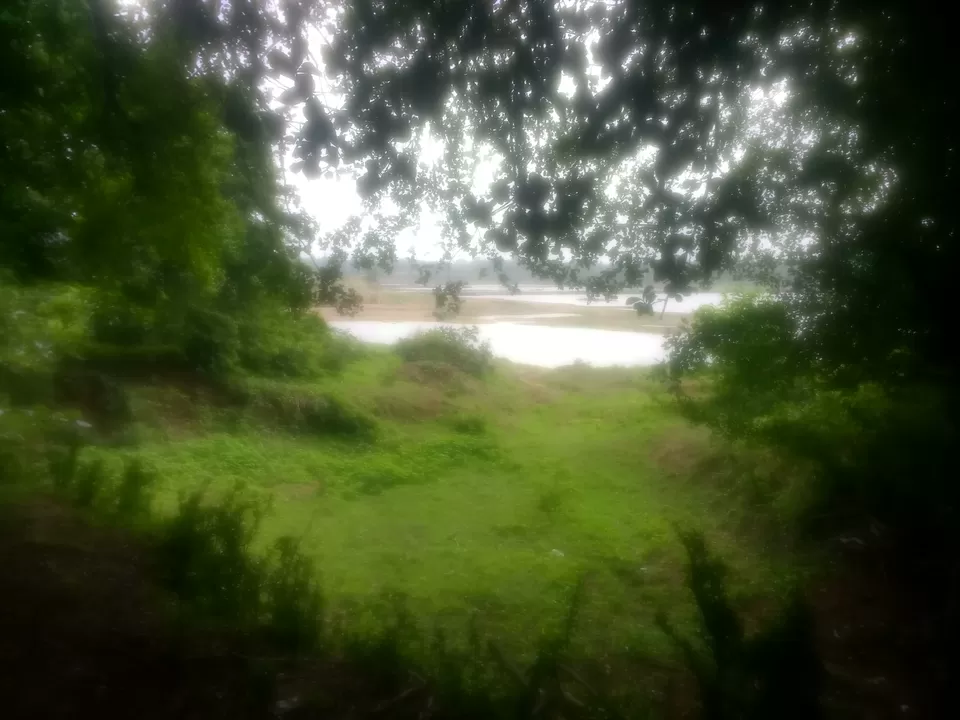 We were back in time for my train to Raipur. I ate some chips and juice and went off.
At Raipur I had an awkward amount of time to spend before my flight – it wasn't enough to actually do a jungle safari or visit Naya Raipur, and it wasn't short enough for me to go straight to the airport to wait for the flight. So I decided to first eat at a luxurious place – Hotel Babylon International. I had a delicious buffet meal there for just around eight hundred rupees, which is not high as per Delhi standards. Then I went hunting for traditional metal Chhatisgarhi handicrafts. I knew I'd get some in the airport, but they were overpriced and I wanted see if I could find some in the city itself. I found a shop called Bastar Art in a mall called City Centre. I went there and it was exactly what I wanted. I bought a beautiful pair of Dokra (metal work) dolls of Jhitku-Mitki, who are legendary lovers and have an interesting tribal folktale based on them (to know more about them, go to this excellent blog: https://www.inditales.com/ektaal-a-crafts-village-of-chhattisgarh/). I went to look for the famous fragrant Doobraj rice in Big Bazar, but they had run out of it (though they usually had it in stock). I also went to a popular local sweetshop and bought some mithai and namkeen for my friends and family back home.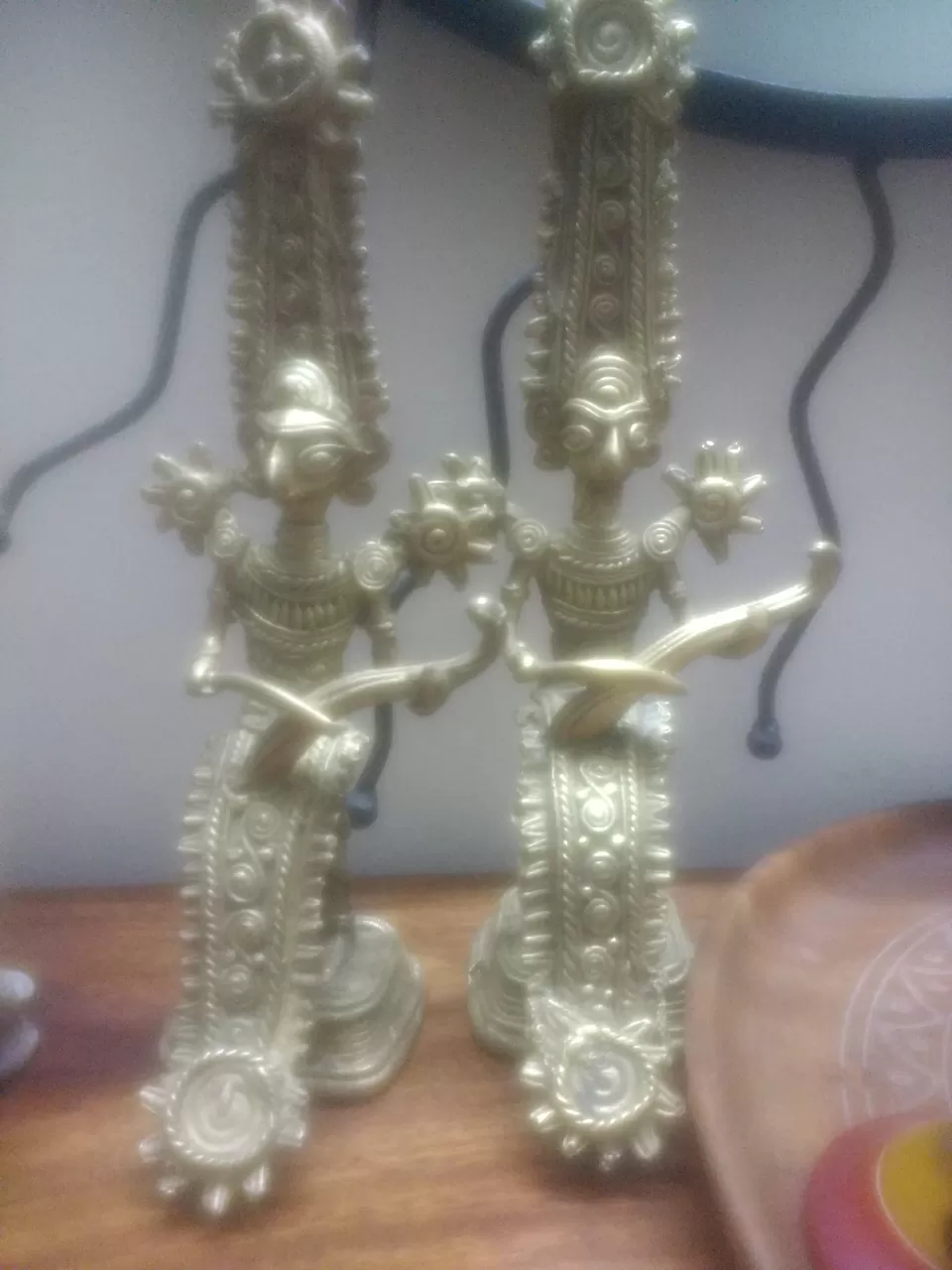 Then I went to the airport and waited it out with a good book.
The trip was great and we had several great moments, in spite of the disappointment with Achanakmar. I'd definitely want to return here one day!
How to Enjoy a Work Trip
It's difficult to find time to enjoy yourself on a work trip. However, for people who are taken to loads of places due to work, here are a few tips and tricks to make each trip worthwhile!
Tip 1: Do some research before you go for the trip, so that you don't waste precious time while on the trip trying to decide on what to do.
Tip 2: Time management is very important. Forego a bit of comfort in the hotel to go out and explore!
Tip 3: Even if you can't sightsee, explore the city as much as possible – visit the local market, eat at local restaurants. See the city from the point of view of the ordinary people living there.
Tip 4: Make plans from beforehand so that you don't waste a moment!
Tip 5: It's natural to feel tired in a work trip because your focus is, well, work...but try to stay as awake and alert as possible! Find out what's going on in the city, read the complimentary newspaper, watch the local news while eating your buffet breakfast, talk to the hotel staff as much as possible.