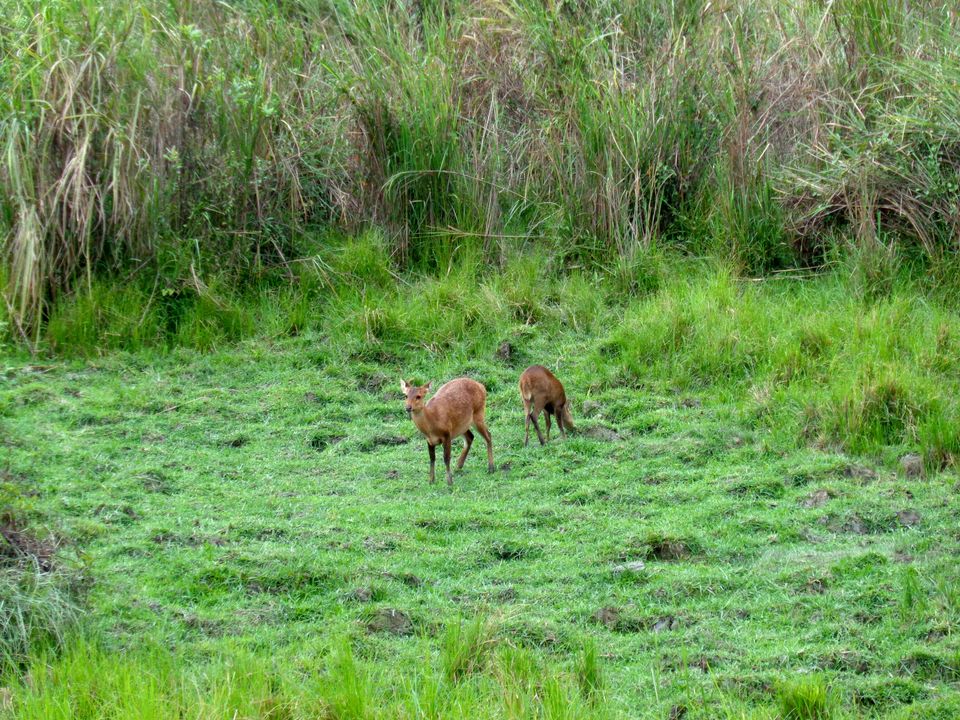 Breathtaking Kaziranga!
Picture this: a field of shining green grass. An Indian Rhino grazing peacefully at the back. A few hog deer grazing in the foreground. A huge, orange-and-black Great Hornbill sitting on a tree nearby. And violet orchid blooms circling the tree trunks.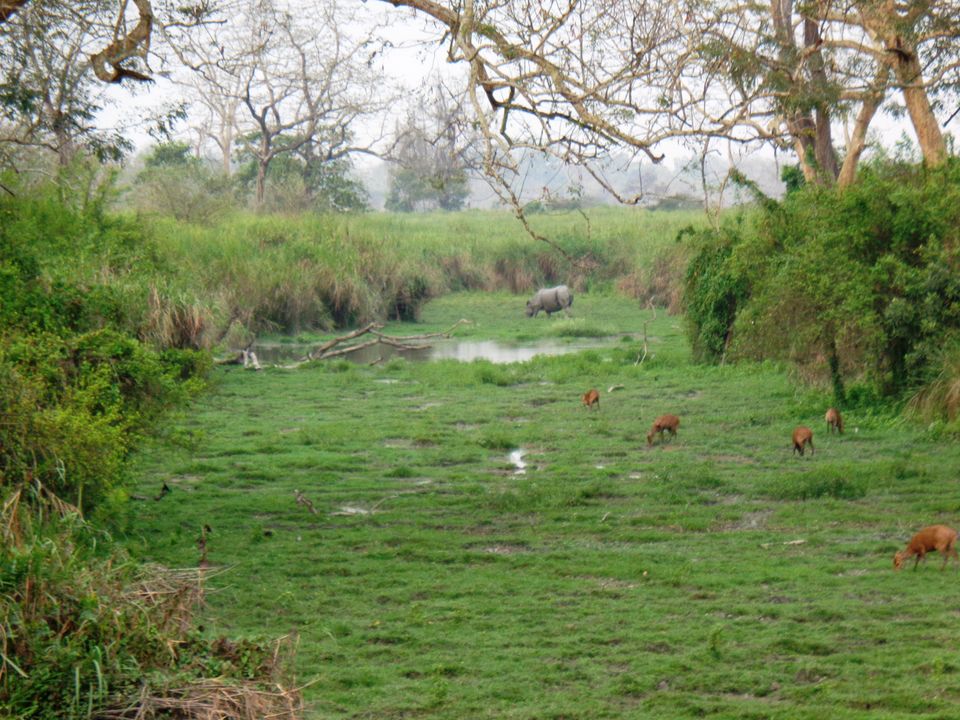 This picture perfect scene is possible only in Kaziranga. Located at a 3-4 hours' car ride away from Guwahati in Assam, Kaziranga is truly the most beautiful forest I have ever seen. All colours imaginable can be seen here. The birds here range from huge to tiny and all of them are vibrantly coloured. The grass ranges from black-and-white, grey-green to almost fluorescent green. The wooden bridges over the clean blue rivers and lakes (wooden because every year they are damaged by floods) add to quaint beauty of the place. And there are flowers blossoming in every nook and cranny.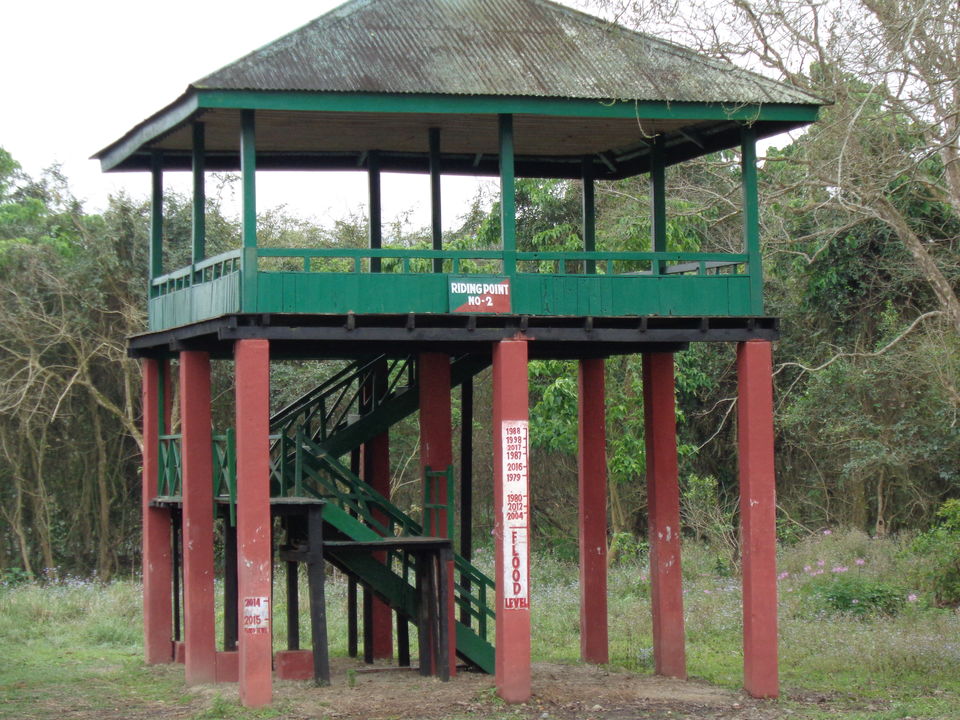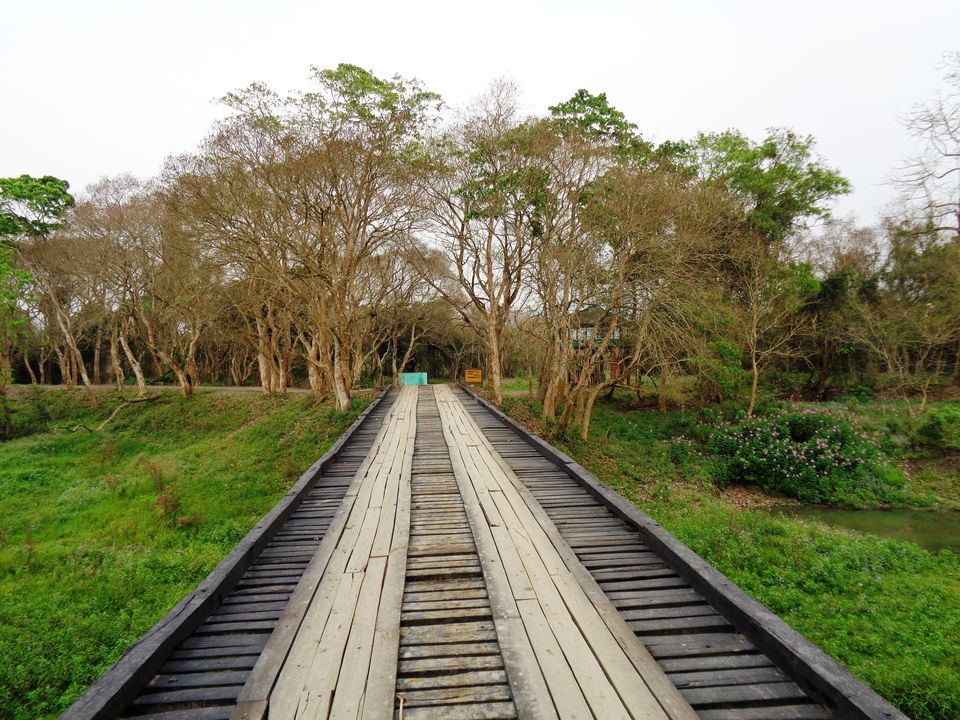 How long you stay in Kaziranga depends on the number of things you want to do there. We had very little time therefore we stayed there for just one night. We took a flight to Guwahati and spent one night there. The next day, we took a taxi to Kaziranga. It took us 3 hours to reach Kaziranga, and another hour to reach our hotel, because it was located very near the Central Range of the forest.
Hotel Borgos
We reached our hotel at around 11.30am, and booked an afternoon safari for 2.00pm at the central range. We booked a gypsy, because elephant safaris are only in the mornings, at 5.30 am.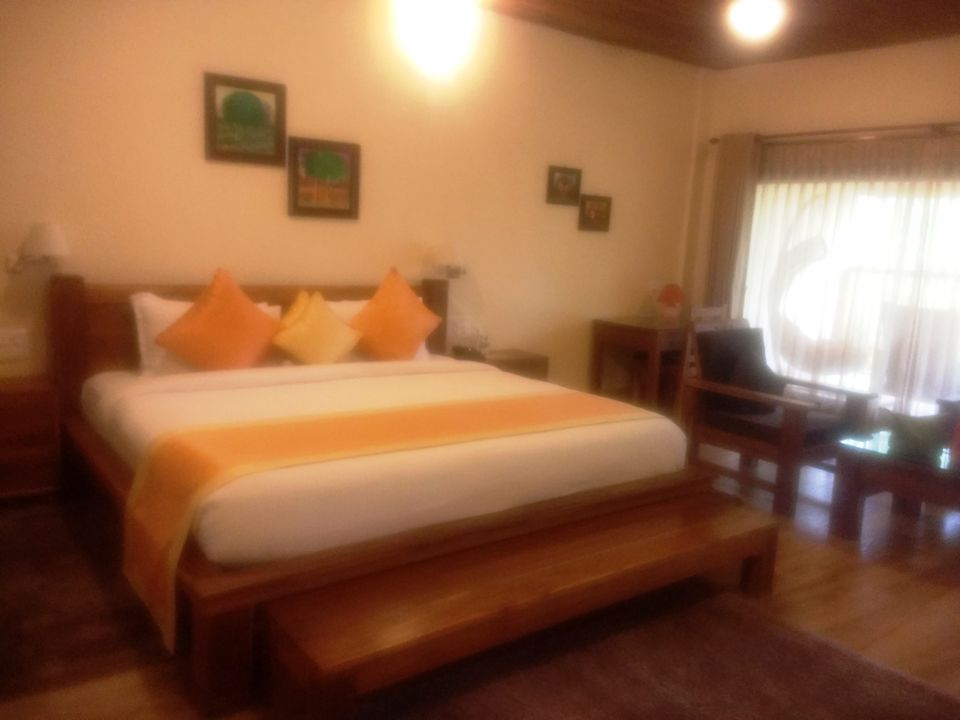 We freshened up and ate lunch at our hotel, Borgos. Borgos is a fantastic hotel. It's spread over a large expanse, with many different interconnected buildings ('borgos' is the Assamese word for the banyan tree). It's very green and many birds and flowers can be seen all around the hotel. We had booked a double occupancy room, which was really beautiful – it had a wooden floor and a large double bed with a personal varandah overlooking a lot of greenery. The bathroom was huge with a dressing table and a small jacuzzi!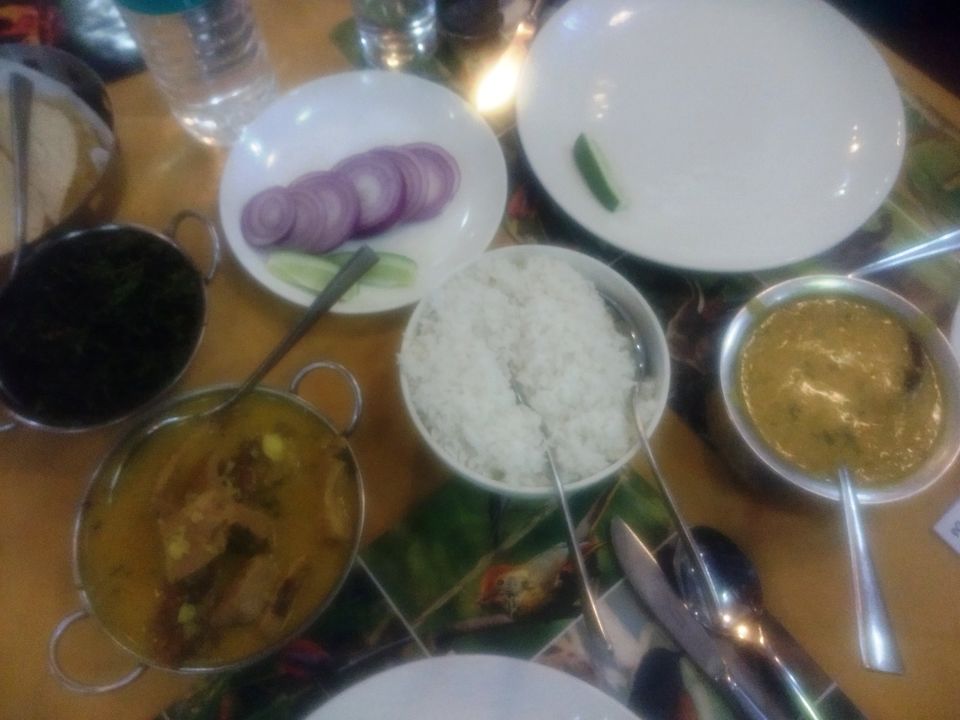 The restaurant has a lovely Assamese menu, and we really enjoyed having rice with Masor Tenga (a light, sour fish curry which is just yummy!). They had a very good breakfast spread for the next day, and also a really lovely shop.
Safari!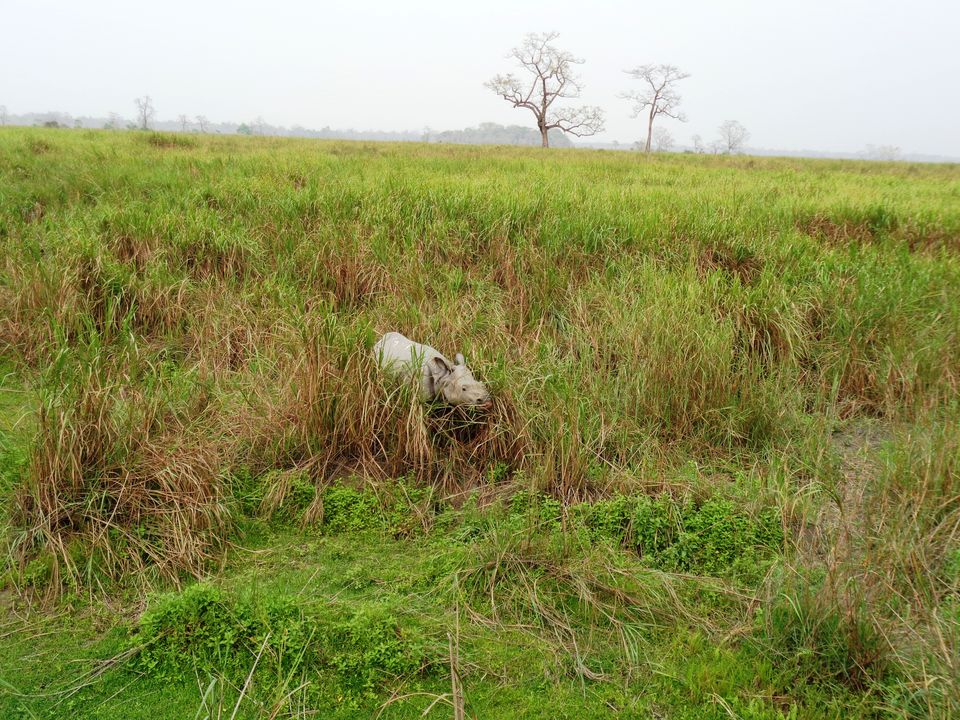 We went for a safari to the Central range, the entrance to which was at a five minutes' distance from the hotel. There are four zones (or ranges) in Kaziranga – Eastern, Central, Western and Bura Pahar, of which the central is the cheapest and Bura Pahar is the most expensive. The cost usually covers a gypsy, a driver and cameras. It does not include the cost of a guide, and if you want a guide you need to book them separately. However, our driver was so good at spotting animals, and so knowledgeable about the forest that we never felt the lack of a guide.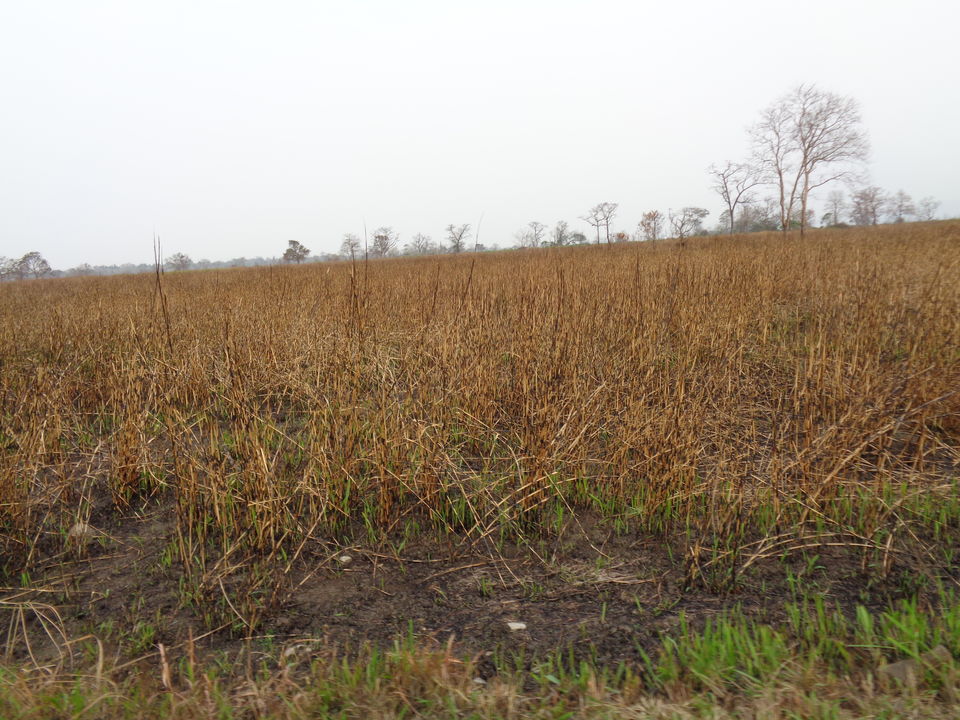 Kaziranga is all plains. The rhinos eat elephant grass, therefore these grow in abundance. This grass is periodically cleared through burning, to make way for new grass – the burning gives it an interesting black-and-white colour.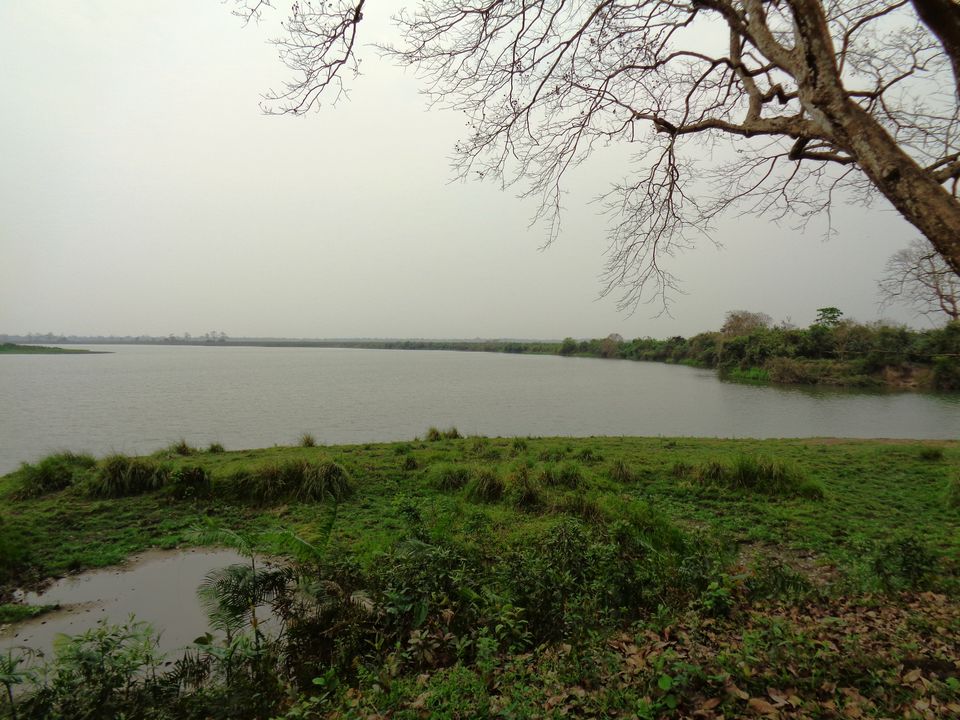 It is strongly recommended that you take binoculars with you, because there are many interesting birds to spot in this forest. Tigers and other big cats are harder to spot because of the lush greenery, but rhinos are in abundance! An elephant safari is a good way to see animals up close because elephants don't follow the main path and go right into the forest.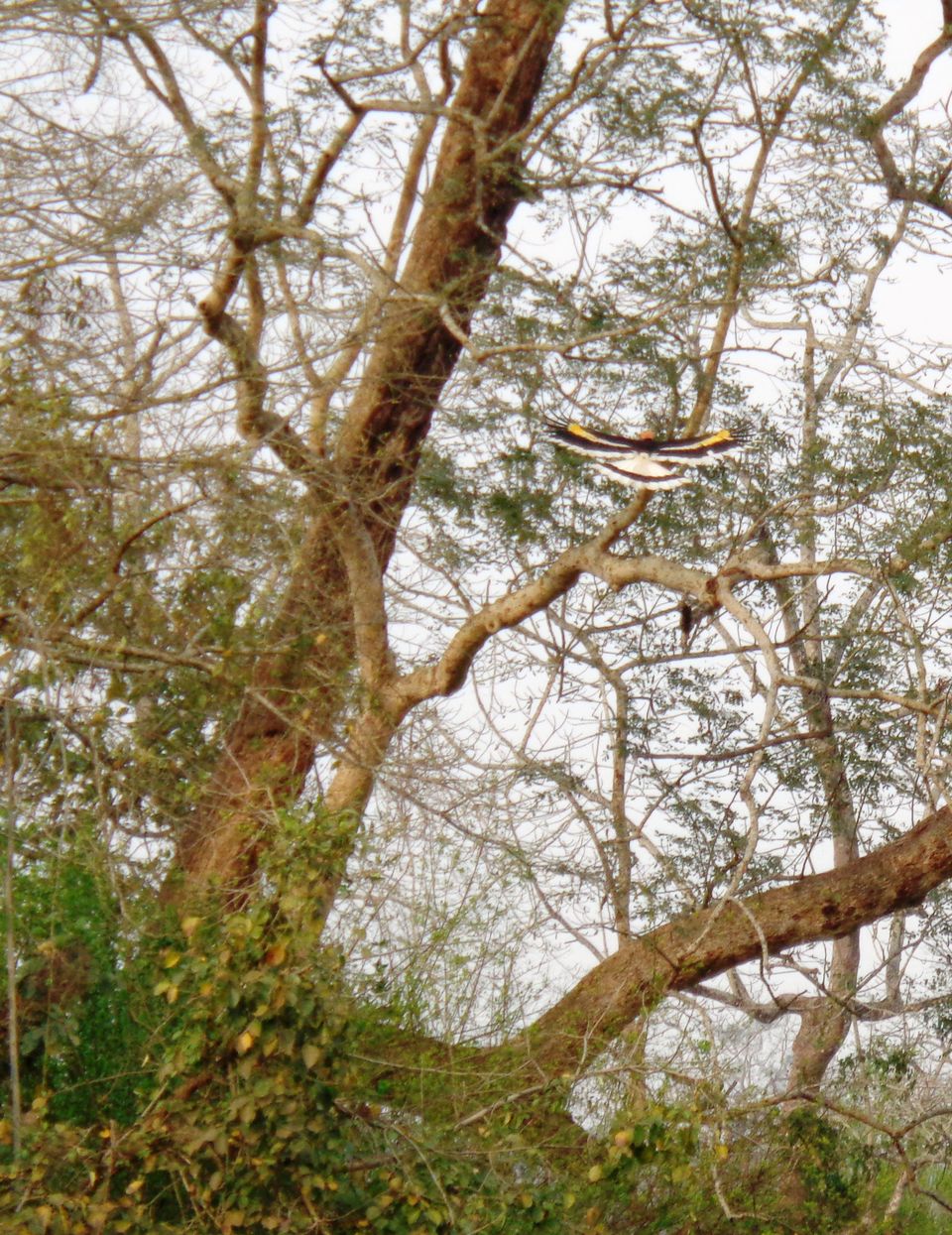 Among animals, we had many sightings of the rhino (we saw a mother and a baby!), two or three different kinds of deer, elephants, wild buffalo (giant animals with the tallest horns ever!) and wild boars. We had some exciting bird sightings too, including the Great Hornbill, a hoopoe, an owl, a Greater Adjutant Stork (these birds are really huge, they're five feet tall!), the snake bird, kingfishers (we saw a kingfisher catch a fish!), hummingbirds and many other birds whose names I don't remember.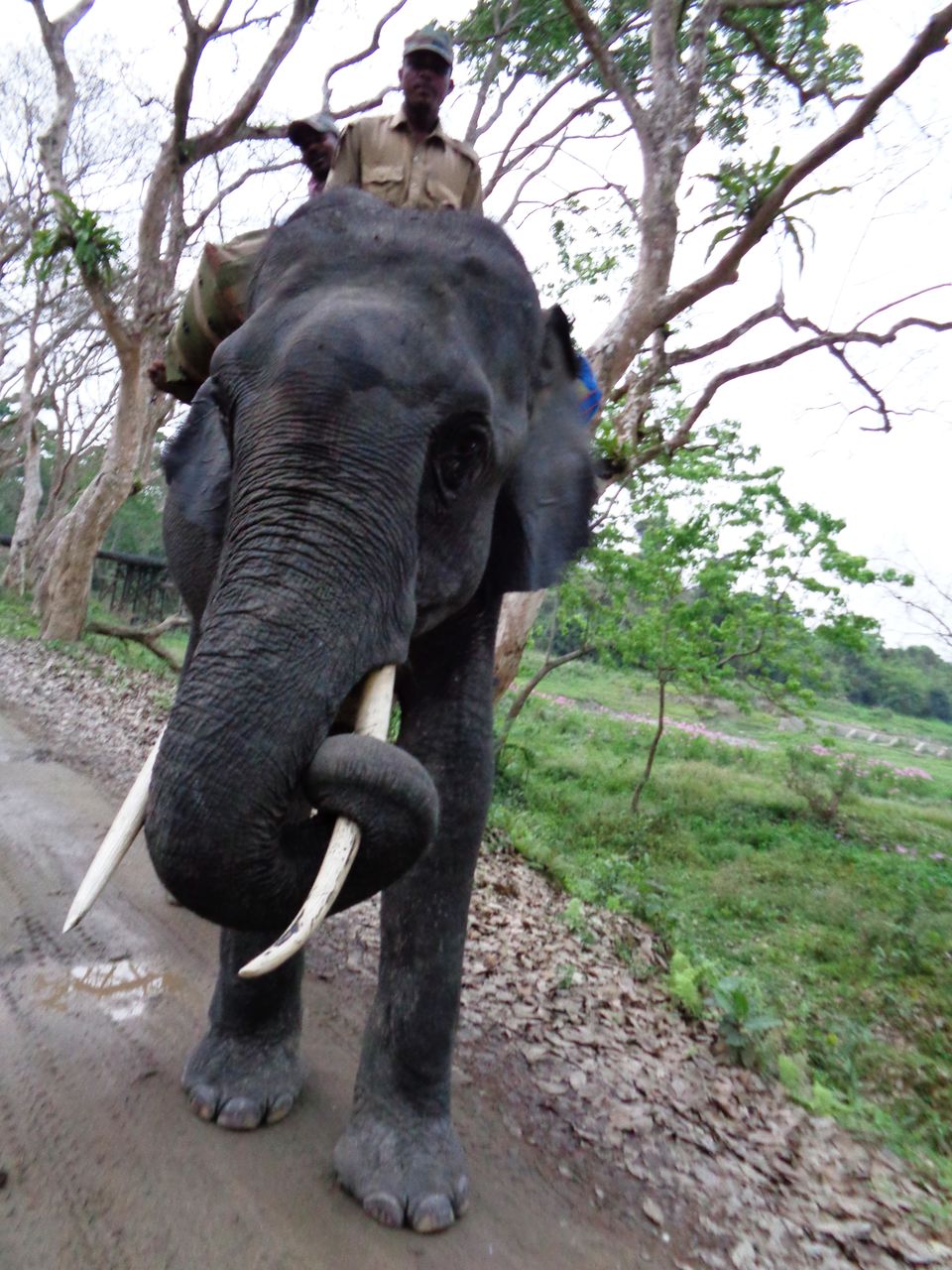 Towards the evening, when the sun started setting, the forest patrol set out to guard different parts of the forest...riding on elephants!
All in all, it was a lovely, enjoyable and memorable experience.
Other things to keep in mind:
1. There's much to do in Kaziranga if you want to stay there for another day. You can visit the different ranges of the forest. You can visit tea gardens. You can also visit the Kaziranga National Orchid Park.
2. The ride to Kaziranga from Guwahati is also beautiful and green. Don't forget to stop by the road to drink coconut water, and shop for bamboo and cane products at the tiny roadside shops!
Hotel Recommendation
Hotel Borgos: I can personally vouch for this hotel, it is fantastic and comfortable.
Hotel Iora: An old and renowned hotel, well known for their fabulous breakfast spreads.
Frequent searches leading to this page:-
8 Days Arunachal Travel Package, Unexplored Arunachal Tour Package: Tawang Special, Explore North East India with Affordable, Explore The Unseen North India