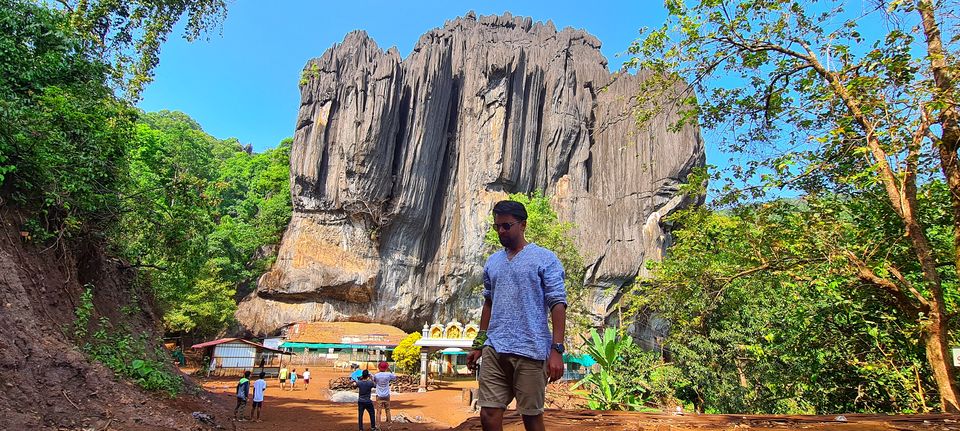 Yana, apparently the second cleanest village in India after Mawlynnong in Meghalaya, is also supposedly one of the wettest villages on the planet. It wasn't a part of my plan during my 1500km coastal drive in the state of Karnataka earlier in April (2021) but a last minute change of plan meant Yana made it into my itinerary even before I knew it. And boy ! Was I glad that it happened. A spot that was made famous by a 90s Kannada movie, which saw a plethora of tourists heading there and then got very popular among the country's hiking community, I was super glad by the end of it amazed by the experience it had offered.
We were in Murudeswar the evening before, enjoying the amazing waters of the Arabian Sea along with the gorgeous sunset, when it struck to me that I was not in a mood to head to Gokarna the next day but at the same time not in a rush to reach Karwar any sooner either knowing I'd be there for a few days anyway. So that evening while I was savouring a fried fish with my nephew at the beach, I threw in this idea of heading up for a hike to Yana before making our way to Karwar. And Dad bought into it. More like I made him buy it anyway 😛
So the next morning after I completed my first ever barefoot beach run of 10km or more, we got ready and headed towards Yana. Firstly the coastal expressway in the state is such an amazing stretch of road to drive on. And then the detour to Yana from the expressway was no less better either. The 25km route that deviated from SH-66 into SH-69 was as enjoyable as the expressway. Although the road was slightly narrower, it was fully covered with greenery all around and there weren't any other vehicles coming my way. A good part of this stretch was as windy as it could be but still very very enjoyable.
Btw, by WE I mean my folks n nephews who all were a part of the clan that went all the way 🙂 It was a bit of learning experience for my nephews who had never hiked before and by seeing their uncle in all his glory I hoped they picked up a cue or two on my way of travelling life.
Mohini Shikhara
Reaching Yana's starting point from Kumta side of the road, it was just around 11am or so. The caves were just under a 2km (one way) hike from the car park. Given the Covid situation, though it was a Sunday there were hardly any people. In total we must have come across may be 100 or 150 folks throughout, which otherwise would have been atleast threefolds that number. The hike itself was through the forest and although there was a lot of sunlight, the forest canopy didn't let it reach us for the most part.
About three quarters of the way, is when we came across the first of the two eye grabbing 75metre solid black, crystalline limestone rock called Mohini Shikhara. I was wowed by it straight away and was hard to take my eyes off. It was that good. Although there was no way of viewing it in 360 degree mode as it was surrounded by the trees. However a small narrow path had been carved to get to the foothill of this rock and get a reverse bird's eye view from the bottom. Not knowing what to expect at all at Yana caves, Mohini Shikhara had now set an expectation.
And within a few minutes of hiking up some stairs we were now exposed to the gorgeous Bhairaveshwara Shikhara. A 400ft tall giant black rock that felt like a huge piece of burnt charcoal from the town of Brobdingnag (the town occupied by the giants in Gulliver's Travels). Given it was a super sunny blue skies day, the rock stood out in all its glory. It was definitely a sight to behold. And so far in my Indian travel list this natural wonder amazed me as much as & stood shoulder-to-shoulder with Belum Caves, Gandikota Canyon & Dudhsagar Falls.
After a quick 'darshan' of the temple at its foothill, we geared up to do a 'pradakshina'. Meaning a 360 degree walk around the temple's sanctum; in other words we had to hike up the huge rock, walk through the caves and make our way out on the other side. And as we entered the caves entrance about 75ft from the bottom, the incredible rock formations inside started showing up and it was just mindblowing. I was mesmerised as much as I was at the Antelope Canyon in Arizona last year. It definitely felt like I was walking inside a huge piece of charcoal. The topography of the rock was like that.
Bhairaveshwara Shikhara
It took a good hour of slow paced walking within the caves. Had to do plenty of photo stops given how amazing it was up there. But also had to watch out for some dangerous parts inside where a slip meant, broken bones could be guaranteed. I don't think there were any spots within, where a fatality could be expected. But you never know; if it's a bad day, even a small slip could see you knocking the doors of heaven (or hell if you may please). Anyway having said that we were careful enough not to do anything stupid. Yet managed to get some decent photos and then we made our way out of the caves on the other side.
And when we made our exit out of the cave, the short return loop path felt like a walk in nature's dreamland. With lush greenery all around and a 'staircase to heaven' nicely laid out, it was a super nice feeling walking back. And all of this we had to do barefoot, as the 'pradakshina' is considered to be within temple premises and in Hindu temples footwear is not allowed. Once we got back to the starting point, we washed our feet and to our surprise there was a small store selling some drinks & ice creams, which we obviously grabbed some, given all the heat.
After that it was the start of the return hike back to the car. Didn't take too long to head back, as most part of the return track was sort of downhill. A quick few photos on the way and no pitstop meant we were back at the car park within 45mins. The sun had toned down a bit too although we still needed to refill all our water bottles before headed into the car, cuz the coastal humidity would keep us thirsty as long as were in that part of the state. A few minutes after resting up, we hit the road to Karwar but this time with the satisfaction of having experienced Yana & the gorgeous caves !! Something that's a must do in Karnataka..
Connect with me on my social media handles if you want to see, watch or read more:
Instagram.com/akil_travelogue
YouTube.com/akhil2108
LinkedIn.com/in/akilnarayana

Some pictures of the experience at this link below:
https://m.facebook.com/story.php?story_fbid=10165292120180089&id=716610088&sfnsn=wiwspmo