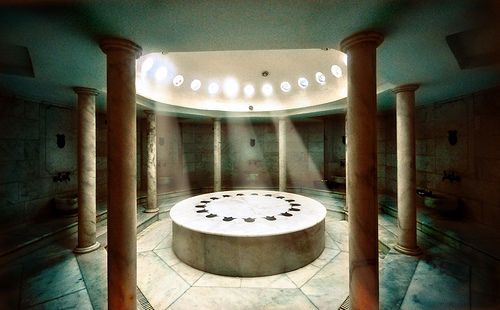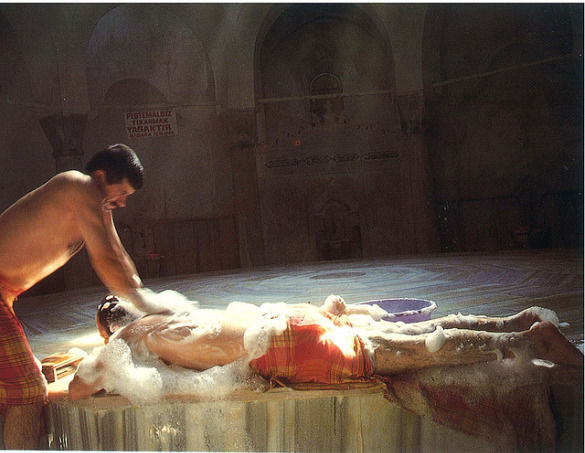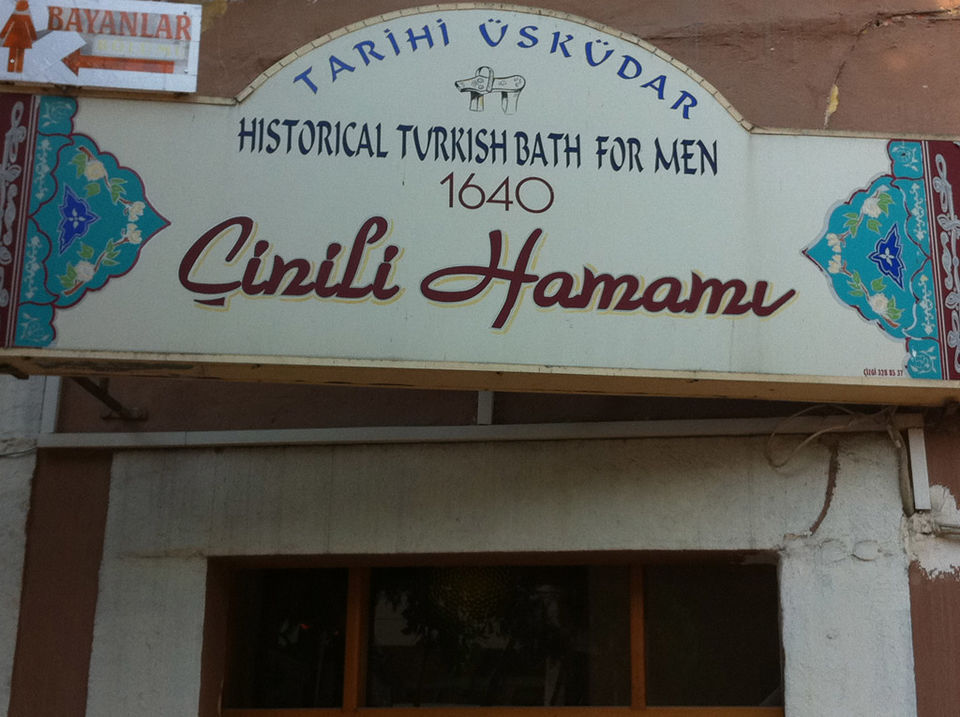 It was a tiring overnight journey from Nevşehir (Cappadocia) to Istanbul. And to be frank, we hadn't showered for a couple of days!
We were saving it up for the much awaited Turkish Hamam!
So, as soon as we met our host and dost (means friend in Hindi), Hamdi in Istanbul we asked him to take us to a good neighbourhood hamam. He was surprised at this unusual initial request but quickly suggested one of his favorite hamams which he frequently goes to – the Çinili Hamam in Uskudar area of Istanbul.
Were we really ready for the unusual experience yet?? Not really! We had lots of doubts on our mind We bombarded Hamdi with all of them. He simply smiled, answered some of them and said, 'Guys! Don't worry! Just go for it:) ' And the only way the doubts got cleared was after the whole experience!
Now, what is a hamam?
A hamam(Turkish bath) is a public steam bath. Hamams were especially beloved in the Ottoman Empire, and they can be found in many parts of the Middle East today. The hamam is far from just a place to get clean. It is also a place of ritual bathing, and a chance for social interaction for the bathers, especially in earlier days. And the most famous and authentic ones are found in Turkey, notably Istanbul.
How do you choose a hamam?
Well, it depends on a lot of factors, the important ones being your budget and location. The hamam experience can cost you anywhere between 10-200 USD! Almost eveywhere neighbourhood in Istanbul has its own hamam where the locals go regularly. Since we were on a low budget backpacking trip, we went to a simple but authentic neighbourhood hamam in Uskudar, Istanbul called Çinili Hamam (http://www.cinilihamam.com/).
Some of the really famous and supposedly good hamams in Istanbul are – Cağaloğlu Hamam and Çemberlitaş Hamam. They can be quite pricy though.
The first visit to a hamam can be a daunting experience! Be prepared for some awkward moments and unusual experiences. As a general rule, hamams are segregated by gender. Men and women either attend at different hours or they enter separate baths. Most of the hamams are quite beautiful. Some are ancient, providing a fascinating view into the history of Middle Eastern art and architecture.
Here's an overview of what happens in a traditional hamam –
First, you talk to the receptionist to decide the level of treatment you want. It could be –
– Self-service: Obviously the cheapest option where you bathe yourself. It may cost anywhere between 30-100 Turkish Lira. We would not recommend it.
– Traditional style: This is what gives you the real hamam experience where an attendant will scrub and wash your body! Costs between 40-200 TL. We paid 40 TL.
– Other additional services: Oil massage, aromatherapy, head massage, etc. Not necessary.
Upon entering the hamam, you will be taken to a private cubicle where you are required to undress. Your attendant will give you a cotton towel along with a key to your cubicle.
Here, undress, could mean many things. Men usually completely strip down and wear nothing underneath the bath-wrap. Women on the other hand mostly keep on wearing their underwear ( but often not their bra) underneath the bath-wrap. The choice is yours.
The attendants may not speak much English so communicating what you would like – a bath and massage, or just bath — may be a challenge. Take the help of your local friend or try using Google translate. Also try to bring your own soap, towel or shampoo. Some baths do offer them, but they are expensive and not high quality.
Initially you're taken to a warm marble steam room with a raised stone platform (goebektas) in the center, surrounded by bathing alcoves with basins around the perimeter of the room where you can splash yourself with cold water.
The attendant now leaves you for a while. This is the time you need to relax and loosen up and sweat a lot. You can look around and appreciate the architecture of the hamam too!
After 15 minutes of sitting in the warm room the masseur now makes his/her entry. The masseur asks you to lie on the central raised stone platform and soaks your body with warm water and gives you a dry massage with a kese or a rough mitt. You're scrubbed cleaner than you ever have been. All those dead layers of skin are gone!
Then comes the soap. The masseur will work up a copious amount of lather with an enormous sponge and squeeze it all over you and clean you yet again. He/she even washes your hair with shampoo. This is followed by a rinsing session with cold water. After the cold plunge and massage, you move into a cooling room to neutralize your body temperatures before venturing into the outside world.
This is a time to socialize with others and strike some conversations! So don't be in a hurry. Hang around and soak up the experience. Carry some water or cold drinks as you will be dehydrated during the whole process!
After your rest, it is time to head back to the cubicle to get dressed. You may want to relax and take a nap and then head out.
That's it!! Our first hamam experience which was initially filled with some apprehension turned out to be a great cleansing experience! We made sure we had no more plans for that day. We grabbed some food and went home straight for the most wonderful nap!!
Yeah, we were now hamam birds! Our friend Hamdi used this word to describe us the next morning when we felt so fresh and light!
So the next time you are in Turkey or Istanbul make sure you go to a hamam for the most refreshing and unique experience!! Ditch those apprehensions and simply go for it!
Frequent Searches Leading To This Page:-
Turkey Holiday Package, Tour Packages Turkey, Family Tour Packages For Turkey, Holiday Packages For Turkey, Best Turkey Tour Packages, Holiday Packages To Turkey From Mumbai, Turkey Tour Packages Price