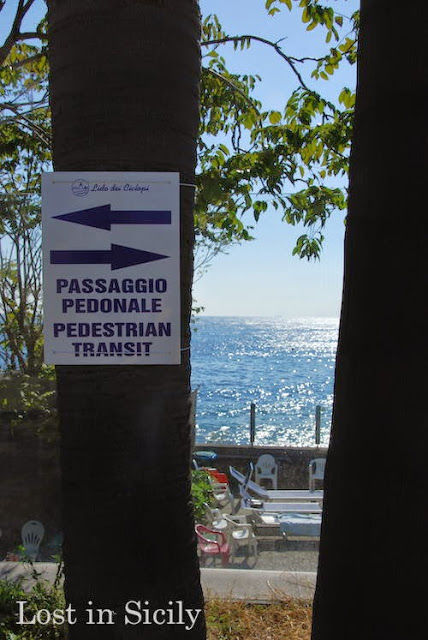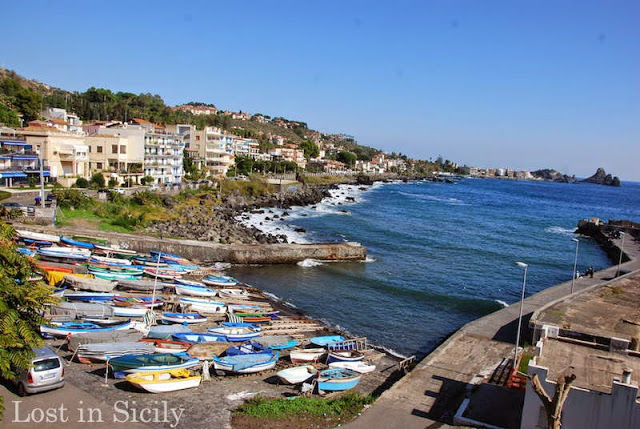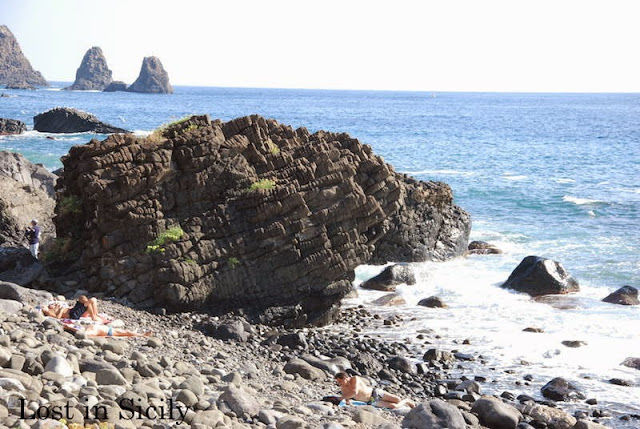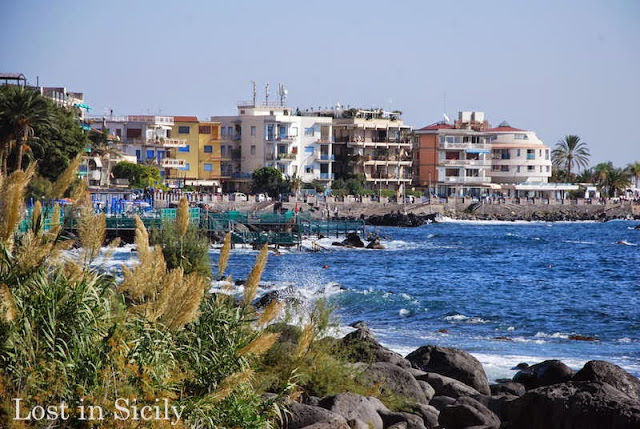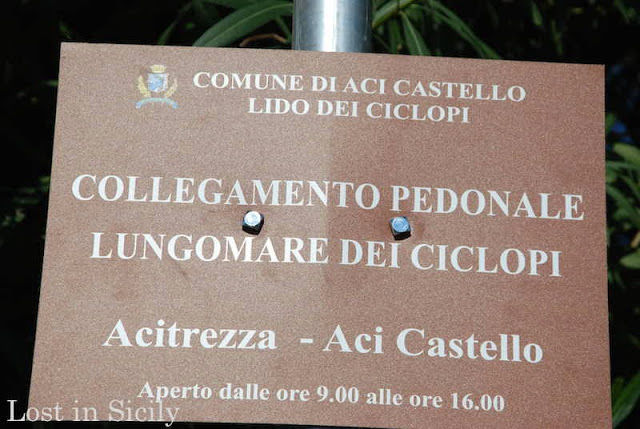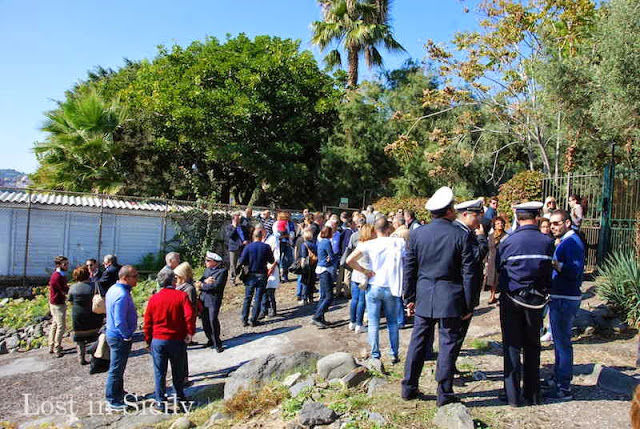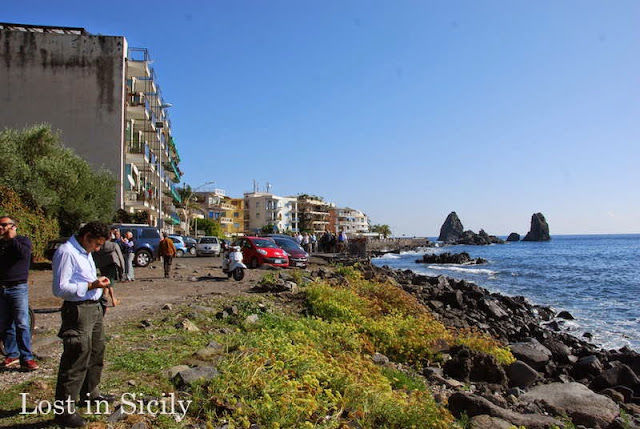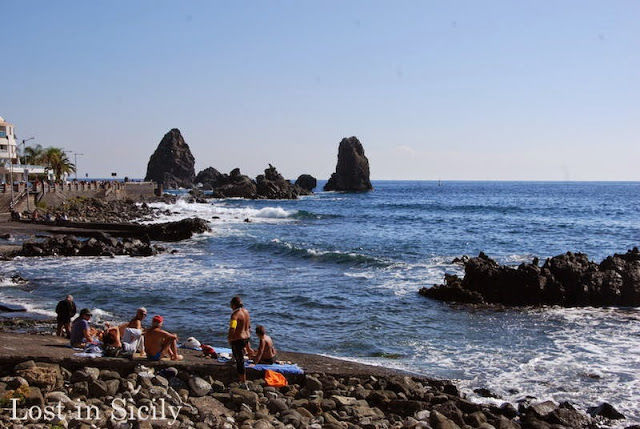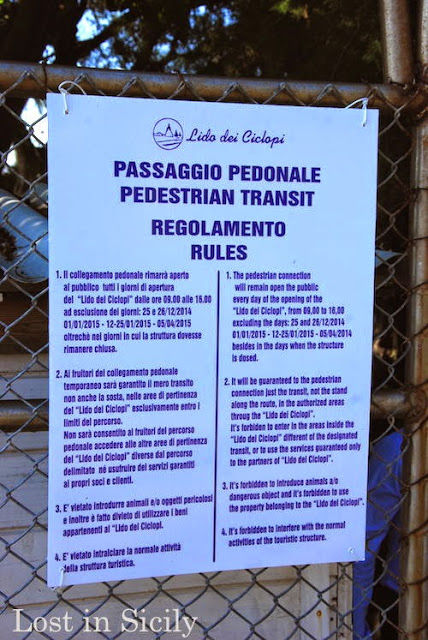 We couldn't wait to check out the just opened Acicastello-Acitrezza walking path. While the two lovely seaside villages are within easy walking distance from each other, this potentially beautiful walk has never been possible in a continuously coastal kind of way. That's because a big lido (aka private beach club) is perched over the rocks right at the border between the two towns. From both towns the lungomare streets dead end on either side of this beach club and before the opening of the new walkway, there was no foot friendly way to get to other side.
We quickly crossed through Acicastello's town center and made our way down to the little fishing port that leads to the seaside street known by the locals as the muretti (little walls). The weather couldn't have been more perfect. The sun was shining bright and we worked up the kind of sweat that that made you forget it was actually November. Seeing lots of people basking in the sun in their bathing suits added to the summer vibe.
We took a closer look at the (awful!) beach club, the structure surrounded by green fencing. Really it is actually a pretty lido and much loved by the city folks, I am just a little resentful about its obstructive location. We really weren't sure where this new walkway was located until we got there. We quickly discovered that the Ciclope Lido has made an agreement with the town of Acicatello to open up its doors to the world only from the hours of 9am - 4pm, allowing anyone who would like to enter its premises and follow a signed walkway that takes you through the lido in a circuitous and not so seaside-ish kind of way in order to get to the other side where you find yourself on solid ground in Acitrezza. Many curious folks were lingering around to celebrate (?) this long awaited event.
We decided to celebrate, too! By continuing our walk into Acitrezza to the nearest bar, where we could have a shady seat and savour a refreshing grantia (think icy fresh fruit sorbet). On this side things weren't much different. Lots of sunbathers and even a few bathers. By the time we turned around to head back to Acicastello the crowd had cleared and we were able to get a good look at the new signage and especially the 'rules' of the pedestrian path. Good news, joggers are welcome. Although personally my jogs never happen between the hours of 9am and 4pm. Bad news – no dogs or bikes allowed AND the path will not be open during the summer when the lido is in use by paying clientele. Better than nothing? Absolutely. But still not exactly the kind of pedestrian walkway we were hoping for.
A little more background information might be necessary here. For years there have been talks of building a bridge to connect the two towns by foot. In the light of past proposals that have never been realized for a combination and political and financial reasons I presume, this 'solution' is better than nothing, but definitely falls short of people's expectations.
This post was originally published on Lost In Sicily.