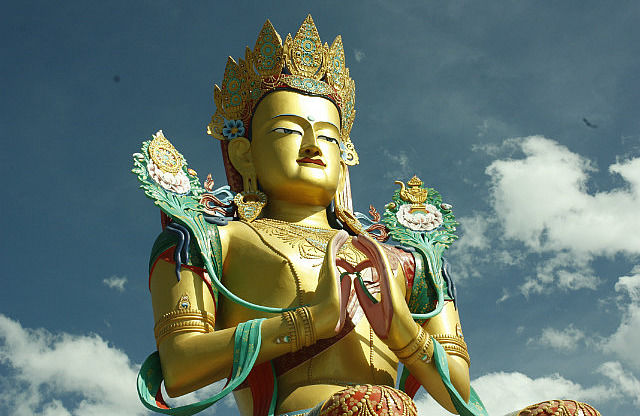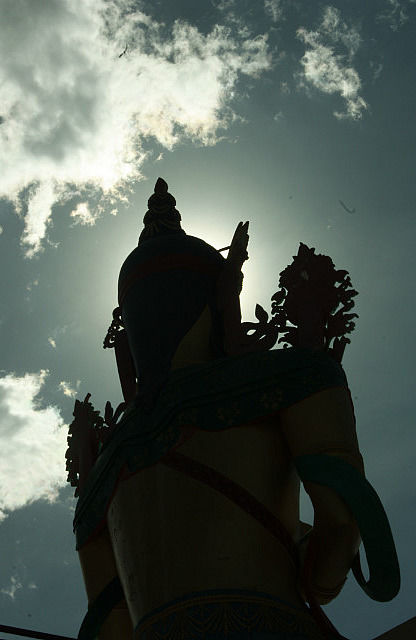 5th July 2013, 8:15 (German Bakery, Old road, Leh): "Ahh! You look so fresh!!" exclaimed Anu. Yup, I was really feeling good. Anu and Adi had left early to find some good place for breakfast and me and Aks joined them. We had some, bread omelette, Indian breakfast and tea. I had milk keeping in mind my last day health issues. We then picked up some required stuff from our bags and grabbed our seats in the clean Scorpio. Our vehicle hit the roads at 9:15 am and we were on our way to Nubra Valley. The road quality was good. When we crossed the check post our vehicle was 33rd one to cross the post.
On the way we had seen many water-streams flowing down from the hill tops. I expected to see some snow mountains. Instead saw only melted ice in the streams. We crossed a village named Khardung and here come Khardung La (Pass). It is the highest motor-able road in the world which is at 18380 ft height from sea level. We were advised to stay no longer than 30 min at the pass due to low oxygen levels. This pass was really cold and chilling. There were many tourists there who were enjoying clicking pictures below the board which said that this is the highest motorable road in the world. There was a small cafeteria there which served the cinnamon tea for INR 10. The rest rooms were 'yuk' and we couldn't find a place. Meanwhile we also helped a foreigner who had an emergency to find a place and cover her up till she finished. Our bladders were full but we had no option.
As we passed by this place we saw snow cladded Mountains besides us. Though we were able to see them distantly from Leh, we could now touch the snow. The snow was not very clean but it was the first time Anu was experiencing snow literally. She ate some and we clicked pictures doing so. We later found a clean place to empty our bladders on the way behind some stones below the road. The road was beautiful but deserted. We went on till the time we were hungry and we had finished half of the journey. We found a place named Phunsuk Wangdu's Restaurant. It was located in a small and beautiful village which was amidst mountains, obviously, but we found some greenery here. We had Maggie and dal chawal (rice and lentil curry) and some momos. We also utilized this opportunity for our bio-break. We found the pit toilets after we climbed the hill as directed by the restaurant owner. And it was difficult to breathe on the steep climb. After we paid them for the food we moved on for our further journey.
As we reached Nubra Valley we went to Disket Monastery (Gompa) by a road parallel to Shyok River. The Siachin Glacier melts into Shyok River. The river looked grey and was not very deep. It further joins Indus River. Once we reached the Gompa the Lamas who were in-charge of the monastery told us about the history and importance of the place. We then headed to see the huge statue of Future Buddha Maitreya. Sun was shining bright behind the statue and it looked like a Halo.
We were tired and hence planned to go to our home stay which was pre-booked by Salim Bhai in a village named Hunder. The rooms were very spacious and clean and we were place in 2 rooms opposite to each other. After we had some evening snacks we left to see the sand dunes at 5:00 pm. Sand, water, grass, hills and snow all in one frame. It was unbelievable.
We inquired about the camel Safari on the exclusive Bactrian - the double humped camels. But we found those to be very tired and decided to spend our time on the sand dunes. Running on the steep dunes was fun...
After the Sun went below the earth we went back to our home stay... Had a delicious dinner at the Habib Guest house prepared by Rehman Family. All other guests from the house also joined us for the dinner. There were bikers and two more couples who discussed their experiences of the trip at the dinner. After we finished our dinner four of us went on a walk in the dark (absolutely no light pollution). It was a breathtaking moment when we looked at the sky. Words like enumerable and uncountable could not describe this view. The sky was full and full of stars. We had never seen sooo many stars ever. We located some falling stars and tried to identify some. But they were so many. We slowly realized that there is a pattern and yes it looked like a concentric circle. We could literally see the Milky Way. I never imagined that we could really see it from earth with naked eyes. We captured this picture in our eyes and mind. The barking dogs disturbed our conversations with the stars and we had to head toward our rooms.