People of Chennai would know Romulus Whitaker very well. People all over India, interested in wildlife, or just animals would know Romulus very well too. For others, Romulus Whitaker is the founder of Madras Snake Park and Madras Crocodile Bank. In simple words he's a wildlife guy. In awe inspiring words, he was a young man from USA who got so mesmerized by India, that he returned India even after his parents returned to the US to study the Indian wildlife! Today he's called the Snake Man of India!!!
Why am I talking about Romulus Whitaker all of a sudden? Well, Karadi Malai Camp or KMC is the home of Romulus Whitaker & his wife Janaki Lenin. Errr... when did I start writing about people's homes in My Travelogue?! Ermm... Its not just their home. Its a gorgeous made man forest with cottages for other to spend some time just beside a reserve forest!!! Now, we're talking, aren't we?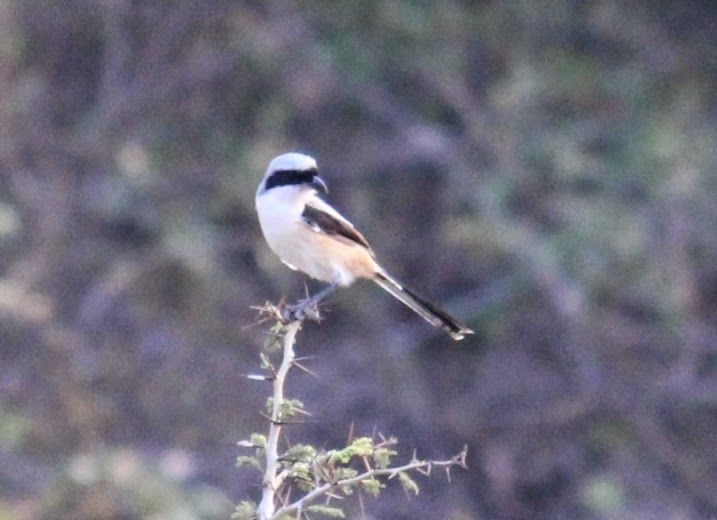 Karadi Malai Camp is a sprawling campus of 12 acres that just borders the Vallam reserve forest. Remember the Mahendra Pallava trail at Vallam Caves. Yup, its the same Vallam. The whole place is in 2 sections. 'Paambu Kudivanam', their home and 'Karadi Malai Camp' where the guests can stay in cottages and enjoy the place. That's a pair of Red Vented Bulbul and Long Tailed Shrike in the above 2 pics.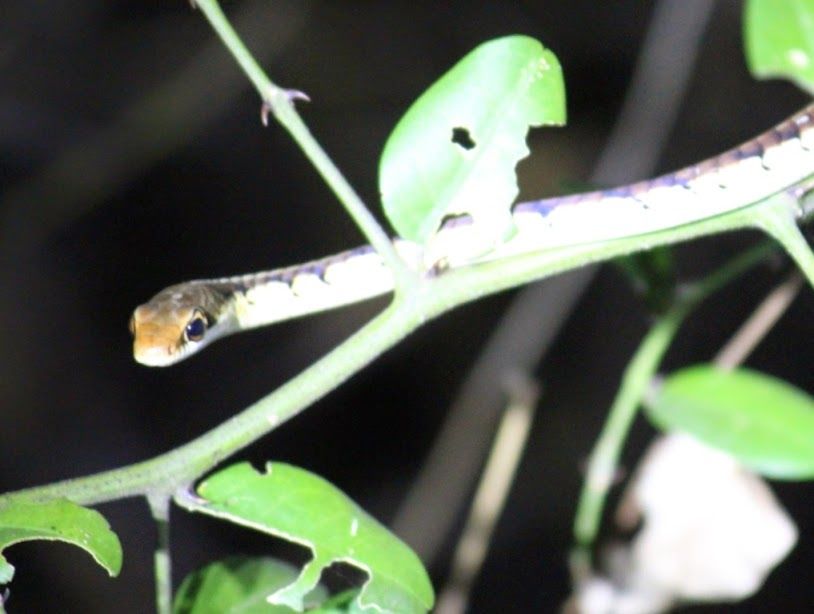 The cottages are simple woven bamboo structures with wooden flooring. Its on stilts with water beneath, to keep some insects away. But does it matter, when you're there to enjoy the forest and be as close to nature as possible. Simple home cooked food, comes from Rom's home for breakfast, lunch & dinner. The house has a simple latch, a basic cupboard, the cot with bed, bedsheet and mosquito nets, etc. There's an attached bathroom with shower & western toilet. So basically, comfort is complete.
I stayed there for a day - an afternoon to the next. So for the first day by sunset, I went on a walk into the reserve forest with Jagadeesh, an amateur naturalist from Bangalore. The landscape was fantabulous. Its a tropical dry evergreen forest similar to Pudukottai. I did spot some birds and butterflies....
Later that night, was a night walk within the camp. That included majorly snake spotting and scorpion spotting. Some sleepy snakes, camouflaged along with the branches were gorgeous. But what was awesome were those scorpions.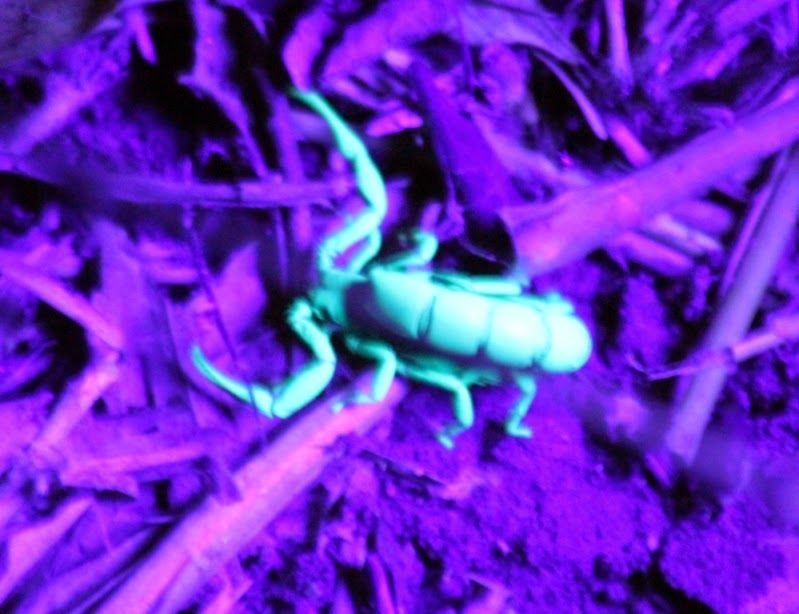 Jagadeesh got a UV torch and under UV light, the skin of scorpions gave away a bright, fluorescent color, making spotting them easy! I did spot atleast 7-8 scorpions from about a cm long to about 10 cm long!!! Spotted a couple of spiders too with eyes that are sparkly, shiny in the night light!!!
The night was great. There's just one fan, but guess what? I visited there in the middle of hot summer and by late night or early morning, it was so cold that we needed the blanket for just that fan!!! That's how the climate is, in the middle of the forest, living inside a bamboo cottage!!!
Next morning there was this awesome guy, Maasi, a local from Irula community waiting to guide us to another walk. We started off at 6 and came back at 9. What did we do? Snake hunting..... For the first time in life, I touched a snake deliberately!!!!! We also spotted a few scorpions. The smallest I've ever seen!! Spot the scorpion beside an adult hand in the above pic?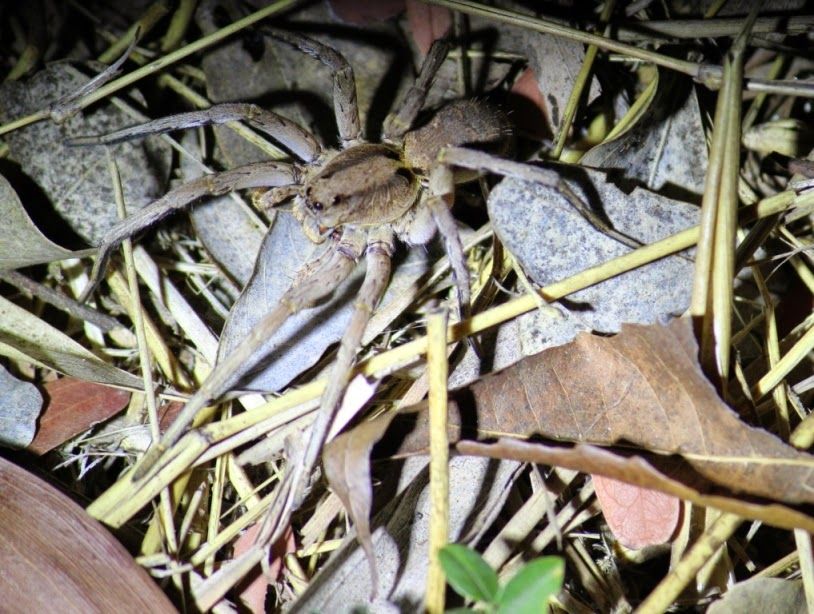 Spotted a snake skin of Spectacled Cobra... Maasi caught a Checkered Keelback, locally called Thanni Paambu, in a semi dry well. Its a non venomous snake. That's the snake attacking Jagdish's hand and that's him looking over as I gathered the courage to hold the snake by its tail...
Soon after that, Maasi caught a huge Rat snake in the fields. That's Maasi and this time I was bold enough to hold it all by myself!!! Yippeee....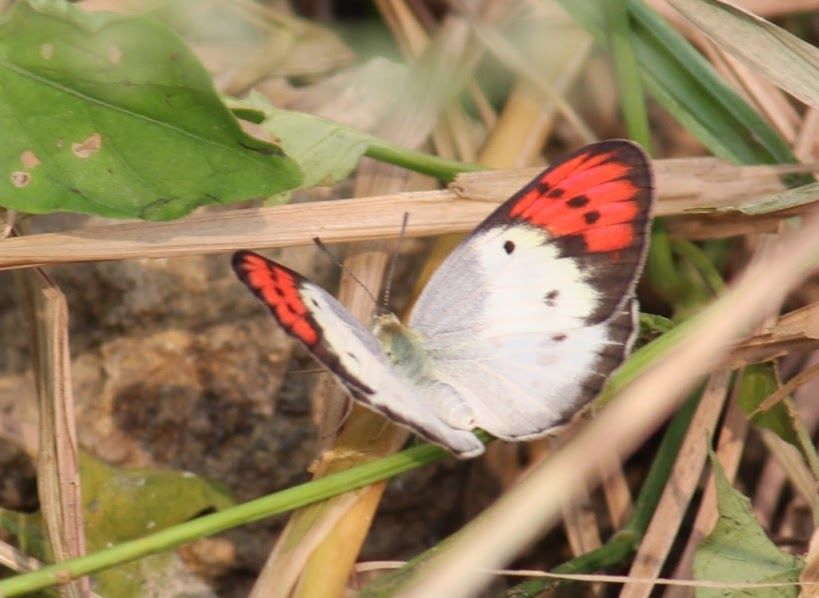 I loved the place sooo much. I definitely going back there in rainy season to see the transformation and ofcourse, to meet Rom. This time, he wasn't available!
No, there are no Karadi-s i.e. bears here. Karadi was the first pet dog of Rom. A couple of years back, Rom did spot a leopard too! May be if you're lucky enough, you too might spot one!!!!
Yes, there are some sad factors too. Very close to the reserve forest, a huge, new temple is being constructed. I am definitely worried about land grabbing and economic development (read - disruption to nature with music, sound, shops, garbage etc), coz of the temple. Another scary factor is that I did spot some plots available for sale at the fringes of the reserve forest. Dunno when that would expand at the cost of nature!!!!!
TO GET THERE:
Nearest Railway station: Chengalpet Jn.
Nearest Bus stop: Thiruvadisulam (regular buses available from Chengalpet towards Thiruporur)
Cost of cottages: Rs.3000 per night incl. breakfast
For exact location and reservation contact Janaki Lenin at Janaki@gmail.com or kmcampinfo@gmail.com
There are just 3 cottages, so there's absolutely no point going without reservation much in advance!!!
This post was originally published on 'My Travelogue'.