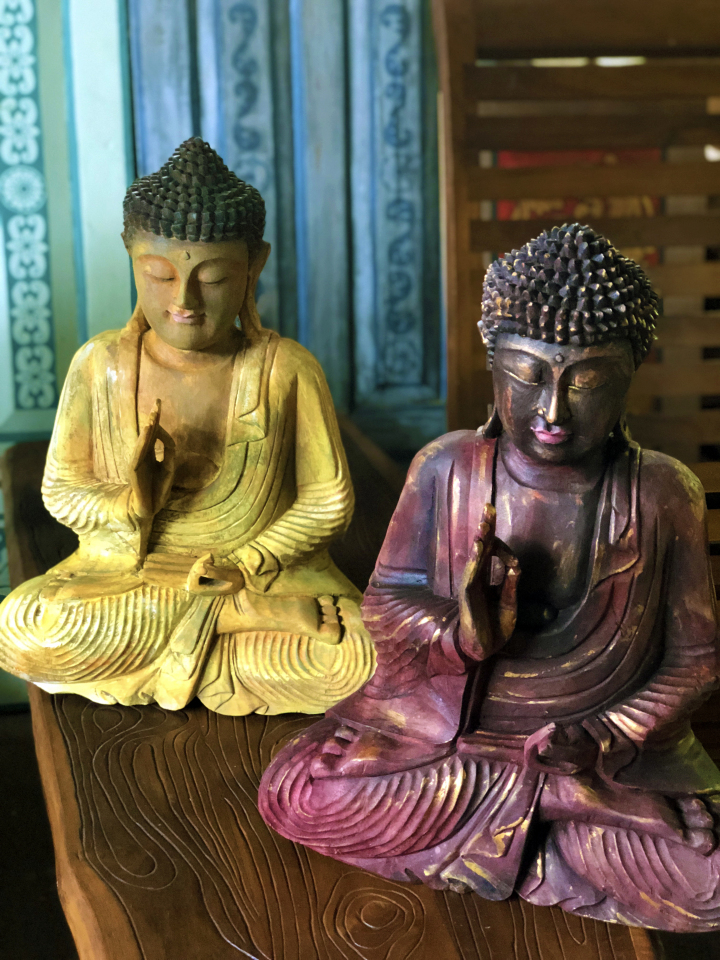 As an Indian having grown up listening to the tales of Ramayana, the notion of Lanka was predominantly about it being the kingdom of Ravana, a land where Sita was held captive against her will, and a land where Ram heroically saved Sita from, of course only to later walk her through the fire to prove her chastity.
Since this was a pre-planned itinerary it followed the usual route that began from Kandy to Nuwara Eliya then Bentota and finally culminating at Colombo. A 7 nights 8 days tour plan which included all the main attractions that most travel agencies have recommended.
We started off on our annual adventure by boarding an Air Vistara flight from Ahmedabad to Bangalore and after a strenuous 5-hour layover we took a 50 mins Sri Lankan airline flight from Bangalore to Colombo. We landed in Colombo at 5:00 am. Lack of sleep and tedious unnecessary procedures at the Bangalore airport had got to my head. Considering that Colombo is the capital of Sri Lanka, their international airport was not at all impressive, in fact, I was a tad bit disappointed. Many of the Indian domestic airports would fair well instead. Also, an important tip to all future travellers, as you land in Colombo and move towards the immigration you will notice a duty-free on the right - don't enter! It is the departure duty-free, not arrivals. Yes, you guessed it right, we did waste significant 20 mins in figuring that out. By that time three flights landed and the immigration line became a long-struggling queue. However, their immigration officers were much more polite at 5:00 AM in the morning rather than the groggy ones at the Bangalore airport.
Once the baggage was claimed, we headed towards the next obvious spot, the toilets! Here I was not disappointed, they were just as I had expected them to be - dirty! Add to that some tourists who were not only changing their clothes in that stuffy three cubicle toilets but were actually showering with the sink taps turning the dented floor into pothole puddles. My welcome into this country was remarkable.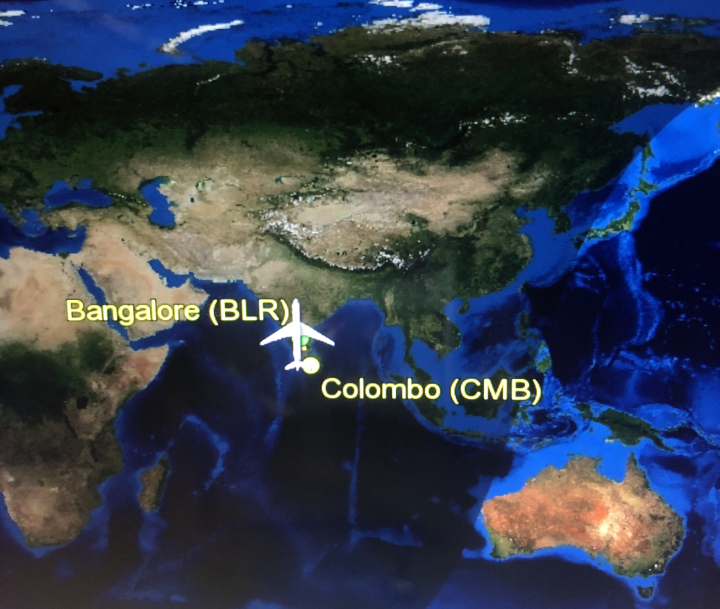 Kandy

What we saw: Historically the capital of Sri Lanka, Kandy, boasts of being reminiscent of Sri Lanka's glorious history. Set along the backdrop of luscious hills, Kandy makes for a destination with the right blend of quaint and happening. Although it has a city vibe it also allows you to excuse into the serene locations of hill-tops houses with viewpoints that would flood your Instagram with likes, and the wide lake set alongside the famous Tooth Relic temple that is perfect for some alone time. If you want more history on Kandy, google it, I didn't go there on a history class tour!
Pinnawala Elephant Orphanage - We reached there on a day when the most awaiting thing was not going to happen - the milk feeding. We still decided to go ahead and visit the elephants. While it was their time to go for a shower I was wondering when will I get the chance to stand under a warm shower and get rid of this travel smell. These giant creatures were not tamed and hence it was made clear to us to not do anything goofy with them, or they would crush us like those leaves that lay morbidly under their heavy feet. Either I was too sleep deprived or there was some actual goof up, but I had seen a few videos before travelling here and somehow the Orphanage seemed different to me. We quickly wrapped up our small tour and as we were exiting we saw these huge yellow coconuts and instantly decided to fill ourselves with some Lankan coconut water.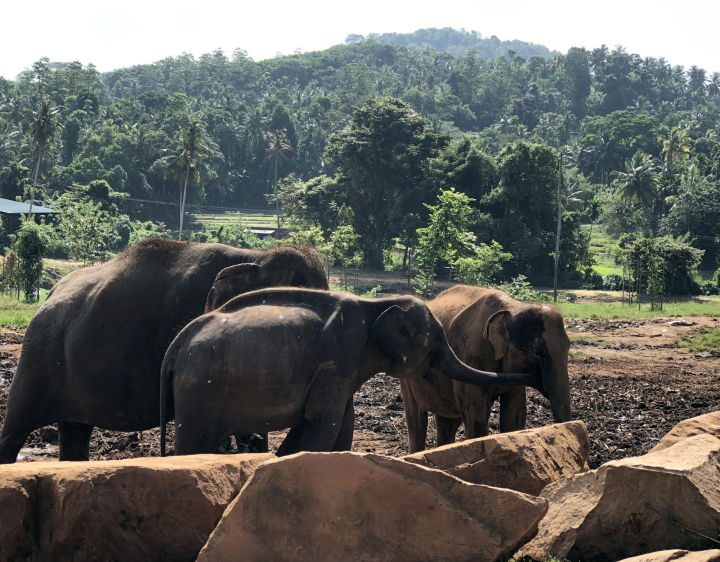 Elephants grazing freely in the open fields at the Pinnawala Elephant Orphanage
Gemstone Museum - I was quite intrigued about visiting the gemstone museum. We had received so many concerned pieces of advice about gemstones and most telling us to not buy any as authenticity might be questionable. We bought it irrespective (who can resist some nice gemstone jewellery).
Batik Museum - Sri Lanka is known for its Batik prints. Although we have seen a good share of the same in India as well, it was interesting to see the absolutely handmade and natural process of batik printing that they have adopted. Mostly managed by women the batik printing process incorporates completely natural and organic ingredients which are carefully handprinted into beautiful pieces. However, these batik printed clothes and accessories may be a little heavy on your pockets if you buy from their certified stores.
Temple of the Sacred Tooth Relic - One of the finest temples that I have seen in a long time. If given a chance you should visit Sri Lanka only for this temple. The serene atmosphere around is sure to transport you to some different world. The tranquillity of this place is something else. Spread across a wide space and surrounded by the Kandy Lake this temple is most famous for Buddha's tooth that is prayed here. Unfortunately, the viewing of the same was not permissible on the day we were visiting; there are few designated days when this viewing is possible so please check that before you visit it. In spite of that, there were so many things that awed us while we were there. One thing that truly caught my attention, was a life-sized actual elephant on display - Raja; as per my understanding, this elephant was pivotal in getting the tooth to Sri Lanka. The most interesting sight was that the model that stood tall was the actual elephant stuffed and you can still see tears leaking from his eyes. I had goosebumps when I noticed it. You definitely should experience this once if you happen to visit Sri Lanka. One of my best and most vivid memory of Sri Lanka was to see Raja. The temple is housed in the same premise as the palace, however, this place is famously known as the Temple of the Sacred Tooth Relic any most people around would be a little surprised if you ask them if this was the old palace. This entire square with the temple, the lake, and the palace makes one of the main attractions of the Kandy city and it also makes for the main city centre.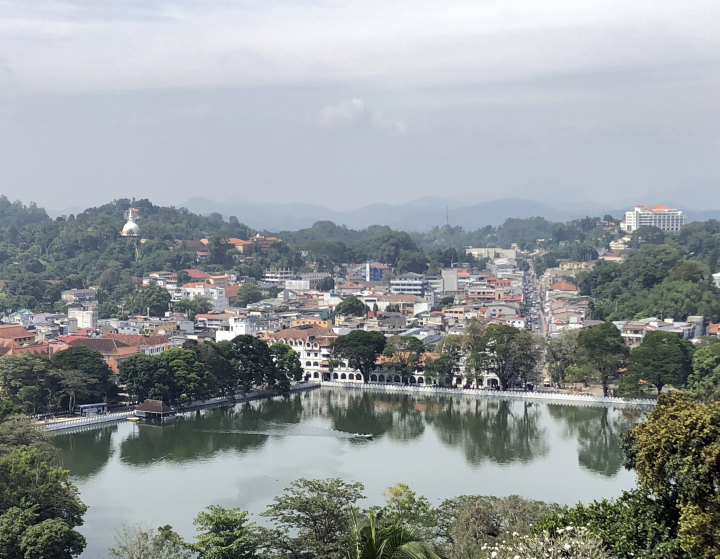 Kandy Wood-Work - Given the lush forests that surround the Sri Lankan landscapes, the abundance of trees has helped in the growth of the woodwork industry. All across Kandy, you will find many small woodwork artists, we happened to visit one of them. It typically operates as a museum so they would begin with explain you with the different kinds of wood available and further demonstrate how they make natural colours from the wood itself. One of the most interesting things was to witness a two-coloured wood, and the shavings of the same are used to make natural colours for painting. The most talked about wood work in Sri Lanka, are their traditional masks that are widely used for cultural programs and art events. These masks are also famously purchased by travellers as souvenirs. Most places sell the artificially coloured masks as they are most cost-effective to produce. The naturally coloured woodwork is exquisite and comes with a hefty price tag. Apart from masks, there are a host of wood products that available for purchase like animal statues, furniture, cutlery and small souvenir items.
Where we stayed: We were booked at the Earl's Regent Hotel in Kandy, surely one of the finest hotels I have stayed at. The only assurance to that was the Sri Lankan and England Cricket teams staying at the same hotel. Some brownie points for the hotel for sure. The hotel is spread over a hill surrounded by lush greenery. The hotel is designed like a resort with long winding walkways that lead you to either your rooms, the pool or the play area. I would next time go to Kandy and stay at the resort only to relax, chill and unwind. A sincere suggestion, you may want to take an extra day in Kandy if you plan to stay at this hotel just to enjoy the property. Even though we were here for two days I was not able to see all that this hotel had to offer. One of the best features of the hotel has to be the dining area, a huge space that opens out to a garden deck overlooking beautiful mountain ranges. From the rooms to the restaurants, the bar, the amenities and the shopping areas were all top notch.
Nuwara Eliya
What we saw: One of the most popular hill stations of Sri Lanka, Nuwara Eliya is the quintessential small lake city surrounded by tea plantations, botanical gardens and dropping temperatures. A rather small town, there isn't much that one can explore in Nuwara Eliya except of course you are into hiking or mountain climbing, which I certainly am not. For someone with motion sickness, the route atop Nuwara Eliya is definitely not a pleasant ride. The few things that make the must-visit the list of Nuwara Eliya includes:
Tea Factory - Nuwara Eliya is primarily a tea plantation region and hence on every hilly turn you will find tea factories where you can experience the process of tea production and also indulge in some tasting. The one tea factory that we visited was the 100-year-old Blue Field Tea factory. It was a quick 5 mins in and out tour, although I was impressed to see a 100-year-old machine still working in a mint condition at the factory. After we sipped through our complimentary teas, which most of our group rejected as they are hardcore milk-chai drinkers and this tea was merely flavoured water for them. I did like the taste of the tea but if I am going to drink something black it rather be a coffee. Botanical and Spice Gardens - Although we skipped out on these, the botanical and spice gardens seem to be one of the most popular attractions of this region. Similar to the tea factories, there are quite a few of these gardens spread across the region which are largely privately owned and maintained.
Seetha Amman Temple - Myth has it that when Goddess Sita was abducted and brought to Lanka, she stationed herself in Ashok Vatika and refused to budge from there until the day Lord Rama claimed her back from the tangles of Ravana. This garden or Ashok Vatika happens to be a spot in Nuwara Eliya which is now transformed into a temple where Lord Rama and Goddess Sita are prayed. One can also see the famous footsteps of Lord Hanuman which were engraved on the stones when he landed in Ashok Vatika during his search for Goddess Sita. The Seetha Amma Temple is set on the foothills of a mountain ranges where a small river gushes through, they say it was this river that Goddess Sita bathed in during her stay in Lanka. Although there are no other apparent locations that signify the other stories of the Lanka from Ramayana. I did shower my guide with a lot of questions about the same, but he said this temple is the only thing of Ramayana that he knows of. I asked him about the palace of Ravana and if there were any remains of the same, to which he reverted with a quizzed smile. Even though this temple has the beauty of its own, I failed to assure me of being the factual evidence of the history.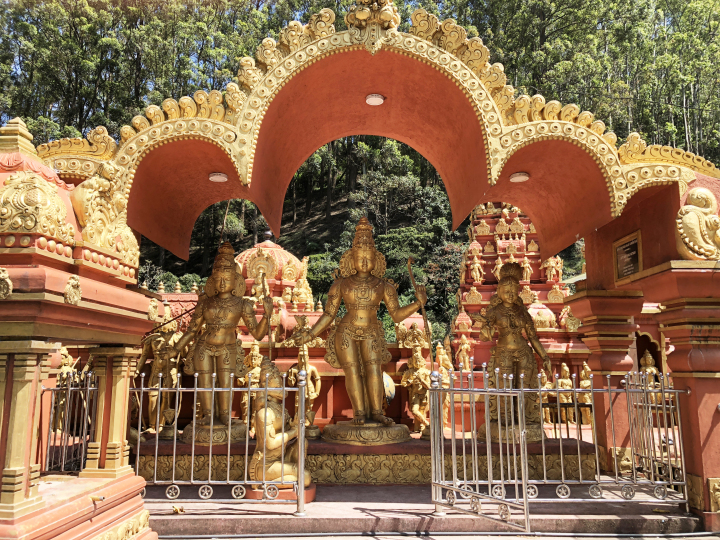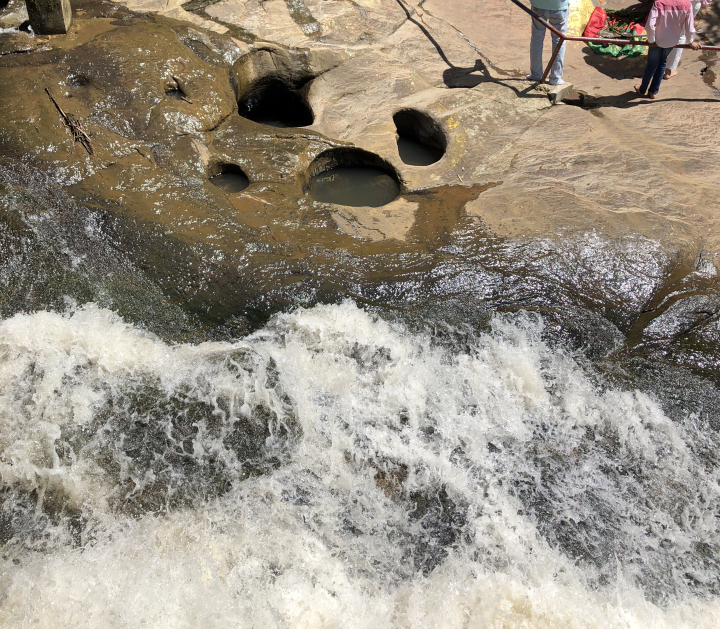 Shri Bhakta Hanuman Temple - A little away from the main city of Nuwara Eliya, Shri Bhakta Hanuman Temple is located this which was commisioned by the Chinmaya Mission. We visited this temple on our way atop Nuwara Eliya. A beautiful temple situated atop a hill, where Lord Hanuman stands tall in a life-size human idol welcoming his disciples. We happened to reach the temple just in time for the Aarti (prayer offerings). It was a peaceful and calming experience for me. I was quite taken aback with the mere size of the idol and I have never seen an idol of Lord Hanuman of this grandeur. The temple area also houses a bookstore, coffee shop and a lunch room. It works as a good pit-stop on your journey onwards. However, one important tip, you will have to wear full-length clothes (no shorts, skirts, hot pants, etc allowed) and tie your hair up to be able to enter the temple premises.
Victoria Garden - The main centre of Nuwara Eliya overlooks the Victoria Garden, a huge space will lush greenery, walkways and children play area. The garden also houses a few restaurants that serve food as well as a vegetable and fruit market from where you can purchase delicious and fresh produce of the season.
Gregory Lake - Although not as grand as the Kandy lake, the Gregory Lake in Nuwara Eliya provides for a refreshing break from the hilly landscapes. Activities like boat rides are available for tourists.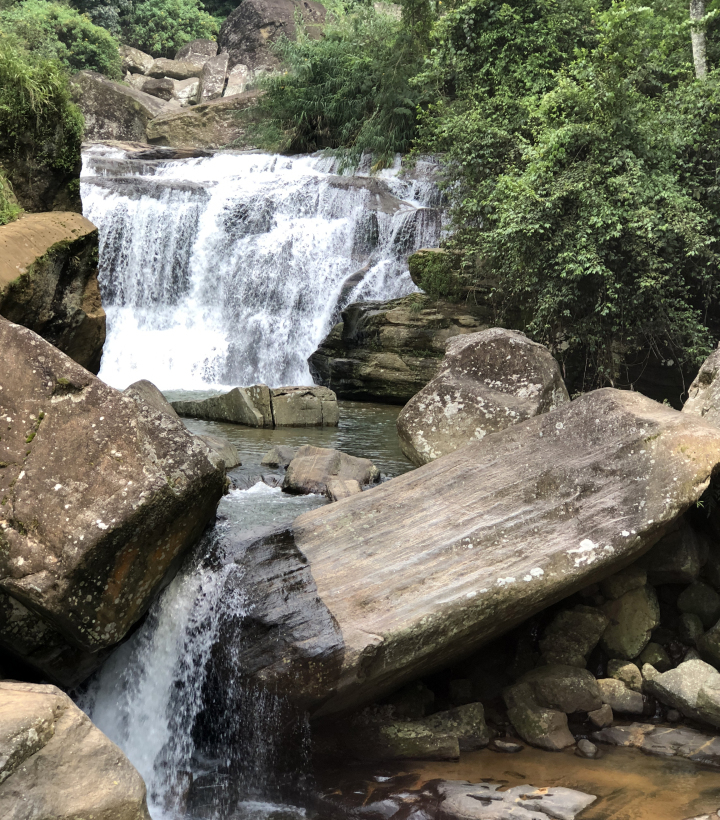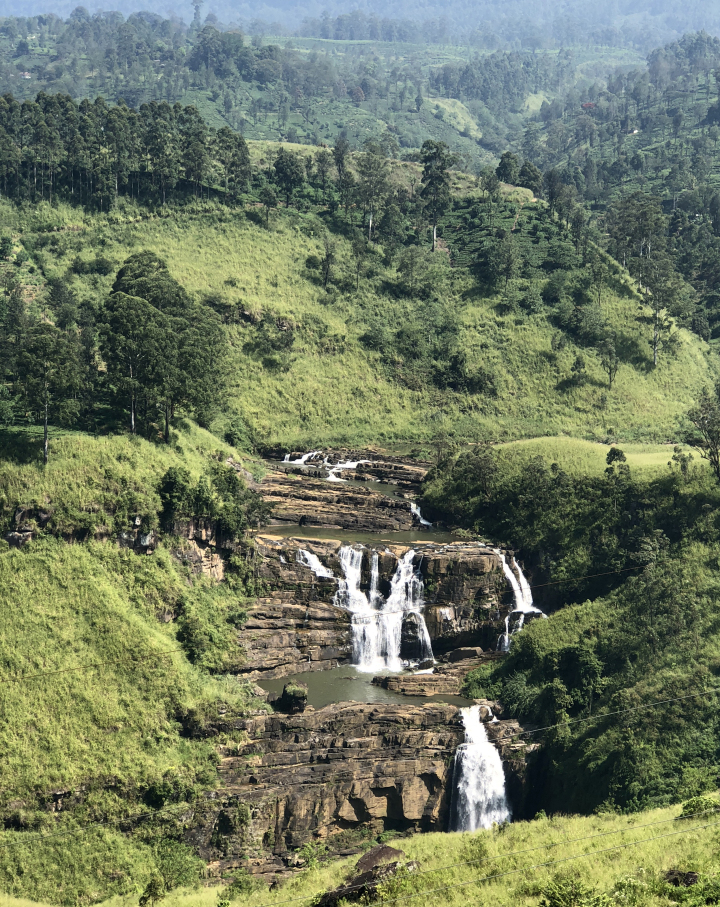 Where we stayed: Situated merely 5 mins walk from the main city centre, our hotel Araliya Green Hills was your normal 5-floor hotel, that came with a hot water-pool, rooftop gym and spa, and two restaurants. One of the best features of this hotel was the warm and welcoming staff that I failed to experience in another hotel that we stayed in Sri Lanka. Especially Mr. Kasun and Mr. Tilina (please excuse me if I spelt that incorrectly) they ensured we had a comfortable stay and every time we crossed paths with them they would greet us with a warm smile. The rooms were clean and decent for a comfortable stay, although our heater seemed to have a little starting trouble. The triple occupancy rooms are bigger in comparison to double occupancy, which is a great plus point since the three of us got enough space to move freely without crashing into each other. The highlight of my stay at Araliya Green Hills was to be greeted with a comforting glass of hot chocolate as we arrived on a rather chilly late afternoon. To be honest I do not like welcome drinks at hotels because they are weird concoctions of ingredients and I am never sure of what has gone into my glass. But this hot chocolate was like a much needed warm welcome.
Bentota
What we saw: It is quite a long and strenuous 6 hours drive from Nuwara Eliya to Bentota. The descent from Nuwara Eliya on the route leading to Bentota was almost spine-breaking and stomach-twisting. It was the first time ever since we began our trip from Colombo Airport to Kandy and onward that we witnessed a proper four-lane highway, and we were so happy and relieved especially after a rather bumpy ride down Nuwara Eliya. Bentota is the southern coastal region of Sri Lanka that was developed by the government especially for tourism purposes. Bentota boasts of pristine beaches and lazy beach resorts that make this a perfect spot of some unwinding.
Turtle Hatchery - A must do on every blog, guide and search engine page, the turtle hatchery tops the list when you think of things to see in Bentota. There are quite a few of these in Bentota and we happened to visit one of these. It was quite endearing to witness how these locals rescued abandoned turtle eggs from becoming the meal of a prey. Nature has its own funny way of functioning. So our guide at the hatchery told us that turtles would come over to the beach and dig holes to lay their eggs and return back to the sea once they have laid eggs. It is extremely rare for these turtles to return back to check on their eggs. The people working at the hatchery, extract these eggs around midnight or early morning and bring it to their hatchery. Subsequently, they take care of the hatched turtle for three days and then check them for any defects. Healthy turtles are released back in the ocean and turtles with any physical disability are retained in the hatchery, and are looked after by the people working at the hatchery. They also search the sea for injured turtles and tend to them instead of leaving them back in the sea. One of the most exquisite things I saw at these hatchery were albino turtles, not only are they a rare sight they are also dangerous. These turtles are sold off at high prices in the market. It is hatcheries like these that rescue these turtles from such black trade. These locals work selflessly for a noble cause. I would definitely recommend anyone travelling to Bentota to visit a turtle hatchery and say hello to these flappy creatures.
Water Sports - Given that Bentota is a coastal region and surrounded by the ocean it is needless to say that it is also a hot spot for water sports enthusiasts. I am not one of them! But those feeling rather adventurous may indulge in a host of water sports offered by many adventure sports companies. Also, it is always good to bargain at these facilities.
Boat ride through the Mangroves - The Bentota lake is surrounded by lush and thick mangroves, which are quite a sight in themselves. If you like me are not a water sports enthusiast and still, want to indulge in some water activity, then it is best to take a boat ride on the Bentota lake and sail through these thick mangroves. Honestly at one point the hydrophobic in me really kicked in hard and I thought if I would be stranded inside these mangroves I would probably die before help arrived. But don't be scared, these boat rides are executed by professional guides that surely know their way even though it might seem that there is no end to the mangrove. Boat ride into dense mangroves
Where we stayed: Cinnamon is a hospitality brand who have resorts spread across many exotic locations around the world. We got to experience two of their properties. Cinnamon Bey Beruwala, is a private beach resort tightly packed amidst a range of resorts spread across the coast of Bentota. It is a typical beach-side resort which had a pool and restaurants facing the sea and large gardens that were overlooked by a series of rooms. Their ground floor rooms (where we were staying) opened directly in the garden. All the rooms are at a short distance from the beach. An open arena in the centre of the hotel entrance overlooking the pool and the beach made for comfortable lounge and bar, where you could enjoy a drink or two in the evenings with live performances from various artists. An open-veranda restaurant served as the dining area and although it was a little humid due to the weather, the spread of food was impressive. The rooms were comfortable but needed some attention to cleaning and maintenance. Most importantly beware of the mosquitoes, there are quite many and although you will not feel it when they bite you they will surely leave a mark on your skin! Overall, a good hotel which earns all the brownie points for its location. Watching the sunset over the waves of the sea that simply takes your breathe away trumps over all shortcomings.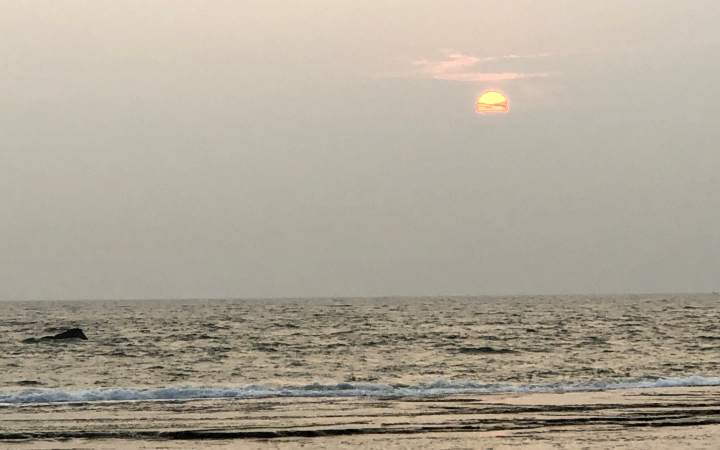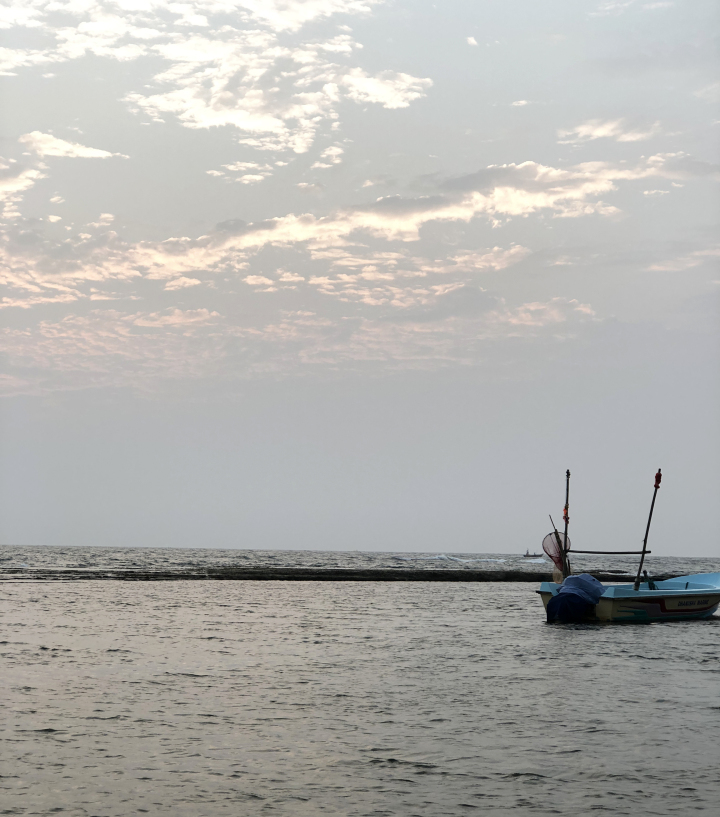 Colombo
What we saw: Our last destination on the itinerary of the Sri Lanka tour was the capital city - Colombo. This city has a refreshing vibe with the right mix of old and modern merging into perfection. The city is happening and young and yet grounded with its historical landmarks. Although I like offbeat destinations and dust-trodden paths, I do miss the city vibe after a point. So Colombo was really the right place for us to end our journey. Colombo has a lot on offer for visitors to see and experience but we had limited time in Colombo and hence could cover only a few things.
Marina - The one thing that Colombo is known for across the globe is the coastal road, where the railway tracks run parallel to the ocean. It is one of the most iconic sites and it looks completely different in real compared to the pictures. Marina is a long stretch of road that houses the Parliamentary offices, luxury hotels and happening restaurants and pubs that overlook the sea. A drive on the Marina is a must-do in Colombo. On this stretch, you will also find a Chowpatty, which is basically a horde of vendors selling local Sri Lankan delicacies right on the beach side. Evenings at the Chowpatty are quite a sight when locals and tourists all come together to enjoy a beautiful sunset and binge on some yummy food.
Hindu Temple - We happened to visit a quaint little Hindu temple located deep inside the lanes of Colombo. This temple resembled a few temples that can be found in the southern part of India. I do not have much knowledge of such temples. However, this place was truly serene and peaceful. The exquisitely crafted architecture of the temple added to the grandeur of the temple.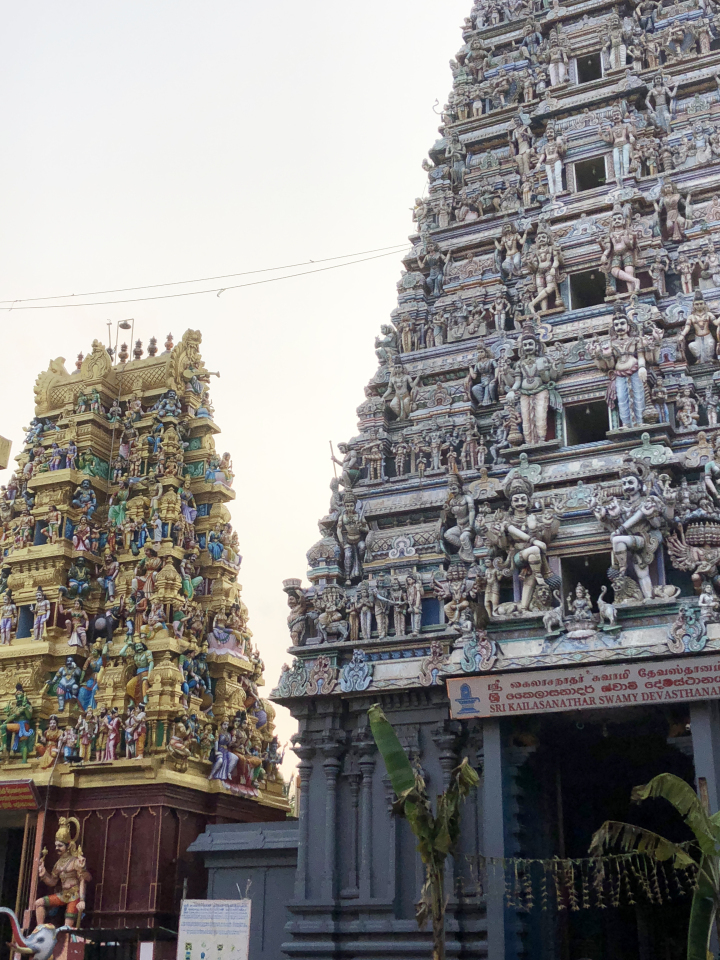 Kelaniya Raja Maha Vihara - A Buddhist temple situated on the outskirts of the Colombo city centre. This temple was the epitome of Sri Lanka's religious history. The main attraction of the temple for me apart from its intricate architecture and grand structures was the magnanimous idol of the sleeping Buddha, it was a sight to truly behold. It was on a Sunday that we visited this temple and it wore a white blanket as herds of local dressed in white gathered at the temple to offer their praying. Even with all the crowded banter, the serenity of this temple cannot be missed.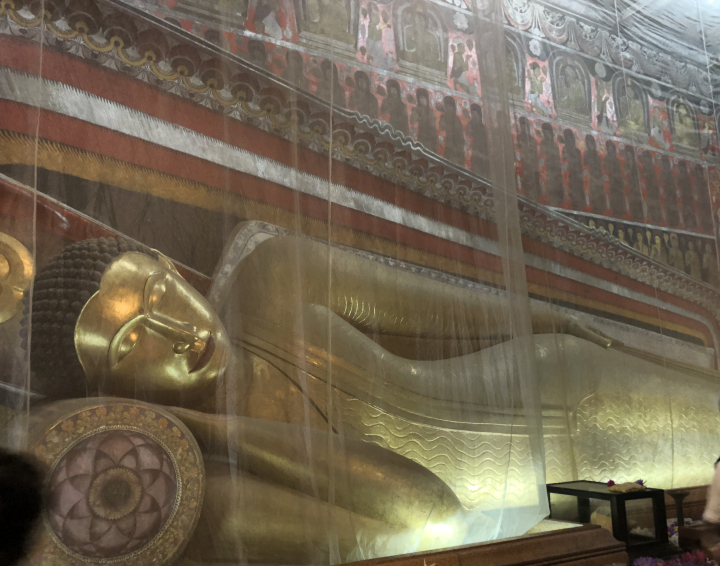 Independence Square - A beautiful memorial hall created to commemorate the independence of Sri Lanka. One thing that caught my attention was the structures of lions that seem to guard this memory and the columns that seem to bear the pride of the Sri Lankan history tall. The independence square is surrounded by well-landscaped gardens. This place is perfect for a Sunday picnic with family, or an evening walk to unwind from the busy day or an early morning jog.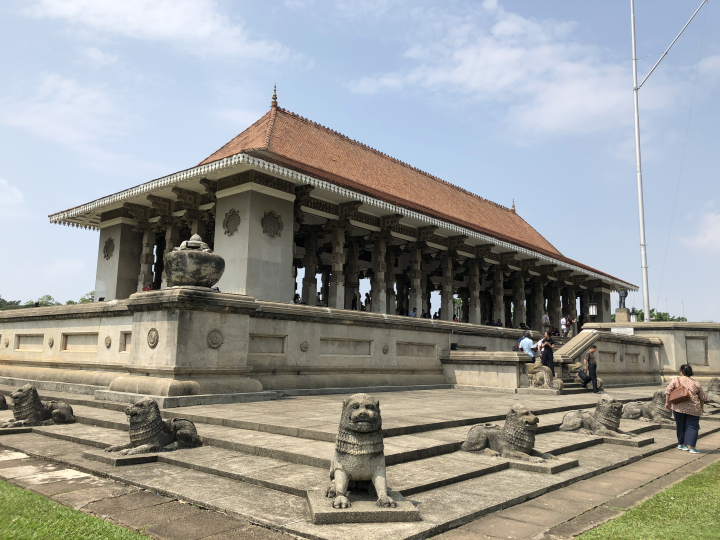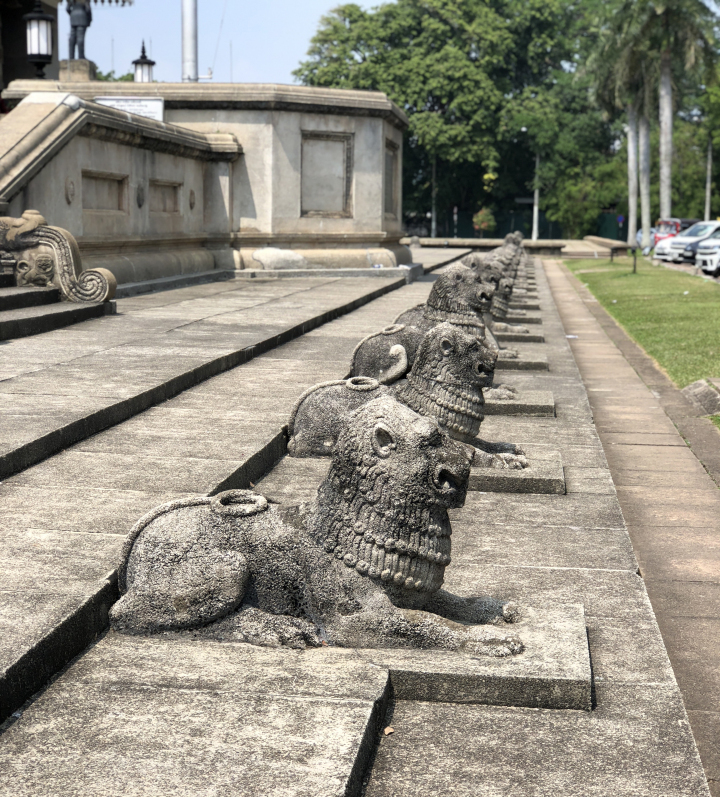 The usuals - We had a very less time to our disposal in Colombo to explore all the must-dos, however, we did quickly glance through the most obvious sites like the port, the harbour, the under-construction Lotus tower, the Bandaranaike Memorial International Conference Hall, the Dutch Hospital, etc.
Where we stayed: Although Cinnamon has two properties in close proximity in Colombo, we happened to stay at the Cinnamon Lakeside, which was of course overlooking a lake. It was a typical business or layover hotel, which had an array of amenities on offer which we could not enjoy to the fullest given the duration of our visit. Although it was one of those hotels that hosted a lot of locals and the evenings at the hotel witnessed some real crowd, it might be so also since we were staying there on a weekend. The rooms were comfortable with a great view of the lake and the lotus tower. The restaurant that served dinner and breakfast had a good spread of options, however, given the number of guests check in at a given point the space of the restaurant was quite compact and hence it gets a little stuffy and crowded. One of best feature for me in this hotel was the in-hotel shopping arena. It truly came as a blessing as we did not have enough time to even pick up souvenirs from the Colombo markets so I definitely enjoyed shopping here.
I truly believe that a place is not travelled with an itinerary and an explorer goes by the gut and not a guide. But given my circumstance, this is the best I had on offer and I captured the opportunity with all my will. There was definitely a lot that we didn't get to see and Sri Lanka is definitely ticked off my travel list, but the first experience was really endearing and it motivated me further to visit this country again. The next time that I plan to come to Sri Lanka I would rather explore the northern areas of Sri Lanka like Jaffna. Also, I feel Sri Lanka and the resorts we stayed at are perfect places to unwind and indulge in some R and R especially Bentota and Kandy so its definitely going on my bucket list.
Sri Lanka thank you for being so welcoming, hope to explore more of you soon!