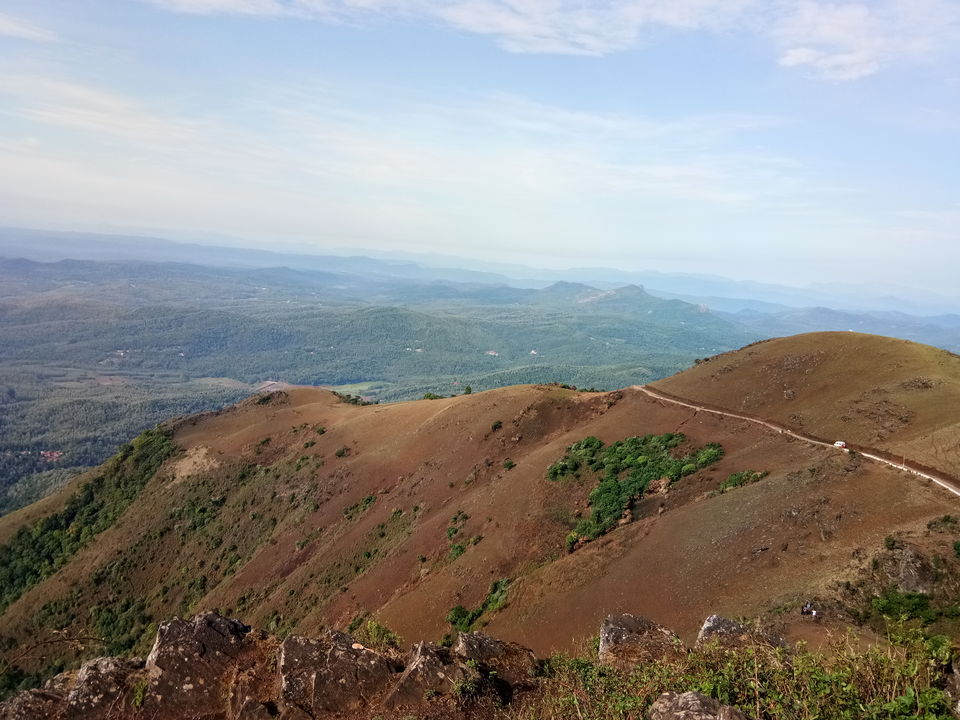 Date: 6th May 12AM to 7th May 10PM
Destination: Chickmangaluru, Mullyangiri, Baba Budangiri, Halebeedu, Belur(Chennakeshava Temple)
Mode of Travel: Royal Enfield Classic 350, Bajaj Avenger 220
No. of Persons: 4(Roommates i.e. my extended family)
Stay: Sri Venkatesh Residency, Chikmangaluru
Kilometres Driven: Almost 700 Kms
Motto:
"Push our limits to do long distance bike trips so that one day we can check off Leh - Ladakh bike trip from our list."
About Bikes:
We booked Royal Enfield Classic 350 from Wicked Ride because of the following reasons:
1) Max of 300 KM allowed per 24 hours when compared with other websites.
2) Rs 5 per km was charged after 600 as we booked the bike for 2 days.
3) Tariff charged was 2657(Including Taxes).
4) Bike was not in very good condition, it came along with minor issues in self start button, Horn not working properly. However, the engine was in good condition. Overall, it was a cool deal.
The second bike i.e. Bajaj Avenger 220 belongs to my roommate. We have finished many tourist destinations in that bike and our synchronisation with that is already spectacular.
You need to be very careful while choosing bikes for long trips. Since, this was our first time that we were doing a journey of more than 500 Kms, we already had our mind set up that we will be taking cruiser bikes and No sports bike. If you are a biker, you will understand what I am trying to convey here.
Struggle to Sleep:D
As per the schedule, we picked the bike at 10 PM and came back to our room. You might be thinking what the hell were we doing for the next 2 hours. So, for the next 2 hours we were trying to get sleep.
Because, we knew that we will be driving for 7 hours including breaks. However, the excitement of doing such a long distance trip in our favourite Royal Enfield made it impossible for us to sleep:D.
Therefore, we decided to start at 12 AM rather than our planned time of 2 AM.
Route Taken:
I read few blogs to understand the best route and most of them suggested to take the Bangalore-Mangalore Highway(Bangalore - Ramnagara - Channarayanpatna - Hassan - Belur - Chikmangaluru) a total of 243 Kms.
With road conditions in Karnataka and in South India getting better and better, road trips are becoming a pleasure. I can guarantee on the fact that you aren't going to feel the pain of long distance routes because of such well built, less traffic and 4 lane highways.
You don't need to have a second thought about the route to Chickmangaluru and you can follow Google Maps:). All roads are having proper signage that helps the motorists to reach their destination safely. Because of routes like this journey becomes more thrilling than the destination! What a blissful drive!
Since we were travelling during night we couldn't observe the countryside view. We took 4-5 Chai and snacks break. One of the disappointing fact associated with Wicked Ride T&C was that Enfield comes with a speed limit of 110KM/hr. Believe me, the route I just told you about will demand you to accelerate your bike in full throttle.
Anyhow, we maintained a steady speed of 100 - 105 km/hr and reached Chikmangaluru by 6:30 AM.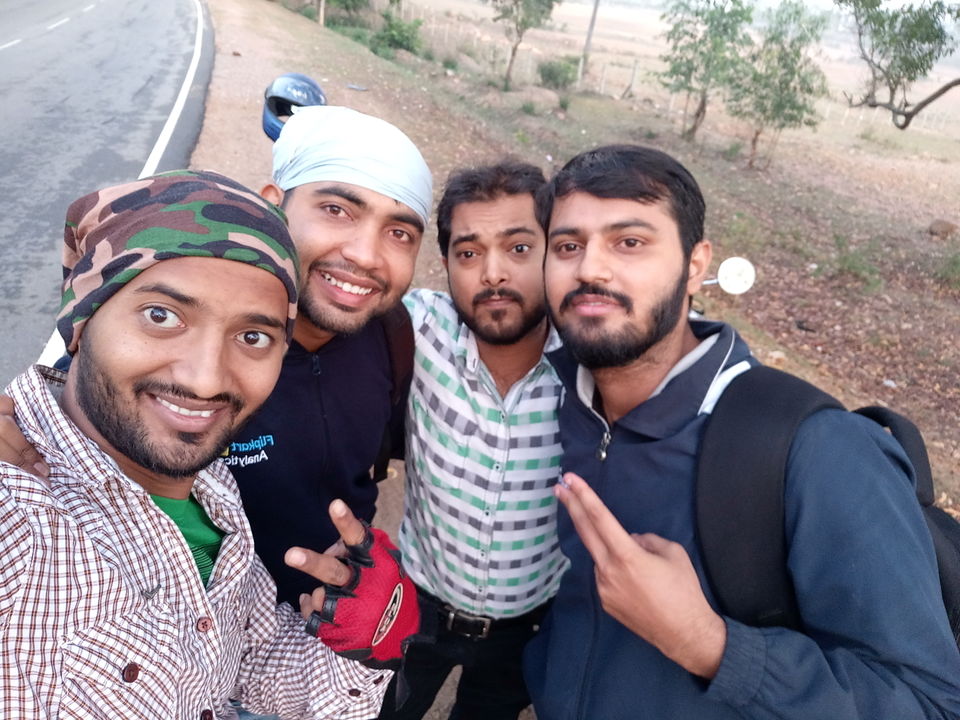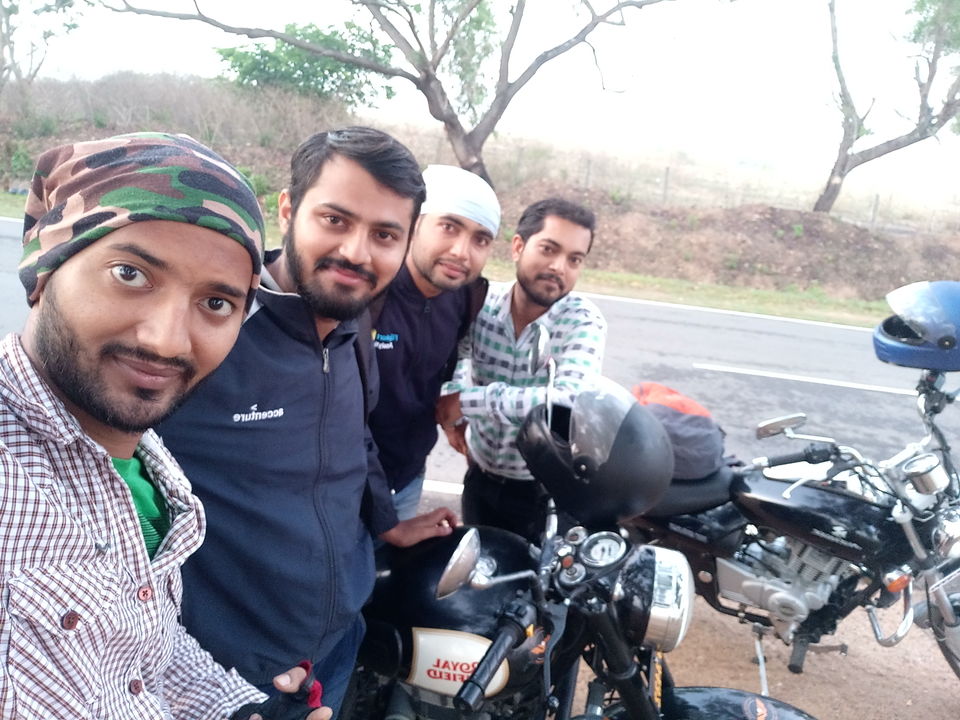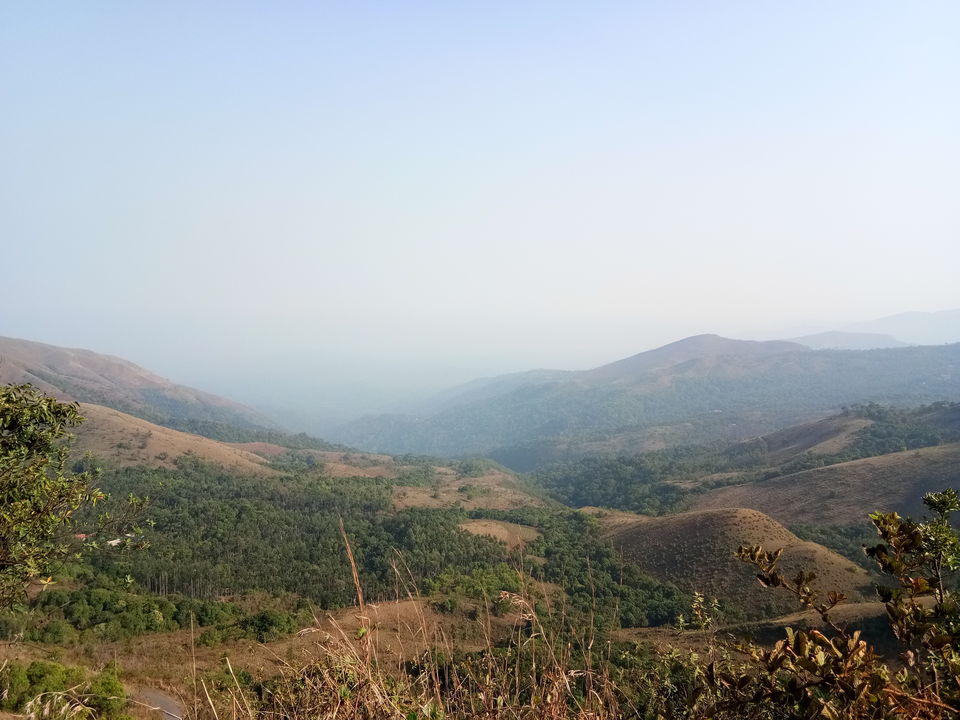 You will be stunned by beauty of the valleys and waterfalls(Small ones though) you will see on the way. Especially if you drive now in the monsoon.
Ride Continued:
We didn't make any prior booking for our stay as there was a last moment change in plans.
As it was a chilly morning, we decided to continue and cover Buttermilk Falls, Mullyangiri Peak and Baba Budangiri as all of them were on the same route.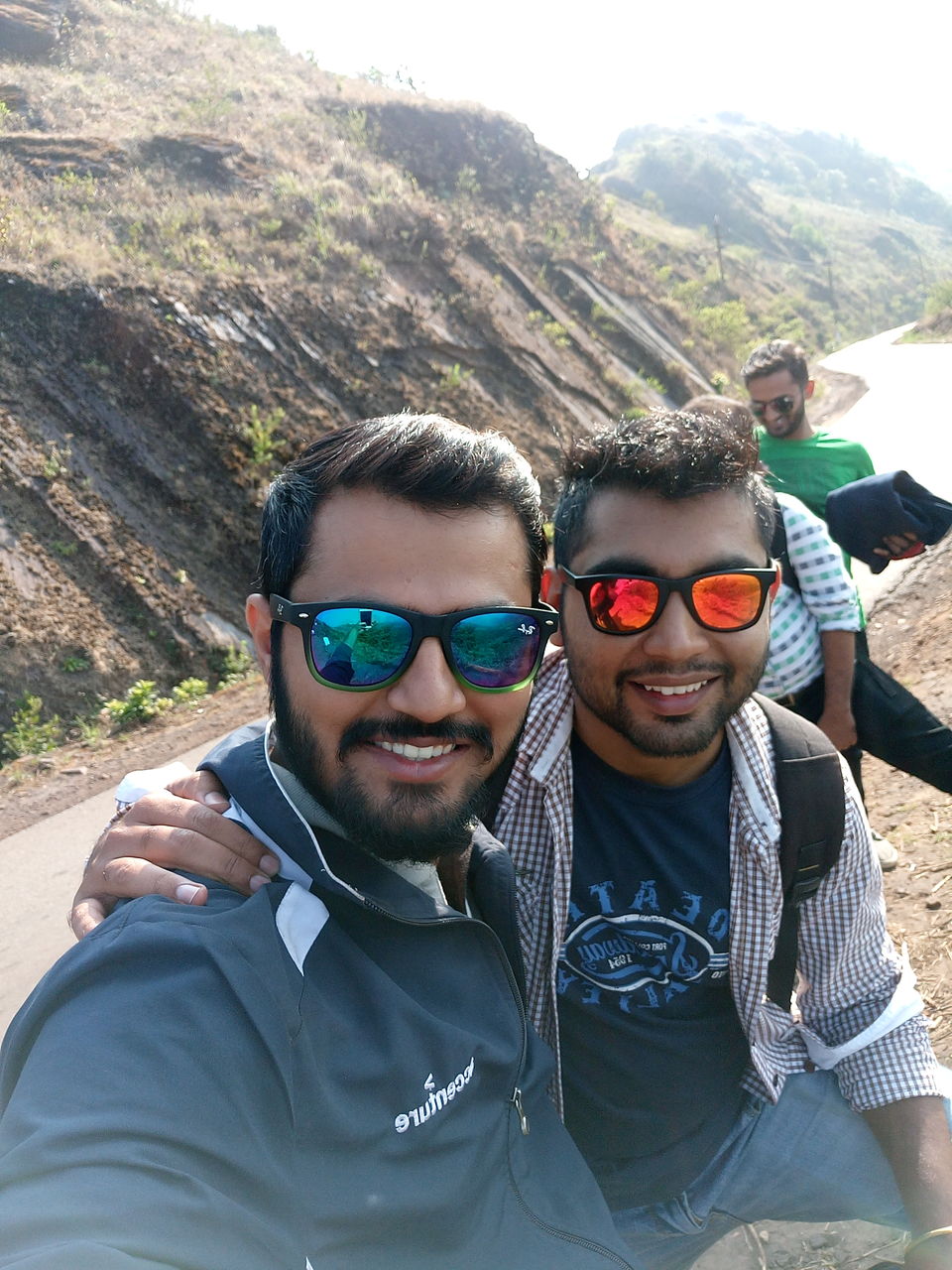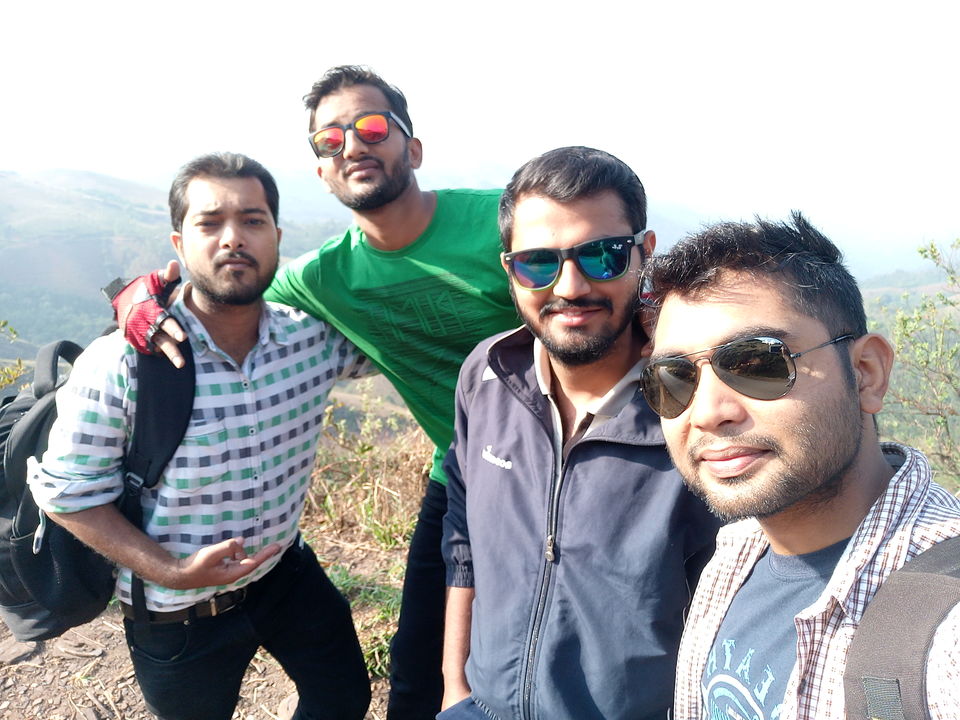 To reach Buttermilk Falls, you will have to hire local jeeps and they charge a nominal rate of Rs. 600. It is going to be one hell of a ride because you will get goosebumps as you can get in a roller coaster ride.
Also, our bikes were running out of fuel, because of which we had to head back to the city. We reached the city by 12:30 PM and had Lunch at Savi Veg Restaurant. The food was good and price was a little bit expensive but overall good.
Then we began our search for a good hotel to take rest(As mentioned earlier we haven't slept the entire night).
Nearby to the Savi veg Restaurant, we got a 4 bedded non-AC room in Sri Venkatesh Residency for Rs.2000. Room was Awesome. We completed all the formalities and crashed for a much needed sleep.
Woke up at 6 PM in the evening to notice that it was raining like cats and dogs in Chickmangaluru. After it slowed down in an hour, we went out to have evening snacks.
Roamed around in the city and refuelled our bikes and got our dinner parcelled from Annaporna Veg Restaurant. Came back to hotel and had fun for few more hours and spent time in planning the routes and destinations for next day.
Second Day:
While returning back from Budangiri on first day, we were able to find the turn to Mullyangiri.
We started again in the morning(7 AM) for Mullyangiri trek. You can't miss out on this adventurous trek if you have been to chickmangaluru. A single lane narrow road with lot of potholes will lead you to Mullyangiri.
Trust me, the thrilling route that will take you to Mullyangiri is not for weak hearted people . Although, the magnificient view that the hills offer will compel you to go there.
We had been so enthralled because of some dangerous turns and slopes that it almost gave us a feeling of driving on a leh - ladakh patch.
After reaching the parking point you will also have to do almost 500m trek by walk to reach to the top of Mullyangiri.
I think the photos will speak louder than my words here:P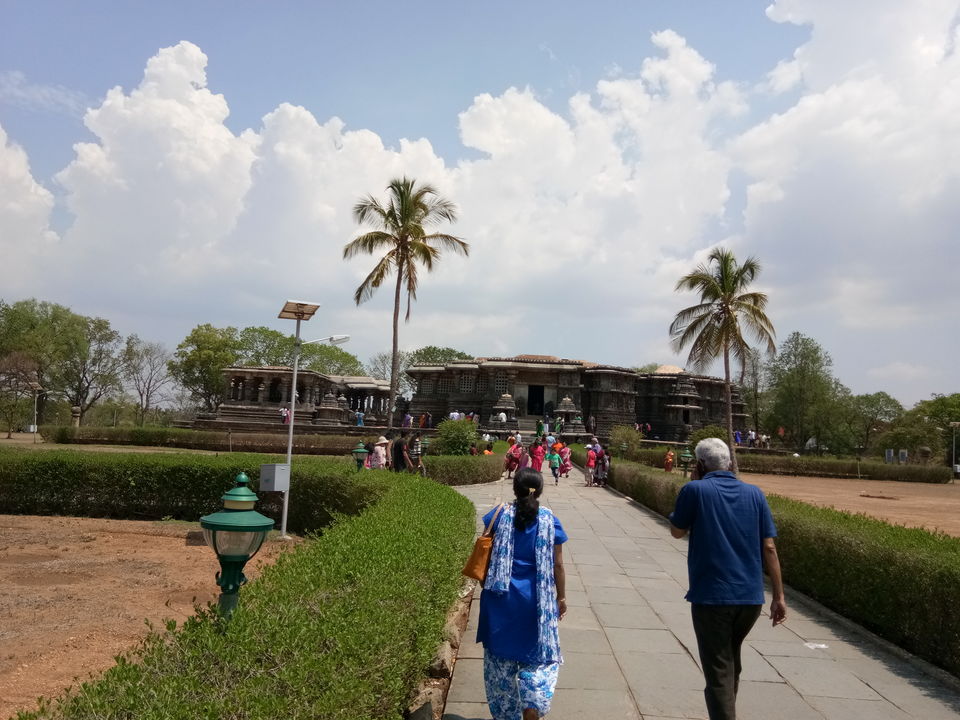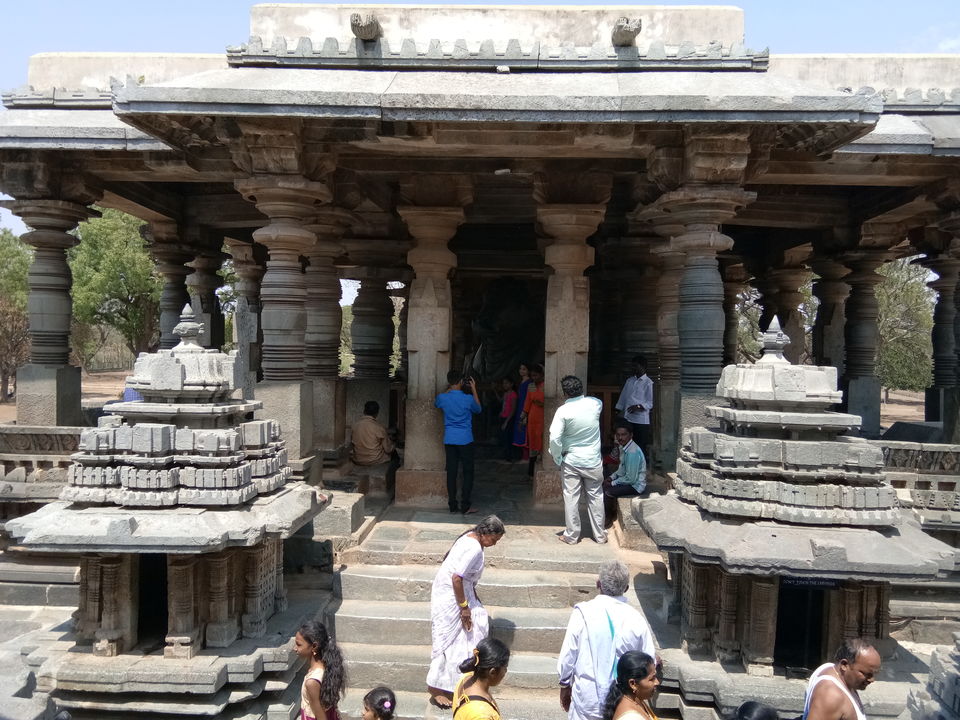 As expected, water was less because of summer but it was enough to start our day with a big smile.
Few people(If this place gets crowded it will be difficult to enjoy that serene environment) were already there and enjoying the amazing view and chilled water. We also went inside and spent 30- 40 minutes there.
Enjoy the enchanting views of the falls: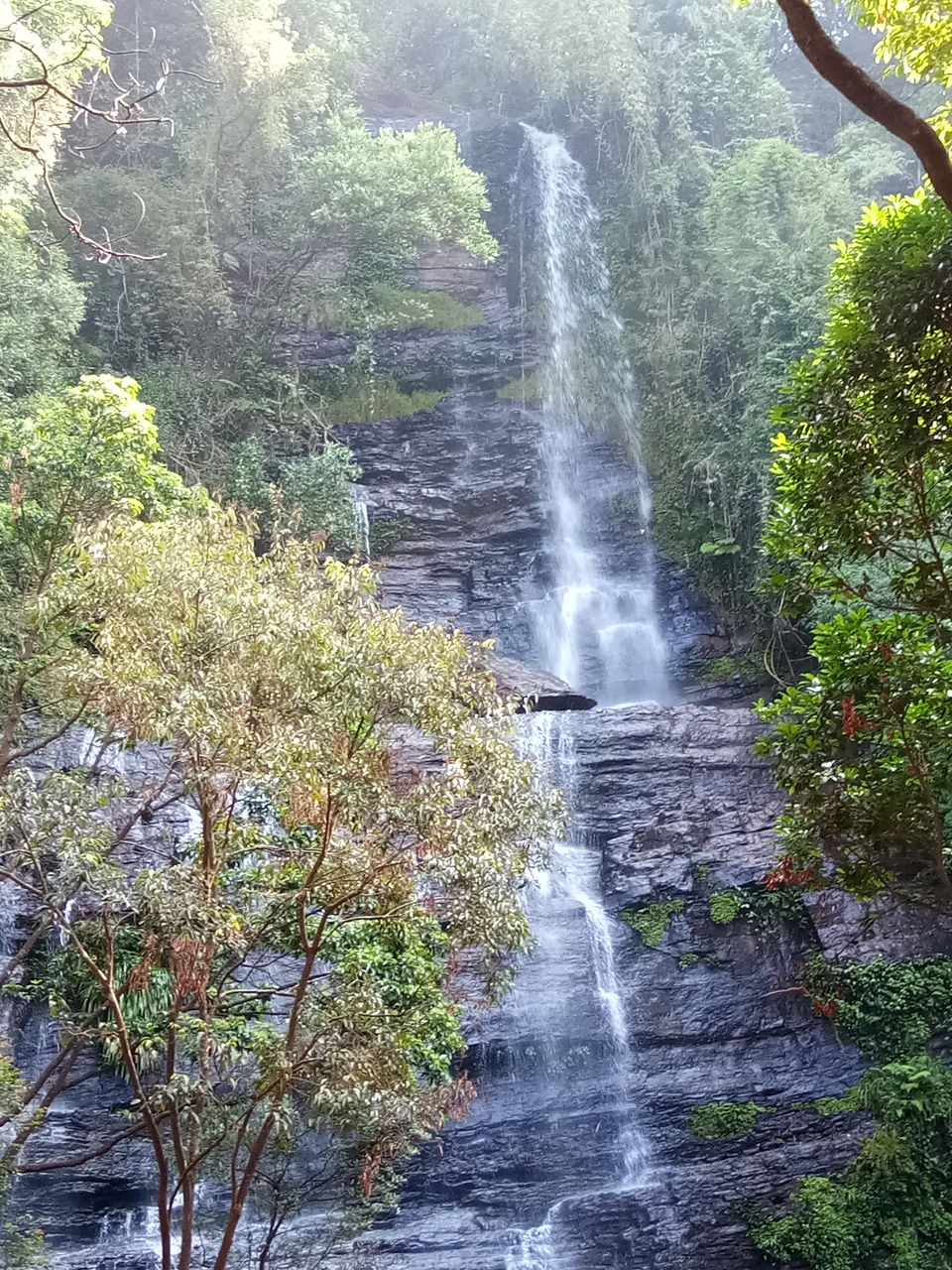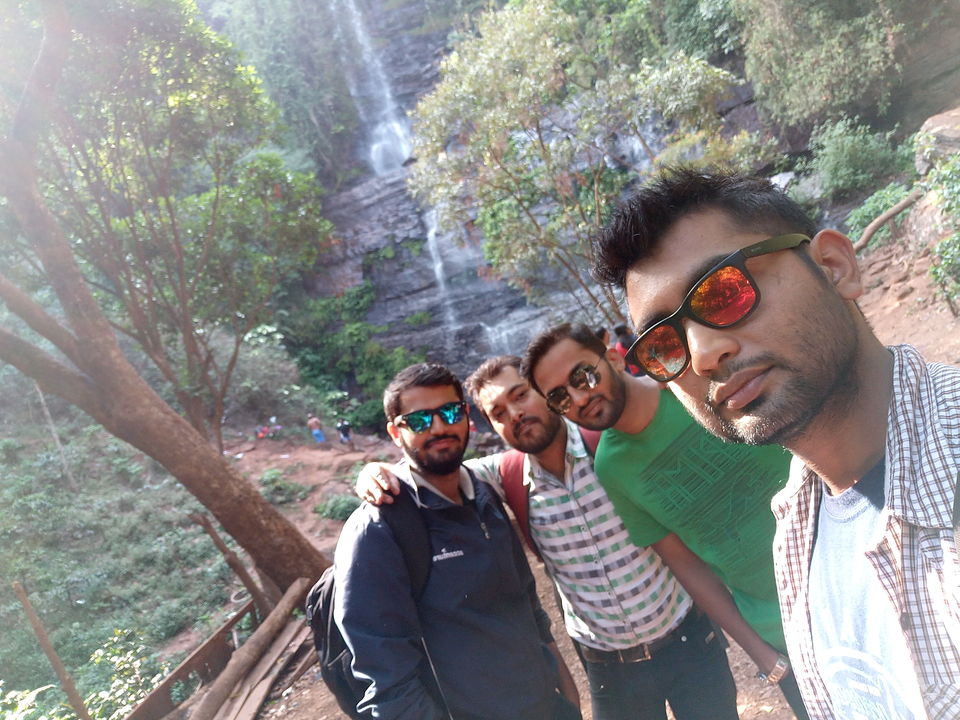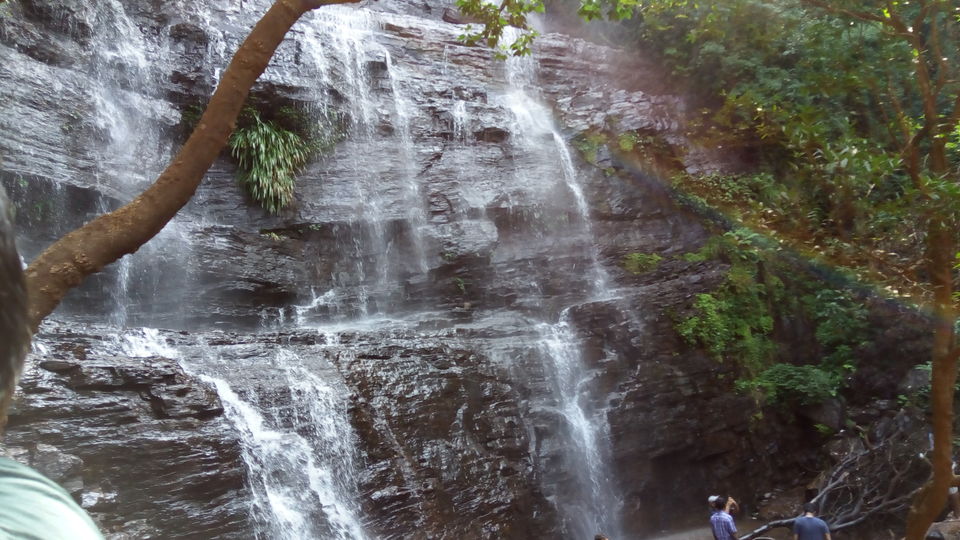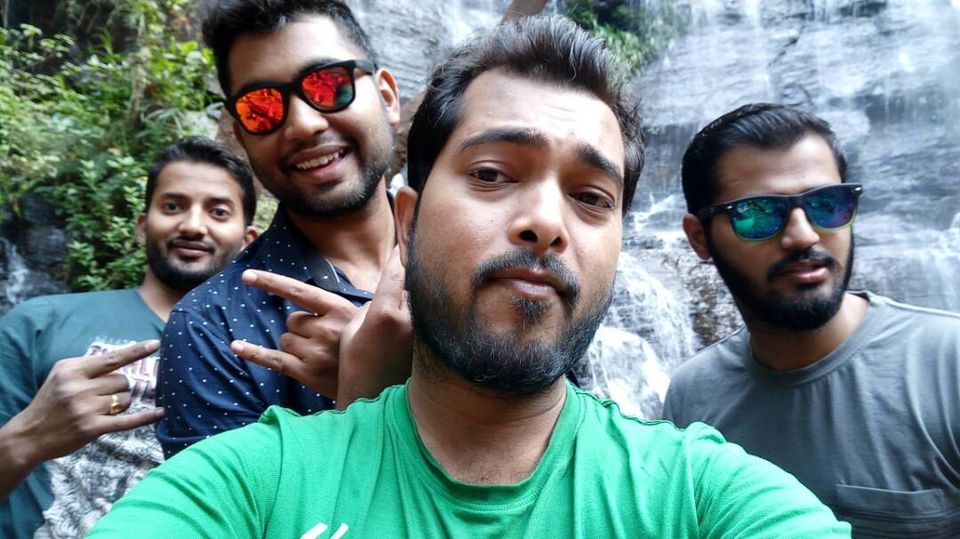 After this, we again started for Mullyangiri and Budangiri. Once you enter the hilly areas you won't get mobile network and if you are dependent on Google maps then that might give you a tough time. We faced the same problem. Somehow, with the help of local people we reached Baba Budangiri. It was not that great a place in my view. Although the greenery and forest cover was breathtaking.
We stopped at various points to take some astounding pics which we have saved to cherish it later in our lives. Some of them for you: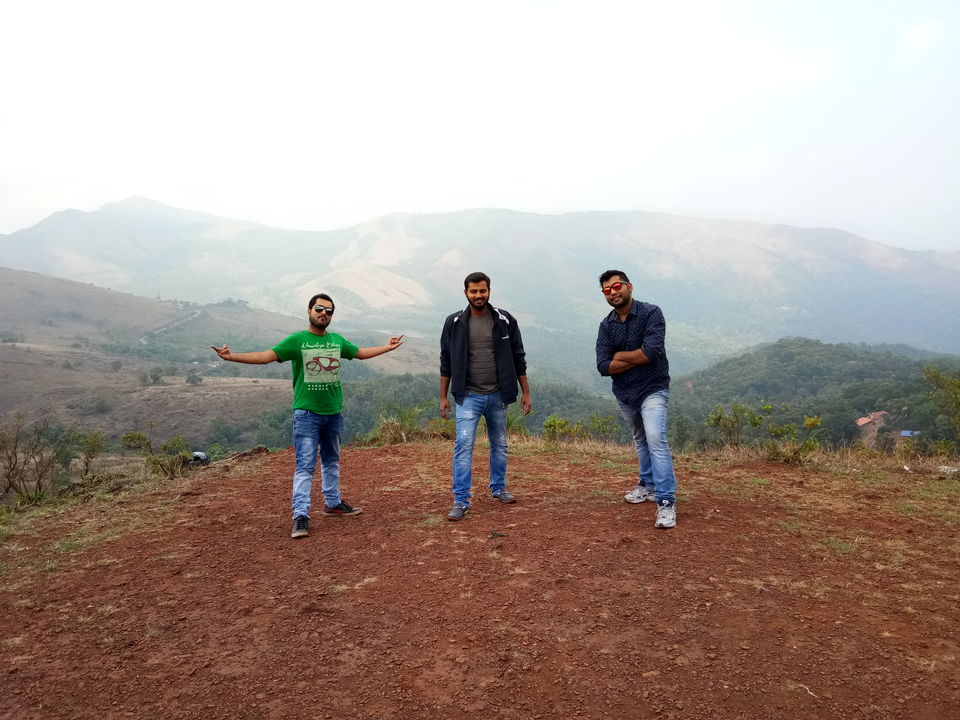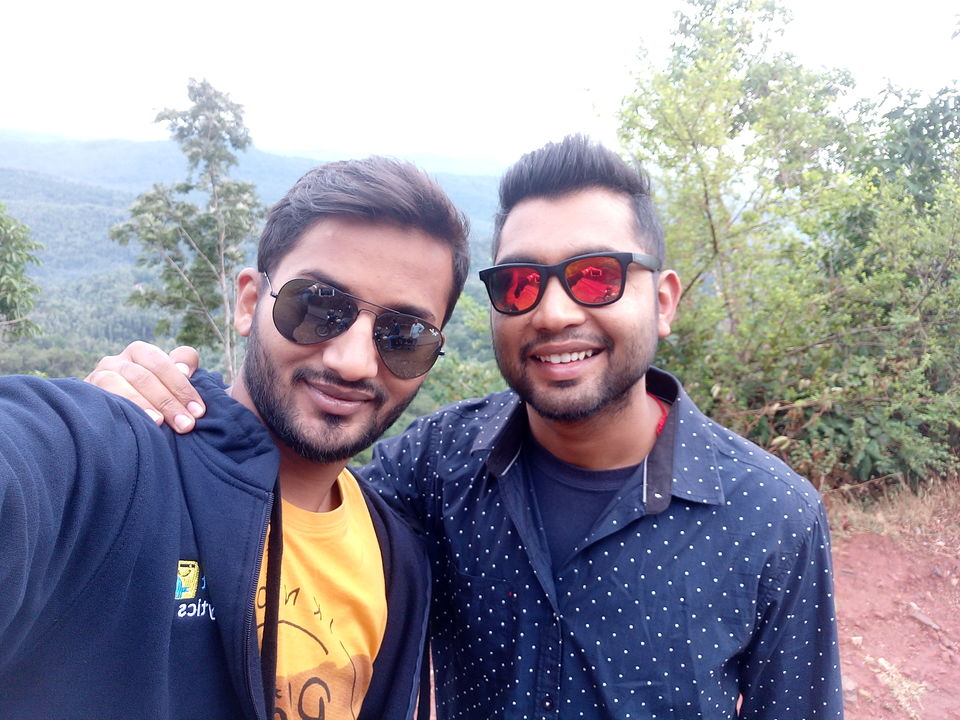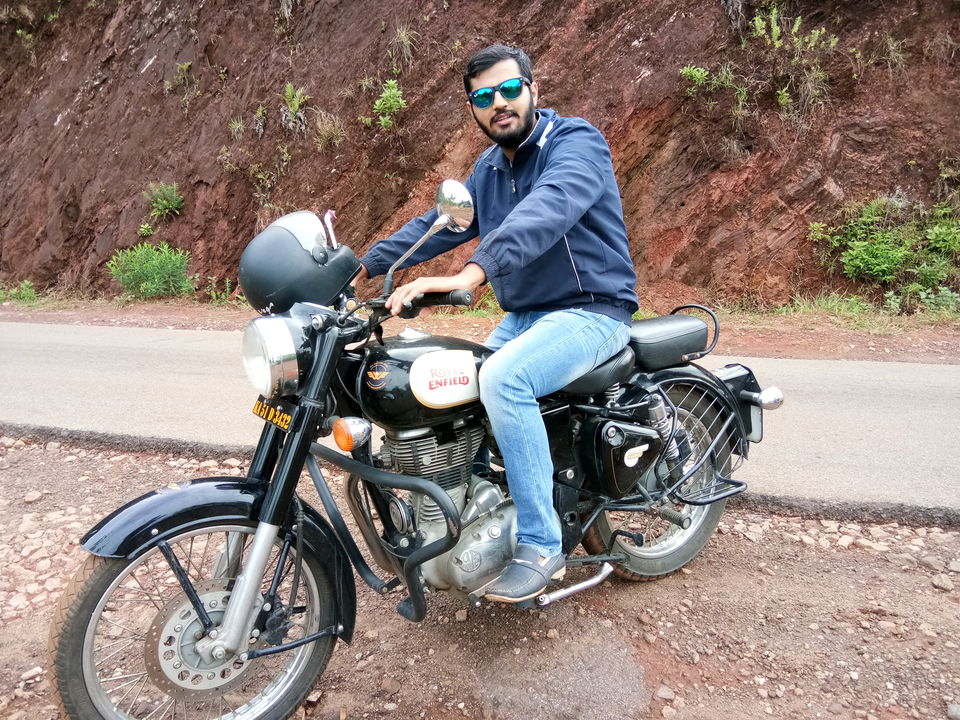 Since we were not able to access internet we missed a turn that would have taken us to Mullyangiri. And we spent next hour roaming in the ghat sections for no reason.
After this stunning view of nature we started heading back for Bengaluru via Halebeedu and other beautiful villages famous for historical temples with great art and stone sculptures.
Once you start from Chickmangaluru, a detour after few kilometres will take you to these places. Make sure you don't miss it. Be watchful of the sign boards!!
We had a peaceful time there. The priests there were well versed and multi-lingual. They provided very beautiful insights about the historical structure and its significance.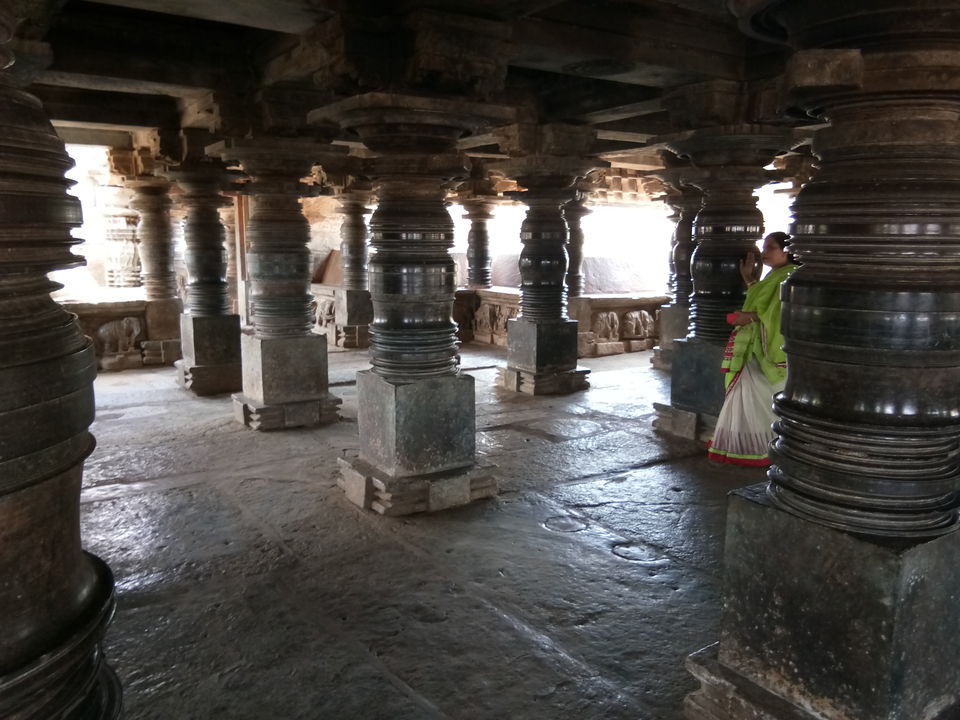 After this they suggested to also go to Chennakeshava Temple in Belur which is another beautiful treat for eyes. It is a really humongous one and the crowd was also good.
Finally, we started our journey towards Bangalore. We had our Lunch in A2B Veg Restaurant situated close to highway at 3:30 PM.
It was really hard for me to convince my roommates to take up this trip. But, afterwards everyone was really satisfied. Moreover, on our way back they were already planning for the next trip to Gokarna that too a bike trip:P
We reached Bangalore by 8:30 PM and returned the bike by 9:00 PM.
This journey was really an achievement for us!!
"Do comment and add this trip to your wishlist if you ever consider to travel this beautiful place. Your comments will encourage me to write more and more so that you get a hassle free travel to these destinations."
Thanks.
Frequent Searches Leading To This Page:-
Itinerary for a road trip in Karnataka, Karnataka Road Trip, Road Trip to Coastal Karnataka, Bike trip bangalore to Chickmangaluru, bangaluru to chickmangaluru on bike