Imagine thick forests, scenic waterfalls, and coffee and spice plantations spread as far as you can see. This is Coorg, a destination that invites you to explore the aroma of coffee and spices hanging in the air and leaves you spellbound with the abundant beauty and wildlife it has to offer.
Aptly called the Scotland of India, everything in this peaceful hilltown will delight you, including some of its best homestays in Coorg. Blessed with picturesque views and scenic charm, Coorg is one of the most enticing holiday destinations in Southern India.
Coffee plantations near the best homestays in Coorg
Whether you are an avid coffee drinker, like me, or not, a visit to a coffee plantation is an experience you must have once in your life. Apart from the coffee plantations, there is no dearth of best homestays in Coorg that offer extensive plantation tours. These tours are a great way to not only explore the plantation, but also learn about coffee cultivation.
Where to stay
Plantation Trails, a hospitality brand of TATA Coffee, has a group of seven bungalows – six in Coorg and one in Chikmagalur – that are a gorgeous reflection of the grandeur of the bygone era.
These bungalows, once owned by Britishers, are now handled by Tata Coffee Ltd. and open to all travellers. But be warned, once you go there, you will never want to come back. Nestled in the lap of luxury, these bungalows are quaint, spacious, and have wooden floors and antique furniture. You will be treated like royalty here, with all bungalows equipped with an in-house chef, a butler and housekeeping staff.
What to do?
TATA Coffee Plantations offer many interesting on-site and off-site activities.
On-site activities
Bean to cup tour
The most interesting and enriching on-site activity is the coffee plantation tour. Aptly named the 'Bean To Cup' tour, it aims at educating you about coffee in as much detail as possible. Coorg is home to the Arabica and Robusta coffee varieties and you get a chance to interact with planters and understand the history behind coffee beans. You can learn the art of planting, cultivating and harvesting coffee. Apart from coffee, these plantations also grow vanilla, cardamom and pepper. The air all around the plantation is filled with delicious aromas and it is an enriching experience that you just can't miss.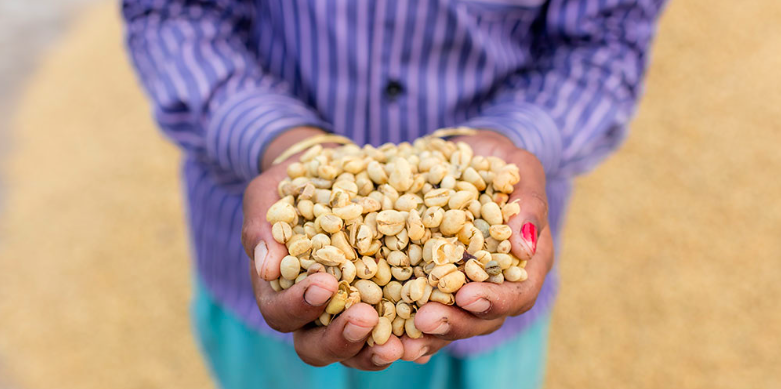 Trail walks
The bungalows have beautiful nature trails all around them. Start early in the morning and soak in the atmosphere around you. These trails will rejuvenate you and make you appreciate the gifts of earth.
Birding
Coorg is a treasure trove of birds with over 300 species residing in the area. It is a heaven for all wildlife enthusiasts. You can spot common species such as Hill Mayna, Indian Grey Hornbill, or rare species such as the White-bellied Blue Flycatcher. TATA Coffee Plantation Trails have expert guides to take you on defined tracks and share their knowledge on the birds of the area. Bird watchers will have another reason to stay at any of the best homestays in Coorg.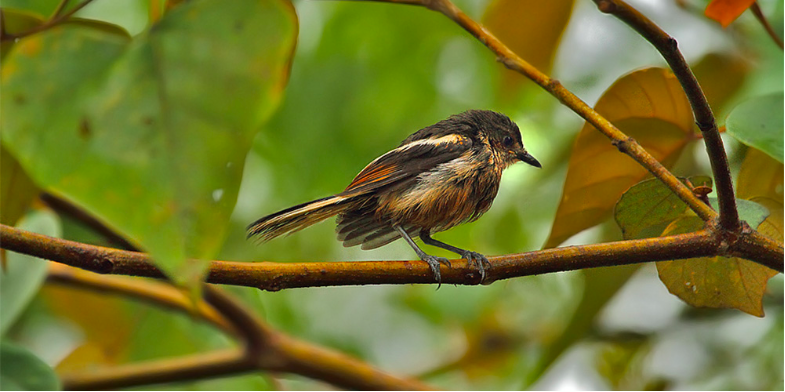 Golfing, bonfires and photography
The Plantation Trails property has a 9-hole golf course, which is free to use for resident guests. They also arrange for cozy bonfires where you can also enjoy dinner (at an extra cost) on winter evenings.
Coorg has a stunning landscape and opportunities for photography are endless. Whether you are an amateur or a professional, you will have a field day capturing all that Coorg and Plantation Trails has to offer.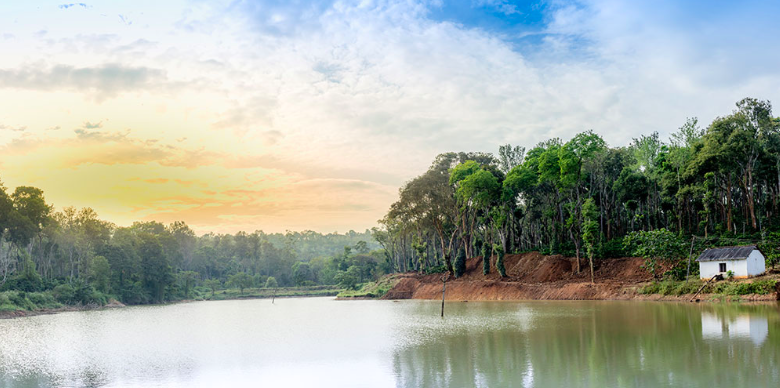 This park is situated between Karnataka and Tamil Nadu and is a part of the Nilgiri Biosphere Reserve. It is also a tiger reserve. But tigers are not the only wildlife in this park. This park is teeming with Asiatic elephants, langurs, cheetahs, deers, nilgais and a huge variety of birds. It is a great alternative to Bandipur National Park as it gets fewer tourists. An excursion to this national park is a great way to spend a morning when in Coorg.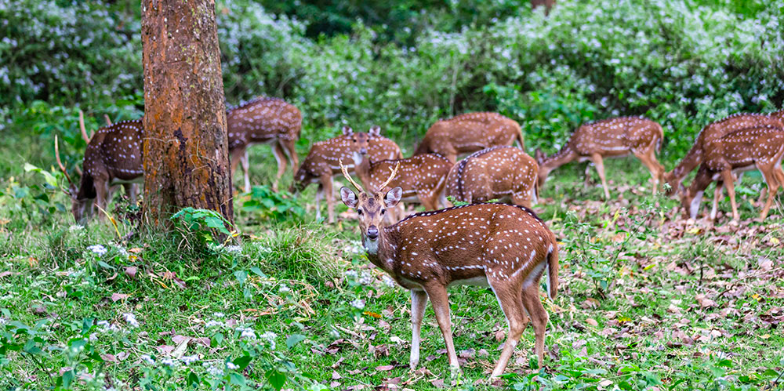 This place is a must visit for all elephant lovers. Here, you can not only see the giant beasts up close but also get personal with them. Guests can participate in an enriching elephant grooming session, give them a scrub-bath and learn how to apply oil on their body. You can also feed them and later enjoy a 15-minute ride on top of an elephant. This is an experience to be savoured.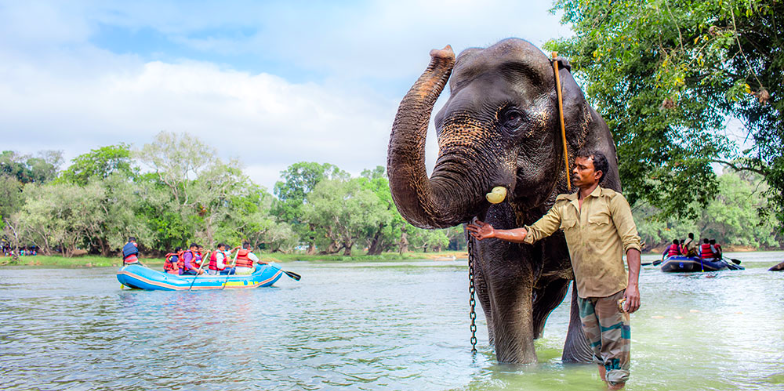 Located amidst the sandal groves, Namdroling Monastery is another must-visit site if you are planning to book Coorg and Ooty package. Home to almost 5,000 monks and nuns, this monastery is renowned as a centre for the pure upholding of the teachings of Buddha. A prayer session at the monastery is a sight to behold. You can also shop for silver jewellery and other Buddhist souvenirs nearby.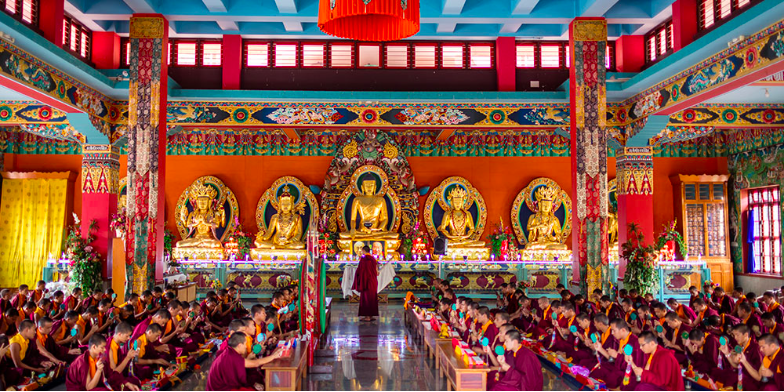 Madikeri has that enchanting environment that has hooked tourists from all across India and the world. Beautiful sceneries, picturesque mountains, and the quiet environment makes it a great option for spending the day. The air is fresh and cool and infused with the aroma of coffee and spices. You can visit the Madikeri Fort, Omkareshwar Temple, St. Mark's Church and Raja Seat.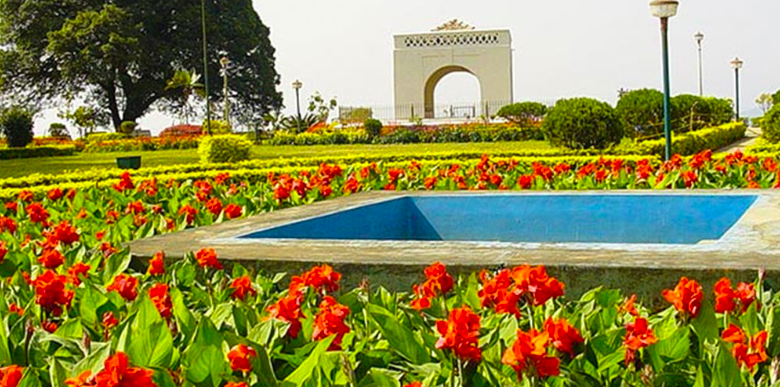 These cascading falls are the gems of Coorg. They are set in a gorgeous location, providing picturesque views and amazing photographic opportunities. Abbey Falls drop down from a height of 70 feet, while the Iruppu Falls plunge down from a staggering height of 170 feet. Monsoons or not, these falls provide a great opportunity to experience something unique and beautiful.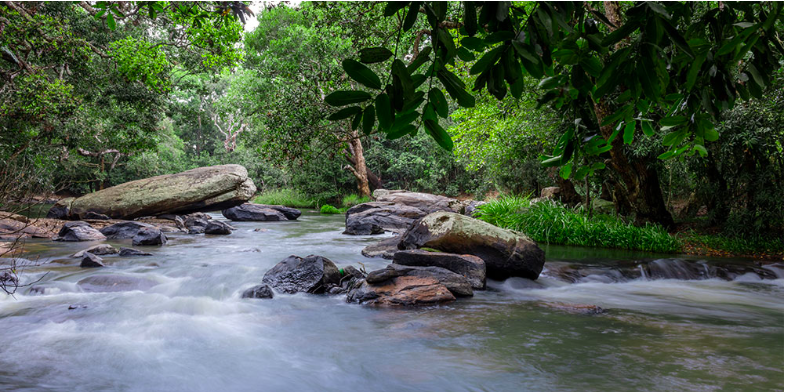 White water rafting
The Barapole River provides the most exhilarating rafting experience in South India. Run by professionals, one session of rafting will take you through five rapids of varying degrees of difficulty. Mandatory training is given in calmer waters before you go down the river.
How To Reach
By Air
Closest airports: Bangalore (280km), Mangalore (211km) and Mysore (120km)
By Train
Closest railway station: Mysuru Junction (90km)
You can take Rajyarani Express from Bangalore, which will take you to Mysore in 3 hours, and then a bus or taxi from Mysore to Coorg.
By Road
KSRTC (Karnataka State Road Transport Corporation) provides deluxe buses to Coorg on a regular basis from cities such as Bangalore, Mysore and Mangalore.
So why wait when you can book yourself a Coorg Ooty package now and explore the best coffee trails!
All images are sourced from the official website of Plantation Trails.
Which according to you is the best homestay in Coorg? Share your experiences with Tripoto community.
Frequent searches leading to this page:-
best place to stay in coorg, best homestay in coorg for family, best homestay in coorg for couples, best place to stay in coorg with friends, coorg holiday package with family, coorg kerala tourism, places to visit in coorg virajpet, homestay in suntikoppa coorg, hotel nakshatra coorg, coorg visit season