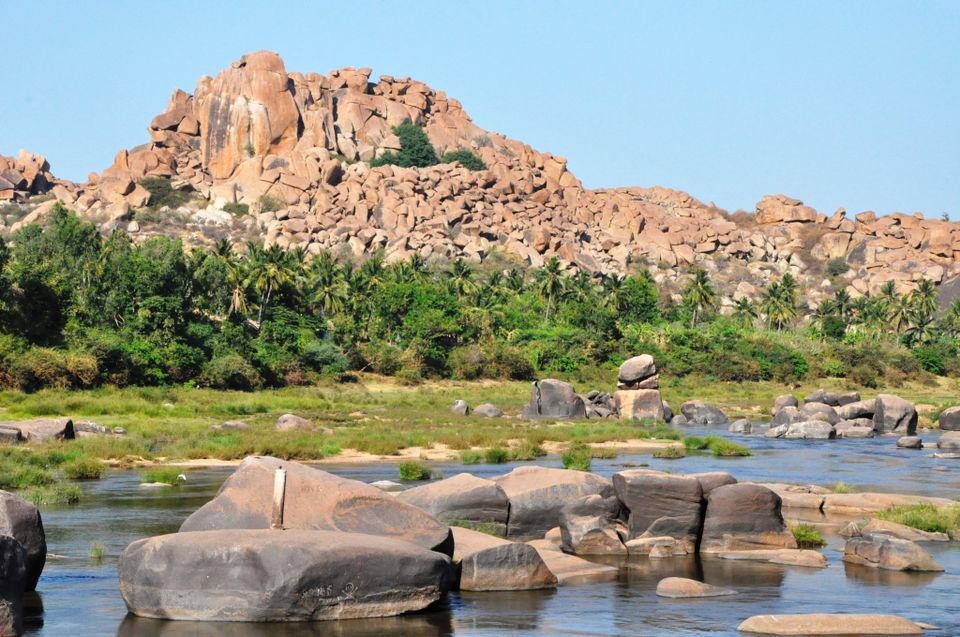 Tucked within majestic boulders, and heavily laden with culture and history is the lazy hamlet of Hampi.
The capital of the once famed Vijayanagara empire, Hampi does not disappoint even today. There is a sense of ancient royalty in the air when you walk through the lanes of old Hampi, well preserved ruins that are proof of what a magnificent place this must have been then, surround you on all sides. The monolithic architecture makes you wonder if there had been some sort of a Greek influence here or vice versa. Interesting sights to see, tales to hear and architecture to marvel at, Hampi leaves you spellbound. But Hampi is just not about its ancient history or the famous temples, its sprawls beyond that to give life to a hippie culture that most would not expect to find at this place!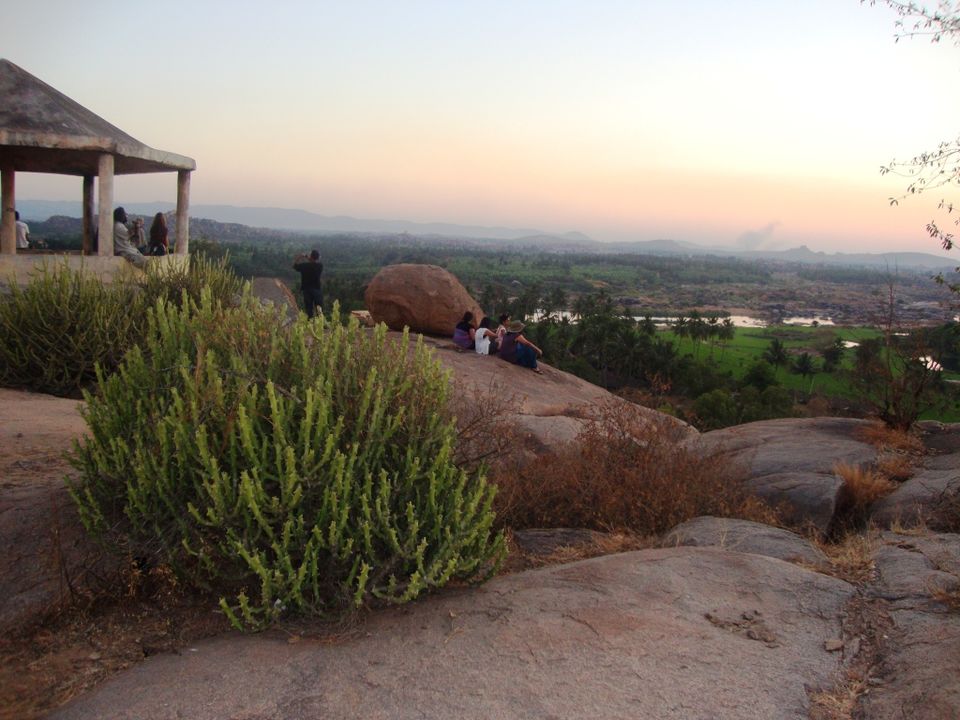 Being in Hampi is like being at two places at one time, the main village that houses a major chunk of all the important monuments and temples from the bygone eras, while the other side is host to the 'Hampi Island'(as called by the locals) which is a hipster's paradise. While the mainland is bustling with everyday activity and has an element of a maddening yet energizing chaos , the other side of Hampi is a far cry from all of this. One has to take a ten minute ferry ride to get to the island or if you are lucky then you can cross the river sitting on an elephant! Once there, you will find yourself immediately transferred to a place that has a lazy and soothing vibe to it. At first you won't believe that there actually exists a place like this, walking down the lane to find a decent accommodation for yourself, you will come across places like "Bob Marley Lodge" or "The Laughing Buddha". A string of hipster styled lodges and shacks- all well equipped with an European eatery will make you wonder if this is the same little Hampi you had read about in your history textbooks in school!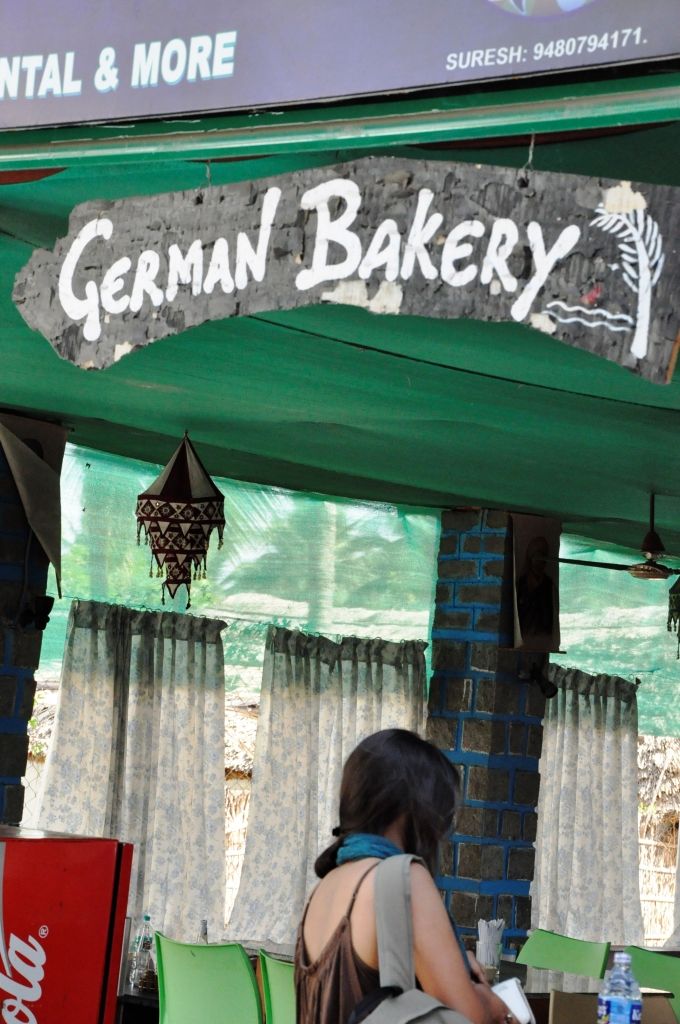 A very popular destination with backpackers, mostly Europeans, this side of Hampi has a more relaxed and chilled out vibe. You will find clean and cheap accommodation in majority of the lodges but don't expect anything fancy, in fact anything amounting to luxury would actually destroy the charm of the place. You can choose from an array of continental cuisine for all you meals and when in Hampi, drink plenty of beer, for that is the only form of alcohol that you get here, but ofcourse with a little bit of extra cash the locals will arrange for the poison of your choice, or better still you can carry your own.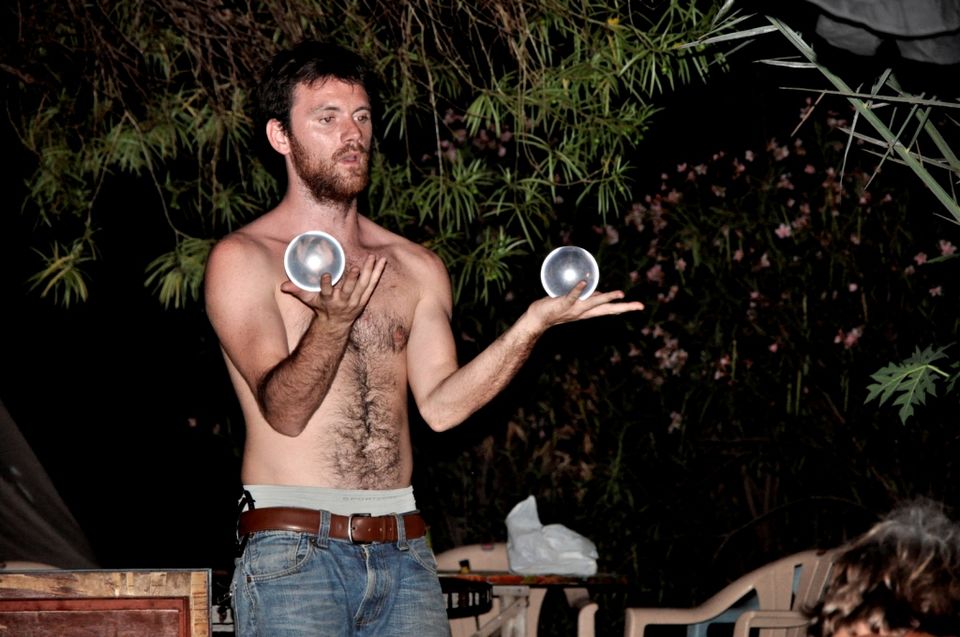 Hampi has a lot to offer if you are willing to let go of the conventional. From lazing around in your hammock at the lodge to riding in and around the village on a rented moped, Hampi gives you a chance to experience things you wouldn't do on a normal vacation otherwise. Personally my best experience at Hampi was at this place called "The Teepee", a massive tent and an open air restaurant under massive boulders. Once there you can pick an instrument of your choice, sing, dance, drink or even tight rope walk if that excites you! It's a place where strangers seem to be friends, you dine with them, sing with them and this place gives you the chance to just let go. It's a beautiful feeling to watch the sunrise to the sound of music being created by you.
This is but just a snapshot of what Hampi is like. There is so much more that can be told about the place, but some things can only be experienced.
Hampi will surprise you!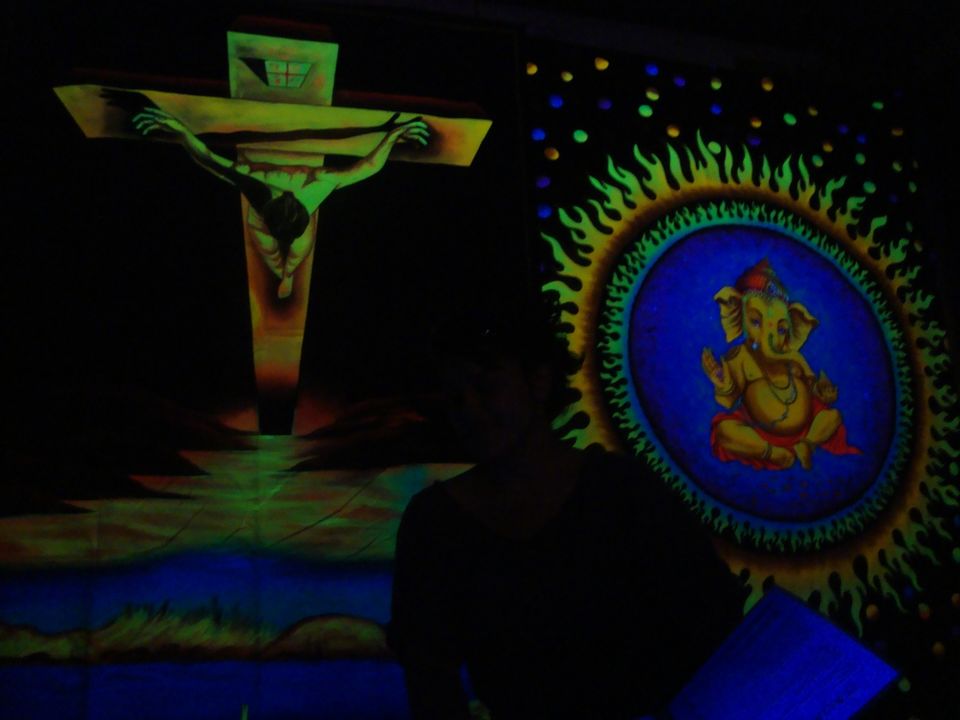 In addition to spending a lazy day at the Hampi Island, long moped rides to the dam and the singing and the dancing, make sure you do not miss some of the architectural and historical wonders Hampi houses, some of which are mentioned below.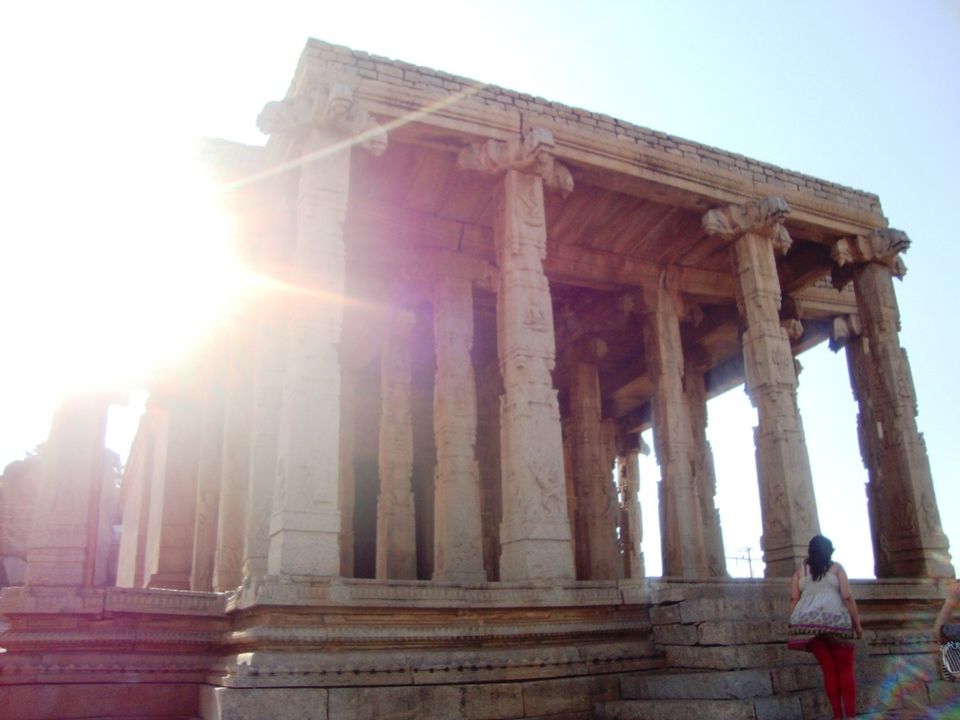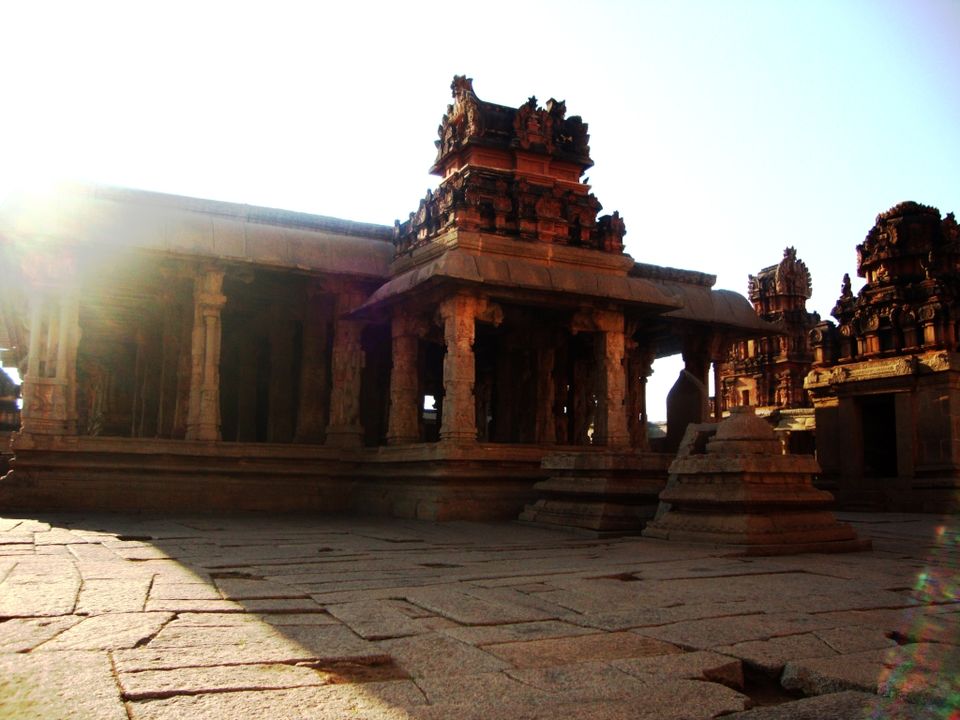 Attractions: 
Hemakuta Hill Temples: Not only will you be treated to panoramic views of Hampi from up here but you will also be treated visually to beautiful monolithic structures that will make you wonder if there was a Greek connect somewhere here.
Monkey Temple (Hanuman Temple): This ancient temple is believed to be the birth place of Lord Hanuman. It is located on a small hill and is roughly a 600 steps climb uphill.
Vijaya Vittala Temple: Built in 15th century AD, this temple houses a lot of ancient structures and some intricate carvings that are worth looking at. The temple campus houses some monolithic structures as well as the giant stone chariot structure which has been made famous in Indian history textbooks! Not only that but you can also see bit remains of the old town structure here as well.
Virupaksha Temple: This 7th century temple is a marvel to look at. Having undergone many changes the temple still serves as an important place of worship in Hampi.
Royal Enclosure: What was once the seat of the Vijaynagara rulers, is a mass of sprawling land with beautiful structural remains from centuries ago. The remains include a step well, an audience hall, queen's chambers among other structures.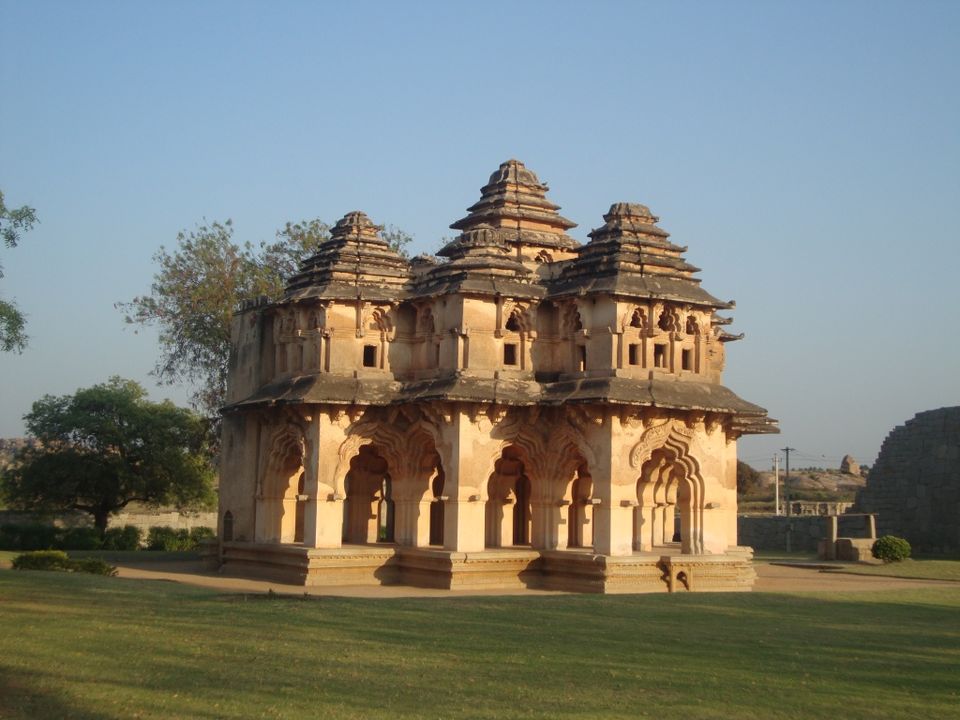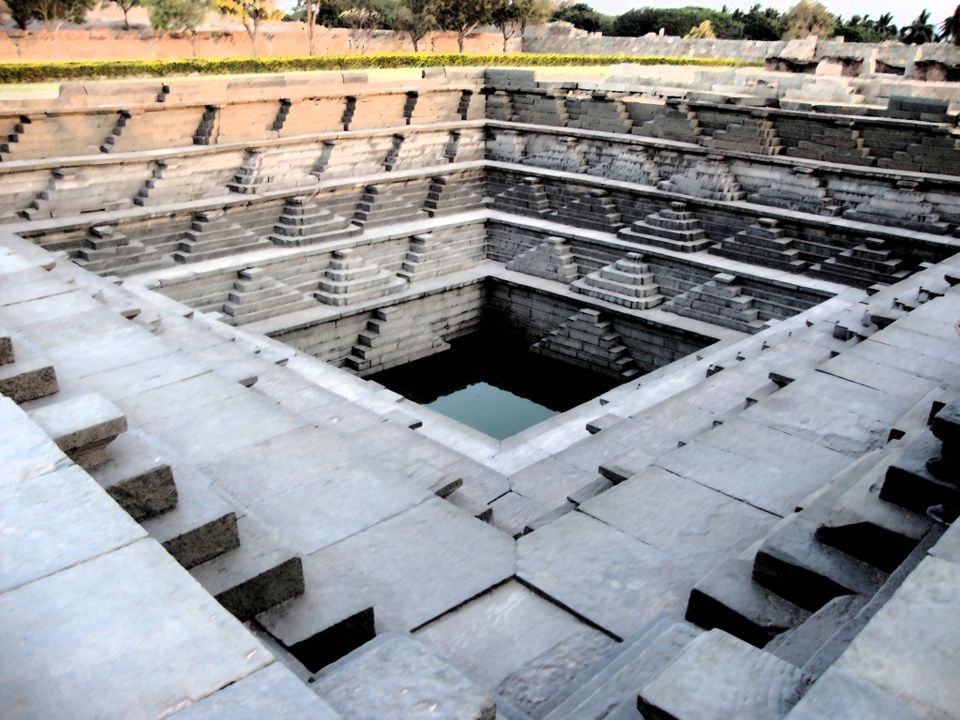 Getting there: There are no direct buses to Hampi, one has to take an overnight bus from Bangalore to Hospet and from there Hampi is just an auto-rickshaw drive away.