We chose Hampi for a long weekend getaway.Hampi do not have a direct bus facility from Hyderabad.So we took a bus till Hospet.We got down at hospet at around 3.30 AM near Hospet bus stand.The moment we got down auto drivers surrounded us demanded an amount of 4000 INR to take us to out pre booked resort in Anegundi which is other side of the river(just 30km from Hospet).
We dismissed them and went into bus stand and enquired about the ways to reach anegundi. Bus drivers and person at enquiry are very helpful in providing all the required details.
We waited for 2 1/2 hours almost till our bus to Hubli came at 6 AM.(A point to be noted we are group of women ,a bit apprehensive to wait for the bus at that odd hour, but cops can be seen patrolling and checking on us which assured us of our safety).
The journey to Hubli is very refreshing and we observed all the way through the villages are quite clean and orderly arranged houses and a lot of cows. We reached Hubli at around 7AM.There is no proper bus stand at Hubli. We enquired and took an auto as option which costed us total amount of 400 INR from Hospet to Anegundi.
The journey to Kishkinda Heritage Resort is little bumpy but picturesque with full of stone hills and the arrangement of stones on this hills are quite different and magnificent which hold the stories of royalty. We reached our resort by 8 AM which is located in a very peaceful location. The cottage allotted to us is very beautiful with a pool side view and a water park next to us.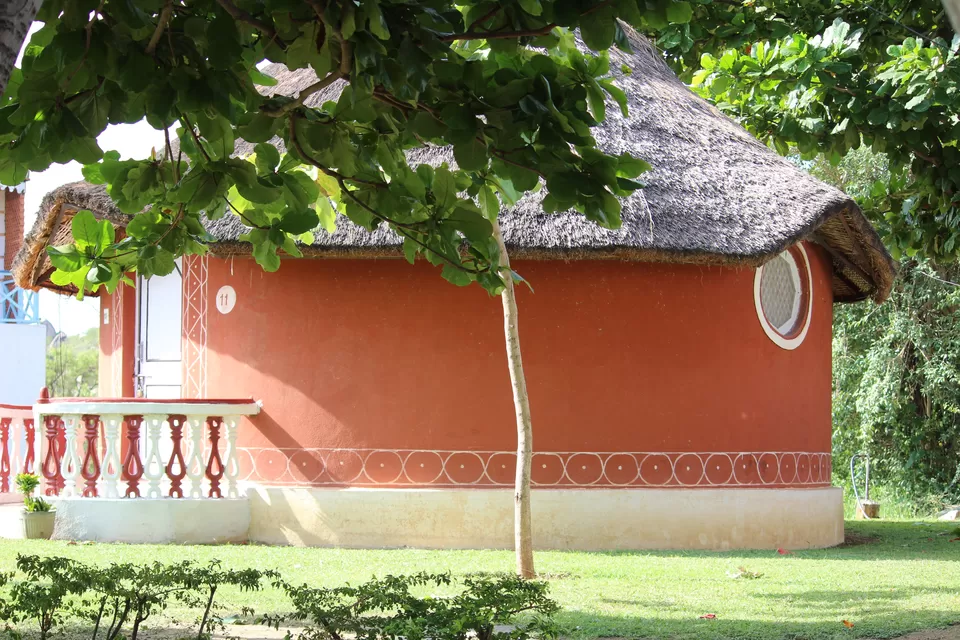 We started to hampi by taking an auto from our resort and our first stop is to Vittala Temple with a grand Stone chariot and sunday bazaars standing as a witness to the grandeur of the Vijayanagar dynasty.The solar powered buses being driven by women employees ,that take us from the ticket point to the steps of temple is great innovative idea to avoid pollution and jobs to women.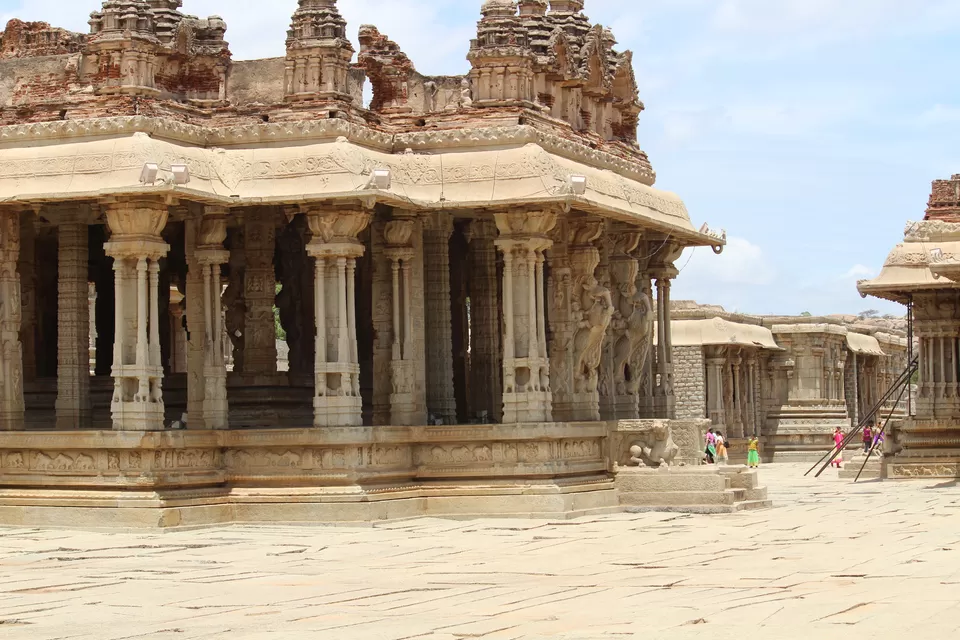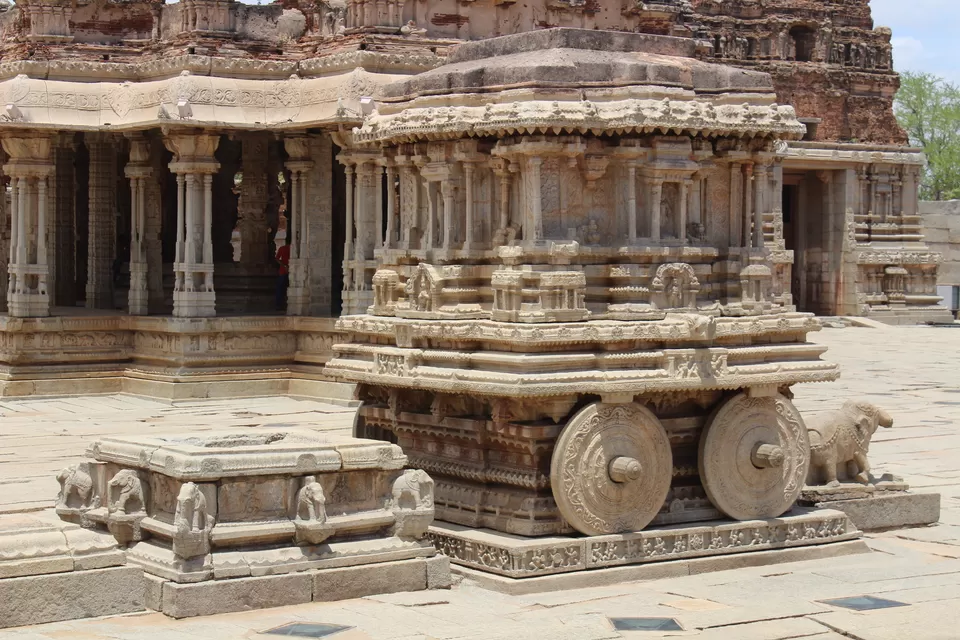 We next went to Queens bath , Lotus temple,Elephant stable and Kings court,Shiva temple and many more architectural wonders which mesmerised us with the beauty,tales behind them ,sculptures,stone carved idols.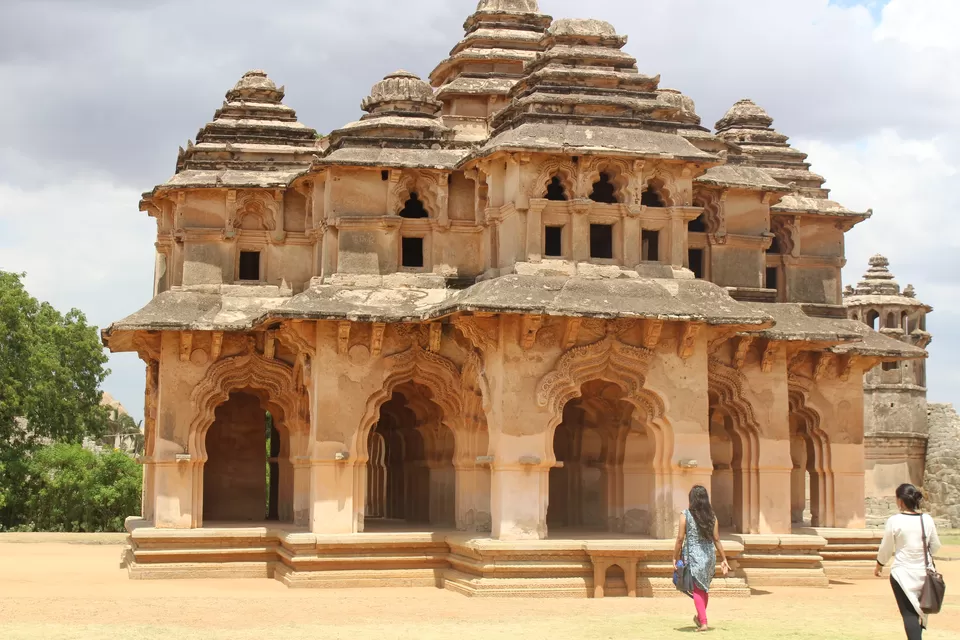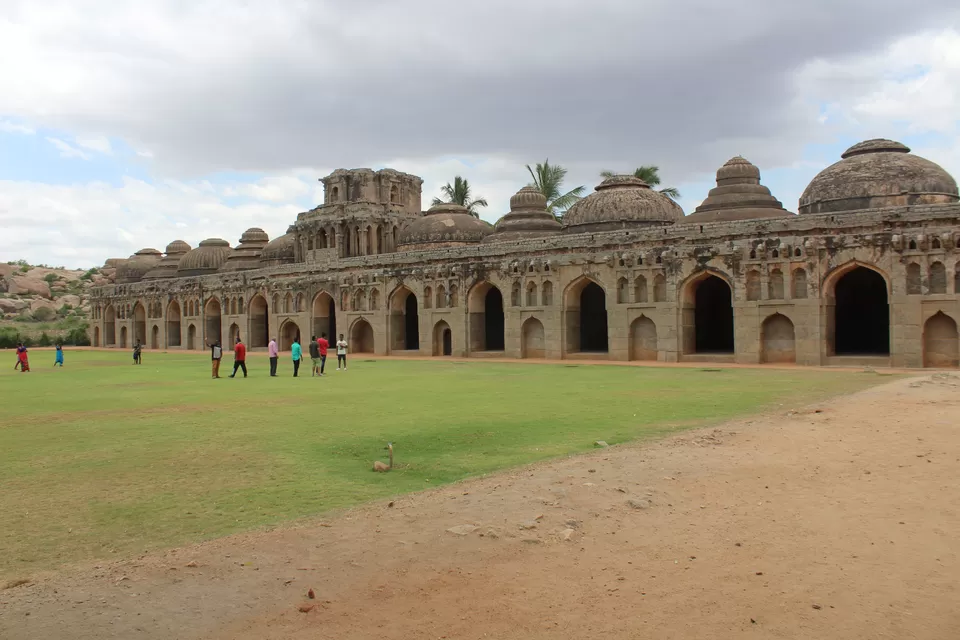 Virupaksha temple need to be specially mentioned with the sky scraper Gopuram standing tall in midst of the the stone hills.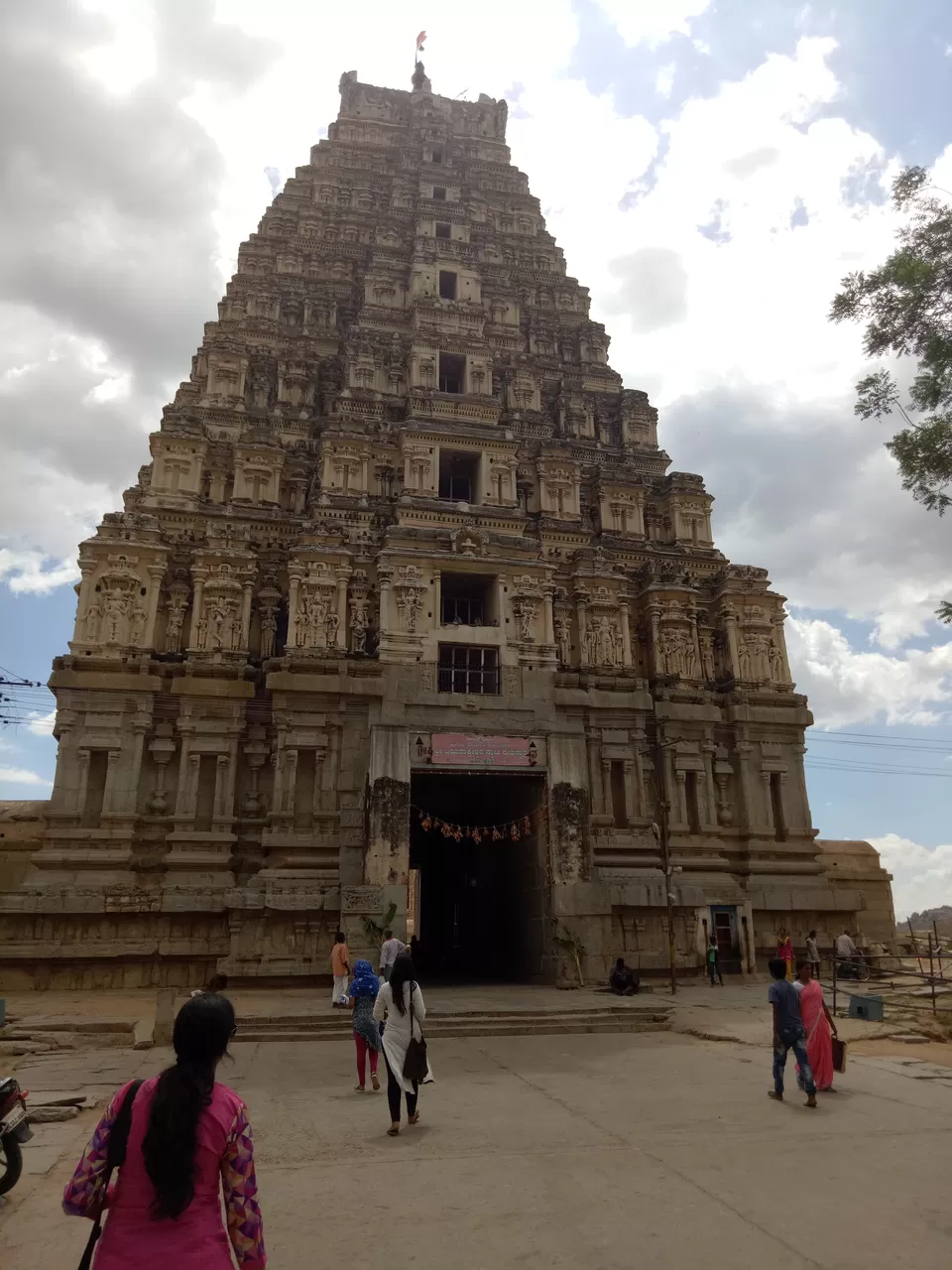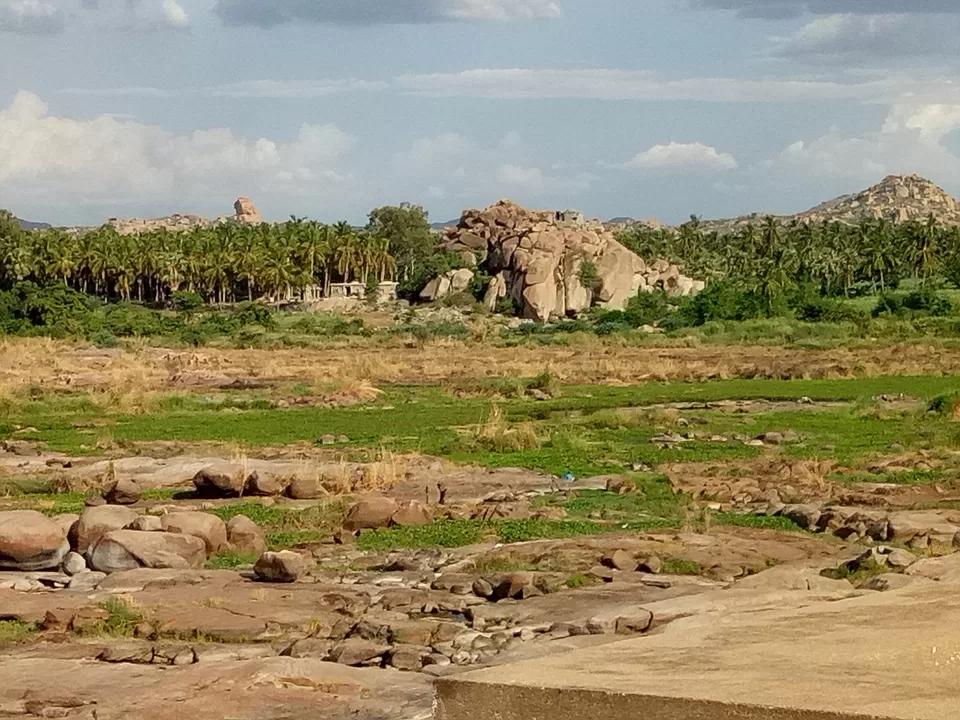 Day 2-
We wentto so called Hippie Island(Anjanahalli) filled with small size hotels,cafes and shops selling clothes.We fancied ourselves sometime going through the shops and shopping few things.Once done we went to most talked cafe Laughing Buddha and we spent more than 5hours even without realising time in the most vibrant yet peaceful place(one reason is,its too sunny outside).We got to meet few foreigners and listened their stories.Had a fun filled afternoon.
We started our hike to sunset view just walkable distance from cafe at around 4pm and reached top of hill by 5pm.The view is spell bounding.We were pulled into serene beauty of the sun and the sight of ruined temple far from the hill shining in sun just took our breath away.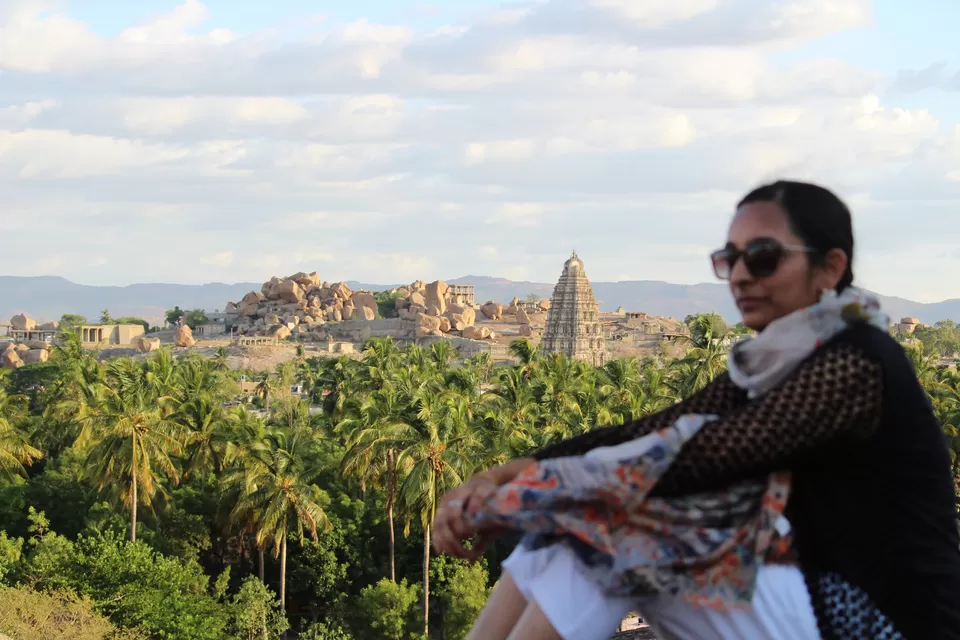 We ended our trip by spending our third day in the waterpark and resort and headed towards Hyderabad with memories and lot pictures :)
Note -
1. Recommend to take Local Guides when visiting temples.
2. Be careful with auto people as they charge way high than the prescribed charges, get help of the your hotel concierge department.
3. Hampi is not too safe for solo women(as far as we observed).
4. People are very friendly and helpful.
5. Take cash with you as much as possible as finding an ATM or places that have swipe machines is very minimal.
6. Cafes to visit - Mango Tree, Laughing buddha in Hampi and Naivedyam Restaurant in Hospet for lick smacking southindian dishes.
6. Take lot of pictures :)