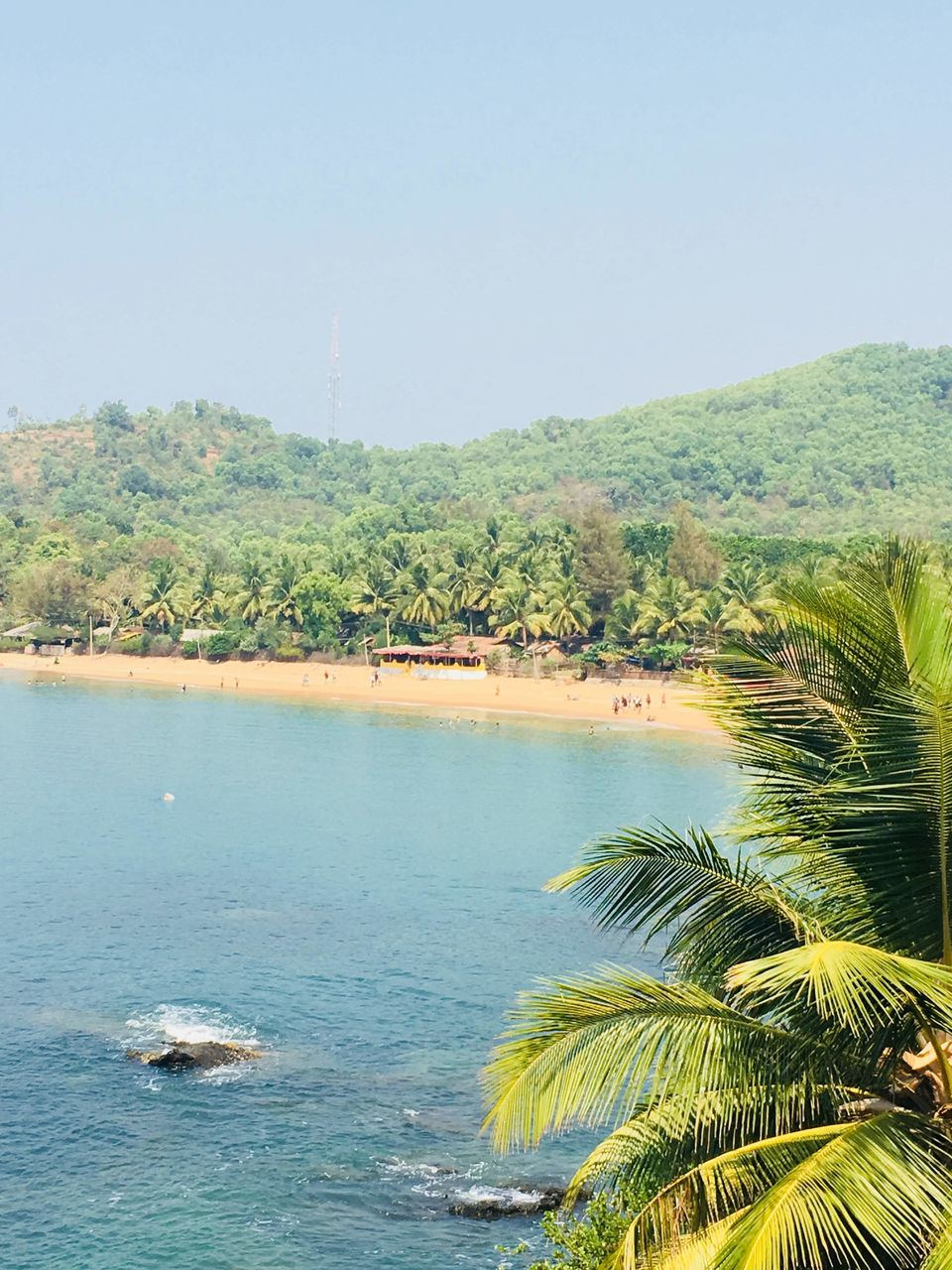 A disclaimer: I am not a trekker. I have trekked only few times before and nothing extraordinary so anyone can go for this.
I have been to gokarna 4times in 2years and everytime I went, this trek has been my favorite thing to do.
The best time to do this trek in my opinion is in the morning before 10:00 am, because the weather gets really hot in Gokarna and as it's a beach trek the humidity is high. But nonetheless I have trekked here in the morning as well as afternoon both were good.
Now coming to the details, the actual trek starts from om beach and ends at the paradise beach. We also will be crossing half moon beach on the way. There will be fabulous views from the cliffs and also you can see how the beach looks like an om, and the reason behind it's name.
We were staying at Kudle beach and we decided to start the trek from there. we found out a short cut to om beach, asked few people and if you really notice there are few tiny direction signs given to reach om beach. But do not rely on that if you don't wanna get lost.
So we left kudle at 7 a.m and the weather was pleasant and reached om beach at 7:45 am. Without giving a stop there we started our trek from om beach. Of course at this time there was no crowd. And actually even on a crowded day you won't find many people trekking. There were never more than 2 groups trekking while we did.
This is a hill trek with a beach view, the trek path is not hard to find. But there are few places were you need to take the correct routes otherwise you will come to a dead end which is not at all bad. We came across a cliff and that became the most Serene view of the trek. We sat there for a while and enjoyed the beauty, we also spotted some dolphins and just while leaving I saw a turtle too. I think you can see these only in the mornings when it's not very hot. Another reason to start early.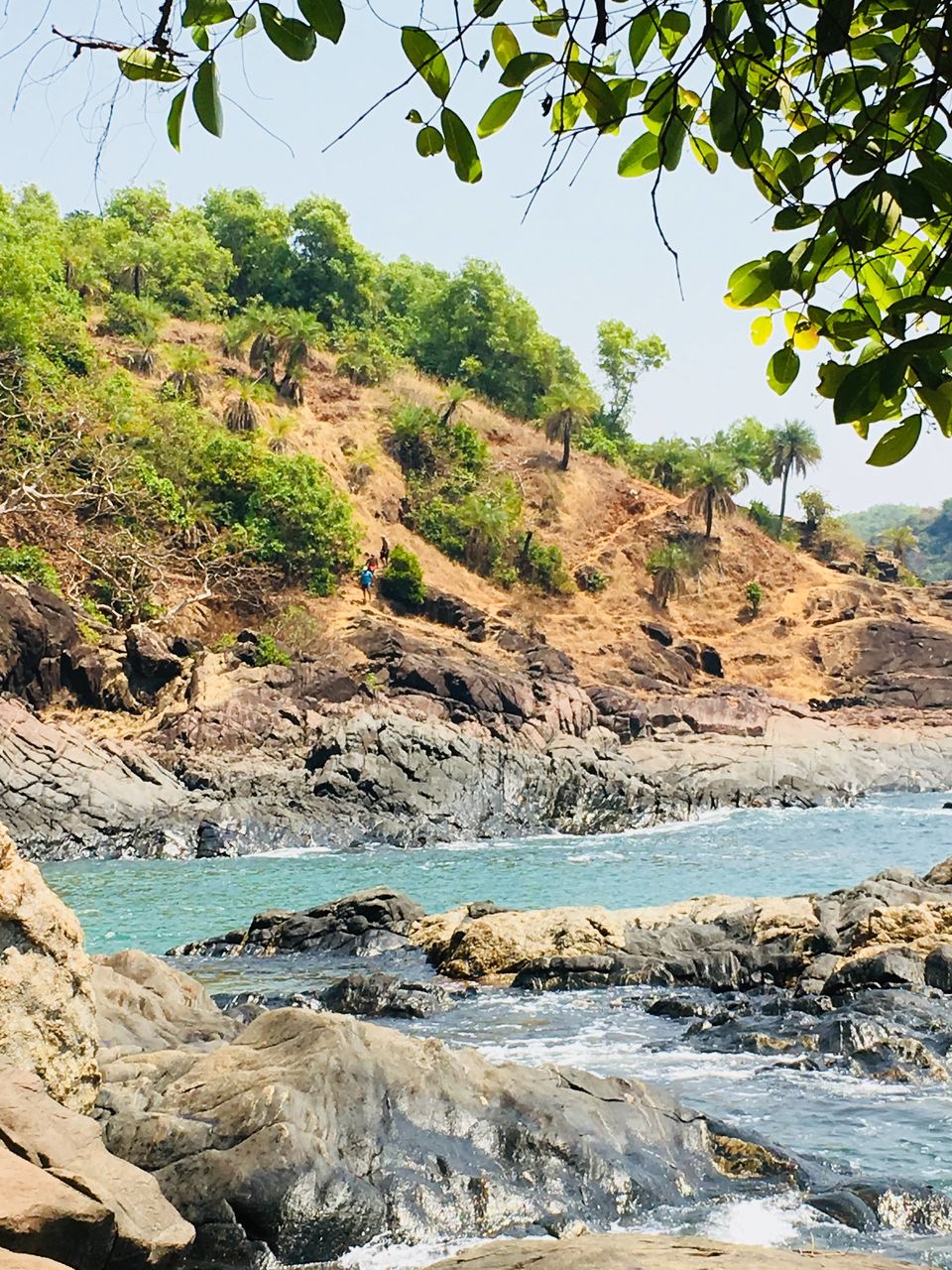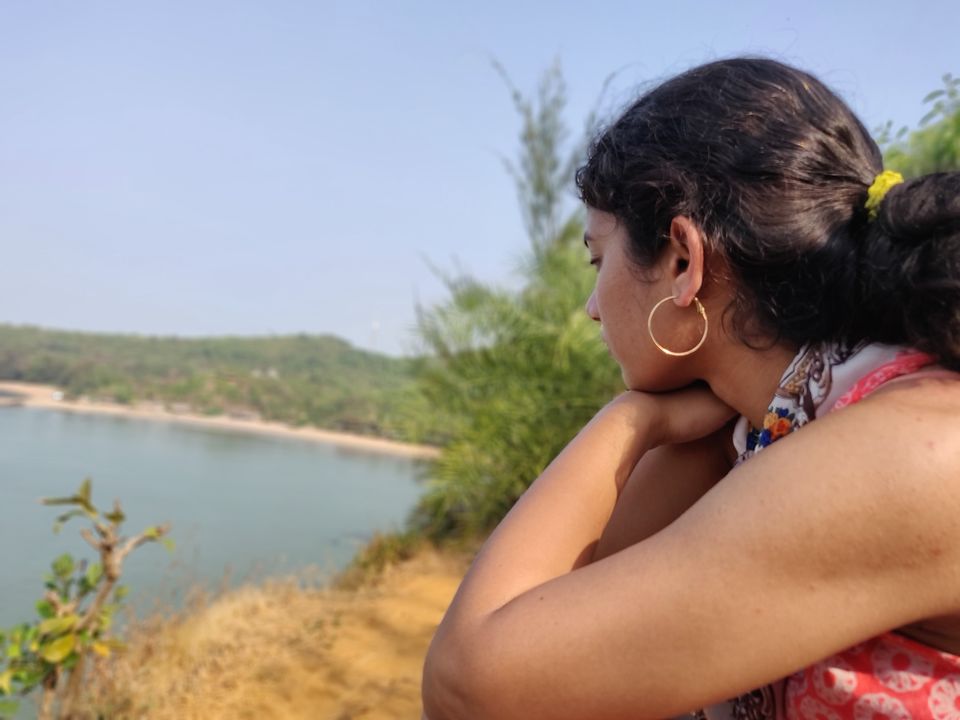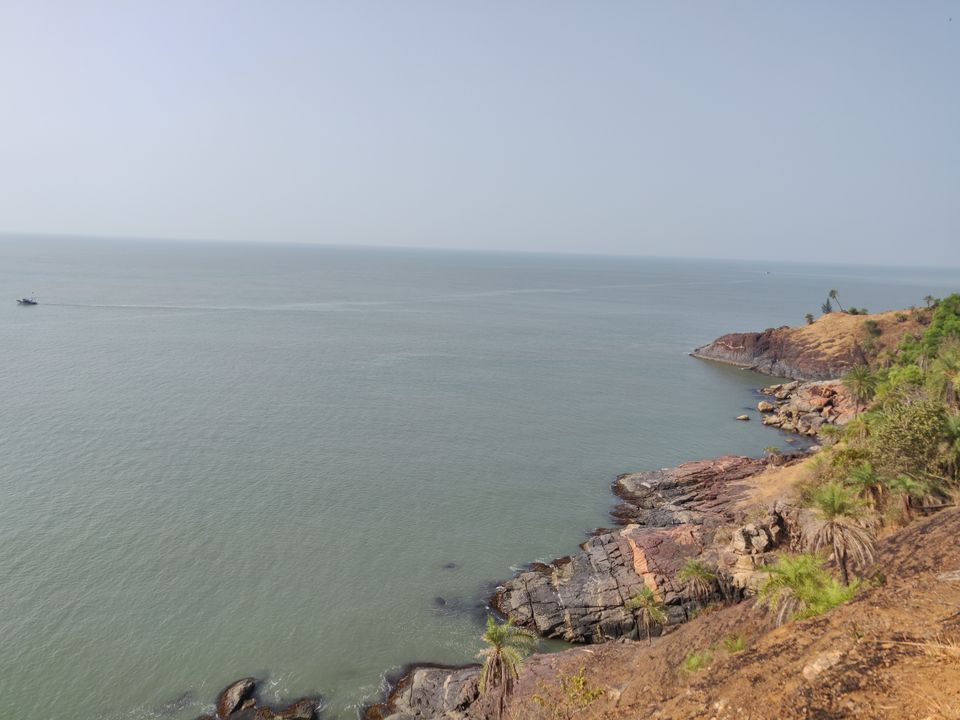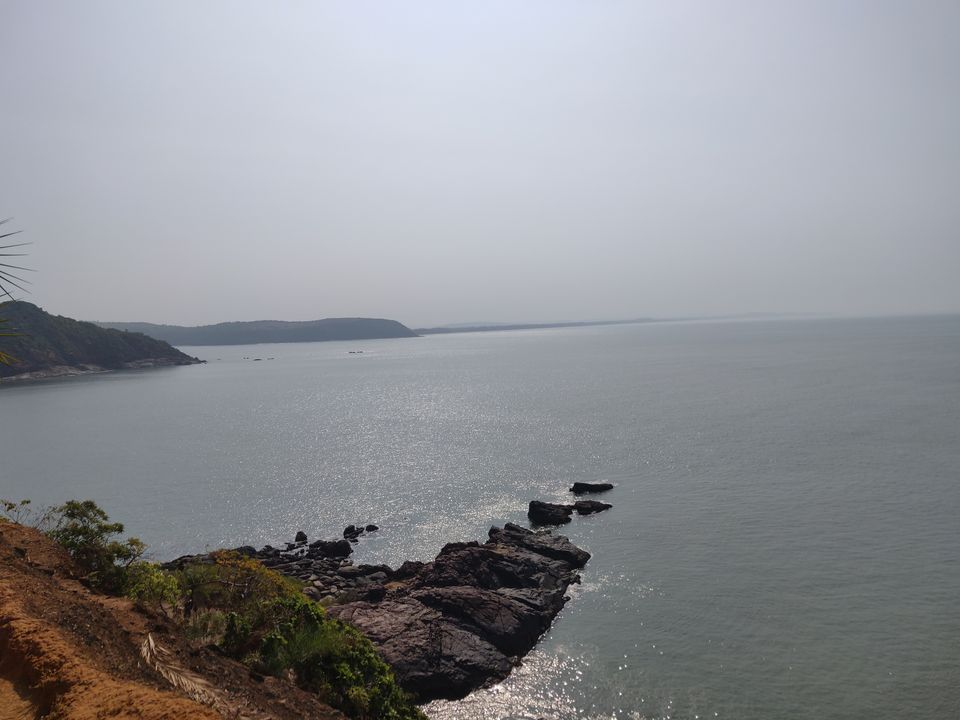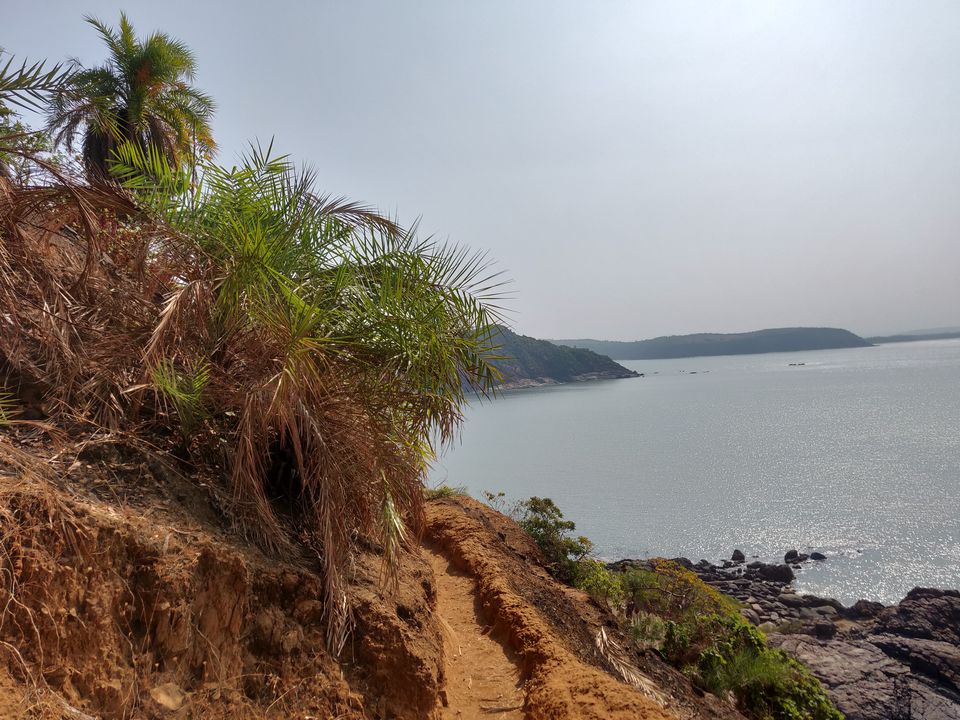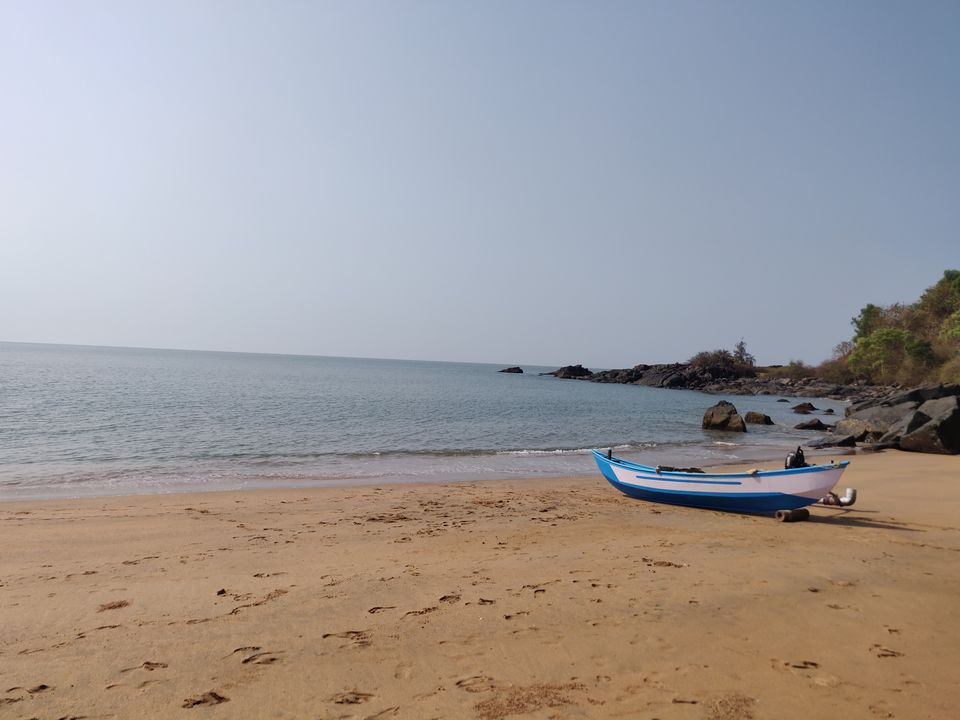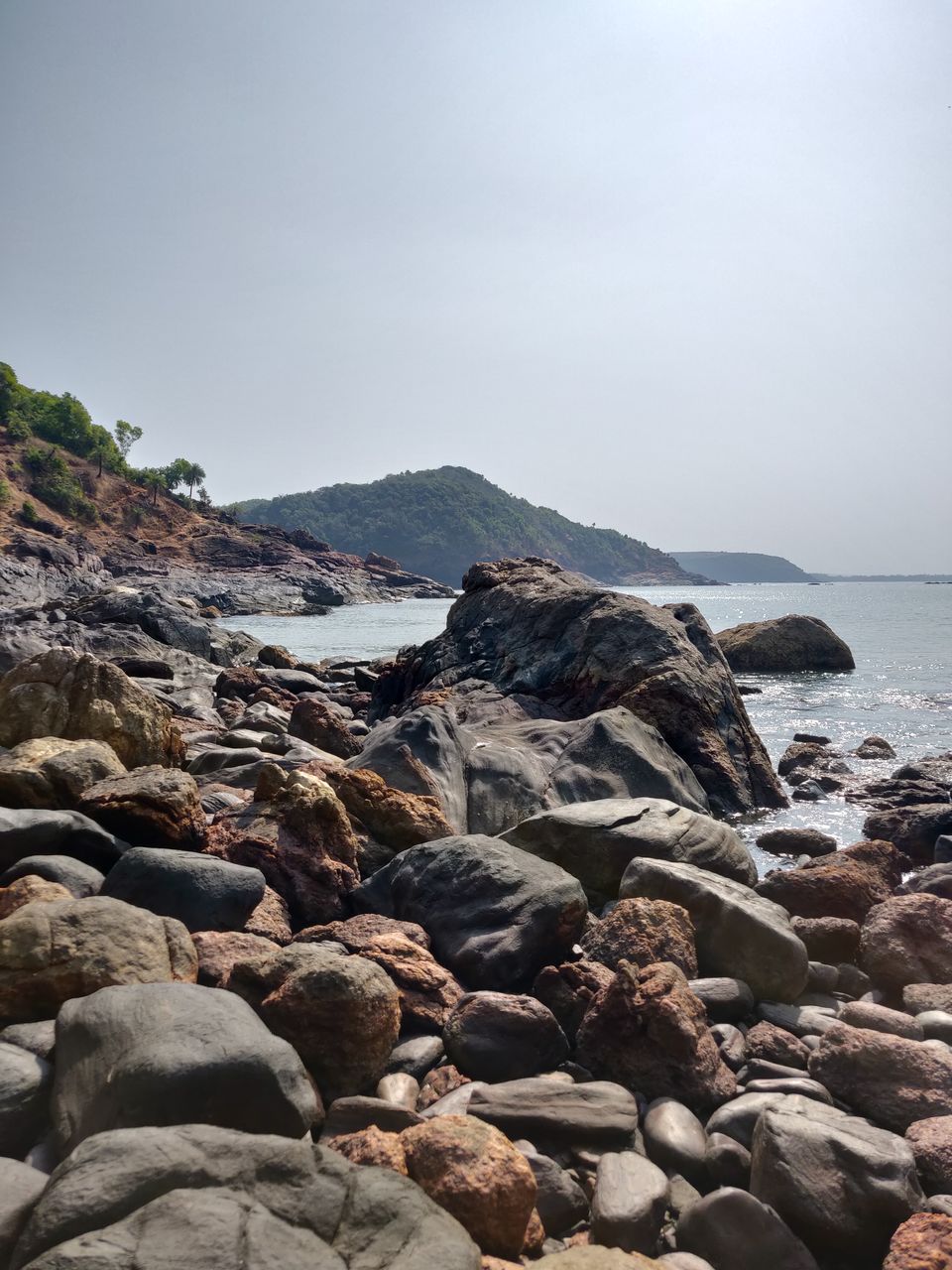 We went back to the route and started the trek again, the path sometimes gets a bit difficult. There will be very narrow trail on the edge of the cliff so just be careful with your steps. After trekking for another 40min we reached half moon beach. This beach will not have any crowd. There were hardly 2 or 3 people playing some games. The water of-course is very clean and is deep blue. If you want to spend some peaceful time then this is a good place you can take a dip and relax for a while.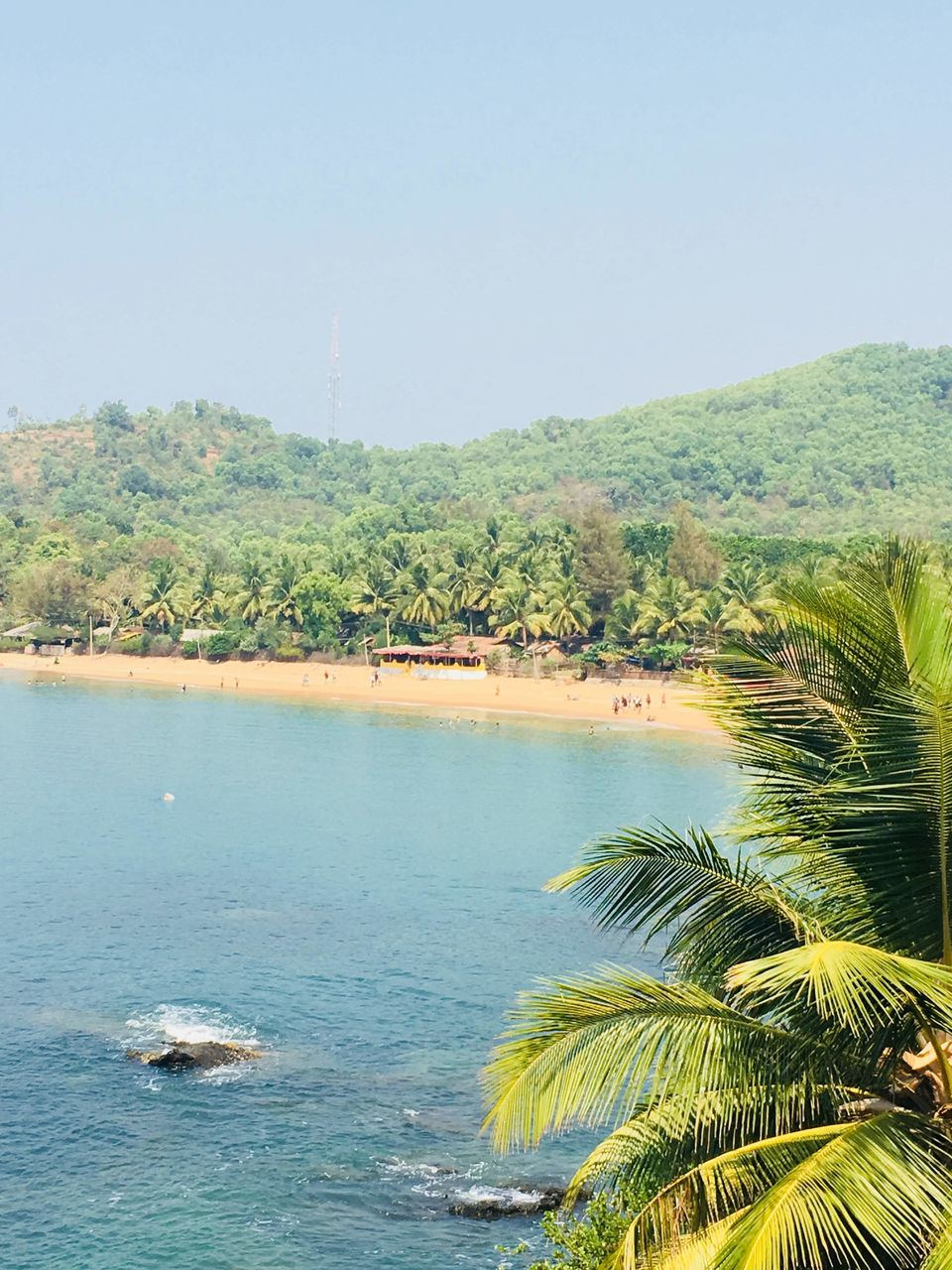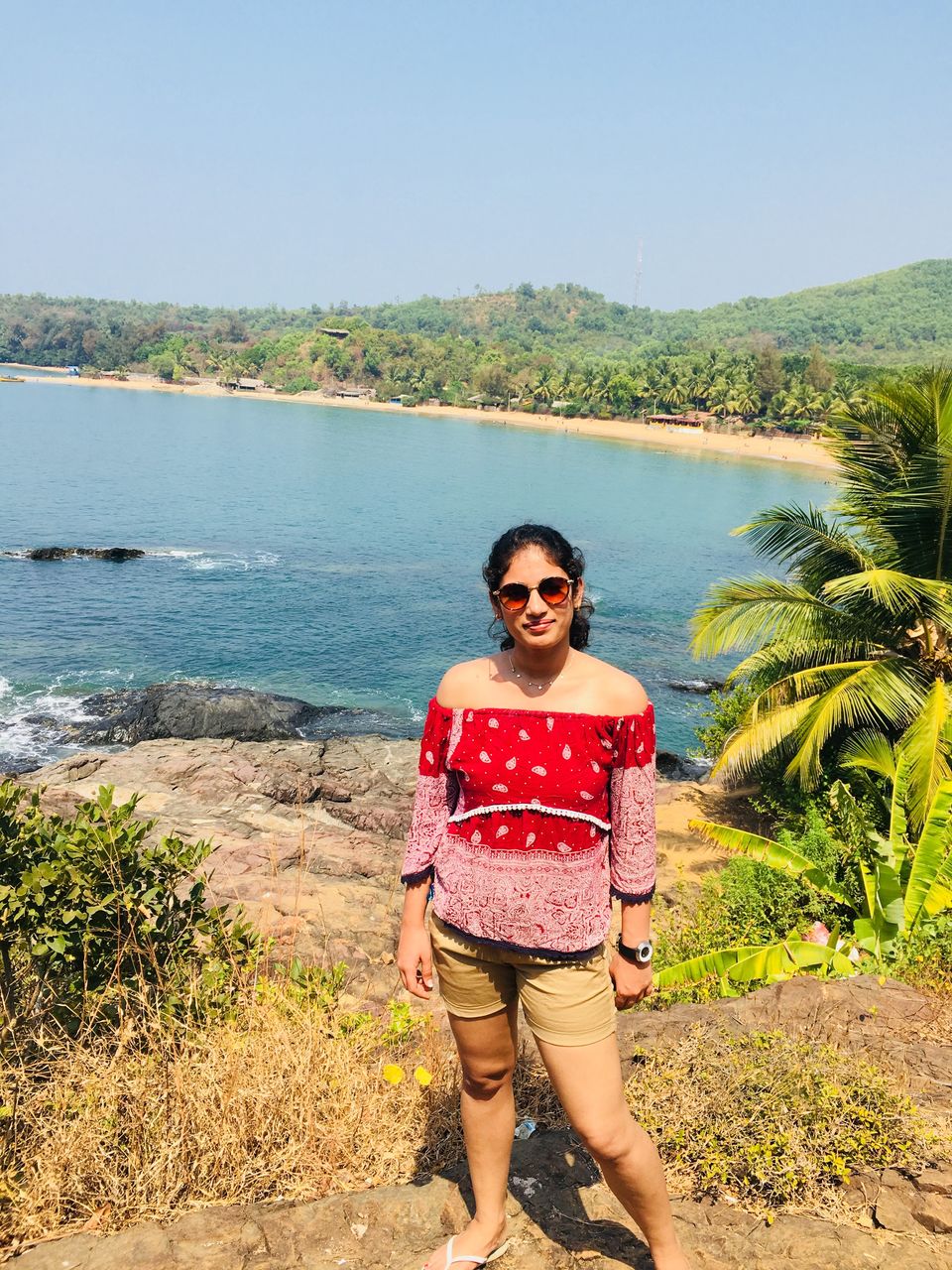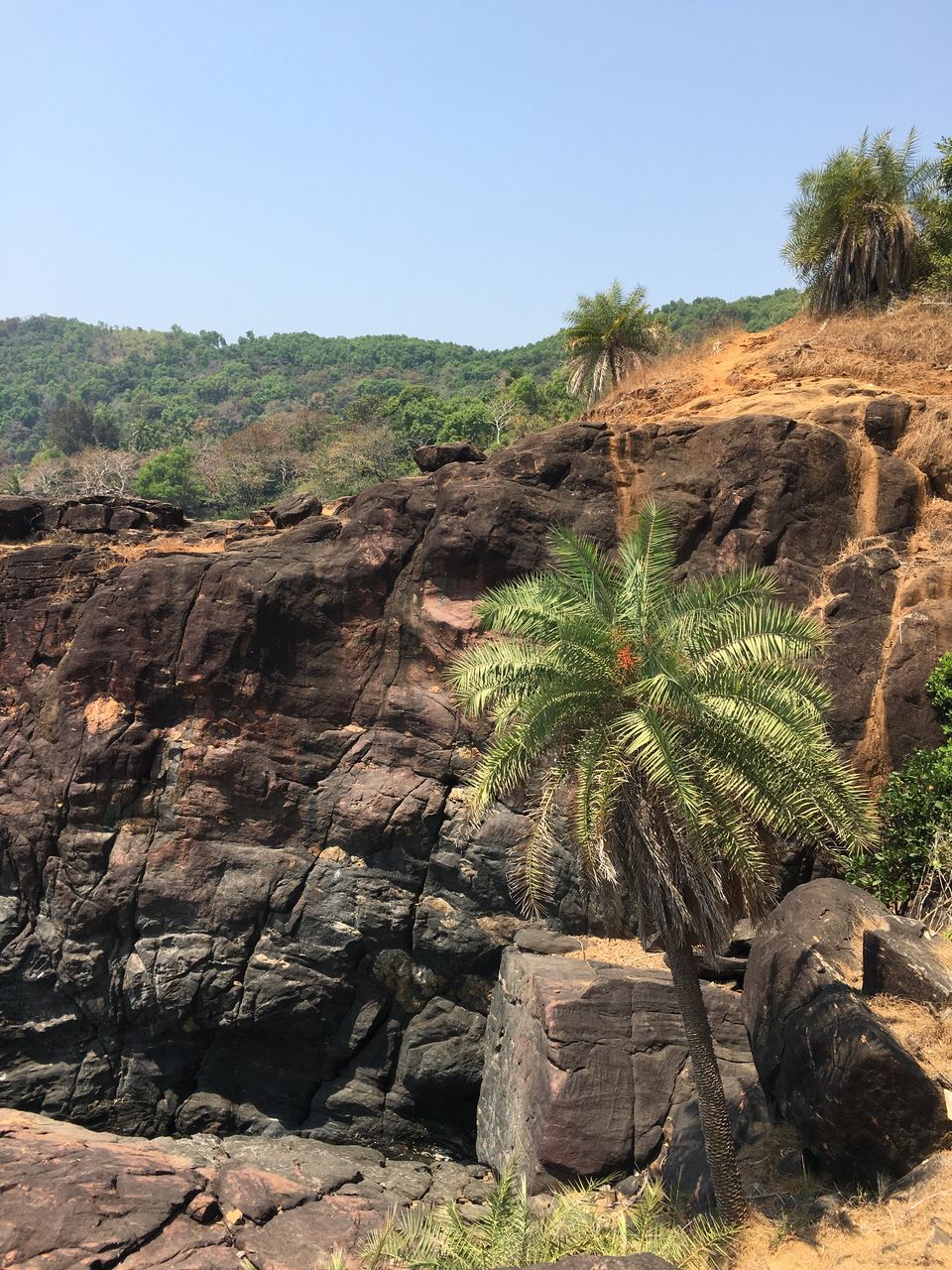 We didn't wait here and just continued our trek. After this there were many rocks as well which we had climb but it's not very challenging. It took us another 20 min to reach the paradise beach which was the destination.
In paradise beach u can see tents where people stay overnight, many also arrange for barbecues at night which seemed fun. A good plan for next trip to Gokarna. We bought some pineapples which was so delicious, probably because we were very hungry. We sat on the beach for a while and took the beautiful paradise view in.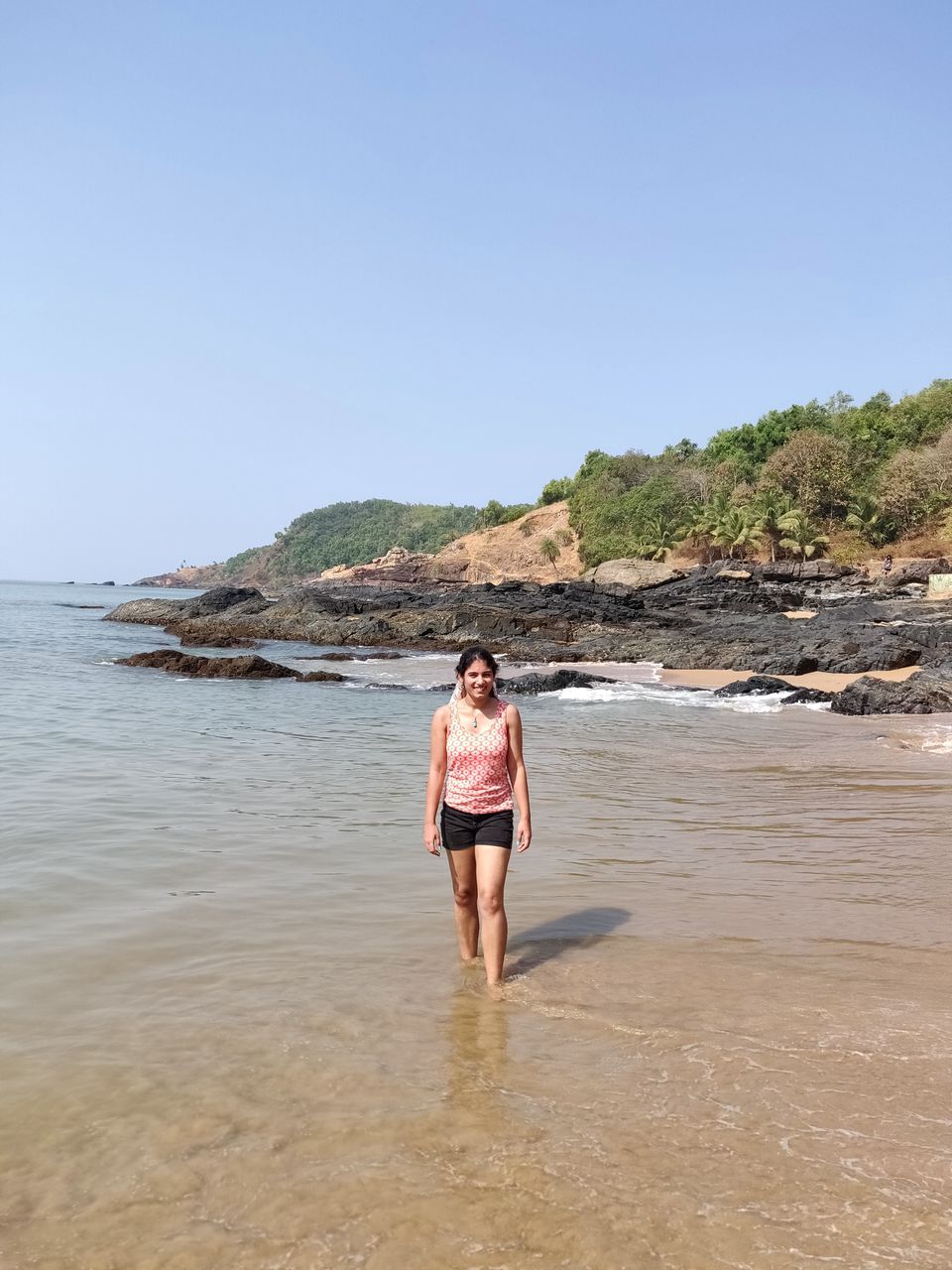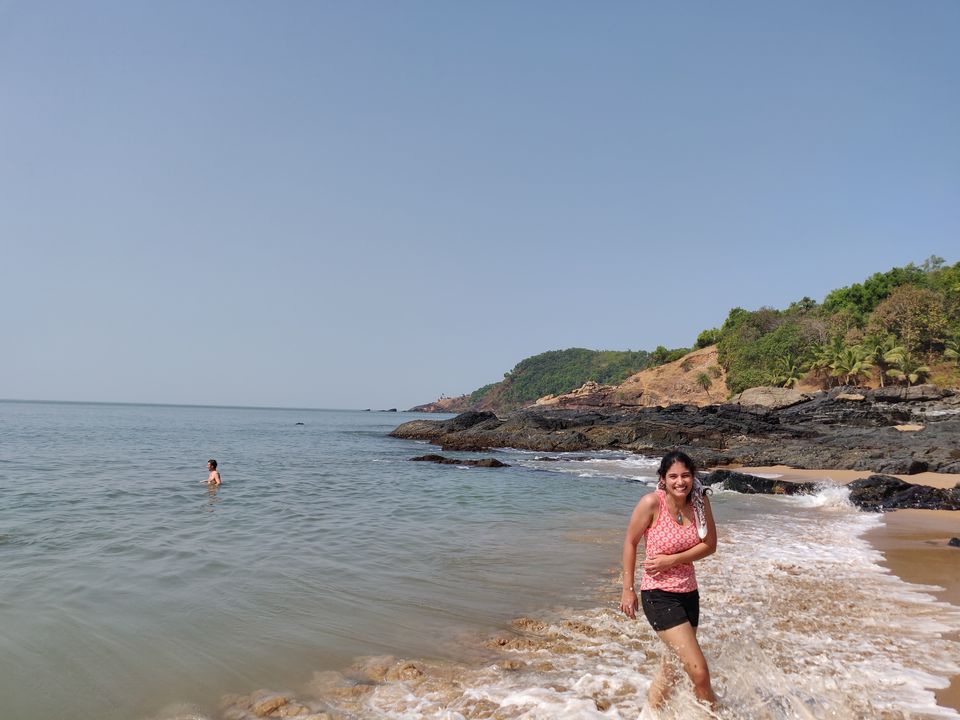 Now for the return, previously when we went there were ferry every 30 min which will take you back to om beach. But last time all the ferry's were cancelled. So we had two options to go back, both involved trekking. So 1 option was to trek back the same way to om beach as we came and the next option is trek and go behind the paradise beach where you will reach a small village and you can catch auto from there to anywhere you want to go.
We wanted to go back to Gokarna bus stand for lunch so we chose that and trekked for 15 min to this village and got an auto.
We reached Gokarna bus stand by 12 pm, had a satisfying lunch and went back to kudle to our hotel.